Pyga is the brainchild of Patrick Morewood (the man behind Morewood Bikes), and Mark Hopkins, the co-founder of protection company Leatt. That's an interesting combination of talented minds! To be honest, we hadn't encountered this South African brand until recently, when we received an email asking if we'd like to try one out. We've always had a soft spot for Morewood Bikes, so when we discovered that Patrick Morewood was at the helm, we jumped at the chance to get one on review.
The pragmatically named 'Oneforty650' (the whole bike has a pragmatic bent actually), is aimed purely at the booming trail/all-mountain sector of riders, sporting a "do it all" 140mm of travel paired with 650b wheels. For now, the Oneforty sells as a frameset only, a feature that will turn away some potential buyers, however on the plus side, a naked frame allows a rider to completely customise their ride to their riding style and intended purpose. It's definitely not a bike aimed at the novice rider, and that option to build from scratch will resonate with those more experienced.
[divider]Build[/divider]
As this bike only comes as a frameset we won't harp on about the parts spec, but it's worth a mention as the bike was set up in a way we felt perfectly matched the intention of the frame design – tough trail abuse. SRAM's X01 1×11 setup handled the drivetrain, the wheels used were Pyga branded carbon rims (nice and fat to match the bike's rowdy intentions), and the suspension was looked after by RockShox with a Pike (in a 160mm format) and a Monarch Plus – perfecto. The tyre combo of a Maxxis Minion up front and speedy Ikon out back is a favourite of ours, and mounted to the wide rims, this rubber has a seriously grippy footprint. Rounding out our build was the exquisite Truvativ Jerome Clementz carbon handlebar and Avid Elixir Trail 9 brakes.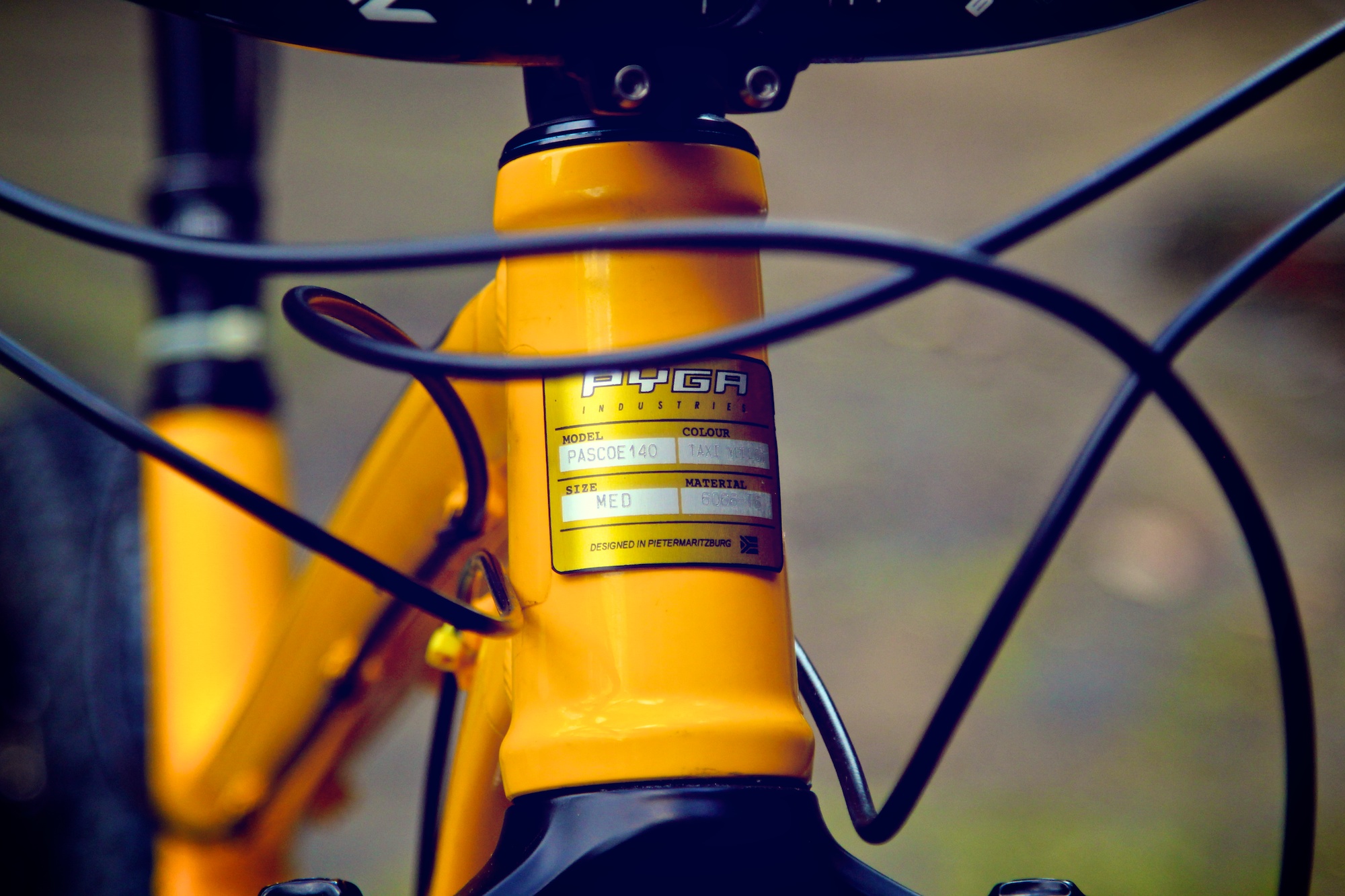 While our bike had a 160mm fork, PYGA say that anything from 140-160mm is suitable, so if you'd like to sharpen things a smidgen, you know that's possible without interfering with the bike's balance.
Back in his Morewood days, Patrick Morewood used to build claim his bikes were 'The bikes that downhill built', and it would seem this ethos has carried across to Pyga. This frameset exudes toughness. The choice of material alone – robust alloy, not carbon – sends a message that this bike's meant for riders who don't want to be concerned about their equipment if they take a tumble or two. Pivotal areas such as the stays and head tube feature plenty of reinforcement with some seriously sturdy looking welds, and double-row bearings at high-load areas of the suspension linkage should ensure years of rattle-free action.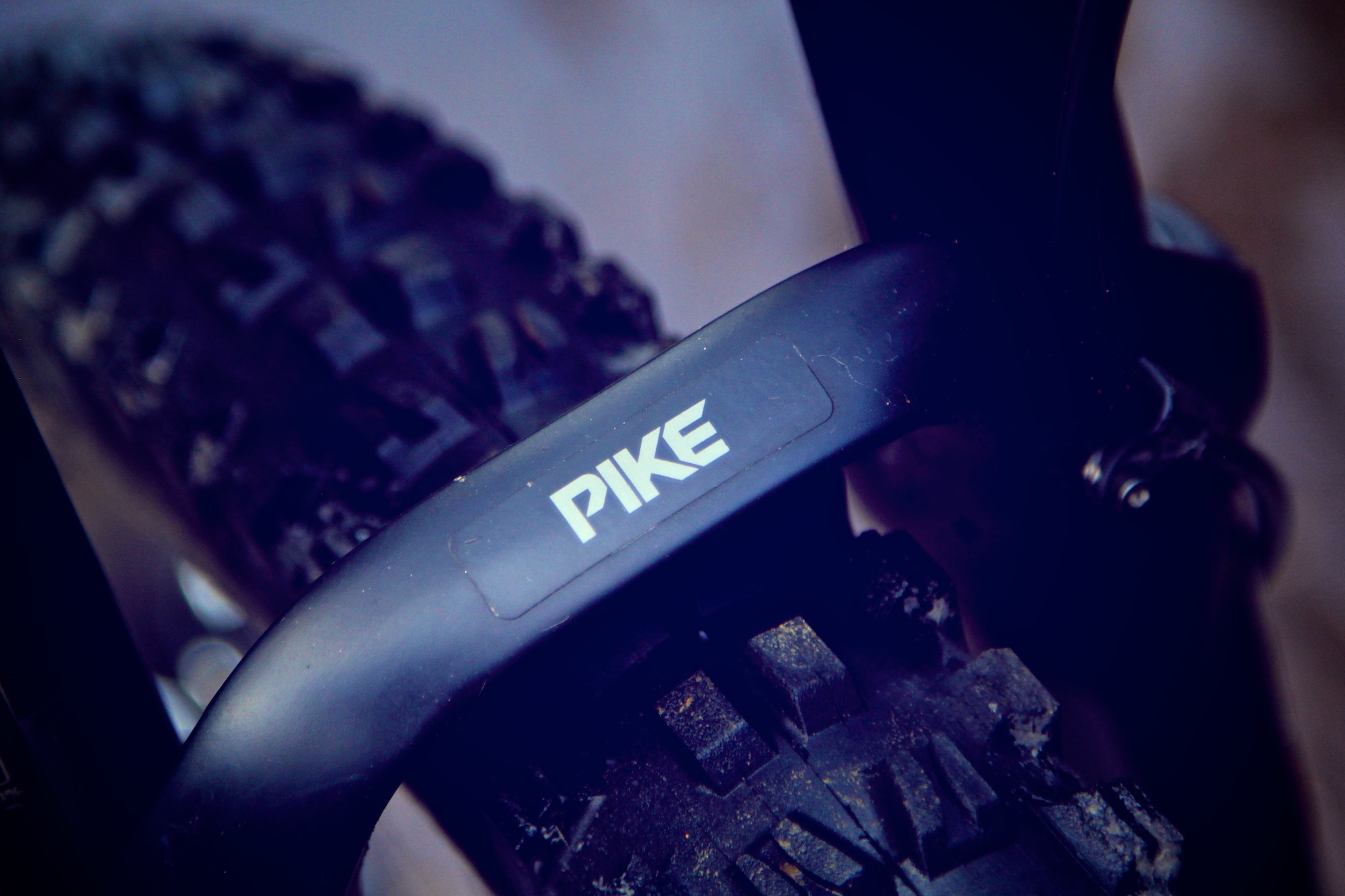 The suspension system is worth closer examination. More than one observer pointed out that it "looks like a Trek", and that is certainly true (and not a bad thing!). The shock floats between the upper linkage and the chain stay – it's not not mounted to the mainframe at all – which opens up more possibilities for tuning the shock rate throughout the stroke. There are no funky axle-path claims going on here; it's a straight up single pivot design, with a link driving the shock. The relatively low location of the main pivot point is designed to ensure that the suspension remains active under pedalling forces, with very little feedback when pedalling over the rough too.
The practicality aspect of the bike is reinforced by the nearly entirely external cable routing. Whilst internal cable routing looks pretty on the showroom floor and has largely become de rigour on high end bikes, any home mechanic will know the pain of trying to route cabling through a frame, especially when the frame curves to any degree. As those who purchase this bike will have to BYO componentry, the external mounts will be a blessing for easy assembly and maintenance.  The sole exception to the external routing is a port on the  seat tube for a stealth routed dropper post, though you can run an externally cabled dropper too. In the context of all the other mechanic-friendly features, some might be surprised to find the bike uses a press-fit bottom bracket.
Geometry-wise the PYGA has the kind of numbers that are very reassuring; in a medium frame the top tube is 600mm (perfectly matched with a 50-70mm stem), and the head angle sits at 67-degrees, all reinforcing the idea that this bike lives to throw the rider confidently through tougher trails.
[divider]Ride[/divider]
The Pyga is a real rider's bike; aggressive, responsive, stiff and tough. There are lighter, more polished looking machines out there, but out on the trail (particularly if it points downhill) this bike will leave you grinning. With excellent frame stiffness throughout, aided by the Syntace X12 axle out back, the Pyga is the kind of bike that loves to sprint, be thrown around and slapped into turns. There's plenty of room through the top tube and cockpit so that you never feel trapped or crammed in, giving you space to let the bike work and move beneath you. Compared to the swoopier designs of many carbon frames, the Pyga is a little lacking in stand-over clearance, but this is only likely to be a consideration for short(er) riders and it didn't impinge our riding.
You can lean on the Pike like an old friend through the roughest situations and the rear end will be there tracking through with equal aplomb – that sensation of connectedness between front and rear wheels is something often missing from lighter bikes. That feeling of trustworthiness is definitely reinforced by the Maxxis Minion rubber up front, which bites like a pitbulll, especially when mounted to wide rims like those on the Pyga.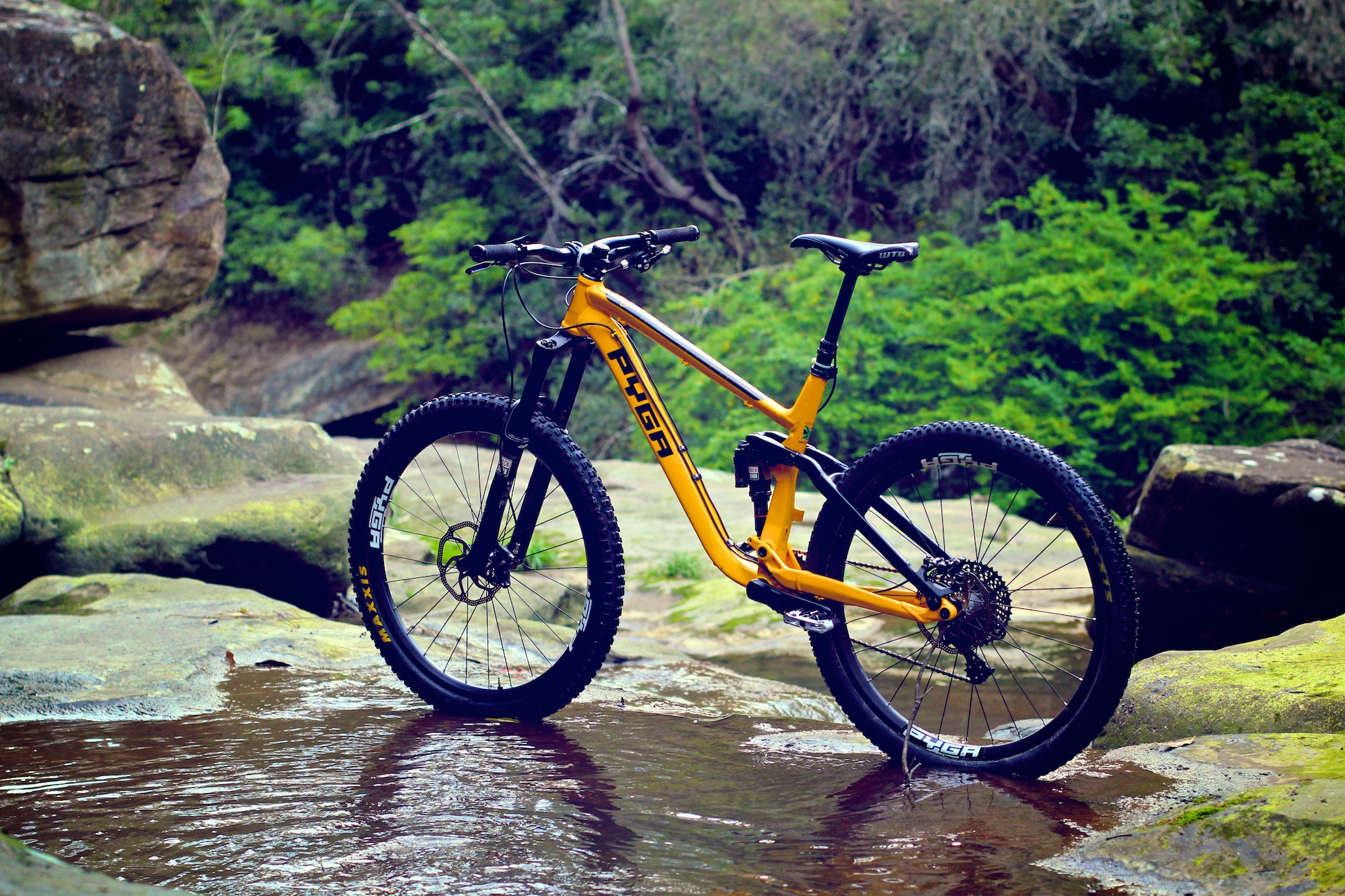 It's a supple ride too, but without becoming isolating or wallowy like some bikes in this category can be. The buttery action of the Monarch Plus rear shock is testament once again to have far RockShox rear shocks have come; it has the kind of smoothness we'd have previously only associated with a FOX shock. Patrick Morewood has done a fantastic job of tuning the shock rate for bigger impacts (the man does love to ride fast – he's a former downhill National Champ) and the Pyga has a real sense of bottomless suspension travel out back. Even though our bike was paired with a 160mm fork, the 140mm-travel rear end never felt out-gunned or unbalanced.
With its alloy construction and robust parts kit, the Oneforty is no lightweight, but it climbs quite well and handles flatter singletrack riding easily all the same. The seat angle is step enough to keep you nicely centred over the bottom bracket even with the seat at full height, so you never feel like you're pushing a recumbent up hill. We found ourselves spending most of our ascending time with the Monarch switched into its blue compression lever in its middle setting – because the shock lever is easy to reach on the fly, we did toggle between compression settings quite a lot to get the most out of the bike.
If your riding predominantly involves a lot of tight, twisty trails, setting the Pyga up with a 140-150mm fork would probably be ideal for snappy handling, but even with a 160mm fork fitted we didn't have any worries on slower, flatter terrain. Because the stays are a short 431mm, whipping the back end of the bike around those tighter turns, or popping the front end up pinchy, technical climbs was easily done.
Overall:
Admittedly the market for high-end aluminium bikes isn't what it once was as carbon becomes increasingly prevalent, but the Pyga Oneforty 650 is targeted at a specific type of rider, not the mass market. With its robust build, perfect all-mountain geometry and suspension that just gets better the harder you ride, it's a bike for those who prioritise confidence and downhill performance over low weight and glitz. Its practical construction will keep you out of the workshop too, and on the trails more, which is always a plus. While the frame-only availability will be an obstacle for some, if you've got a dream all-mountain build in mind, the Pyga Oneforty is the ideal workhorse to make it happen.
 Tester info:
Test riders: Chris Southwood / Will Shaw
Weight: 62kg / 74kg
Height: 172cm / 180cm