---
What is it, and who is it for?
We know riders win races, not bikes, but you still can't ignore the fact the Scott Spark is one of the most successful World Cup cross-country racing bikes on the planet. There are now two versions of the Spark to choose from (29er or 27.5″) across a broad range of price points. The 900 Premium is a 29er, and it's the second top tier model in the Spark range. But no matter which wheel size or particular model you opt for, you're getting a bike with real racing intentions.
With a weight figure (10.3kg) and spec list that befits its $8999 price tag, the Spark 900 Premium is obviously pitched at the serious (or seriously well-off) cross country or marathon racer. It's a wheels-on-the-ground, foot-on-the-gas kind of bike. Roll it off the showroom floor, put a bottle cage and a number plate on it, and get to it.
---
The frame
With its strikingly swept back seat tube and schmick graphic highlights, the Spark frameset is a gorgeous, lightweight wedge of a thing. It's constructed from Scott's HMX carbon throughout, which they claim is a unique blend,  yielding 20% more stiffness and 9% more statistics than other carbon. It's light, and it's plenty stiff for its intended use. Ignoring the clump of cables around the bars, the frameset is remarkably clutter free; the way the upper link kind of envelopes the seat tube is beautiful, and the seat stays are sleek and minimalist.
We praise Scott for resisting the temptation to make the pivot assemblies weedy and overly light. They've opted for tough and properly sized hardware instead, with 8mm Allen key fittings, which helps give the rear end more stiffness than we expected, especially given the bike's weight. The dropouts are 142x12mm, but you can swap them out for 135mm if have some absurdly light set of Euro tubular wheels with old-school hubs.
The rear brake mount is squeezed into the tight space between the chain stay and seat stay. It's tucked out of the way but at the expense of ease of adjustment – we found it quite fiddly to line up properly. There's more room up front, with plenty of space for a full-sized water bottle.
Unlike the paint job, the Spark's geometry numbers are pretty traditional. You do have some geometry adjustment via the rear shock mount, but even in the slacker setting the bike is still more edgy than a drug mule passing through customs, with a head angle of 69.5 degree.
The chain stays are longer than a West Wing binge, at 448mm, which has a real impact on the bike's handling as you'll read below. We can't help but feel this is where Scott will tweak the Spark next – going to a Boost rear hub would afford Scott's engineers a bit more room to move and perhaps shorten it all up. By way of comparison, the rear-centre on a Specialized Epic is 439mm, a Trek Top Fuel is a tight 433mm.
It's interesting to note just how different the Spark 27.5's geometry is – the head angle is more than a degree slacker and the chain stays are 433mm, plus it has more travel (120mm). We'd love to try one of the 27.5″ models out as a comparison.
---
The suspension
Scott's approach to the Spark's suspension is pretty different to that employed on most other cross country race bikes. The suspension configuration is unremarkable – it's a traditional single-pivot, with the link driving the shock – but the approach to damping and adjustability is unique. We're talking about TwinLoc, which is not a wrestling manoeuvre, but a holistic suspension and geometry adjustment that allows you to change the Spark's character on the fly via a well constructed, bar-mounted lever.
You'll either love the TwinLoc system for its effectiveness, or you'll hate it for the complexity, but it's intrinsic to the Spark's performance. Push the main lever to move to a firmer suspension mode, the silver lever drops you back down a level.
In the 'open' mode, the Spark has 100mm of rear travel and the suspension is fully active, and we mean 'fully' – there is no pedalling platform, slow-speed compression damping and minimal anti-squat chain tension forces at play, allowing the shock to work to maximum effect. Scott figure you should be able to get the full benefit of the suspension, without compromise, when you want it (e.g. descents or rough climbs).
Push the lever one click and you'll engage Traction mode. This simultaneously stiffens the fork compression, as well as reducing the rear travel to 70mm. The reduction in travel firms up the suspension considerably, which means a huge leap in suspension pedalling efficiency. Traction mode also has less suspension sag so you get a higher bottom bracket height and steeper angles, which is perfect for climbing.
The third position is a proper lockout. The rear end becomes almost completely locked out, and the fork is stiffened even further. Essentially it's a mode for tarmac, sprints or super smooth fireroad only.
Of course, all this adjustability is only useful if you remember to use it! If you're coming from a bike that has a more set-and-forget suspension system, all the button pushing might seem infuriating. But it's worth persevering as it has a huge impact on the bike's abilities.
While we didn't need to carry out any maintenance on the TwinLoc system during our testing, it is still a cable system, so don't neglect to give the cables a little bit of lube love to keep it all working smoothly if you ride in dusty, wet or muddy conditions a lot.
If you decide to run this bike single-ring, it's good to know that there's a neat 'under-the-bar' DownSide TwinLoc lever available. We like the sound of this as, as it'd be nice to have access to the TwinLoc lever without having to lift your thumb above the bars.
---
Parts report
Scott have gone to town with some of the lightest racing kit out there for the 900 Premium, so banish any thoughts you had about hucking this bike off a drop of any considerable height, ok?
Syncros bits: Scott acquired legendary component brand Syncros not long ago, and some of their lightest components are found on the 900 Premium. It's good kit; the 720mm-wide FL1.0 carbon bar has a comfy sweep and is zero-rise to help keep the front end racy. We initially had some misgivings about the stem, but it turns out to be just a carbon-wrap, not full carbon, which we think is sensible.
Narrow rims: Syncros also provide the xR1.5 wheelset, which is a scant 1630g. The rear hub has a 36-point engagement with a light, crisp feel. We're not overly fond of the narrow 20mm internal rim width, which is certainly on the skinny side. We understand this is a race bike, but even XC racers can benefit from a slightly wider rim to provide more tyre support. We never felt comfortable dropping the tyre pressures to the degree we'd have liked on such narrow rims.
XTR mechanical: There is a Di2 version on the 900 Premium available if you're up for the full XTR experience, but the mechanical shifting is sensational too. The 900 Premium has a twin chain ring (24/34) with an 11-40 XTR cassette out back. If this were the Di2 bike, we'd leave both chainrings in place and use Shimano's cool Syncro Shift mode (one shifter, two derailleurs) but as a mechanical setup our preference would be to run a single ring to declutter the bars and simplify things. The rear shifting is superb; for the first 30km or so on this bike, the drivetrain was a tad noisy, but it seemed to quite down soon after and delivered flawless performance.
XTR Race brakes: As noted above, we found it tricky to properly align the rear brake on the Spark, which meant our rear brake always felt a tiny bit spongy in comparison to the front, which had a light, snappy feel. The power certainly wasn't effected though, and we found the 180/160mm rotor combo served up a huge amount of power.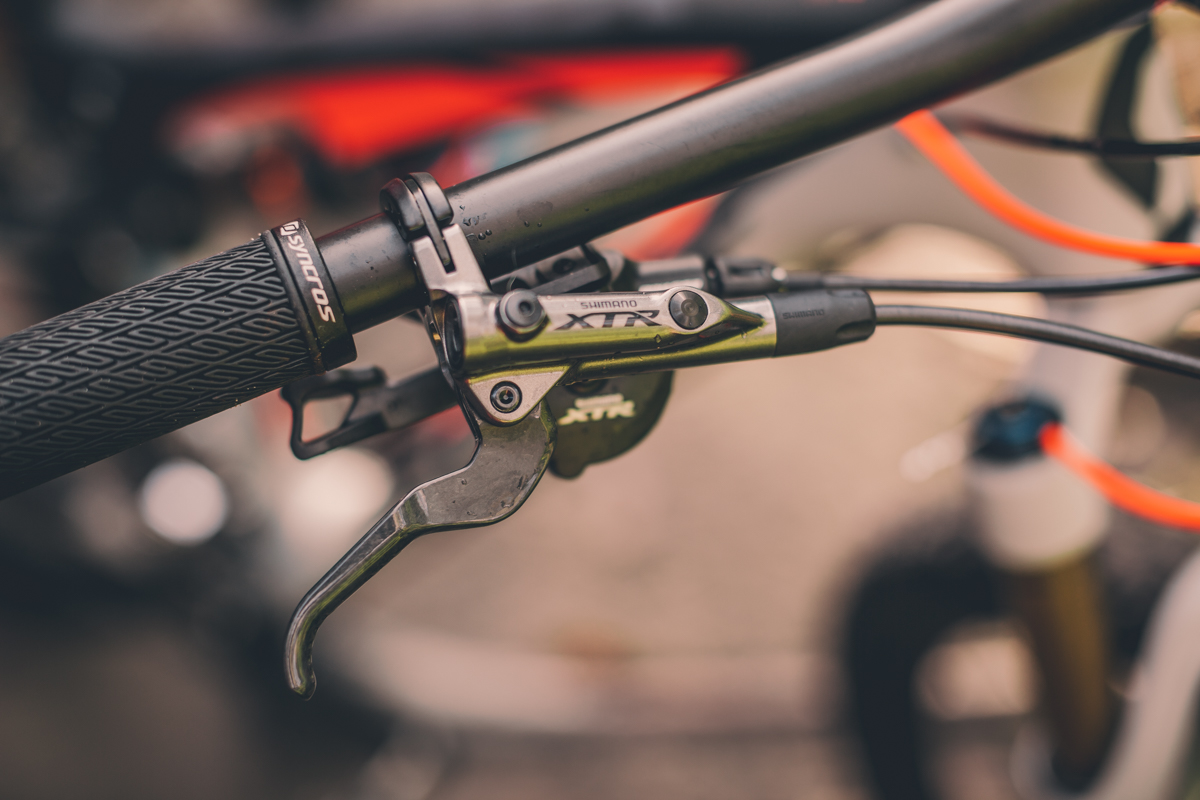 Fast Schwalbe rubber: The name 'Rocket Ron' says it all – these tyres are super quick – and they're a great improvement over their predecessor (which seemed traction-phobic on most surfaces). The 900 Premium has the firmer Pace Star compound front and rear, we found them good on loose or loam surfaces, but still a bit nervous on roots or anytime things got off-camber. Maybe a Nobby Nic up front could be a good idea?
---
The ride
The 900 is pure-bred; its window of intended use is narrow, but it excels in that domain. It's an accomplished mile-eater, a race winner, with riding position that is easy on your body and a weight that is easy on your legs. That said, you've really got to make sure you're using the TwinLoc to full effect to get the most out of this bike.
Climbing: With the Traction mode engaged, the 900 absolutely motors along smooth fireroads, the light wheels and fast tyres are easy to prod into life, accelerating with just the lightest stab on the pedals. We were blown away by the ease with which this bike sailed up smoother climbs, and we found ourselves holding our cadence and gear, where we'd normally be slowing down and clicking for easier gears like mad. If you do need to drop into the small chain ring, you'll find the shifting to be flawless – we never worried about a mis-shift or dropped chain with the XTR drivetrain. With the roomy 720mm bar, you've got plenty of leverage to engage your upper body in the climbing efforts too, sharing the load with your legs.
Forget to engage Traction mode, however, and the climbing is less effortless. Because the shock doesn't have a pedalling platform, choppy, tired pedalling will set the bike bobbing. That's not to say we didn't sometimes use the Open mode for climbing, but we limited its use to those times where we really needed maximum traction, on loose, rock-strewn climbs. The Rocket Rons aren't the greatest on really scrambly rocky climbs either, so having the extra suppleness of the Open mode helps get the most grip possible.
Descending: Flick the bike into Open mode, and point it down the hill and you'll find the 900's descending abilities are a mixed bag. On fast, sweeping descents it's like a comet blazing out of the sky, stable and smooth. The long rear end and supple suspension (in Open mode) keeps it all planted and calm, and in a straight line at pace it'll skim over rough terrain. The FOX Float 32 might have slender legs, but it's a good pairing for this bike and the slick Kashima coating on both fork and shock mean that the bump performance in Open mode is near frictionless.
Slower speed descents or those with steep ledges that require a lot of body language are the bike's nemesis though. The rear wheel trails along way behind you, and without a dropper post to let you get lower on the bike, you sometimes get the feeling of riding a bucking horse – you can't get much weight over the rear axle with such long stays, so the bike tends to dive onto its front wheel, which can be a nervous experience!
100mm isn't a lot of travel, and we feel the Spark 900 does a fine job of delivering its bounce for the job at hand. You don't need a particularly bit jump or drop to bottom the fork and shock out, but nor should you – this bike is built for wheels on the ground riding primarily, so it should be able to deliver full travel without being thrashed.
Cornering: Once again the Spark's performance in this area isn't one-dimensional. With the long stays, to get the bike through tight whippy turns, you're either going to have to do a lot of steering or get used to sliding the back wheel in (much more fun). You can't steer it off the rear wheel easily, and it's near impossible to manual, so if that's how you like to corner you'll be frustrated. Thankfully, even if you do lose a bit of speed on the tight turns, it takes the blink of an eye to have the bike back up to full speed.
The flipside of the ungainliness in the tight turns is the performance at speed, which is where are race bike will spend most of its ride time. It slots into a long corner beautifully. The tyres aren't the world's most aggressive, but in a fast turn they're super consistent and offer no surprises as you crank it over from centre tread to side knobs.
---
Overall
The Spark 900 Premium is a true cross country bike – fast, sharp and light, a race winner. If you're after a trail bike/race bike, perhaps the 700 (27.5″ wheels) will be a better option, with its longer travel and slacker angles. But if hunting down the rider in front, powering over the crest of a climb and flying through fireroads of a marathon race is your game, then you're not going to be disappointed.
The Spark's weight, TwinLoc system and sharp handling make it one you must put on the shortlist.