3″ tyres on mountain bikes. Yes, 'semi fat' is now officially a thing. Get used to it, we'll be seeing 'semi fat' bikes popping up a lot as we roll toward 2016. The new standard will surely provoke heated discussions and much throwing of hands in the air. But for now we'll cast all opinions aside, and get to the bottom of it all the only way we know how. Let's ride.
Specialized made their semi-fat intentions pretty clear, getting behind the 27.5+ new wheel standard earlier than most of the big guns, by announcing that both a men's and women's range of dual suspension and hardtail 6Fatties will be available soon.
[divider]What is 6Fattie?[/divider]
Put simply, a 6Fattie bike uses whopping 3″ tyres on 650b diameter wheels with extra wide rims.
Some current 29″ bikes with enough tyre clearance may be able to accept 6Fattie wheels, but a bike built specifically around the massive tyres will work best. Because of the chunky rubber, there are many other width related constraints that bike designers need to get around – things like wider fork crowns and chain line clearance. What comes with all this width is the need for a wider hub spacing; on the Fuse the front hub width goes from the usual 100 to 110mm and the rear hub from 142 to 148mm. Part of the industry calls it 'Boost' hub spacing (originally introduced by Trek to stiffen up 29″ rear wheels) and will be widely adopted by these new semi fat and 29″ bikes in 2016 and major component manufactures too.
Such big tyres give you a larger contact patch with the ground, and the massive volume lets you run lower tyre pressures. All this does is lift the traction to unheard of levels.
[divider]Who is this bike for? [/divider]
If we forget all the tech mumbo jumbo and controversy, 6Fattie is just a new twist on the mountain bike, not designed to make it race faster or longer, but to make it more fun. And take a look at this thing – it does look fun; massive rubber, a relatively long-travel fork (120mm, big for a hardtail), wide bars, tiny 45mm stem and a dropper post. It's pretty clear that this bike is not designed to climb anything in a hurry, but is all about grip, control, and confidence when most hardtails would be ejecting you out the front door.
At just under $3000, it's not an entry-level price point, and you could of course buy a dual suspension bike for the same kind of money. Who then is the bike designed for? Someone who isn't interested in racing (except maybe in the desert), someone who doesn't want the complications of a dual suspension bike, and someone who is looking for something a little bit different. It would make the perfect second bike to accompany either an XC race machine or long-travel all-mountain bike, as it's a far cry from either of these categories.
[divider]The frame[/divider]
This aluminium frame, covered in glossy bright paint, is a sleek and clean number with a few key features to accommodate 6Fattie wheels, with the most obvious being the chainstay. To give adequate tyre and chainring clearance, without resorting to an overly long chain stay, the drive side chain stay splits into two. It's dubbed the 'Diamond Stay Design' and with it. Specialized are able to bring the rear end to a tight and zippy 430mm.
One of the nicest butts in the business, the Fuse borrows its mighty fine dropouts from the Stumpjumper hardtail line, with no quick release skewer in favour of a flush Allen key-only axle. The rear brake is also tucked away cleanly, mounting on the inside of the rear triangle.
[divider]Spec highlights[/divider]
The Fuse Expert 6Fattie uses a bit of an odd mix of components in its burly build kit. We actually struggled to decide whether or not it represents good value; some of the components do seem a bit basic, but we guess they're kind of offset by the wheels/tyres which are still super rare. Let's take a look at some of the standouts.
Drivetrain: The drivetrain is funky mix, with Specialized Stout cranks with a 30-tooth narrow-wide chain ring matched to a Sun Race 11-40 10-speed cassette. It's all hooked up to a new SRAM GX derailleur and X9 shifter. The gear range is fine, even if the jumps between gears are fairly large. We didn't drop the chain, but it did make a lot of noise as the chain runs super close to the chain stay.
Rolling gear: WTB's Scraper i45 rims are tubeless ready, and their massive 45mm wide rims gave the 3″ tyres the support they needed to be ridden hard at low pressure. The tyres themselves are lighter than you'd expect, at just under a kilogram each – a lot lighter than 3″ tyres of yesteryear! The wheels are responsible for a lot of this bike's weight, so we'd naturally suggest they would be worth upgrading in the future to drop grams, but obviously that's an expensive proposition and not an easy one as this kind of gear is still very unique.
SRAM Guide R brakes: For a base model brake, the SRAM Guide R stoppers felt like we'd just taken them off a high end bike. They're powerful and smooth under the finger, good work SRAM.

Manitou Magnum fork: The Manitou Magnum Comp fork was just ok. Whilst not really holding the bike back too much, its somewhat clunky feel was fortunately hidden by the low pressure/big tyre volume nature of the wheels which smooth out the smaller bumps the fork missed. But to get your front wheel on and off, you'll need to have a lot of patience – this fork axle is the dumbest system we've ever encountered, more intelligence test than bike feature!
The Manitou fork's quick release axle however was remarkably frustrating, we challenge anyone to figure it out, without swearing.
[divider]Ride impressions[/divider]
This was our very first ride on a 27.5+ bike, and it sure did feel different to anything we've had on test before. The closest we can relate this to would be the 29+ Surly Krampus with 29×3″ tyres. But the Surly was a bit of a boat on the trails, and quite hefty, whereas the Fuse is a fair bit more lively.
Singletrack manners: With so much rubber on the ground we expected a fairly sedate ride in the singletrack, but the experience was less of a drag than we expected (Get it? Drag?). Besides the obvious effort required to accelerate the wheels and the occasional rotational effects on the steering, the weight of the wheels wasn't too much of a handful.
One of the reasons the bike feels surprisingly quick is because you don't have to actually slow down too often – there's so much cornering grip that you can carry great speed in the turns. Aiding this is the low bottom bracket (very low, crank bashingly low), which helps with cornering even more. Imagine sprinting at a loose corner, staying off the brakes and making the turn with your feet up – it's a possibility with such a massive contact patch, the grip is inconceivable. Cornering on grass was like nothing else, you could almost scrub your bars when tearing around on a football field!
Tyre pressure choice is vital and running around 15 psi in the tyres (perhaps a little less in the front, and firmer out the back) we found that sweet spot for our 70kg rider weight. We tried to roll the tyres around on the rim by deliberately pushing it hard sideways, but there was no squirming or burping whatsoever. Our rear wheel was a little out of dish though, and rubbed on the drive side chainstay when cranking hard on the pedals, though a few minutes with a spoke key could pull it over to the other side a few millimeters and stop the buzzing.
We expected it to have shit loads of grip, and it sure did. With so much traction, we could go anywhere we wanted to!
Descending and bombing about: The Fuse is built only for fun, and it makes no secret that is why it exists. Why else would you have a hardtail with a 120mm fork, dropper post and a short stem? It's aimed to rip, not to race.
It loves to wheelie, manual and bomb through rough trails with a certain amount of exuberance and courage, really helped by the short 430mm rear end. And being a hard tail, the lack of rear suspension adds to the excitement and engages you with the trail, but the massive tubeless tyres let you do so without the risk of a flat tyre or unpredicted wash out.
With the seatpost dropped you can really let it hang out on the descents. We bombed our way down some lines that we've looked at twice on 150mm-travel duallies! It lands hard from big drops like any rigid rear ended bike would, but the big tyre takes the sting out of impacts and you land with more of a manageable thud.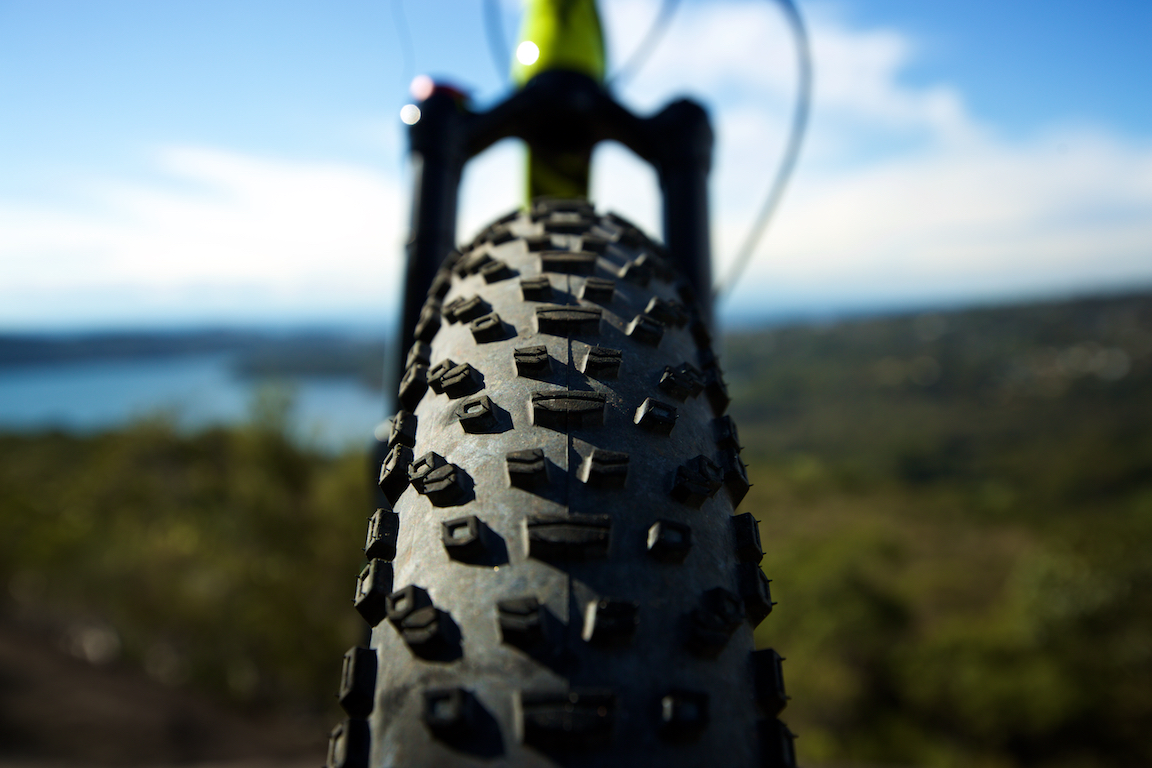 Climbing: The Fuse is obviously not built for long, draggy climbs, but on technical or loose pinches it's pretty inspiring! Rough and loose lines became achievable, and without any rear suspension to squat and rob you of pedal power, it would lurch forward and claw its way up rocky ledges like no other bike out there. A lighter version of this bike would kick some butt on those loose, scrappy climbs.
[divider]Final thoughts[/divider]
During our time aboard the Fuse, we had a ball. It's not a light bike, and keeping on top of the gears spinning along the trails requires more effort than your typical bike so there's no way we'd want to ever ride one very far or for too long. It's evident when riding with others on traditional bikes, they'll pull away from you when there's a lot of pedalling going on, the resistance is quite obvious.
But we loved it!
Who would want one? We would. It's nice to get back to riding a hardtail and blasting about the place, solely in the name of fun, but without so many of the drawbacks we've come to traditionally associate with a hardtail (like flat tyres, sore ankles and shitloads of crashing). We would have hoped it'd be a bit cheaper considering the entry level drivetrain and basic Manitou fork, but there would have been some costs tied up in developing a whole new bike and tyres.
We're not afraid to admit that we were highly sceptical about this new wheel size, predominantly from an industry standpoint, and the questions of whether we really needed it. But after time on the trail that question couldn't have been further from our mind. Of course we don't need it, but that doesn't mean it's not a cool alternative. We can honestly say we enjoyed our time on the Fuse, bombing through rough stuff and roosting turns like we used to, but keeping more skin on our bodies.