Ok, you're out having a great mountain bike ride, the feeling of going really fast is fantastic. Then you get a little bit carried away. All of a sudden the trail turns slippery and you're going way too quick, but don't worry you're going to make it through: you've got 3" tyres.
Riding a bike with huge 3″ tyres is obviously going to be amazing, the large amount of traction on hand will let you do things you never thought could be possible.
It's a new standard, everyone is doing it, we love it, it's a tonne of fun to ride. But who will these bikes suit the most? And where do they work the best?
For 2016 Specialized are going pretty deep with this new category of bikes. Coming to Australia is the Stumpjumper FSR like we have here, a women's version called the Rhyme, as well as the hardtail Fuse with its women's version, the Ruse. Jump on the Specialized site for all the models.
It's all about the pros and cons with any bike or product. And in the case of this new standard of semi-fat tyres on mountain bikes, it's more about balancing up the pros and cons for you than ever before.
This bike has capabilities far greater than a regular tyred one, but like anything it does come with drawbacks. Our best advice would be to weigh up the pros and cons before you rule them out.
[divider]What is it?[/divider]
New standard: The Stumpjumper 6Fattie boldly presents itself from an emerging new category of bikes using big tyres and wide rims. The 3″ wide tyres can be run at super-low pressures, and the wide rims help support the tyre from squirming around underneath you. In the case of this bike it uses an aluminium Specialized Stumpjumper 29er main frame, with a new dedicated rear end. With a 27.5″ wheel wrapped in big tyres, the outside diameter is really quite close to a 29er, perhaps only a centimetre's difference in diameter. We took out the 'callipers of truth' recently, here's what we found.
Because the tyres are so fat clearance issues arise trying to fit it all in the frame without the bike blowing out to unrideable lengths and widths. Hence the need for the new, wider 'Boost' standard components: the hubs are 110mm wide up front and 148mm wide out the back (regular hub widths on a comparable bike would be 100mm front and 142mm rear). The chain line is also shifted outboard with the new wider SRAM cranks putting the chainring only an extra 3mm further out to accommodate for a wider rear end.
Confused? All that doesn't really matter to a degree, but it does mean that older parts won't be compatible with a new generation plus sized bike like this one.
For more on the 6Fattie Stumpy, check out our initial impressions on them here: Specialized Stumpjumper FSR 6Fattie.
Our first experiences with these new breed of bikes was with the 6Fattie hardtail, the Fuse. Full review of that trail ripper here.
[divider]The Frame.[/divider]
There's a lot to like about this frame. The construction, geometry, finishing detail and suspension design give us even more reason to respect the fine work that Specialized do. While is may only be the entry level Stumpjumper 6Fattie, its aluminium frame looks like it's taken from the top of the catalogue. The welds are perfectly neat and the paint is lovely.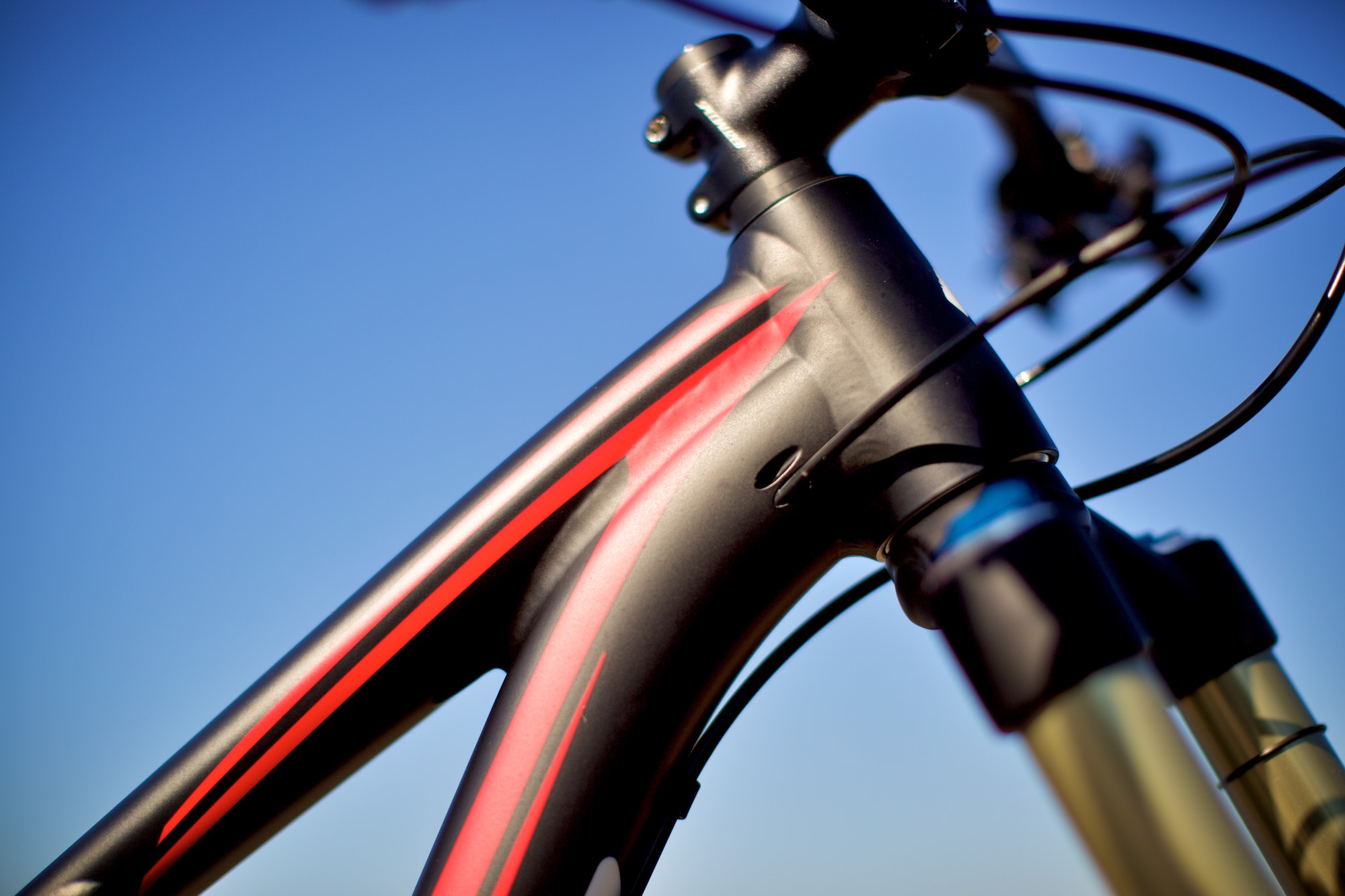 Essentially the 6Fattie uses the front end from a 29er Stumpjumper with a dedicated rear end to make space for the bigger tyres. The designers have worked hard to give the big tyres clearance while simultaneously avoiding the stays getting so wide that you rub your shoes or calves when pedalling, the result is a real mix bag of shapes and lines, no straight tubes to be seen.
The FSR suspension design is used across the whole range of bikes from Specialized, and is often regarded as the benchmark in pedalling efficiency and feel. Cables are a mixture of internal and externally routed, a good balance between quick and easy maintenance whilst still looking tidy.
In trademark fashion the Stumpjumper 6Fattie is very low to the ground and short in the rear end, which we found was to be awesome in most instances, but also at times not so much of a good thing. More on that later.
[divider]The Parts.[/divider]
$4499 gets you a very well thought out mixture of the best from both worlds of Shimano and SRAM while Specialized and FOX handle the rest. Over the years we've grown to not expect any crazy value from Specialized, especially with the Australian dollar not at its best. Given this bike uses a whole host of new technologies and is clearly not slapped together and rushed out the door we think the pricing is fair but not amazing.
They certainly have covered all the bases well though, nothing jumps out at you needing to be upgraded straight away. From the quality Specialized Command Post IRcc to the comfortable cockpit and saddle, this bike is pretty dialled and ready to shred.
The drivetrain and brakes are amazing, for what is meant to be entry level stuff the performance is more akin to top shelf parts. The Shimano Deore brake levers feel light under the finger and offer very consistent power during testing, and the new SRAM GX drivetrain may be heavier than their other 11-speed offerings but it works so damn well we were quite blown away with the similarities with the expensive stuff.
A tiny 28 tooth chainring might seem a little absurd at first, whether such a low range of gears is needed everywhere is up to the user, but we loved using all the gears available.
Combining such a low gear range with the massive traction allows you to ride in a way that is simply not possible, even riding directly up a flight of stairs is a snack as we were to find out.
Wheels: These new plus sized bikes use wide rims to help support the big tyres at low pressure, but in fact Specialized have been using wide rims on their bigger travel bikes for a couple years already with their Roval Traverse Fattie wheels. We've ridden them on the Enduro, check it out here. Top end Fattie bikes will come specced with the carbon Roval wheels which measure 30mm in width, this bike uses the aluminium version at 29mm. An even wider 38mm Roval wheelset is soon to be available aftermarket.
While we're on the wheels, our test bike needed a bit of spoke love, a few spokes were loosening off making a bit of noise. We doubt that it'll happen on all bikes, but if you do hear something pinging away, that could be the issue.
Tyres: The Ground Control 6Fattie tyres are big and very rounded in shape and the tread is shallow in depth. At first we thought we'd never lean the bike over far enough to actually use the side knobs but you certainly do. Our test bike came from a batch of early release models with two Ground Control tyres, but we're told 2016 stock will be specced with a more aggressive Purgatory up the front.
Suspension: The 6Fattie is another bike that has a little more travel up front than out back, something we're seeing increasingly often. The rear end has 135mm travel, with 150mm up front. The FOX suspension feels very smooth to ride, and the wider fork crowns are quite a sight to behold when you first jump on. We did find the compression tune on the rear shock quite light, so we spent most of the time in the middle setting to keep it from wallowing into its travel when pedalling and pumping through the trails.
[divider]The Ride.[/divider]
Ok, on to the most important bit.
The 6Fattie rides like mad, it's capable of taking your mountain biking to an unprecedented level, you'll corner much harder, launch down descents with reckless abandon and climb up things you never thought possible. It's a blast.
This is only the second dual suspension 27.5+ bike we've ridden, the Scott Genius Plus being the first. Because these bikes are so new it reminds us of when we first started testing 29ers, where we would be comparing them to 26″ bikes in performance. In this case we find ourselves comparing it to non-plus bikes rather than other plus bikes.
Setup: After plenty of experimenting, we set the tubeless tyres up with 14 and 15 psi in front and rear, slowed the suspension rebound speeds and kept the sag as we'd normally do for a regular bike.
Climbing: So much traction changes everything. Climbing takes focus and technique to maintain traction, if you don't get the balance right you will expel too much energy and go nowhere. When we were testing the 6Fattie we picked fights with the ugliest of climbs and won, and found ourselves climbing out of the saddle more when we needed more power, with less care about weighting the rear wheel to help it find traction.
With a fairly sharp seating angle and a short reach the Stumpy was also quite comfortable to drop into a low gear and spin the legs up a climb.
The low bottom bracket height might be great for keeping your centre of gravity low for a great cornering position, but there was a frustrating amount of pedal striking going on around our regular testing trails. We be bashed our pedals on the ground more than any bike we have ever tested. Whilst it didn't cause any crash it certainly would give you a little fright and interrupt your pedalling rhythm, but that's the trade-off for great cornering performance.
Cornering: If there was one element that the 6Fattie shines the brightest, it's the corners.
Adding to the nearly infinite amount of traction is the Stumpjumper's nimble and fun-loving frame geometry.
When ripping around a tight corner we found ourselves not worrying about washing out and crashing, instead we put all our effort into picking the faster line, braking less and getting back on the pedals sooner. After a few corners doing that, we really got the hang of it, then the speeds lifted whilst the energy output didn't.
With such a wide and round tyre with low profile tread the 6Fattie does has a certain vague feeling to it, where on regular bikes you know when the side knobs are biting into the dirt through a corner. We'd love to have tried the Specialized Purgatory up the front, we're sure that will add a certain degree of precision to the ride.
Descending: It's the added confidence of the big tyres that makes you feel safer when gravity is behind you giving you a push.
Our first ride was a clear indication that going downhill on this bike is a whole lot of fun, we yelled and laughed a lot.
It's like riding a burly downhill bike at times, but where downhill bikes get their confidence from – being long, slack and with loads of suspension travel – it's the huge tyres of this Stumpy that give you a new-found courage and confidence.
It will take a little getting used to the extra width tyres, they tend to tag more trail features off the side of your riding line. You'll know about it too, the noise when the side of the tyre snags and pings off root or rock is pretty loud.
Flat tyres become less of a risk with such a large volume of air to cushion the rim from hard objects, but at the same time you tend to ride into more stuff harder than normal. While we didn't flat during testing, these bikes won't be immune to flats – it just takes more to create a pinch flat, but when you're riding that much harder it is still possible.
[divider]Where does it shine? [/divider]
– Loose surfaces are where we were most blown away by how much these tyres hang on.
– We cleaned tricky climbs and set faster times on descents.
– While there is extra weight on the wheels, it's far less fatiguing to ride on rough terrain so the overall energy expenditure is low.
[divider]Where does it flounder? [/divider]
– The mushy low pressure tyre is certainly noticeable on the smoother trails, and on tarmac. If you don't want to trade mad dirt performance for a little bit of drag at the wheels on the way to the trails, you may need to reconsider.
– The 3″ Ground Control tyres have a very round shape to them, we tested 2.8″ Schwalbe Nobby Nics on the Scott Genius and we appreciated the way they felt more like a normal tyre with side knobs and a less balloon shape.
– No matter how wide the rims, when we would push it hard into a banked berm or the face of a big jump there was often an uncertain feeling that the tyres were squirming beneath us. So it's not one for the bike park riders with crazy g-forces, stick to the trails.
[divider]Who is it for?[/divider]
Whether the pros ride them or not, we're not too fussed, we're not as fast as them and our priorities are different. Buy this bike if you want to have more fun on the trail than you've ever have had before.
It makes mountain biking more manageable whilst also making it faster. Especially if you ride trails that are loose, rocky, ledgy and steep.
We have no doubts that the 27.5+ bike will become more common over time, the more people that can try one out the better. Expect to see the vast majority of brands offering options for 2016, and component manufactures too.