The Levo is the first pedal assist bike we've had an opportunity to really ride for a long period of time. It's also, in Australia at least, the bike that's really at the centre of the e-biking debate, so it's a good one for us to spend some quality time aboard.
---
Why do pedal-assist bikes get people mad?
Well, they do fundamentally change the nature of the sport, and if you're passionate about cycling then that's obviously going to ruffle you a little. Cycling has always been underpinned by the fundamental 'effort=reward' equation. Pedal-assist bikes change that, make it 'effort x 0.5 = reward'. Maybe people just feel angry they've spent so much time slogging up hills, getting fit, and now someone less 'deserving' can crest the same hills with a lot less effort.
Trail access is the other big one. There's the fear that blurring the lines of mountain biking, introducing assistance, might threaten our access to trails and undo decades of hard work. People worry that pedal assistance will bring more trail damage, more conflict with other users.
---
Why does this particular bike attract such debate?
Good question. Specialized's Big Corporate image and slick marketing tend to divide people, and so it's easy for people to jump on the bandwagon of claiming Specialized are ramming the Levo down our throats. We disagree with this. Other brands are profiting in this segment too; it's just that Specialized are the one who is most visibly active at the coalface, both in marketing them and in trying to deal with the misconceptions and the governance issues around these bikes.
---
So, is it a motorbike?
No. No. No. Firstly, the motors' output is capped at 250 Watts. (Compare that to a YZ450F, which has an output of 44 Kilowatts, or 176 times more power). Secondly, there is no throttle. The motor only provides assistance when you are pedalling – stop pedalling and the motor stops too. Thirdly, the speed is capped at 25km/h – once you hit that ceiling, the motor won't provide assistance. Fourthly, the motor won't kick in if it detects large amounts of torque already, so you can't get out of the saddle and crank it and expect the motor to engage. This is all designed to stop you from being able to accelerate too fast or to spin the wheels.
It's not a motorbike.
---
What makes the Specialized different other pedal assist bikes?
Given this is our first real experience on a pedal assist bike, we can't make any comparisons other than visual differences. But in this regard, the Specialized is clearly miles ahead of the competition. The integration of the motor and battery is super clean, and the absence of any clunky handlebar display really appeals to us – it's got a very sleek look to it for all the technology hidden within. In place of a display unit, you've simply got a series of LED indicators on the battery, plus three buttons, that show you battery life and allow you to toggle between three power output levels.
All other fine tuning is done via an App, which lets you do some pretty cool things. For instance, you can plug in your estimated ride time (or upload a previous ride) and the bike will monitor the battery life and power output to ensure you finish the ride with a little power left in the tank. In reality, we rarely used the App though – we preferred just to jump on and ride.
---
How long does the battery last?
How long is a piece of string? It all depends on how you use it. In our experience, a full charge would furnish us with enough battery life for at least a 2.5hr ride at full speed in normal conditions, or longer if we toggled down to lower power modes. If you're heavy or riding steep hills, the battery life will be shorter.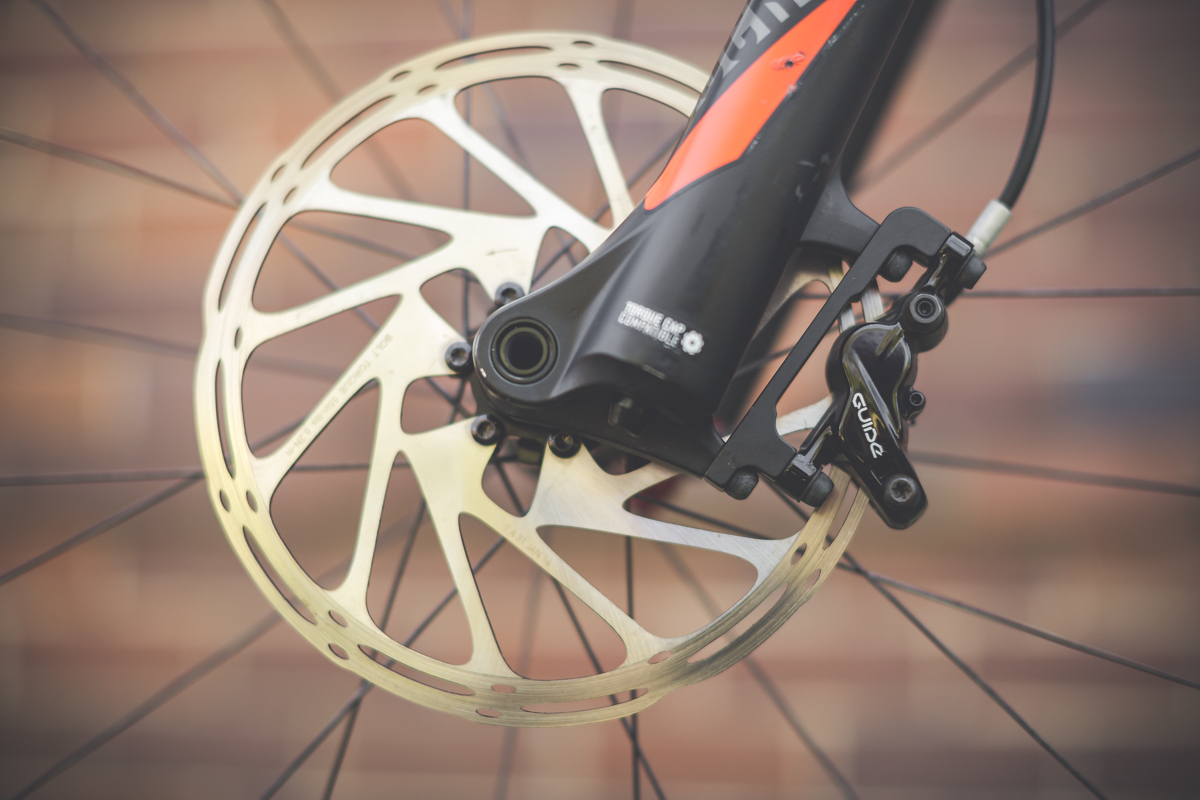 It's like having a tail wind, a tow, and the world's strongest coffee all in one go.
---
Is it similar to other Specialized bikes?
The Levo's closest ally in the Specialized range is the Stumpjumper. Like the Stumpy, it's aimed at trail riders, with a 66.5-degree head angle. Travel is 120mm out back, 140mm up front. The Levo is available in a few spec variants, including an S-Works version with fancy carbon wheels, and with either 29er or 6Fattie (27.5+) wheels, but they all share the same motor and battery setup. The alloy Expert version we've been riding will set you back a casual $10K.
---
So what is it like to ride then?
Let's start with the obvious one, the climbs. Point it uphill, and it's like having a tail wind, a tow, and the world's strongest coffee all in one go. You feel like you've got Lance's legs, flying up climbs that were previously a grind, accompanied by a lot of grinning. If you stay in the saddle and keep spinning a lightish gear, you can get up some pretty ridiculous bits of trail, with the massive 3.0-inch tyres finding traction everywhere. If you jump out of the saddle, you'll find the motor gets over-torqued and the assistance cuts out, leaving you suddenly trying to manhandle 24kg of bike up a slope. Sit and spin to win.
On flatter trails the Levo carries speed incredibly well – you get back up to pace after a corner instantly, and the momentum of the bike is impressive. On open flowing trails the weight of the bike becomes your friend, with its low centre of gravity helping it to really stick to the ground through sweeping turns.
---
But how does it descend?
Good question. After all, many of the people who buy this bike will be doing so because they hate climbing and live for the descents. In a nutshell, it descends well, albeit requiring a more physical riding style than a regular mountain bike. At almost 24kg, there's a lot of bike to move about, and the 469mm stays certainly make it harder to get the front wheel up or to pop off jumps. But, that said, it still descends bloody quickly, just with a less playful style.
At almost 24kg, there's a lot of bike to move about, and the 469mm stays certainly make it harder to get the front wheel up or to pop off jumps.
We found ourselves ploughing into things more than usual, which led to a pinched rear tyre and a couple of dropped chains. Perhaps we just need to do some push-ups and get a bit stronger to help flick this bike about!
The weight has its pluses too when it comes to descending. With the huge tyres and the weight down low, the Levo is remarkably stable for a bike that has just 120mm rear travel, and it will hang onto just about any stupid line you choose.
To help us feel more 'at home' on the descents, we experimented with turning the motor off when we had long, technical downhills. This was a good approach for us, removing any lingering uncertainty about whether the motor was going to kick in or not when we sprinted out of a corner for example.
There is nothing inherent in the Levo that will cause more trail damage than a regular bike.
---
Does it damage the trails?
There is nothing inherent in the Levo that will cause more trail damage than a regular bike. As we've noted above, the motor won't apply power if you're already torquing the drivetrain hard, so you rarely spin the rear wheel (no more so than a normal bike). The bike does weigh a little more, so there's marginally more braking force required to pull it up, but in the context of an average 80-100kg bike/rider combo, the effect of an extra 10kg is negligible.
---
Is it a threat to other trail users?
Your average speeds on the Levo are definitely higher than on a regular bike, which does mean you might be approaching other trail users a bit faster. That said, most of the extra speed is on the climbs – you don't descend any more quickly on the Levo, which is where you're more likely to encounter a surprise run-in with other trail users.
---
Do you still get a workout?
Yes. We can't quantify how much of a work out exactly, but if you're going for it up a climb, you'll still get your heart rate up and a sweat on! The same goes for descents, you've still got to work for it, just like a regular mountain bike.
---
How did we use the Levo?
We rode this thing a lot, both on our local loops and up in the big mountains of Falls Creek and Mount Buller too. The thing that blew us away most is just how much trail you're able to cover off, your riding horizons are much broader. Not only are the climbs over in half the time, but you spend less time recovering, so you can just keep on riding.
Your riding horizons are much broader… You can just keep on riding.
It was in the Victorian Alps where this really became apparent – we spent three days riding in Buller, which would have ordinarily left us completely buckled, but we were able to tackle each day feeling fresh. In Falls Creek we rode from the village to the peak of the mountain, back down the new Flow Town descent and then rocketed back up the road climb again, before powering all the way up to the top of Mt Mackay to watch the sunset, all in just an hour and a bit of riding. Try that on a normal mountain bike!
Tight, super technical trails are not this bike's friend, it needs speed to really feel at home.
---
Are there any areas where the Levo sucked?
Tight, super technical trails are not this bike's friend, it needs speed to really feel at home. Navigating the uber-tech of some of Mt Beauty's trails was tiresome, with the weight of the bike a drag. There's certainly room for improvement with the way the power comes on at slow speeds as well. It tends to surge a little, which sometimes led to off-trail excursions when negotiating tight switchback climbs.
We also found the power suddenly cutting off if we didn't shift cleanly. This is a deliberate protective mechanism, the power cuts to stop you ripping the rear mech off with a dud shift under heavy load, but it can catch you out too, leaving you suddenly straining to get back up to speed.
We're surprised that Specialized didn't opt for the e-bike specific 8-speed SRAM EX1 drivetrain on the Levo – we think the security of the thicker chain would have given us a good piece of mind because the shifts really do clang into place under the extra force of the motor! It pays to always maintain the drivetrain is in 100% order, a maladjusted derailleur will have the power cutting out way too often.
---
So who is it for?
The obvious candidates for the Levo are people who mightn't otherwise be able to enjoy mountain biking – those with injuries or disabilities for instance – or perhaps for new riders who mightn't otherwise be able to keep up. But the window of users is far broader than that, we feel.
If you simply detest climbing, you're the perfect candidate for a Levo. Or if you're time poor and just want to get in more trails before work, you'll dig it too. We can see the Levo being a good training tool for downhillers too, allowing them to punch out multiple laps of a downhill track, without needing to worry about a shuttle vehicle, and with the added training benefit of tackling tough trails on a short-travel bike.
If you simply detest climbing, you're the perfect candidate for a Levo.
Trail builders will love this thing. You can cart all your tools about and still have a bike to enjoy your craft. Same with photographers and videographers – we used the Levo on multiple video shoots, without having to compromise on how much equipment we carried.
There's plenty of commercial scope for the Levo too, and we can see these things becoming part of the hire fleets in places like Falls Creek, Buller, Bright, Cairns and Thredbo quickly.
---
But where can I ride it?
The big question! Because the Levo is limited to 250 Watts and requires pedal assistance, it is classified as a bicycle. Which means you can legally ride it anywhere a bike is allowed to go unless specifically stated otherwise.
There have been some areas which have initially said no to pedal assist bikes (Stromlo Forest Park being one such notable destination) but this seems to be changing rapidly. Most other destinations we've heard from are opening their arms to pedal assist bikes.
---
So, would we buy one?
Live and let live, we say, and do your best to get a test ride on one before forming your opinion.
If we had obstacles that were otherwise preventing us from riding, and the Levo was the ticket to get us back in the game, we'd be on it in a flash. For the average mountain biker, you'll have to decide whether or not pedal assist aligns with the reasons you mountain bike, and the way you ride. Obviously, we're not here to tell you whether you should or shouldn't embrace pedal assisted bikes; we were huge sceptics about the concept until we actually gave the Levo a proper try, and now we're fans. Live and let live, we say, and do your best to get a test ride on one before forming your opinion.