We're not into blowing smoke up people's arses. But if these rims were a person we'd be lighting fires with old truck tyres and getting a jumbo jet to blow the plumes right up there. The ROAM 60 simply is one of the best wheelsets we have ridden.
We honestly cannot fault them and after a month of solid abuse they're still kicking like the day they came out of the box. Straight as an arrow and solid as a rock.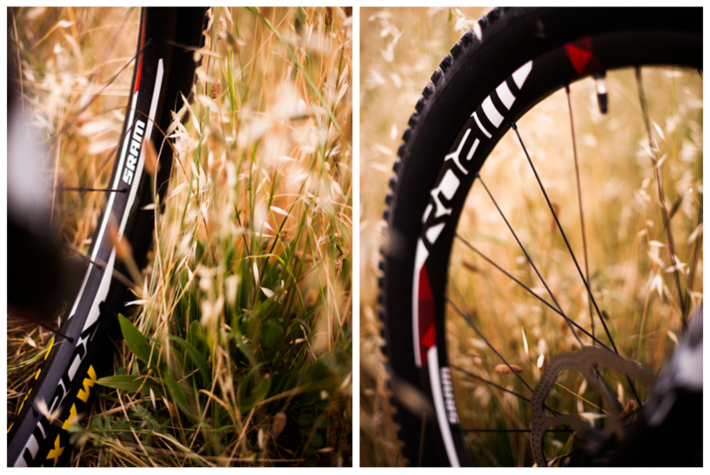 The ROAM 60 are a 2nd generation carbon wheel (rim is carbon, hub is alloy) from SRAM and are designed for more aggressive trail and all-mountain riding.  At 28mm wide they're not the widest on the market but they're still pretty beefy and their strength is second-to-none. They're also not the lightest either (still pretty damn good at 1570g for our test 27.5″ offerings) but they're made for aggressive riding so weight weenies need to think beyond the tale of the scales.
Inside the ROAM 60 box there's all manner of spacers and adaptors to fit the wheels to any mountain bike you can imagine. Standard QR, 15mm, 20mm – they will fit them all. Speaking of which, the hubs are large with high flanges, strange pull spokes and the rear hub comes spec'd with a SRAM XD driver body for 11 speed. The rear freehub isn't so loud as to stop conversations but it makes enough noise to keep you smiling.
And (hallelujah) they now come 100% tubeless ready. We slapped some Maxxis tyres on ours, threw in some Stan's sealant, and they sealed up with a track pump.
In terms of improving performance, a set of great wheels is probably one of the best upgrades you can give your ride. Whether it's to save weight, add strength, or both, you will always feel the benefits of better wheels and the SRAM ROAM 60 ticks both of those boxes. All up we saved around 200-300g (give or take a few millilitres of Stans) on our Giant Trance SX test bike, and whilst that's nothing to scribe onto the walls of your local public toilet, it's a pretty big improvement on what were pretty light OEM wheels.
The improvements in acceleration and braking that come from saving rotating mass are obvious, but it was the way these wheels improved our ability to hold a line that really grabbed us. The SRAM ROAM 60s just loved the really tough rock gardens or rough corners. Rather than being deflected from our chosen path, we immediately felt an increased ability to hold some pretty tight lines. Just point and go. We can hear the sceptics out there, but we're 100% serious, the difference is marked.
We tested these wheels on the rocky loamy trails of Mt Buller and the loose dry soils of Stromlo Forest Park. If you've ridden at Mt Buller you will know that rocks seem to appear from nowhere and ping your wheels unexpectedly. We heard that harsh ping though the spokes as the rim squarely hit a rock or two but post ride inspections yielded not a single bend or dent in the rims. On a deliberate test at Stromlo we let our tyres down to around 20 psi and went and hit a few rock gardens. There was a bit of noise from the spokes as the tyres squashed against the rims but not a single problem was noted. They are still straight.
Pedal engagement was positive and the wheels accelerated with ease. We didn't witness any burping or loss of sealant from the Maxxis tyres but the rear tyre did frequently loose some pressure during our testing. We're unsure if it was the tyre or the rim that was loosing the air however and as the front was holding pressure we're pretty sure it was the fault of the tyre.
If you're looking for an upgrade then you should consider adding these carbon hoops to your dream machine. Sure $2500 isn't cheap, but you'd pay that for a big screen TV and the TV isn't going to make you anything other than fat and lazy. These wheels will make you faster and happier…and that's priceless.