Like some kind of rampaging viking ship from across the seas, the YT Capra comes to Australia with a reputation for slaying its competitors in media and magazine reviews worldwide.
The 165mm travel Capra is one of only three frames in the YT catalogue, sitting in between their dirt jump hardtail and the monster Tues downhill bike. You may have seen the dirt hardtail flipping and spinning around wildly in the hands of the French Slopestyle madman Yannik Granieri. Or the Tues blowing up the internet underneath the heavyweights of the big mountain spectrum of the sport, Andreau Lacondeguy, Kelly McGarry and Cam Zink.
[divider]Who is YT?[/divider]
This German company is one of the world's biggest direct-to-consumer bike brands, a concept which has certainly seen more popularity in Europe than in Australia so far. The allure of this shortened supply chain is its capability to really lower prices, and the Capra CF Comp 1 certainly delivers here. We asked YT Oceania a few questions about supply, warranty etc – jump to the bottom of this review for their response.
But there's a lot more to a bike than what derailleur you get for your dollars – it's how it rides that really matters.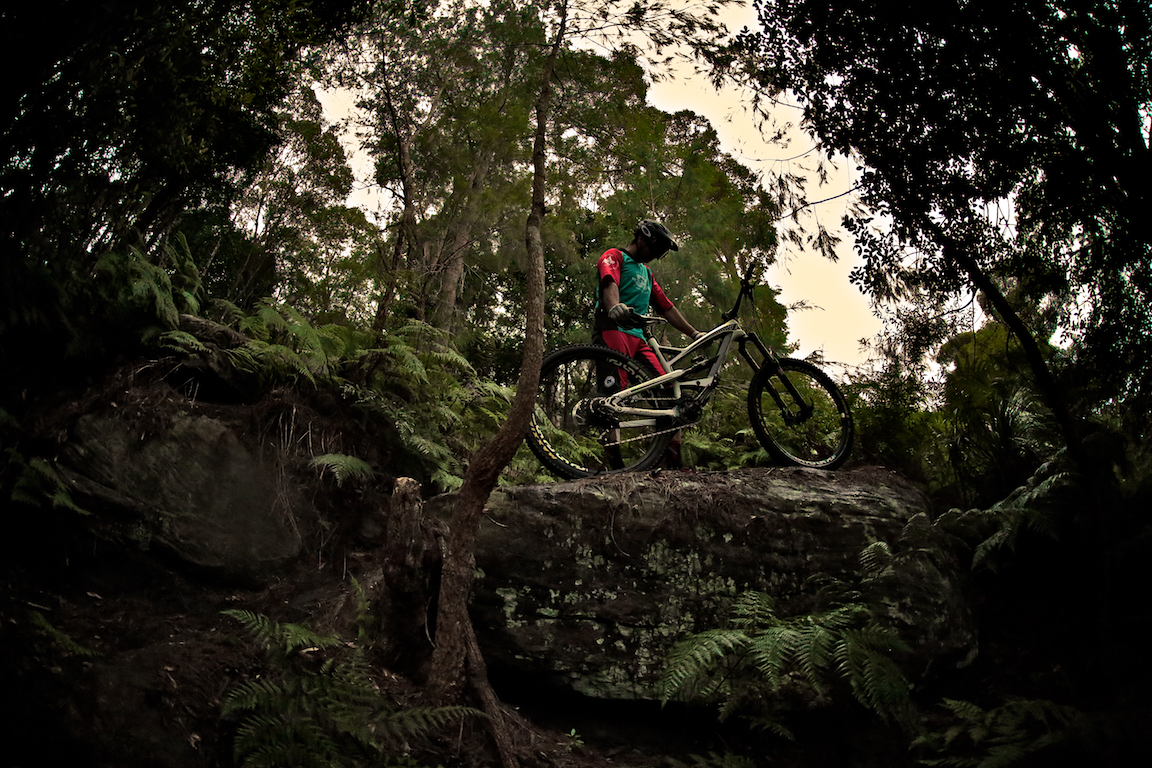 [divider]Who is it for?[/divider]
This bike grabs you round the throat and screams "ENDURO", right in your face.
With a meaty 165mm of rear travel and geometry that puts you right 'in' the bike, the Capra really is targeted at your knee-pad-wearing rider who lives for the descents. Or at least that's what appearances would have you believe – as we found out, the suspension is more efficient than an iPhone assembly worker when the boss is in town, so it's pretty handy on the climbs too.
[divider]The frame[/divider]
The Capra is available in both aluminium and carbon versions, with Australian pricing kicking off at $4099 for the base model, up to $6699 for the CF Race, which looks darn near un-upgradable. Interestingly, the two top tier models which run BOS suspension both score a few mills more travel, with 170mm, versus the 160mm found throughout the rest of the range.
YT claim a weight of 2400g (without shock) for their beautifully formed carbon monocoque frame, and aside from the fact there's no bottle mounts, you'd be a very fussy prick to find fault with it. The chain stays are the only aluminium frame member, with the remainder of the frame formed in chunky, Robocop kind of carbon shapes.
Cables are whisked away out of site like a drunk uncle at a kids' birthday party –it's all handled very neatly, with an internally routed Reverb dropper. The bottom bracket is of the press-fit variety, and it remained thankfully creak-free during our testing.
While we doubt anyone will do so, you can actually fit a front derailleur to the Capra, just bolt on the removable derailleur mount. The rear brake mount will only accept 180mm rotors or larger, ideal for slowing this German sled down when you get too excited (which is going to happen).
[divider]Geometry[/divider]
The Capra's side profile carries plenty of menace, with the head angle laid back at 65.5 degrees. Restoring the balance, so to speak, is a steep 75 degree seat angle, which feels just perfect once the bike is at its sag point. YT say it's 'an ideal climbing position'. Look, yes and no. You are right over the bottom bracket, which is great for a bunch of reasons, but you still can't hide a 65.5 degree head angle and 50mm stem!
The common theme with bikes in this category is to match a long front end with a tight little behind. With chain stays of 430mm, the Capra follows suit, which keeps things lively and prevents the bike from feeling too stuck to the ground.
[divider]Suspension[/divider]
YT call their take on the four-bar linkage 'V4L', or Virtual 4 Link (hooray for TLAs). It's a really well tuned four-bar system that does everything on paper that you could ask for; the spring curve is aggressively supple off the top, with a very linear mid-stroke and then a pretty pronounced ramp-up right at the end.
It all happily translates from paper to the trail too. It took a few rides to get the setup just right; the firmness of the end-stroke was a little too much until we dropped the pressures to give us just over 30% sag.
The RockShox Monarch Plus has three very useable compression adjustments, we spent the majority of the time riding in the softer setting, and would use the middle option on flatter trails while the firmest was only used on the smoothest climbs or the road. The suspension really is very efficient under pedalling indeed.
The arrangement of the suspension linkage is unconventional. Normally we see brands going for wider and wider spaced bearing placement with their linkages, but the Capra tucks the shock link inside the frame. It keeps it all away from your knees, and it certainly isn't to the detriment of the bike's stiffness.
[divider]Spec highlights and lowlights[/divider]
Wheels:
The E13 wheels look a bit under-gunned in this bike, but they're built very well and must be up the job as our set are still 100% true. Something wider could be an option as an upgrade down the line.
You're going to love or hate the rear hub, depending on which side of the 'listen to how expensive my hub is' argument you sit on. It's very, very loud.
Drivetrain:
SRAM's X1 drivetrain is just perfect. On the Capra it's matched to Raceface cranks, and an E13 top-mount chain guide is added for extra security, which we commend.
Comfy contact points:
Extra-long Sensus grips provide plenty of friction in the wet, and the shape of the SDG Duster saddle is really comfy too.
Maximum drop:
YT have opted for the 150mm-travel version of the RockShox Reverb. On the positive side, you can get your saddle miles out of the way. However, for riders with shorter legs, it might be impossible to get the saddle low enough when the post is at maximum extension. Shorter test riders had the post just about as far down as it would go in the frame. Some were borderline needing a smaller frame size, but the top tube length on the medium was perfect.
It's not a frame sizing issue, just a potential consideration with the overall seatpost length.
Big rotors:
200mm rotors front and back! Fasten your seatbelts and get ready for whiplash baby, not even many downhill bikes run big frisbees like this at both ends. There's a heap of power, and you won't ever cook them, but 180mm rotors would save a bit of weight and add some clearance if that's your thing.
Pike:
YT specced the Capra with the top-end version of the Pike, and it feels to us like they've even had it custom tuned to suit the bike's rear suspension too. We didn't pull the top cap off the fork, but it felt super progressive, which meant we ran less pressure than usual.
[divider]Ride impressions[/divider]
Singletrack manners:
Getting over the front and showing those tyre side-knobs just who's the commander of the ship is the way to get the most out of the Capra, especially when the trails are mellow. It's easy to become a passenger on a bike like this, so getting over the bars is the way to ride or you'll find the front wheel doing its own thing.
For a big bike, it's still pretty zippy. The wheels are light, the tyres fast rolling, and the rear hub engages really quickly. Keeping the rear shock in its middle compression setting in the singletrack just adds to the liveliness too.
Climbing:
Plenty has been written about the surprising efficiency of the Capra when climbing and we have to agree. You've got to be a real masher and have your weight right over the back before you'll get the Capra to squat and sag like some other long-travel bikes do routinely.
If you're relaxed and concentrate on keeping that front wheel from wandering, then it climbs pretty damn nicely.
If your riding involves a lot of tighter, technical climbs, having 10mm more length on the stem could help. Either that, or a travel-adjustable fork, but that's a big investment.
A flick of the RockShox Monarch's switch, and you'll be able to firm the rear suspension up to your liking, and where the shock is positioned in the frame reaching for the lever is quick and easy.
Descending:
The Capra charges the descents hard. Every aspect of the Capra aligns to make it feel stable and confident, its super-slack angles and massive cockpit promote you to stay off the brakes and to pin it.
For riders like us, who've largely stayed away from pure downhill bikes these past few years, the Capra has descending performance that is akin to (or better than) the full-on downhill bikes we regularly rode just a few years ago. Accordingly you need to ride it hard and keep the speeds high for it to really shine – to make the most of its intentions you really need to give it some curry.
It took a few rides to get into the swing of it. Muscle it, get on the front, slam it. If you don't, you'll find yourself being taken for a ride, rather than doing the riding yourself!
The suspension is built to keep the bike stable at downhill speeds, and it takes a lot to get to the bottom of the travel in general riding. It was only on the hardest of impacts that we felt it bottom out, both the front and rear suspension are mighty progressive!
[divider]Alternate options[/divider]
It's a good time for these 160mm-ish bikes. The highly competitive market is booming with great options, and the enduro thing is very on trend right now. We've ridden and rated many great options lately, from Specialized, Trek, Norco, Giant, Polygon and Pivot.
[divider]Delivery[/divider]
The Capra landed on our doorstep in a box, but not your typical bike box at all. Inside was a bike that had been assembled fully, and then partially disassembled to reduce the steps needed before riding. Wheels on, handlebars on, pedals in, set up the suspension and you're good to go.
YT make it pretty easy for you, with detailed instructions like the sample below, so depending on your competency level with mechanical ability, this could be a blessing or a real headache.
Shipping is an additional $200 for Australia and $100 for NZ on top of the bike price, which isn't a small sum, but the overall value of these bikes is pretty bloody good all the same. At the end of the day, it's about weighing up the pros and cons of buying a bike from a shop or not.
[divider]Final thoughts[/divider]
If you've got the pace, the Capra will have your back. Really, the Capra is about as good as it gets in the hands of a capable rider; it'll descend like mad and won't rob you up climb, and they've nailed the balance of efficiency to bombing ability nicely.
But, the geometry is very slack, and you will need to ride the front end a lot when you're not up to much speed, but you can get used to that. We wouldn't call it a single-minded bike, because it climbs too well, but it does require the right attitude. Aggro, fast, unafraid – eyes down the trail, not worrying about what's happening directly beneath your wheels.
The direct-to-consumer model could be a stumbling block for some consumers, particularly those who aren't all that savvy with bike setup. Having said that it'd certainly proven and successful in the US and European markets, and if YT can nail the support side of things locally we think it'll take off.
---
[divider]How does the direct to consumer model work?[/divider]
You won't find a YT on bike shop showroom floors, you'll need to click to the internet to buy one online. The upsides of the direct to consumer model are pretty obvious, the bike bypasses an Australian wholesaler, and a retailer and lands on your doorstep. The price is great, but there are certainly upsides and downsides to all this.
We asked YT Industries Oceania's Solon Payne a few of the questions that we'd ask if considering a purchase.
– Where are they shipped from?
For our market (Australia & New Zealand) and the United States bikes are assembled in Taiwan. For the European market YT's are assembled in Germany. The quality of assemble in Taiwan is excellent and YT have their own staff on site to ensure the highest quality standards are met on every assembly run.
All our YT bikes are fully assembled and tuned as you would expect from any professional retail outlet, the bikes are than partly disassembled and packed into a custom YT bike box. – YT Oceania
As a customer all parts of the re-assembly are labelled and the process is straight forward, essentially a YT is ready to ride in 10 minutes out of the box. In our start-up year for Oceania all our bikes are warehoused in Auckland, New Zealand, and dis-patched to customers throughout New Zealand and Australia. This is by no means economic for us but is an essential starting point for the introduction of YT into Oceania. Plans are now well under-way for us to establish warehousing in Australia as well.
– Warranty terms.
YT provide a 3 year warranty.
– Where can a consumer take a YT for a warranty inspection?
For OEM parts we now have a great network of independent service technicians and bike shops throughout both countries that we direct customers to.
If there is a suspected issue with the frame our customers only need to box the frame and we arrange collection. – YT Oceania
In Australia our first warranty partner is in Brisbane and in New Zealand the frame would be sent to us in Taupo. Both warranty centres hold spare parts and although we are yet to be tested we feel our turn around time and service to customers is un-questionable.
– Is there plans for a demo fleet, tour, or any try before you buy program?
Absolutely, we will have a full demo fleet early 2016 and we have been and still are scoping venues for demo days. As we are online and direct displaying bikes and giving people the opportunity to experience how great YT's are, is essential. Our only challenge is…. Australia is so "flamin" huge, New Zealand is easy in comparison.
– Will there be recommended service centres?
We already have a great network of independent service technicians and bike shops throughout both countries that we direct customers to. We are also working on a new website for Day Zero that will list our service centres and provide more regional specific information.
---