No doubt about it, carbon wheels are the new dropper seatpost. They're the upgrade everyone is emptying their wallets for, and we've been spoiled lately with a stack of carbon wheels to test. The most recent of these is from Queensland-based Zelvy Carbon, who sent us a set of their 35 29er Pro wheels.
Zelvy, unbeknownst to many, have been quietly slipping their wheels under some of the fastest and hardest riders on the planet, and have had their hoops raced at the highest levels of World Cup and World Champs competition. For a little company, they have impressive credentials.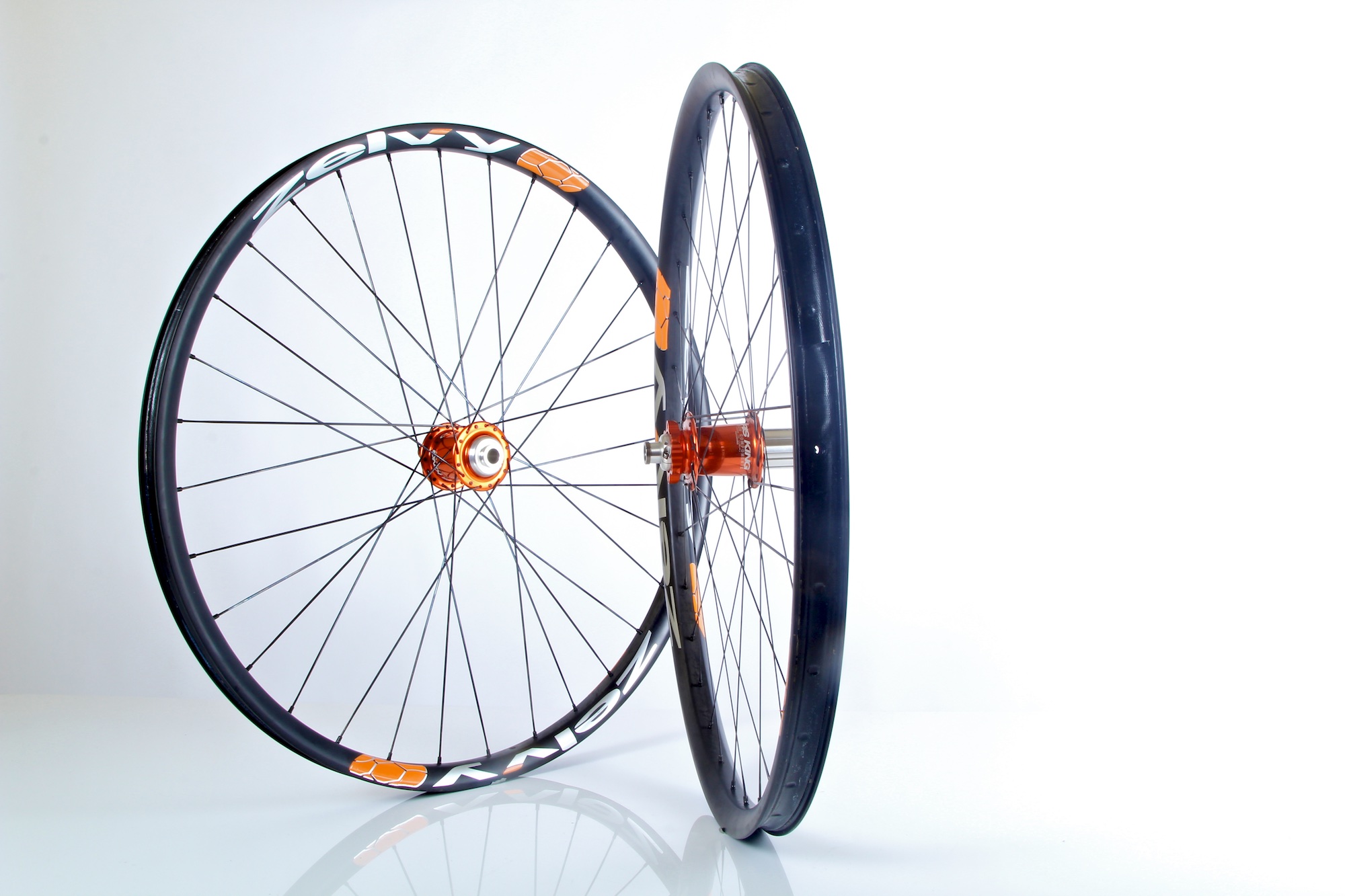 There's a good reason carbon is becoming the material of choice for mountain bike wheels. The strength to weight (and stiffness) of carbon opens up a world of possibilities for rim design, most notably the ability to add width to rim without ending up with a heavy set of hoops. The benefits of a wider rim is something we've harped on about plenty of times, but it's worth noting again; a wider rim gives your tyre more stability, which in turn facilitates lower pressures with reduced tyre roll, giving you more grip in every situation, from cornering to braking to climbing.
Over the past few months we've seen a massive surge in the proliferation of wide rims, and we've reviewed wheelsets with rims up to 41mm wide. While Zelvy do offer 40mm-wide rims, we opted for the slightly narrower and lighter 35mm rim option (430g rim). Zelvy have a 30mm-wide rim too, which is ideal for frames with tighter tyre clearance or if you prefer a more traditional looking wheelset, but for us the 35mm was the ideal match to our test bike.
---
Other carbon wheelsets we've recently reviewed:
Ibis 741 – https://flowmountainbike.com/tests/tested-35mm-wide-ibis-741-wheels/
Bontrager Rhythm Pro TLR Carbon – https://flowmountainbike.com/tests/tested-bontrager-rhythm-pro-wheels/
SRAM Roam 60 – https://flowmountainbike.com/tests/tested-sram-roam-60-carbon-wheels/
Specialized Fattie SL – https://flowmountainbike.com/tests/flows-first-bite-specialized-traverse-sl-fattie-wheels/
Enve M60 Forty wheels – https://flowmountainbike.com/tests/flows-first-bite-enve-m60-forty-wheels/
---
Along with rim options, Zelvy offer their wheelset in a number of build levels, which dictates the hub and spokes used. Pricing on a 35mm 29er wheelset starts with the Race build at $1350, which will get you the same rims laced with DT Competition spokes to Hope Tech hubs. Our primo Pro build was assembled with DT's exemplary Aerolite spokes and gorgeous Chris King hubs in a lairy mango colour, with rim decals to match.
The test machine for our review was Trek's Fuel EX 9.9 29er, which already comes equipped with a high-end set of wheels, so we were incredibly surprised to find that the Zelvy wheelset weighed in 80g lighter than the stock Bontrager Rhythm Elite wheels (both wheelsets were weighed with rim tape fitted). This is especially impressive when you consider the rim profile of these two wheelsets, with the Zelvys measuring up a full 6.5mm wider than the Bontragers – the Bontys have an 22.5mm internal width, while the Zelvys are 29mm.
Our Zelvy wheels arrived ready to rock for tubeless use. The rims are sealed with a heavy duty Gorilla tape (or something very similar), which may sounds hokey but it's the same stuff as used to seal up ENVE wheels and it works a treat, and the valves are pre-fitted. The Zelvy rims are a hookless design, with no bead hook in the rim's sidewall. We first saw this technology in mountain bike wheels a couple of years ago, and while it initially made us nervous about the potential of rolling off a tyre, our fears have long since been blown away. Without a bead hook, the rim can made stronger through the sidewall, with less material needed.
We fitted the same tyres to the Zelvy rims as we'd been running on the Bonty wheels, a set of Bontrager XR3s in a 2.2″ size. The shape of the tyre on the wider rim was noticeably different, a lot squarer across the top, and about 4mm wider by our reckoning through the body of the tyre. This mightn't sound like a lot on paper, but it's immediately apparent in the flesh, and coupled with the much deeper profile of the carbon rims, your wheels suddenly take on an air of invincibility.
In terms of build quality, we rate the assembly of the Zelvy wheels very highly. Traditional three-cross 32-spoke lacing is still the gold standard for us, the Zelvys are built tight and true. Of course the Chris King hubs are beautiful chunks of revolving eye candy, and if you've got the coin to throw at them, then do so. They look and sound fantastic, and experience tells us they'll run for years without a lifted finger. Unfortunately we didn't manage to hang onto these wheels for as long as we'd like, so we can't draw any long-term conclusions about their durability, but given the quality of the hubs and spokes, and the perfectly balanced build, it all bodes very well.
What we can comment on is how these wheels immediately gave our Trek a new level of performance. We dropped the pressures in our tyres down to 21psi (for a lightweight rider admittedly) and hit our favourite trails faster than we'd ever ridden them on the Fuel EX before. Grip appeared like magic, and confidence followed in spades.
The need to brake before corners was reduced instantly, but when we did need to slow things up, you could jam on the front brake much harder without risk of skidding the front wheel. Comfort and compliance was boosted too, almost like the Fuel had suddenly been given another 10mm of suspension travel.
There was so much grip and stiffness available at the wheels, in fact, that we became conscious of flex in other areas of the bike that had never worried us before. By the end of even our first ride, we knew that if we were going to extract the full potential of the new wheels, we were going to have to hunt down a stiffer fork and handlebar for our Trek! Quite simply, the addition of these wheels was giving our bike abilities that hadn't been in the game plan when it was specced.
Acceleration over rough terrain was another area of massive improvement too. Not so much due to the wheel set's low weight and amazing Chris King freehub engagement, but because the lower pressures allowed the tyre to dig in, not skip or bounce, so your efforts don't go to waste.
Aside from the fact that you may find yourself in an upgrade spiral, are there any downsides to these wheels? A slight increase in drag on the tarmac due to the tyres' larger contact patch is about all we can come up with. Some people mightn't like the big graphics either, but Zelvy offer you a huge range of colour options here too, so you should be able to find a look that you like.
With pricing that is extremely competitive, a wide range of build options, a variety of rim widths and the reassurance of a local support, there is a lot going for these wheels. We rate them very highly in this competitive sector of the market.