We recently found out that we've been mispronouncing Awaba. Apparently it's not 'A-wah-ba'. It's actually more of on 'o' sound: 'A-wob-a'. We might have been saying it wrong, but the bike of the same name gets it right where it counts.
The Cell Awaba 2.0 ushers in a new era for wallet-friendly Sydney-based brand Cell Bikes. It's what we'd deem to be Cell's first serious mountain bike offering in quite some time, and it a really nice bike for a very reasonable sum.
Cell have taken aim directly at a super receptive target market – the wallet conscious weekend warrior and occasional racer – and they've opened fire with a $1699 29er hardtail that must be one of the best value bikes around. [divider]Build[/divider] An aluminium hardtail frame at this price point rarely gives much cause for comment, but there are actually some quite notable and well-considered features on the Awaba. Firstly, the understated paint job comes across as stealthy, rather than half baked, with some nice details the closer you look.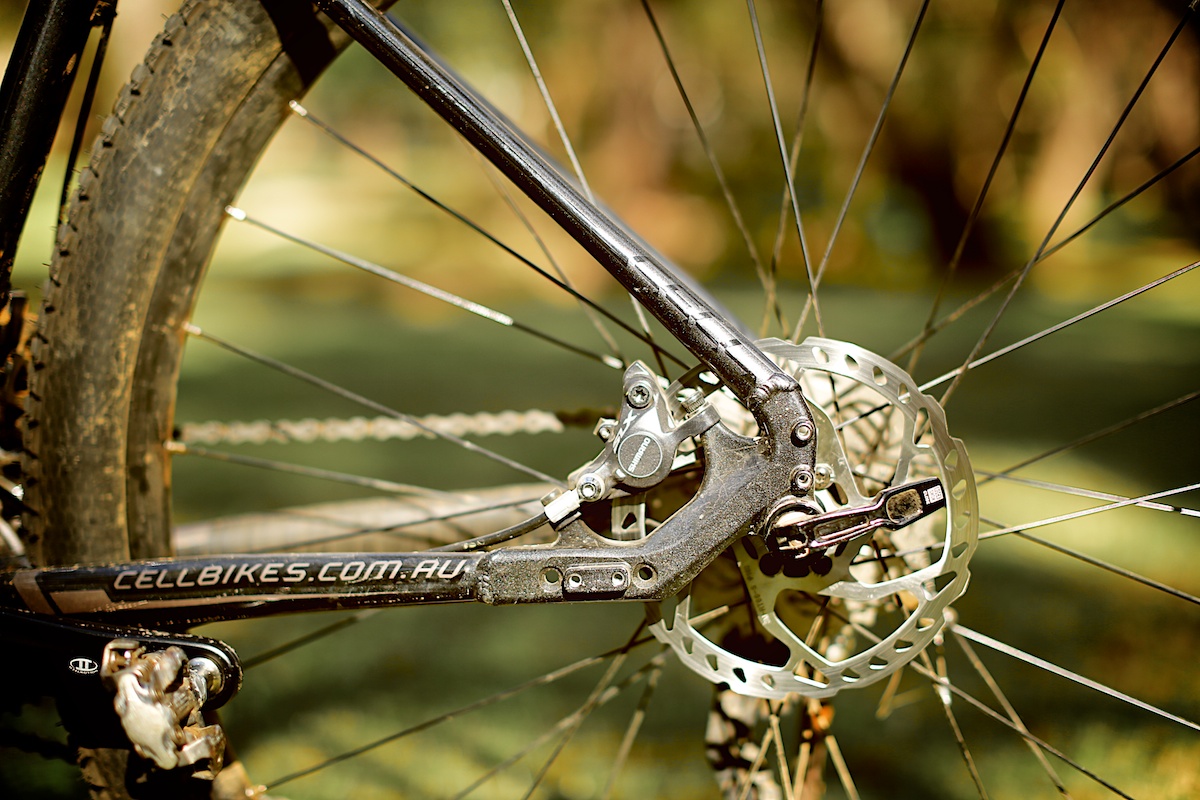 The rear end is built for maximising comfort; just because it's a hardtail, doesn't mean it has to be rock hard. Positioning the brake caliper on the chain stay allows for the use of a very light seat stay, which works in tandem with the slender 27.2mm carbon post and curved, triple-butted seat tube to deliver more compliance. An easy-to-use Maxle binds the 142x12mm dropouts together tightly (and matches the fork's axle too).
The rear end is built for maximising comfort; just because it's a hardtail, doesn't mean it has to be rock hard.
In a nod to commuters or tourers, there's rack mounts, and also (the only blight on this otherwise very nice frame) a mount for kickstand. Yes. A kickstand.
Full length cable housing is used too, to reduce the need for ongoing maintenance, and it's all routed under the down tube rather than internally, which will please home mechanics. A low-stack head tube facilitates a more aggressive position than you'd usually expect to see on many bikes at this price point too, which will please those  coming to mountain biking from a road background, shorties, or riders who want the front end low. An easily overlooked but very cool feature is the use of a custom offset fork, much like the G2 geometry found on Trek's 29ers. Cell calls it Pro 29 Geo, and essentially the fork crown is offset further forward than is standard. The benefits of this greater offset include increased foot/tyre clearance without resorting to a super long top tube. It also allows for a reduction in 'trail' (the offset between the steering angle and the tyre's actual contact patch with the ground) without having to jack the head angle up super steep.
[divider]Spec[/divider] In a world where many buyers shop on rear derailleur spec, not ride quality, Cell have to be competitive for the money and they've succeeded in cramming a lot of high-performance componentry into a relatively meagre price tag. We don't normally like to focus on spec overly, but it's a big part of the appeal of this bike, and it's important to the folk who are likely to buy this bike.
Brilliantly, the Awaba comes primed for tubeless conversion.
The Shimano running gear and brakes are all fantastic and it's a pleasure to see so much XT in the mix, with the rear mech, double ring crankset and shifters all brandishing the XT name. A Deore level cassette is the only obvious nod to dollar saving, but that's a wear item anyhow and can be upgraded down the line.
Tough Alex rims with 32 conventional spokes makes for simple repairs should you pop a spoke and the hubs use sealed bearings throughout. The tyre choice is sensible too, with a faster rolling Continental Race King out back and a large volume X-King 2.4″ up front. Brilliantly, the Awaba comes primed for tubeless conversion. There's tubeless tape and valves in the box, and while the Conti tyres aren't really designed for tubeless use, we had no problems getting them to seal up with the addition of some Stan's No Tubes sealant. We did have the benefit of an air compressor to get the tyres to seat properly. The Cell branded seat post is a highlight. Its made from uni-directional carbon fibre and has a surprising amount of 'give'. Even bouncing around the carpark you can see the post flexing ever so slightly. A racy Prologo saddle (which made our arse smile), 90mm stem and 700mm-wide flat bar round out the contact points nicely.
100mm of bounce is taking care of by the lightweight Rockshox Reba RL with a 15mm Maxle axle. The Solo Air spring is easy to set up, though we did find it necessary to run more air pressure than the pressure chart recommended in order to keep the fork from bottoming out. There's a lockout on top of the right leg and we're glad the Cell resisted the temptation to fit a handlebar-mounted remote lockout – it's just more faff to break.
[divider]Ride[/divider] We rarely get the opportunity to ride hardtails here at Flow, especially with the proliferation of do-it-all 140-160mm trail bikes that seem to roll through our door a lot lately. When knew it would take us a couple of hours to get back in the groove or riding a hardtail, so our first ride on the Cell was a long fire road bash. In reality, this is probably the kind of riding a bike like this will spend most of its life doing, so it was an appropriate place to kick off.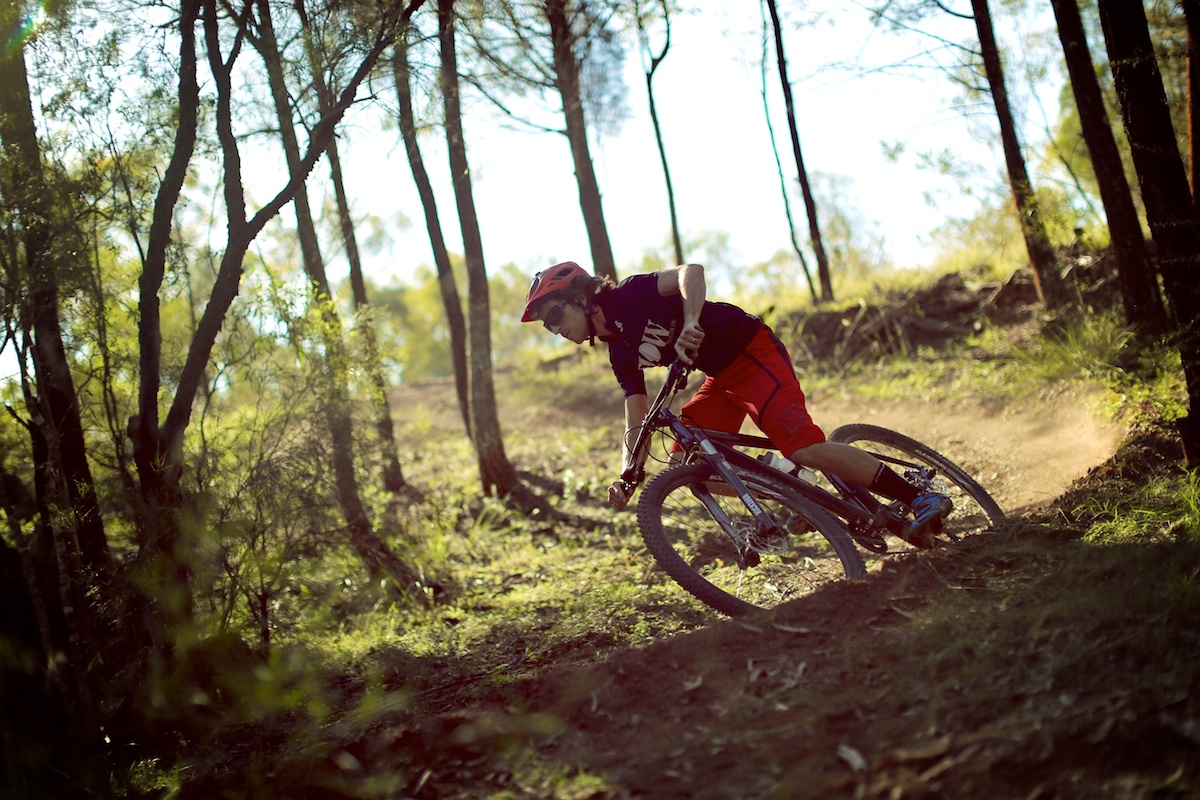 Getting comfortable was not problem, we found the ergonomics to be spot on. Our initial inclination had been to go 10mm shorter on the stem and 20mm wider with the bar, but we're actually glad that we didn't. The lengths felt fantastic, and the position gave the front wheel plenty of bite in the corners. Our first ride taught us that the fork needed more air than Rockshox claimed. So before our second ride, we upped the fork pressure, dropped the tyre pressure to around 27psi and found the bike's sweet spot. With the presures dialled, we found far more front end grip than we'd expected, especially when braking hard and late. The big contact patch of the Conti 2.4″ front tyre lets you make the most of the awesome power on tap from the SLX brakes. Seriously, these brakes upstage other stoppers that are three times the price – how does Shimano do it?
We found it easy to get our weight distributed to the rear of the bike when tackling rocky sections, rollers or drops, and with quite short stays hopping the bike was not a worry.
The Awaba didn't disappoint on the climbs. On long drags we did notice that there's a bit of weight to the wheels, so staying on top of the gear is important, but the climbing position is ideal, especially with the stem slammed low. The front wheel doesn't lift or wander on steep, seated grinds. It was on the awesome trails around James Estate where we really found our mojo onboard the Awaba and once again came to appreciate the joy of riding a hardtail fast in singletrack. The handling is speedy, precise and playful. With 435mm stays and 69.5 degree head angle, the balance of the Awaba felt ideal to us. We found it easy to get our weight distributed to the rear of the bike when tackling rocky sections, rollers or drops, and with quite short stays hopping the bike was not a worry.
As accustomed as we are to dropper seat posts, we were surprised that we didn't  feel 'locked in' by running our seat post at full height. It was easy to tip the Awaba around underneath us and get behind the saddle when we needed to, and we found ourselves working the terrain and riding in a more engaged way than we'd expected. Simply put, the ride was fun and confident, which translates directly into a willingness to go faster. Once we'd added some Frameskin to the chain stay to quieten any chain slap, the Awaba was a surprisingly quiet bike too. Careful consideration of the cable routing means there's no cables slapping against the frame or fork crown.
Over the course of our riding, we did begin to find the shifting becoming quite heavy. This friction can be the downside of full length cable housing; it's important to ensure the cables are well-lubed when the bike is built. Fitting some Shimano housing and filling it with a thickish chain lube is the solution, which is a $20-$30 exercise at most. [divider]Overall[/divider] It probably sounds like we've been overly effusive for what is ultimately a fairly basic bike. But the Awaba exceeded our expectations well and truly, not just in terms of the way it rode, but through the obvious level of thought that has been put into the component selection and frame design. Over time, it'd be an easy task to make some simple upgrades to push this bike closer to the 11kg mark, but even as it stands, we'd have no problems popping a number plate on this bike and tackling a 50km marathon or four-hour cross country race. And at less than $1700 you'll have plenty of cash left over to buy enough gels to keep you riding or racing for yonks.
Tested by: Chris Southwood
Rider height: 172cm
Rider weight: 62kg
Tested at: James Estate Winery, St Ives, Terry Hills, Wollombi.
Changes made: Converted to tubeless with supplied strips and valves, added Frameskin Framewrap to protect and silence chain stay.