Wil reviews the Trek Fuel EX 2023
Having undergone a ground-up redesign for 2023, the Trek Fuel EX has entered its burliest and biggest travel form yet. This latest model represents the 6th generation of Trek's popular mid-travel trail bike, with the original having debuted all the way back in 2005. Trail riding has evolved a lot since then, and the new Fuel EX aims to keep up with that evolution by incorporating almost every mod-con you can think of.
Of course it's big news whenever Trek releases a new Fuel EX, and given how important this bike is for the US brand, we were curious to see how the raft of updates would play out on the trail. We had a bit of an idea, having thoroughly enjoyed riding the electrified Trek Fuel EXe over the past few months. Would the muscle-powered version deliver the same good vibes? And how would it compare to the previous models that have given us so many fond riding memories over the years? We've been putting the Trek Fuel EX 2023 to the test to find out!
---
Watch our video review of the Trek Fuel EX 2023:
---
Along with the downtube storage, generous frame armour and size-specific chainstays, the Fuel EX appears to pack in almost everything you could possibly want in a modern trail bike.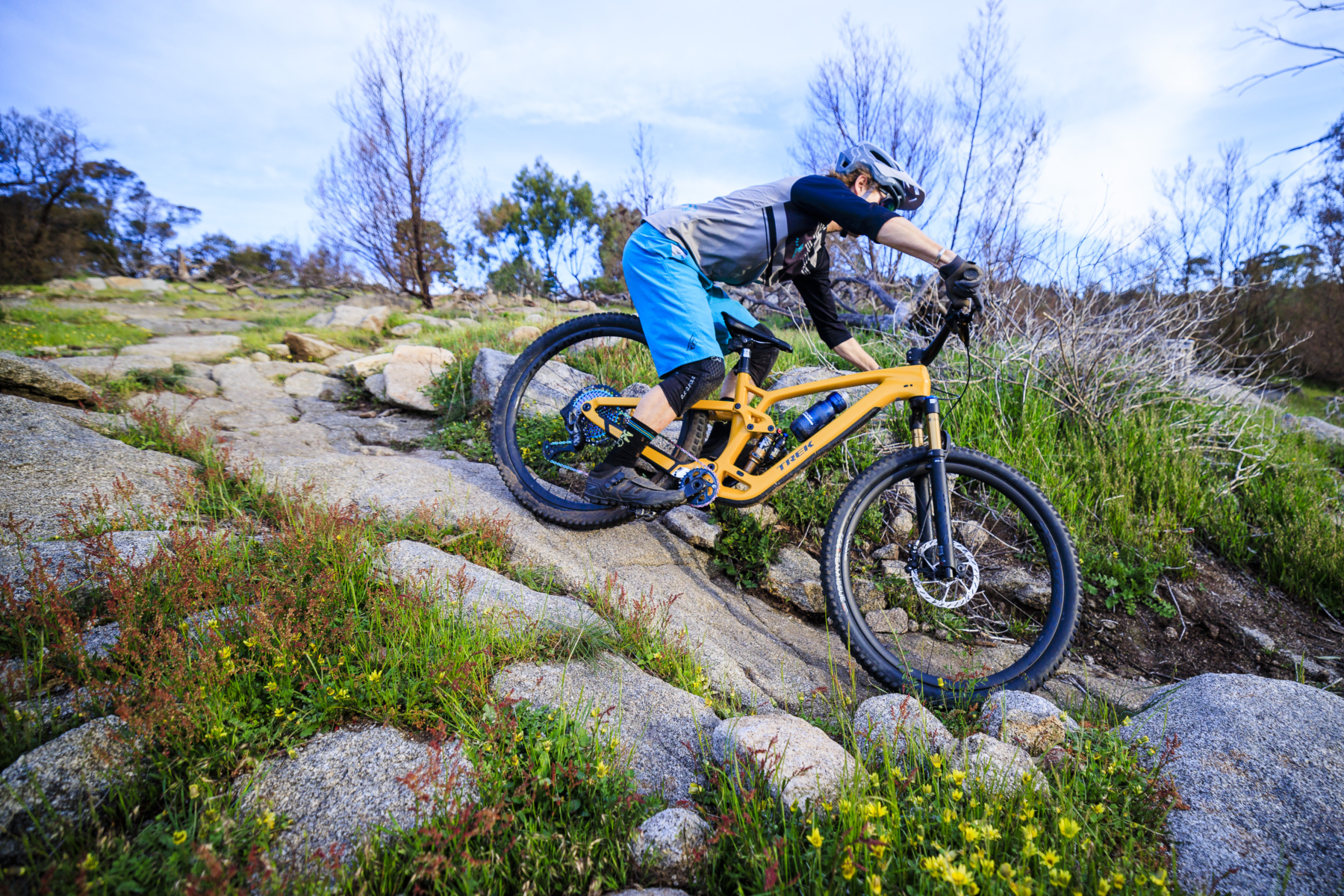 An overview of the Trek Fuel EX 2023
For 2023, the Trek Fuel EX is built around an entirely new frame that's produced in carbon and alloy variants. Suspension travel has increased by 10mm at both ends, with the new Fuel EX now sporting a 150mm fork and 140mm of rear travel via the ABP four-bar suspension design.
It's worth noting that the frame will handle a 160mm travel fork, and thanks to the two-position Mino Link, it can also be run as a mullet. Borrowed from the Session downhill bike, there's a two-position flip chip at the lower shock mount that offers linear and progressive settings. The latter option is what makes the new Fuel EX coil shock compatible.
On top of that, Trek will be offering aftermarket headset cups to steepen or slacken the head angle by a degree. Along with the downtube storage, generous frame armour and size-specific chainstays, the Fuel EX appears to pack in almost everything you could possibly want in a modern trail bike. It's certainly an appealing package on paper, and one that's ready to take on contemporaries like the Specialized Stumpjumper, Merida One-Forty, Canyon Spectral and Giant Trance X.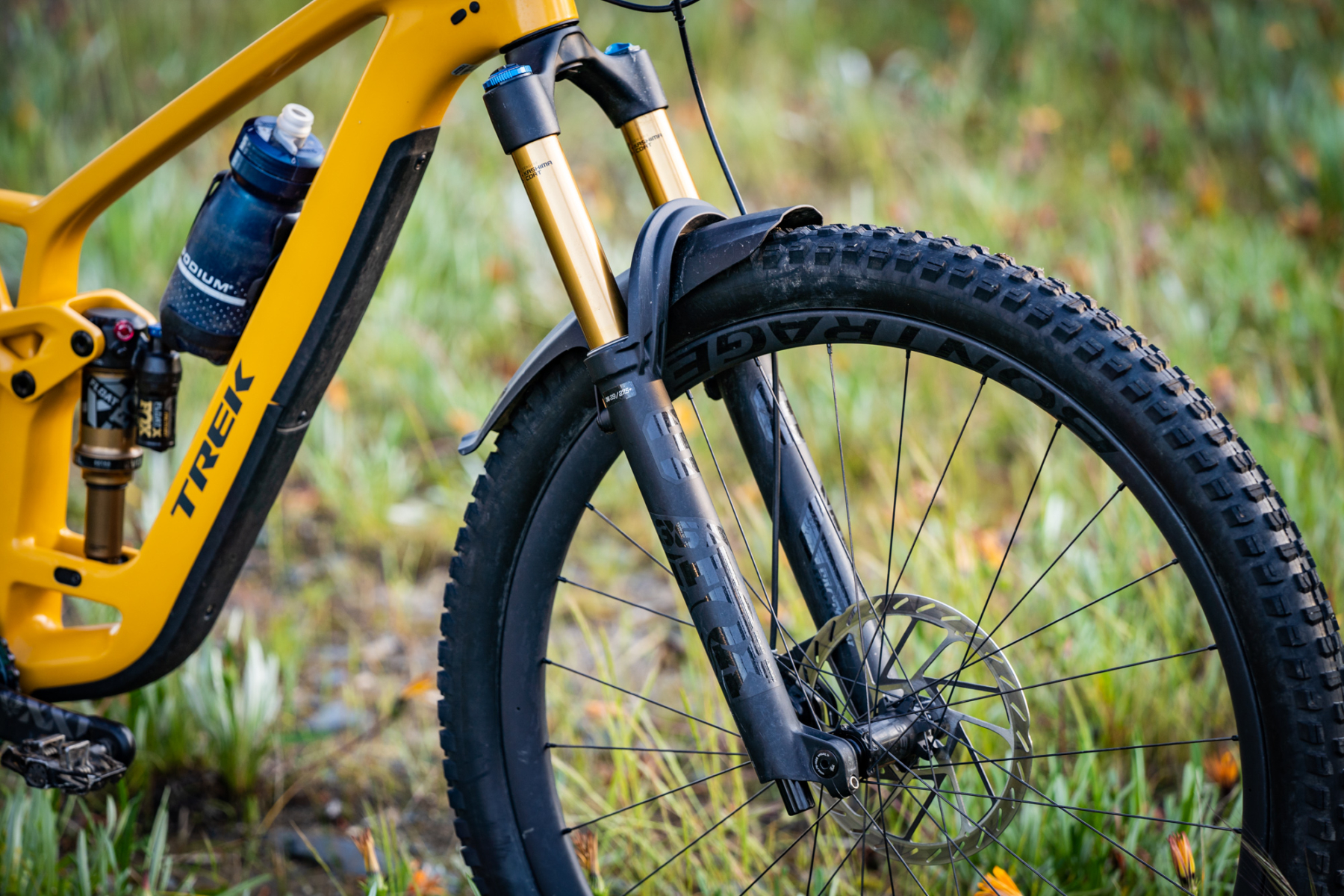 Trek Fuel EX price & specs
There are a number of different models available in the Trek Fuel EX 2023 lineup, though availability will vary depending on where you are in the world.
In Australia, prices currently range from $4,999 AUD for the Fuel EX 7, and go up to $8,999 AUD for the Fuel EX 9.8 XT model. The cheapest option is actually the Fuel EX 5, though that model carries over the previous generation frame. For a closer look at the specs, prices and all the new details, check out our Trek Fuel EX 2023 overview article for more.
Here we'll be diving into our experience of testing the Trek Fuel EX 9.9 XX1 AXS model, which will be available in Australia in limited quantities through the custom Project One bike builder. It's a media bike that was provided to us by Trek, and of course it comes dripping with lots of gold, carbon and wireless bits. However, as usual with our reviews, we won't be going into detail about the Gucci-level spec. Instead, we'll be concentrating on the important aspects that are shared throughout the Fuel EX lineup; the frame design, suspension performance and its on-trail handling.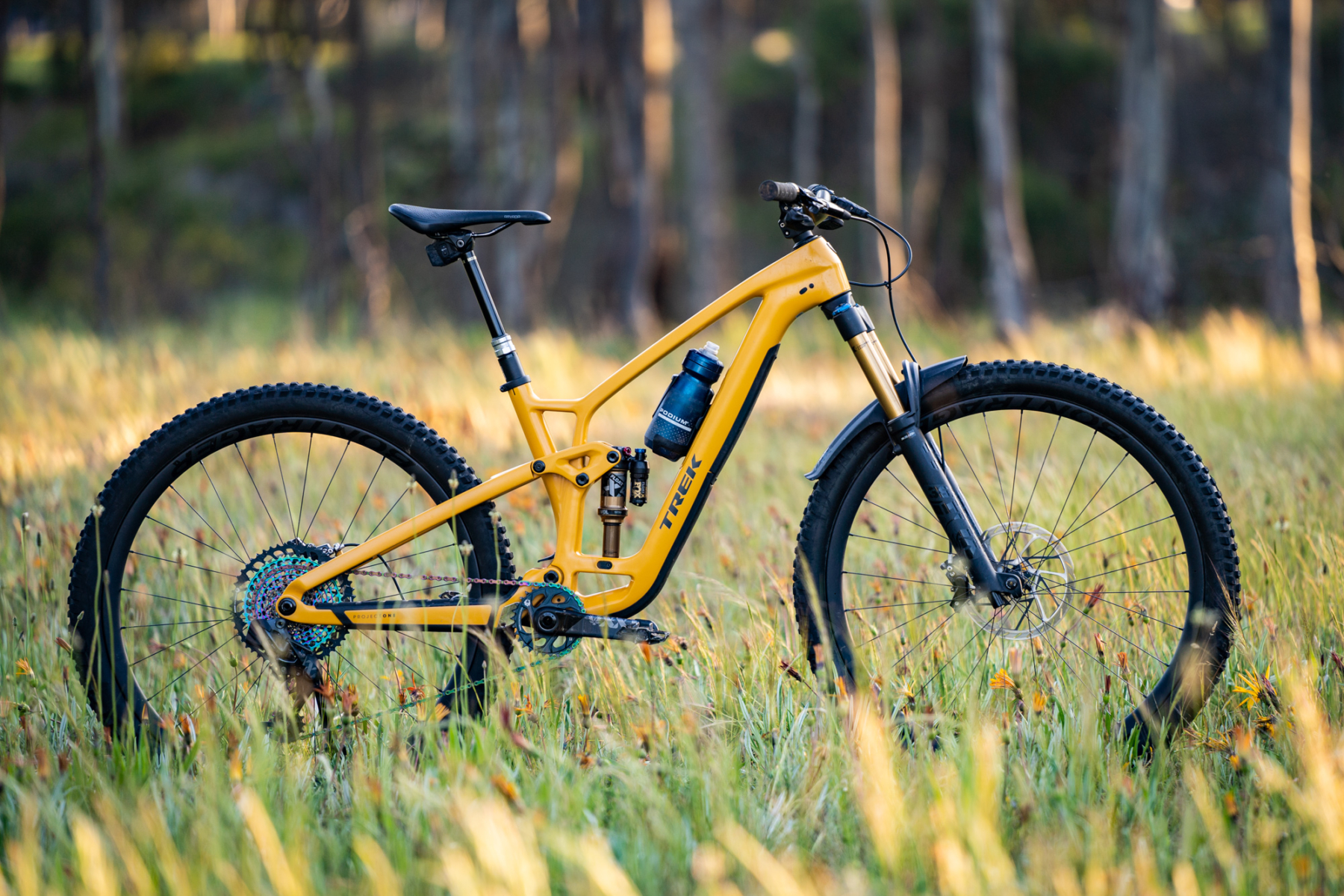 2023 Trek Fuel EX 9.9 XX1 AXS
Frame | OCLV Mountain Carbon Fibre, ABP Suspension Design, 140mm Travel
Fork | Fox 36, Factory Series, GRIP2 Damper, 44mm Offset, 150mm Travel
Shock | Fox Float X, Factory Series, 185x55mm
Wheels | Bontrager Line Pro 30, OCLV Carbon Rims, 29mm Inner Width
Tyres | Bontrager SE5 Team Issue 2.5in Front & Rear
Drivetrain | SRAM XX1 Eagle AXS1×12 w/30T Crankset & 10-52T Cassette
Brakes | SRAM Code RSC 4-Piston
Bar | Bontrager RSL Integrated, OCLV Carbon, 27.5mm Rise, 820mm Width
Stem | Bontrager RSL Integrated, OCLV Carbon, 45mm Length
Seatpost | RockShox Reverb AXS, 34.9mm Diameter, Travel: 100mm (S), 150mm (M-M/L), 170mm (L), 200mm (XL)
Saddle | Bontrager Arvada, Austentite Rails
Confirmed Weight | 14.4kg
RRP | $TBC
The chassis feels near-bombproof, and combined with the supportive suspension, powerful brakes and high volume rubber, you're served up plenty of confidence for pushing the front wheel into steep chutes and over technical A-lines.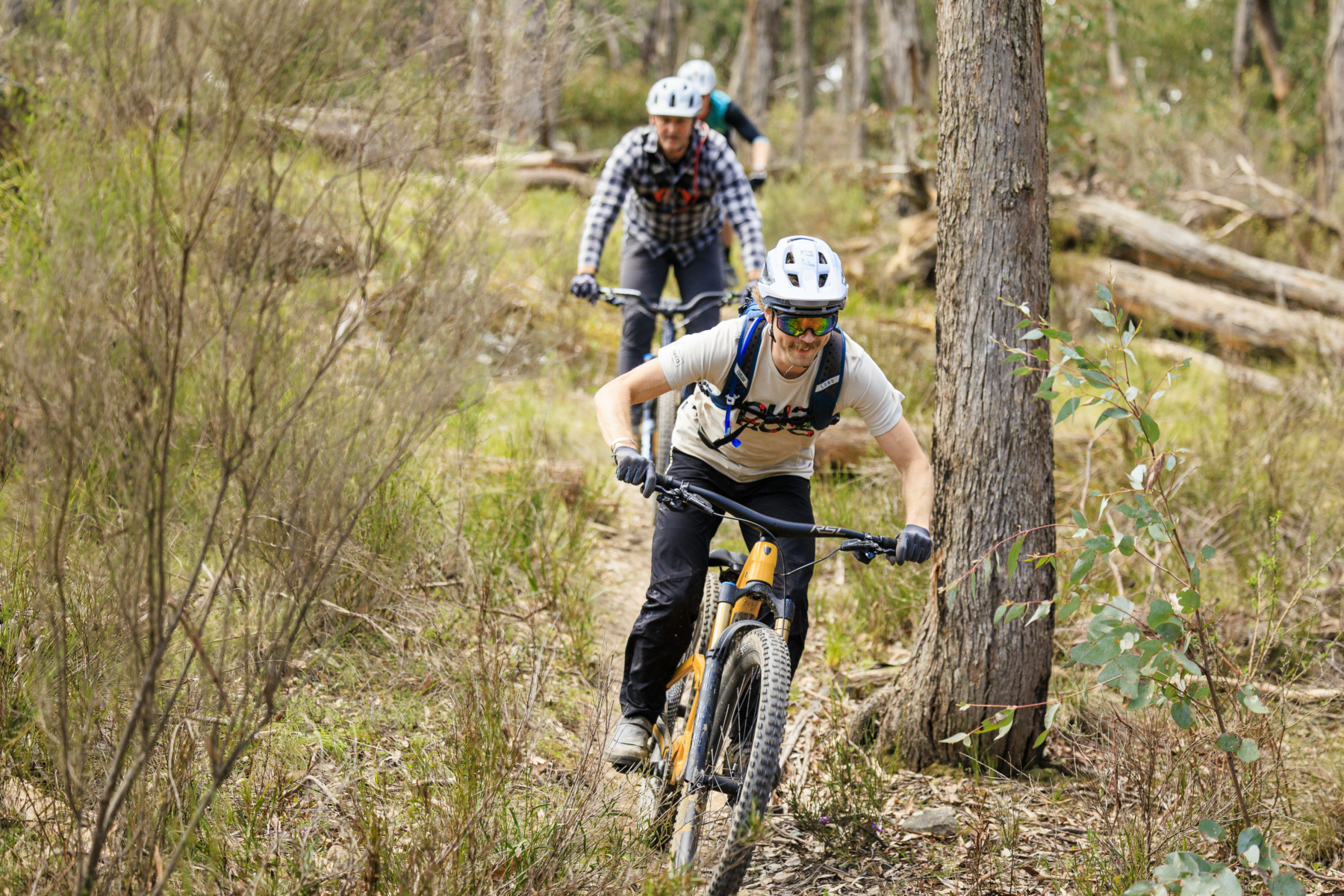 Trek Fuel EX size & geometry
From X-Small through to XX-Large, the Trek Fuel EX is produced in no fewer than seven different sizes. Seven! Given that many brands only offer four or sometimes even just three frame sizes, that's impressive.
The two smallest sizes feature 27.5in wheels, while the Medium and above come standard with 29in wheels. The Small is the only option that is available in either wheelsize.
At 175cm tall I've been riding a Medium, which features a 450mm reach. Thanks to the use of short seat tubes, a rider of my height could easily upsize to the M/L size to get a longer 470mm reach. Personally, I've found the fit of the Medium to be spot-on.
As for geometry, the Fuel EX features a 64.5° head angle and approximately a 77.5° effective seat tube angle in its stock configuration. The rear centre length varies between sizes, going up to 450mm on the largest frame. On the Medium I've been riding, the rear centre is a compact 435mm.
Coming off the Fuel EXe, I found it easy to settle into the Fuel EX. The only modification I needed to perform was to chop the comically wide handlebars from 820mm down to a more reasonable 780mm.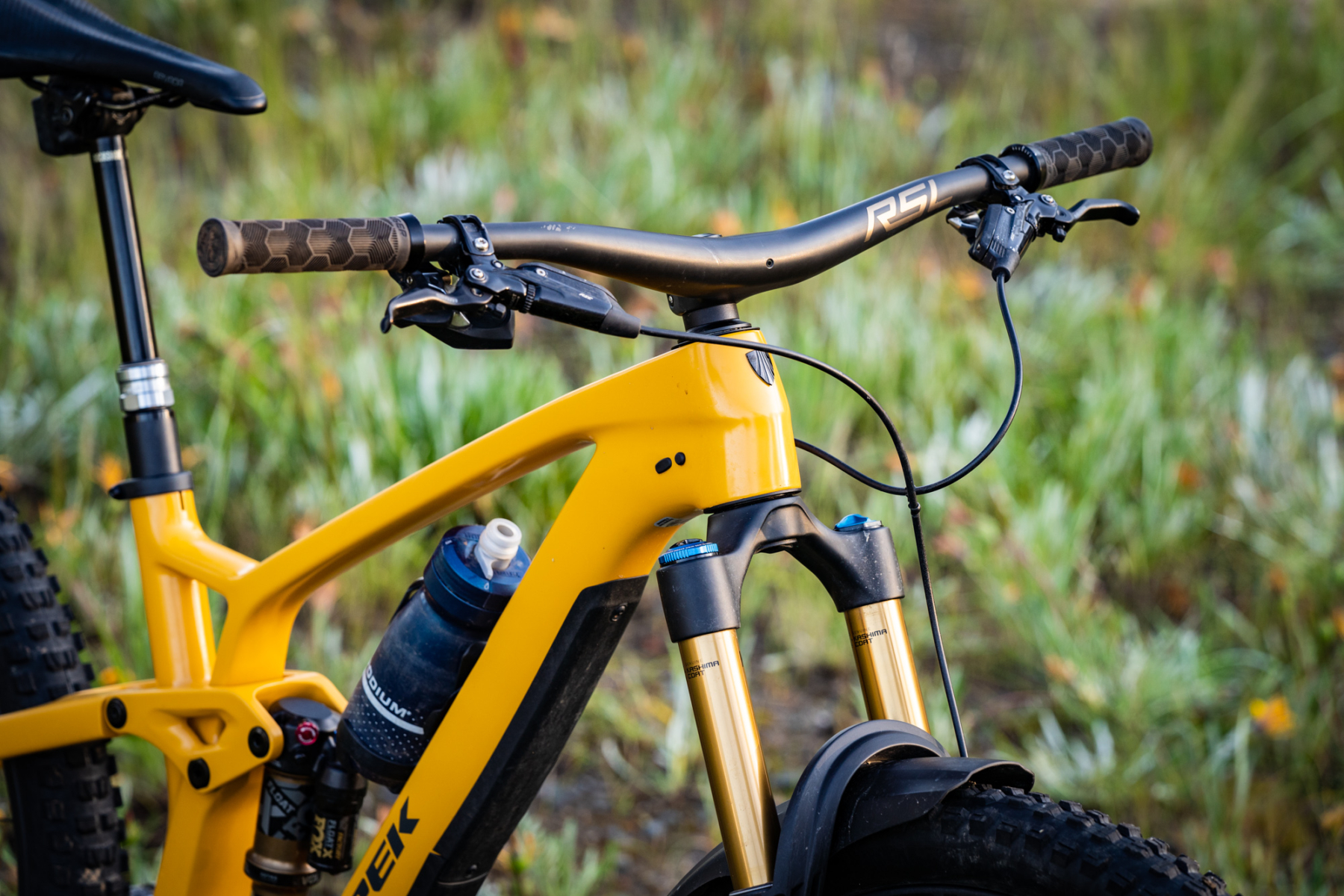 Suspension & tyre setup
Getting the Fuel EX set up is made easy thanks to Trek's detailed online suspension calculator. Input the bike model and your riding weight, and out spits suggested air pressure and rebound settings for both the fork and shock. It even suggests tyre pressures, giving you a good place to start before hitting the trail. When brands like Canyon struggle to provide any recommendations at all, Trek should be commended for helping riders to get the most out of their bike.
For my 68kg riding weight, Trek suggests setting up the Fox 36 fork slightly softer and slower than usual. Recommended rear shock sag is 29%, and the calculator's suggestion of 158psi got me to exactly that figure. Initially I set the rebound at 6/15 clicks as recommended, but while everything felt quite balanced front to back, the suspension was a little sluggish and duller than I wanted. Speeding up the rebound by a couple of clicks in both the fork and shock helped to make the whole bike feel a bit more lively, while improving small-bump reactivity.
Although the Bontrager SE5 tyres feature reinforced Core Strength casings, I still fitted a CushCore Pro insert to provide some additional pinch-flat protection and insurance for the carbon rims. Tyre pressures were set as per Trek's recommendations with 20psi in the front and 22psi in the rear.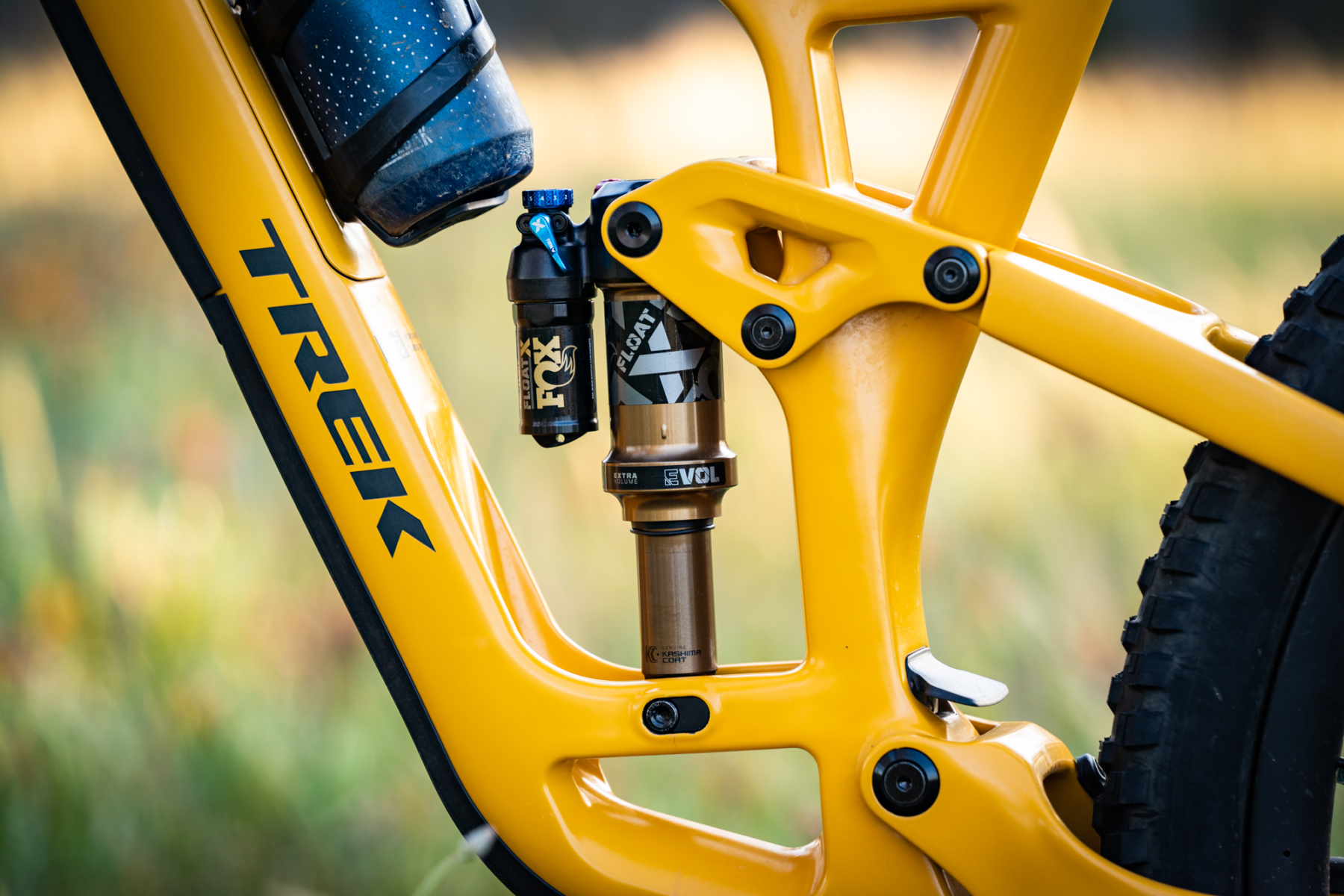 Trek Fuel EX weight
Confirmed weight for our Trek Fuel EX test bike is 14.4kg. That's with the tyres set up tubeless, but without the CushCore insert or pedals.
It's on the heavier side for a high-end carbon trail bike, though the 2.5in tyres, stocky carbon wheels and AXS components aren't exactly the lightest going. Of course weights do vary throughout the Fuel EX lineup depending on the spec, and you can see the weights for all the different models in our range overview.
A contributing factor to the overall weight is the new frame, which has gained almost 700g over its predecessor. Trek claims the carbon frame weighs 3.4kg with the rear shock, making it a bit of a porker alongside some of the competition;
Scott Genius HMX Carbon: 2,249g
Specialized Stumpjumper Carbon: 2,280g
Giant Trance X Advanced Pro 29: 2,498g
Specialized Stumpjumper EVO Carbon: 2,750g
Canyon Spectral CF: 3,047g
Trek Fuel EX Carbon: 3,400g
The new alloy Fuel EX frame is heavier again, coming in at a hefty 4.6kg with shock.
Of course weight isn't everything, and it's unsurprising that the new frame has gotten heavier given how much longer and slacker it is. Still, for those who are especially concerned by grams, there are certainly lighter options on the market.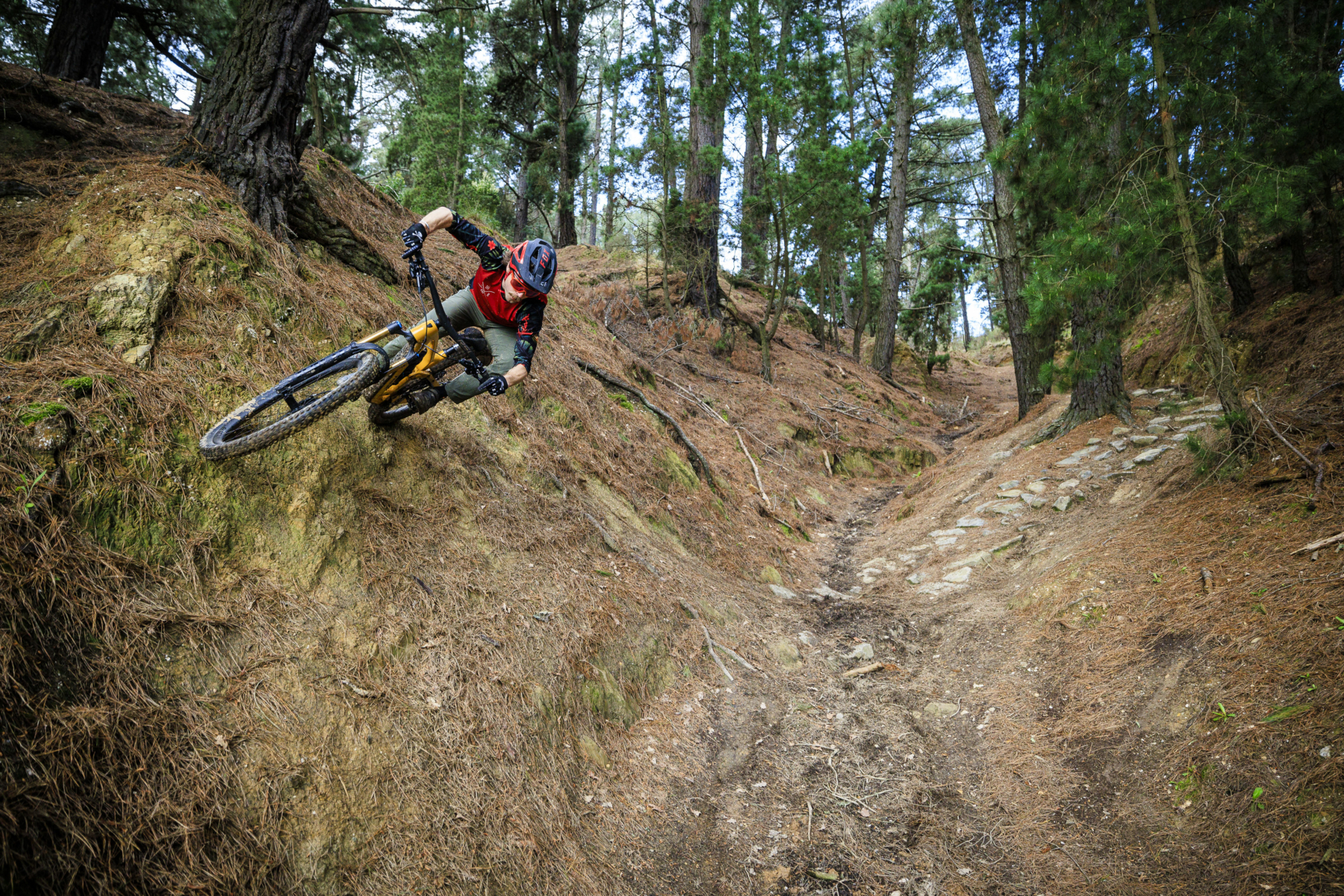 What do we dig about the Trek Fuel EX 2023?
With its added heft and updated geometry, the Trek Fuel EX 2023 is no doubt the burliest iteration yet. The chassis feels near-bombproof, and combined with the supportive suspension, powerful brakes and high volume rubber, you're served up plenty of confidence for pushing the front wheel into steep chutes and over technical A-lines.
Indeed it's massively capable for a 140mm travel bike, with the slack 64.5° head angle and roomy wheelbase giving it a purposeful stance on the trail. The geometry is superb, with welcome updates that have brought the Fuel EX right up to speed.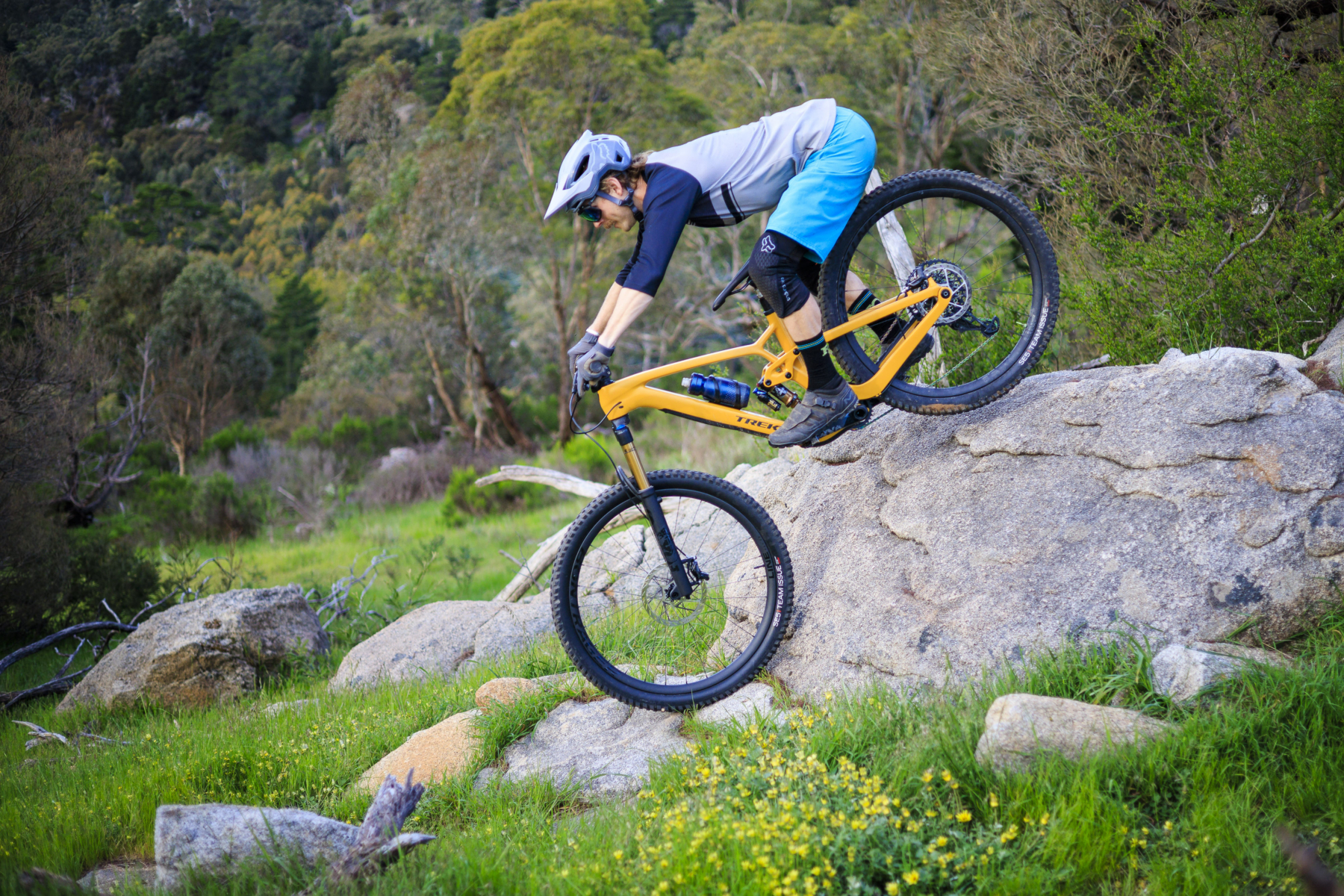 The steeper seat angle is particularly noticeable over the old bike, providing a much improved seated position on steep climbs. Pedalling efficiency has also levelled up. Trek has lifted the main pivot above the chainring to increase anti-squat, which helps to reduce pedal-induced bobbing. The Float X shock has a two-position climb switch, but I never once needed to use it while riding off-road since the rear end is so well behaved.
It rips through the turns
Once up to speed on flower singletrack, the taut chassis means the Trek Fuel EX is highly responsive when rounding corners and pushing into berms.
With its boxy downtube, split top tube and the supporting strut for the lower shock mount, the front triangle is heavily braced to resist torsional flex. Along with the wide main pivot and boxy one-piece chainstays, the Fuel EX possesses a strong spine from its shapely head tube to the rear thru-axle. The muscly frame effectively translates handling inputs while resisting lateral deflection through the turns.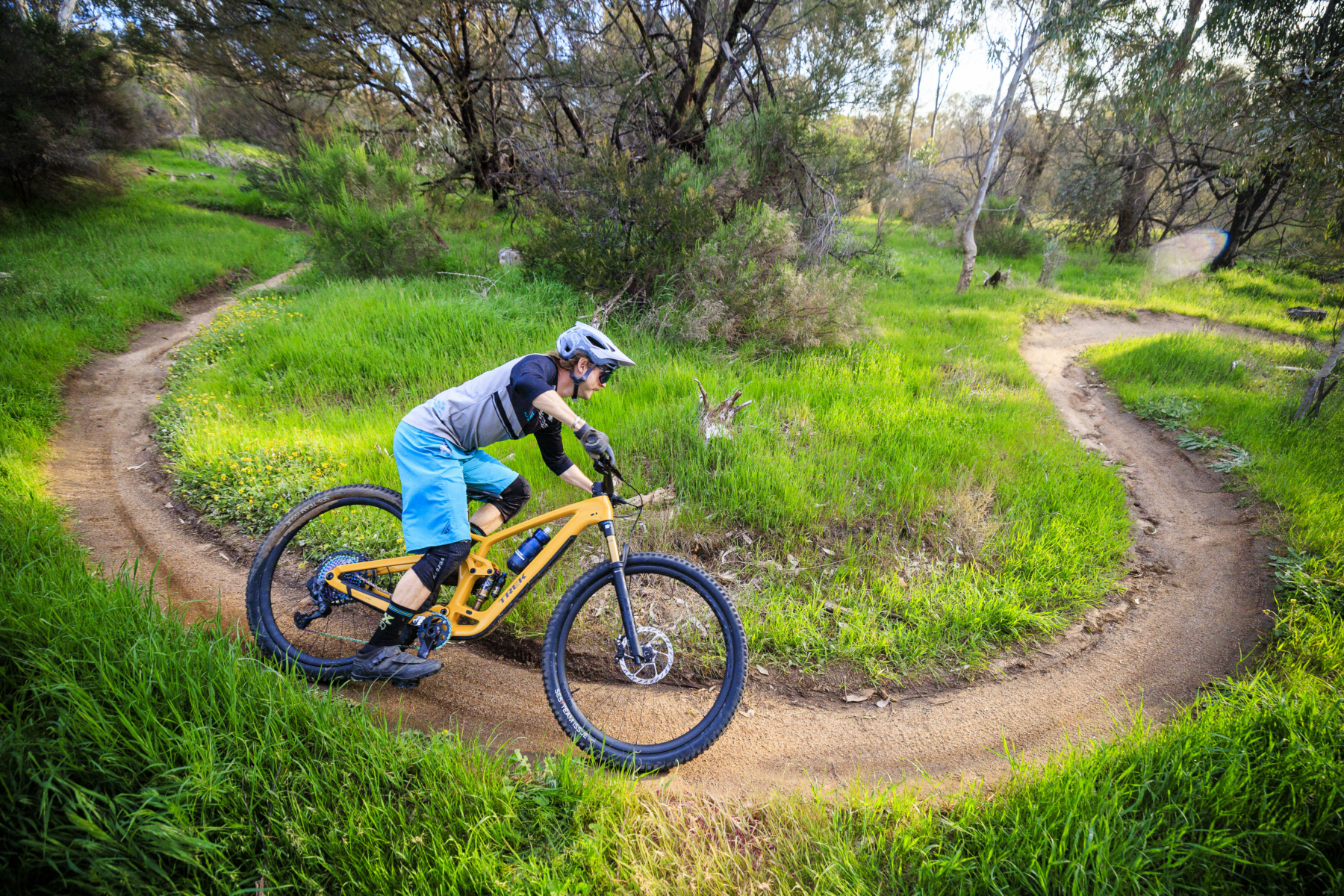 Likewise, the short rear end and generous 38mm BB drop are fantastic when threading your way through twisty sections of trail, keeping you connected to the terrain and contributing to the playful ride quality. The low-hanging BB did mean I caught the pedals occasionally, so those who frequent off-piste terrain and technical climbs will want to consider flipping the Mino Link into the High position to indulge in an extra 7mm of pedal clearance.
Otherwise the riding position and weight distribution are totally sorted. The handling is approachable, and the Fuel EX doesn't demand a whole lot from you as the rider. Compared to the old bike it does need a more concerted lean when entering tighter corners, though this is a part of the natural evolution of modern trail bike geometry. Even if you're coming off a 5-year old bike, you'll only need a few rides to get accustomed to the Fuel EX's steering behaviour.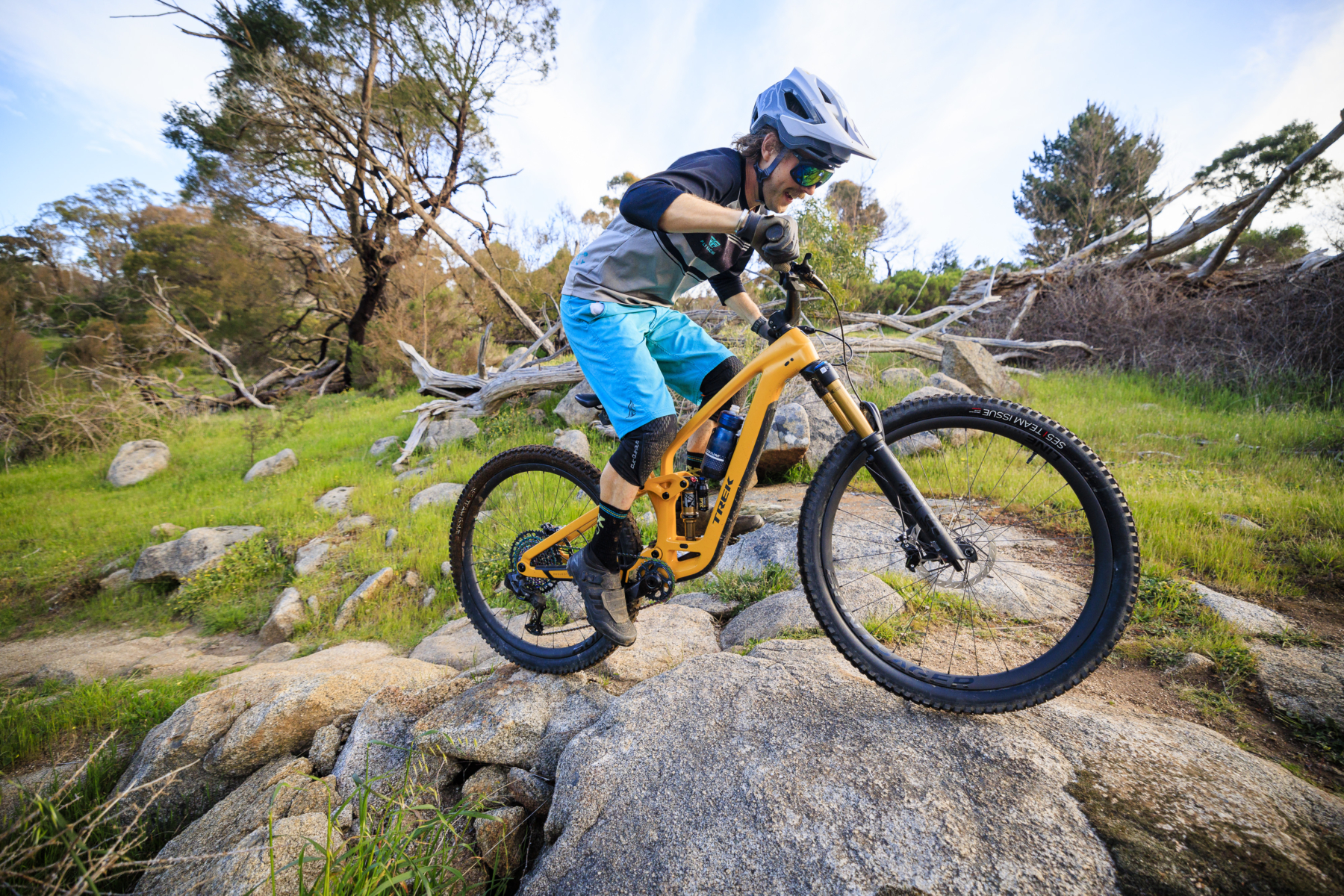 Trail-tweakable
In addition to the Mino Link, we've also been experimenting with the lower shock flip chip on the Trek Fuel EX. Requiring just a single 6mm hex key, it's a quick adjustment to make trailside, and the change in suspension behaviour is noticeable.
I ended up preferring the 'Less' setting, which provides a more linear leverage rate. With the shock set at the recommended sag, this position provides great pedalling support, along with more comfort and activity deeper into the stroke. There's still a good deal of progression though. Combined with the large bottom-out bumper in the Float X shock, hitting full travel proved to be a well-controlled affair.
One of our fellow testers, who generally spends more time in the air than on the ground, preferred riding in the 'More' setting. This increases progression, providing a stronger ramp-up in the latter half of the travel. He also reduced the shock pressure by 5psi to further enhance small-bump compliance, while still being able to enjoy the additional big-hit support. Pedal efficiency isn't as stable in this setting, but it does mean the Fuel EX takes to jumps like a duck to water, popping off lips enthusiastically and absorbing hard landings with a solid and flex-free touchdown.
One thing to note on the More/Less flip chip is that while you are altering the progression of the air spring, you're also affecting the damper too. As well as adjusting air pressure, we found we needed to tweak the rebound and low-speed compression settings between the two positions. It is indeed a useful tuning tool, but it doesn't dispel the need for air volume spacers entirely.
What does it struggle with?
With the Trek Fuel EX adopting a beefier frame, the added weight is noticeable compared to lighter bikes in this category. That's compounded by the heavy-duty brakes, stocky wheels and chunky tyres, which mean there's more inertia to overcome during micro-accelerations on an undulating climb.
For those who are looking for a sharper and sprightlier trail bike to whip through the trees along smoother singletrack, the latest Trek Top Fuel will be a better fit. In comparison, the new Fuel EX is a burlier beast that thrives on steeper and more technical terrain.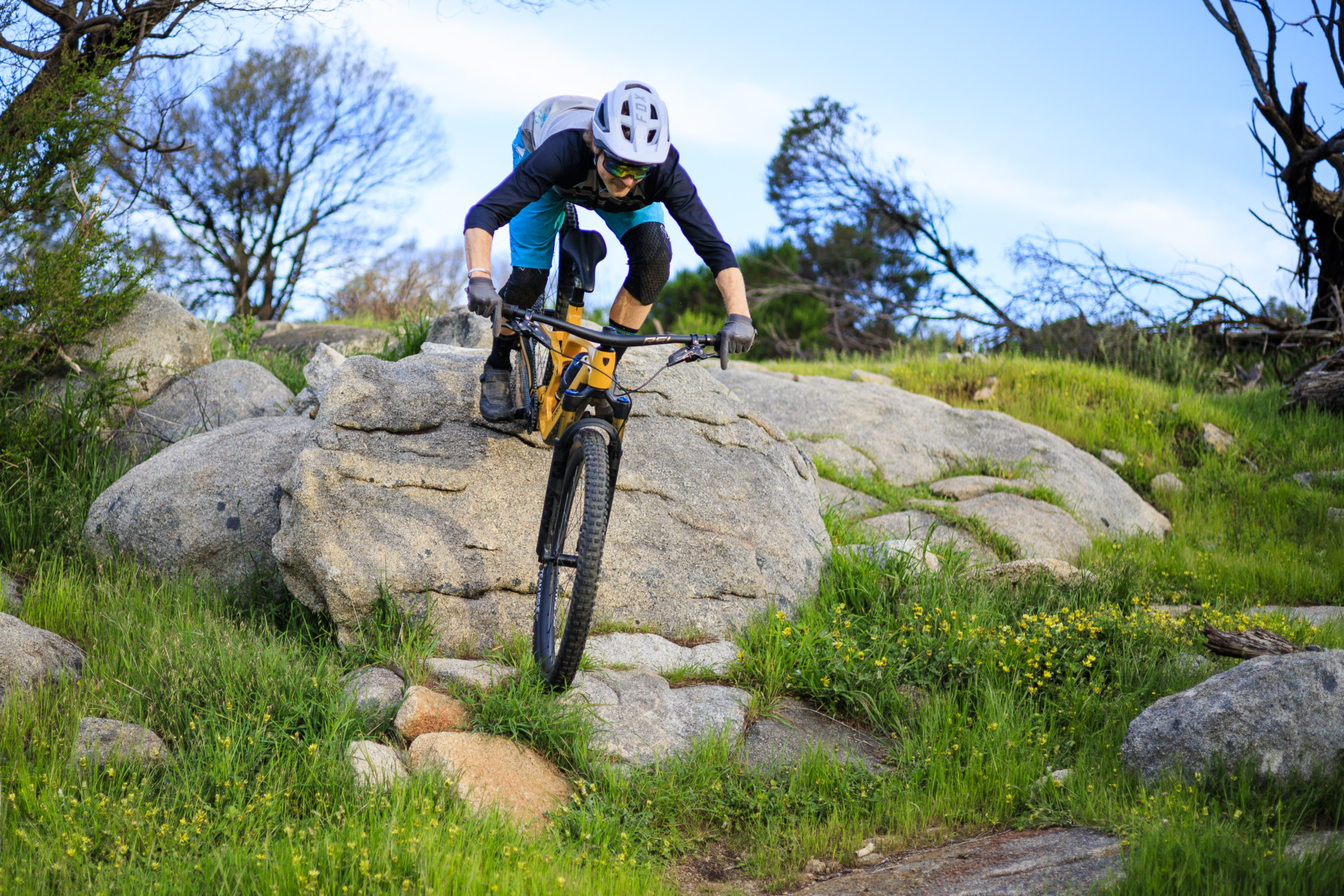 Curiously, it does feel stiffer than the electrified version, the Fuel EXe. Despite both our test bikes featuring carbon frames with a near-identical build kit, I've found the Fuel EX to transmit more trail feedback.
Some of this may be due to structural differences, and perhaps the more favourable sprung-to-unsprung mass ratio on the electric version thanks to the added weight of the motor and and battery. Either way, the Fuel EX doesn't exactly exude off-camber compliance. As a lighter rider on very rocky terrain, I've found myself getting knocked around a little more than I would like.
This sensation reminded me of the Canyon Spectral 125, which proved to be overly stiff and quite uncomfortable at slower riding speeds. The Fuel EX is more compliant overall than the Spectral 125, but it's still pretty stiff.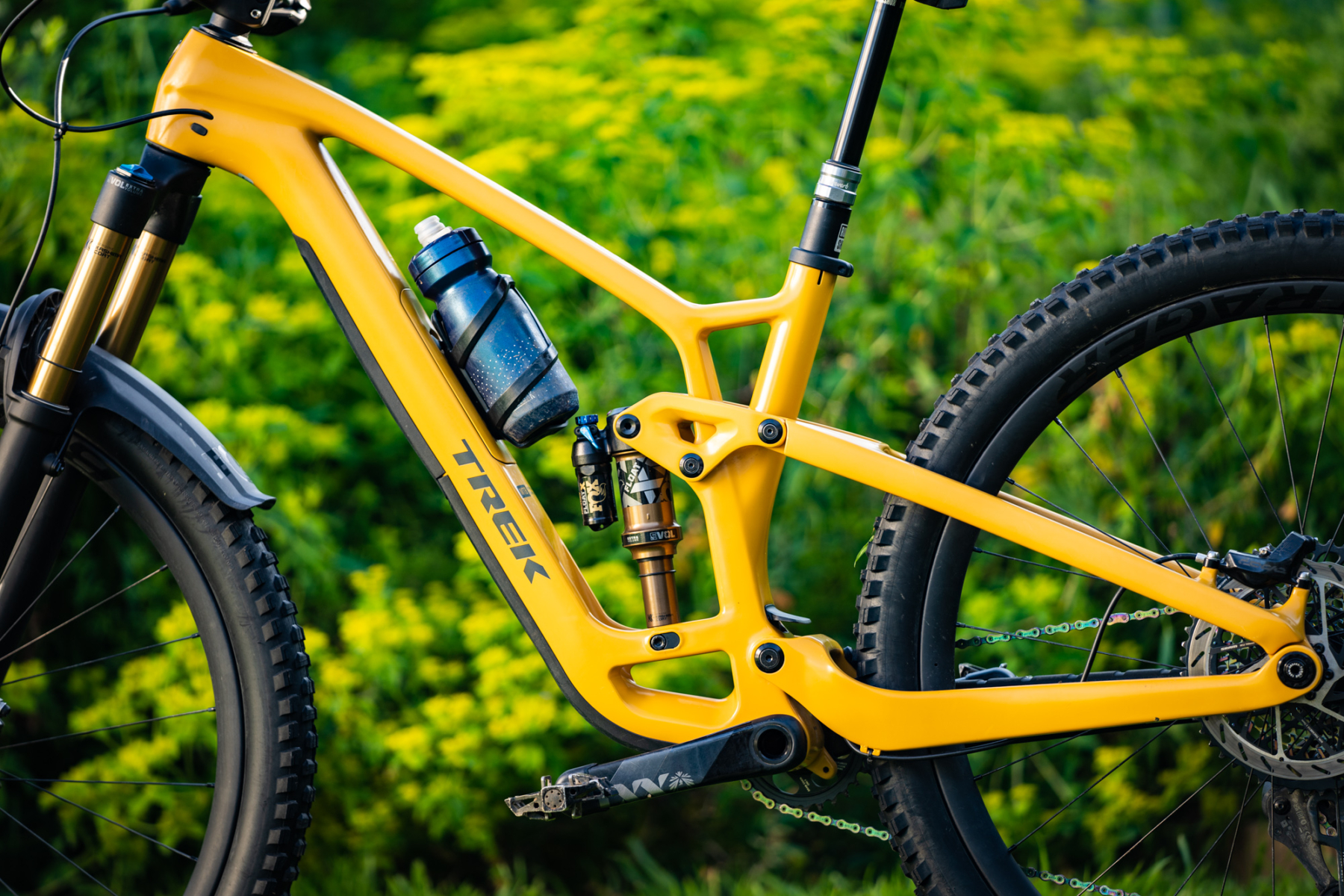 It's not as supple as Fuel EX models gone by
Contributing to this sensation, the suspension isn't as plush as previous Fuel EX models, particularly those that featured the Thru Shaft shock. Those bikes did require the rider to make use of the compression lever to provide pedalling support, but it meant that in the open mode the rear end absorbed the terrain like melted butter.
You may have noticed that Trek has been making a conscious move away from proprietary suspension components lately, and that's coincided with building bikes that offer more neutral pedalling performance. The increased anti-squat is one part of the equation on the new Fuel EX, and the other part is the custom-tuned Float X, which Trek has configured with a digressive compression tune on the main piston. This creates a decent low-speed threshold, which provides a level of support that sits between the Open and Medium settings on the previous RE:aktiv damper.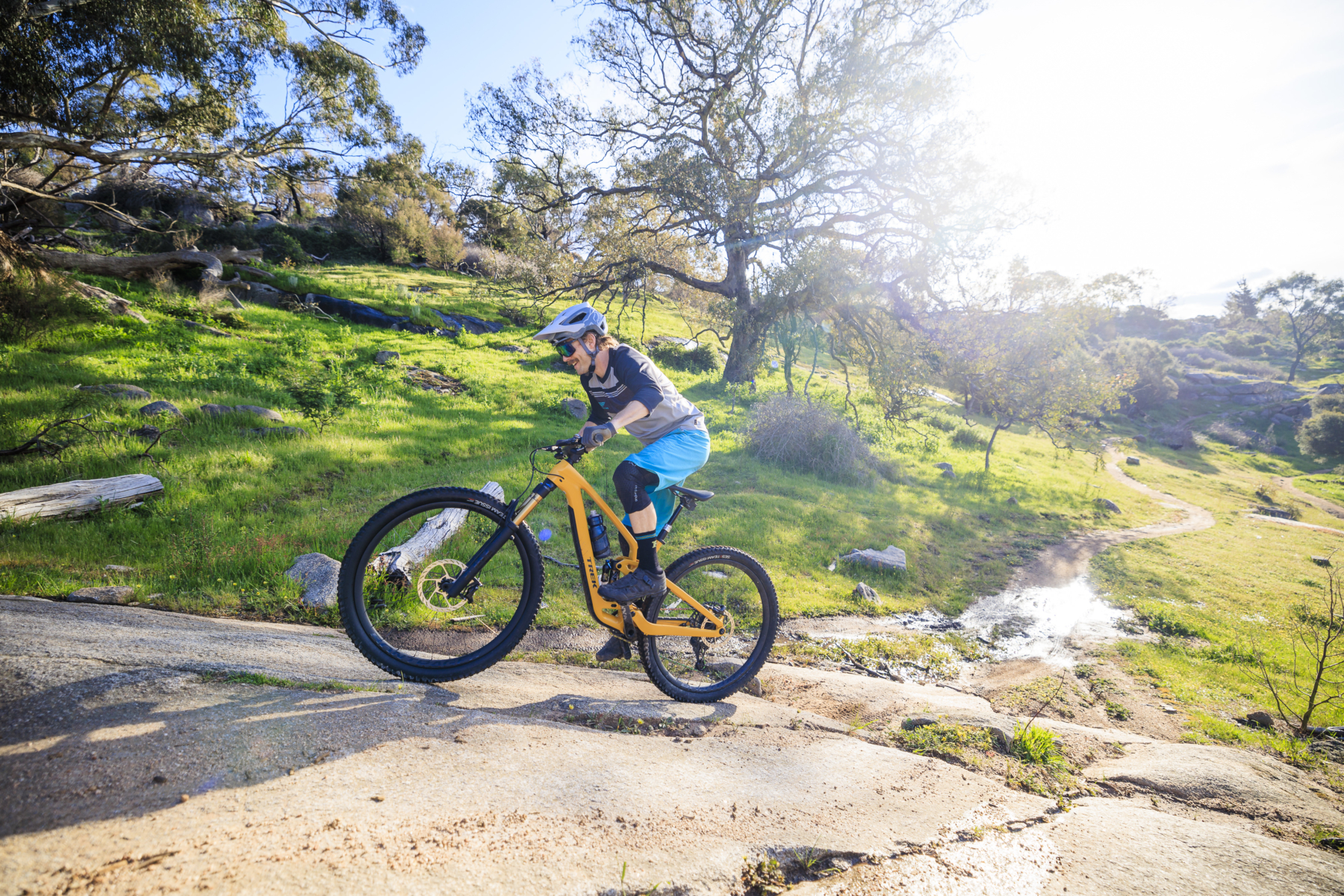 The result is that you can ride with the shock fully open, and the Fuel EX still offers great stability under pedalling inputs, with no real need to activate the climb switch. If you detest remote lockouts and having to flip shock levers all the time, this will certainly be appealing.
The downside is that the suspension isn't as supple over smaller rubble and at slower speeds. Along with the stiff chassis and carbon wheels, more of those vibrations are transmitted to the rider. As such, careful consideration with tyre pressure is needed to maximise grip and comfort.
Because there is more support however, the Fuel EX gives your feet a stronger platform to push off of, with greater feedback during high-load scenarios. Indeed the harder and faster you push, the better the Fuel EX responds. In that sense, it's less of a comfy cruiser like its predecessors, and more of a mid-travel bruiser that loves to ride hard and fast.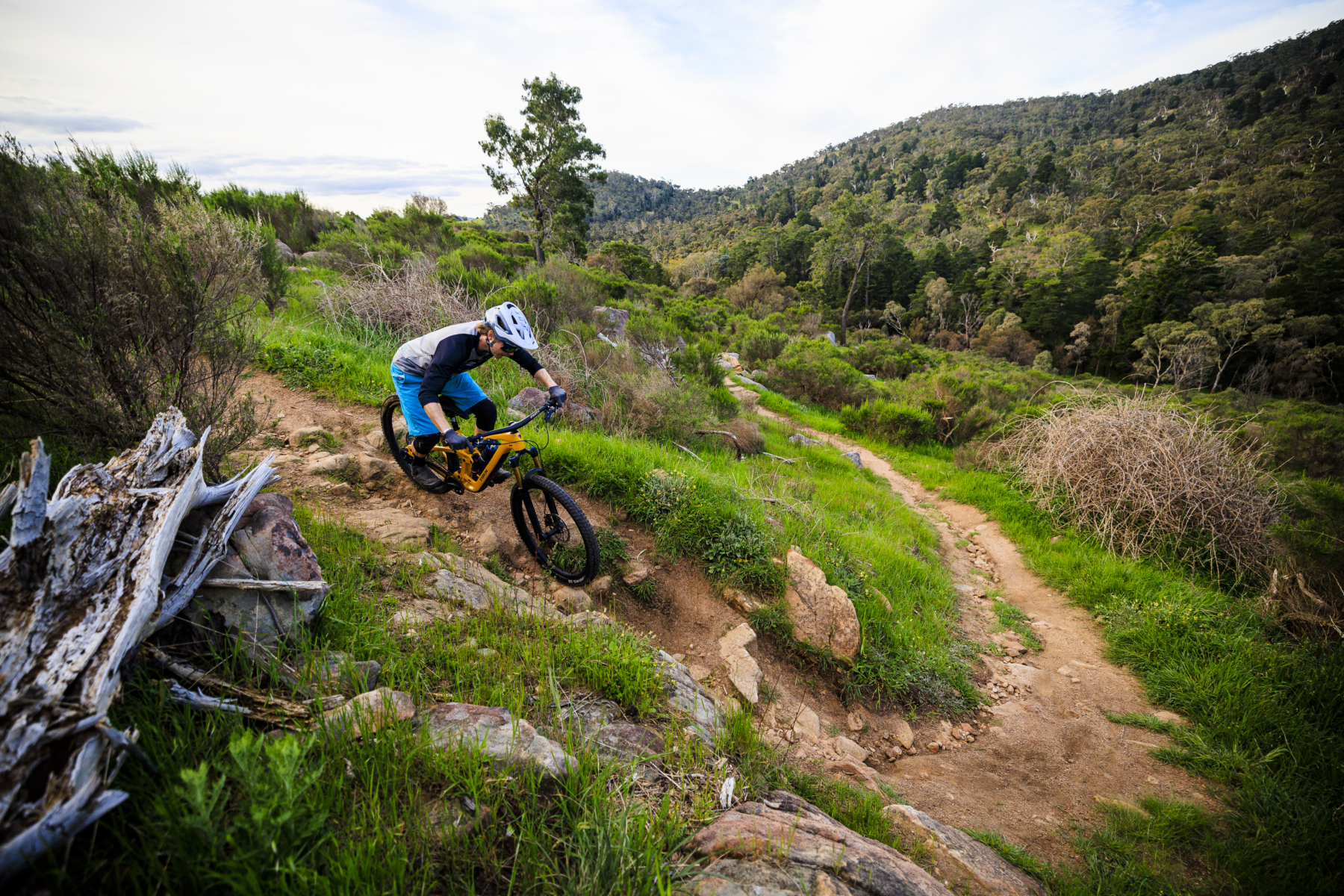 Component highs & lows
As a complete bike, the Trek Fuel EX is a solid package that puts the emphasis on capability over light weight.
The Bontrager SE5 tyres are a good example, coming in at 1,100g each on our workshop scales. They roll reasonably well given their weight and size, and we've found them to provide consistent grip on rocky, hard-packed soil, which will suit most Aussie trail riders. The tread is a little shallow though, and the compound isn't the softest, which sees them struggling to latch on when the conditions are wet and loose. We'd prefer something a little stickier and toothier up front, like a Maxxis Minion DHR II with 3C MaxxGrip rubber.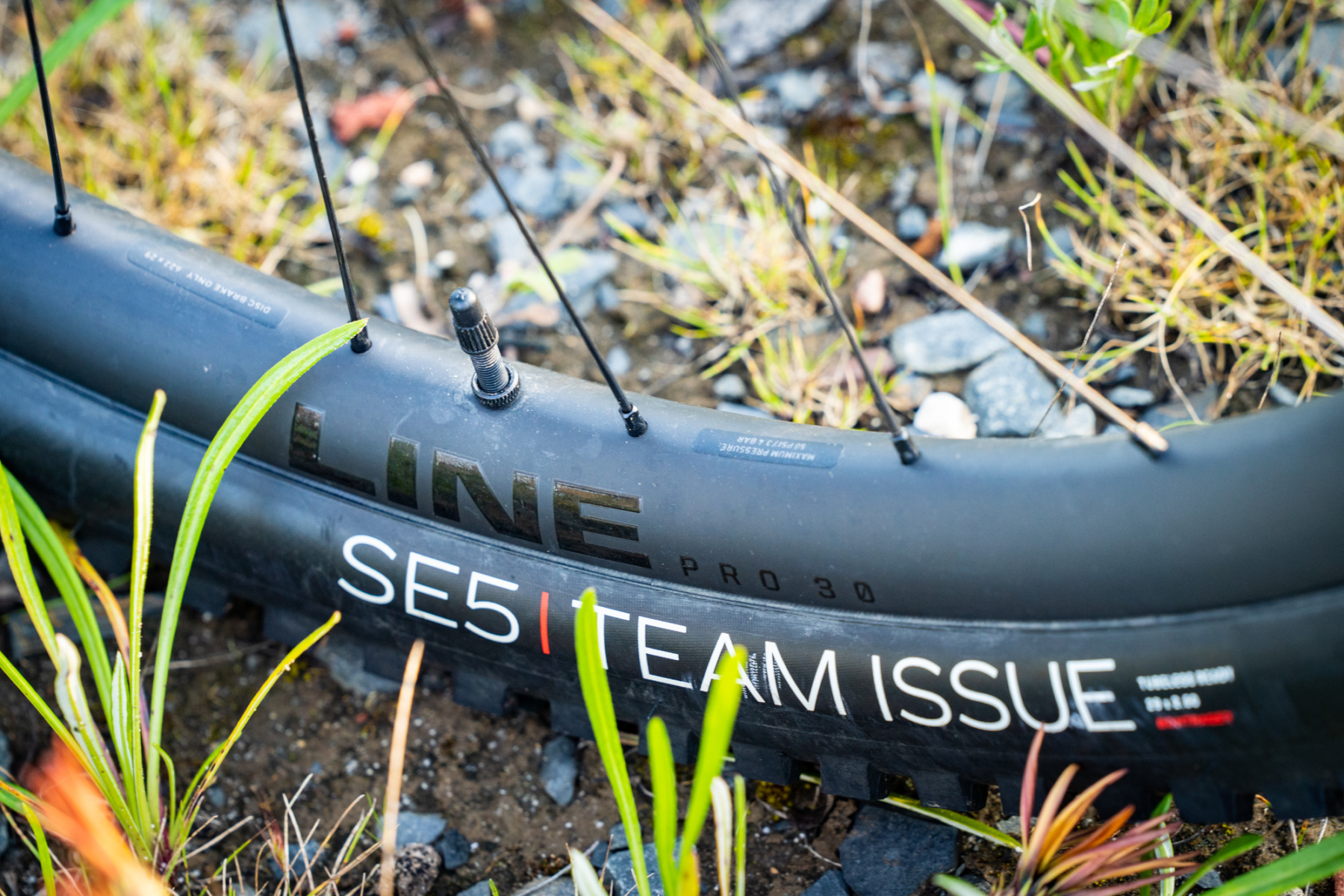 While the carbon Bontrager Line Pro rims are quite stiff, they have proven to be plenty tough. We've tested five of these wheelsets across various bikes over the past few years and we've not encountered a single issue. They also come with a two-year crash replacement guarantee, which is great insurance given the hell that you can put this bike through. Furthermore, the frame itself comes with a lifetime warranty for the original owner.
There's still plenty of real-world protection though, including a generous two-piece armour plate that bolts to the underside of the downtube. There's also a metal chain-suck guard behind the chainring, and a full-coverage chainstay protector. Along with the fully guided internal cable routing, the Fuel EX is an impressively quiet and rattle-free bike on the trail. Well, except for the rear thru-axle lever, which I removed after the first ride.
Otherwise the finishing details are all sound. The adoption of a bigger 34.9mm seat tube diameter is welcome, as it accommodates a stiffer and stronger dropper post, particularly for the larger sizes. Mechanics will be happy to see a threaded BB shell, and we're fans of the downtube storage. The trap door has none of the play that we encountered on the last Fuel EX we tested, with a tight fit and a nice lever action.
It's certainly a high quality chassis, and many riders are likely to appreciate the in-built versatility. We're looking forward to trying out the adjustable head angle once the aftermarket cups become available, and we'd also be keen to try out the Fuel EX with a coil shock. Setting it up as a mullet will be more straightforward, especially as you only need to buy an air spring to extend the Fox 36 up to 160mm of travel.
Trek Fuel EX vs Specialized Stumpjumper
Alongside the Trek Fuel EX, the Specialized Stumpjumper is one of the most popular and well-known trail bikes in this category. In terms of travel and the overall build, the Fuel EX sits right in between the regular Stumpjumper and the Stumpjumper EVO. However, it's the regular Stumpy that I've been spending the most time on lately, both in its stock configuration and with a burlier mullet setup.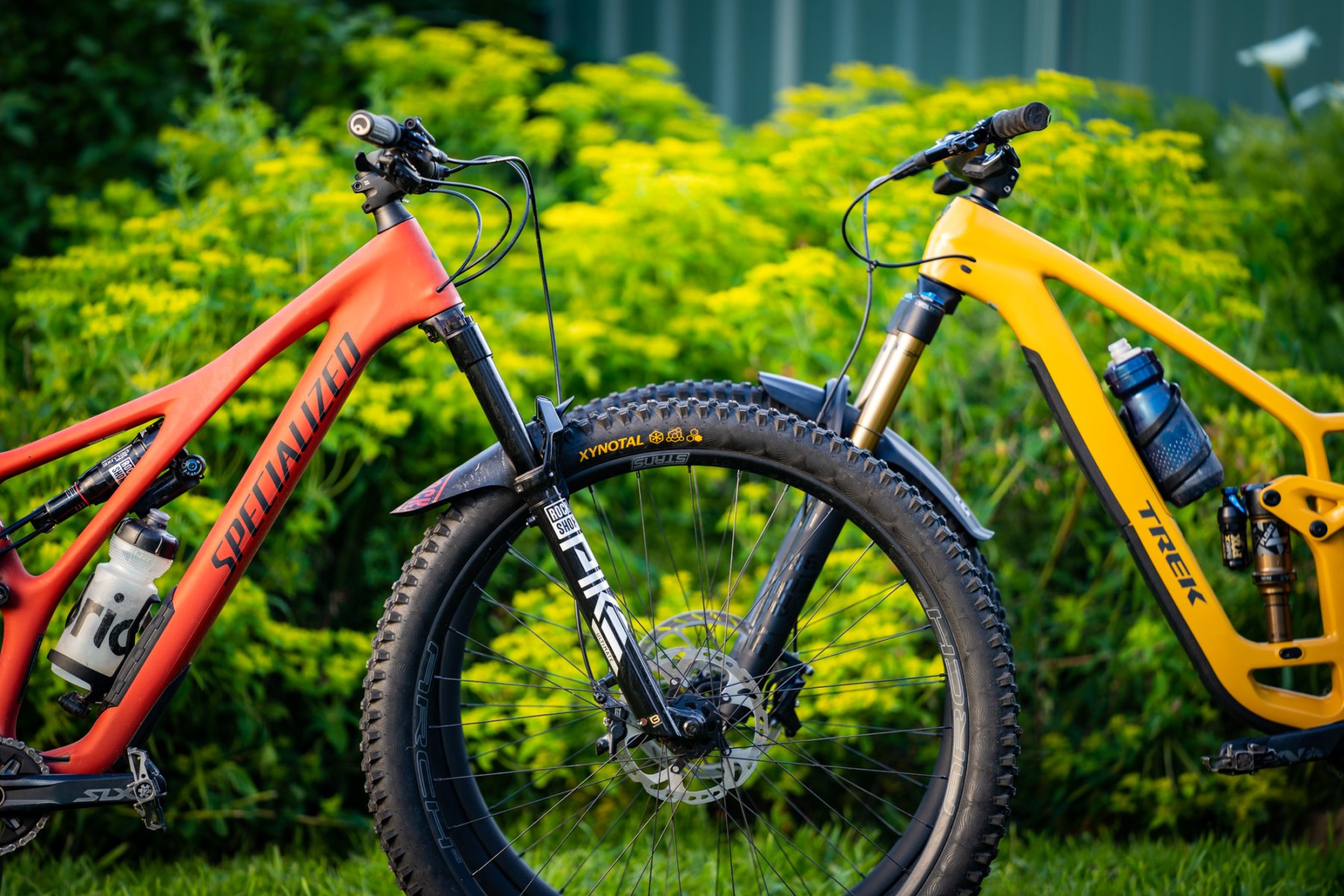 Compared to the Fuel EX, the Stumpjumper has a touch less travel with a 140mm fork and 130mm at the rear. It also uses a simpler suspension layout, with the carbon models employing a flex-stay design. Combined with its slimmer tube profiles, the carbon Stumpjumper frame is very light. Specialized claims it weighs just 2.28kg including the shock, which is over a kilo lighter than a carbon Fuel EX.
This theme extends to the Stumpjumper's build kit, with Specialized electing for the skinnier Fox 34 over the 36. Along with an in-line shock, lighter brakes, wheels and tyres, there's a considerable difference in the overall bike weight. For example, the Stumpjumper Pro we tested weighed 12.84kg.
While the geometry is pretty similar between the two bikes, the Specialized Stumpjumper rides much lighter on the trail compared to the Trek Fuel EX. It offers more comfort, with its lithe chassis and smooth suspension performance providing better compliance over rough terrain. It's quite sporty and sprightly, though its active suspension design does need taming on the climbs by making use of the rear shock's compression lever.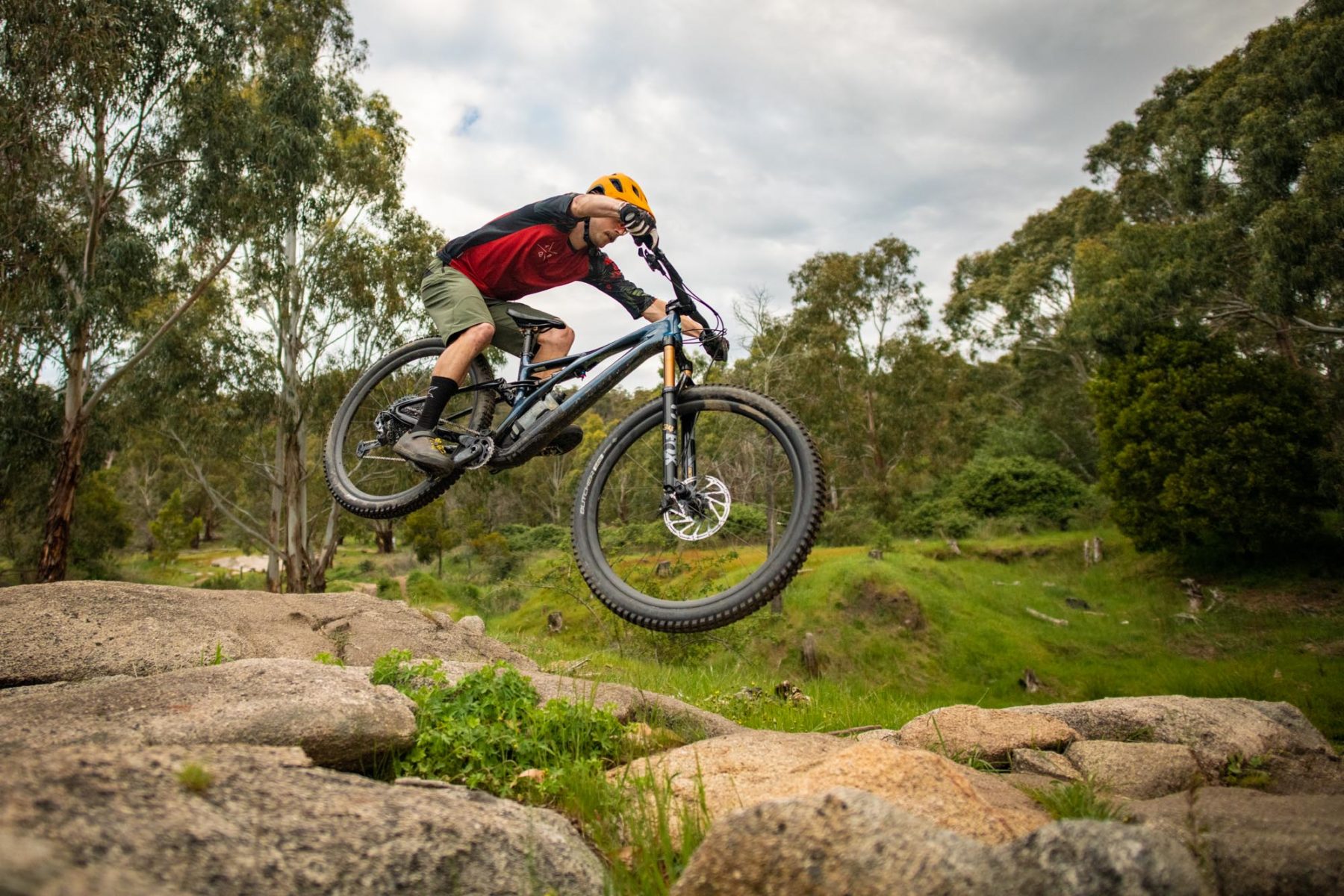 In comparison, the Fuel EX is more naturally efficient. It's also more planted at speed, with its sturdy chassis and supportive suspension providing better big-hit capability. It feels more like a short travel enduro bike, which will suit heavier and harder riders.
Both bikes will handle a longer fork and can be set up as a mullet, though Specialized makes a specific link for the Stumpjumper to maintain the stock geometry. There is greater versatility in the Fuel EX chassis, with the option to adjust the head angle and fit a coil shock.
As for value, the Fuel EX offers a more appealing spec package. A Stumpjumper Expert sells for $9,800 AUD and comes with a Fox 34 GRIP2 fork, SRAM G2 brakes, an X01 drivetrain, alloy wheels and handlebars. In comparison, an equivalent Fuel EX 9.8 XT sells for $800 AUD less. It gets a simpler GRIP damper for its Fox 36 fork, though it does feature a piggyback shock, a Shimano XT groupset, a carbon one-piece RSL cockpit and carbon wheels with that 2-year crash replacement guarantee.
Flow's Verdict
For many trail riders, the Trek Fuel EX 2023 is likely to tick just about every box on your new bike wish list. It's as up to date as it gets, featuring loads of adjustability, internal storage and a nuanced approach to its size-specific geometry. Along with the increased travel and muscly frame, it offers greater stability and big-hit control over its predecessor, while still being a fun and involving bike to ride on modern flow trails.
It is a bit of a chonker though, so those who are looking for a lightweight and speedy trail bike may be better served by the latest Top Fuel.
The stiff chassis and supportive suspension also mean the Fuel EX tends to transmit more feedback, making it less comfortable to ride over rocky terrain. We'd be curious to try out a lighter shock tune to see how much of a difference that would make to the overall ride quality, but in its stock form the Fuel EX isn't as plush as competitors like the Giant Trance X and Specialized Stumpjumper.
It is impressively efficient though, and the stable suspension gives you a load of support when you're really giving it the beans on the descents. In this sense, the Fuel EX is closer in feel and performance to an enduro bike. You'll still want to look towards the Slash if you're serious about racing, but outside of the tape the Fuel EX will handle just about everything a modern trail centre or bikepark could throw at it. And for those who really want to up the limits, the adaptable chassis can easily be configured for some pretty aggressive riding.
Indeed for those who are chasing maximum capability without going to a big, spongy enduro bike, the Fuel EX is a mighty appealing option.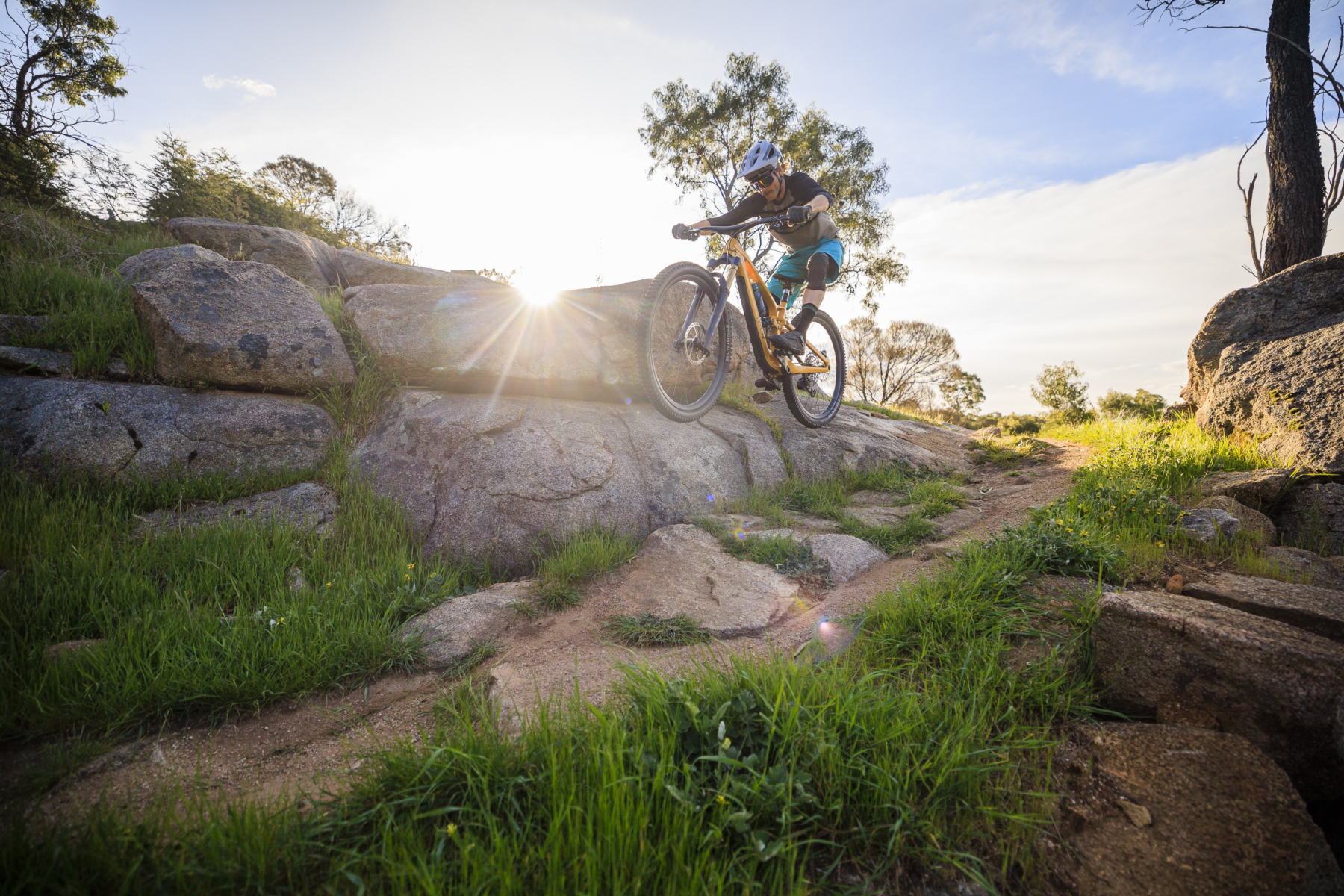 You'll still want to look towards the Slash if you're serious about racing, but outside of the tape the Fuel EX will handle just about everything a modern trail centre or bikepark could throw at it.