Wil reviews the Trek Supercaliber
Back in the 90s, every mountain bike designer was doing their level best to produce a full suspension bike that was as wildly different as possible from everything else. Granted, a lot of those designs also looked like they were doodled by a three year old. Nevertheless, innovation was rife and very few bikes looked the same. Decades of refinement and learning from past mistakes have seen the more whacky ideas fade away though, and most brands seem to have converged on a handful of commonly-shared designs. This has made it harder to do something different, which is especially the case in the world of XC bikes, where there's less material and less travel to play with in the first place. But somehow, amongst a sea of lookalikes, the Trek Supercaliber manages to do exactly that. Thankfully it isn't just this bike's looks that make it stand out so much.
---
Watch our video review of the Trek Supercaliber here!
---
Trek Supercaliber overview
Kicking the Top Fuel off the podium as Trek's purebred XC race bike, the Supercaliber is designed to be super light, super efficient and super fast. It features an OCLV carbon fibre chassis and an innovative suspension design called IsoStrut, with just 60mm of rear wheel travel that's paired to a 100mm fork.
Built to race at the highest level of the sport, the Trek Supercaliber saddles up alongside World Cup rivals such as the Merida Ninety-Six, Specialized Epic, Giant Anthem, Cannondale Scalpel, Scott Spark, Canyon Lux and Orbea Oiz. We've had the opportunity to test the latest iterations of all of those bikes, and later on I'll be providing a more detailed comparison between the Supercaliber and some of its newest competitors.
The hardtail Vs full suspension paradox
Indeed the most obvious difference between the Supercaliber and its competitors is the fact that it only has 60mm of rear wheel travel instead of the usual 100mm. It isn't exactly what we'd call a 'softail' – this is still very much a full suspension bike with a tuneable rear shock – but it does aim to bridge the gap to the traditional race hardtail.
And that's potentially an important gap to fill. After all, when it comes to XC racing, choosing between a hardtail or full suspension bike is a conundrum that is full of compromises. Do you want the lower weight, stompable efficiency and responsive handling of a hardtail? Or the comfort, traction and control of a full suspension bike?
With the Supercaliber, Trek has attempted to create what it believes is the perfect option that sits somewhere in between the two.
It's not the lightest option
Still, I'll admit that I was sceptical to begin with. After all, while the Supercaliber is lighter than the Top Fuel it replaces, there are lighter options on the market. Here's how the claimed frame weight (including the rear shock) stacks up against the competition:
Specialized S-Works Epic EVO – 1,659g
Orbea Oiz OMX – 1,740g
Scott Spark RC HMX SL – 1,799g
Specialized S-Works Epic – 1,869g
Cannondale Scalpel Hi-Mod – 1,910g
Trek Supercaliber – 1,933g
Giant Anthem Advanced Pro 29 – 1,983g
Canyon Lux CF SLX – 1,986g
Bear in mind that these are all claimed weights from the manufacturers. And of course weight is only one part of the race bike equation – otherwise we'd all be on hardtails right? Ride quality, chassis stiffness, suspension performance, efficiency, traction and stability all play a role in the makeup of a high performance race bike. For the privateer racer who can't rely on a team mechanic, serviceability is important too. And in case all of that wasn't enough, the ability to fit two water bottles is increasingly becoming part of the demand list.
Still, if the Supercaliber isn't the lightest, why would you compromise by having less travel then? That's a very good question, and one I can now answer after spending the past three months aboard our Supercaliber 9.9 test bike. Before getting stuck into the review though, let's take a closer look at the 'what', 'how' and 'why' behind this unique XC speedster.
Doesn't look like a Session
Hands down, the Supercaliber is one of the most distinctive and best-looking full suspension bikes out there. The result of some complex and out-of-the-box engineering, the compact and space-efficient frame layout is as elegantly simple as it gets.
The swingarm is a one-piece carbon fibre structure, with pencil-thin seatstays that are designed to flex and bow as the suspension cycles through its travel. The top of the seatstays form a carbon fibre carriage, which slides up and down an alloy stanchion mounted underneath the top tube. It's a bit like one half of the telescopic suspension fork on the front of your bike, with the carriage housing two bushings, splash fluid and wiper seals.
It's all very clean and streamlined, with just a single pivot and two bearings used for the entire suspension layout. And with no links or rockers to get in the way, the front triangle will comfortably accommodate two bottles.
Compared to swoopier competitors, the Supercaliber more closely resembles a double-diamond hardtail frame, with sharp lines and a straight, uninterrupted seat tube. Because of the generous proportions of the oversized downtube, a Knock Block headset is implemented to prevent the fork crown and handlebar controls from smashing into the frame in the event of a crash. Worth noting is that 2021 models feature an updated headset design that marginally increases the turning radius from 58° to 62°.
Mr Sparkle!
Trek offers the Supercaliber in five complete bike options for 2021, all of which are built around exactly the same OCLV carbon frame. Complete bike prices start at $8,699 AUD for the Supercaliber 9.8 GX. Alternatively, you can get a frameset on its own for a weirdly specific price of $4,676.04 AUD.
The bike I've been testing for the past couple of months is the absolute top-of-the-line Supercaliber 9.9 XX1 AXS model, which retails for a very bold $15,599 AUD. However, our test bike features a very sparkly 'Holographic Diamond Flake' paint job as part of the Project One custom build program, which adds on another $750. It's reasonably understated, until you get it in the sun, where the logo and paint flecks put on a multi-coloured display like some kind of intergalactic peacock. Along with all the rainbow coloured AXS components and Level Ultimate brakes, it's an eye-catcher for sure.
2021 Trek Supercaliber 9.9 XX1 AXS price & specs
Frame | OCLV Mountain Carbon Fibre, IsoStrut Suspension Design, 60mm Travel
Fork | RockShox SID SL Ultimate, Charger Race Day Damper, Remote Lockout, 44mm Offset, 100mm Travel
Shock | Trek IsoStrut x Fox Float DPS, 2-Position Remote Lockout, 235×32.5mm
Wheels | Bontrager Kovee XXX, OCLV Carbon Rims, 29mm Inner Width
Tyres | Bontrager XR2 Team Issue 29×2.20in
Drivetrain | SRAM XX1 Eagle AXS 1×12 w/XX1 Carbon 34T Crankset & 10-52T Cassette
Brakes | SRAM Level Ultimate 2-Piston w/160mm Centerlock Rotors
Bar | Bontrager Kovee XXX, OCLV Carbon, 35mm Diameter, 720mm Width
Stem | Bontrager Kovee Pro 35, Knock Block, -13° Rise, Length: 60mm (S), 70mm (M-M/L), 80mm (L-XL)
Grips | ESI Chunky Silicone
Seatpost | Bontrager XXX, OCLV Carbon, 31.6mm Diameter
Saddle | Bontrager Montrose Pro, Carbon Rails
Available Sizes | S (15.5), M (17.5), M/L (18.5), L (19.5), XL (21.5), XXL (23)
Confirmed Weight | 9.5kg (Medium, setup tubeless & w/out pedals)
RRP | $15,599 AUD
Trek Supercaliber sizing & fit
Whereas most brands typically offer just four frame sizes, the Supercaliber is available in six. Furthermore, each size gets its own unique swingarm, no doubt adding to the overall manufacturing cost. This has been done to ensure the flex characteristics are consistent based on expected rider weight, which is great. Unfortunately Trek hasn't used the opportunity to scale the rear centre sizing though – all frames feature the same 430mm chainstay length. Scaled rear centres aren't common in the XC world – the Norco Revolver FS is the only bike I'm aware of that does it – but it still feels like a missed opportunity on the Supercaliber.
At 175cm tall, Trek recommends the M/L size for me. Due to global shortages however, only a Medium was available at the time. In order to round out the review though, I did manage to spend some time on the bigger M/L size, which is otherwise identically proportioned albeit with a 15mm longer reach (440mm vs 425mm). While the difference isn't dramatic, I'd personally go for the bigger of the two.
Worth noting is that the Small to Large frames all share the same 90mm head tube length, and therefore the same stack height. This means if you're borderline between any of those sizes, you've got options. You could downsize if you wanted to run a longer negative rise stem like the pros, or you could upsize to get a longer reach for more stability. Either way, the front end will stay low and aggressive.
My only gripe with the cockpit is that the 720mm flat bars are unfashionably narrow, given that most of Trek's competitors are spec'ing 740-760mm wide bars these days. I rode the stock setup for the first month of testing, which was fine, but I ended up moving to a 760mm wide bar to improve leverage and stability.
The ESI grips are a nice touch though. While they're not particularly durable if you clip a tree or hit the dirt, they are lighter than a lock-on grip, and they offer better vibration damping too. Likewise, while Bontrager's Montrose saddle isn't of the trendy snub-nose variety, I found it to be a comfortable perch, with a pressure-relieving channel and a gentle scoop towards the tail that helps to anchor your sit bones during hard pedalling efforts.
Suspension & tyre setup
Despite the funky rear suspension design, the Supercaliber is actually a pretty easy bike to setup. Hidden inside the IsoStrut is a Fox-built DPS air shock, which offers adjustable rebound damping, air pressure and volume.
Trek recommends 25% sag for the IsoStrut, which works out to be 8mm of displacement at the O-ring. 135psi hit the spot for my 69kg weight, which is exactly what Trek recommends via its online suspension setup calculator. I set the rebound damping halfway, with 7/14 clicks.
Having tested the RockShox SID SL recently, I setup this fork exactly the same with 100psi in the air spring, and I added a single Bottomless Token to provide a little more end-stroke support. Rebound was set a bit slower than halfway at 7/19 clicks.
Due to the thin casings on Bontrager's XR2 Team Issue tyres, I ran a little more pressure than usual, with 23psi in the front and 26psi in the rear. Given the sidewall-eating nature of our local test tracks, I also fitted a 72g Tyreinvader insert into the rear wheel for a little extra rim and pinch-flat protection.
Gosh, this bike is rapid!
Not exactly surprising given it weighs 9.5kg in stock trim. But what consistently impressed me every time I swung a leg over the Supercaliber is just how responsive this bike is under power. There's so much drive through the rear tyre, with an almighty surge delivered upon each and every pedal stroke.
Efficiency is absolutely superb via the IsoStrut suspension design. With the main pivot sitting quite high and forward of the bottom bracket, the shock naturally stiffens up under chain torque, providing snappy organic pedalling performance that is unrivalled by any full suspension XC bike I've tested. While it's not quite like a hardtail, it really isn't far off.
Bitumen sections and sprinting efforts aside though, you can otherwise confidently leave the suspension wide open and forget about toggling levers while darting along singletrack, giving you more mental bandwidth for focussing on the trail ahead.
Certainly for riding off road, there's no need for the lockout at all. The only reason you'd flick that lever would be to stabilise the fork during an out-of-the-saddle sprint. And that's exactly why it's there – for the initial start gate takeoff, to bridge a gap on a fireroad, and for the finish-line sprint.
On that note, the under-the-bar lever is easy to use and despite actuating two cables, the action is pretty light. This is partly down to the short and uncomplicated cable routing, which is a monumental improvement over the previous generation Top Fuel (the one with that horrible loop-de-loop around the rear shock). Bitumen sections and sprinting efforts aside though, you can otherwise confidently leave the suspension wide open and forget about toggling levers while darting along singletrack, giving you more mental bandwidth for focussing on the trail ahead.
Aiding the Supercaliber's tenacious speed, the XR2 tyres are very fast rolling and they're also very lightweight (653-656g confirmed). They're fitted to Bontrager's Kovee XXX wheelset, which came in at a jaw-dropping weight of 1,325g on our scales. That's not quite as light as Roval's Control SL wheelset (1,278g confirmed), but the difference largely boils down to the Kovee XXX wheels using 240s hubs instead of 180s. Ride quality is otherwise similarly precise thanks to the carbon rims and bladed spokes, and acceleration is superb, with fast pickup from the 54T Star Ratchet freehub.
Hifi handling
Backing up the energetic suspension is the Supercaliber's zesty handling. This is a proper race bike after all, and while other brands are going slacker, Trek has kept things tight with a 69° head angle. Paired to the short stem, the front end feels sharp and reactive. The 430mm rear centre length is also quite snug for an XC race bike, enhancing the Supercaliber's go-kart steering and its general willingness to change direction rapidly as you weave through the trees.
Combined with the effervescent suspension performance and crisp steering, it's quite the ground-hugging hoverbike.
There's certainly nothing flaccid about the stiff carbon chassis either. Aside from those thin seatstays, there is very little austerity in the overall frame construction. The stout front end is bolstered by the IsoStrut assembly, which offers greater lateral rigidity compared to a traditional swing link. All of this helps to minimise wiggle, translating handling inputs into the tyre contact patches with less hesitation, and with more haptic feedback.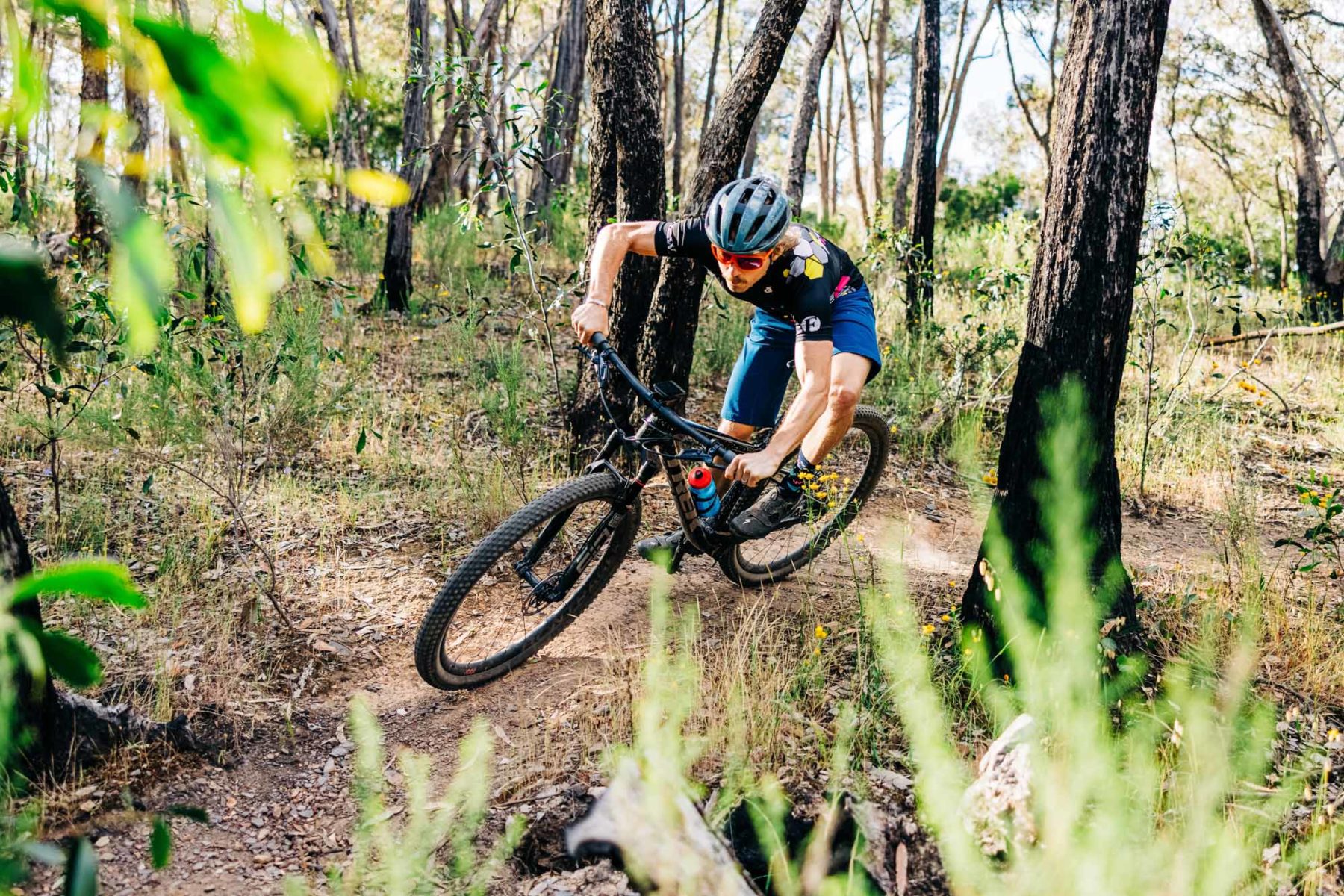 Despite having the same head angle, fork offset and a similar reach measurement as the Orbea Oiz and Santa Cruz Blur, the Supercaliber manages to feel more connected to the trail. The BB hangs very low at 53mm below the hub axle line, which is the lowest of any full suspension XC bike on the market. This is possible due to the short rear travel, which allows the whole bike to sit closer to the ground, improving stability without fear of constant pedal strikes. Combined with the effervescent suspension performance and crisp steering, it's quite the ground-hugging hoverbike.
Traction galore
There's no denying that the Supercaliber isn't as cushy as a regular 100mm travel bike. However, it's much more sympathetic than a hardtail, and it's a lot more comfortable overall and than I first assumed it would be.
There's actually decent small-bump sensitivity, which allows the rear wheel to track smoothly over micro terrain, delivering usable traction across rippled surfaces and up technical climbs. And that's good news, because with its low weight, taut frame and efficient pedalling manners, the Supercaliber is an exceptionally handy climber.
The 74° effective seat tube angle sounds a bit slack these days, though it's worth pointing out that with the saddle in the desired position, our test bike actually measures up at 75°, which feels spot-on to me. Furthermore, when you're heading up an incline, there's less slackening of the geometry in the first place because the Supercaliber has less travel to sag into. This allows you to maintain a steadier climbing position, improving power delivery without need to reach for the lockout.
Because the shock doesn't extend as much when unweighting the back end, there's less rocking and pitching overall.
On a typical XC racecourse, the rear suspension strikes a nice balance between being able to smooth off harsher edges, while remaining stable under pedalling. Even when you need to leap out of the saddle midway through a climb, the back end responds quickly, with no wallowing of the rear shock whatsoever.
The stable back end plays out well when cornering through smoother banked-up turns too. Because the shock doesn't extend as much when unweighting the back end, there's less rocking and pitching overall. This keeps the whole bike steady and level, with consistent and predictable weight distribution that allows the Supercaliber to make short work of tight chicanes.
It's no plush big hitter
Ever read a review that describes a bike as feeling like it has more travel than it actually has? Well, the Supercaliber ain't that bike – there is definitely no more than 60mm of travel here.
While the initial travel is effective, it soon ramps up. Hit a rough, rock-laden section at pace, and the Supercaliber is harsher and bouncier than an equivalent 100mm bike. Compared to the Scalpel or a multi-link bike like the Mach 4 SL, the Supercaliber just doesn't have that same level of square-edge compliance. Ease off the gas, and the rear wheel is more likely to get caught up on those edges, robbing you of speed and resulting in more feedback.
In these instances, I found the best approach was to attack the rocks as assertively as possible. Instead of ploughing, I'd look for opportunities to skip over the top of the chunder where possible. And given it's so light and responsive, the Supercaliber is more than happy to oblige, helping you to seek out those better lines and work the terrain. Like a true, uncompromising race bike, it rewards a faster and more commanding pilot to maintain momentum through the rough.
When things get really wild though, the rear suspension can run out of puff. Faced with bigger impacts and my extremely ungraceful flat landings, I managed to bottom out the shock on a number of occasions. The first time it happened I thought something had actually broken, due to the solid metallic 'clunk' upon landing. Thankfully that wasn't the case though – it just sounds worse than it is. And providing I rode it like an XC bike, and not just a test bike that doesn't belong to me, full bottom out wasn't a regular occurrence.
Unfortunately the additional volume spacers don't come with the bike either – you'll have to pay an extra $44 for that privilege, which seems a little ridiculous on a $15K mountain bike.
If you are hitting full straps often though, it is possible to improve bottom-out support via volume spacers. The Fox DPS shock comes fitted with a Small (green) volume spacer as standard. You can remove this for a more linear feel, or you can fit a Medium (orange) or Large (purple) volume spacer for more progression.
The process itself isn't difficult, but it does require a probably-not-in-your-toolbox BSA30 bottom bracket tool to unthread the top of the air can. And you'll also need to be sitting on the bike to do it, so that the IsoStrut assembly can push down away from the top tube. Unfortunately the additional volume spacers don't come with the bike either – you'll have to pay an extra $44 for that privilege, which seems a little ridiculous on a $15K mountain bike.
2.4in tyres just fit
Partway through the test period, I decided to try and squeeze in a little more comfort and control by squeezing in a pair of 2.4in Wide Trail Maxxis tyres. I fitted the excellent Rekon Race up front (749g) and a speedy Aspen (729g) out back.
The higher volume rubber allowed me to lower pressures down to just 21psi on the front and 24psi on the rear. This resulted in more traction, and a smoother ride quality than the stock 2.2in Bontrager tyres, with better predictability on loose surfaces. For a hardtail or a firm short travel bike like the Supercaliber, these 2.4in WT tyres are a fantastic addition.
Clearance is admittedly quite tight out back, and 2.4in is surely the widest you'd want to go. That said, I've not encountered any untoward rubbing – a testament to the lateral rigidity through the chassis. There's also oodles of mud clearance behind the seat tube, as the chainstay bridge sits in front of the seat tube, leaving a huge gap in front of the tyre.
Get a dropper post – STAT!
We sound like a broken record here, but it really is a shame not to see more XC bikes coming with a dropper post as standard. I can appreciate why few brands are taking that risk, given that a dropper increases the number on both the price tag and on the scales. Merida has decided to throw caution to the wind with its new Ninety-Six race bike, but for Trek and the majority of its competitors, a lighter and cheaper rigid post continues to be the safest option.
While I don't believe that every rider needs one, there are no doubts that a dropper post can offer a distinct improvement to an XC bike's cornering performance and descending control. And on the short travel Supercaliber, which is closer to a hardtail than its 100mm counterparts, a dropper also gives you more room to bend your knees and elbows for absorbing impacts on rougher sections of trail.
With that in mind, I decided to take advantage of the frame's compatibility, and fitted a BikeYoke Divine SL. While the stock Bontrager XXX carbon post is very light (172g), there wasn't a huge weight penalty. The 80mm travel Divine SL is one of the lightest droppers going, and including the Triggy remote and cabling, it added just 319g. The weight gain is absolutely worth it in my opinion, and I can wholeheartedly recommend the Divine SL to any XC rider out there looking at making the jump – check out the separate review here.
To fit the Triggy, I would need a different option for the lockout lever though, so I sought out a RockShox TwistLoc. Admittedly, this hasn't been the perfect solution. Firstly, the TwistLoc limits your options for grips – you can either run the included lock-on grip (which I quite like to be fair), or you can cut down a soft grip like an ESI. Secondly, depending on where you have the dropper lever positioned, the paddle can limit how much of the TwistLoc you can grab a hold of. And thirdly, I've encountered durability issues with TwistLoc remotes on other bikes, usually with the main clamping bolt, which has a tendency to round out, or strip the thread in the clamp itself.
That all being said, the setup has worked absolutely fine on the Supercaliber, and it's a pretty neat way to have a dual remote lockout system, and a dropper post lever, all occupying a relatively small amount of space on your bars. Still, if I was doing it again, I'd keep the stock remote lockout and simply add a BikeYoke 2-By lever instead. I'd also consider Bontrager's DropLock remote, which incorporates the lockout and dropper paddle into the single unit, while also being $10 cheaper than a TwistLoc.
You can fit a 120mm fork too
Speaking of modifications, it might come as a surprise to learn that while all complete Supercaliber models are fitted with a 100mm travel fork, Trek actually rates the frame for use with up to a 120mm fork. Seems a little weird right? In the spirit of science though, I decided to try out such a setup to see what would happen in the unusual scenario where the front travel doubles the rear.
I fitted a 120mm RockShox SID, which is basically a pumped up version of the SID SL that it replaced. Instead of 32mm stanchions, the SID gets 35mm stanchions and a beefier chassis to match. Weight wise, it's 200g heavier (1501g vs 1300g confirmed). The SID is a brilliant performer – if you've not read it already, make sure you check out our separate review on it here.
Even with the taller fork fitted, the Supercaliber doesn't feel too jacked up, since the BB is already quite low in the first place. It does however feel vastly more solid up front, with greater precision to the front-end steering, and less twang under braking. The bigger SID is also considerably plusher too, providing more comfort, better traction and rapid-fire capability.
The sensation of the plush fork with the firm rear suspension was a little odd to begin with, but I soon adapted to it, just like you can adapt to a hardtail that has no rear suspension at all.
With the bigger fork, dropper post and wider bars fitted, the Supercaliber becomes a total pocket rocket. At 10.52kg it's still zippy and responsive, but the geometry is just a little more relaxed, and the smoother fork enhances rider confidence. It is harder work to push round tight and flat switchbacks, where the bike has a tendency to understeer. And of course it's not as proficient on the climbs, with more bob from the fork when standing up. But it otherwise feels fantastic everywhere else, particularly on the descents.
It did mean I went charging into things with a little more enthusiasm, and that saw more the rear shock hitting rock bottom more regularly. At this point I upsized to the Medium (orange) volume spacer. I left the air pressure the same, as it resulted in the same sag figure. With the bigger volume spacer, the travel became slightly firmer, though it also eliminated bottom out completely. The sensation of the plush fork with the firm rear suspension was a little odd to begin with, but I soon adapted to it, just like you can adapt to a hardtail that has no rear suspension at all.
So at the end of that experiment, would I recommend fitting a 120mm fork for the average Supercaliber owner? Well, that depends.
For more svelte folks who are using the Supercaliber exclusively for racing, a 120mm fork otherwise doesn't really make sense. For heavier riders though, the burlier fork chassis will offer a noticeable improvement in ride quality, with benefits that may very well outweigh the extra mass. It's worth mentioning that the 120mm SID can also be lowered down to 110mm, which would strike a neat balance.
Sure there's always the Top Fuel, but that has a heavier frame, and it can't take two bottles either.
I'd also consider a bigger fork for those who are racing longer distance, multi-day stage races, where the extra cushion and control will be particularly beneficial. From that angle, it'd be cool to see Trek offer a stock Supercaliber option with a bigger fork, dropper post and wider tyres – a bit like what Specialized does with the Epic EVO. Sure there's always the Top Fuel, but that has a heavier frame, and it can't take two bottles either.
Component highs & lows
As you'd expect for a bike costing over $15K, the Supercaliber 9.9 XX1 AXS is about as premium as it gets, and there are thankfully few chinks in its armour.
The SRAM AXS drivetrain is superb. You get smooth and reliable shifting, even up to that big 52T sprocket. The 34T chainring provides good top-end sprinting speed, though you've still got access to a properly low climbing gear – no doubt useful for those super steep tech climbs in a race where crucial seconds can be saved by staying on the bike, rather than having to bail and walk.
I did also try the new Rocker Paddle upgrade for the AXS shifter partway through the test period, and while it is nice and tactile, I didn't find it as effortless to use as the stock paddle in an XC/marathon setting.
I've tested the Level Ultimate brakes before (check out the separate review here), and I was again impressed with the smooth carbon lever blades, light action, and usable power. I do think it's odd to see a PM140 mount for the rear of the frame, which requires an adapter for the stock 160mm disc rotor. I'm not sure who runs 140mm rotors these days, and I'd much rather see a PM160 mount to skip the adapter all together to maintain the Supercaliber's otherwise clean lines.
The bigger Torque Caps also help to increase torsional stiffness between the hub and the SID SL's oversized dropouts, so it's frustrating to see Trek skip over this detail.
All the Bontrager finishing kit is of a very high standard, though as mentioned earlier, I'd love for Trek spec a wider handlebar. After all, you can chop bars down, but you can't go the other way.
I'd also like to see Torque Caps used for the front hub. As it currently stands, locating the axle when refitting the front wheel is finicky, and likely to be very frustrating during a mid-race puncture repair. The bigger Torque Caps also help to increase torsional stiffness between the hub and the SID SL's oversized dropouts, so it's frustrating to see Trek skip over this detail.
The wheels are otherwise very impressive though, and being carbon, they come with Bontrager's 2-year crash replacement guarantee. I did manage to break a spoke after a tree branch got caught up in the rear wheel, and since there are only 24 spokes front and rear, it caused a decent wobble. Not enough for the tyre to rub in the frame, but noticeable enough. After replacing the spoke and truing the wheel, it's been fine since. However, that same stick managed to bend the chain's master link and claim a tooth on the derailleur's jockey wheel. Somehow the mech and hanger remained straight and true throughout the whole ordeal, which is impressive.
And the Knock Block headset, while annoying for when you need to put the bike in the back of your car or when track-standing behind another rider, does the job it's meant to.
All of that aside, this is still a very expensive bike that only the most well-heeled customers will be considering. The good news for interested Supercaliber owners who don't want to spend this much on a bike though is that the OCLV carbon frame is identical all the way down to the 9.8 GX model.
The impressively engineered chassis is backed up with Trek's lifetime warranty too, which offers solid peace of mind. Further insurance is provided by frame protection in the key strike zones. You'll find metal armour plates around the chainring and rear disc rotor, a rubber chain-slap guard, and a clear plastic scuff guard for the underside of the downtube. And the Knock Block headset, while annoying for when you need to put the bike in the back of your car or when track-standing behind another rider, does the job it's meant to. I have hit the steering limiter before on the trail, but it was never a real problem, and I'd certainly rather have one than not at all.
The internal cable routing is also nice and simple via the Cable Freak system. A small zip tie keeps the cables cinched snugly inside the middle of the downtube, and the cable ports can be modified depending on your setup. I also had no dramas from the smooth-rolling DUB bottom bracket, which along with the high quality DT Swiss hub internals, resulted in minimal drag through the drivetrain.
I would recommend that Supercaliber owners keep an eye on the rear suspension pivot hardware, as the IsoStrut mounting bolts came loose during my first test ride. Some fresh Loctite and a torque wrench sorted that out.
Speaking of, I did pull apart and service the IsoStrut assembly, which Trek recommends you do every 125 hours of riding – the same as a lower leg service on a fork. The procedure is very similar too, and all you'll need is some 10wt splash fluid. However, you do need to remove the swingarm from the mainframe to take the IsoStrut assembly out, which makes it a more involved process. It was actually pretty easy on our test bike, though it'll be more annoying with a conventional cabled derailleur.
Trek Supercaliber Vs the competition
So how does the Trek Supercaliber, with its unique IsoStrut suspension, go against some of its main rivals? As mentioned earlier, the Trek Supercaliber is up against the likes of the Merida Ninety-Six, Specialized Epic, Giant Anthem, Cannondale Scalpel, Scott Spark, Canyon Lux and Orbea Oiz. Of those competitors, I've most recently tested and reviewed the Scalpel, Epic and Oiz, all on the same trails that I've ridden the Supercaliber. With that in mind, here's a brief summary of how they directly compare.
Cannondale Scalpel
Launched in 2020, the latest Scalpel is without doubt one of the most progressive XC bikes currently on the market – both in terms of its geometry and its suspension performance. The unencumbered four-bar suspension layout delivers killer traction and a really smooth, active feel. As well as being more comfortable on longer rides, it's also noticeably plusher and more composed on rough terrain compared to the Supercaliber. Certainly if it's maximum bump absorption you're after, the Scalpel is one of, if not the best XC bikes going.
The high quality suspension is able to carry the Scalpel through some pretty technical scenarios, even if its front-end steering is quite sharp due to the precise Lefty and long 55mm offset.
The Supercaliber is the more responsive and naturally efficient option of the two though – you'll be relying more on the Scalpel's remote lockout to keep the back end stable on longer climbs. Some riders will also be put off by the proprietary fork, hub and A.I crankset, and we found the rear axle design to be a bit faffy. Otherwise it's a nicely finished bike with dual bottle compatibility, the clever STASH tool system, and a similar frame weight to the Supercaliber. Check out our Cannondale Scalpel review here.
Specialized Epic
On the trail, I'd say the Epic is the closest performer to the Supercaliber. Both bikes have a similar ethos, with a proprietary suspension design that's been employed to maximise pedal efficiency without need for reaching for a lockout. However, the execution is very different between the two. The Epic of course uses the Brain damper to stabilise the fork and rear shock, creating a firm pedalling platform whether you're in or out-of-the-saddle. There's no lockout to distract you while riding, and you also get a super clean cockpit.
While it is adjustable, the Brain system isn't perfect though. Even on its firmest setting, the suspension is never fully locked out, whereas the Supercaliber can be turned into a properly rigid bike at the flick of a lever. Also, some riders simply detest the knocking sensation that occurs every time the valve opens, and you will feel any impact under the inertia valve's force threshold. If you're not attacking the trail, it's an unrelenting bike to ride.
The regular SID on the Supercaliber is noticeably plusher, and without the Brain damper it's also lighter by 180g. And despite having less travel at the rear, the ride is actually a little more comfortable on the Supercaliber. That said, once the Epic's valve is open on a descent, it's the more stable option of the two thanks to its slacker 67.5° head angle and slightly longer reach. And despite the extra Brain trickery and a threaded BB, the frame is a touch lighter on the S-Works Epic compared to the Supercaliber. However, it misses out on a steering limiter, and the complete bike costs considerably more – $3,400 to be exact. Is it worth it? Check out our Specialized Epic review here.
Orbea Oiz
Updated in 2020 with a new OMX carbon frame and sleek one-piece swingarm, the Orbea Oiz is almost 200g lighter than the Supercaliber, while still having 100mm of travel and the ability to fit two bottles. The frame can accommodate a 120mm fork, and you can also up-stroke the shock to increase rear travel to 120mm too, giving it a load of versatility.
What makes it particularly versatile on the trail though is its Squidlock remote and on-the-fly adjustable suspension. You do need to toggle the remote regularly to get the most out of it, which differs to the Supercaliber, where you can happily leave the suspension wide open 95% of the time. Even while open though, the Supercaliber is still the more efficient of the two, and its stout frame design means it's more responsive through the corners as well.
The plusher and longer travel Oiz is the better descender though, in part thanks to the more progressive build kit with its wider bars and 2.35in tyres. On rougher terrain, it offers a smoother ride with more confidence too. It also offers more bang for buck – the top-end M LTD model comes with a similar level of kit, plus a dropper post, while selling for $2,600 less than the Supercaliber 9.9 XX1 AXS. Unfortunately the Oiz doesn't have a steering limiter, and I had issues with the frame's weather sealing, but otherwise it's a very complete package, and certainly one of the most well-rounded XC bikes I've ever tested. Check out our Orbea Oiz review here.
Flow's Verdict
In pursuing the unique IsoStrut suspension design, Trek has delivered a race bike that stands out for more than just being incredibly good looking. Following three months of in-depth testing across a wide variety of trail conditions, I have no doubts that the Trek Supercaliber is one of the fastest and most efficient XC bikes currently on the market.
Purpose-built around its 60mm of rear travel, the Supercaliber delivers a low and aggressive riding position with crisp, hardtail-like handling. The back end isn't as plush or as controlled as 100mm travel equivalents on rough terrain, but it is surprisingly effective, and it handles typical XC terrain with useful efficiency.
No, the build kit isn't perfect. And with only one complete bike in the range for under $10K, the Supercaliber is a pricey proposition whichever way you look at it.
It's also not the lightest option on the market. If weight is your biggest concern though, then a hardtail is still going to be your preferred option. And if you're after a plush XC bike for tackling rougher terrain beyond the racetrack, I'd suggest you look elsewhere.
But for those looking for something that sits in between, the Supercaliber's clean frame shape, stompable efficiency and cornering precision see it present the most convincing solution to the hardtail vs full suspension paradox yet. If it's a premium race-ready XC bike you're after, and you place a high value on pedalling performance without having to resort to constant remote-flicking, the Supercaliber is as focussed and as swift as they come.