Flow reviews the latest Bosch Smart System
Last year German brand Bosch unveiled its snazzy new Smart System. Designed for high-performance electric mountain bikes, the Smart System incorporated the new eBike Flow app, which offers users the ability to perform over-the-air firmware updates, while introducing new navigation functions and the option to custom-tune the motor's power output. As for hardware, Bosch also rolled out a new LED controller, the Kiox 300 display, and a huge 750Wh PowerTube battery. While the Performance Line CX motor carried over, it too was updated to be compatible with the current Smart System and future improvements.
Over the past six months we've been spending a load of time aboard the latest Bosch Smart System. You may have seen our Cube Stereo Hybrid 160 review and our Scott Patron review, where we discussed some of the performance attributes of the latest Bosch drive unit. Here we'll be taking a deeper dive into some of the features behind the latest Smart System and what it does well. We'll also be discussing how it compares to the competition, what we think could be improved, and how you can get the most out of your Bosch e-MTB.
---
Watch our video review on the Bosch Smart System here:
---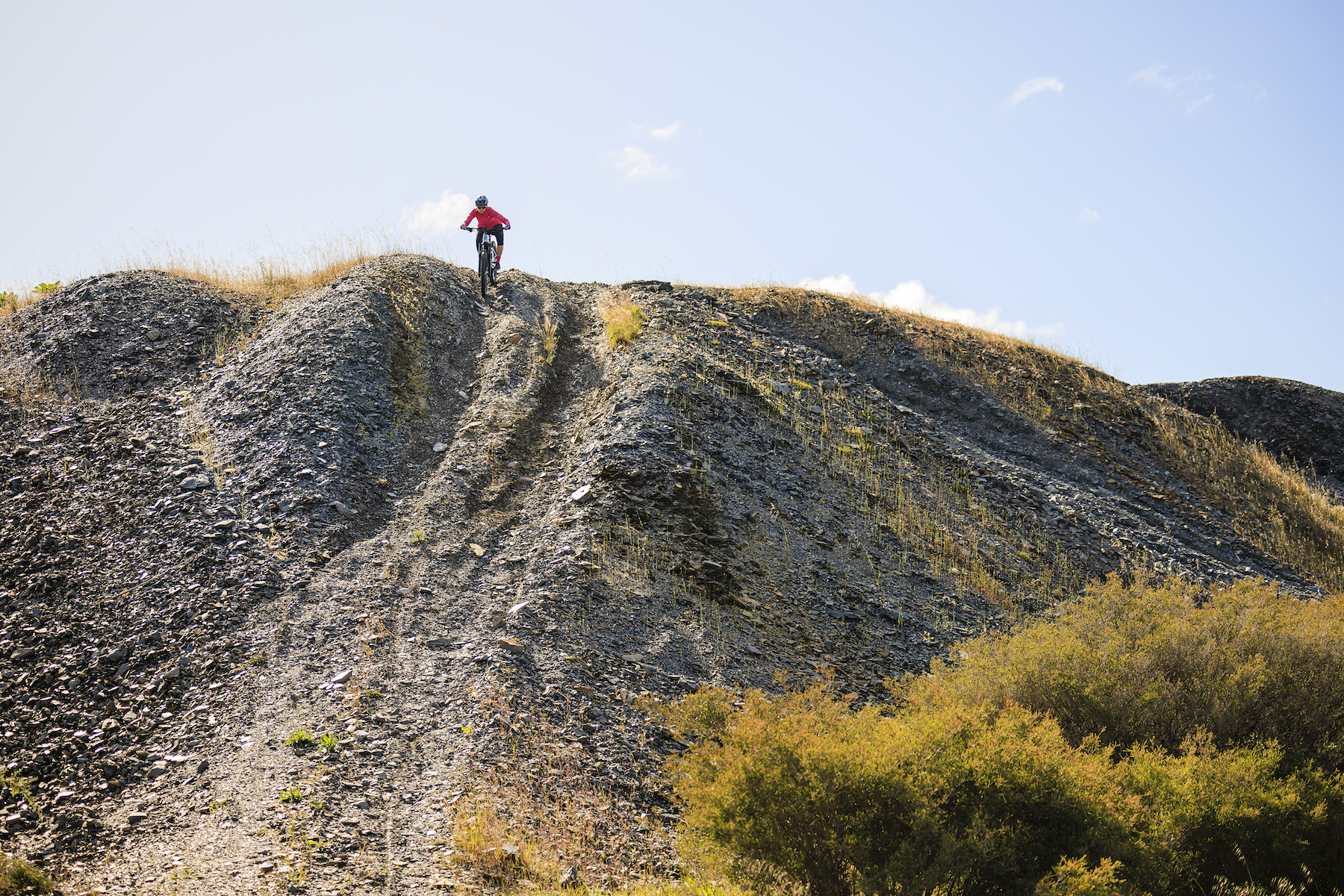 The Cube Stereo Hybrid 160 HPC SL
To explore the tuning options of the new Bosch Smart System, we've been spending some time on a Cube Stereo Hybrid 160 HPC SL test bike. This model is one step down from the blue and orange Actionteam model we recently reviewed, and so it comes in considerably cheaper at $9,499 AUD.
It still features the same frame, suspension design and geometry. It's also built around the same Bosch Performance Line CX motor, which dishes out 85Nm of peak torque and up to 340% assistance to the rider. There's a removable 750Wh battery inside the downtube, and up at the cockpit you'll find the latest Kiox 300 display and LED controller.
With a 170mm travel RockShox Zeb and 160mm of rear travel, it's an absolute beast of a bike. Cube specs it out with sticky Maxxis tyres and tough DoubleDown casings, along with powerful Shimano Deore brakes and big 203mm rotors. All solid stuff for a hard-hitting e-MTB.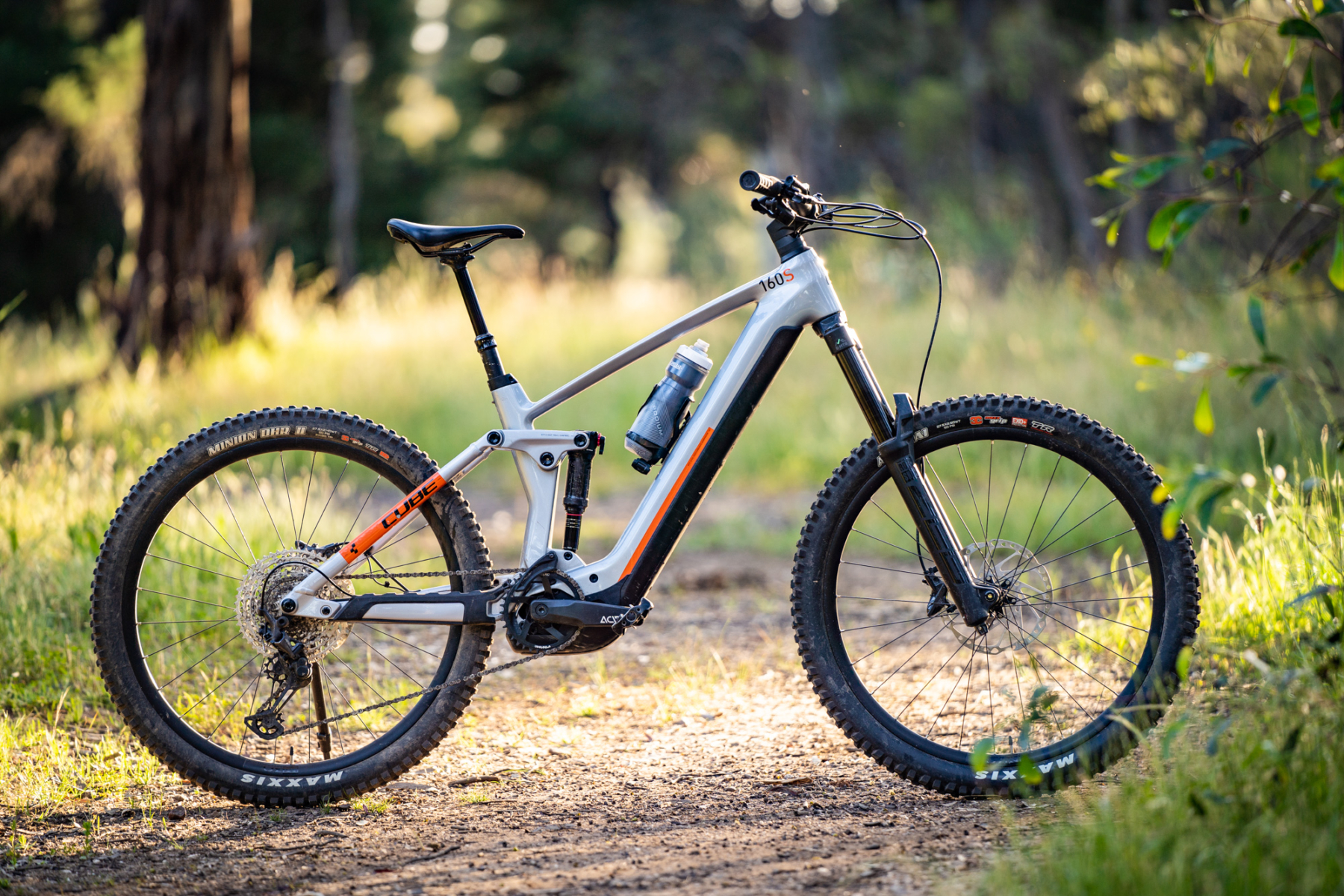 Setting up the LED controller
It has to be said that the LED controller is a huge step up from the old Purion display we're used to seeing on Bosch e-MTBs.
The new controller uses a more shapely 3D profile, with nice tactile buttons that are positioned within easy reach of your thumb. It's also considerably smaller than the Purion display, which often caused issues when it came to setting up the brake lever and dropper post remote. In comparison, we've found the LED controller to play nicely with every dropper post lever we've used so far.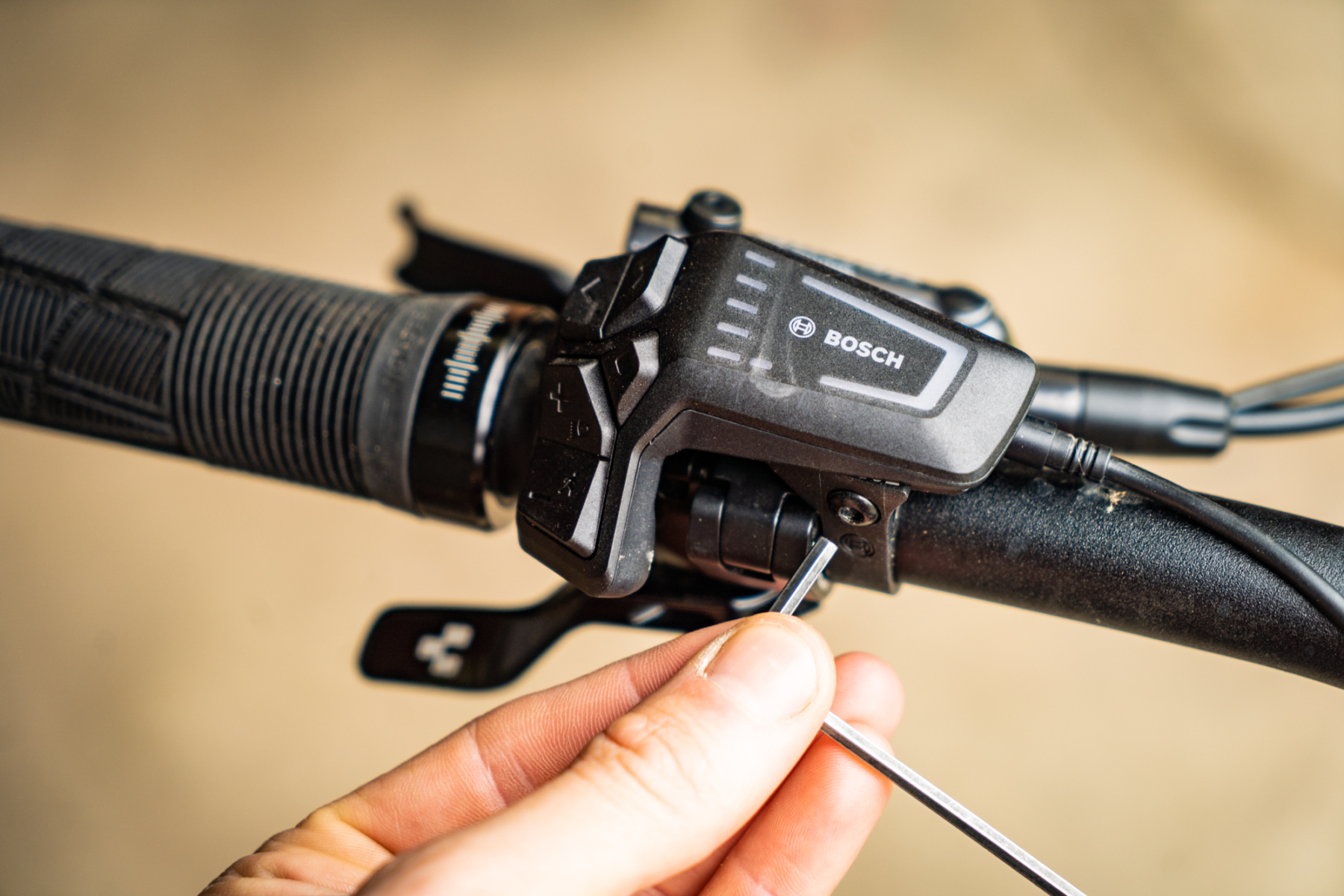 It's still important to get it into the right position though. As well as adjusting the rotation on the bar, the LED controller has a secondary mount that allows you to adjust its lateral position. We generally push it as close to the left-hand grip as possible.
It's worth noting that Bosch makes two different handlebar mounts. One of those is specific for modern Shimano I-Spec EV brake levers, and it allows the controller to sit slightly higher so it clears the brake lever clamp. The other is slightly lower and is designed to suit SRAM and Magura brake levers, among others. Both mounts are available to purchase aftermarket, which is useful if you decide to switch the brakes on your e-MTB.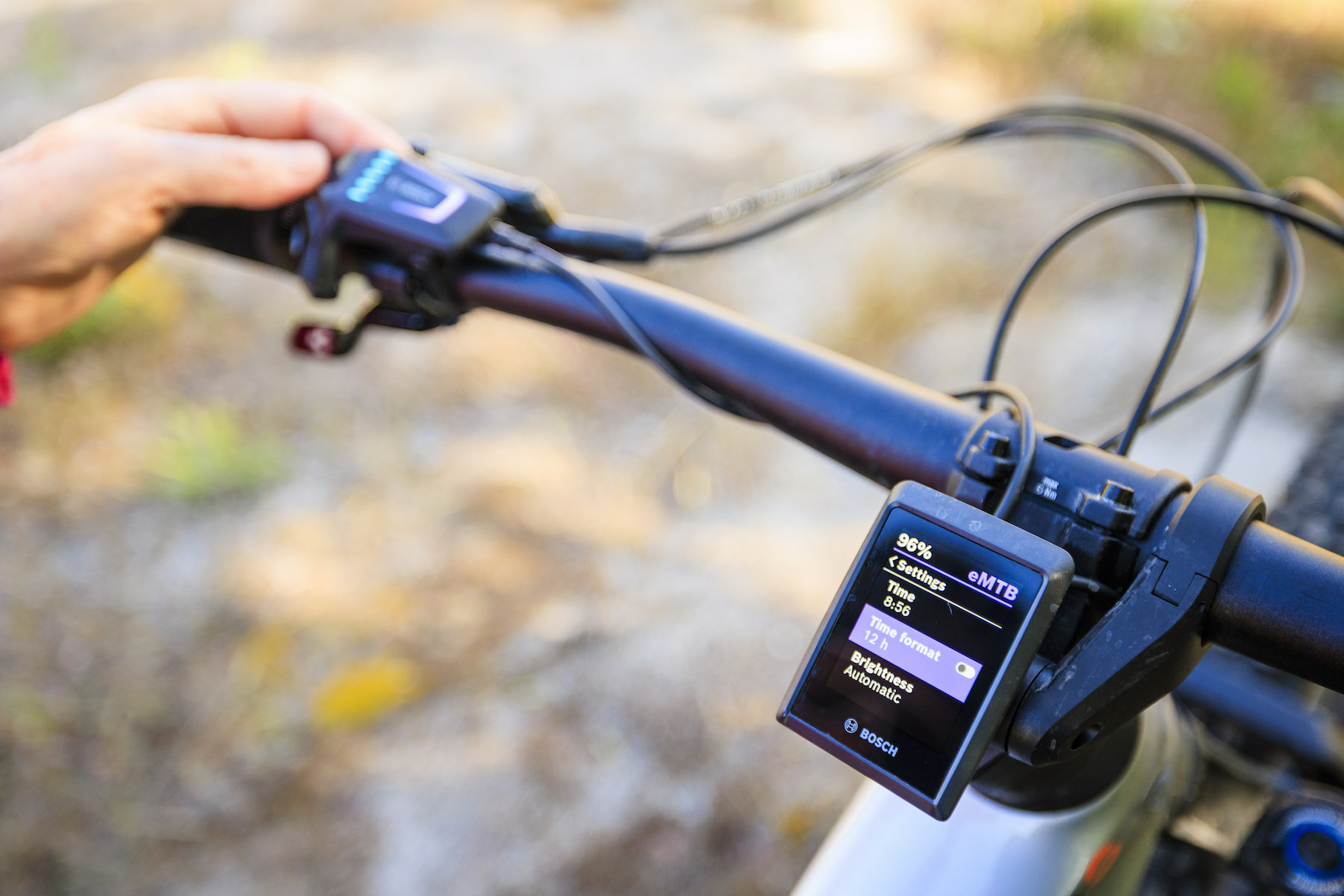 You can remove the Kiox display
A new feature of the Bosch Smart System is its ability to be set up with or without a display. This differs to the previous system (like that used on the 2021 Trek Rail, for example), which housed much of the brains inside the Kiox head unit. That meant if you knocked the display off in a crash, the whole bike would shut down.
The new Kiox 300 head unit however, is much simpler. It's purely a display, and isn't crucial to the function of the whole system.
With this in mind, it's possible to remove the Kiox 300 entirely, and instead rely on the LED controller only. As well as tidying up the cockpit, this helps to remove distractions from your peripheral vision, which will be of benefit to some riders.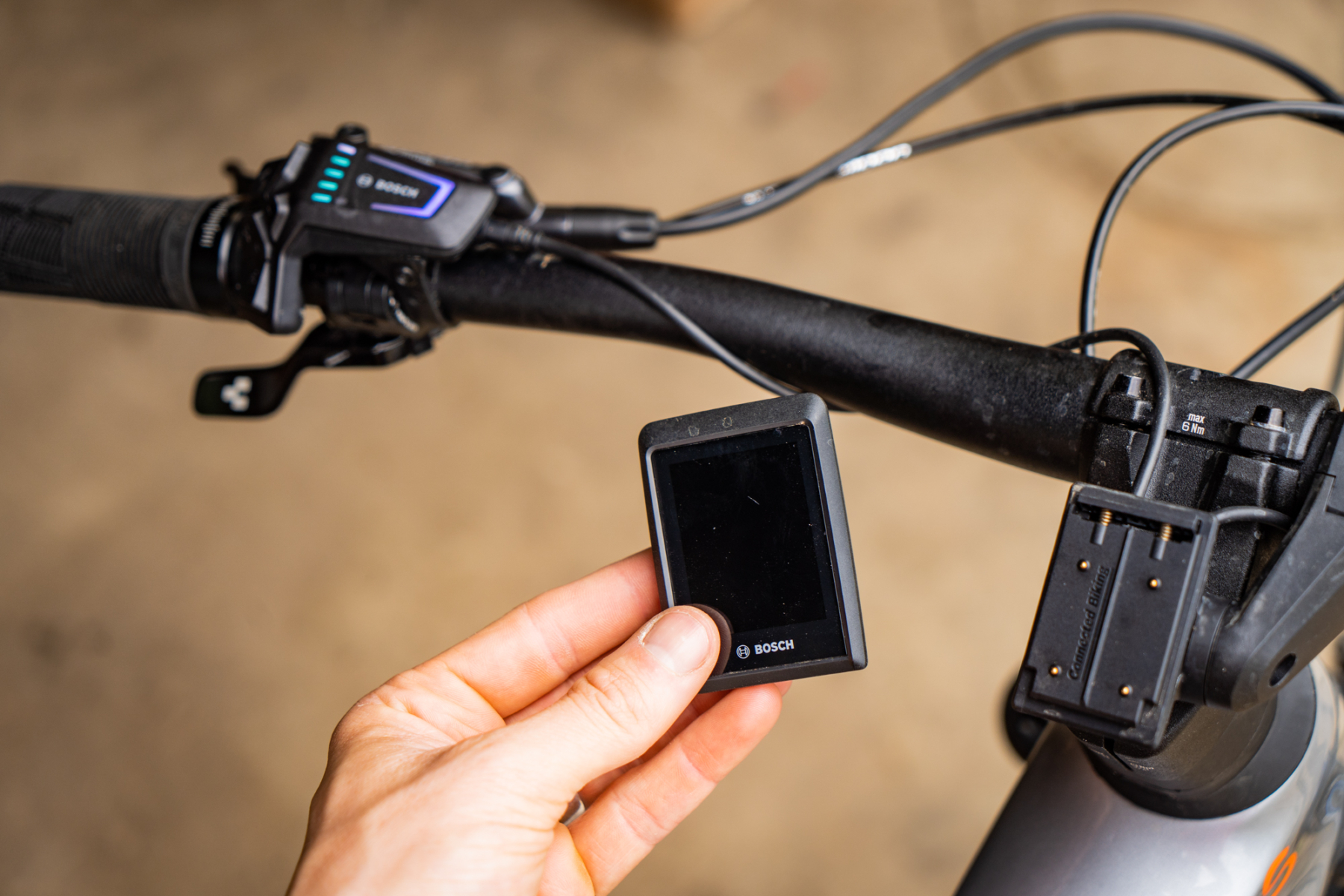 Of course you'll lose the ability to see metrics such as your riding speed, cadence and power output, but you still get the basics from the LED controller. Different colours are used to indicate which assist mode you're in, and the five LEDs will display your battery status in 10% increments. As you drop down 10%, the top LED changes from red to white. Drop another 10%, and that same LED turns off. It's simple, but effective.
Helping to mitigate distractions further, the LED controller features a built-in ambient light sensor that allows it to automatically adjust its brightness. If you're out on a night ride, the system will dim the LEDs so that they're less noticeable. On a sunny day, the LEDs will punch up to their maximum brightness so you can still see them.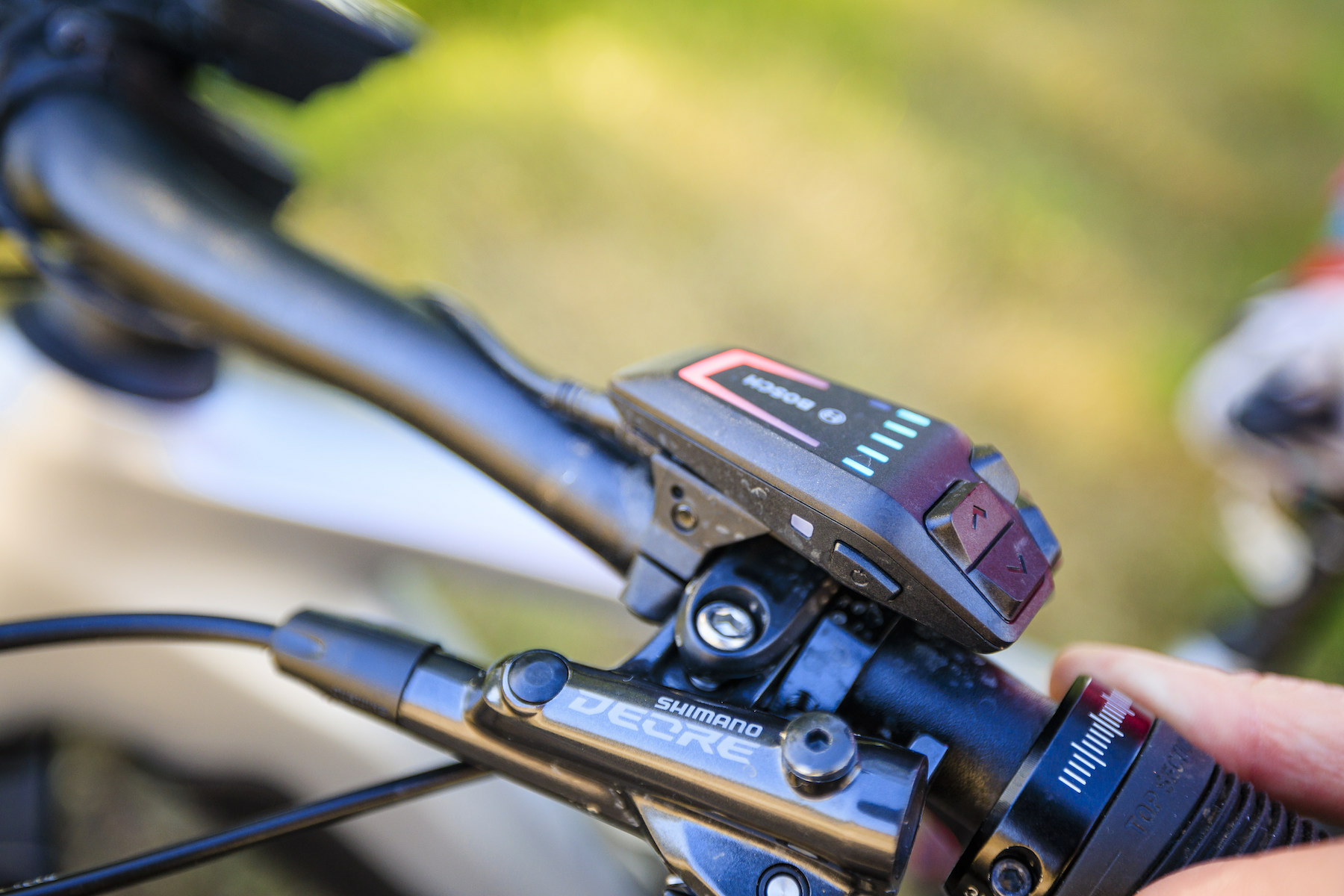 Keep updated with the eBike Flow app
As mentioned earlier, a big story with the Bosch Smart System is the development of the new eBike Flow app.
Offering a vast improvement in functionality compared to the German brand's previous efforts, the eBike Flow app introduces some interesting tuning options, as well as some nifty navigation tools.
More importantly, the eBike Flow app is also now your platform for over-the-air firmware updates.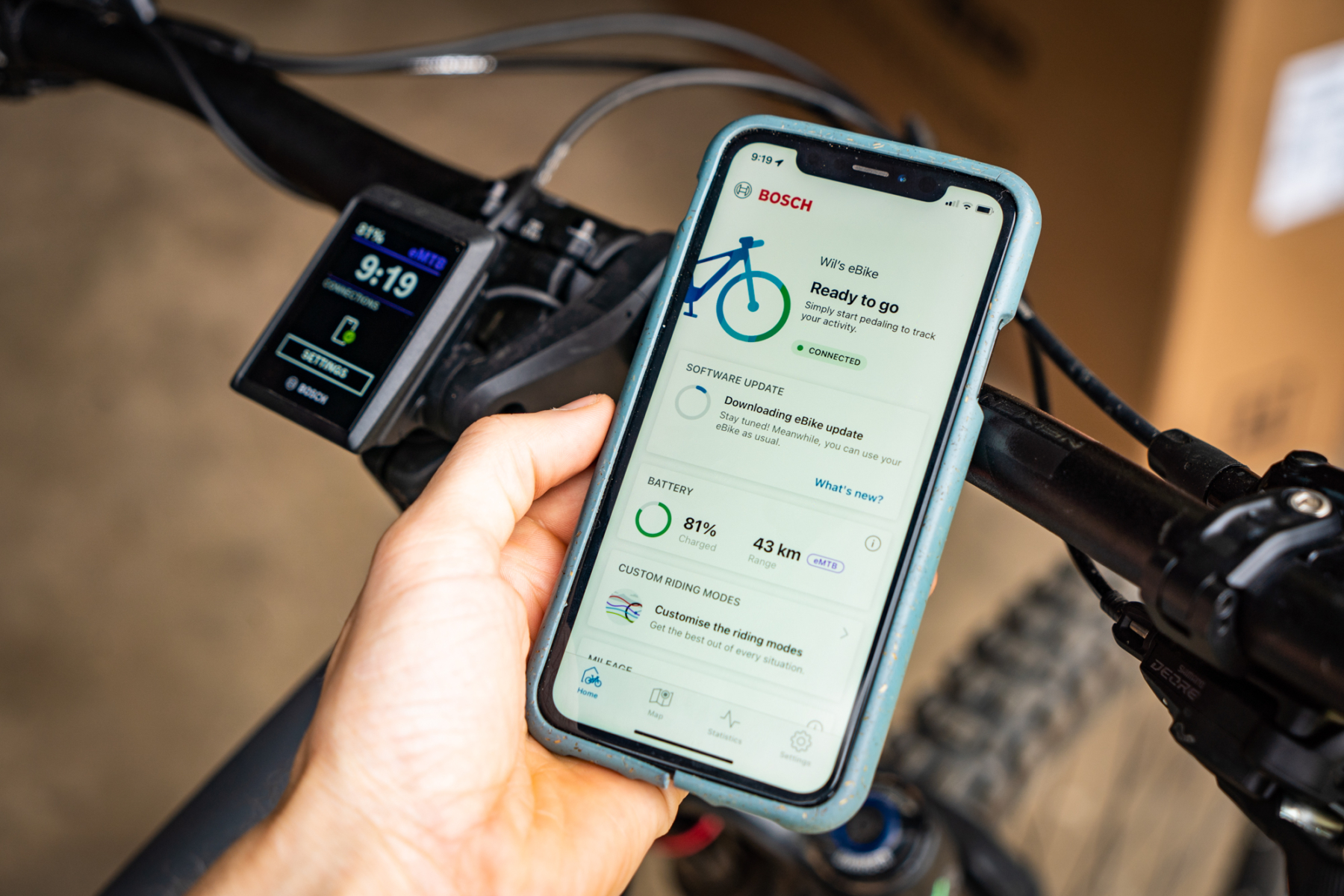 In the past, updates could only be performed by taking your e-MTB into the local bike shop to have it plugged into the specific Bosch dealer program. Previous updates included the addition of the Tour+ assist mode, and when Bosch increased the maximum torque output of the Performance Line CX motor from 75Nm to the now-standard 85Nm.
With the new Smart System interface however, there are options for Bosch to continually roll out improvements. In fact, during the filming of this review, a new update became available that allows the Kiox 300 display to provide you with turn-by-turn navigation, which hadn't been an option before. Bosch has also introduced a new Auto riding mode, which automatically adjusts the support level in response to a drop in riding speed caused by a headwind or sharp incline.
With that in mind, it's worth regularly pairing your bike to the eBike Flow app to check it for updates and newly developed features.
eBike Lock
One such feature is the eBike Lock function. The idea here is to disable the motor in the event of your bike being stolen, providing an extra level of security.
You can set up this function in the eBike Flow app, and it essentially turns your phone into a digital key. This means whenever you turn your e-MTB on, the system will look for a Bluetooth signal from your smartphone before the motor will provide its normal support.
It's a feature that will likely be more useful for commuters, but at least it'll make it harder for your mates to steal your bike and take it for a joyride when you're in the pub!
Tuning the Bosch Performance Line CX motor
Where things get more interesting with the Bosch Smart System and eBike Flow app is the ability to custom tune the motor's performance.
There are four attributes that you can tune; maximum power, maximum support level, acceleration and maximum speed. You can't adjust the settings for the Tour+ or eMTB modes, because these are dynamic assistance modes that vary the motor's output depending on a variety of inputs from the rider.
You can tune the Eco and Turbo modes however, which is useful if you're chasing a different support characteristic to suit your riding style.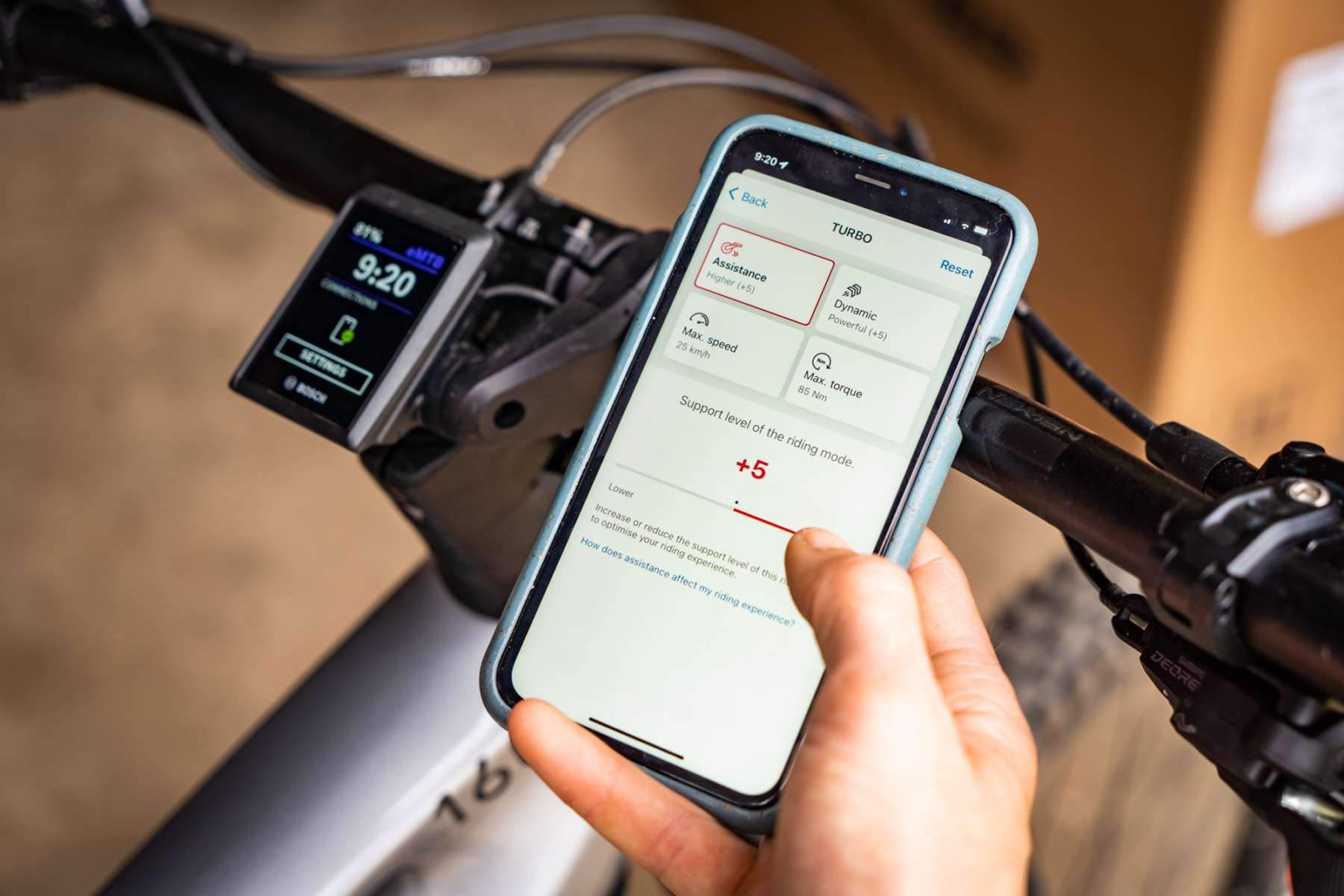 For example, the acceleration level makes a significant difference to how quickly the power comes on, say if you're starting from a standstill on a climb. Heavier and more experienced riders may be after a higher support level and punchier acceleration compared to the default settings. In contrast, lighter folks and those newer to e-MTBs may find the stock settings to be too abrupt. In this case, de-tuning the acceleration and maximum support level is a great way to soften the motor's output.
Perhaps you want to push harder and get more of a workout when riding with another rider? You could detune the motor, or you could even limit the maximum speed at which the motor cuts off, forcing you to do a lot more work. This is also a useful function for parents too, who might not want their kids zooming around the trails at a top speed of 25km/h.
In our case, we like to tune the motor to the extremes. We have the Eco setting with the support level and acceleration at their lowest points (-5). This of course makes you work harder, but if you're going on a humongous epic up in the mountains, you're going to need to squeeze the absolute maximum range out of the battery. With a powerful e-MTB motor like the Performance Line CX drive unit, it's easy to lean on the motor to do most of the work. Keeping those assistance levels on the lower side is a good way to force you to ride a bit slower, and make sure you're finishing your adventure with reserves in the tank.
On the other side, we've got the Turbo mode set to the maximum assist settings for acceleration and support (+5). We don't use Turbo that much on singletrack, preferring to use the adaptive eMTB mode for riding on technical terrain. When we do use Turbo however, which is usually around town on the way to the trailhead, we want plenty of support for zooming away from cars at a traffic light. Also, it's just brilliant fun!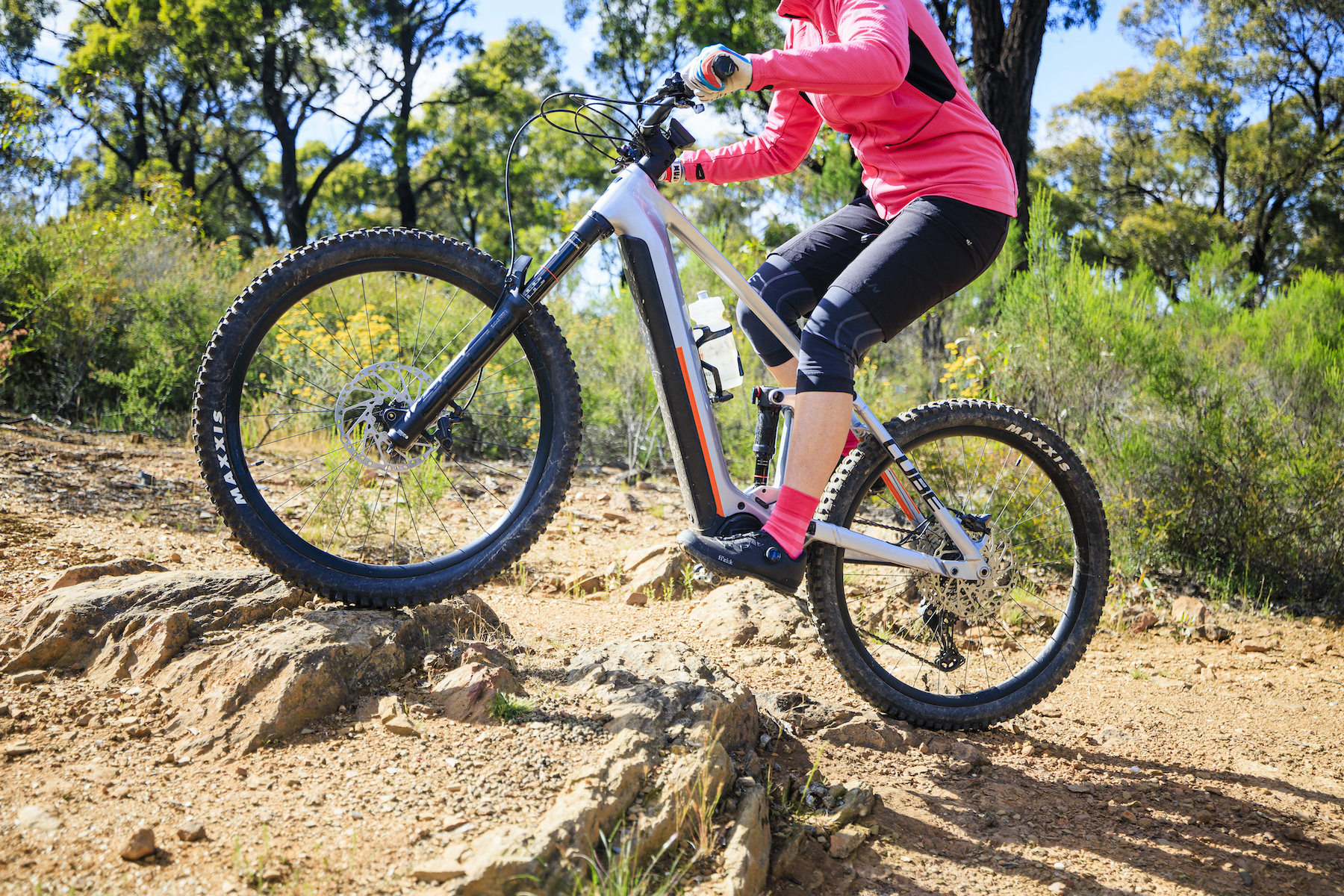 Extended Boost (or not)
One of the most impressive features of the latest Bosch Smart System is the Extended Boost. This refers to how much the motor continues to supply power when you have stopped pedalling, which is also known as 'overrun'.
The Extended Boost function is only found on the latest Smart System-equipped Performance Line CX motors, and it's only applicable in the adaptive eMTB assist mode. You still get some overrun when riding in the Eco, Tour+ and Turbo settings, but it is not nearly as pronounced.
When using the eMTB mode, the Extended Boost provides consistent motor support for an additional metre of riding when you stop pedalling. As you can imagine, this is hugely beneficial when you're riding up a steep and technical climb with lots of big ledges to get up and over.
The downside of Extended Boost is that it can feel like the bike is pulling away from you if you're not ready for it. For example, if you stop pedalling just as you come into a slow-speed corner, the motor will keep driving, potentially pushing you wide and off the trail. We've found it fairly easy to adapt to, but lighter and less experienced riders may find it overwhelming.
Those riders have two options. You can simply ride in the Tour+ mode, which still provides adaptive assistance but with less power than the e-MTB mode. The other option is to take your bike into a Bosch dealer to disable the Extended Boost function. To do so, the motor's maximum torque output will also be reduced to 75Nm. However, that's likely to be a fine tradeoff for riders who are looking for softer and less aggressive assistance in the first place.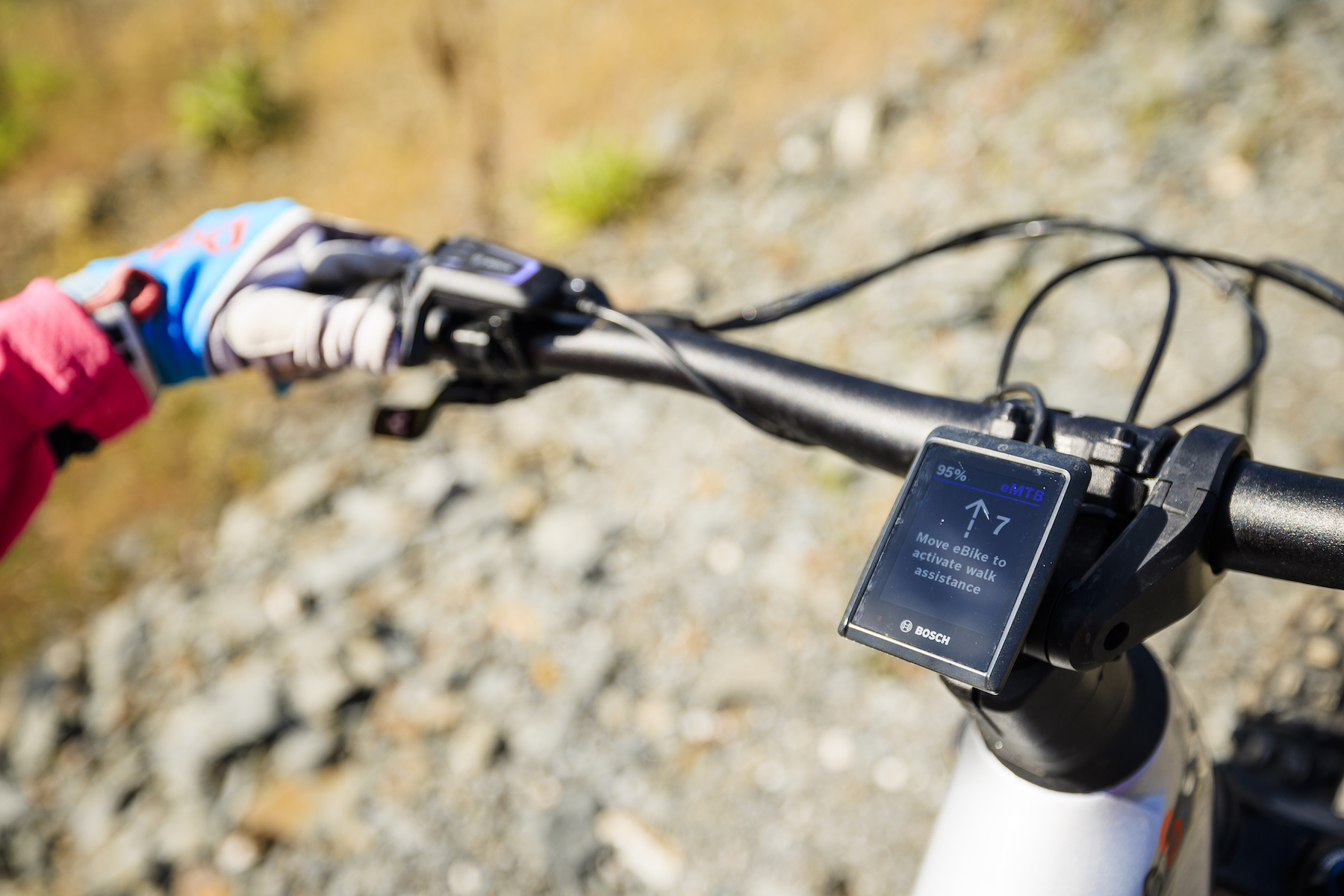 Walk Assist & Hill Hold
Bosch motors have always had a walk mode, but previous controllers required you to press and hold two buttons to engage it. That made it really awkward to use when you were trying to push a heavy e-MTB up a slippery hillside.
With the new Smart System and LED controller, you only need to press the one button. After doing so, you simply push the bike forward, or let it roll backwards slightly, and Walk Assist is automatically engaged. The motor will assist you up to a maximum speed of 4km/h.
Also neat is the new Hill Hold feature, which Bosch recently rolled out as an over-the-air update via the eFlow Bike app. Hill Hold is designed to bridge the gap between you using Walk Assist, and then remounting the bike to ride again. So once the climb has mellowed out slightly and you take your thumb off the Walk Assist button, the motor will actually hold the bike in position to stop it from rolling backwards.
It's also useful if you're in a bit of a pickle on a really steep and awkward climb, and you need to use the bike to physically pull yourself up, or even off the trail. It's not the sort of feature you'll use all the time, but with many e-MTBs weighing around 25kg, you'll be glad you've got it when you need it.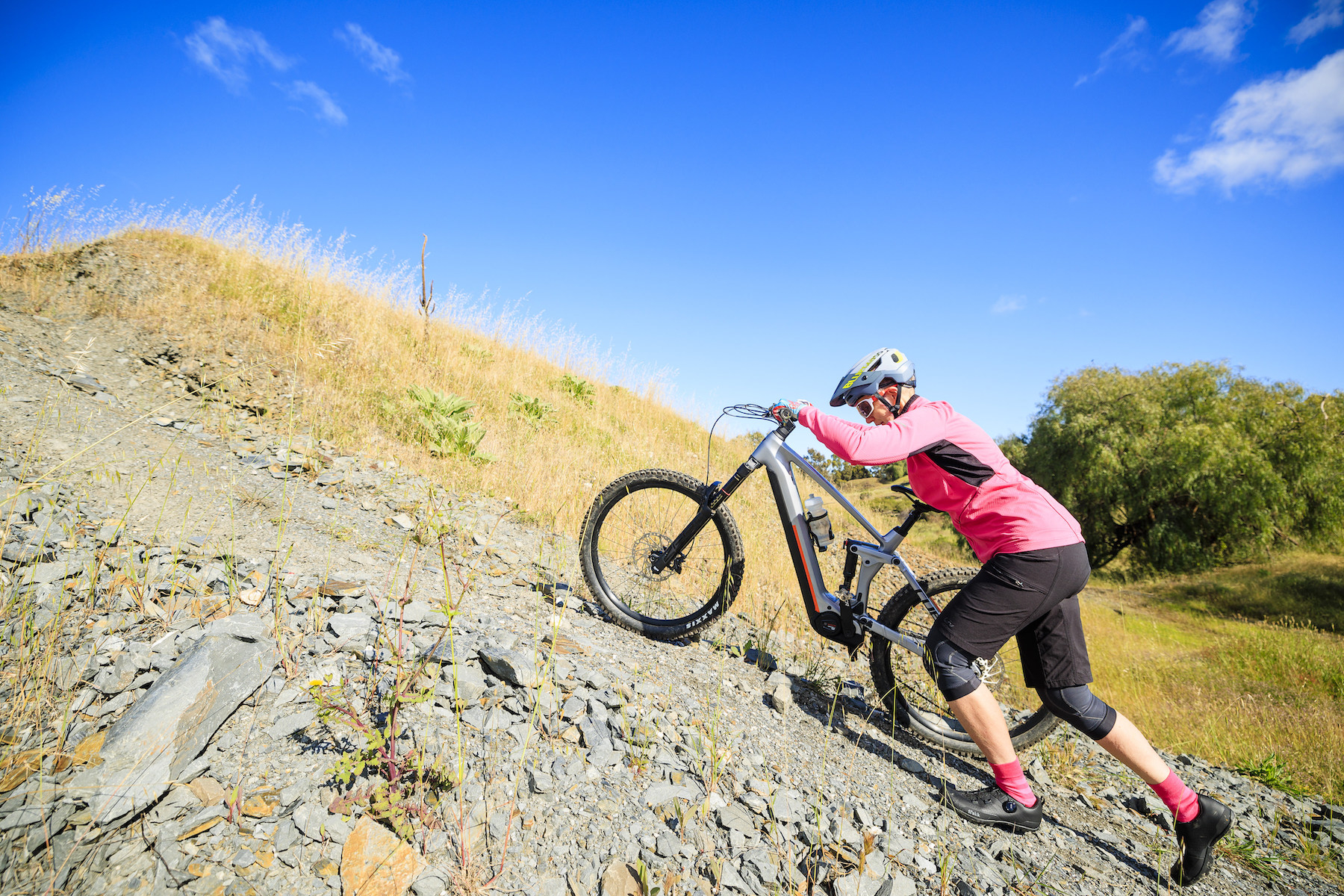 Cadence
One particular aspect of the latest Bosch Smart System drive unit that's impressed us is its ability to provide support across a wide range of cadence inputs. Whether you're in a low or a high gear, on the flat or up a climb, the motor offers a remarkable amount of grunt whenever you need it to.
The downside of this brute force is that it can be easy to lean on the motor and continue riding in too high of a gear. This is a common theme amongst riders who are new to the world of e-MTBs, particularly if they don't have a lot of experience with shifting gears under power. The temptation is not to shift gears at all, and as long as your RPM is in between 55-120 RPM, the motor will likely pull you through.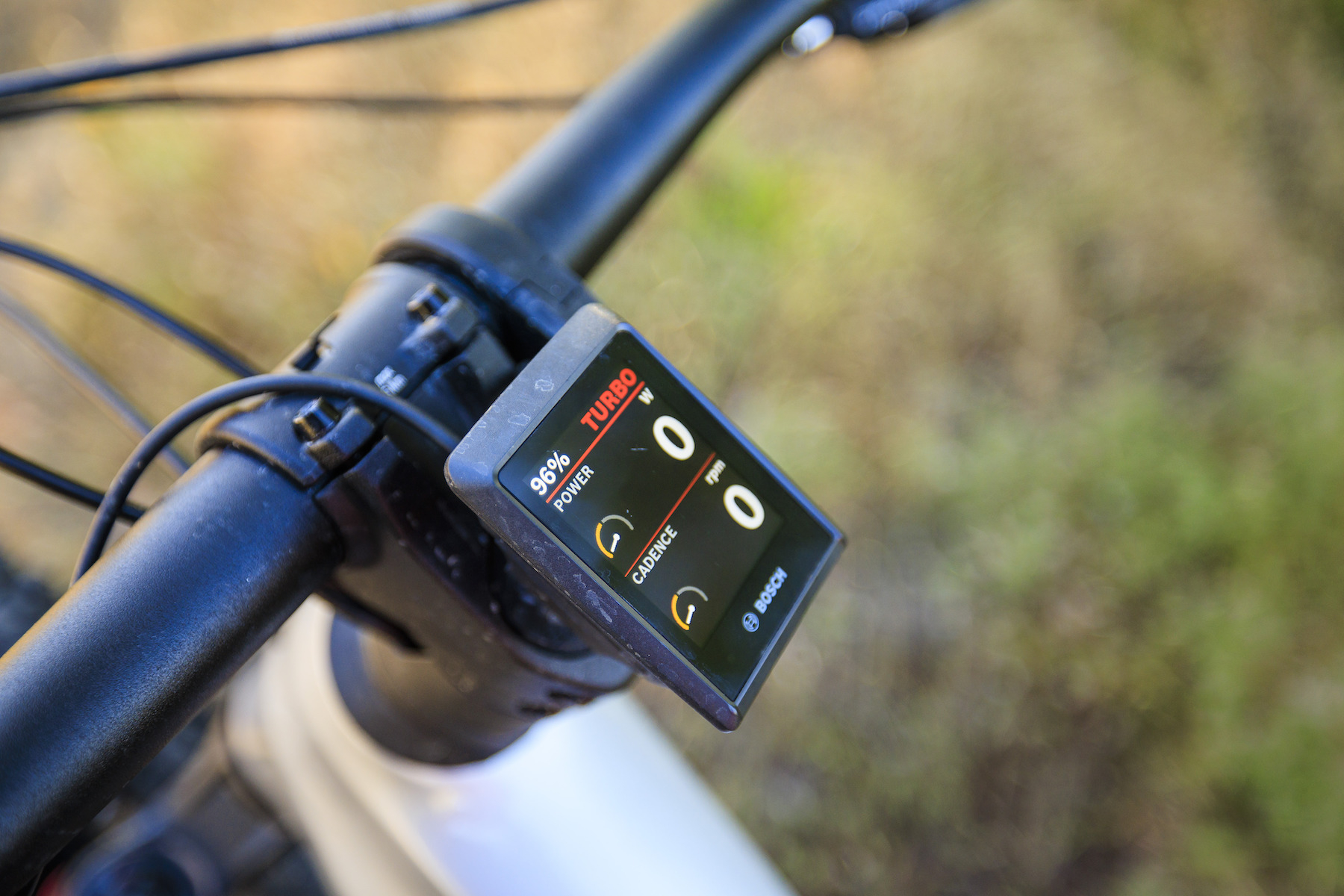 Of course this has consequences on drivetrain durability, and it puts unnecessary strain on the motor's internals. You'll also reduce overall efficiency, causing the motor to drain the battery quicker.
Ideally, you want to be pedalling with a cadence of around 80-90 RPM. This will provide you with optimal support from the motor, while maintaining good efficiency and reducing unnecessary wear on the drivetrain.
For that reason, it's useful to set up the Kiox 300 head unit to display your live cadence. Handily, there's even a nifty colour-coded meter that will show you when you're in the optimal range. Keep an eye on this graphic over the course of a couple of rides, and you'll get a good feel for how fast you should be spinning the pedals.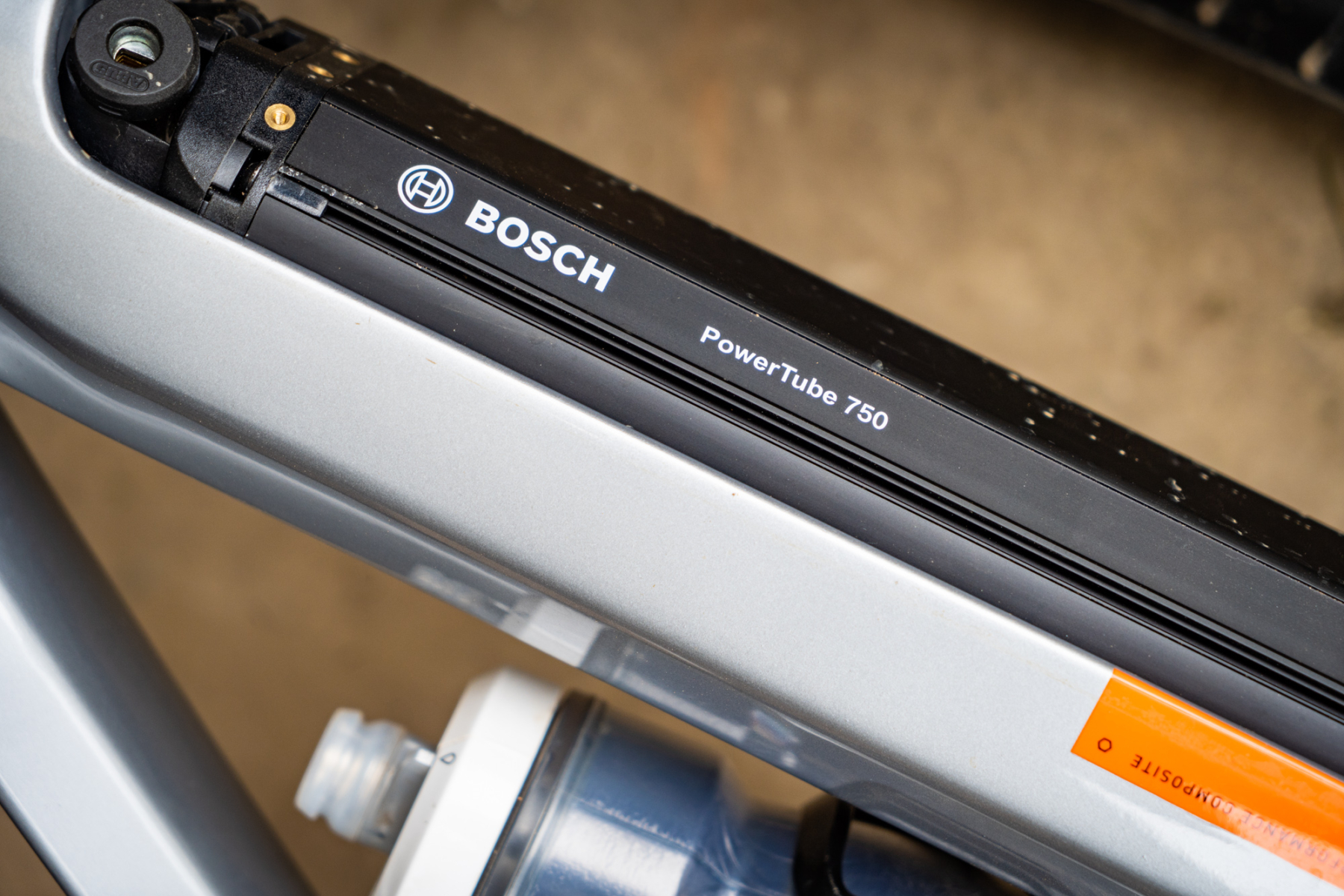 Battery health
While we're talking about looking after your e-MTB, it's worth considering one of the most expensive components; the battery.
Lithium-Ion batteries offer the ability to recharge many hundreds, and often thousands of cycles. In the case of the Bosch PowerTube batteries, you should be able to get 1,500 complete discharge cycles before they start gradually losing capacity.
As with all Lithium-Ion batteries, your e-MTB battery is at its most stressed state when it's either fully discharged or fully charged. According to Bosch, it's best to store the battery on your e-MTB with between 30-60% charge. So rather than leaving your bike in the shed for a week after running the battery flat, give it a top-up before you put it away. Likewise, don't leave it fully charged while it's left dormant for three months over winter.
On that note, the battery will lose some of its performance when being stored or used in extreme temperatures. Ideally, the battery is best stored at room temperatures between 10-20°C. If you've had an injury and you know you're not going to be riding your bike for a while, it might make sense to remove the battery and store it inside the house, especially during a hot Australian summer.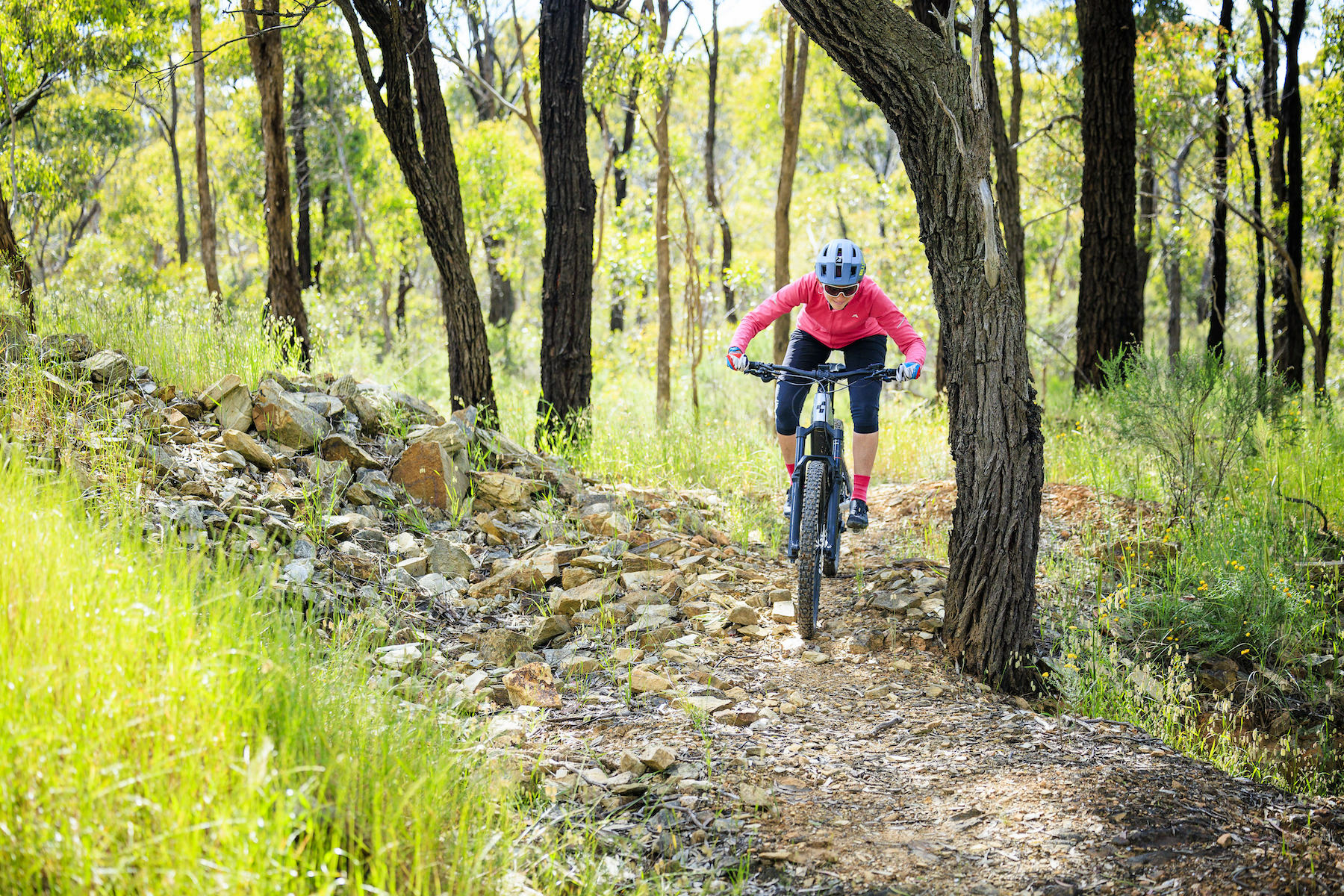 Wireless speed sensor upgrade
If you've already removed the Kiox 300 display, and you want to tidy up your e-MTB further, it's possible to upgrade to a wireless speed sensor.
All current Smart System drive units, including the Performance Line CX on our Cube Stereo Hybrid 160 test bike, feature a speed sensor built into the motor. This hidden sensor is designed to sync up with a magnet that you fit to the valve stem of your rear wheel, so that it can measure each wheel revolution.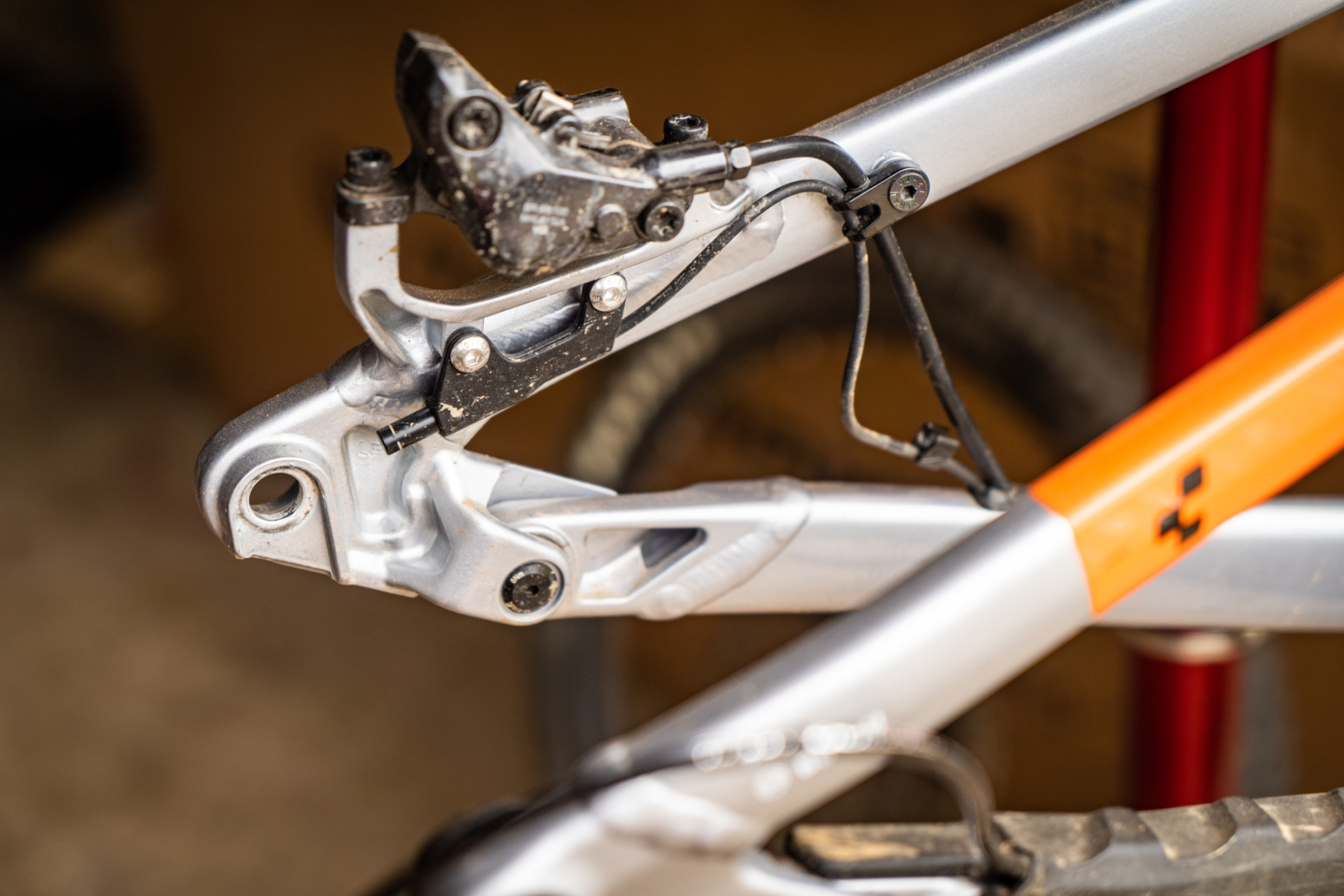 You will need to purchase the valve stem magnet from a Bosch dealer, and you'll also need them configure the system to use the internal speed sensor. It's worth noting that if you have a bike with really long chainstays (mostly long wheelbase cargo bikes), the distance between the sensor and the valve may be too great for it to read accurately.
It's certainly an option on the Cube Stereo Hybrid 160 though, which has nice short chainstays. And by upgrading to the wireless speed sensor, you can remove the external wire and the magnet from the rotor, giving you a cleaner overall setup. Nice!
What do we dig about the latest Bosch Smart System?
With all of the new hardware and firmware features built into the new Bosch Smart System, the overall user experience has elevated considerably. The motor tuning options are functional, the LED controller is tactile and easy to use, and the Kiox 300 head unit offers a crisp and vibrant display with a gamut of useful information at your fingertips.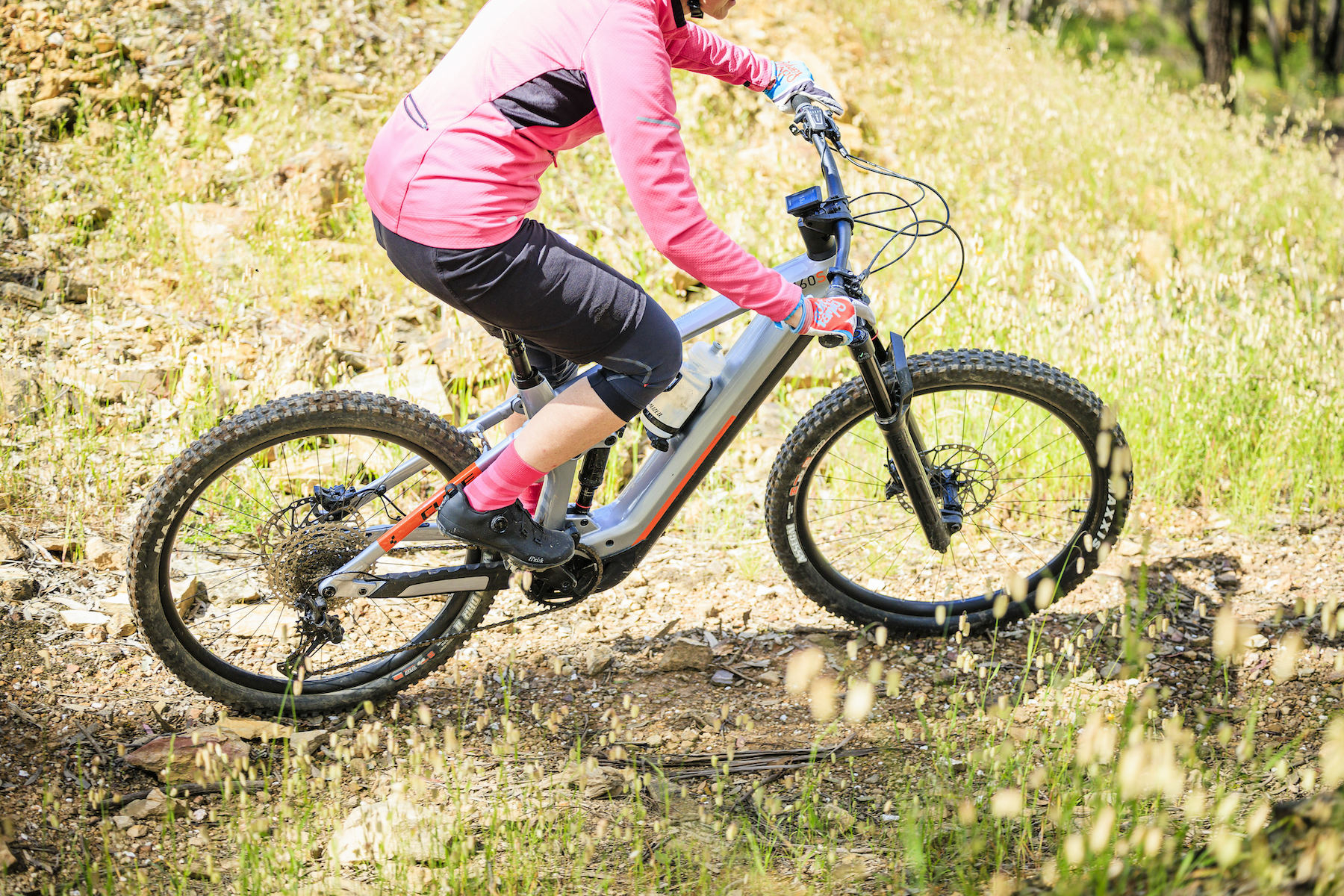 On the trail, we continue to be impressed by the power and support from the Performance Line CX motor. The eMTB mode is brilliant, varying the support between 140-340% based on a variety of parameters. It's highly responsive, and the Extended Boost function is such a boon on steep and technical climbing sections.
Despite the raw power that's on tap, Bosch have done an amazing job to make the support feel intuitive and easy to control. Indeed the adaptive eMTB mode makes this one of, if not the best full-powered motors we've tested.
Overall volume is a little louder than Shimano EP8 on the climbs, but we've found the pitch of the Performance Line CX motor to be more consistent with less of a high-pitched whine. It also offers significantly greater support. In our standardised range testing, we've found it easy to climb at an average speed of around 21-22km/h on a Bosch-equipped bike, compared to 18-19km/h on a Shimano-equipped bike.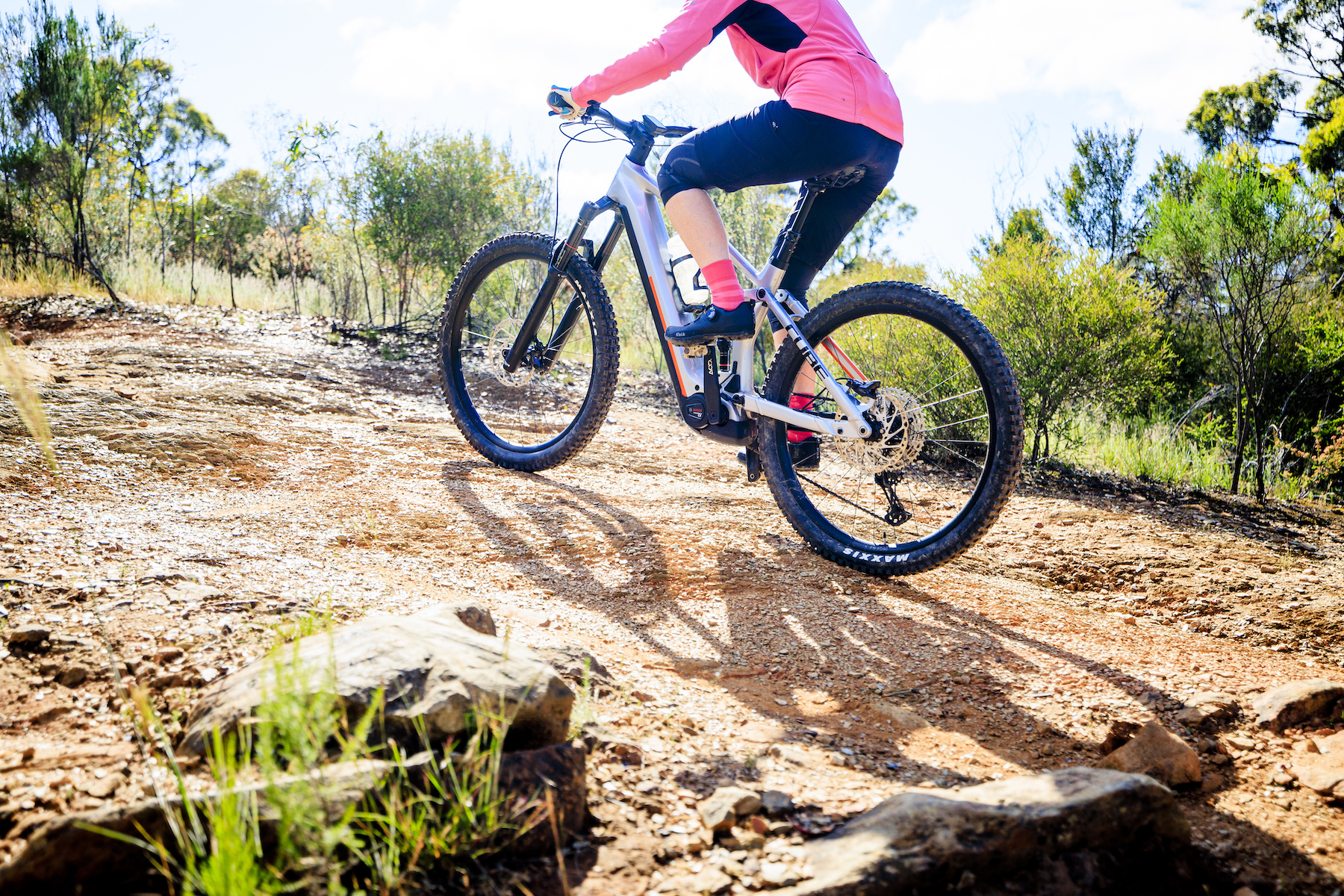 Despite the added grunt, efficiency has also been favourable, with those same Bosch-powered bikes racking up a competitive amount of mileage. In fact, we're not sure we'd ever need anything bigger than the PowerTube 750Wh battery. If you're curious to see how they fared alongside the competition in terms of outright range, check out our Cube Stereo Hybrid 160 review and the Scott Patron review.
What don't we like?
Since Bosch released the Performance Line CX Gen 4 motor back in 2019, it has been plagued by a loud clacking noise that occurs on the descents and when coasting across rough ground. This is due to the chain pulling back on the internal freewheel mechanism, causing a metal-on-metal thunk that sounded like something was coming loose. It was annoying to start off with, but most owners of a Bosch e-MTB will tell you that you do get used to it, eventually tuning out the noise entirely.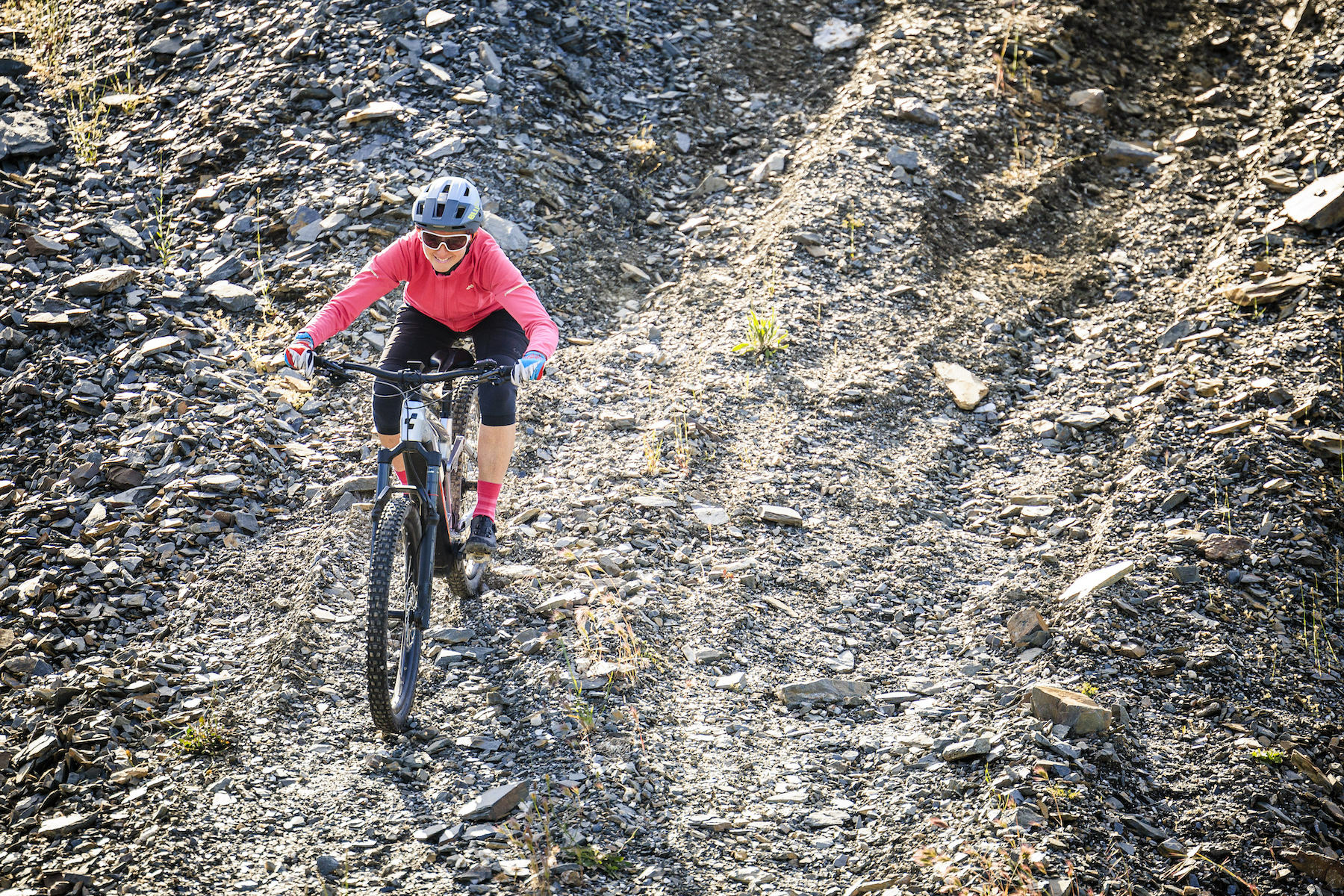 Curiously, the noise has been far less prevalent in the latest Bosch-equipped bikes we've tested. While it was still detectable on the Cube and Scott, both the volume and harshness of the sound has softened significantly. In fact, we largely forgot about it. Well, until we were riding alongside the stealthy-quiet TQ motor on the Trek Fuel EXe.
One downside of the Bosch Performance Line CX drive unit is its relatively bulky size, which makes it harder for brands to build bikes with short chainstays. Most of the Bosch-equipped bikes we've tested have rear centre lengths well over 450mm. The latest Trek Rail is about as short as we've seen, coming in at 447mm. The Cube Stereo Hybrid 160 gets around this by using 27.5in wheels, which allows for a shorter 441mm rear end.
We've been well served by the PowerTube 750Wh battery, though some riders may lament the lack of an even bigger option to compete with the 900Wh monsters in the Canyon Spectral:ON and Norco Sight VLT. Our range testing has shown the Bosch system actually comes pretty close in total range, and of course those bigger batteries come with more weight that compromises handling.
One thing we don't like about the battery is that a key is required to remove it. The bike comes with a special Abus key and a spare, which you'll need to unlock the battery for removal. This is a useful security feature for commuter e-Bikes that are being locked up in the city, but it's unnecessary for an e-MTB, with the key being one more thing that you have to remember. While this is the case for most Bosch-equipped bikes, the Scott Patron is one of the few options out there that doesn't require a key to remove the battery. We hope more brands follow suit.
Lastly, while the updated display and LED controller provide a highly functional user interface, their physical presence is quite prominent. Of course the Kiox 300 display can be removed entirely, but the LED controller still sticks up quite a bit from the handlebar. That means flipping your bike upside-down on the side of the trail to repair a puncture is a no-go. It's potentially more vulnerable in a crash too.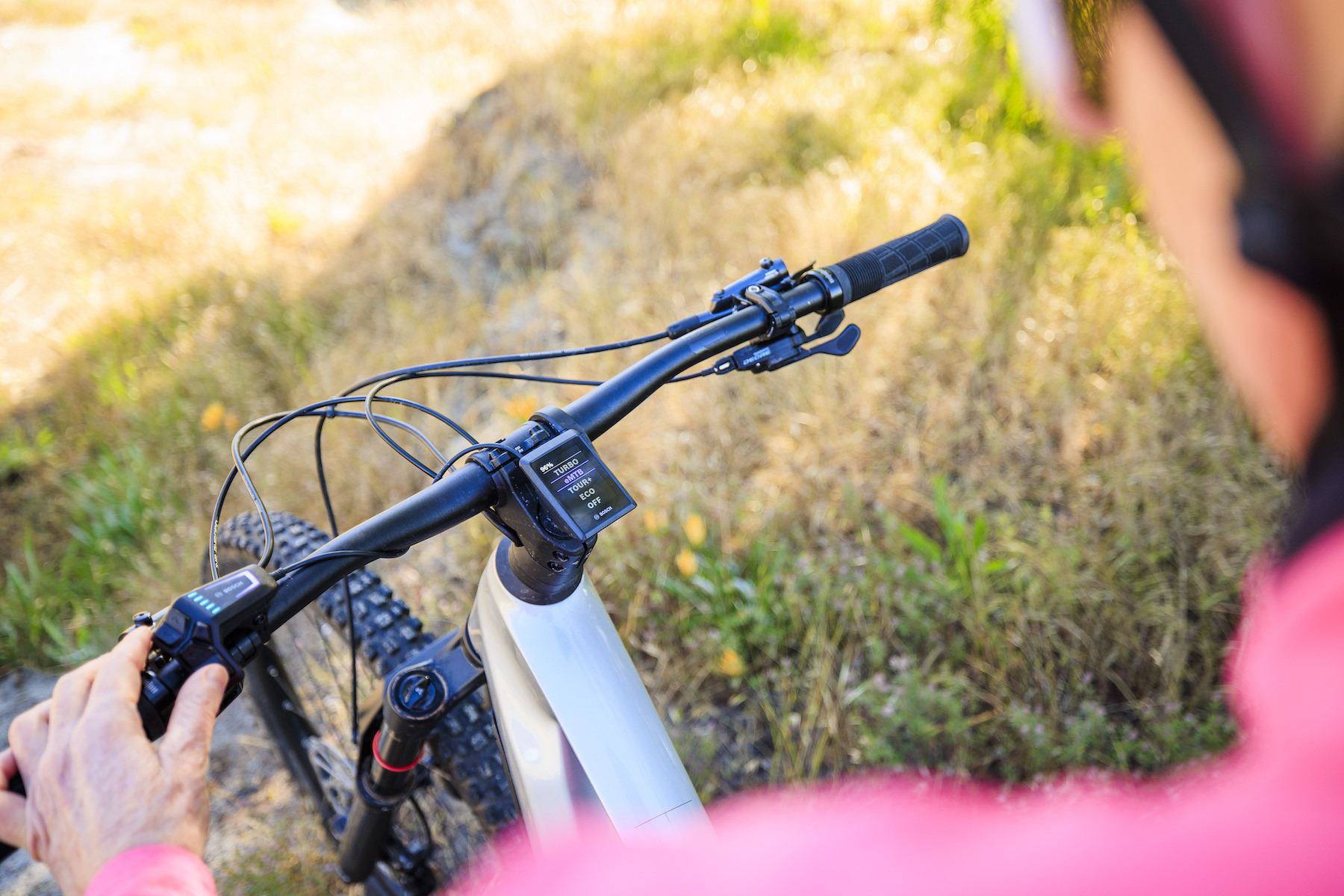 What lies ahead?
Acknowledging those limitations, Bosch has recently added some new hardware options to its Smart System range.
This includes the System Controller, which is designed to integrate neatly into the frame's top tube. This is then paired with a Mini Remote that sits next to the left-hand grip. The result is a more discreet user interface, not unlike what we've seen on the Specialized Levo, the Giant Trance X E+ and Pivot Shuttle SL.
Because frames will need a specific slot in the top tube to fit the System Controller, expect to see more manufacturers integrating this setup into their frame designs in 2023.
Also brand new is the Performance Line CX Race motor, which Bosch says has been designed for competitive e-Enduro racing. Coming in 200g lighter thanks to a magnesium casing, the Race motor offers the same 85Nm peak torque as the regular Performance Line CX drive unit, and indeed it shares a lot of structural similarities, including the external mounting points.
The difference with the Race motor is the firmware driving it. Sitting above Turbo, the special Race mode delivers faster acceleration and up to 400% assistance (compared to 340% on the standard motor). It also features double the overrun, with the Extended Boost function providing two metres of support after you stop pedalling. From the early ride reports, it sounds like a pretty wild motor!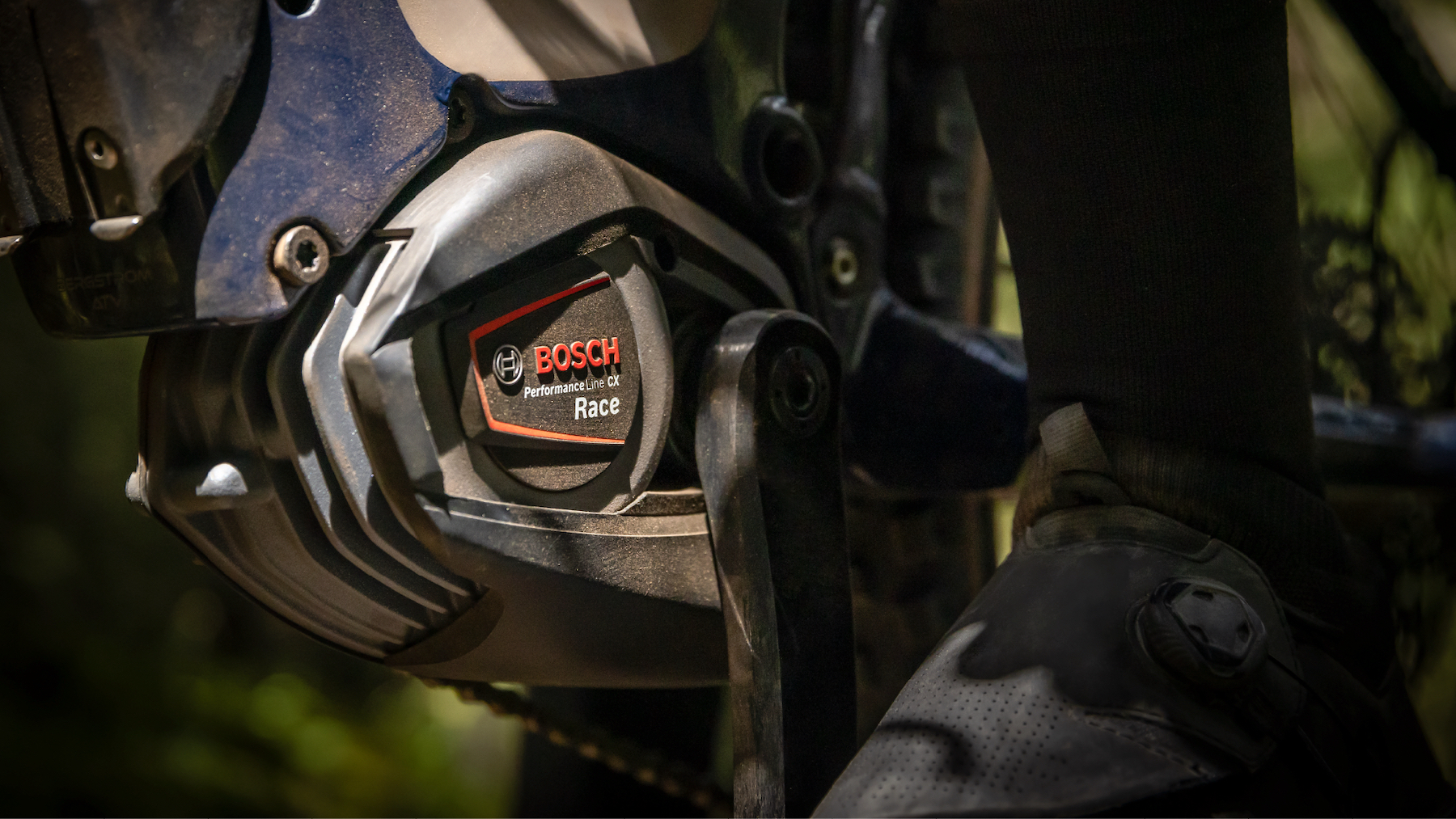 At this point in time, Bosch says the Performance Line CX Race motor will be available in limited quantities on high-spec e-MTBs designed for e-Enduro racing. We expect bike brands will soon begin releasing new models that are built around the Race motor, and we look forward to giving it a whirl.
We're also eager to try out Bosch's new ABS technology, which has been co-developed with Magura. The concept of an anti-skid system on a heavy-duty e-MTB certainly has merit, and both brands are clearly very excited about what they've cooked up together.
Lastly, while we're seeing a flurry of activity in the lightweight e-MTB space, Bosch remains conspicuously absent from this market. The German brand has clearly been focused on keeping up with demand for its full-powered motors, but we have no doubt that it'll be working on something smaller and lighter that can be used to build a sub-20kg e-MTB. As to what a lightweight Bosch motor might offer? Well we can only speculate at this point, but we look forward to seeing Bosch join the mid-powered arms race in the future.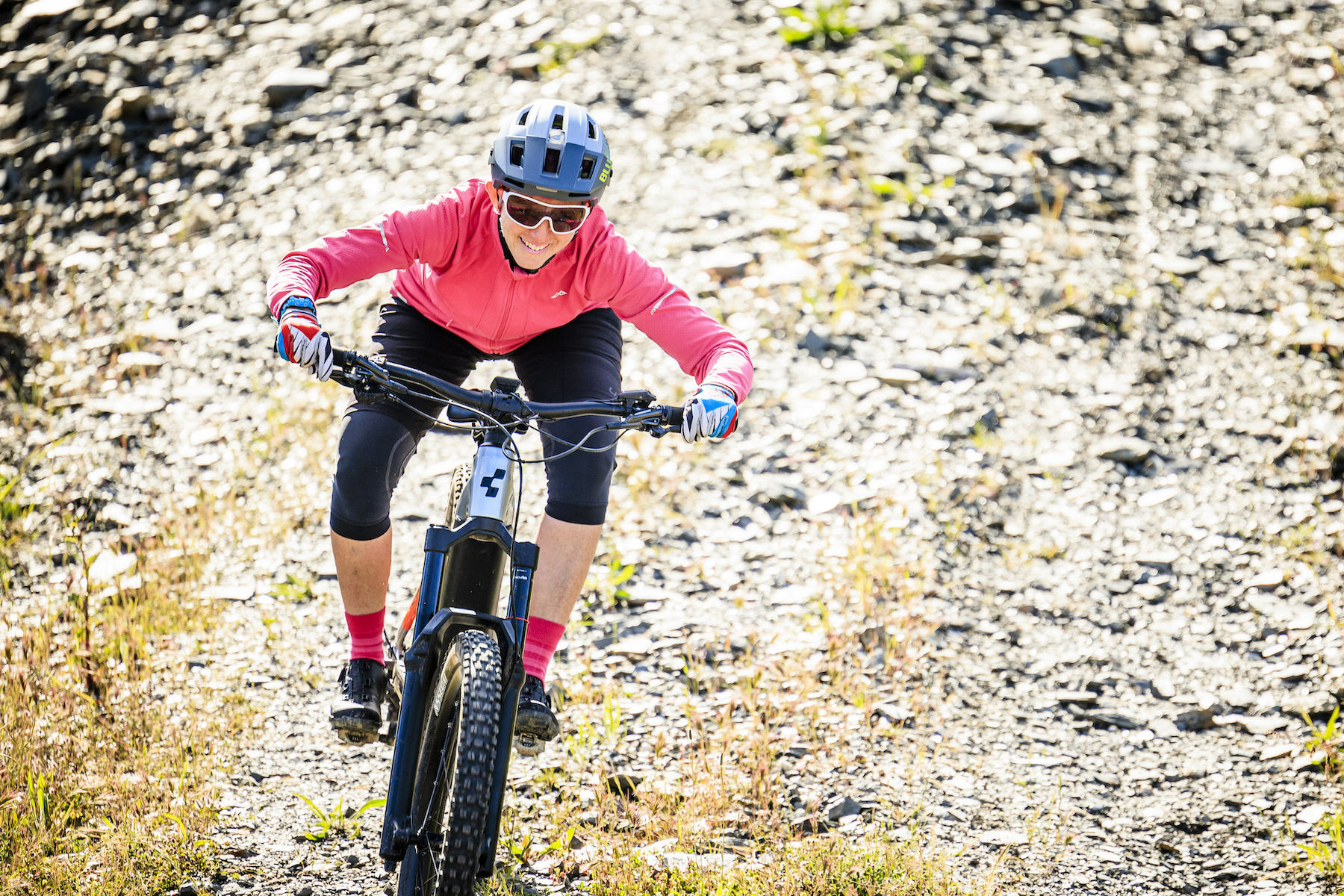 Flow's Verdict
We'd already been impressed with the overall power and on-trail feel of the Bosch Performance Line CX motor, but controller ergonomics and user personalisation always seemed to be lacking compared to the competition.
With the latest Smart System, Bosch has brought things up to speed, having made significant improvements to the user interface while also offering a larger 750Wh battery option. Along with the excellent eMTB adaptive mode and its Extended Boost function, this is right up there as one of the best performing motors we've tested.
Of course there's always room for improvement, though it's clear that we'll be seeing more features and hardware options coming to the Smart System platform in the near future. And that is very good news for e-MTB riders.