Today was the big one; 60km long, over 1200m of climbing, coming at you after you've already put two days of hard racing into your legs. Despite those somewhat confronting numbers, it's also a superb stage, thanks in part to the awesome Awaba MTB Park which accounts for most of the first 20km of the day.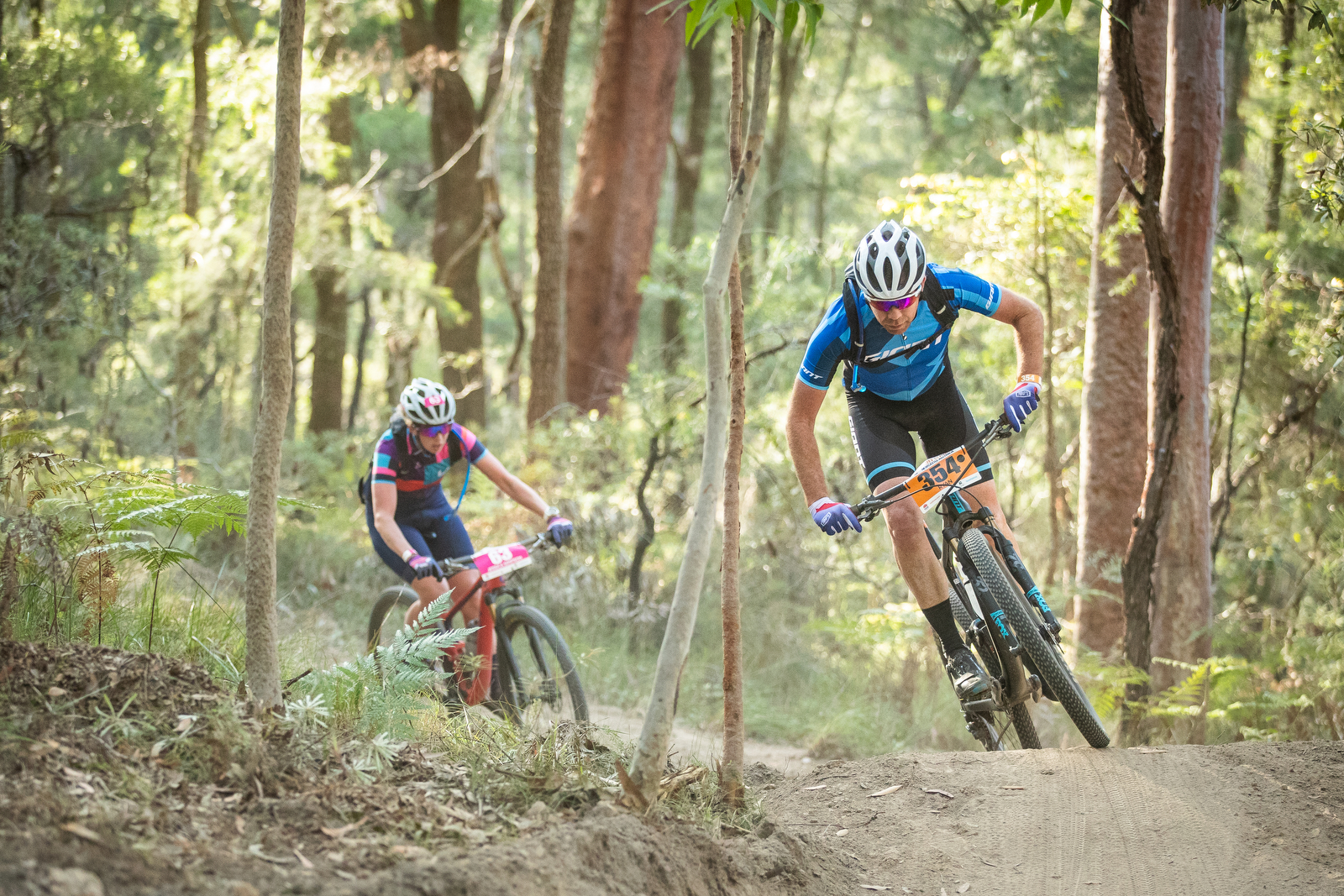 The heartland of the local Hunter Mountain Bike Club, Awaba is a fantastic loop of trails, and has been the centrepiece for Port to Port for a few years now. It's the perfect sweetener, making you feel all warm and fuzzy, right before things head up, and up, and up to the top of the Watagans. This year, the event took a greatly improved route to Awaba – the long road section has been replaced with cool double track, making it all a lot more fun. Awaba has had some serious work too, taking the flow dial and turning it to maximum. There was a lot of hooting going on in the vines!
There's no denying that the climb up to the top the Watagans is a burner, but once you're rolling across the top, it's a rare chance for mountain bikers to jump into bunches and share the load. There's a real buzz in swapping turns, urging each other up the rolling pinches that seem to go on and on, until you begin the wild run back down to Cooranbong. The final sting in the tail, quite literally for more than a few riders who hit the deck, is a tricky section of powdery, raw singletrack. It's a wild day out.
One of the coolest aspects of stage racing is that every day is different. With each stage you're faced with a fresh challenge: changing trail conditions, varying weather, shorter stages, longer stages, big hills or flatter profiles, fireroad or singletrack. Each of these aspects can play to a rider's strengths, or make it extra tough for them, and that's before you even consider the waves in personal form that are bound to happen over multiple days on the bike.
The last two days illustrate perfectly how this variation from day to day can have a huge impact on the race. Yesterday's singletrack-heavy stage didn't offer the top climbers in the lead bunch much of a chance to make a move, but today was a different story. With the hulking Mt Faulk Rd climb coming at 20km into the stage, it was the perfect opportunity to launch the kind of attack that could really shake things up. And that's exactly was Tasman Nankervis did, together with Michael Potter and Brendan Johnston. The elite pack all exited the singletrack of Awaba MTB Park together, but then the fuse was lit.
"I rode as hard as I could up the climb, but I was happy Potter and Brendan came with me, because you don't want to be on your own through those rollers across the top of the Watagans," said Nankervis, who has been hitting the climbs like a beast this race. "We were getting the time gaps, but they kept changing, and while we had 90 seconds coming into the final singletrack, with the way Cam has been hitting the descents we knew we had to gas it all the way home."
For Brendan Johnston, the day was particularly sweet, slipping back on that leader's jersey for the first time this year. "I knew today I just had to try and stay with Tas and Potts, lock myself onto their wheel, they're climbing so well," said Johnston. "I really wasn't all that confident that I'd be able to stay with them after they popped me on the first day." With Cam Ivory now over a minute back, Johnston's big challenge tomorrow will be keeping tabs on Nankervis.
There was redemption for Michael Potter today, After a flat tyre yesterday took him out of the contention for the overall win, Potter was rewarded with his first ever Port to Port stage win. "I was a bit fresher today after sitting up yesterday following my flat, which was lucky because Tas was ridiculous today, we just barely hung on."
With only 14 seconds between Tasman Nankervis and Johnston now, we're all set for a monster showdown. "It's not going to be a nice beach cruise tomorrow," laughed Nankervis. And while the final stage doesn't offer a lot of room for attacks, this is mountain biking and just about anything can happen.
Holly Harris continued to dominate the women's racing, getting herself into a fast bunch today through the endless rolling climbs across the top of the course and crossing the line with a time that would have placed in the top 25 elite men. "I felt really good on the climb, and I just wanted to hang on with a fast bunch. It made such a difference having a good bunch to work with," said Harris.
Sarah Tucknott's great run continued with another second place, attracting a lot of praise from Holly Harris. "Man, I wish I was getting results like that at that age," said Harris. "If she keeps that up, she is going to be a racing freak!" It wasn't an easy second place for Tucknott though. "I had to give 100% along the whole 20km of fireroads today because Jess Simpson is so strong in those conditions, but I knew that if I could hang on and get in front before the final singletrack that I had a good chance," Tucknott explained. "I sprinted around before the singletrack then just worked my arse off." Jess Simpson's rock solid consistency has been paying dividends all race, and her third place today protects her second place overall by a margin of three minutes over Tucknott.