While we mainlanders have been making cruel (and basically untrue, of course) jokes about Tasmanians for years, it's now their turn to laugh at us. Because when it comes to mountain biking, Tasmania is storming ahead of the rest of Australia in the trails-to-population ratio.
The first part of our whirlwind trip to Tassie was spent unwrapping the brand new parcel of singletrack love that is the Hollybank Mountain Bike Park. Watch the video and read all about this fantastic new development here. Stop number two was in Hobart, or more specifically, the rabbit warren of great trails on the Meehan Range on the eastern shore of the River Derwent. On these steep slopes, a combination of professional trail builders and passionate volunteers have stitched together a network of over 30km of trails, which have now become the backbone of the Hobart riding scene.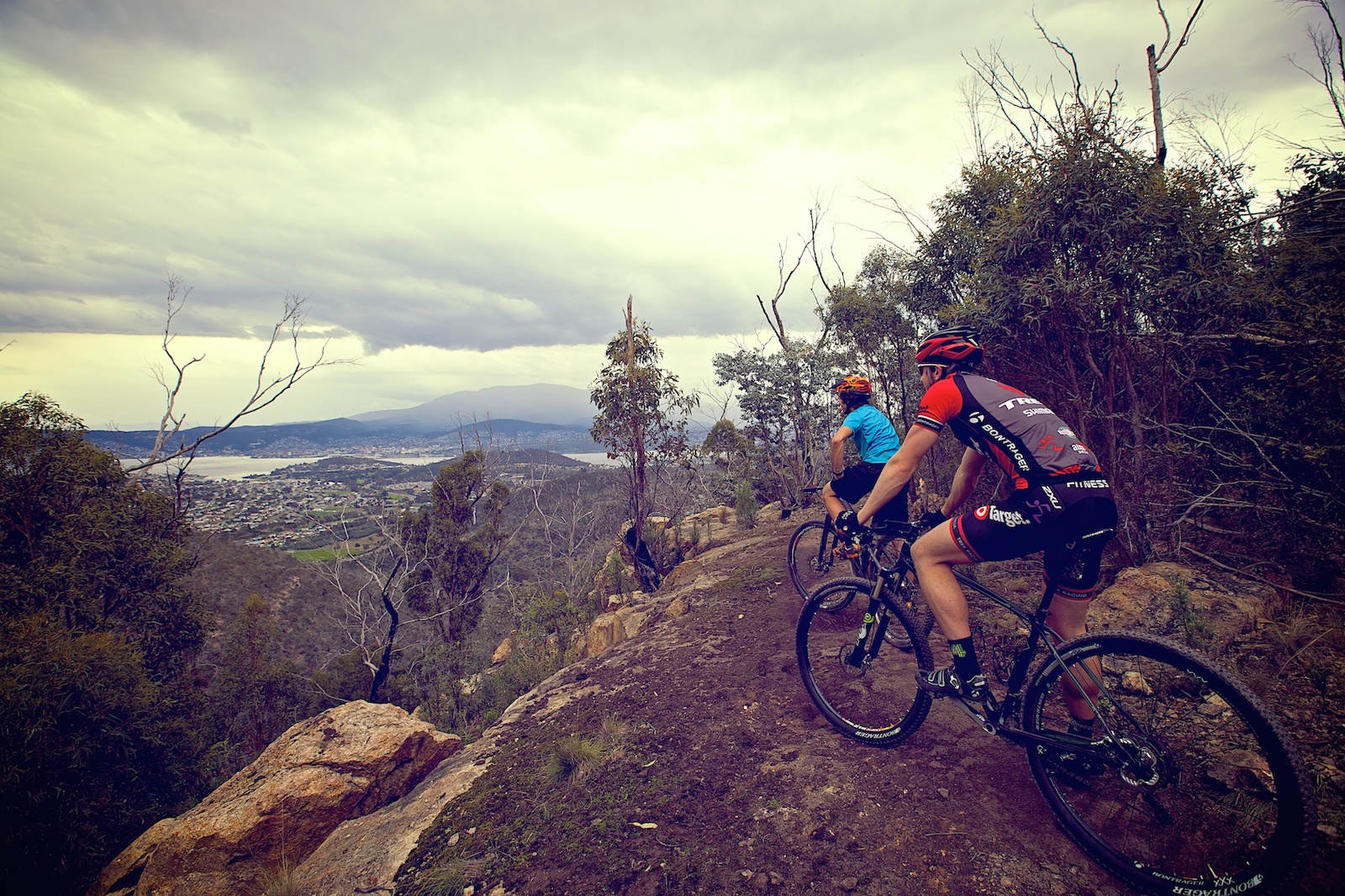 Slotted neatly in alongside the Tasman Highway, these trails bring mountain biking right up to the edge of suburban development; they're the perfect example of what can be achieved when you have a council which 'gets it'. Rather than driving the sport into the depths of some far flung state forest, Clarence City Council has encouraged the development of the network within a stone's throw of backyard Hills Hoists. While we were there, we ran into every possible variant of mountain biker, from racers on a training ride through to groups of kids out for school sport, so the ethos of accessibility is obviously working, and it's attracting droves of new riders. "Even a year ago, the carparks at the trailheads where typically empty," says Simon French of Dirt Art, "whereas now you're lucky to find a park even on a weekday."
It's already an incredible playground, with an interesting mix of hand built singletrack, intermingled with machine-built flow trail. The network is also home to arguably the nicest view of Hobart you can reach on your bike, with cliff top trails offering you a beautiful outlook over the city, Mt Wellington providing an imposing backdrop. But as good as the current web of trails may be, it's the proposed master plan being championed by local trail builders Dirt Art which has the potential to cement Hobart as the premiere mountain bike-friendlly capital city in Australia.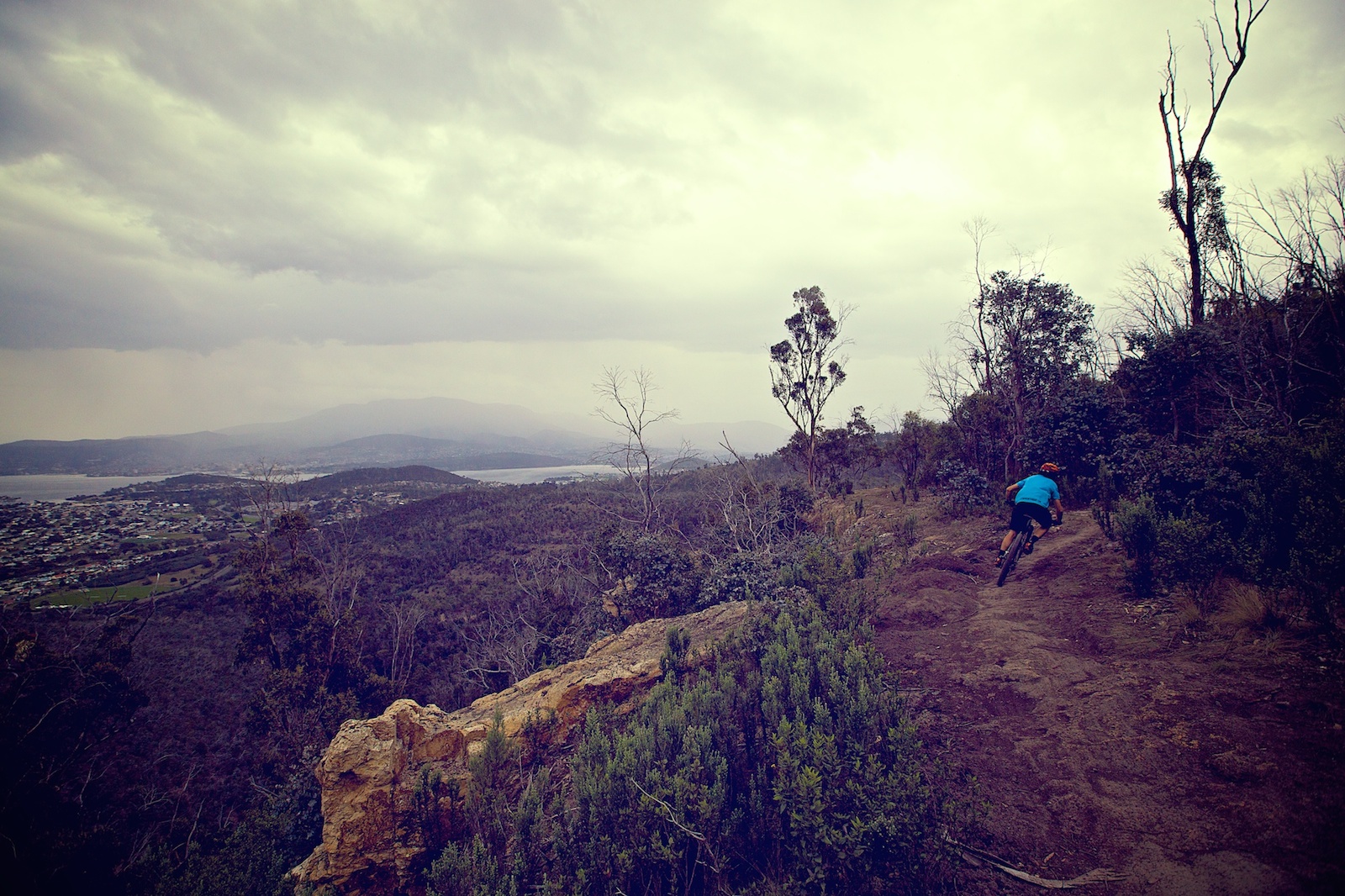 In a nutshell, the Meehan Range Strategic Trail Plan seeks to consolidate and formalise the best bits of the existing network, and add up to 70km of new trail, bringing the proposed total up to a staggering 100km of dedicated mountain bike trails, all within a five-minute drive of the CBD. "The plan provides a range of iconic longer distance rides, while also offering a number of flow and technical all-mountain descents," says Simon French. With mountain biking already booming in Hobart, if the entire strategic plan is realised in full, we could be looking at Australia's own version of Rotorua, without a word of exaggeration – lucky then that the master plan contains expanded carpark and event centre facilities, because we get the feeling they'll be needed!