Where the Bass Strait meets the Apple Isle, George Town is a sleepy industrial town on the northernmost edge of Tasmania. On the banks of the Tamar River, George Town is one of the oldest settlements in the country, but despite the spectacular beaches at Low Head, the penguin colony and its proximity to Launceston, it's a place many of us haven't been to, yet!
Built on the back of the aluminium industry, walking down the main street of George Town, feels like any other rural Aussie town, with a strong sense of community. People will smile at you, say hello, ask you what you're up to and probably tell you a fun fact about the place they live.
---
Join Christa and friends as they explore George Town! 
---
But there has been something brewing up in the hills near the town, and World Trail has been working away on not one, but two trail networks. The first, located at Mount George, has been open since October 2021, and the trails at Tippogoree Hills are just about complete but are waiting for a civil contractor to finish a railway tunnel.
"George Town is a very small town, and it hasn't had mountain biking in it at all," says Glen Jacobs from World Trail. "But when we turned back up after Christmas, with the trails on Mount George open, I'd never seen so many cars with bikes on racks — it's really energised this community."
So we packed up the Flow Mobile and picked up Christa Capel and Jasper Da Seymour on the way to see what George Town is all about.
Mount George — the pocket park near town
Only a short pedal from the town centre, Mount George is what you might call a pocket park. It's only a small hill, with about 16km of gravity trails, but the riding here is punchy, playful and high energy.
With primarily blues and greens and a single black trail, this isn't your smooth as a baby's bottom, machine-built network, there is rock EVERYWHERE, which means oodles of line options, and you can get as creative as your skill, and nerve, allows.
"You can head down for a party lap with riders at a variety of levels. While the mainline of the trail might be green or blue, the high line might have some rock drops or a little techy section," says Christa.
The prime example of this 'choose your own adventure' style riding is on Hebe-Jeebies, where you'll find a gigantic rock called 'The Reef.' The higher up the rock you ride, the more technical the feature becomes.
With only about 120m of vertical elevation, the runs are short, but then, so are the uplifts, and it only takes about five minutes to get back to the top. This leaves just long enough to catch your breath, but by the time you're pulling your bike off the trailer, you're still pumped and ready to smash out another lap. If you're short on time and only have a few hours to ride, it also means you're not spending the majority of it sitting on the bus.
"It made me think back to my downhill days. We would jump in the ute, chuck the bikes in and go, go, go. It was bringing back that flavour," Christa said.
In 2018 a fire swept through Mount George, charring a few aspects of the hill, and the result is a more open and exposed network. The soils here are a little drier, things are a bit dustier, and the trees that line some of the trails are reminiscent of candy canes.
"They had been burned, so they were black, but when the bark had fallen off, they had this twist of black and white making its way up from the trunk," Christa said. "You're riding down this bright red dirt, and all of a sudden, there are these crazy trees — I thought I might have been on the moon."
The network is divided into two sections, the Summit Trails, which descend from the shuttle dropoff, and East Peak Trails, which are only a short traverse away. The East Peak Trails area isn't as fire-affected, and the terrain gets a bit bushier and the tree coverage thicker. It's over on this side of the network you're rewarded with the only black diamond run on Mount George, Megawatt.
If you do all seven descents in the network, that gives you a total of 26.7km, 224m of climbing, and 1047m of elevation drop. For comparison, Blue Tier and Big Chook is 24.5km, 434m of climbing, and 817m of elevation drop. So while Mount George may seem small, there is plenty to keep you busy.
The trails at Mount George also fill a hole in the mountain biking currently on offer in Tasmania. It's only 40min from Launceston, and with the short climbs, descents, and lightning-quick shuttle turn around, Mount George is an approachable trail network. Nothing here is overly technical, but with offshoots and tons of extra credit lines, you've got the recipe for a good time — especially when you sprinkle in a bit of speed.
New riders won't be held back by their fitness, nor will they get caught out and bonk on a long trail and have a miserable ride. Time-poor folks from the big smoke can also shoot up to Mount George and maximise their ride time. But that's not the only riding experience George Town has to offer.
Tippogoree Hills — big rocks, bushy trees and erratic gravity
"Mount George is called 'Mount' George, even though it's a small hill, and Tippogoree Hills is called a hill, but that's where the actual mountain is," laughs Glen Jacobs.
With 57km of trails on the cards here, World Trail is still on the tools and putting the finishing touches on the network. Usually, a trail network of this size would be opened in phases as things are completed. Unfortunately, this network can't open until the railway tunnel is finished, which we hear should be ready mid-year. So World Trail has been working away in the background, and when the network does open, it will be pretty close to the whole shebang.
"Tippogoree is something different, and the terrain allowed for the guys and girls on the machines to be creative as hell. One minute they're building an airflow trail, the next they are working out how riders can pick their way down a massive rock slab," he continues.
The trailhead will be at Lauriston Park at the junction of the East Tamar Highway and Bridport Road, and everything here is bigger — bigger hills, bigger rocks, bigger gullies, bigger drops.
Like Mount George, Tippogoree Hills will be shuttleable; the topography makes for a tiered layout, with a midpoint node the World Trail folks have been calling 'Little Tippy' and a higher dropoff. Although everything is accessible via a shuttle, it's also interconnected with climbing trails.
"The lay of the land is sort of stepped. So from the top, you'll descend, and then it will go flat and climb up a bit, and then descend again," says World Trail's Max Connor. "There will be a few top-to-bottom trails with almost no climbing, but there are also lots of opportunities to link together a number of descents with little climbs in between, for an enduro-style adventure."
The trails are fully enclosed under a canopy of eucalyptus trees, sheoak and swamp paperbark; the soil is a rich chocolate brown and a bit loamy, and the air carries an earthy aroma. World Trail has done well to keep the vibe feeling nice and natural, and the singletrack blends with the landscape to feel a bit like a garden path — but a rad one that comes with an adrenaline rush.
Those rock slabs provide critical features that make these trails memorable.
Tasmania has produced top-level mountain bike destination after top-level mountain bike destination, all from places that have no history of mountain biking. And to achieve this, each network has been designed and built to appeal not only to the top end rider who's counting out clicks of high-speed compression, but also the person who rented an eMTB on a whim to check out what's up in the woods. Tippogoree Hills is no exception with beginner-friendly loops close to the trailhead. But as you move higher, the riding gets busy.
"You're constantly moving; it's like a butterfly in the wind. You just see them flying, flap flap; left, right, up, down; left, right, up, down. That's what these trails feel like, and there are no real dead spots in the blue and black terrain," Connor tells us.
"There are rocks everywhere, and you're constantly getting thrown around the bike. It's not overly rooty, I'd say it's mostly rocky, and there are corners everywhere — you're constantly engaged, and it's so much fun," Christa says.
And the pinnacle of this busy riding is Devils Elbow, which is reminiscent of Pride Rock from the Lion King.
Connor discovered this massive slab as he was ground-truthing the trail alignments, and immediately his mind started racing with what could be built here.
"You can turn the heat up a little, and where it's rock slab, you can point it down because the rocks aren't going to go anywhere. Those rock slabs provide critical features that make these trails memorable. You can build something unique to George Town, which is going to be different (to what you find) throughout Tasmania, and even the mainland," Connor says.
"There is stuff going on there all the time, and when you're riding it, you should not think about anything other than where your front wheel is — it's like a really fun minefield. It's like nothing I've ever seen," Jacobs continues.
The rock will define the network at Tippogoree Hills, and Connor hints that there will be more big beautiful slabs to come, but that won't be all that's there. The World Trail crew is currently shaping an airflow trail, similar to Air Ya Garn in Derby, and there is still an adventure trail to be built.
How the trails were named?
Trail names are often catchy phrases or punny one-liners that are designed to stick in your memory. But when you dive a bit deeper, they are often clever easter eggs delving into the region's history and nods to the characters woven into the fabric of the trail network. We already mentioned Hebe Jeebies and The Reef named for the Hebe Reef in the Tamar River, but that's only the start of this trail of egg-shaped chocolate.
Bell Bay Aluminium (BBA) owns half the land the Mount George trails traverse, so George Town Council, who manage the network, asked the smelter to name some of the trails. Project Manager Peter Rickards tells us that BBA held an internal trail naming competition with its employees and this is how we got Helter Smelter, 6061 and Megawatt.
"The links are pretty obvious, 6061 is an aluminium alloy, known for its strength and workability. A megawatt is a unit of power, and BBA, as Tasmania's largest commercial consumer of electricity, uses 355Mw to run its operation," he says.
The story behind the name of the traverse from the Summit trails to East Peak, Roca Del Vista, has more layers than an onion.
Rickard tells us he had originally thrown out 'Rio Del Roca', which translates to 'River of Rock,' a fitting moniker given the geology throughout the network, and offering a slight nod to Bell Bay Aluminium's parent company, Rio Tinto.
Due to a slight miscommunication, Roca Del Vista was pitched and ultimately chosen.
"I was a little disappointed it lost the link to BBA. However, once World Trail developed the pictogram — a female flamenco dancer — the link was re-forged. You see, flamenco dancing originated from the Andalusian region of Spain, which is also the location of the site of a large mine called Red River, or in Spanish, Rio Tinto. It was the first mining operation of Rio Tinto and became their namesake," he says.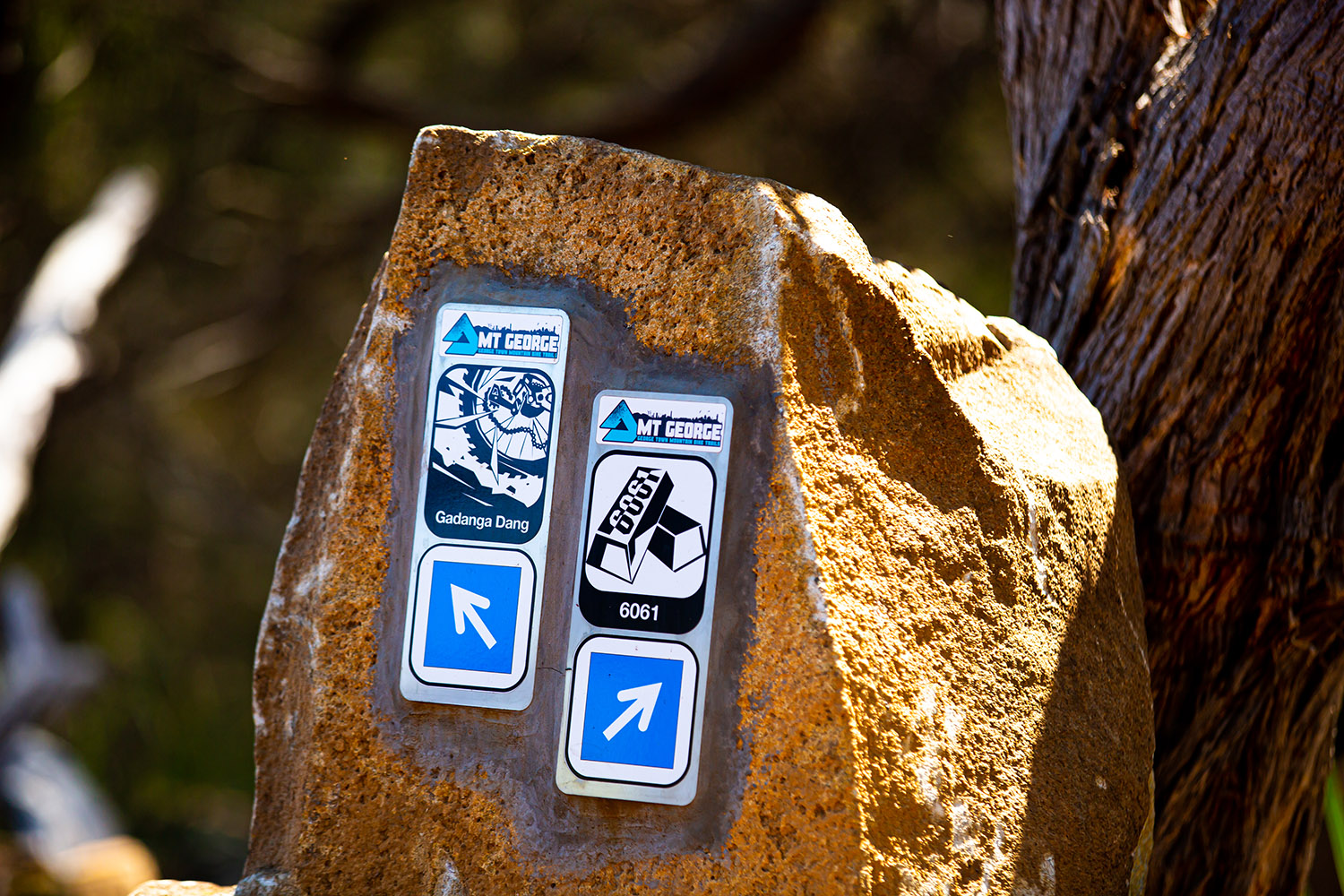 George Town: What's in town?
Literally, the first thing you see on the main street of George Town is the 650m2 pump track, which Trailscapes has just put the finishing touch on.
"It's basically incorporating four different pump tracks into one, so you've got multiple lines to play with. Once you can ride a pump track well and you can transfer, you could spend all day there and not ride the same line twice," says Garry Patterson from Trailscapes.
With the pump track as a focal point in town, riders who've come in from the trails for lunch may spend the afternoon trying to harness kinetic energy, but it also creates another asset for the locals to enjoy.
"It's got huge benefits for the kids in town, there will be a whole bunch of local kids that are on scooters or skateboards or whatever. They don't care about the mountain bike trails, but when they see this new pump track, they're like, 'this is amazing,'" says Patterson. "It's a huge asset for the local community, and that community goes, 'you haven't just built all this to appease one user group.'"
George Town is the third oldest European settlement and Australia's oldest town. Up the road, about 5km, is Low Head, which is reminiscent of Norfolk Island. It has a big wide promenade, old buildings made from white brick with red roofs, and the beaches are as good as anything on the mainland.
There is a colony of little penguins (commonly known as fairy penguins), and there are whisky distilleries, museums and a boatload of history. Still, George Town is a blue-collar industrial town and has been for a long time. The new trails are George Town's first exposure to mountain biking and the first opportunity to have some outdoor adventure in town. With the number of locals you see out on the trails, it's just as valuable to them as it is to visitors.
"We've been to the bakery pretty much every day since we started working here, and we're on a first-name basis," says Connor. "Everyone is super engaging, and they're always asking questions about what we're doing up in the hills and how we're travelling."
It's a place that is still a bit rough around the edges, but once you get past that gruff exterior, the locals are friendly and welcoming, and there are hidden gems like the Yukiya Sushi Truck, Don Mario's Italian, and enough great coffee to keep you awake for a week straight.
George Town's greatest hits: Sushi, maritime history and happy feet
Not every moment of a riding trip will be spent on the bike, and luckily George Town has plenty to do.
The highlight of our off-the-bike adventures was most definitely the Low Head Penguin Tour. We were fortunate enough to catch a Mumma penguin feeding her chicks, which the guide tells us is a pretty rare sight.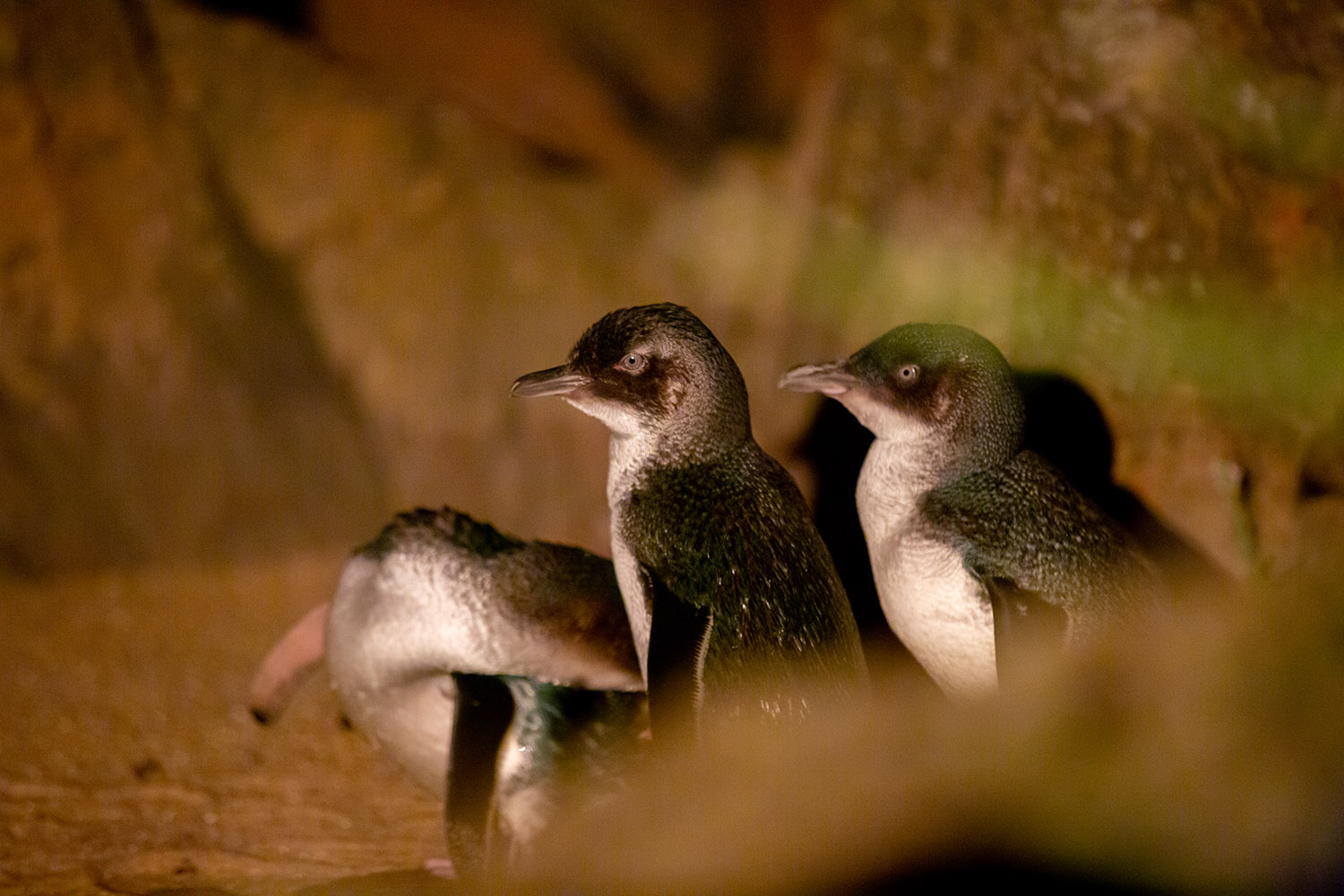 We also frequented East Beach to rinse the red dust off and soak our weary bones. Its white sand and surprisingly warm turquoise water, clear all the way to the bottom.
On the opposite side of the peninsula from East Beach is the Low Head Pilot Station, which has accommodation, a museum and a cafe that serves everything from your standard bacon and egg breakfast burger, to disco fries and beer-battered shark. For a pub feed and beer, the Pier Hotel was our highlight, overlooking York Cove, this historic pub makes a mean parmy.
There's also the Bass and Flinders Maritime Museum, where you can see a replica of Sloop Norfolk and James Kelly's whaleboats, The Elizabeth and The Admiral.
Why take your mountain bike to George Town?
Situated in northeast Tasmania, George Town completes the trifecta of mountain bike destinations in the region. With Derby and St Helens, both already established, George Town brings something totally unique to the table and stands on its own two feet.
With a pair of distinct trail networks, the terrain, the vegetation, and the riding experience are different to the other destinations in the region, but Mount George and Tippogoree Hills are also unique to one another — you definitely won't get bored here.
Plus, it closes a loop on the east coast of Tassie, drive from Launceston to George Town, over to Derby, then to St Helens and back — sounds like a pretty rad week to us. But, before we'd even left George Town, Christa was already planning a return trip with her partner to ride — and bringing their boat to fish the Tamar River when their legs can't handle another lap.
---
Getting to George Town
George Town is situated about half an hour north of Launceston, on the banks of the Tamar River.
For more information, head to the official George Town MTB website
---
Producer, photographer, videographer, editor, penguin whisperer – Jasper Da Seymour @jdaseymour
Host, tour guide and all-around shredder – Christa Capel @rideomtb
---
This Flow MTB project was made possible with support from Tourism Tasmania.