St Helens is gorgeous. Famous for its eye-bleedingly beautiful beaches, now mountain bikers can appreciate her charm as the newly constructed trail networks are now open. Mountain bike luminary Hans Rey and partner Carmen returned to Tasmania from California for a week of riding and exploring, from Derby to St Helens.
Travelling the world riding bikes, long since before the days of suspension, Hans and Carmen describe their experience on the new trail.
---
Watch Hans and Cassie take on The Bay of Fires Trail
---
Hans and Carmen Rey rides The Bay of Fires
In Tasmania's northeast, on the coast is a town called St. Helens. A quaint place, with a retro vibe, nestled between aquamarine sea, white soft sandy beaches and forest preserve. It can now also lay claim to 84 km of mountain bike trails within its trail centre close to the town, with an added 42 km connecting the Bay of Fires to the now legendary Blue Tier near Weldborough.
Just as with Blue Derby, there is something for everyone here, for all levels and all ages and it is growing.
Early on a misty morning with the sun teasing us in the distance, we set off, along with with Cassie an avid rider from Cairns, to experience the new Bay Of Fires trail.
Considering the distance and that there would be a fair amount of pedalling, Hans decided that this would be the perfect time to ride his e-MTB. It is another plus about Blue Derby and St. Helens that e-MTB's are welcome – although not required – thanks to the topography, they are fun too and make it easier to ride for longer and farther. With so many options to ride, e-MTB's can be a positive addition to enhance the whoop factor.
As it turned out, it was the right decision, 42 km on dirt is a fair distance, and you feel it.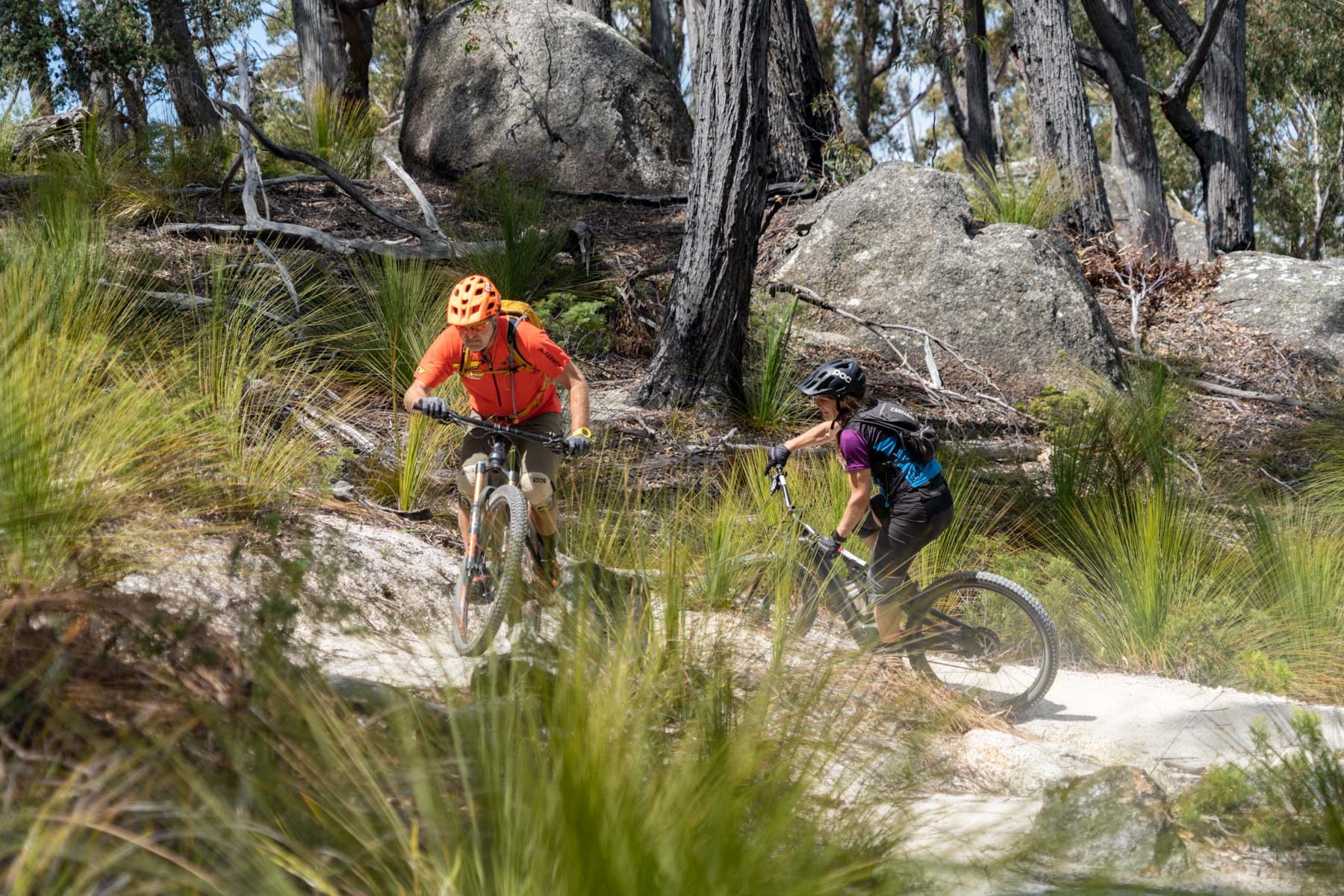 What was it like? One of the most fun trails we have ever ridden. World Trail has done it again, created a playground for mountain bikers carved out of the natural terrain, with integrity and appreciation of the landscape.
The landscape is marvellous, forever changing as the kilometres rolled us away from Derby and closer to St. Helens. The lush tree ferns gave way to Ironbarks, the gigantic granite boulders burst forth, and the fresh waterfalls were exchanged for an ocean view as we neared the end. This trail epitomises 'Flow', never too hard, too steep or too dangerous. Smaller boulders create perfect natural rollers scattered along the long ribbon of dirt with perfect berms railing you into the next line.
This was like flying, like being a kid again, being in the moment and feeling absolute joy.
---
Want to know more?
Watch our entire video library from Tasmania on YouTube here – Tassie Trails!
Official St Helens Trails website has all the details you need to plan a trip there – www.sthelensmtbtrails.com.au
Check out our story on visiting St Helens region before the opening – St Helens Trails.
---
Mo' Flow Please!
Enjoyed that article? Then there's plenty more to check out on Flow Mountain Bike, including all our latest news stories and product reviews. And if you haven't already, make sure you subscribe to our YouTube channel and sign up to our Facebook page and the Instagram feed so you can keep up to date with all things Flow!