In these raw, sweaty, bleeding old vids, shot by Glen Jacobs and associated lunatics, the resounding attitude seems to be "let's see if we can ride down that." And in Cairns, where the mountain range comes crashing down from the tablelands to meet the sea, there's endless potential to find steep things to ride down. It's the perfect petri dish for downhill; at various times there are said to have been up to thirty downhill tracks in the mountains around Cairns.
Today, it's our mission to sample two of the true originals – a pair of absolutely classic, but entirely contrasting descents. The legendary Kuranda downhill, claimed as the first proper downhill track in Australia, and the Bump Track, an ancient bullock run that mountain bikers have been blasting for decades.
The plan is to get started early, but I wasn't sure if Berend and Ryan might miss our 5:45 meeting. Cairns had been in full swing last night, after the Queensland rugby league team completed their annual demoralising of their southern rivals. There's a lot of state pride at stake for Queensland, and I feared the boys may have gotten caught up in the celebrations, but they're right on time. We load the bikes up in the dark, and begin the winding drive up Kuranda Range.
In the front seats, the guys debate the origins of Kuranda downhill. Is it an old moto trail? Was it Jacobs who unearthed it and claimed it for mountain bikers? Regardless, the track has been there as long as they, or anyone, can remember. And now, after at least a couple of decades of riding, it's more popular than ever.
Local operators have been running shuttles regularly, and there's been a tonne of trail work done to improve, maintain and diversify the classic old track, so there are now variety of lines you can take from top to bottom. It's cool to think that this track is becoming more relevant, not less, even as the sport evolves.  Berend provides some caffeine, and we take some time to appreciate another beautiful Cairns sunrise. This is winter in paradise; while much of the nation shivers, we're in our summer kit, watching the sun bloom.
 It's folk like this who keep the wheels of mountain biking turning.
After the rains last night, the dirt is in full hero configuration, the series of berms at the top of the track grip like Velcro, and the boys barrel into a run they've done dozens, if not hundreds, of times. Drops, roots, chutes, perfectly grippy linked turns matched with zero-traction off-camber sections, the track has huge diversity, and it's improving all the time.
Near the bottom of the run, we come across Luke, one of the local builders, wielding a Macleod tool and tweaking a section that wasn't 100%. It's 8:00am, mid-week, and Luke's out on his own, pouring his selfless passion into the dark dirt. It's folk like this who keep the wheels of mountain biking turning. He's a classic character, cracking me up with a tale of woe from a recent trip to Whistler (he goes over every year) that involved a deeply bruised manhood, banged up ankles and an anaphylactic shock from a wasp sting.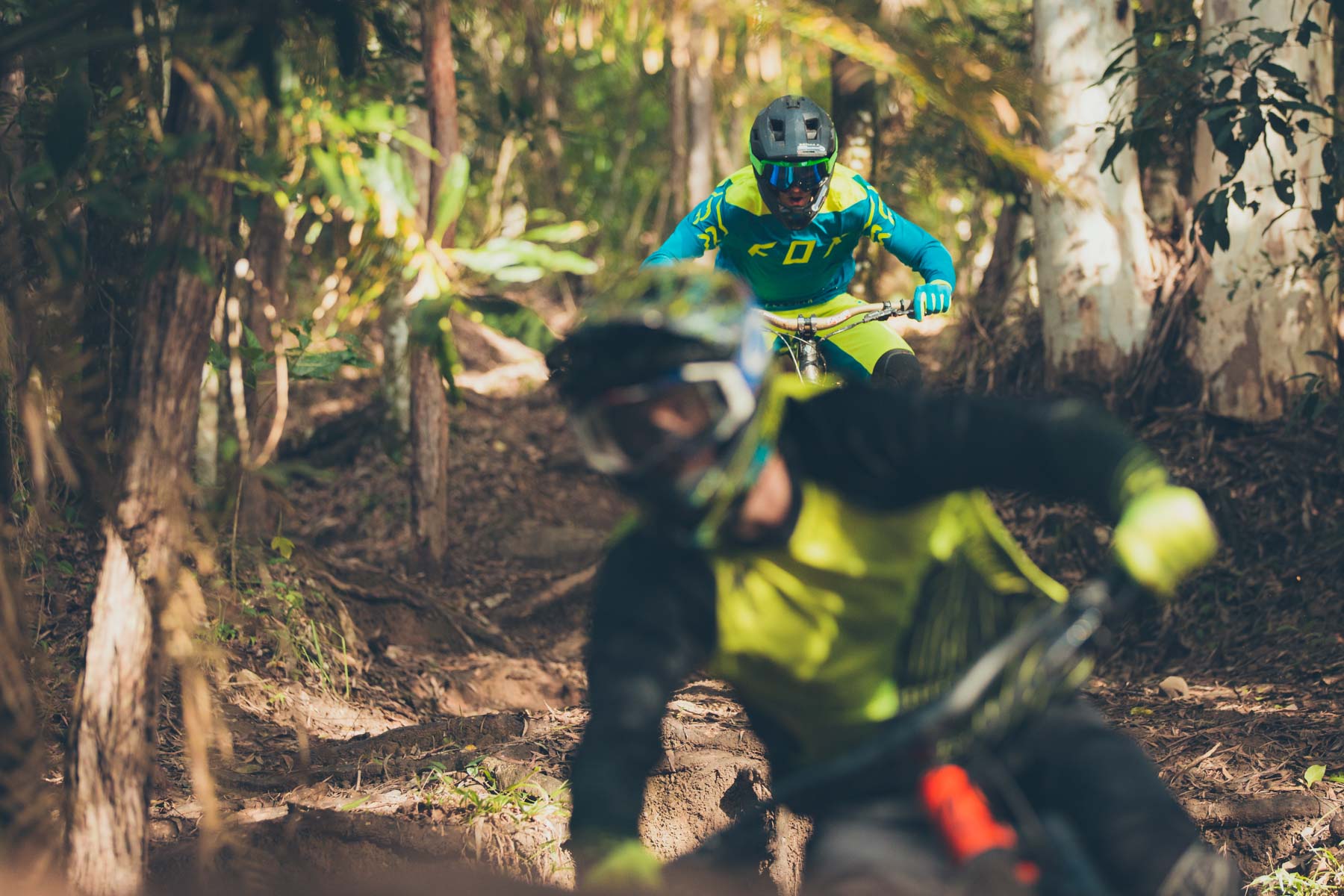 After breakfast by Ellis Beach we head north, to Port Douglas. The road between Cairns and Port snakes beneath palm fronds, tracing the line between the mountains and the sea, it's a stunning drive. As the coastal plains broaden just before you hit the five-star strip of Port Douglas, you've reached foot of the Bump.
Kuranda might be ancient in mountain bike terms, but the Bump Track stretches it out to another level. It's certain that this path was originally trod pre-colonial times – the terrain around here is so steep and the jungle so dense, you'd imagine there are precious few feasible routes through. Settlers used the Bump as a stock route, and the thought of driving cattle and carts up some of the steeper parts of the Bump Track is brutal. It's hard enough climbing up with 42-tooth cassette!
For a lot of local Cairns riders, there's a standing annual date with the Bump, during the RRR race (Rural, Rainforest and Reef). This event has been running for over 25 years now, and it brings out all kinds of folks to take on the unique course that finishes on the sands of Port Douglas. "It's unreal," says Berend, "people walk up the Bump and perch up on the cuttings above the trail to cheer."
The track itself is a bit of a journey through changing landscapes. Beginning in cattle country, it starts to get into a rhythm, a quick-rolling coaster of brown dirt, charging through incredibly dense jungle. "Watch out for Wait-a-while," is the call from Ryan. Fat strands of the savagely hooked vine dangle on the fringes of the trail, ready to snag cloth and flesh, keeping you on your toes.
It's old-school fun – eye shaking, braking burning, hysterical speed.
On paper, you might wonder what the fuss is about. After all, the Bump is a wide fireroad in most parts. But the appeal for mountain bikers is simple. It's wildly fast. After you pass through Robbins Creek, the trail starts to plummet, water bars coming up faster and faster. It's old-school fun – eye shaking, braking burning, hysterical speed.
Berend can't resist the temptation to line up one of the final water bars for a spot of long jump, hitting it again and again, seeing how far he can send it. A group of distinctly European tourists hiking up the trail see the camera and hang about to watch, egging Berend on in French. It's a classic scene as Berend launches for the cheering mob; I can't help but wonder what the stockmen of the 1800s would've made of it.
With fatigue threatening to bring on the kind of crash that results in an Ambulance call out, we wrap it up for the day, stoked to have two completely different, but equally classic, descents under our belts. Two of the original trails in Cairns – Kuranda and the Bump Track – might be old-school, but as today proved, they never really get old.
---
For more info on the mountain biking in Tropical North Queensland, check out the Ride Cairns site right here.
---