Straight outta The North Shore, the famed and acclaimed Canadian mountain biking legend Thomas Vanderham made a quick stop in humble little Derby, Tasmania, and then a flying visit to Falls Creek for Ignition Festival at the start of summer.
We were there, primarily to tow him into all of the big A-lines. Well, no, that's not entirely true. But we were definitely there, and with cameras in hand.
We've watched Thomas in countless big-time movie segments, poured over epic magazine features, and generally watched him spend more time stylishly dangling sideways in the air than we would spend firmly attached the ground with our brakes squeezed. He's well known for his unmistakable style, raw speed through hectic terrain and for doing gargantuan jumps.
We were deadly curious to see how a rider with such worldly shredding experience and natural talent would approach the unique terrain and wonderfully constructed trails of the Blue Derby Mountain Bike Park.
So, hailing from the heart of one of the MTB world most hallowed zones, what did he think of Tasmania's quirky little mountain bike town?
---
Watch Thomas Vanderham interpret the trails of Derby!
---
Vanderham Rides Van Diemen's Land
"The rock features are a highlight of the Derby experience. We have a lot of big granite rocks in BC, but there were some truly unique features like The Crack on the trail Detonate that really stood out. Pair that with lush foliage and the Man Ferns, and it made for a new riding experience that I haven't come across anywhere else in the world." – Thomas Vanderham.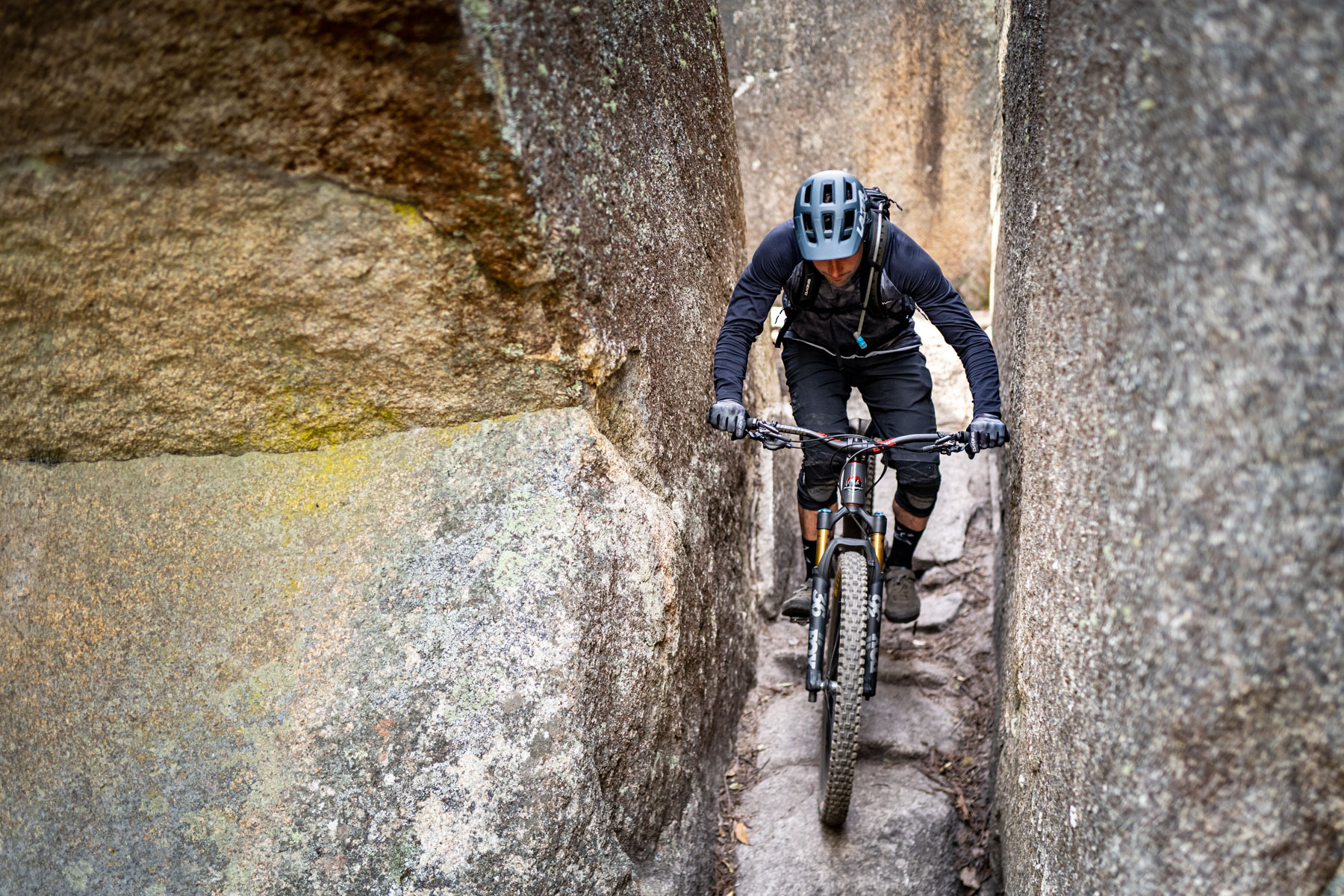 Derby is an absolute pleasure to ride, it's impossible to ignore when debating the best place for a mountain biking trip in Australia, and it shows. In the short time we had, we took Thomas to a few of the more iconic trails like Kumma Gutza and Detonate and cracked out the cameras.
"The trail builders know what they're doing. I have been lucky enough to travel to a lot of places and ride a lot of trails, so from the first run in Derby, it was obvious to me that the trail builders have a riders eye.
The trails flow effortlessly and have a variety of features that can keep riders of varying abilities entertained. That's a special characteristic that you don't see everywhere, trails that can be enjoyed by beginners and pros."
A large part of the whole Derby experience is hearing tidbits of the town's history, its small-town Tasmanian charm, and intrinsic peculiarities. After dinner at the pub and traditional chicken parmigiana, the history lessons began. How mountain biking came here, how it once held one of the world's richest tin mines, then the mining disaster. It's a fascinating yarn.
"From everything I hear Derby might currently be the best example of a town rebuilt solely around mountain biking. It was amazing to hear the history of the town, how recently it was nearly uninhabited, and how quickly the addition of some bike trails has changed things. I love hearing about local governments getting involved and really promoting mountain biking as viable tourism.
It was such an interesting time to be there, in the middle of a big shift from old to new. It looked like about half the homes were still original but with a brand new modern one built right beside it. It'll be cool to see what it looks like in another three-five years and what has changed."
When In Derby
---
Next stop, Falls Creek in Victoria's High Country.
Leaving the funky little town of Derby behind, we hopped over to the mainland and road-tripped up into the High Country for the mountain bike party of the year, Ignition MTB, Falls Creek.
If you're yet to go, put it in the diary. Coinciding with the opening of the mountain bike season, the alpine village hosts a jam-packed weekend of riding, music, food and drinks and the vibes are great. There's not a racing clock within sight.
Even Thomas who's probably been to a billion events around the world loved it, and after shuttling for hours in the hot and dusty trails it was time to dive head-first into the party. The bands were rowdy, plates of brisket were mouth-watering and the variety of local craft beer and gin seemed endless.
With valley full of bushfire smoke, the skies put on a spooky light show as we toasted to an epic trip, cheers, Thomas!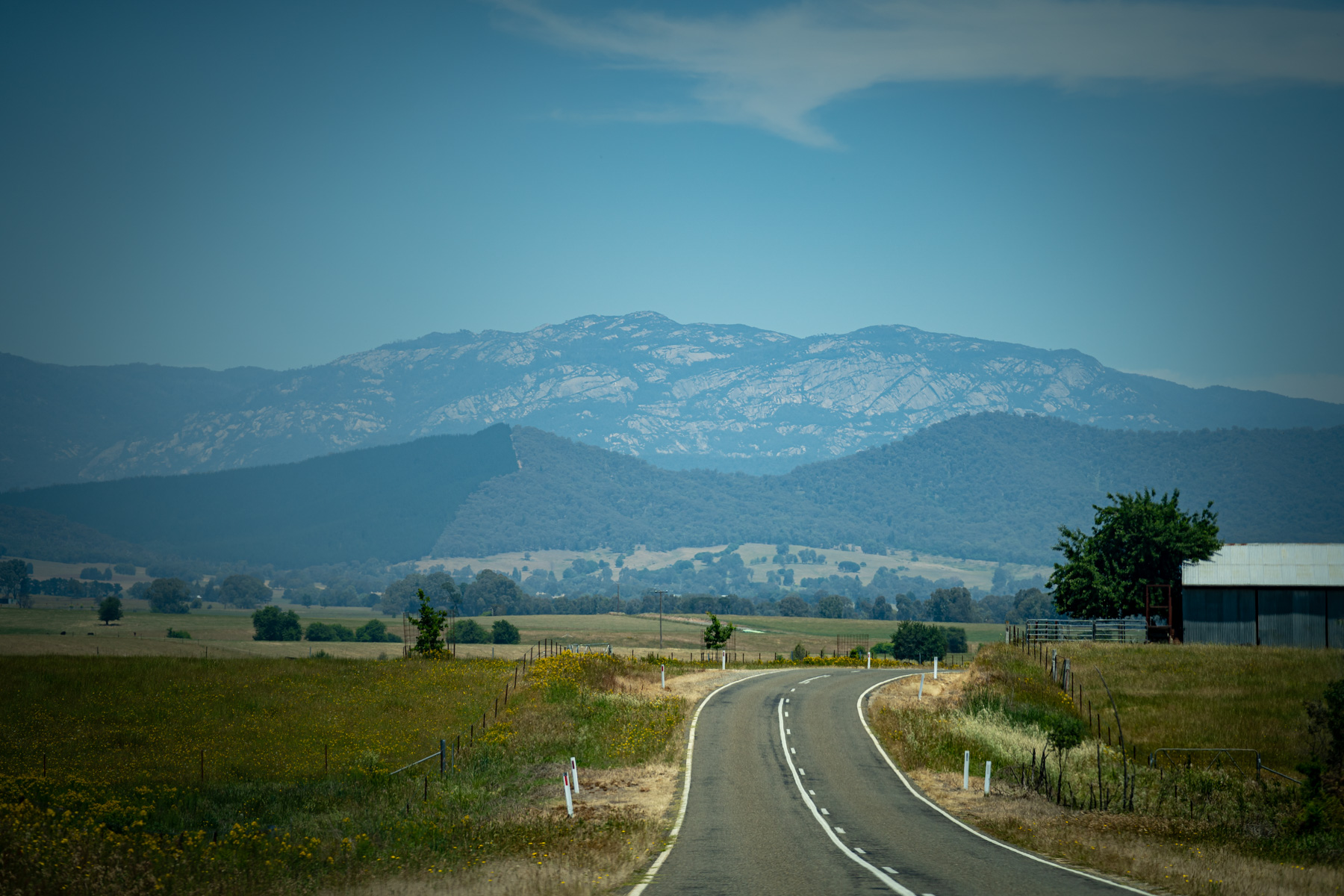 ---
Mo' Flow Please!
Enjoyed that article? Then there's plenty more to check out on Flow Mountain Bike, including all our latest news stories and product reviews. And if you haven't already, make sure you subscribe to our YouTube channel and sign up to our Facebook page and the Instagram feed so you can keep up to date with all things Flow!