Isolated, gnarly and picturesque, the West Coast of Tasmania is wild. Comprised of mostly small communities, until the 1930s, there were no serviceable roads, and the only way in or out was by rail or sea.
---
Make your screen full size – watch this one!
---
When Tasmania was known as Van Dieman's Land, the West Coast was best known for the Macquarie Harbour Penal Station on Sarah Island, which earned a grizzly reputation with stories of floggings, disease, and even escapees cannibalising their fellow runaways (yikes!).
Fast forward to 2022, and look what we have now! We're going to try not to use the word 'epic' too much in this story because it can literally be used to describe all of the views around the West Coast.
A few decades later, alluvial gold and copper were discovered in the hills around what's now Queenstown. The exploits of the search for these precious metals shaped the landscape into one in which man-made environments push up against untamed wilderness.
And this rugged region of Tasmania is the canvas on which Dirt Art has painted its latest masterpiece, on the slopes of Mount Owen. Queenstown is only one piece of the puzzle, with Oonah Hill already up and running, and more trails coming in the next range over. So, before we put tyres to dirt (err, um, rock) on the West Coast — stay tuned, that's coming soon — we're taking a bird's-eye view of what this place has to offer. So sit back, cast this one to your big screen and drink in the grandeur of Tasmania's West Coast.
Related:
Mount Owen
Since before the turn of the 20th century, mining has been the beating heart of Queenstown, with resource extraction operations stripping Mount Owen of timber to fuel smelters.
Mount Owen and the southern aspect of Mount Lyell provide a stark reminder of the region's past, and large areas won't sustain anything more than low-level shrubbery. With Mount Owen standing 1146m above sea level, and its neighbour to the north at 820m — connected by the Chamouni Traverse — the moonscape creates a riding experience usually reserved for places where a canister of bear spray is as essential as tire levers or a water bottle.
With the rugged terrain on Mount Owen, the folks from Dirt Art knew it would be challenging to cut trails through this landscape, but what eventuated was even beyond what they expected.
Simon French from Dirt Art tells us during the construction of the 35km network, they wore through two excavator buckets per machine.
"We've never had that before; it was very hard on the gear," French continues.
But the trail builders also had to contend with 80kph+ winds and rain that felt like it was falling upwards. French tells us that some of his team were wearing their race goggles inside their machines, so they could see what they were doing; and the uniform for trail building on Mount Owen were the rubber slicker suits you'd expect on a crab fishing boat, because Gore-Tex simply wasn't enough.
But the rawness of this place is part of its charm.
"It's a really difficult place to build a trail. It's a difficult place to walk around. It's kind of a difficult place to do anything, but once you actually get out in it, you're rewarded with an experience that you're not going to find anywhere else on a mountain bike," he says.
The upper section of the mountain is shuttle access only, while the lower loops can be ridden from town without any uplift assist. Ready Orr Not is the main access to the trails and can be ridden as a loop, or connects to Welcome to Queenstown.
North Owen
From the main shuttle dropoff, a pedal across the Chamouni Traverse takes riders to North Owen. As you make your way across the ridgeline, Marble Bluff, Little Eldon, and Eldon Peak come into view, looming large over Lake Burbury. As you hit the switchbacks of the Summit Loop, you're greeted with sweeping vistas of Frenchman's Cap, Mount Lyell and Sedgwick Bluff — alternating as you navigate around the hairpin bends.
Dirt Art engineered a number of trails, like the Summit Loop, to slow riders down, and help folks enjoy the scenery  — safe to say, they have achieved that goal in spades.
Zig-zagging along the southwestern aspect of North Owen, the summit loop takes you to…well…the summit of North Owen. Then, just below its geographic prominence, twin spurs, each with its own singletrack descend towards the town of Gormanston in the valley below.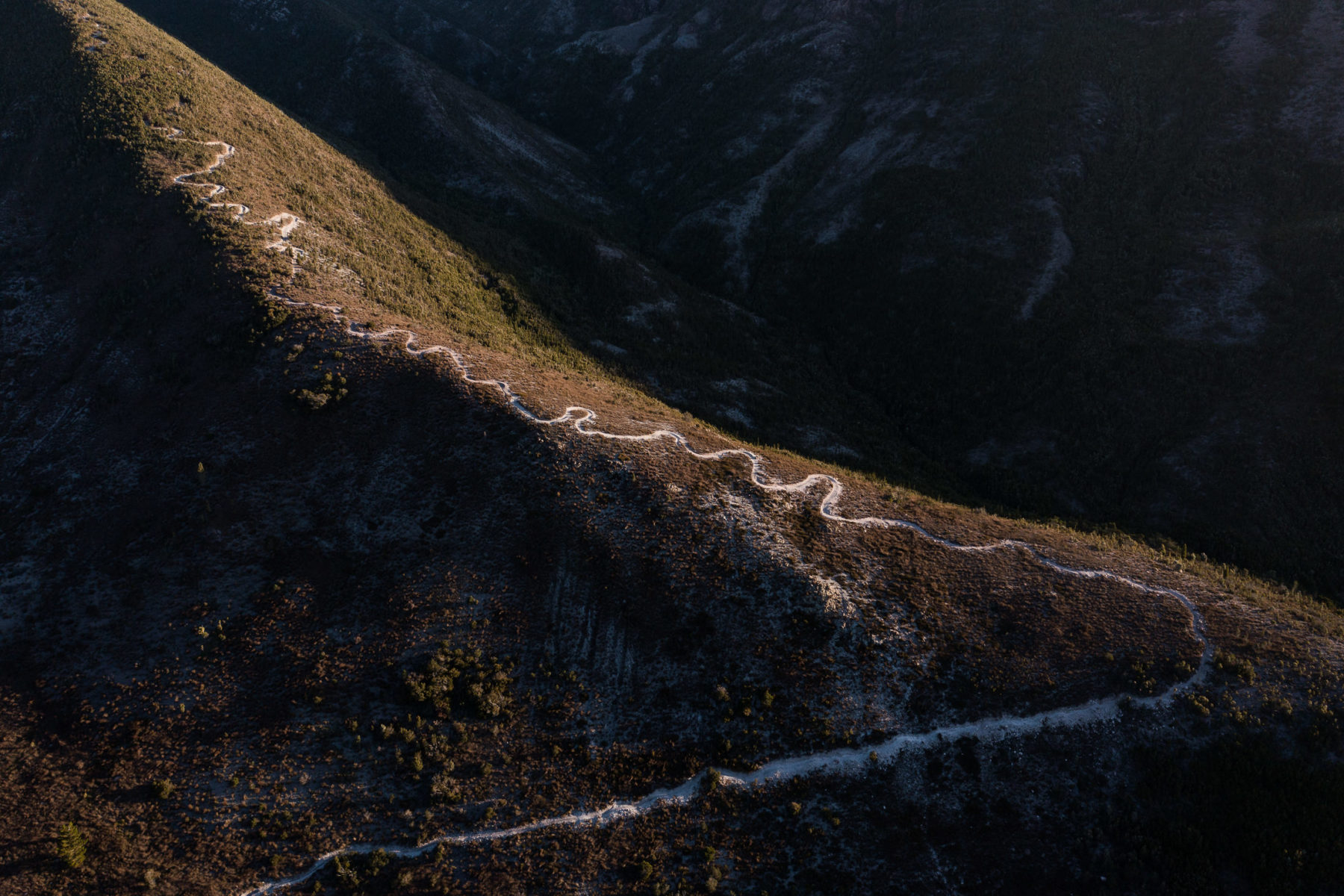 Lake Burbury
Remember how we've been banging on about how the West Coast is a landscape where man-made environments push up against seemingly untouched wilderness? Would you believe us if we told you that Lake Burbury is man-made?
Fed by rivers from the north like the Upper King and Eldon Rivers, Lake Burbury feeds the John Butters Hydroelectric Power Station and has a surface area of 54 square kilometres.
As a born and bred Taswegian, Simon French has always had a soft spot for the West Coast.
"It's one of those areas that even Tasmanians don't get to. It's quite remote, it's really rugged and wild, but it offers a European or North American, big mountain experience that you don't really get anywhere else in Australia," French says.
Queenstown and the West Coast are a land of contrasts, making for a riding experience like no other. When this project was in its infancy, Dirk Dowling, a Project Consultant for the West Coast Council, told Flow the aim was to build something that kept with the mountain and didn't fight against it.
From above, it sure looks like that is precisely what the trail builders have achieved. We've sent a motley crew of riders to see what the trails look like from ground level. Stay tuned for more.
---
Big photos and video: Stuart Gibson
Editing and music: Murray Farrell/Creek Run Media
Tiny riders: Rob Potter and Aaron Stewart
---
This Flow MTB project was made possible with support from Tourism Tasmania.