After thrilling the Kiwi fans by sharing his victory lap in the Crankworx Rotorua Slopestyle with friend Logan Peat, Canadian Brett Rheeder earned himself another celebratory sail through the concourse, taking the second round of the Triple Crown of Slopestyle in style.
Rheeder put himself on top in the Crankworx Les 2 Alpes Slopestyle right out of the gate, earning a 93.25, four points more than friend, rival and fellow Canadian Brandon SEMENUK.
"Somehow I still have a chance at winning this Triple Crown. I would be stupid not to keep going. I'm trying my hardest," he said in interview from the finish corral where a gaggle of press was waiting.
One of the only riders to deliver the kind of beautiful run commentators can proclaim "the run to beat," this was actually the first time Rheeder ever completed a run on the course, a course where he broke his back two years ago. He was also up against some tough conditions, with winds gusting through the French village hard enough to postpone the start in a rather fitting follow to his Rotorua performance where torrential rain caused similar delays.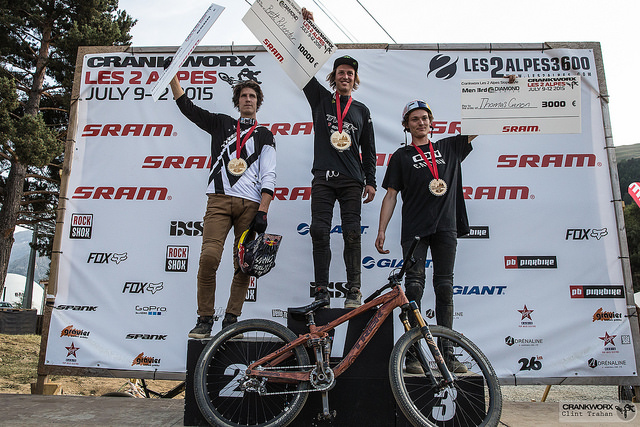 Battling the hurdles, he admitted to being stunned by his victory.
"Once again, I'm on top of the world," he said, noting Semenuk just didn't deliver the run he needed for a win.
The Triple Crown of Slopestyle was introduced in February as a new title for the inaugural Crankworx World Tour. With New Zealand and the French festival now part of the Crankworx family, the title was set as the ultimate challenge to see if one rider could take home all three Crankworx Slopestyle victories in a single year.
The only rider to come close to this type of conquest, to date, is Semenuk, who has won the Les 2 Alpes Slopestyle, his hometown event in Whistler and the Crankworx Colorado festival, no longer in existence.
Semenuk is known the world over as the preeminent talent in this young sport and he expressed extreme disappointment in his own performance after the event.
"I just didn't ride very dialed in. I wasn't too happy with my runs," he said quietly.
Rheeder will now have one last event to win, Red Bull Joyride in Whistler, to secure the crowning glory and a potential $75,000. Joyride is of significantly greater magnitude, with crowds of 30,000-plus lining the hillside, which comes at the end of the original, 10-day Crankworx festival.
Men's results:
1.) Brett Rheeder (CAN)
2.) Brandon Semenuk (CAN)
3.) Thomas GENON (BEL)
Tune in to Crankworx.com to watch all the action beginning tomorrow:
Crankworx Les 2 Alpes Downhill presented by iXS – European Cup: Sunday, July 12 14:00 France; 5 am Whistler, Canada; midnight Monday, July 13