How Maxxis starts out making a new mountain bike tyre, we have absolutely no idea. After all, it isn't exactly a brand that's short of popular tread patterns. Few mountain bikers haven't ridden or at least heard of tyres such as the Minion DHF, the Minion DHR, High Roller and Shorty. And in more recent years, those iconic tread patterns have been joined by the likes of the Minion SS, Aggressor, Assegai and Rekon – all thoroughly popular, high-performance tyres in their own right. But despite all of that choice, it seemed that Troy Brosnan just wasn't quite happy. Folks like him tend to be a bit obsessive about marginal improvements though, and given he's one of the top-five fastest mountain bikers in the world, we'll excuse him for being picky.
With an itch he needed to scratch, Brosnan began working with Maxxis' engineering team during the 2018 World Cup Downhill race season to develop a brand new tyre. A tyre called the Maxxis Dissector.
Splitting Hairs & Trails
The Dissector might be an all-new tyre, but strictly speaking, it isn't entirely a brand new tread pattern. Take a closer look and we're told you can find elements of some of Maxxis' other tyres, including the High Roller II, the Rekon and the Minion DHF.
The goal for Brosnan and the engineering team was to create a fast-rolling tyre that he could use primarily as a rear tyre on really dry and fast race courses. He wanted low rolling resistance, but still needed solid braking traction and reliable cornering grip for slicing and dicing turns at high-speed. Using those three aforementioned tread patterns as a starting point, Brosnan and the Maxxis engineers came up with the Dissector.
Knob Science
Repeating rows of ramped tread blocks run through the centre of the tyre, which are there to increase rolling speed over something like a Minion DHF. But to maintain braking traction – something that's especially important for a rear tyre – those centre tread blocks feature sharp and flat backsides that should offer good bite when the anchors are applied. The transition blocks are then siped to improve flexibility when under pressure during hard braking.
The edging blocks take inspiration from the Rekon and Aggressor tyres, and feature a slightly staggered arrangement to help reduce vagueness when leaning the tyre over. While they're not as big as what you'll find on the Minion DHF, the edging blocks are siped through the middle to improve flexibility, and every second block uses a C-shape cutout to give it more grab in the turns.
What Options We Got?
The Dissector splits into two versions; DH and Trail. The DH version gets a much thicker 2-ply casing and features a softer 3C MaxxGrip rubber compound. The Trail version is substantially lighter 60tpi EXO casing and gets a firmer 3C MaxxTerra rubber compound.
The tread pattern is exactly the same between the DH and Trail versions, and both come in (as of right now) a solitary 2.4in Wide Trail size that's optimised for 30-35mm wide rims. You can get either option in both 27.5in and 29in diameters.
Both tyres are tubeless ready with a butyl insert to assist with air retention, and fat beads designed to lock into tubeless rims.
Maxxis Dissector DH Tyre
The heavier of the two options, the Dissector DH gets a much tougher casing that combines two 60tpi layers into the one casing for more puncture resistance and more stability. Maxxis recommends using this one as a rear tyre that's paired up with a knobblier tyre on the front, like the Minion DHF or Assegai.
Intended use: Dry & fast conditions as a rear tyre
Available in 27.5in & 29in diameters
Width: 2.4in Wide Trail
Optimised for 30-35mm inner rim widths
3C MaxxGrip Compound
DH casing with dual 60tpi layers
Actual weight: 1107g (27.5×2.4in size)
RRP: $99.95
Maxxis Dissector Trail Tyre
Coming in 300g lighter than the DH version, the Dissector Trail is more of an all-rounder tyre that's better suited to trail and All Mountain use. To that end you're getting a lighter 60tpi casing and EXO reinforced sidewalls. In this guise, Maxxis says this is a more versatile tread pattern that you can run front or rear for hardpack through to loose and loose-over-hard conditions.
Intended use: Dry & fast conditions as a front or rear tyre
Available in 27.5in & 29in diameters
Width: 2.4in Wide Trail
Optimised for 30-35mm inner rim widths
3C MaxxTerra compound
60tpi casing w/EXO sidewalls
Actual weight: 815g (27.5×2.4in size)
RRP: $89.95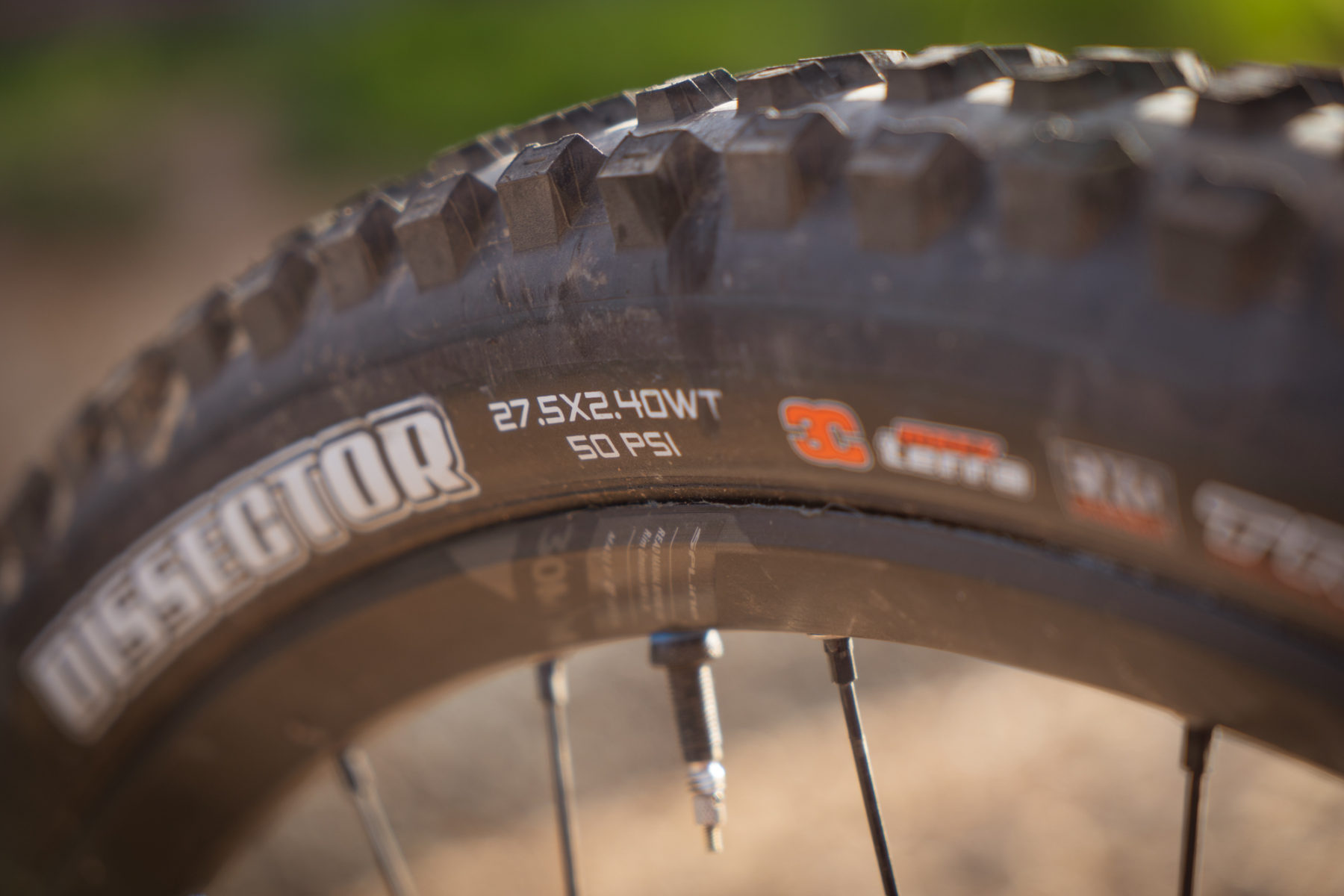 How's It Perform Then?
We've just received a pair of 27.5in Maxxis Dissector tyres for testing – one DH and one Trail. I've just fitted up the Dissector Trail onto the back of our Canyon Spectral AL 6.0 test bike, where it's replaced the stock Maxxis Minion DHR II 2.40WT EXO 3C MaxxTerra. Weight-wise it's a decent amount lighter (815g vs 929g), but fitted to a 30mm wide DT Swiss M 1900 rim, it carries a pretty similar shape measuring pretty much as claimed.
I've only had a single ride on the Dissector, so I won't be making any broad conclusions here. However, I will say that it is a helluva lot quicker than the Minion DHR II it replaced, with considerably faster acceleration and rolling speed. That's to be expected given the less aggressive tread pattern and those nicely ramped centre blocks. I'll be getting plenty more riding on the Dissector over the coming months, and I'm also keen to try it out on the front of the Spectral to see how just how dependable its performance is on my local dry and rocky singletrack.
In the meantime, you can get yourself more info on the new Maxxis Dissector via Lusty Industries.