The UCI Gravel World Series is returning to Australia October 28, descending on Beechworth for the second running of Gravelista.
While the elites will be vying for a spot at next year's Gravel World Champs in Belgium, there are courses ranging from 120km down to 10k, and Gravelista isn't an event reserved for those vying for rainbow stripes.
There's actually two Gravel World Series qualifiers in Australia, one in WA called SEVEN, which was an existing event, while Gravelista was created specifically to host the qualifier. From those two races, more than 30 Aussies qualified and competed at the Gravel World Champs in Italy at the start of October — where Aussie Tiff Cromwell placed 10th.
Related:
A familiar course for Gravelista 2023
Race Director Nathan Lorkin tells us the course — which folks raved about — will look very similar to last year, with the only difference being the start and finish location and the neutral rollout of town.
"The course we put together last year working with locals and the gravel mob was such a kickass route. You know when you get really excited about something and feel like a little kid and want to jump up and down — that's how we felt when we checked out this route," says Lorkin.
For its inaugural running, 310 riders took to the gravel roads around Beechworth. When we spoke to Lorkin, they'd already surpassed that number and are on track to double the size of the event.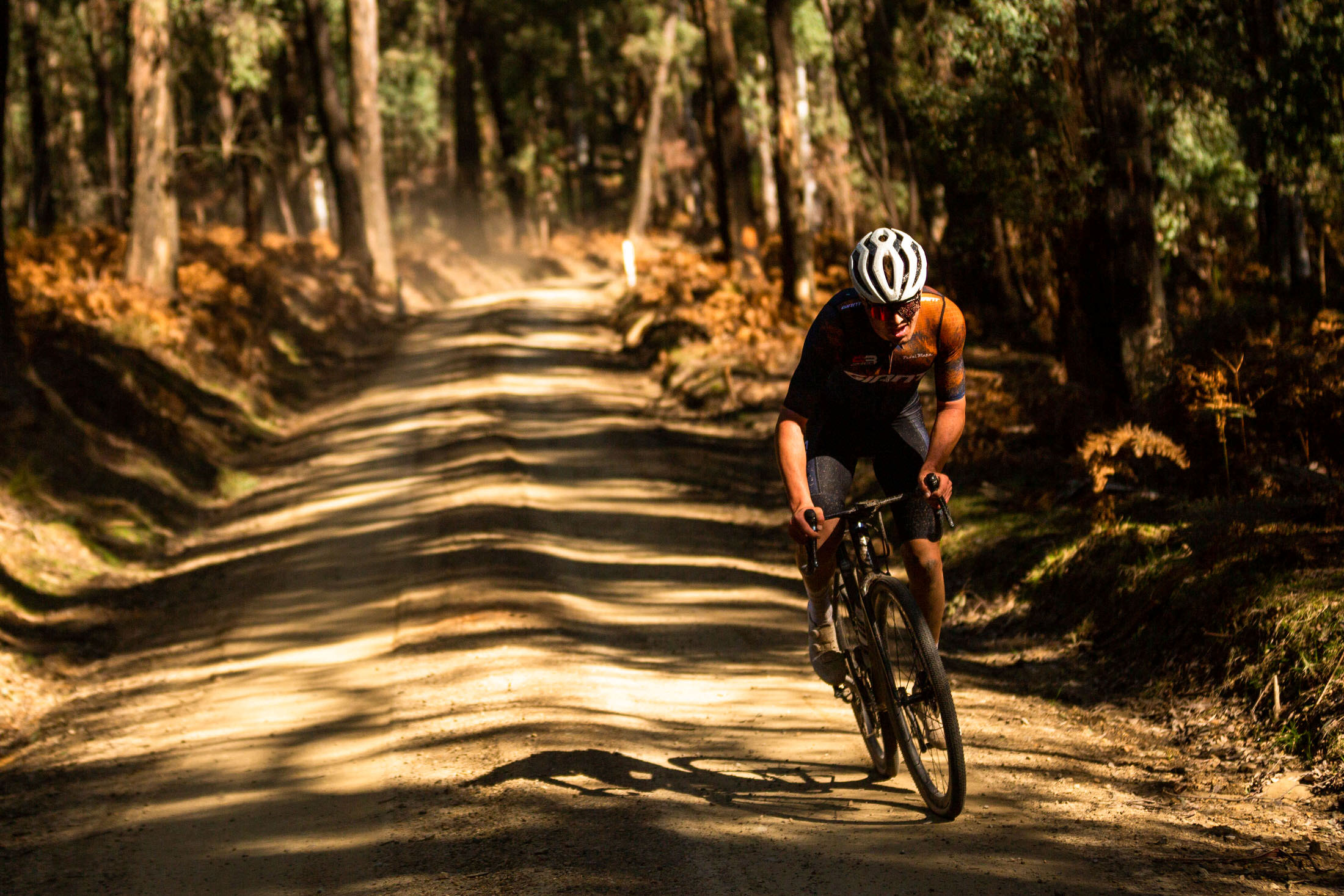 "Last year, I think because of the rainbow colours of the UCI, it was a little bit intimidating, and we ended up with a very skinsuit-clad, very fast and fit lineup of athletes," he says.
"Beyond the 120km course (and 80km course for masters 60+ athletes), we've opened up to the recreational categories. So, outside of the UCI race, we have recreational options doing 45km, 80km, or 120km. And bang for buck, the 45km loop is brilliant," he says.
The dirt around Beechworth varies a bit, but Lorkin tells us Gravelista sticks primarily to what he calls clean gravel.
"Even when it's wet, you come back looking pretty clean. Some dirt is more like mud and you come back and you can't tell what kit you're wearing — (around Beechworth) it's not like that at all. It runs smooth and fast. There are a couple of spots that have heavy ruts, but we'll have those fixed up in time for the event," says Lorkin.
The majority of folks sign up for the 120km course, and once riders are set free from the neutral rollout, the crux of the day will be the two significant climbs.
"If you burn too many matches on that first climb, you're going to shoot your day on the second one," he says. The second climb goes up Lady Newton Drive, and good ol' Lady Newton, she bites a lot of people," says Lorkin.
He tells us that for the folks chasing a jersey, the climb of Lady Newton is where the splits happened. It was here the savvy riders either gapped their companions or caught riders who'd overdrawn their bank account on the first climb.
"It's not quite walking territory, but there will definitely be some people walking for sure," he says.
How do you qualify for UCI Gravel Worlds?
Gravelista is actually the second 2024 Gravel Worlds qualifier of the year, with the Euro Gravel Champs in Belgium pulling double duty.
For those hoping to punch their ticket to race in Vlaams Brabant, Belgium next year, the qualification process is a bit like making the cut for Cape Epic.
"So if you land yourself on the podium in an age group category, you're guaranteed, and beyond that, it's the top 25%. And the reason we say podium is because some of the older age groups are very small — I think the oldest we have signed up is 77," says Lorkin.
Being a full-on UCI-level event, Lorkin tells us traffic management will be in place — from the first rider to the last — so you can let the engine run hot and not have to worry about slowing down for crossings.
There will be feedzones sprinkled throughout each course, which will be stocked with doughnuts, fresh local produce and tunes playing. Riders can have bottles delivered to the aid stations, and they'll also have tools at each stop should you need them.
The start and finish will be on the cricket pitch at the top of Mayday Hill. Lorkin tells us there will be a full race village with food, a Bridge Road pop-up bar, a pump track and the like.
Outside of the event, they are hosting a kids and family ride on Friday for folks to get out and spin their legs around on the gravel. The morning after the race, they're also hosting a shakedown recovery ride, leaving from the centre of town. Coffee will be provided, and the ride will be about an hour, just to get out and spin your legs with friends, new and old.
Lorkin tells Flow that while there is the elite racing element to Gravelista, the main goal of the event is to foster that friendly vibe, and to get people out exploring around Beechworth on their bikes.
Gravelista is fast approaching, and entries are open now, head over to the event website to grab your spot. Who knows, it might be your ticket to race in Belgium next year.
---
Photos: Lee Omond (@shotbyleealexand3r) / Gravelista