DT Swiss isn't exactly flippant when it comes to the design and engineering of its products. The Swiss wheel (and now suspension) manufacturer has achieved its lofty reputation through the careful development and refinement of its key technologies, like the Star Ratchet freehub mechanism – an iconic design that has (quite unbelievably) been in use for over 25 years.
Without doubt the most well known, and most licensed, freehub systems on the market, the Star Ratchet design comprises of two sprung ratchet (or 'clutch') plates that deliver strong and reliable engagement at the pedals, while also being stupendously easy to pull apart and service. DT Swiss employs the Star Ratchet system in its own 240s and 350 hub series, as well as in the higher-end options in its complete wheel range. Beyond its own products, DT Swiss also produces hub internals for a plethora of other wheel brands including Roval, Bontrager, Giant and Syncros. To say there's a few Star Ratchet freehubs out there in the wild would be a gross understatement.
And all of that is what makes the launch of DT Swiss' new Ratchet EXP system all the more intriguing.
What's This Ratchet EXP Thingo?
25 years after the first Hügi hub hit the market with the original Star Ratchet design, DT Swiss is rolling out its new generation freehub mechanism, called Ratchet EXP. Inside the freehub mechanism you'll still find two geared ratchet plates, which feature opposing angled 'teeth' that skip over each other while you're coasting, before locking together to provide forwards drive for when you pedal. However, there are a few key differences with the Ratchet EXP system that make it lighter, simpler, and also stronger overall too.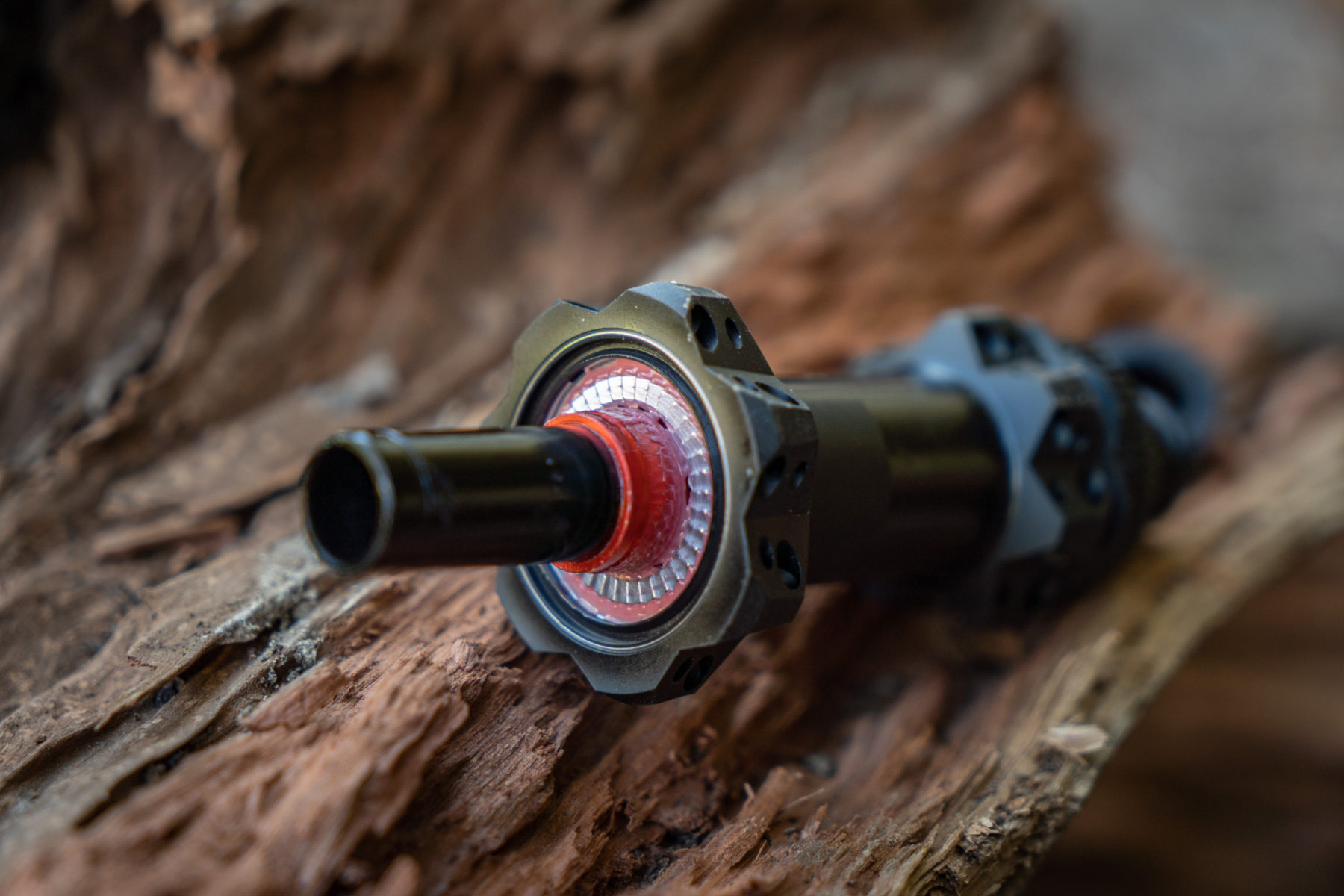 The key difference with Ratchet EXP is less moving parts. Instead of both ratchet plates 'floating' inside the hub with a spring on either side, DT Swiss has removed the inboard spring, and made the inboard ratchet plate stationary. In fact, it now threads into the hub shell itself, which reduces the need for a separate threaded ring. As well as removing an extra component from the system, this setup means that only the drive side ratchet plate floats in the hub, and there's now just a single spring.
But Wait, There's More!
In addition to being simpler and a bit lighter, DT Swiss claims the new Ratchet EXP system also boosts hub stiffness by 15%. How it does that is not immediately apparent, but dive a little deeper and you'll see that it's all about bearing placement.
With the Ratchet EXP system, DT Swiss is able to tuck the drive side hub bearing underneath the inboard ratchet plate. Compare this to the Star Ratchet design, which sees the hub bearing nestling up alongside the inboard ratchet plate. The difference in bearing placement between the two designs is 7mm. That means the hub bearing in a Ratchet EXP hub sits 7mm closer to the derailleur, which helps to brace the axle better, thereby increasing stiffness.
Going further, DT Swiss also says the Ratchet EXP provides slightly faster engagement than the Star Ratchet system. This is because one of the ratchet plates is now stationary, so there's a touch less free-play when you first hit the pedals. We can't imagine it'll be that noticeable, though we'll have complete wheels to put to the test properly soon to find out.
How Buzzy Is It?
Fans of the Star Ratchet sound fear not! The Ratchet EXP system offers that familiar chunky low-frequency buzz as the ratchet teeth skip over one another while you're coasting. Its chuggy sound is less tinny than a pawl-based freehub system, with a subtle, more bass-heavy drawl than the super loud, "LOOK AT ME!" whine that some other hub brands prefer to go with.
Speaking of engagement, DT Swiss is launching the Ratchet EXP system with 36T ratchet plates to begin with. That means a rear hub will have 10° between each click, which is pretty average these days, if a little slow compared to some of the competition (a Hope Pro 4 hub has 44 engagement points, Chris King hubs have 72, and Industry Nine's new Hydra hubs have 690!).
DT Swiss reckons the 36T system is the sweet spot though, because more teeth on the ratchet plates means each tooth has to be smaller, and that means the guts of the hub can be less tolerant to dirt and contaminants. Still, we understand those Swiss engineers are working on a 54T upgrade kit for riders who want faster engagement than stock. Pricing and availability to be confirmed.
Can I Upgrade From The Star Ratchet System To Ratchet EXP?
Unfortunately not. Ratchet EXP doesn't just use different internals – the actual hub shell and axle are different too. This is to accommodate the wider bearing placement and the inboard ratchet plate, which now threads directly into the hub shell. So if you desperately want the new freehub mechanism, you're going to need either a whole new rear hub, or a new rear wheel.
Is The Star Ratchet Design Kaput Now?
No way! As of right now, DT Swiss is only rolling out the Ratchet EXP system in its ultra-premium 180 hub series, which as well as being available on their own, are found in the new XRC 1200 Spline, XMC 1200 Spline, and EXC 1200 Spline carbon wheelsets too.
That means the 240s and 350 hubs will retain the bombproof Star Ratchet system, at least for the time being. Given the new system is simpler, with fewer parts to manufacturer, we'd expect DT Swiss to trickle the Ratchet EXP system down the line at some point down the line, though your guess is as good as ours as to when that might be. We asked DT Swiss and the response was a very short, but unsurprising "No comments".
I've Seen Ratchet Systems Elsewhere – What Gives?
Hügi was the one to invent the original Star Ratchet design a quarter of a century ago. DT Swiss then acquired Hügi, refined the concept, improved the engineering and production processes, and applied for a patent in 1995. That patent expired 20 years later in 2015, which has since opened the door for other manufacturers to bring out their own interpretations of the ratcheting clutch design.
That includes German brand Syntace, which has utilised a dual-ratchet mechanism inside its rear hubs since late 2014. In fact, if you search for 'Star Ratchet Patent' on Google, you'll find that there is actually a patent called "hub with star ratchet", which belongs to Jochen Klieber, CEO of Syntace. That patent was granted in 2014, and it expires in 2032. Whether this has anything to do with DT Swiss coming out with its new Ratchet EXP system, we have no idea.
Shimano's latest XTR, XT and SLX hubs have also switched from the Japanese brand's previous pawl-based freehub mechanism to a ratchet-based system. However, the Scylence freehub is more of a hybrid between a Star Ratchet and Chris King's RingDrive.
The closest system to DT Swiss would be the new ID360 freehub from Mavic and ENVE, who are owned by the same parent company. The ID360 system is used in a variety of road and mountain bike wheelsets, and its single-sprung clutch design bears a striking resemblance to the Ratchet EXP system. The main difference between the two is that the in-board ratchet plate does not thread directly into the hub shell, like it does with the DT Swiss Ratchet EXP design.
Given the similarities though, we asked DT Swiss whether there was any patent toe-stepping going on there. The response? "We generally do not comment on products of our competitors". And while DT did tell us that "several technologies of the Ratchet EXP system are patent-protected", they wouldn't specify exactly what components are patented. So we're none the wiser there.
DT Swiss 180 Straightpull Hubs
Overzealous patent speculation aside, we've just received a set of 180 hubs to get a closer look at the insides of the new Ratchet EXP system. Compared to the 240s, the 180 hub shells are even more minimalist, with an incredible amount of machining detail to strip away as much material as possible. They come loaded with DT's own ceramic bearings, and feature redesigned tool-free end caps that are easier to remove. For those interested, here's the full spec details on the 180 Straightpull hubs;
Lightweight one-piece alloy hub shells
SINC Ceramic bearings
Ratchet EXP freehub mechanism
36 teeth for 10° engagement
Hole count: 20, 24 or 28
Centerlock disc brake rotor mount
Tool-free end caps with notched lip for easier removal
Boost hub spacing only
Available with Shimano HG, SRAM XD & Shimano Microspline freehub bodies
Actual weight: 96g (front), 186g (rear)
RRP: $439 (front), $809 (rear)
We'll be testing out the new Ratchet EXP freehub system in a variety of DT Swiss hoops in the near future, including the brand new EXC 1200 carbon enduro wheelset. Until then, you can find your nearest dealer via Australian DT Swiss distributor, Apollo Bicycles, or head to the DT Swiss website for more info.
---
Mo' Flow Please!
Enjoyed that article? Then there's plenty more to check out on Flow Mountain Bike, including all our latest news stories and product reviews. And if you haven't already, make sure you subscribe to our YouTube channel, and sign up to our Facebook page and Instagram feed so you can keep up to date with all things Flow!