After the Enduro World Series announced its triumphant return to Australia would be postponed until 2023, Maydena Bike Park decided to fill the gap in its event schedule with a unique take on enduro racing. Combining the format of a jam session and a gravity enduro, Maydena's Enduro Jam is scheduled for March 25-27; there's racing, live music, a BBQ and a whip off.
Oh, and did we mention there is also $10,000 AUD in prizes up for grabs, and the event is an EWS qualifier!
The racing format
Like any enduro, there will be multiple timed descents each rider will need to complete. The difference here is there's no pressure to lay down a race run first go, and riders can pack in as many laps as their body can handle during the racing window.
"We'll set three racecourses each day, most of which will include multiple combinations of trails. We'll use intermediate (blue square) and advanced (black diamond) trails for the Open Jam and an additional double black diamond trail for the Pro Jam," says Maydena head honcho Simon French.
"It's more of a social format, and you can basically hang out and ride whichever course you want, as many times as you want, over the day," he says.
With so much time to dial in your race run, there's no need to worry about bonking on the liaison back to the top because shuttles will be running all day. Only the fastest time on each stage will count towards your overall time so that you can race at your leisure.
The format isn't entirely unique and loosely follows a similar modus-operandi to Thredbo's SuperEnduro. Still, with over 70 trails on the mountain, Enduro Jam can feature more than one course each day.
The final shuttle will head up the mountain at 4 pm sharp, and the awards ceremony and leaders jersey presentation will happen at 5:30 pm.
Despite the cruisy racing atmosphere, the enduro jam is also an EWS qualifier, meaning there are series points up for grabs.
Related
Open and Pro Jam
Maydena can be pretty intimidating and is home to some of the country's most challenging and technical trails, and with that there are two racing categories — the Open Jam and Pro Jam.
The Open Jam will feature two stages per day and only take riders down the bike park's blue and black trails. There will undoubtedly be a few challenges along the way — it is a race after all — but we expect confident intermediate riders will be able to handle what's thrown their way and then have time to dial in their lines throughout the day.
"The idea is there will be a timing system set up on all the courses throughout the day, and riders can just log as many laps as they want, with only the fastest lap progressing through as their time for the day."
The Pro Jam will happen on the same two stages as the Open Jam, but with an additional course that follows some of Maydena's properly rowdy trails. French tells us these are be the very trails that EWS riders would have come up against had the event gone ahead this year.
"The Pro Jam allows us to use some of the more advanced trails we have not raced before. In addition, by separating a pro category, we can include some trails that are a little more daunting and stretch the upper end of the field without excluding the rest of the race field," says French.
With the Open category only having two stages each day and a six-and a half-hour window to put down your fastest time, it also means there will be ample opportunities to take a detour and make your way to the Pro course to watch the best gravity enduro racers in the country do their thing at Maydena.
Both the Open and Pro Jam will have men's and women's age group categories from U13 all the way up to 50+.
While this event came to fruition this year because the EWS was postponed, French also tells Flow that it won't be a one-off, and Maydena will be investing the time and effort to grow the Endro Jam in the coming years.
The course
With the event coming up this weekend, Maydena has revealed what trails will be used for both the Open and Pro Jams.
Friday, March 25
Stage 1 – Surf and Turf: Beach Babe – Warata – Wicked Styx
Stage 2 – Melting Pot: Supercross – Evergreen – Funky Cold – Scandinavia – Handi Scandi – Tynnea
Pro Stage 1 – Yaaaa.. Na: Gnar Yea – Marriotts – Billy Bob
Saturday, March 26
Stage 3 – The Brown Snake: King Brown – Upper Cut – Creekside
Stage 4 – Fangorn Forest: Middle Earth – Outer Limits
Bonus Jam: Lower Outer Limits
Pro Stage 2 – Ol Mate DH: East Side – Old Made Cobba – Dirt Surfer – Lower DH
Sunday, March 27
Stage 5 – Nature Walk: Pandani – Waratah – Beef Chief – Spirit Quest
Stage 5 – Mathematics: Moss Boss – The Local – Moss Def – Fire Road – South Crescent
Pro Stage 3 – The Beeline – Lower Styx & Stones – Waratah – Wedge Tail – Pamela – Thrashy – Director
Kids and Sample Jam
Stage 1: Dirt Surfer – Green Mile
Stage 2: Scandinavia – Tyenn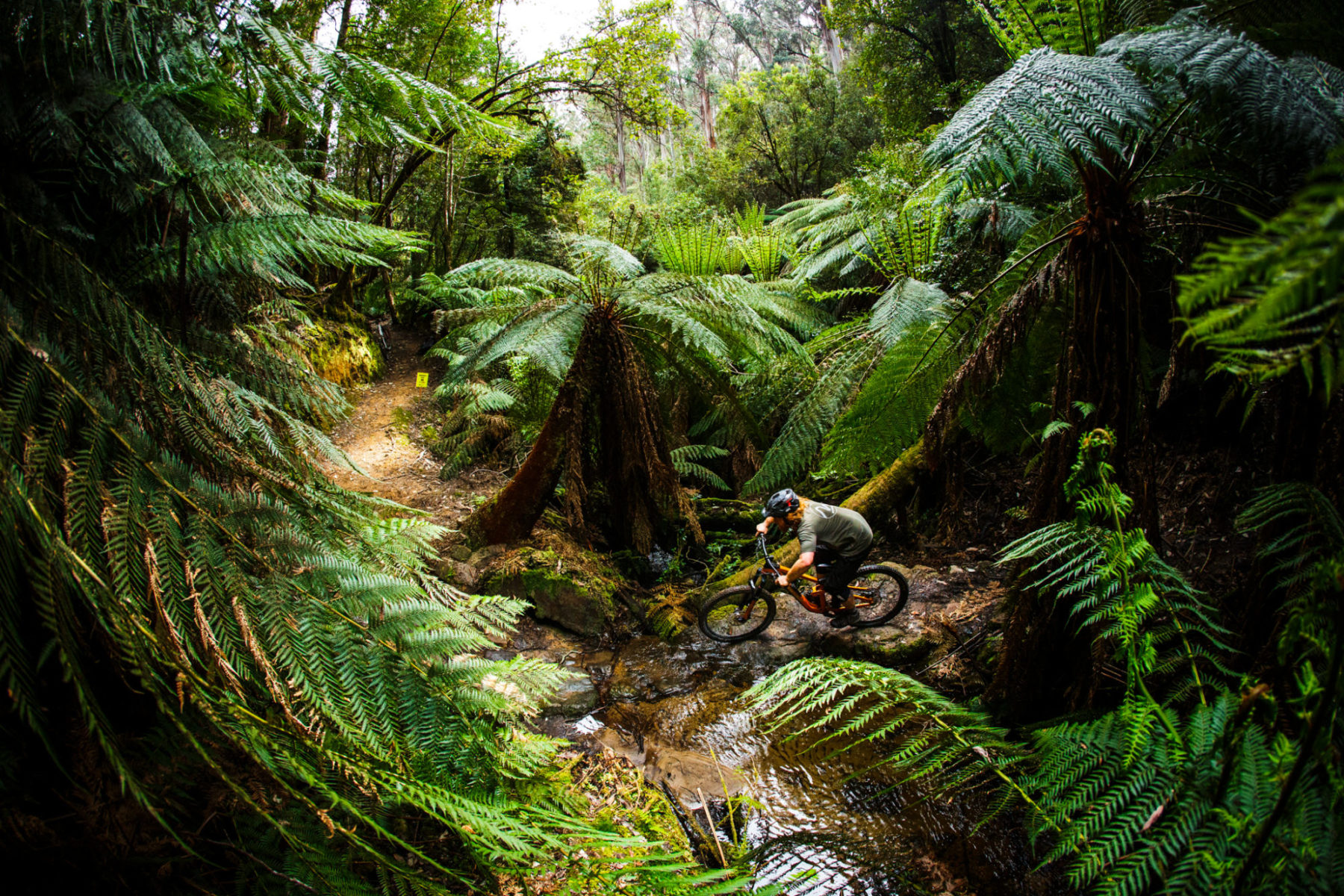 The whip off
After the rider presentations, the spotlight will move to the dirt jumps for a whip off on Saturday evening. Again, it's a tried and true format; the rider who gets the closest to 90-degrees wins — there will undoubtedly be some perpendicular bikes and big crashes.
At the same time, the bike park will fire up the BBQ and make sure the cold drinks are flowing, and Tassie artist Pete Cornelius will be playing a live set in the base area.
Entries for Maydena Enduro Jam are open now; pop on over to the Maydena website to register.
---
Photos: Ryan Finlay/@rfphotographics