Trek Australia has just wrapped up its first-ever women's freeride MTB progression camp, Momentum. At the beginning of March, a group of young lady shredders descended on Mansfield, VIC, to work with coaches and mentors, and in the process building the foundation for a women's freeride movement in Australia.
Momentum is the brainchild of Harriet "Haz" Burbidge-Smith, and came about from her experience riding in Red Bull Formation and Casey Brown's Dark Horse Invitational.
---
Watch highlights from the Trek Momentum women's progression camp
---
"The freeride movement for women is massive overseas, and seeing how we've progressed as a group together, I was so inspired. Nothing like that was happening in Australia, and there is this big gap to fill," she says. "A lot of girls never get to experience that and ride high level (slopestyle) courses until they go overseas, so there was a great opportunity to do something like that in Australia."
With the fire lit, Burbidge-Smith approached her sponsors with an idea for an event.
"When she Haz was trying to make it to that next level, she never really felt like she had that additional support," says Ashley Longshaw from Trek Australia. "And now that she has become a world-class freeride athlete, she wants to make sure that these girls have something to look up to, and mentors that can have a positive influence on their riding."
As the home of the Highline MTB festival and the kickoff of the Australian Slopestyle Tour, Mansfield was the obvious choice of venue; Burbidge-Smith assembled a crack team of Caroline Buchanan, Mike Ross, and Zoe Cuthbert to help riders build their skills on the bike.
"It was a great close-knit group of girls that came together to grow their skills. It blew my mind what they achieved over a few short days. It was incredible," says Ross.
Related:
It's not just about the bike
While technical skills and repetition are foundational to becoming a better bike rider, the mental aspect is an oft-overlooked ingredient to progressing as an athlete.
Which is why Burbidge-Smith also brought in Maddi Costanzo, a Performance Coach and Sports Psychologist, to arm the campers with the tools they needed to overcome the mental roadblocks that can arise when you're staring at a wooden jump for the first time.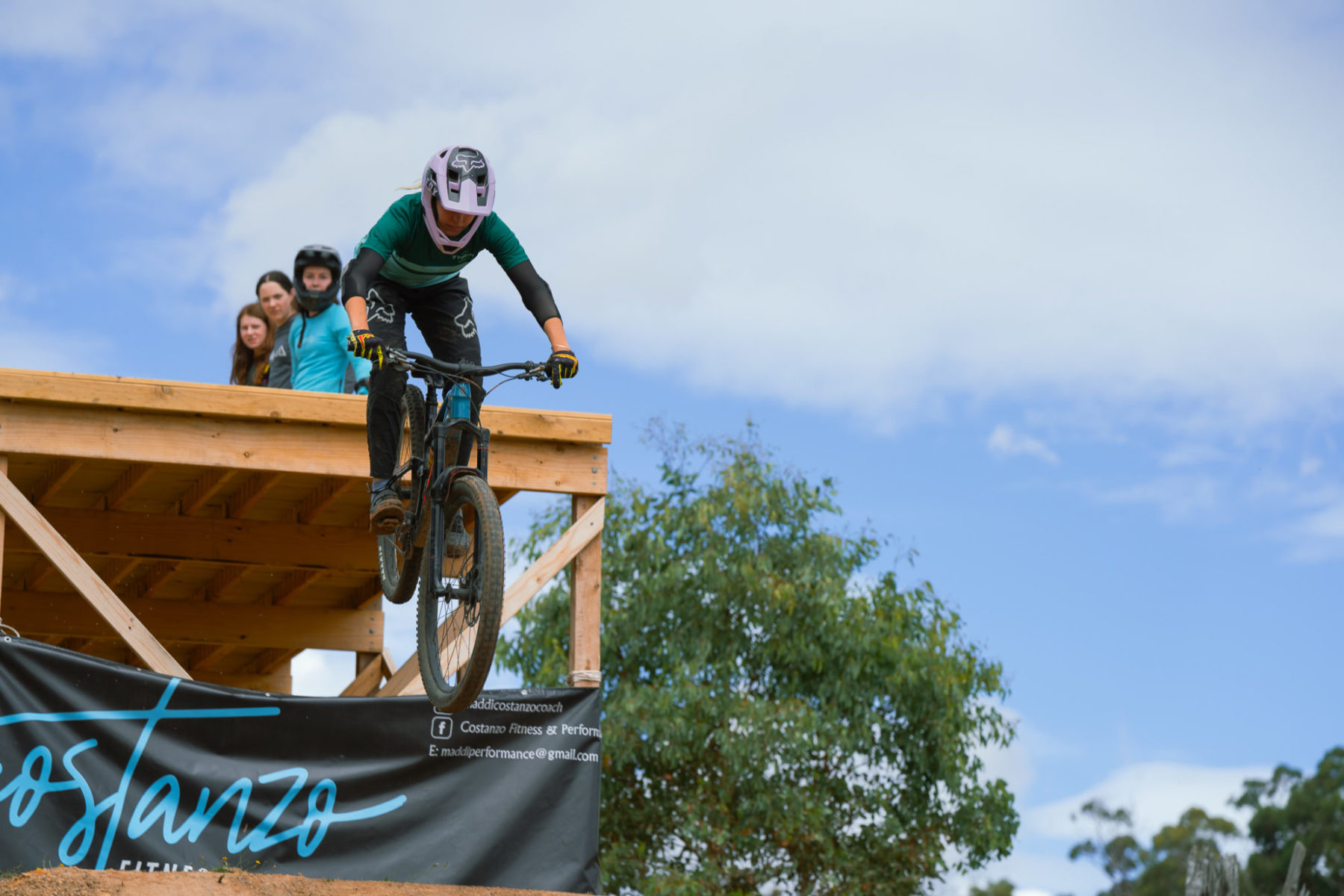 "These riders would come to me because they had some sort of fear; it's only human nature when you're looking at a big jump or a drop. I was there to help them settle their thoughts and teach them to work through the fear," Costanzo says.
"It was amazing to have a chat with these girls and then 20-minutes later to see them nailing these jumps they were too scared to hit, and put what we worked into practice right away," she continues.
Building the momentum with the crew
Only a handful of girls were invited to participate in the inaugural Momentum camp. This wasn't to create an air of exclusivity; it was out of necessity because there simply aren't all that many local girls in this space — yet.
Trek Momentum invited riders
Ellie Smith
Leyla Sharman
Sarah Nicki
Katie Lawlor
Georgia Henness
Tilly Henness
Ruby Jacobson
Elise Empey
Lucie van der Schalk
Sacha Mills
"There is no scene for freeriders. There are no competitions where I could look at results to find the names of riders," says Burbidge-Smith.
So she put the feelers out over social media and started looking through downhill results, the start list for the Whip Off at the Cannonball MTB Fest, and dipped into the BMX clan, among other places, to find out who might be interested.
And by casting such a wide net, Burbidge-Smith was able to reach a group of young ladies across a range of ages and from a variety of riding backgrounds. The campers ranged from downhillers who'd never hit a wooden jump to BMXers who didn't have much, if any, experience on a mountain bike.
"We had all these girls who freeride was not their discipline. And to not just go out there and give it a go, but after two days say, 'oh, now I'm going to try a trick,' their determination was unbelievable'," says Longshaw.
Buchanan continues, "I think that's part of what made them all believe in themselves, and vibe off the different skill sets of one another. To have that diversity of cross country, enduro, downhill, BMX, and basically every category of mountain biking, they were able to talk to each other and not just rely on the coaches and mentors for advice, but also to lean on each other for encouragement."
This environment created a hotbed for progression, and by the end of the first day, every athlete had ticked off all the features on the mini-slopestyle course, and was ready to move onto the bigger features.
The bigger picture
If nothing else, Momentum and events like it create the opportunity for young riders, especially female riders, in a predominantly male-dominated discipline, the chance to test the waters and see if freeride is for them.
While mountain biking, on the whole, is growing at lightspeed, freeride is still developing, and at last year's Highline MTB Festival, Burbidge-Smith was the only female rider. The momentum (pun intended) from this progression camp is already serving as a springboard for women's freeride in Australia.
"They walked away with so much, they all had big smiles on their faces, and great friends and connections. From what I've been told, more than half of them have signed up to compete in Highline in a few weeks. If we wouldn't have held this camp, I bet you it would have been Haz and I, and maybe one other girl," says Buchanan.
"If we get eight or 10 girls at the first FMB stop in Australia, then for the rest of the stops in Europe and North America, they're going to see that and go, 'man Australia had 10, what are we doing?' This one exercise has already created a movement, and I can't wait to see the flow-on effect," she says.
Longshaw tells Flow that the overwhelming feedback from the riders is that, "this is the best thing that's ever happened." The goal of Trek Momentum is not just to be a one-off, to generate feel-good stories, but instead to become a legacy event that continues to foster a growing scene in the mountain bike community.
For next year, Burbidge-Smith and Longshaw are hoping to add more features, space for more riders, and possibly open the camp up to international riders and coaches — borders willing.
---
Photos: Vibe Imagery / @vibe.imagery