Mick & Wil review the 2021 Canyon Spectral 29
First unveiled to the world back in 2014, the Spectral arrived as Canyon's aggressive long travel trail bike, slotting in between the Neuron and Strive. It sure didn't take long for it to become one of the German brand's most popular models either, thanks to its comfortable riding position, versatile 'Sure, I can do it all!' outlook, and impressive bang for buck. The Spectral was then totally revamped in 2017, adopting the new horizontal shock placement and a burlier outfit to enhance its excitable, party-forward attitude. We've tested both the carbon Spectral CFR and alloy Spectral AL models previously, and there's no denying that they're a whole load of bike for the money, with a distinct focus on fun and agility. But things have moved on considerably over the past three years, and both our wants and needs of a long-travel trail bike have evolved rather dramatically. To address the shifting goalposts, Canyon presents to us this bike here; the completely rethought, redesigned, and reengineered third generation Spectral – a bike that we think is going to be very popular indeed.
---
Watch our video review of the new Canyon Spectral 29 here!
---
Ride High Country Test Sessions
Prior to the public launch, Canyon sent us a new Spectral 29 CF 8.0, which I first setup and rode on local trails, before bringing it over to Beechworth in the Victorian High Country to test alongside my dashing colleague, the Marvellous Mick Ross. We chose the Beechworth MTB Park as a test location due to its varied terrain and its combination of technical climbs, traction-testing corners, high-speed granite boulder smash-fests, and awkward slow-speed jank. Ideal territory for a do-it-all bike like the Spectral 29, and an area we've grown very fond of visiting over the past few years. We had a load of fun during our week in town, so be sure to check out the video, it's a hoot!
Canyon Spectral 29 overview
We'll get that bit out of the way first. Yes, after six years of holding 27.5in wheels close to its chest, the Spectral has (finally) gone full 29er. That part was a given – after a few years of offering both wheelsize options, more brands seem to be settling on 29in wheels exclusively for bikes within this travel bracket. We're talking the likes of the Specialized Stumpjumper EVO, Giant Trance X and Commencal Meta TR. No surprises here then – it really was only a matter of time before Canyon would respond to consumer demand and bring big wheels to the Spectral.
Suspension travel remains the same with 150mm of rear wheel travel, and depending on the model, a 150mm or 160mm travel fork. The Spectral's overall frame layout also carries over, but don't be fooled by the familiar shape – the chassis is totally new, with a bucket-load of changes, refinements and some of the most progressive numbers we've seen from Canyon to date.
Geometry
Conservative Canyon? No way! Far from just having big wheels squeezed into it, the Spectral 29 gets a wholesale revamp of its geometry too. Given the brand's typically conservative approach, we expected a gentle tweak of the numbers, but that most certainly has not been the case.
Compared to the Spectral 27.5, the head angle on the Spectral 29er is slacker by two degrees, the seat tube is steeper by three degrees, and the reach has been made considerably longer. On our Medium test bike, you're now looking at a more contemporary 460mm (an increase of 25mm).
Canyon has also finally addressed one of our biggest complaints of previous models, lobbing noticeable length off the seat tube, which means a better fit with long-stroke dropper posts. Head tubes have also gotten a lot shorter, and despite the bigger wheels, the top tube is actually lower than the Spectral 27.5, increasing standover clearance.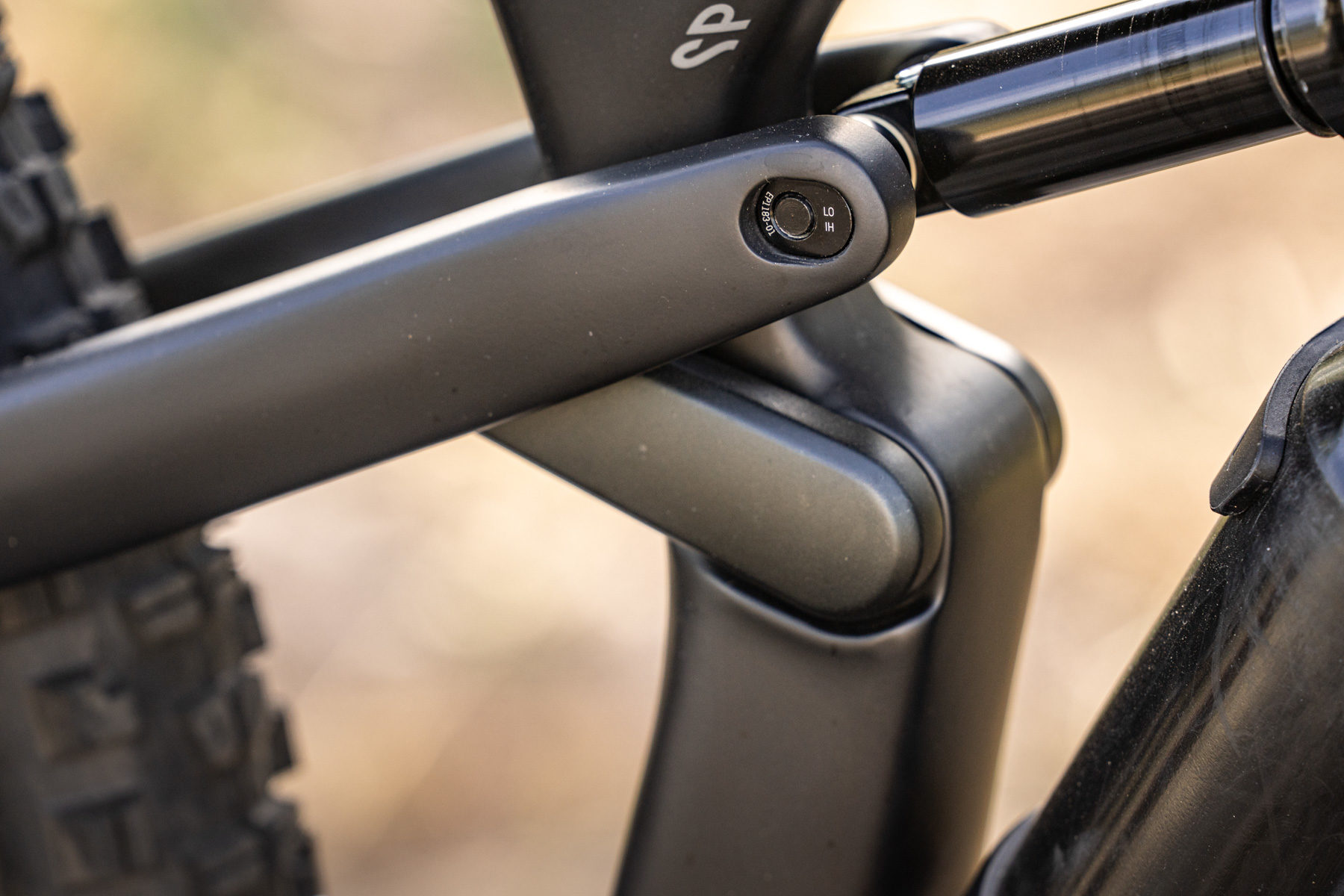 Frame features
The Spectral 29 is also the first Canyon mountain bike to feature a geometry flip chip. Sure, you'll find on-the-fly adjustable geometry on the Strive thanks to the Shapeshifter system, and the latest Sender downhill bike gets adjustable reach and chainstays, but this is the first time we've seen Canyon introduce an actual flip chip for modifying the angles.
Located in the lower shock eyelet, the two-position chip offers both LO and HI positions. The bike comes shipped in the LO position, and flipping said chip will steepen the head angle by 0.5° and lift the bottom bracket height by 8mm to provide more ground clearance.
Oh if you're eyeing off that flip chip as a potential gateway to Mulletville™, we'll stop you right there because Canyon doesn't officially recommend it. This bike has been specifically designed around 29in wheels, and Canyon reckons there'd be too much of a compromise with slotting a 27.5in wheel in the back, even if you did lift it into the HI position. That clear?
Canyon reckons it's lighter AND stiffer
As for weight, compared to the existing top-end Spectral 27.5 CFR chassis, the new Spectral 29 CF is allegedly lighter by 63 whole grams. That really doesn't sound like much, but given the new frame has gotten considerably longer and slacker than the 27.5in version, the fact that it isn't heavier is actually quite impressive.
Claimed weight is 2,598g, though cheekily Canyon lists the frame weight with all the hardware, but without a rear shock. Once you add in the big Fox Float DPX2, that figure grows to 3,047g – respectable, though heavier than the claimed weights for both the Stumpjumper EVO (2,750g) and Trance X Advanced Pro 29 (2,498g).
Canyon informs us that chasing the lowest possible weight wasn't a primary goal here though. Improving stiffness was, and even with the longer reach and chainstays, the new Spectral 29 CF chassis is also claimed to be stiffer than its predecessor. There have been gains at the head tube, and you'll spot that the seatstays are now a one-piece structure, with a bridge betwixt them behind the seat tube. Following in the footsteps of the Sender downhill bike, the chainstays are absolutely gargantuan. They're the only part of the frame that's actually gotten heavier, with an extra 90g of carbon having been employed to help reinforce the back end.
Goodbye cable tunnel & IPU
Sadly, the Cable Tunnel system that was rolled out on the current Spectral 27.5 is no longer a feature on the Spectral 29. Instead, the cables are now sent inside the frame via bolt-in ports and internal guide tubes. We're told this system is actually quicker for cable replacement though, and Canyon promises that if you poke a new cable/hose into the chainstay port, it should just pop out up at the head tube. It certainly gives the bike a cleaner look with fewer bolts and pieces of plastic, though we quite liked the previous method that kept the cables external to the frame tubing, while protecting them underneath the bolt-on armour.
Also gone is the IPU (Impact Protection Unit) headset. The reason? It's simply no longer needed – the top tube on the new frame is low enough that it provides plenty of rotational clearance for the shifter, brakes and dropper lever, even with the stem slammed.
Another change for the new Spectral 29 is the move from an internal wedge for the seatpost clamp, to a more conventional external clamp. Canyon says this is for weight and aesthetic reasons, since the wedge-less seat tower can be made slimmer and lighter. It sure looks nicer too.
Hello frame storage
The concept of on-board frame storage does carry on with the new Spectral 29 though. The execution is a little different – there's now a single threaded boss underneath the top tube, which is there to accommodate Canyon's own accessory holster for strapping on a spare tube and CO2 canister. While it's an elegant looking solution, unfortunately the storage hop-up kit wasn't available at the time of launch. We're told customers will be able to purchase this accessory in early 2021.
Workshop-friendly hardware
Brought over from the latest Sender, the Spectral 29 also receives new pivot hardware with replaceable threaded inserts. The idea here is to prevent the frame from being damaged in the event of a stripped thread, since the threaded component can be replaced. Furthermore, with the exception of the drive side chainstay pivot, all hardware is accessed from the non-drive side with a single hex key to make bolt checks a little quicker and easier.
In terms of frame protection, the Spectral 29 gets a bolt-on armour plate over the downtube's key strike zone, and there's a new knobbly chainstay guard that promises peaceful performance on the trail. Further chain security is delivered by Canyon's own minimalist upper guide, though an ISCG adapter can be purchased separately for rowdier folk who require a full-coverage guide and bash plate.
Will there be a Spectral 29 AL?
Nope. Well, not right now anyway. Canyon is remaining tight-lipped about a Spectral 29 AL, though given how popular we expect this platform to be, we have no doubts an alloy version is in the works. As for when it'll be available? If the latest Neuron is anything to go by, we might be waiting another model year before we see a Spectral 29 AL, so don't hold your breath.
If you desperately need a metal Spectral in your life sooner, it's worth noting that Canyon will continue to produce the alloy Spectral 27.5, and it'll keep rolling with the Spectral 27.5 CF for a while longer too. For pricing and spec info on those bikes, check out our overview of the 2021 Spectral & Neuron range here.
Canyon Spectral 29 price & specs
Canyon will be launching the Spectral 29 range with four models built around the same carbon fibre chassis. Pricing starts at a very competitive $5,149 AUD for the CF 7.0, and goes up to $9,399 AUD for the CF LTD.
It's worth noting that there are some key differences between the models. Both the 7.0 and 9.0 models come with RockShox suspension, which includes an in-line Deluxe shock and a lighter 150mm travel Pike fork. They also feature G2 brakes and a faster-rolling Maxxis Dissector rear tyre. Overall weight is a bit lower for these two models.
In comparison, the 8.0 and LTD models feature Fox suspension, which come with a DPX2 piggyback rear shock and a chunkier 36 GRIP2 fork with 160mm of travel. Because of the longer fork, the geometry is slightly slacker on the 8.0 and LTD models. You also get a toothier Minion DHR II tyre on those bikes, providing a slightly tougher and heavier package all-round.
Read on for a closer look at the specs and pricing for the Spectral 29er lineup, followed by our review of the CF 8.0 model we've been testing.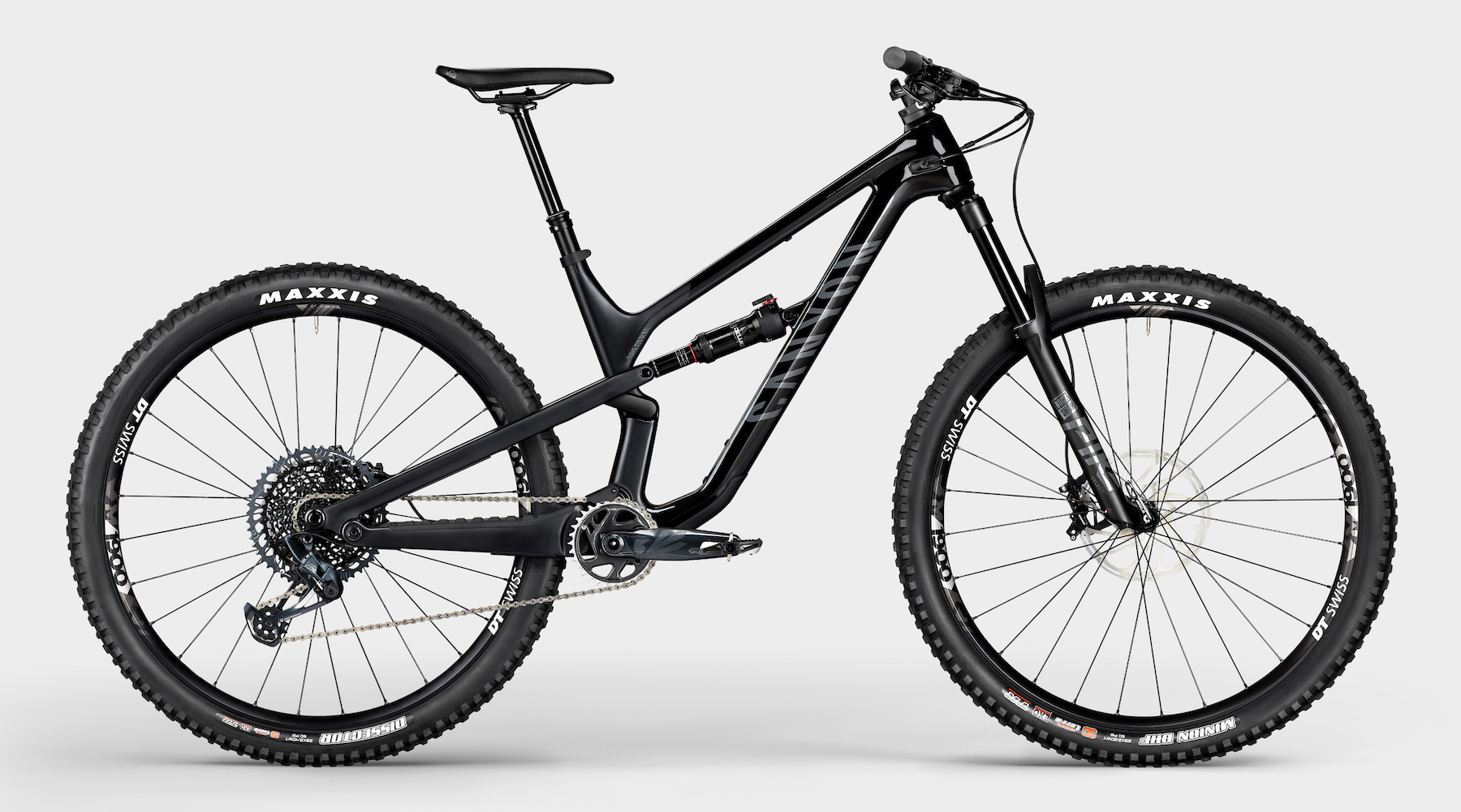 2021 Canyon Spectral 29 CF 7.0
Frame | CF Carbon Fibre, Triple Phase Suspension Design, 150mm Travel
Fork | RockShox Pike Select RC, 42mm Offset, 150mm Travel
Shock | RockShox Deluxe Select+, 230×60mm
Wheels | DT Swiss M1900, Alloy Rims, 30mm Inner Width
Tyres | Maxxis Minion DHF EXO 3C Maxx Terra 2.5in Front & Dissector EXO 3C Maxx Terra 2.4in Rear
Drivetrain | SRAM GX Eagle 1×12 w/32T Crankset & 10-52T Cassette
Brakes | SRAM G2 4-Piston w/200mm Front & 180mm Rear Rotors
Bar | Canyon G5 Riser Bar, 31.8mm Diameter, Width: 760mm (S), 780mm (M-XL)
Stem | Canyon G5, 40mm Length
Seatpost | Canyon Iridium, 30.9mm Diameter, Travel: 150mm (S-M), 170mm (L-XL)
Saddle | Ergon SM10 Enduro Comp
Claimed Weight | 14.16kg
RRP | $5,299 AUD (plus shipping)
2021 Canyon Spectral 29 CF 8.0
Frame | CF Carbon Fibre, Triple Phase Suspension Design, 150mm Travel
Fork | Fox 36 Float, Performance Elite, GRIP2 Damper, 44mm Offset, 160mm Travel
Shock | Fox Float DPX2, Performance Elite, 230×60mm
Wheels | DT Swiss XM1700, Alloy Rims, 30mm Inner Width
Tyres | Maxxis Minion DHF EXO 3C Maxx Terra 2.5in Front & Minion DHR II EXO 3C Maxx Terra 2.4in Rear
Drivetrain | Shimano Deore XT 1×12 w/32T Crankset & 10-51T Cassette
Brakes | Shimano Deore XT 4-Piston w/203mm Front & 180mm Rear Rotors
Bar | Canyon G5 Riser Bar, 31.8mm Diameter, Width: 760mm (S), 780mm (M-XL)
Stem | Canyon G5, 40mm Length
Seatpost | Canyon Iridium, 30.9mm Diameter, Travel: 150mm (S-M), 170mm (L-XL)
Saddle | Ergon SM10 Enduro Comp
Claimed Weight | 14.44kg
RRP | $6,749 AUD (plus shipping)
2021 Canyon Spectral 29 CF 9.0
Frame | CF Carbon Fibre, Triple Phase Suspension Design, 150mm Travel
Fork | RockShox Pike Ultimate RCT3, 42mm Offset, 150mm Travel
Shock | RockShox Deluxe Ultimate, 230×60mm
Wheels | DT Swiss XMC 1501, Carbon Rims, 30mm Inner Width
Tyres | Maxxis Minion DHF EXO 3C Maxx Terra 2.5in Front & Dissector EXO 3C Maxx Terra 2.4in Rear
Drivetrain | SRAM X01 Eagle 1×12 w/32T X1 Carbon Crankset & 10-52T Cassette
Brakes | SRAM G2 RSC 4-Piston w/200mm Front & 180mm Rear Rotors
Bar | Canyon G5 Riser Bar, 31.8mm Diameter, Width: 760mm (S), 780mm (M-XL)
Stem | Canyon G5, 40mm Length
Seatpost | OneUp V2, 30.9mm Diameter, Travel: 150mm (S-M), 170mm (L-XL)
Saddle | Ergon SM10 Enduro Comp
Claimed Weight | 13.42kg
RRP | $8,149 AUD (plus shipping)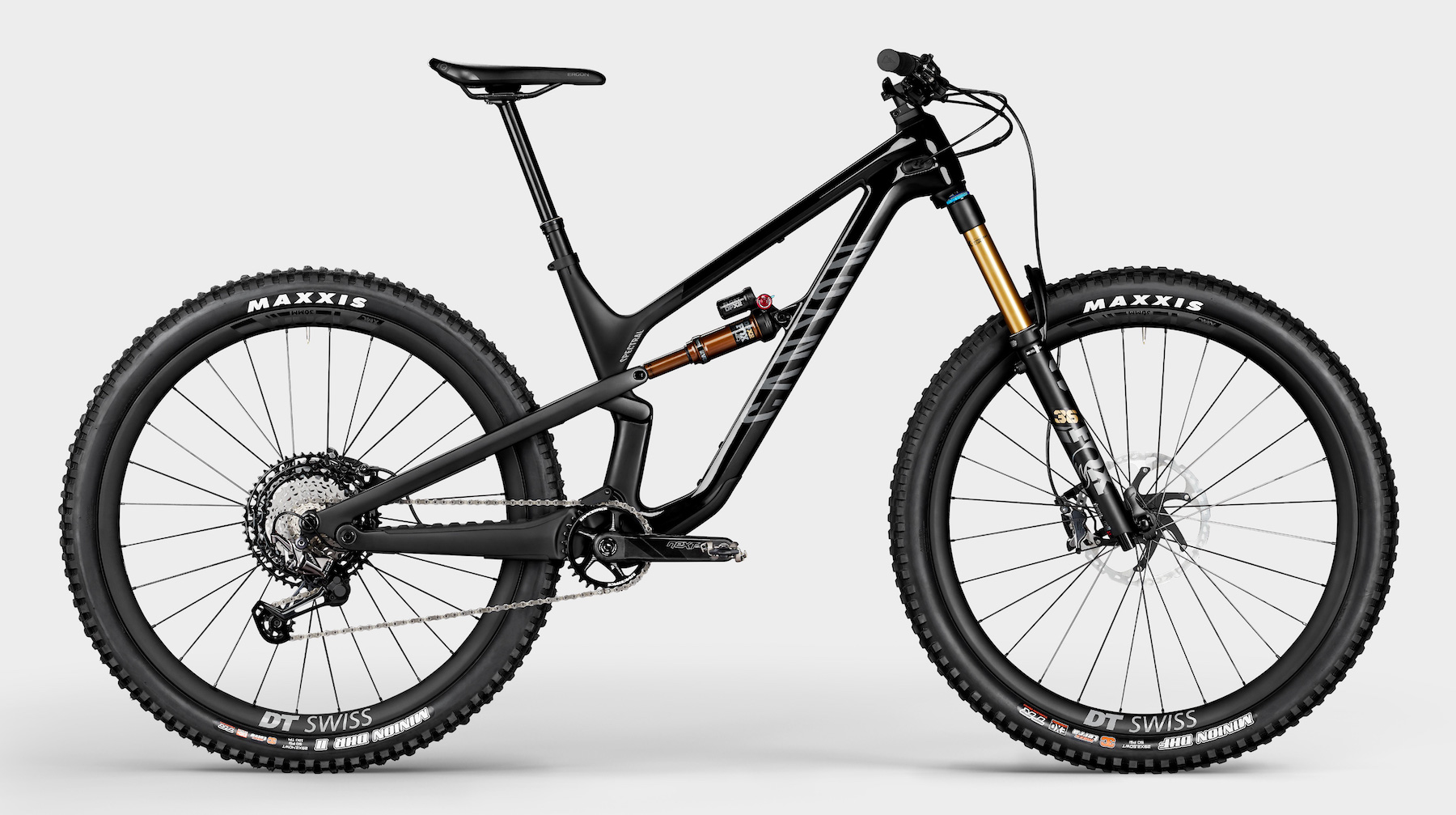 2021 Canyon Spectral 29 CF LTD
Frame | CF Carbon Fibre, Triple Phase Suspension Design, 150mm Travel
Fork | Fox 36 Float, Factory Series, GRIP2 Damper, 44mm Offset, 160mm Travel
Shock | Fox Float DPX2, Factory Series, 230×60mm
Wheels | DT Swiss XMC 1200, Carbon Rims, 30mm Inner Width
Tyres | Maxxis Minion DHF EXO 3C Maxx Terra 2.5in Front & Minion DHR II EXO 3C Maxx Terra 2.4in Rear
Drivetrain | Shimano XTR 1×12 w/32T Race Face Next SL Carbon Crankset & 10-51T Cassette
Brakes | Shimano XTR 4-Piston w/203mm Front & 180mm Rear Rotors
Bar | Canyon G5 Riser Bar, 31.8mm Diameter, Width: 760mm (S), 780mm (M-XL)
Stem | Canyon G5, 40mm Length
Seatpost | OneUp V2, 30.9mm Diameter, Travel: 150mm (S-M), 170mm (L-XL)
Saddle | Ergon SM10 Enduro Comp
Claimed Weight | 13.57kg
RRP | $9,849 AUD (plus shipping)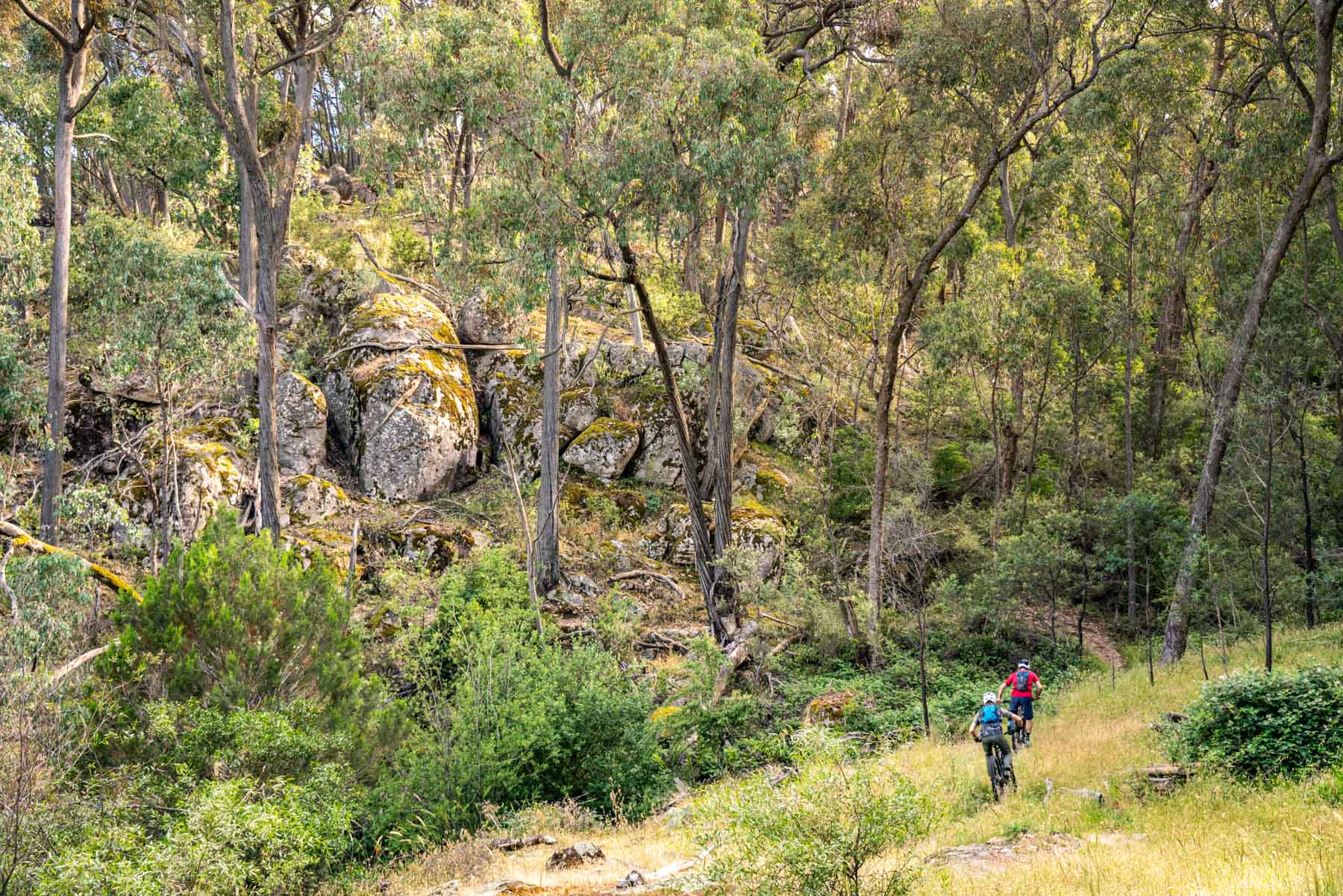 Testing the Canyon Spectral 29 CF 8.0
One step up from the entry-level spec, the CF 8.0 we've been riding is adorned with a promising spec out of the box. As many fellow riders and onlookers agreed, it's a good-looking bike too, though it really could not be any blacker than it is. Good to know then that Canyon will offer both Mild & Wild colour options for each Spectral 29 model, so you don't have to go full-goth if you don't want to.
Confirmed weight for our Spectral 29 CF 8.0 test bike is a respectable 14.4kg, and that's without pedals with the tyres setup tubeless.
Canyon Spectral 29 sizing & fit
At 175cm tall, I elected for a Medium size, which would prove to be a good match for Mick too, who's a touch taller at 178cm.
On the note of sizing, I've occasionally battled with Canyon trail bikes in the past due to their unfashionably long seat tube lengths. Having a relatively low saddle height for my stature, I've always had the outer collar of the dropper post slammed down as far as it can go, and even then I've occasionally still found the saddle to be too high. The good news is that Canyon has finally listened to all our whinging, and has lobbed 10mm off the seat tube length on the Medium frame. The result is more flexibility with the saddle height, and for riders with longer legs than mine, the option to go longer than the stock 150mm travel dropper post.
The shorter seat tube also gives more flexibility for those who fancy upsizing. That being said, the new Spectral 29 is a considerably bigger bike to begin with. The 460mm reach on our Medium is very generous, and even with the stubby 40mm stem, the cockpit is noticeably longer than the 27.5in version. Combined with the slacker head angle, the front wheel sticks quite a bit further out ahead when you're astride the bike. As such, I foresee less riders needing to upsize on the Spectral 29.
Suspension & tyre setup
Canyon recommends setting up the rear shock with 30% sag. It's a big banger too, with a 60mm stroke and the big LV air can. This sees the leverage ratio averaging out at 2.5:1, so there's quite a lot of shock activity per mm of rear wheel travel, particularly early on.
For my 68kg riding weight, I ran 190psi inside the air spring and set the rebound damping halfway. The shock comes with a 0.4³ volume spacer inside, and there's flexibility to go larger or smaller, depending on the spring rate you're after. More on that in a bit.
As for the fork, I've found Fox's recommended air pressures to be a little high with the 36 GRIP2. Instead of 78psi I'm running 70psi, and relying a little more on the damper for control, with a couple clicks of high-speed compression, and the low-speed compression set almost halfway.
Before hitting the dirt, a Tyreinvader insert found its way into the rear wheel to provide a little more protection for the EXO tyre casing. I then set the tyres with 21psi in the front and 24psi in the rear, and set off into the sunset.
It's a much better pedaler & climber
It's immediately apparent that the new Spectral 29 is a faster and more efficient pedaler than its smaller-wheeled sibling – a bike that we've previously found to be sluggish on the climbs – and there are a few reasons for this.
Firstly, Canyon has moved away from spec'ing the gooiest Maxxis tyre compound on the Spectral – both with the current 27.5in version and this new 29er. The Minion DHF/DHR combo isn't the fastest rolling rubber going, but the 3C Maxx Terra compound is significantly less draggy than the 3C Maxx Grip tyres that came on last year's Spectral AL 6.0, and it's also much harder wearing too.
The suspension kinematics have also been refined on the Spectral 29, which features more anti-squat around the sag point. Whereas the 27.5in Spectral sat closer to 80% anti-squat in the lowest gear, the Spectral 29 has been boosted to just under 100%, which improves its response under power. It's no XC bike, but even in the Open position the shock is sufficiently well behaved during seated pedalling, especially for what is an otherwise active four-bar suspension platform. I'm more of a sit-n-spin type of climber, so anytime I was riding off-road I left the shock in the Open position – I never felt the need to toggle the blue compression lever unless I was on tarmac. Mick's a more aggressive climber who tends to push a higher gear though, so he did make regular use of the shock's Medium compression position on the climbs, which helped to stabilise the shock without compromising on traction.
The drastically steeper seat tube angle also makes a huge difference on the climbs, helping to centralise you between the wheels. With my saddle height being on the lower side, the effective seat tube angle is actually a little steeper than claimed – I measured it at 77°, and that's in the LO position. The result is a comfortable and efficient climbing position, with less of your weight hanging off the back wheel, and with less shock wallowing as the gradient cranks upwards.
Overall the Spectral 29 is a far better climber than the Spectral 27.5. As well as being more efficient, the longer wheelbase keeps it more planted on technical ascents, so there's less of a tipping sensation when you're at rock-crawling speeds. I did found myself pining for a smaller 30T chainring on occasion, given this is a big 150mm travel 29er. Canyon says that while a 32T chainring is optimal, it's possible to run a 30-34T chainring on the Spectral 29.
You will need to concentrate a bit more to keep the front wheel from wandering on tight uphill switchbacks, which is par for the course when your bike has a 64° head angle. Traction is otherwise fabulous though, and the stiff carbon frame translates rider inputs with minimal lag.
Despite the low bottom bracket, we didn't encounter too many horrible rock-strike moments during testing. As such, we happily left the geometry chip in the LO position. However, it's worth noting that the 160mm fork does prop the bike up a little more compared to the Spectral 29 models that come with a 150mm fork. Riders who choose the CF 7.0 or CF 9.0 may find more reason to try the HI geometry position for the extra 8mm of ground clearance.
Progressive suspension performance
Despite the improved pedalling manners, the Spectral 29 still offers very smooth and active suspension performance, and it's noticeably plusher than the Strive. The leverage ratio is quite high to begin with, and the big volume DPX2 offers a nice, supple action early on. Deeper into the travel the support begins to build though, ramping up considerably in the final third of the travel.
According to Canyon, the Spectral 29 is even more progressive than the 27.5in model, with 29.5% progression over its full travel range. You can even fit a coil shock if you fancy, though depending on the shock you choose, you might infringe on water bottle clearance.
The increased progression means the Spectral 29 does has more mid-stroke support over the 27.5in model, but we also struggled to get full travel out of the rear shock. On bigger repeat hits, the suspension felt a little overloaded and could occasionally buck – something that was particularly noticeable with flat pedals. This wasn't due to pedal kickback though. In fact, the Spectral 29 has less kickback in the final third of the travel compared to the 27.5in version, and there's quite a neutral relationship between chain torque and suspension action. No, this sensation is purely down to how the shock ramps up as you're getting towards hitting full straps.
To address this, I swapped the stock 0.4³ volume spacer for a smaller 0.2³ volume spacer, which helped to free up the end of the travel. Air pressure and sag remained the same, but with the increased volume, I found the travel was more reactive deeper into the travel. Even still, there was plenty of big-hit support, and we never once encountered a harsh bottom out.
The takeaway from all that? While the stock setup is likely to suit heavier and more vivacious folks flying down jump-happy flow trails, lighter riders and those chasing maximum plushness for rugged and raw singletrack will want to look at tuning the shock volume to get the feel they want.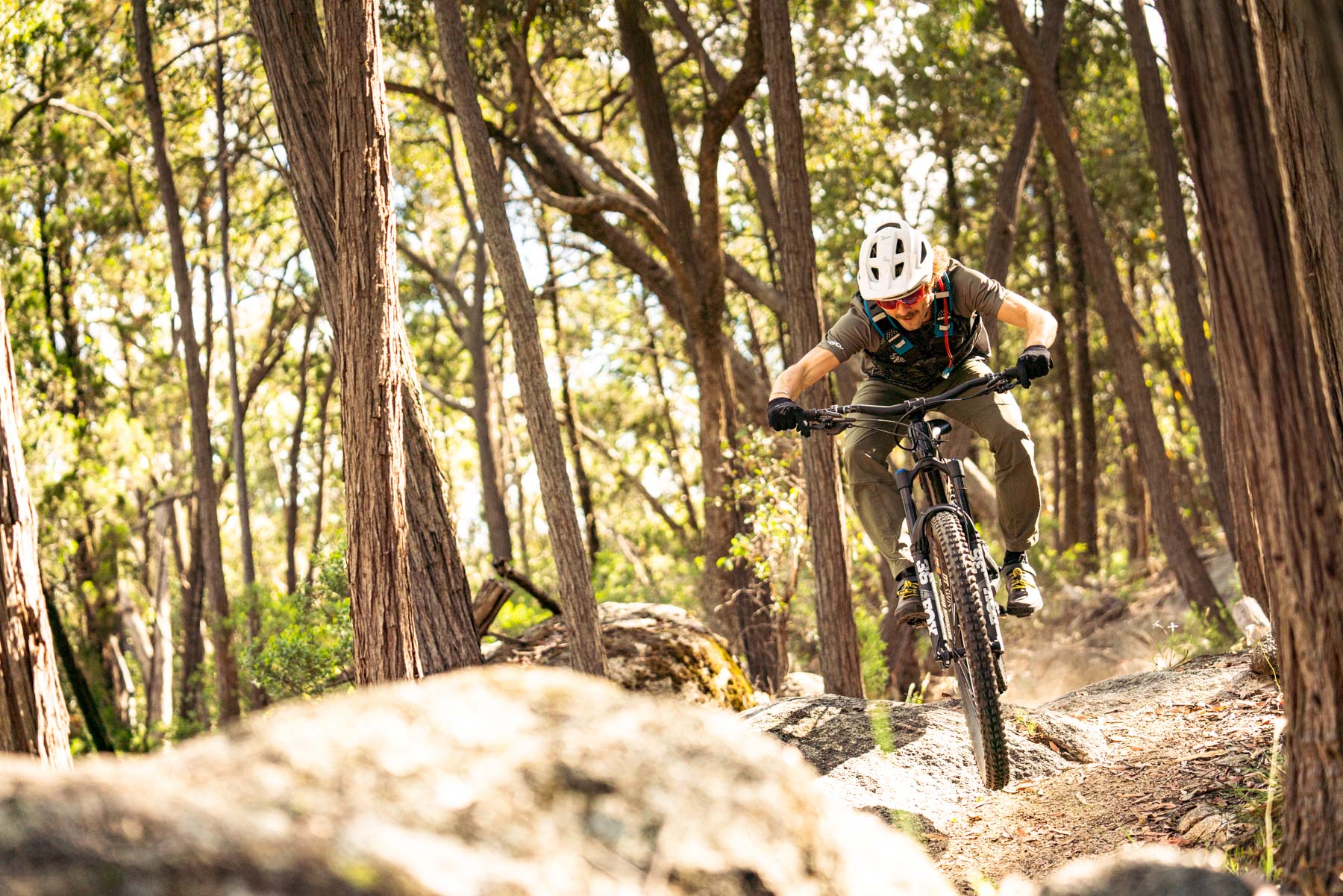 It doesn't need to go full-gas, but it loves to
Once we were happy with the suspension setup, the Spectral 29 rewarded us with more confidence and more speed on each successive ride. This bike is endowed with terrific stability thanks to the slack head angle and 44mm fork offset. There's more trail than the Spectral 27.5 (122mm vs 100mm), and the wheelbase is also a whole 5cm longer too (1224mm vs 1175mm).
While very stable at speed, having spent some time on shorter travel bikes lately, I did initially find myself understeering occasionally on sharper bends. In comparison to the Spectral 27.5, the Spectral 29 isn't as intuitively agile or as playful, particularly at lower speeds.
With that roomy front centre, this bike rewards a slightly more forward-leaning position, and it's quite partial to being bossed around on twisty singletrack. I found straightening my legs and bending my elbows helped to naturally bias more weight onto the front tyre, better maintaining grip – particularly on dry, dusty, traction-poor corners.
In general, turns are best approached with off-the brakes commitment, along with a deliberate lean. Assisting with changes of direction, the 437mm rear centre length is on the shorter side for a big wheeler with this much travel, and the bottom bracket also hangs quite low. Coupled with stiff carbon frame with its beefy chainstays, the Spectral 29 actually carves really well, especially when you're pushing it at a higher tempo.
The responsive chassis assists with rapid changes of direction, making this an easy to manage bike. Unlike some other super-modern geometry bikes we've tested, which feel like they need to be ridden down a vertical wall at Mach 10 for the handling to come alive, the Spectral 29 has a wider performance window. It doesn't punish you for not always being in attack mode, and it's not a total houseboat on tighter, machine-built trails.
However, that stiff carbon frame does mean the ride can be a little pingy and less comfortable on rockier sections – something we noticed on the granite-laden singletrack of the Beechworth MTB Park, though only when we were feeling fatigued towards the end of a ride. As such, you'll want to pay particular attention to tyre pressures and suspension setup with this bike. Overall though, the Spectral 29 rewards a more assertive riding style, with handling and suspension qualities that only get better the faster and harder you push it.
Component highs & lows
Out of the four-tier range, we reckon the Spectral 29 CF 8.0 represents the most tantalising package for the money, and alongside the competition, its value is blatantly obvious.
The new frame exudes refinement, with a tidy gimmick-free approach that trades some of the funky features of the Spectral 27.5 in favour of a cleaner layout. Matching the frame, the new G5 cockpit is similarly refined, and in particular we love the sleek integration between the stem, headset, spacers and head tube. The tactile grips are also lovely, and the Ergon saddle is an excellent choice. Certainly compared to previous Canyons we've tested, the build kit on this CF 8.0 has the most dialled feel right out of the box.
The Fox suspension is superb – there is of course little more we need to say about the 36 GRIP2 fork than we've already said, and the DPX2 shock offers excellent control and perkiness, while also being quite easy to tune. Likewise, the Shimano Deore XT groupset carried out its duties dependably. The finned brake pads rattled like mad on the first ride, though while we couldn't silence them, we were able to quieten them down quite a bit by spreading out the pad springs. If this were my bike, I'd still fit some non-finned brake pads.
The only other issue we encountered was with the dropper post, or to be more specific, with the heavy feel at the thumb lever. The action of the post is great – it's a new design for 2021, and it's noticeably lighter with a faster return speed. The actuator at the base of the post is stickier than others though, and that leads to a higher force required at the remote to activate the dropper.
Canyon Spectral 29 vs Neuron vs Strive
We'll compare the Neuron first, because that ones easier. If you're not familiar with it, the Neuron is Canyon's 130mm travel 29er trail bike. It's quite a sprightly bike, with a bias towards pedalling efficiency and all-day pedalling comfort. The build kit mirrors this – the Neuron comes with lighter and faster-rolling tyres, narrower handlebars and skinnier forks. Compared to the Spectral 29, the Neuron is a more efficient bike to pedal, and it has a more neutral riding position that makes it a great choice for racking up the miles on green and blue-graded trails. When pushing it on more challenging terrain however, its suspension doesn't have anywhere near the same big-hit support, and it is much less planted on the steeps. It feels more like a comfortable, long-legged XC bike, whereas the Spectral 29 is more aggro long-travel rock-smasher.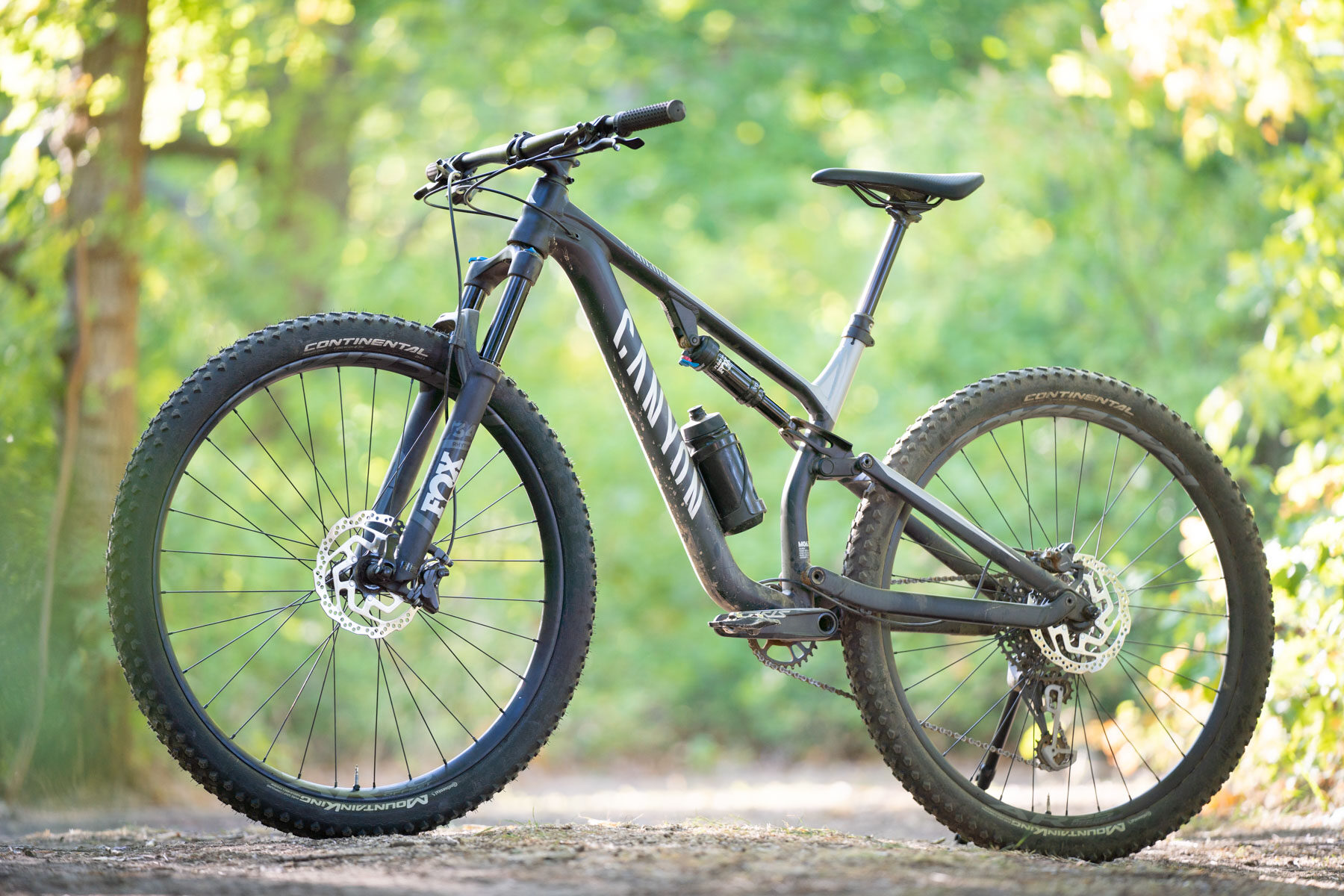 The Strive is a more intriguing comparison, because it actually has the same wheelsize and travel as the Spectral 29. That potentially makes things confusing for those approaching the Canyon range in the search for a new long travel bike. However, there are some key differences to separate the two. The main one is the Shapeshifter system, which gives the Strive on-the-fly adjustable geometry. It's more efficient overall with a firmer pedalling platform, and its geometry is shaper with a shorter reach and steeper head angle. This is actually beneficial for enduro racers, who value efficiency and faster handling for tighter race courses. Indeed Canyon tells us that its EWS team will continue to race on the Strive for the foreseeable future. If racing is your priority, the Strive is more committed to the cause. For riders who are looking for a more versatile trail bike with a bigger focus on fun, then the simpler, plusher and bigger-feeling Spectral 29 is the more party-oriented of the two.
Canyon Spectral 29 vs Specialized Stumpjumper EVO
Of the bikes we've recently tested, the most comparable bike to the new Spectral 29 would have to be the Stumpjumper EVO Expert. It also features 29in wheels, similar geometry and the same 160/150mm travel, and it's also equipped with a carbon chassis and a four-bar suspension platform.
The Stumpjumper EVO is the more adjustable of the two – as well as having a High/Low geometry chip at the chainstay pivot, you also get swappable headset cups for changing the head angle. All up there are six different geometry setups on the Stumpjumper EVO, plus the option to set it up as a mullet with an aftermarket linkage upgrade. On top of that, it also comes with the excellent SWAT door in the downtube, which allows you to carry extra water too.
You do pay for all those extra features though. The Stumpjumper EVO Expert features a similar level of components to the Spectral 29 CF 8.0, including the Fox Performance Elite fork and shock, but it sells for $3,000 more. Of course you buy it through a bricks & mortar bike shop, which does offer advantages over buying a bike online, but that's still a hefty difference in price – it's literally 50% more expensive.
Ignoring the price difference for a moment, on the trail the Stumpjumper EVO's suspension feels deeper and more active than the Spectral 29. The EVO's back end more closely mirrors that of the Enduro, with an incredibly floaty feel that does well to disconnect you from trail, with a very plush and responsive feel. In comparison, there's more feedback from the Spectral 29, and it's more likely to get pinged off-line due to its progressive suspension and stiff carbon chassis. The flip-side is that it is it's more efficient and it's a better climber, with more all-round pep on the trail.
Both are plenty capable though – choosing between the two will come down to budget, and how much you value the additional features on the Stumpjumper EVO and its oozy suspension performance.
Flow's Verdict
A lot of folks have been anticipating an aggressive 29er trail bike from Canyon, and the new Spectral 29 delivers on almost every front. Compared to the existing 27.5in version, the Spectral 29 is a better climbing bike, and it's also more stable and controlled on the descents too. Refinements to the frame have resulted in some seriously clean lines, and boosted stiffness helps to keep it quite responsive and manageable for what is a slack, long, and big travel 29er.
The taut carbon frame means the ride isn't the most compliant when things get really chunky though, particularly if you're feeling tired or just riding at slower speeds. And the longer geometry does require a slightly more committed riding style to get the most out of it. Jibby folks and those who value maximum agility will still likely prefer the peppier Spectral 27.5, which will remain in the lineup for the foreseeable future.
But for riders who are chasing a big travel bike with big versatility, smooth, active suspension and confidence-inspiring handling, the Spectral 29 is a brilliant option, and one that we've thoroughly enjoyed riding. Its geometry is very 'now', and it speaks well to the evolving demands of modern trail riding. Add in the rock-solid build kit, quality finish and sharp pricing, and there is very little not to like here.
---
This project was supported by Ride High Country, and we hope you enjoyed the format as much as we have enjoyed putting it together! Be sure to stay tuned for the next instalment of the Ride High Country Test Sessions, where we match up new test bikes to the varied terrain of the Victorian High Country.