Flow Tests The 2021 Pivot Mach 6
The end of the calendar year might not be the typical time to launch a new bike, but then 2020 hasn't exactly been a typical year has it? Looking to sign off on a momentous 12 months with a big-travel bang, Pivot Cycles is ready to unleash its freshest full suspension mountain bike. It's the all-new, totally redesigned Mach 6. And yes, it still has 27.5in wheels. To get a deeper understanding of what the Pivot Mach 6 is all about and why you'd choose it over a 29er, Pivot sent us out a new Mach 6 to put to the test on our home trails. Read on to see how it went down.
---
Watch our video review of the new 2021 Pivot Mach 6 here!
---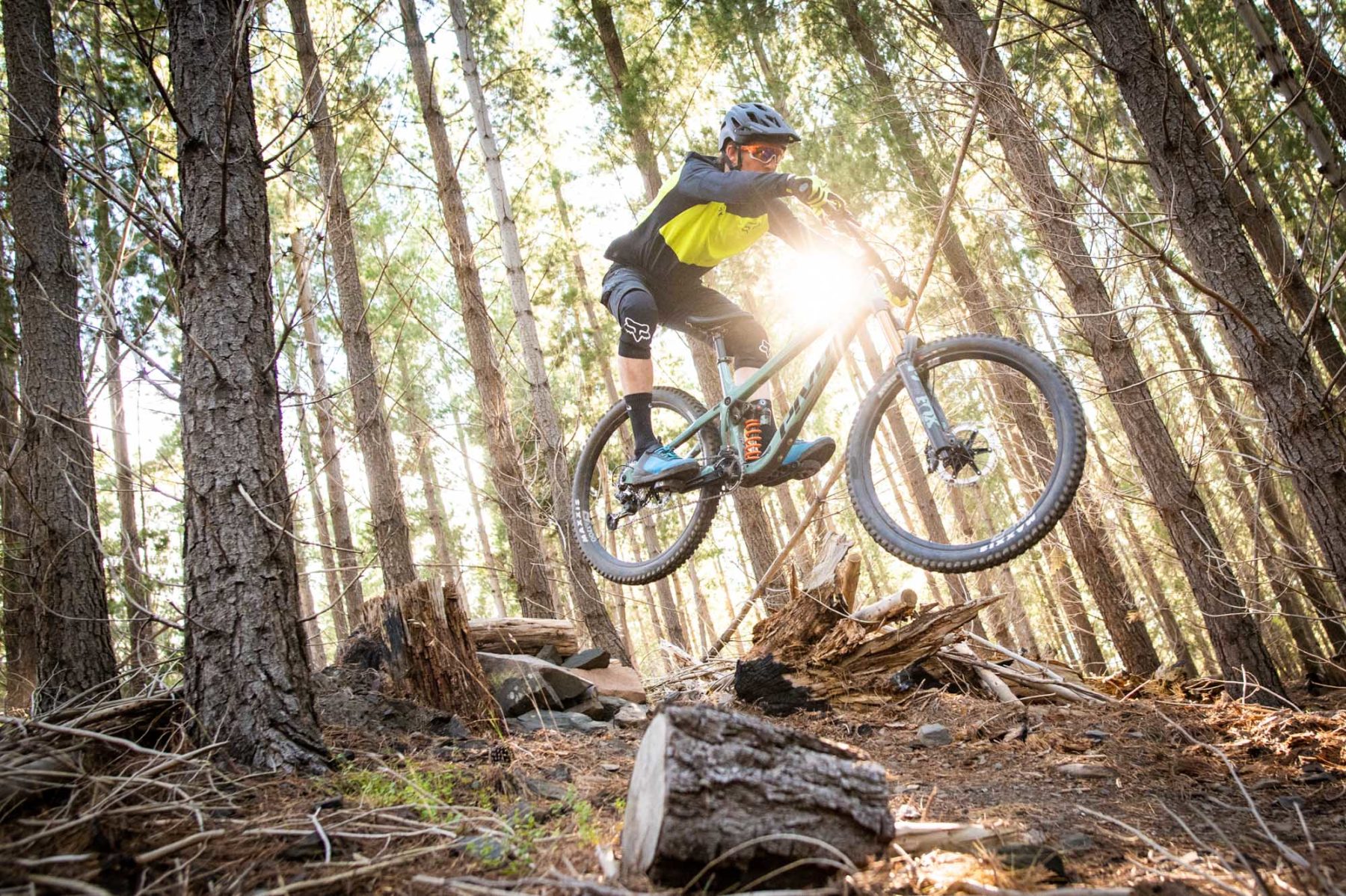 Introducing The 4th Generation Mach 6
Launched way back in 2013, the original Mach 6 debuted as Pivot's premium long-travel All Mountain bike with a chunky carbon frame, 155mm of rear wheel travel and 27.5in wheels. It also featured a nifty adjustable chain guide, with two single chainrings side-by-side, one smaller than the other, which you could switch between via a shifter on the handlebar. It might sound a bit complicated to the younger folks out there who may not have encountered such a device, but it was a clever way to dramatically increase your gear range, all without having to resort to a really big cassette. Pretty neat huh?
The Mach 6 was then updated in 2015, and then again in 2017, getting a little easier on the eye each time, while also adopting more contemporary geometry and components along the way. It's continued to be a popular bike for the Arizona-based company, but times are a'changing, and for long-travel mountain bikes, they've been a'changing bloody fast over the past couple of years.
And so for this fourth generation model, the Mach 6 receives its biggest, and most visually striking update yet.
Dang That's One Good-Looking Frame!
That's not a compliment we would have paid towards previous Mach 6 models, or any older generation Pivots for that matter, but this new Mach 6 is rather pleasing to the eye.
Following in the footsteps of the latest Mach 4 SL and Switchblade, the Mach 6 gets an all-new Hollow Core carbon fibre frame that has been completely redesigned around a vertical shock layout. It still features a dw-link suspension design, but the shock now sits parallel to the seat tube, instead of mounting horizontally to the underside of the top tube on the old bike. The new layout gives way to straighter tube shapes and fewer moving parts, resulting in a less-busy and classier aesthetic all-round.
The engineering details we've come to expect from Pivot are all there. The alloy suspension links are beautifully machined and anodised, and they're rolling on full-complement Enduro Max sealed cartridge bearings with laser-etched hardware. There's a big 92mm wide carbon bottom bracket shell, which is surrounded by ISCG 05 tabs for bolting on a full-size chainguide. All cables route internally via Pivot's Cable Port system, with bolt-up covers that are designed to secure the cables and hoses for rattle-free performance.
As for weight? Pivot claims that a medium-size Mach 6 frame weighs just 3.05kg, including the big Fox Float X2 shock.
What Else Has Changed?
Quite a bit, though the amount of suspension is about the same – there's 158mm of rear wheel travel, and that's paired to a 160mm travel fork. The Mach 6 also carries on with 27.5in wheels, and with those sorts of numbers, it sits alongside peers such as the Santa Cruz Bronson, Ibis Mojo HD, Norco Sight and Trek Remedy.
The Mach 6 does move up to a Super Boost 157x12mm back end, which we're normally used to seeing on plus-compatible 29ers. However, Pivot claims the wider rear end is advantageous from both a wheel strength and stiffness perspective, while also allowing for a stiffer swingarm with greater mud clearance. Complete bikes come with 2.5in Maxxis Assegais front and rear as stock, though there's room for up to a 2.6in wide tyre in the back.
The frame will accommodate several bolt-on storage solutions for spares and tools, and it's also compatible with the Fox Live Valve electronic suspension system.
With the new shock layout, it's now possible for every frame size, including the X-Small, to fit a full-size water bottle inside the mainframe. Excellent news for shorter and thirstier riders. There's a secondary mount underneath the downtube if you want to run a second bottle, and the Mach 6 is also designed to accommodate Pivot's Tool Dock system. You'll find mounts underneath the top tube, and below the cranks, allowing you to fit a multi-tool, CO2 canisters, tyre levers and such.
Also of note, the Mach 6 is the first Pivot model to feature a SRAM UDH hanger, and we expect to see other new models in the future follow suit. Sad news for front derailleur lovers though – this is the first Mach 6 that is 1x specific.
Back Up The Truck – Isn't The Market Going To 29ers?
That's a fair point, as it would seem that the majority of mountain bike brands are embracing 29in wheels as the dominant choice. And not just for their XC and trail bikes, but for their bigger travel enduro and even DH bikes too.
Just because the market is moving that way though, doesn't mean that everyone wants a 29er. There are still plenty of riders who prefer the ride quality of 27.5in wheels, particularly those under 180cm tall. And with Pivot being a smaller boutique brand, it has more flexibility to address those areas of the market that the bigger mass-produced companies have been trending away from, while producing what it believes is the best tool for the job.
It's worth noting that Pivot already has the big wheels covered with the Switchblade and Firebird 29. The Mach 6 then, is simply an additional option for those who prefer the more agile handling of smaller 27.5in wheels. And because of those smaller wheels, it can also fit shorter riders – Pivot says the X-Small frame will fit riders down to 147cm (4'10") tall. At the other end of the scale, the Large frame will purportedly fit riders up to 187cm (6'2″) tall. Riders taller than that will naturally gravitate towards 29in wheels, so you won't find an XL size here.
Your Choice – Coil Or Air
Speaking of choice, gravity lovers will be happy to know that the Mach 6's progressive leverage rate is coil shock friendly. And on most models, you can actually choose between a coil or air shock, depending on your flavour. Complete bikes will either come with a Marzocchi Bomber coil, a Fox DHX2 coil, or a Fox Float X2 air shock.
You Can Mullet It Too
Though all Pivot Mach 6 complete bikes will come standard with 27.5in wheels, it is possible to embrace your spirit mullet with a 29in front wheel. If you do decide to go down that route, Pivot recommends running a 29er fork with 140-160mm of travel. If you're sticking with 27.5in wheels though, the frame is rated for use with up to a 170mm travel fork.
There is further geometry adjustability to be found within the Mach 6 chassis, which now features a High/Low flip chip in the rearward rocker pivot. Flipping the eccentric chip into the High position will steepen the angles by half a degree, and it'll lift the BB by 6mm.
In the Low position, the Mach 6 has a 65° head angle, a 75.5° seat tube angle, and a snug 431mm rear centre length. Those numbers aren't too different from the outgoing Mach 6 – the main geometry change is found in the frame reach, which increases by 20-40mm depending on the size.
How Many Build Options Are There?
So many! There are six different key spec levels available for the Mach 6, with pricing starting at $8,999 AUD for the Race XT build, and topping out at a gob-smacking $19,499 AUD for the XX1 AXS Live Valve build. Hooly-dooly!
Depending on which spec level you choose, there are further options too, including a carbon wheel upgrade, and a hefty hop-up to the Fox Live Valve electronic suspension system too.
For those who want to go full-custom, you can also get a Mach 6 frame with a coil shock for $5,699 AUD, or with an air shock for $5,999 AUD. Prefer metal frames? At this point in time, Pivot won't be offering the Mach 6 in alloy, and given that all bar one model in the current Pivot Cycles lineup are made from carbon, we don't really expect that to change moving forward.
The bike that we've been riding over the past couple of weeks sits somewhere in the middle of the price range. It's the XT/XTR Pro model with the coil shock option. Read on for a closer look at the specs, followed by our first ride impressions of Pivot's new Mach 6.
2021 Pivot Mach 6 XT/XTR Pro Specs
Frame | Hollow Core Carbon Fibre, dw-link Suspension Design, 158mm Travel
Fork | Fox 38, Factory Series, GRIP2, 44mm Offset, 160mm Travel
Shock | Fox DHX2 Coil, 205×65mm
Wheels | DT Swiss XM1700, Alloy Rims, 30mm Inner Width
Tyres | Maxxis Assegai EXO+ 3C Maxx Terra 2.5in Front & Rear
Drivetrain | Shimano Deore XT/XTR 1×12 w/Race Face Aeffect R 32T Crankset & 10-51T Cassette
Brakes | Shimano Deore XT 4-Piston/203mm Front & 180mm Rear Rotors
Bar | Phoenix Team Low Rise Carbon, Width: 760mm (XS), 780mm (S), 800mm (M-L)
Stem | Phoenix Team Enduro, 40mm Length
Grips | Phoenix Factory Lock-On
Seatpost | Fox Transfer Factory, 31.6mm Diameter, Travel: 125mm (XS), 150mm (S), 175mm (M-L)
Saddle | Phoenix WTB Volt Race
Sizes | X-Small, Small, Medium & Large
RRP | $11,499 AUD
Testing The New Mach 6
We put the new Pivot into the hands of our local enduro pinner Dan MacMunn, who stands at 183cm tall. Dan's been riding a Large size in the Mach 6, and the sizing is spot-on for his build. Reach is quite long on this bike – a hefty 480mm on the Large, and that's matched to a short 40mm stem and 800mm riser bars, which Dan chopped down to his preferred width of 770mm. The cockpit is plenty roomy for seated pedalling, and the seat angle isn't so super-dooper-steep as to pitch you forward uncomfortably.
Pivot recommends 30% sag for the rear shock on the Mach 6. To hit that with an 83kg rider weight, we downsized from the stock 550lb spring to a 500lb spring. Damper settings were as per Pivot's recommendations, and we setup the fork as per Fox's recommendations on the setup chart.
All Mach 6 models come with aggressive 2.5in Wide Trail Maxxis Assegai EXO+ tyres front and rear, which we setup tubeless with 24psi in the front and 26psi in the rear.
Complete weight for our test bike weighed without pedals is 14.72kg. Pretty impressive really given the robust rubber, coil shock and mahoosif Fox 38 fork.
First Impressions
Our test bike is wearing the Mint Relic paint job – a sort of bluey eucalyptus leaf colour. For those who are a little shy, the Mach 6 can also be had in a stealthy matte black option.
Either way it's a very suave bike, and quite possibly the best-looking Pivot mountain bike to date. That said, while the graphics are considerably cleaner than Pivots of days gone by, we still counted no fewer than 26 logos across the entire bike, which some would maybe describe as excessive. On the plus side, it'll be a rare occurrence for a Mach 6 owner to forget the brand of the bike they're riding.
Jibes aside, it is a beautifully crafted bike, and there are fine details abound, like the rubber guard over the lower dw-link that's there to stop mud and rocks getting jammed into the frame. There's also a discreet drain hole underneath the shock mount, so your frame doesn't turn into a mobile mosquito breeding pool.
The chain guide and wavy chainstay protector does well to dampen racket from the drivetrain, and the swingarm is generously lathered in rubber protection, including the on the drive-side upright just above the chainring. With the exception of Shimano's blasted rattly brake pads, it's a tight and quiet bike on the trail.
What Does It Do Well?
Prior to launch, the Mach 6 found its way onto a number of our local test loops, where Dan put it onto the same trails as the Stumpjumper EVO, Trek Slash and GT Force 29. All big travel 29ers designed for maximum stability and warp-speed shenanigans.
Compared to those bikes, the Mach 6 with its smaller 27.5in wheels exudes a more playful nature. For a big travel bike with a coil shock, it's terrifically nimble through spaghetti singletrack, with less pre-planning required for the pilot. This was made apparent on our local bush trails, which have become quite overgrown after a particularly wet spring. On these sorts of blind trails, where you can't always anticipate corners, the lighter steering feel makes it easier to initiate a turn compared to a 29er.
The back end of the Mach 6 is quite short, with a 431mm rear centre length. The chassis is also plenty stiff too, with very little wiggle through those chunky alloy suspension links and rigid one-piece swingarm. This structural stability plays to the Mach 6's handling strengths, and it loves sinking into its travel and rip through the turns. It's a really fun bike to corner hard.
It's also exceptionally easy to manual, and it really encourages you to play with the trail and boost off of features that you might otherwise steamroll over on a raked-out 29er. It's got good pop, and it also has the safety net to soak up bigger landings too.
Suspension performance is impressive from the premium Fox dampers. Compared to the previous Mach 6, Pivot says the new 's dw-link-controlled travel has been designed with a more rearward axle path, which has been inspired by the Phoenix downhill bike. And with the big 38 on the front and the coil-sprung shock, the Mach 6 affords a plush ride quality without too much dial-twiddling required. That said, there's a load of support too, and there's masses of adjustment for those who want to dive deep into the high-speed-low-speed rabbit hole.
What Does It Struggle With?
While the suspension is adequately controlled, on rougher and faster sections, there's no denying that the Mach 6 doesn't feel as composed as something like the Slash, which really boils down to the physical properties of the smaller 27.5in wheels more than anything else. The lighter steering means that stability isn't as foolproof, so more nuanced line-picking is required when things get really choppy.
Admittedly the local terrain in the Central Goldfields is about as rocky as it gets, with lots of violent, jagged granite making up the unrelenting trail surface. The landscape also rolls and undulates, so a higher median pace is required to keep your momentum.
On these awkward, natural tech-trails, the small wheels simply get more hung up compared to the Slash and Stumpjumper EVO. The Mach 6 is harder work physically and mentally, and it's easier to lose speed if you're not ticking the pedals over and lazily clipping square edges.
Not helping things, the Assegais are draggy tyres, and they're also quite heavy at 1,100g each (confirmed). We'd prefer to see something like a Minion DHF on the rear, and perhaps even on the front too, in order to help speed things along a little. That said, loose condition traction is absolutely insane, and the thick casings are suitably tough.
The coil-sprung suspension is also very active when pedalling, and along with the stock tyres, it gave a pretty slow and sluggish feel on the flats and on the climbs. The blue compression switch on the shock, which flicks between Open and Firm settings, was needed regularly on smooth climbing sections.
So Who's This Bike For Then?
Good question. It has the right shape, travel and build kit to handle the demands of enduro racing, but if your requirement is to go as fast as humanly possible, then you'll naturally be drawn towards the bigger wheels of the Firebird 29. With its increased traction and rollover capabilities, we still see that as the preferred option for competitive EWS types.
Indeed the question that kept popping into our heads during our time with the Mach 6 was along the lines of 'why would you choose this over a 29er?'. A few years ago we probably wouldn't have been asking that question, but at this point in time, 29ers have gotten very, very good, and the traditional compromises that dogged them in the past have largely evaporated. Wheels have gotten stronger and more responsive. Tyres are tougher. Long travel forks are burlier and smoother. Geometry is more aggressive. Chainstays are shorter and stiffer. Frame designs have evolved to accommodate shorter riders than ever before. Once you put that all together with the bigger wheels, which are more stable, smoother and faster over rough terrain, there are fewer downsides than ever before.
Case in point – Pivot already makes some absolutely killer 29ers in the latest Switchblade and Firebird 29. Those are both marvellous bikes in their own right, and they certainly make things a bit confusing when eyeing up the Mach 6. The Trek Slash is another good example of a 29er enduro bike that beats the Mach 6 in terms of stability and rough terrain control, but still manages to feel quite lively and manageable in non-racing scenarios.
29ers have gotten so good lately, that there are far less downsides than there have been in the past. We've gotten along marvellously with Pivot's own Switchblade and Firebird 29, as well as the new Trek Slash. That makes things a little confusing when eyeing up the Mach 6.
That said, we do see this bike being popular in the smaller sizes for those who either find 29ers too cumbersome on the trail, or have more tangible issues with fit. The fact that the XS Mach 6 can fit riders down to 147cm (4'10") tall makes it a more practical choice for those shorter riders tackling steep terrain, who are after more arse clearance with the rear tyre.
The Mach 6 also has the right mix of ingredients to really shine on bigger machine-built trail. With only a short test period prior to the official launch, we didn't have the chance to take the big Mach 6 to any bike parks, but that really feels like this bike's main calling. We're thinking places like Thredbo, Maydena and Bright – anywhere that's loaded with high G-force berms, huge doubles, step-ups and kickers, where the Mach 6's playful nature and aggressive cornering capabilities can shine through. And after all, this is a gravity-oriented bike – the big 38 fork, dual Assegais and coil shock give strong clues as to its intentions. Perhaps we'd describe it as the downhiller's trail bike. Yes it can pedal to the top, but it's a bike that's optimised for hooting and hollering on the descents.
Component Highs & Lows
Given the high calibre frame and build kit, there is very little to complain about the Mach 6 XT/XTR Pro as a complete package. Aside from subbing in some speedier rubber, and fitting some non-finned pads when those rattly finned pads wear out, there's little we'd change if this were our bike for the long term.
The contact points are well considered. The grips in particular are superb, with a tacky pattern and excellent damping. The carbon bars have a neutral, un-funky profile, and the forged stem is solid. While the saddle was pretty comfy, it is on the bulkier side, and we did experience some occasional creaking from the rails.
The new DT Swiss XM 1700 wheelset proved to be low fuss throughout testing (not just on this bike, but also on the Spectral 29 and Meta TR we've also been riding). The alloy rims shrugged off a number of direct strikes, and they're rolling on bulletproof 350 hubs with a 36pt Star Ratchet freehub mechanism inside.
Claimed weight for the wheelset is 1,756g, which is decent given their strength and stiffness. While the Super Boost 157x12mm rear hub spacing is more likely to cause headaches in situations where a spare wheel is required, there are more brands pursuing this particular standard, so you're not without options if you're pursuing an upgrade.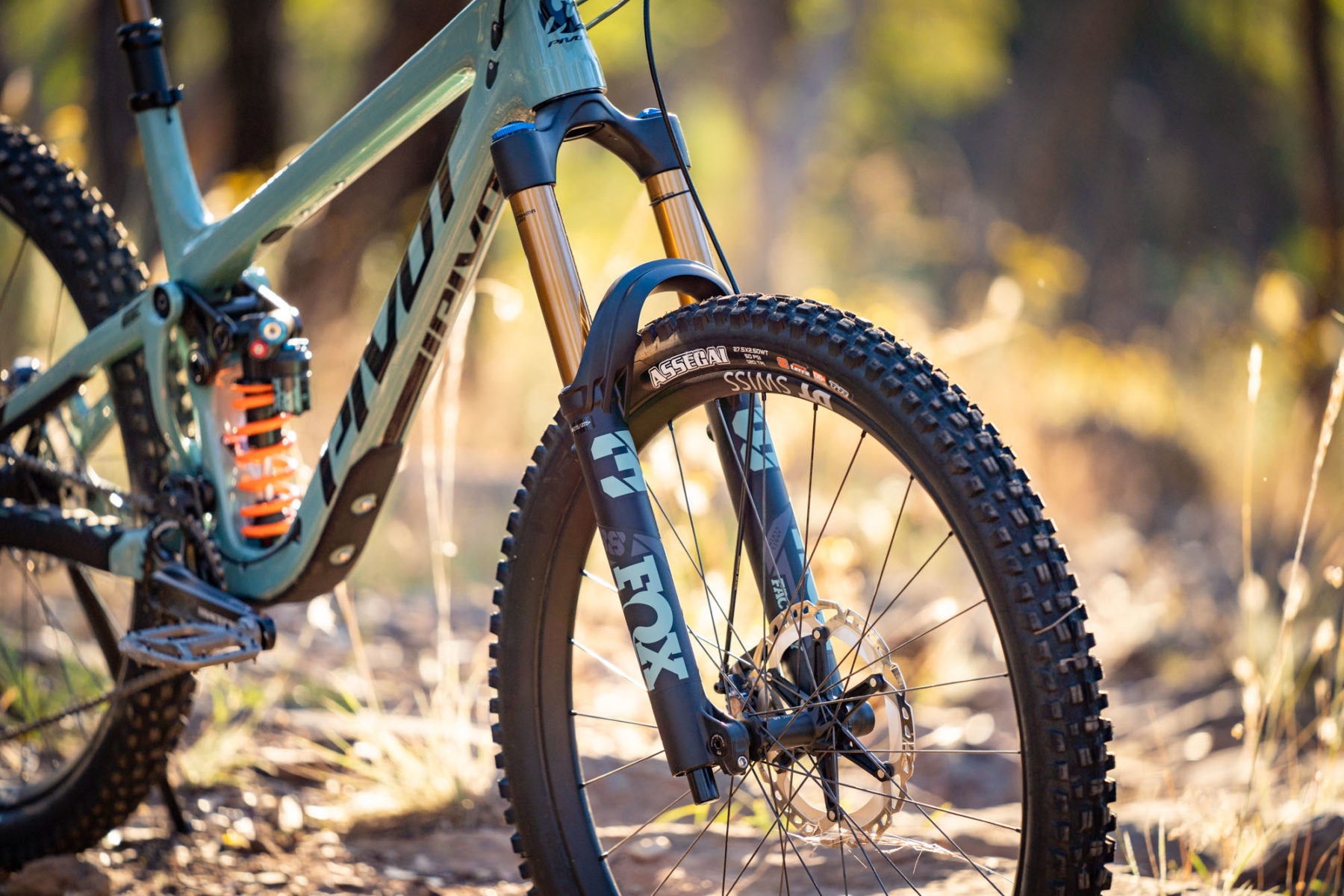 This was our first experience with the Fox 38, which impressed with its stout chassis and tuneable GRIP2 damper. The huge crown, 38mm stanchions and big magnesium lowers are a fantastic visual match for the Mach 6's plump carbon frame, though on the trail we didn't find it to be quite as buttery as the equivalent RockShox ZEB. However, we are comparing a 27.5in fork with a 29in fork, and we'd ideally need more time and more trail variety to really see what the 38 is capable of alongside its main rival.
The rear shock offers up a similar degree of tuneability, though being a coil, it's not quite as simple when you need to change the spring rate. It's also quite heavy – 906g confirmed including the spring. That's almost double the weight of the Float X2 shock, which is also an excellent performer, and a lot easier to setup for different rider weights, while also offering the ability to alter progression too. The coil shock is as sensitive as it gets though, and park rats busting out a zillion laps a day will appreciate the lower friction performance and reduced maintenance requirements.
Flow's Early Verdict
With its redesigned frame and updated suspension layout, the new Mach 6 isn't just the best looking iteration yet, it's also the most refined too. The carbon chassis is bristling with lovely details, and there's a lot of in-built versatility. We're rather intrigued by the mullet option in particular, and how a 29in front wheel and fork would impact the handling.
In its stock configuration though, the Mach 6 didn't exactly thrive on our home trails. Alongside comparable long travel 29ers, it just didn't offer the same kind of free speed and stability. The lighter steering and smaller wheels mean it can get pushed offline more easily, and there's certainly more feedback from the trail. It isn't as foolproof on technical climbs either, though the stocky build kit certainly plays a part here too. Faster-rolling rubber and a lighter air-shock would help, but it's still not the bike we'd be choosing for all-day backcountry missions – we'd pick the Switchblade instead.
No, it's not as stable or as fast as its big-wheeled peers, but going fast isn't the only way to have fun on the trail, and that's exactly why the Mach 6 is here.
Enduro racers will also still elect for the Firebird 29, as it's the fastest option when your main concern is pinning A-to-B as quickly as possible, particularly if the terrain is rugged and raw. For riders who have already embraced 29in wheels and have no issues with their handling, the Mach 6 probably won't change your mind.
If you're not concerned with being the fastest though, and instead you're all about popping and playing about on the trail, then the Mach 6 is more than up for it. Put it into its intended environment, preferably in a hectic high-speed bikepark, and it'll rip berms and scrub tables with style and panache. Think Bernard Kerr shenanigans – manuals, stoppies and oh-my-god-how-does-the-back-wheel-even-get-there sized whips. No, it's not as stable or as fast as its big-wheeled peers, but going fast isn't the only way to have fun on the trail, and that's exactly why the Mach 6 is here.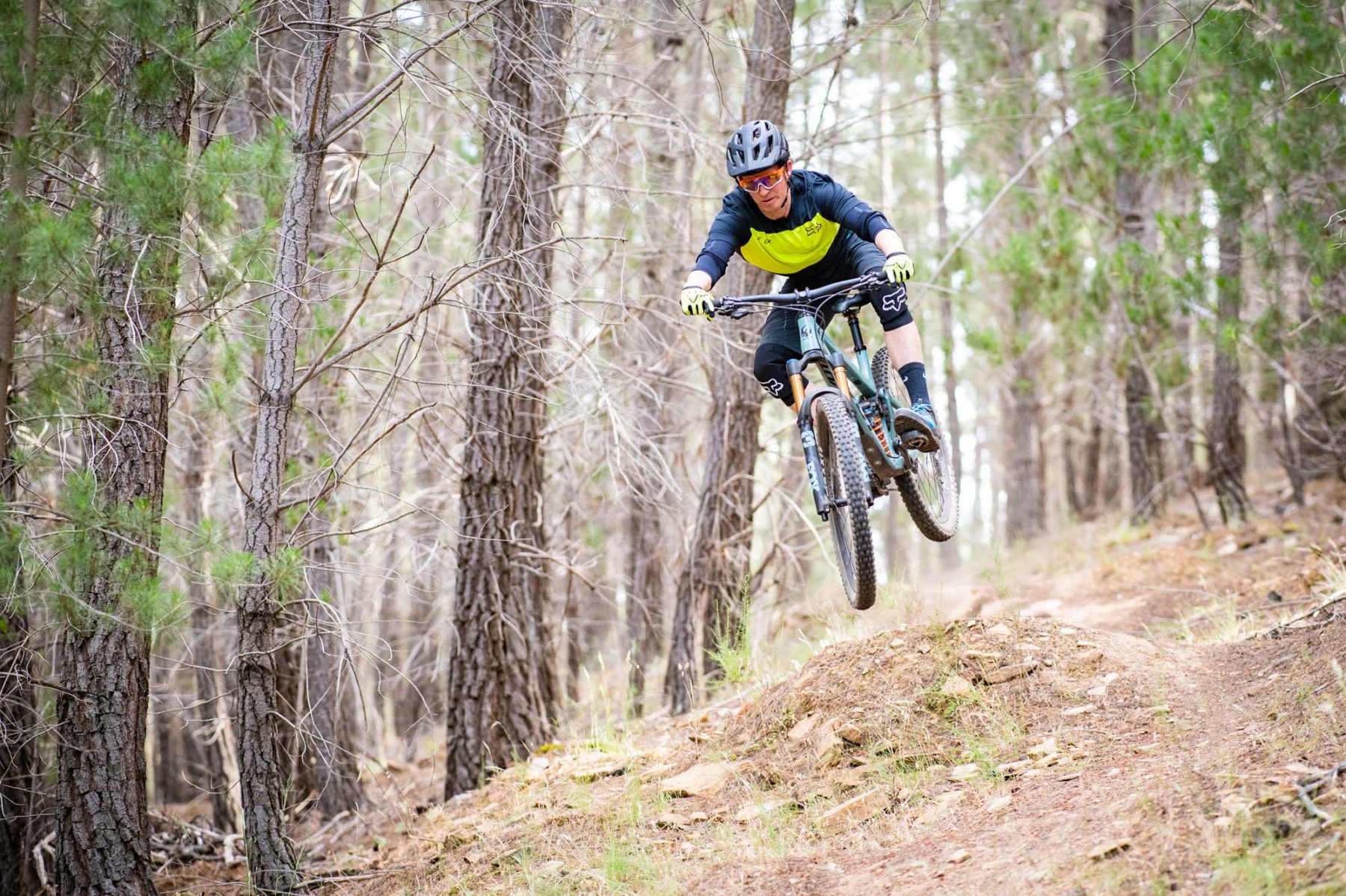 Mo' Flow Please!
Enjoyed that article? Then there's plenty more to check out on Flow Mountain Bike, including all our latest news stories and product reviews. And if you haven't already, make sure you subscribe to our YouTube channel, and sign up to our Facebook page and Instagram feed so you can keep up to date with all things Flow!