Colin and Jena review the 2023 Focus Atlas
What happens when mountain bikes and gravel bikes collide? You get the Focus Atlas. Updated for 2023, the German outfit has employed a number of mountain bike-inspired design elements in the frame of this drop bar adventure machine.
First launched in alloy, Focus has added a carbon version of the drop bar adventure bike. On the surface, they look quite similar, however, the German outfit has made a few tweaks to the geometry, beefed up the frame protection and shaved a bit of weight of the frame.
Designed to tackle everything from all-day epics to fully loaded overnight adventures, to see what this versatile gravel bike is all about, we received a Focus Atlas 8.7 to put to the test.
Focus Atlas sizing and fit
The most apparent upgrade to the Focus Atlas 8 is, of course, the plastic fantastic frame. According to the brand, this shaves 1.6kg off the frameset. We'll have to take its word for it on this one, however, according to our workshop scales, our test bike weighs in at 9.91kg, without pedals or bottle cages.
With the change in frame material also comes tweaks to the geometry. The bike is based around a long top tube, to extend the reach, and a short stem. Our size 54cm/M tester sees a looooong 567mm top tube, making for a 395mm reach.
Focus has paired this with a 90mm stem and flared handlebars. The aluminium Atlas 6 series has the same reach, but the top tube is 4mm longer, and paired with an 80mm stem. For reference, this is 5mm longer than the Avanti Gran Durance we recently reviewed.
The brand has also chopped 14mm off the head tube height, which together makes for a pretty stretched-out position.
Both Jena and I had a bit of trouble adjusting to this length, and a while to get everything in the right proportions. I ended up having to slide the saddle forward on the rails to get comfortable.
Focus has not changed the slack-for-a-gravel-bike 70.5° head angle, the seat tube angle, BB drop, fork rake or the chainstay length, however, the wheelbase has shrunk by 5mm.
All the figures on the front end, combined with the 45mm tyres, make for a trail figure of about 74mm. This long front end is paired with the 425mm chainstays to bring the rear wheel way in under the rider.
Focus Atlas frame features
The Atlas is one of only a few drop bar bikes to take advantage of Boost hub spacing. There is 110mm between the dropouts in the fork, though Focus opts for a 12mm axle — 15mm adaptors are available — while the rear is the typical 148x12mm. This means you get the Boost chain line, improved tyre clearance, and more space between the hub flanges for stiffer and stronger wheels.
While Boost is basically the de facto standard for MTB, we're pretty sure you can count the gravel bikes that utilise this hub spacing on one hand, meaning that your wheel options are limited. You could potentially slot in a set of MTB wheels — the Atlas will take 29in or 27.5in — but the 12mm front axle means you'll also need to source some end caps.
With the Atlas' adventure focus, there are more mounts on this thing that you can shake a handlebar bag at. According to Focus, the fork can handle 3kg on either side. There's also a removable seat stay bridge for mounting up proper rear racks, and the frame features provisions for full coverage fenders at both ends.
There are multiple bottle cage mounting options inside the frame to make room for luggage, and there's also space to carry a third bottle at the BB. Focus also includes a nifty little top tube bag. The German outfit says the bike can handle up to 120kg total (rider and equipment).
Given this bike is designed to go way out, off the beaten track, we're also happy to see real frame protection. The thick, rubberised chainstay protector is often overlooked on this type of bike, as is the armour in front of the BB.
At the front, the Atlas sees all the cables routed through the upper headset bearing. Usually, this is where we would groan about it, however running the cables in this fashion means they won't get in the way of handlebar bags. Of course, this is only a small consolation when it comes time to replace that upper bearing.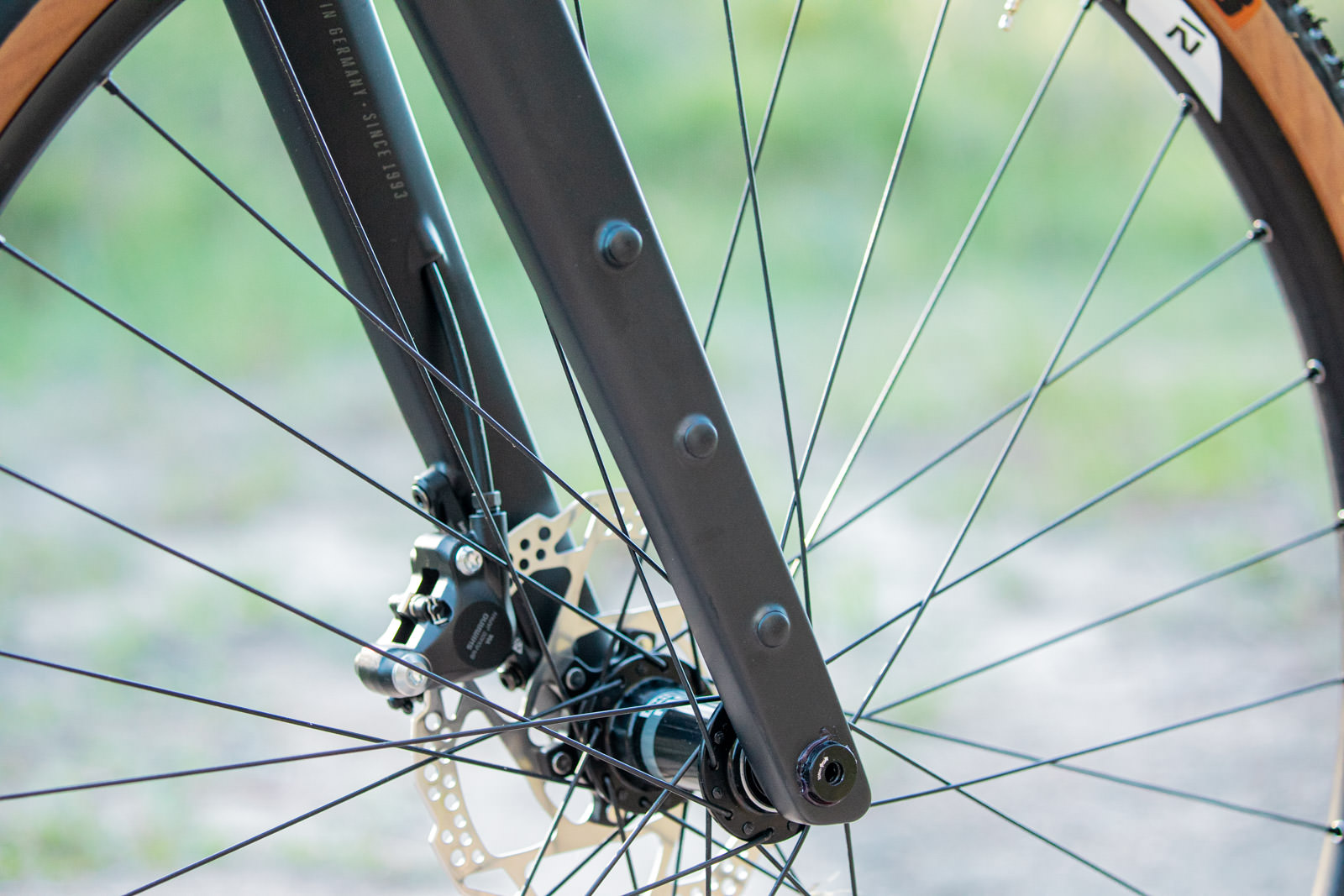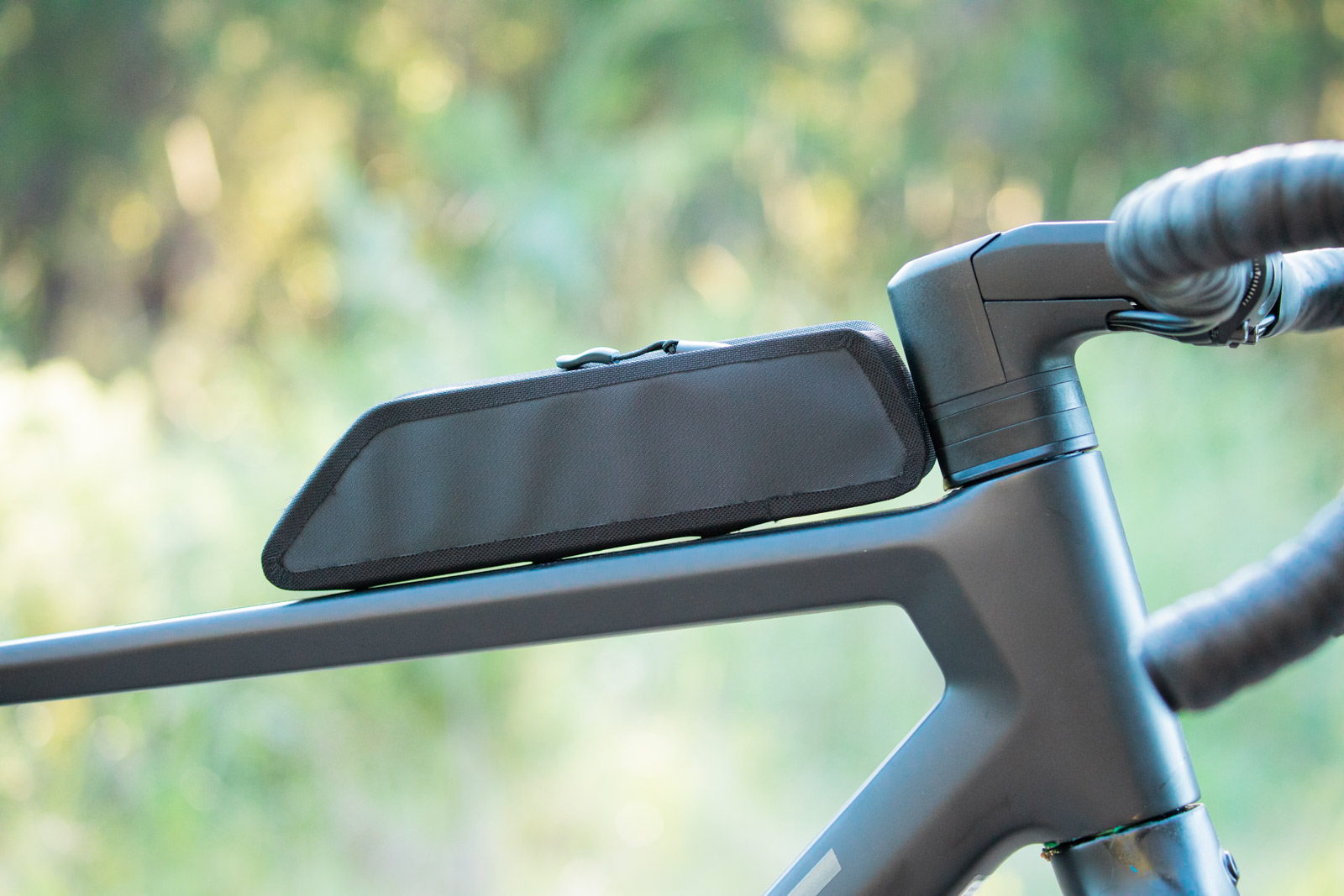 Focus Atlas models and pricing
We've received the entry-level version of this bike, the Atlas 8.7, priced at $4,499 AUD. Even still, that means a full carbon frame and fork, Shimano GRX 11-speed groupset, with the 800 series derailleurs, and 600 series levers and crank.
The bars, stem, and seatpost are all Focus-branded alloy affairs. The spec list shows all the models should come with a Fizik saddle, however, our test bike has a Prologo Akero perched on top of the seat post. We have since confirmed with Focus the Atlas will be sold with the Fizik seating arrangements.
Rolling stock comes in the form of alloy Novatech 25 Elite hoops and 45mm WTB Riddler TCS rubber.
If that recommended retail price is a bit heavy for your budget, the alloy Altas 6-series bikes start at $2,699 AUD, though as we mentioned, the two frames are not identical.
Focus Atlas 8.7
Frame | Carbon, disc, C.I.S. integration, press fit BB86, 148×12 mm thru-axle,
flat mount 160 / 160 mm, internal cable routing
Fork | Carbon, disc, 110×12 mm thru-axle, flat mount 160 / 160 mm,
internal brake cable routing, multiple mounting points
Wheels | DT Swiss X1900, 25-622, disc, center lock, front: 110×12 mm, rear: 148×12 mm
Tyres | WTB Riddler TCS, 700 x 45C, folding
Drivetrain | Shimano GRX 2×11-speed, w/ RX600 shifters, RX810 front and rear derailleur, RX600 crankset 46/30t and 105 R7000 11/34 cassette
Brakes | Shimano GRX RX600 lever w/RX400 caliper
Handlebar | FOCUS JD RA85, 31.8 mm, drop: 116 mm, reach: 74 mm, flare: 10°
Stem | FOCUS C.I.S. integrated, 31.8 mm, aluminium
Seatpost | Aluminium, 27.2 mm, 0 mm set-back
Saddle | fi'zi:k Taiga
RRP | $4,499 AUD
What we dig about the Focus Atlas?
The Atlas is a machine built for big adventures. With all of the mounting points and the 120kg total ride weight, tipping the scales at 71kg myself, the frame can handle nearly another me in gear!
With that, it should not come as a surprise that the frame is extraordinarily stiff, compounded by the Boost hub spacing. This stiffness will be a boon when you're fully loaded up, and initially, I thought the 45mm WTB Riddlers were doing the lion's share of the bump and rattle absorption.
However, having swapped in a set of 40mm Continental Terra Trail tyres mid-way through the test period, to my pleasant surprise after a big day battling washboard gravel, I didn't feel like I'd just done ten rounds in the octagon. Subtle tube shapes like the flat wide chainstays and something in the layup do surprisingly well to round off square edges.
That said, I think it would benefit from a carbon seatpost to damp that bit of high-frequency buzz that still seems to find its way to your backside. Or even better, a dropper post.
With the wide rubber, it's well-mannered regardless of the surface and creates a stable platform that doesn't get all bent out of shape when things get spicy mid-corner. This type of stability and predictability is what you're looking for three days into a bike-packing adventure.
Even still, I'd love to see how it handles with the 80mm stem Focus spec's on the alloy versions and swapping in the narrower 40mm tyres adds a bit of spirit when you tip into a bend.
While the position is long, the 73.5° seat tube angle and the zero offset seat post put you into an efficient position over the cranks to lay down watts. That said, when you jump, the Atlas is in no rush to respond. It gets up to speed but in its own time.
What didn't we like?
With the sorted geometry, the Atlas is well-mannered — but almost too well-mannered. If anything, it's a little boring. Ultimately this comes down to what your expectations are for a gravel bike.
It's well packaged if your intended purpose is to go on big adventures carrying everything and the kitchen sink. The last thing you want is to be tired, with 30kg of gear strapped to your bike, picking your way down a rough descent on a nervous bike.
If your idea of a gravel ride starts and ends sleeping in your own bed or gravel racing, you may be better suited to something with a bit more pep in its step.
I'm also not totally sold on the Boost hub spacing for a gravel bike. Yes, I know folks were saying the exact same thing when Trek pioneered Boost back in 2015, and in five years, there is every possibility I'll be eating these words — heck, I've even written an editorial poking fun at precisely the point I'm about to make. Oh, the irony!
Related:
But gravel bikes aren't mountain bikes, and I'm not quite sure the added stiffness is needed for the riding situations and the terrain you'll be tackling on the Atlas. Plus, there are essentially no gravel wheels built around Boost, so if you break one or want to upgrade down the line, you're a bit SOL.
Given that Boost was already the standard for mountain bikes when gravel as a category boarded a rocket to the moon in popularity, the Atlas still largely stands on its own with this hub spacing.
Focus Atlas component highs and lows
The Atlas frame is well finished, with little bits like the bolt-on seat stay bridge for mounting racks or full coverage mudguards, and the beefy rubberised protection on the downtube and chainstay.
It's nice to see Focus include a top tube bag as well however, this bag leaves quite a lot to be desired. The mounting bolts go through slits in the fabric reinforced by paper-thin plastic. This isn't nearly robust enough on its own, which causes the bag to become increasingly wobbly after only a few uses. Adding washers to the mounting bolts fixes the issue, but they are BYO and we'd love to see Focus supply these in the box.
Shimano's GRX 11-speed groupset is unflappable. It works clean, it works dirty, it works caked in mud, and Focus has done well to mix parts from various levels across the range that don't come at the cost of performance.
Related:
Even with the stamped rotors and resin pads, the GRX RX400 brakes never left me wanting for more power or modulation. While the callipers are more or less the same as the more expensive version — they trade resin pistons for ceramic, and look prettier — but there is no discernible difference in performance. That said, upgrading the rotors and slotting in metallic pads would yield more punch when you grab a handful of brake.
Not to keep talking about the wheels here, but as I have expressed in the past, one of my biggest pet peeves on this earth is when brands send bikes out with tubeless-ready tyres, and tubeless-ready rims, but don't tape them. Rim tape isn't expensive, and it seems like a silly place for a product manager to try and save money.
Regardless of how much fiddling I did with the hoods and changing the angle of the bars, I could not get along with the Focus JD RA85 drop bars. Something about the shape and the drop just did not add up to comfort for me, so this would be one of the first things I'd be getting rid of.
And then, there is the cable routing through the headset. I'll level with you when it comes to mounting and handlebar bag, not having to wrangle cables around it is lovely, and the way everything runs into a false bottom on the stem creates an extremely clean aesthetic.
However, this seems like a ticking clock for a pull-your-hair-out session in the garage when that top bearing needs fresh grease or passes on to the other side.
The WTB Riddler tyres were also a boon. They aren't the lightest on the scale, but wide and supple, they have plenty of bite on edge or when it comes time to drop the anchors on hard-packed gravel and dirt. The tightly packed centre tread doesn't make for an overly draggy ride when you hit the road more often travelled, but they do gum up in the mud, but they're not billed to excel in these conditions to begin with.
Flow's verdict
Focus moving the Atlas platform across to carbon isn't a big surprise, but some of the subtle changes are interesting, to say the least. The vast majority of the geometry has remained the same from the alloy model, however a few tweaks have been made to the front end that stretch the riding position out further, which according to Focus, "results in a more sportive geometry with a lower riding position." That length was the first thing that we noticed swinging a leg over the bike.
Once my body had some time to adapt, it was comfortable to sit in this position and spin my legs in a circle indefinitely. But at the same time, we're not exactly sure a stretched-out sporty position is what you'd be after on a bike in this category.
How this translates to the handling it's confident and stable across washboard gravel, hairpin corners or trying to stay upright on a rutted-out moto track. It's not a bear to initiate the corner, nor does it feel like you're trying to pilot a cruise ship aiming for the apex. And for the riding, it was designed for, this is bang on what you want.
However, the experience itself is a little dull. And I think it would benefit from a bit more pep in its step. Swapping in narrower tyres did liven things up a tad, but I'd love to see what the shorter 80mm stem that's spec'd on the alloy model brings to the party.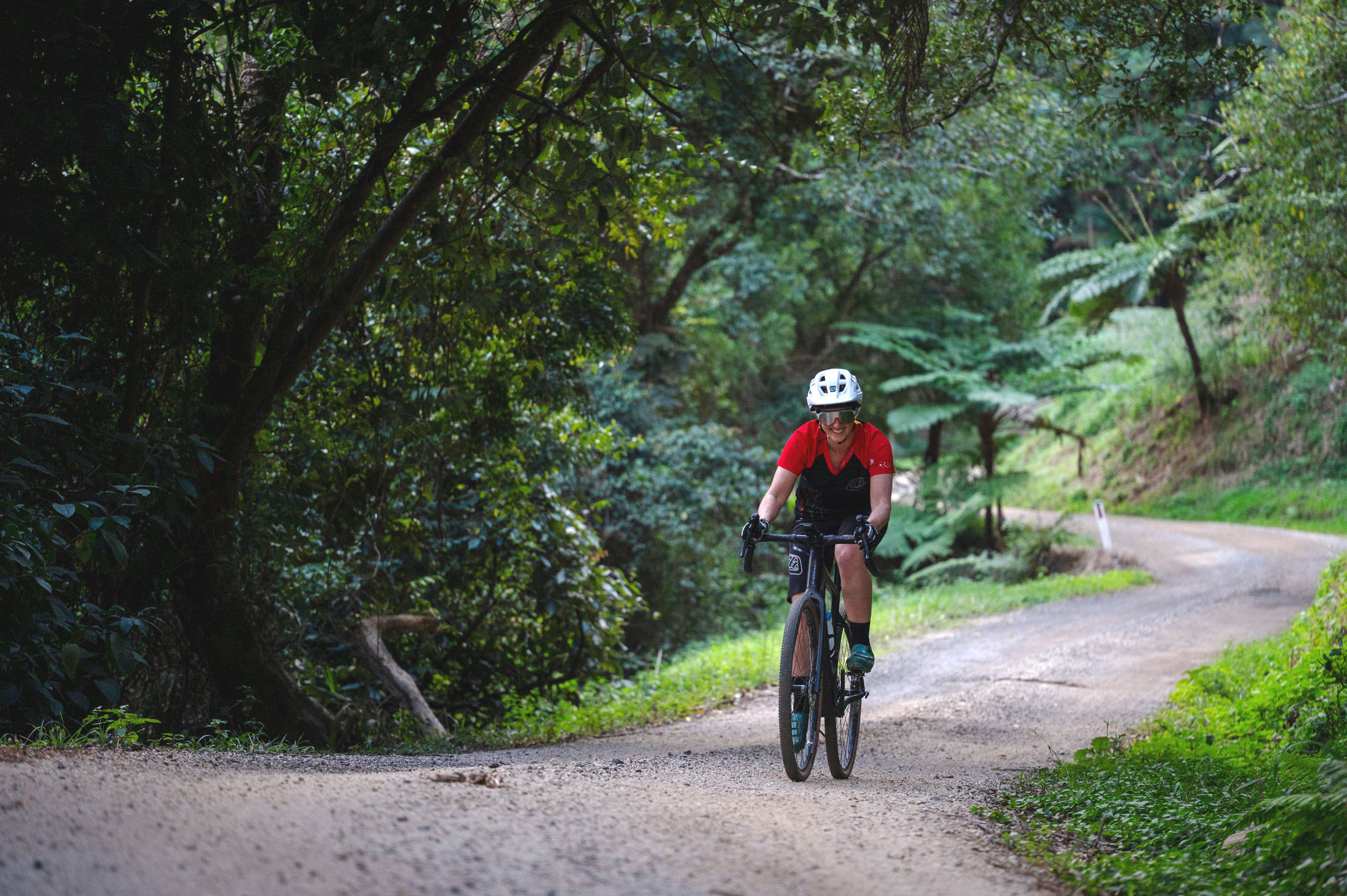 It's a bit rich for a mountain biker to be wary of Boost hub spacing, but here we are. You don't need to sell me on the benefits of more space between hub flanges, but the lack of wheel options is a factor here, and the same goes for not sticking with the 15mm front axle. Of course, the same argument was made when MTBs made the swap Boost.
The intended purpose of this bike is to slow down and enjoy your big adventure, and it would be a delightful companion for some gravel-fono-type events where there isn't even a clock running. However, if backpacking is more of a once-in-a-blue-moon-type adventure, I think something a bit more spirited might be the ticket.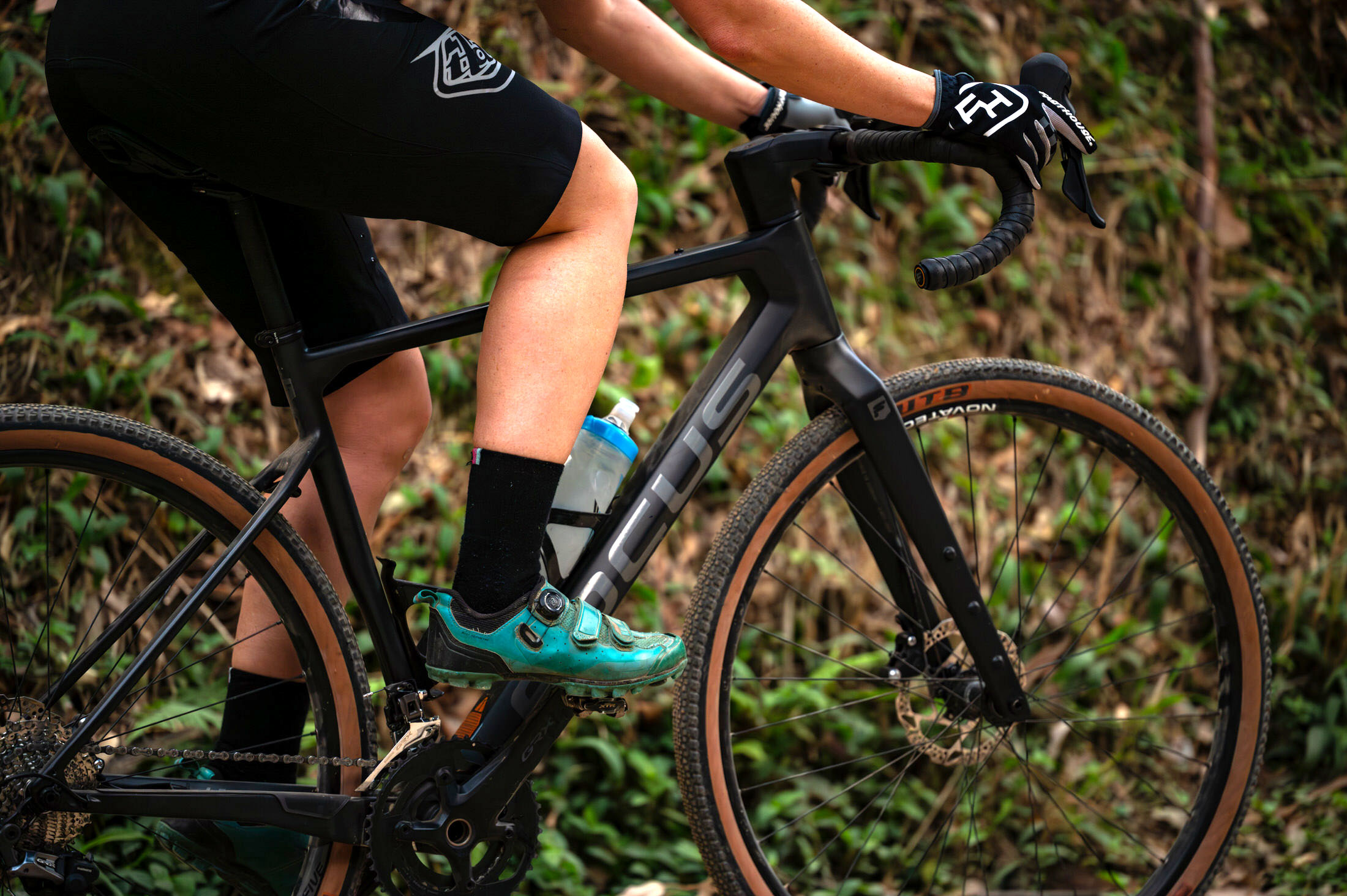 ABOUT THE REVIEWER - Colin Levitch
RIDING STYLE
Aggressively mediocre