Jack reviews the Marin Rift Zone E1
The Marin Rift Zone E is a brand new electric mountain bike for 2023. Joining Marin's existing e-MTB lineup alongside the longer travel Alpine Trail E, the Rift Zone gets a little a less travel and a lighter weight build kit that makes it a more approachable all-rounder. Along with its Shimano drive system and sharp pricing, it's an attractive proposition for riders who are looking to get their first proper full suspension e-MTB. To find out if it hits the spot, we got our hands on the 2023 Marin Rift Zone E1 to put to the test.
Whereas the Alpine Trail E is more of an enduro bruiser, the Rift Zone E is pitched as a do-it-all e-MTB that's just as happy cruising along green trails as it is blasting down more technical descents.
An overview of the Marin Rift Zone E
Put simply, the Marin Rift Zone E is an electric version of the regular Rift Zone. It features 140mm of travel front and rear, and it's rolling on dual 29in wheels.
Whereas the Alpine Trail E is more of an enduro bruiser, the Rift Zone E is pitched as a do-it-all e-MTB that's just as happy cruising along green trails as it is blasting down more technical descents. Along with its budget-conscious build kit, it's aiming for a similar market as the Polygon Siskiu TE that we recently reviewed.
To keep the costs down, Marin builds the Rift Zone E around a solid, if somewhat low-frills hydroformed alloy frame. It features the MultiTrac suspension design, and you'll find a removable 630Wh Shimano battery stowed inside the downtube. The top-spec bike comes equipped with a Shimano EP8 motor, whereas the other two models utilise the Shimano EP6 drive unit.
Geometry & sizing
The Marin Rift Zone E features very similar geometry to its non-motorised cousin. There's a healthy 465mm reach on our Medium sized test bike, along with a moderately slack 65° head angle and a pretty steep 77° seat angle.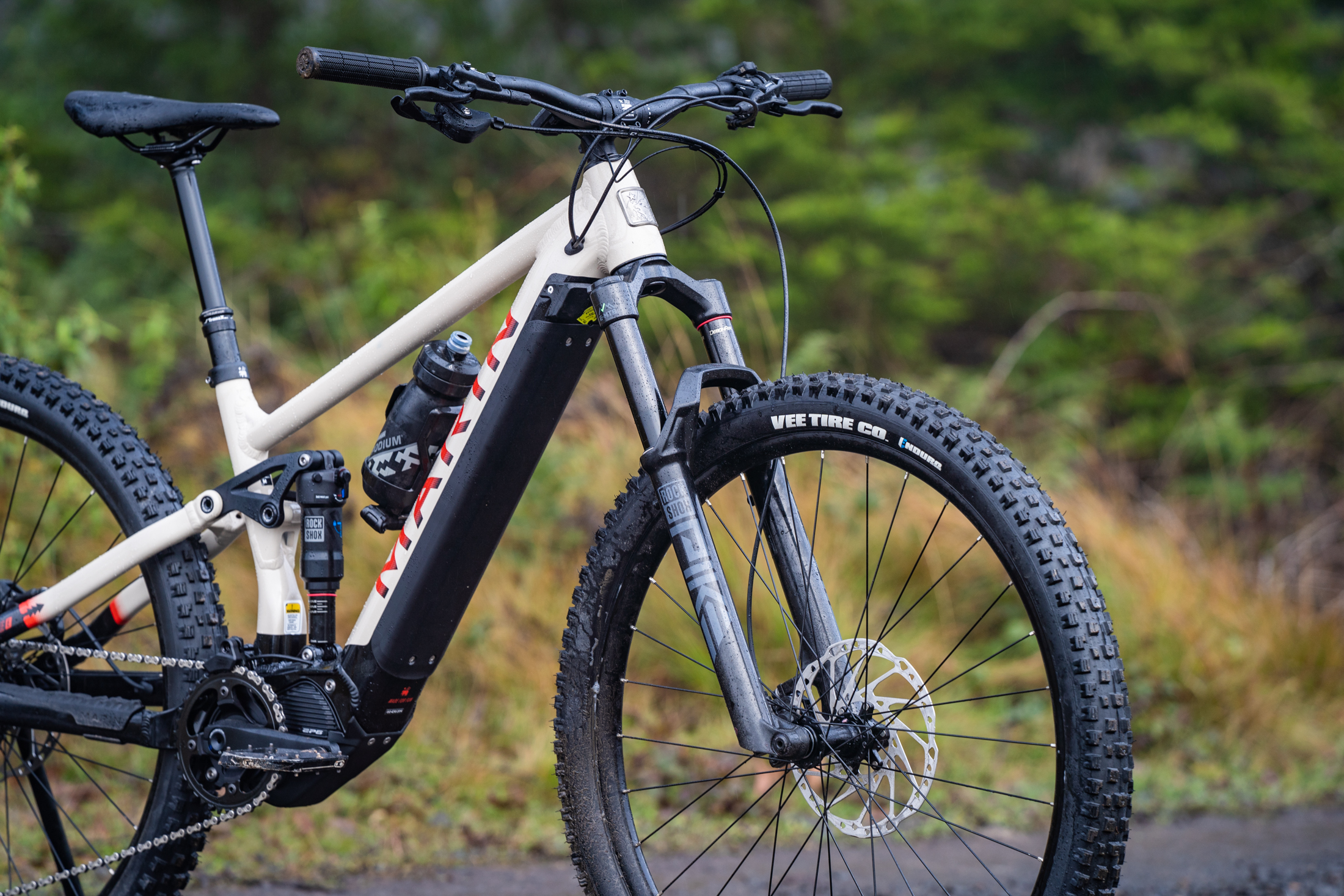 The chainstays are longer due to the added bulk of the Shimano motor, but the 440mm rear centre length is actually quite short for an e-MTB fitted with 29in wheels.
Short seat tubes mean there's a good amount of room for a 150-200mm travel dropper post, and Marin has angled the top tube downwards to provide plenty of standover clearance.
It's worth noting that there are no flip chips on the Marin Rift Zone E, which means the frame isn't designed to be run as a mullet. If you're keen on the mixed wheel setup, you may be better off looking at the longer travel Alpine Trail E instead.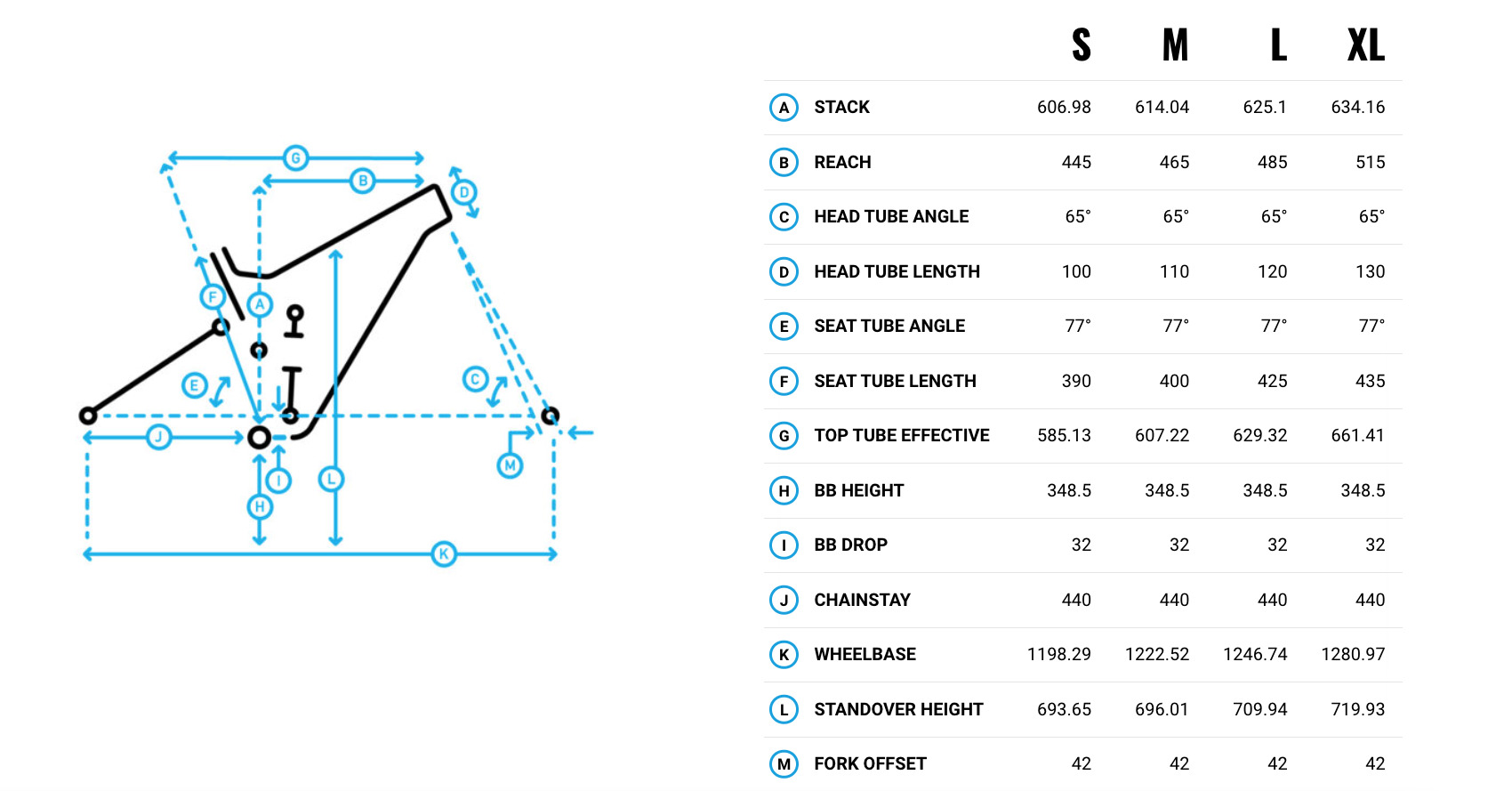 Marin Rift Zone E price & specs
There are three models in the Marin Rift Zone E lineup for 2023. Prices start at $6,499 AUD for the base-model, and go up to $9,499 AUD for the Rift Zone E2.
The bike we've been testing is the Goldilocks model that sits right in between. It's the Marin Rift Zone E1, and current retail price on this is $7,499 AUD.
The sharp pricing is made possible due to the fact that Marin bikes are sold direct to consumer in Australia through BikesOnline. You'll need to add on the necessary shipping fee, and once ordered the bike will arrive on your doorstep with a small amount of assembly required to get it ready to hit the trails.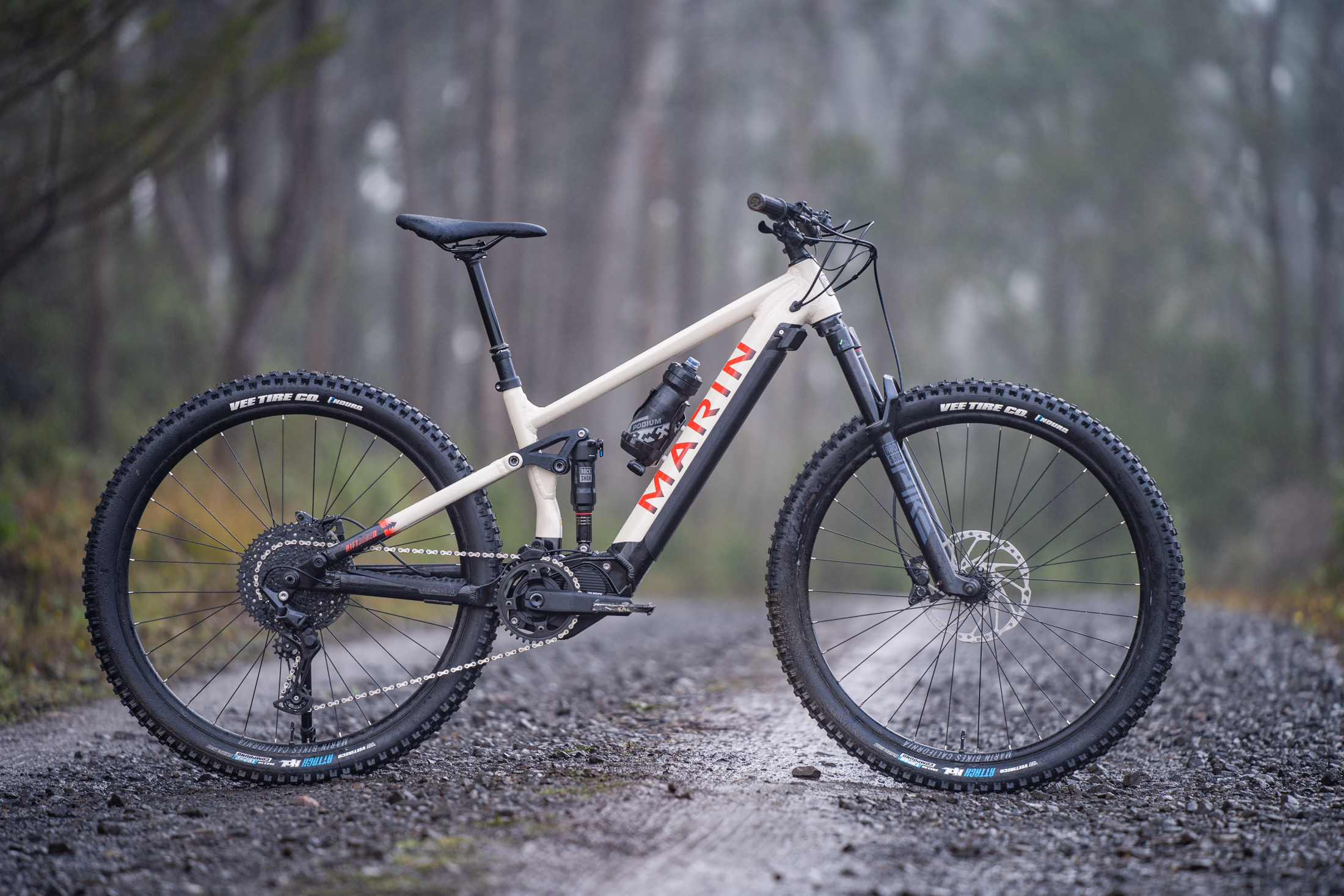 2023 Marin Rift Zone E1
Frame | Series 4 Alloy, MultiTrac Suspension Design, 140mm Travel
Fork | RockShox Pike, Rush RC Damper, 42mm Offset, 140mm Travel
Shock | RockShox Deluxe Select+, 210×50mm
Drive Unit | Shimano EP6, 85Nm
Battery | Shimano BT-EN806, 630Wh
Wheels | Alloy Hubs & Marin Alloy Rims, 29mm Inner Width
Tyres | Vee Tire Co. Attack HPL 2.5in Front & Rear
Inserts | CushCore Pro Front & Rear
Drivetrain | Shimano Deore 1×12 w/34T Alloy Crankset & 11-51T SunRace Cassette
Brakes | Shimano MT400 4-Piston w/203mm Rotors
Bar | Marin Mini-Riser, 28mm Rise, 780mm Width
Stem | Marin 3D Forged Alloy, 35mm Length
Seatpost | TranzX Dropper, 30.9mm Diameter, Travel: 150mm (S), 170mm (M-XL), 200mm (XL)
Saddle | Marin eMTB
RRP | $7,499 AUD (plus shipping)
In terms of value for money, the Marin Rift Zone E1 offers a compelling package. It provides a solid frame and reliable components that perform well on the trails, and at a cheaper price point than an equivalent Trek, Specialized or Giant.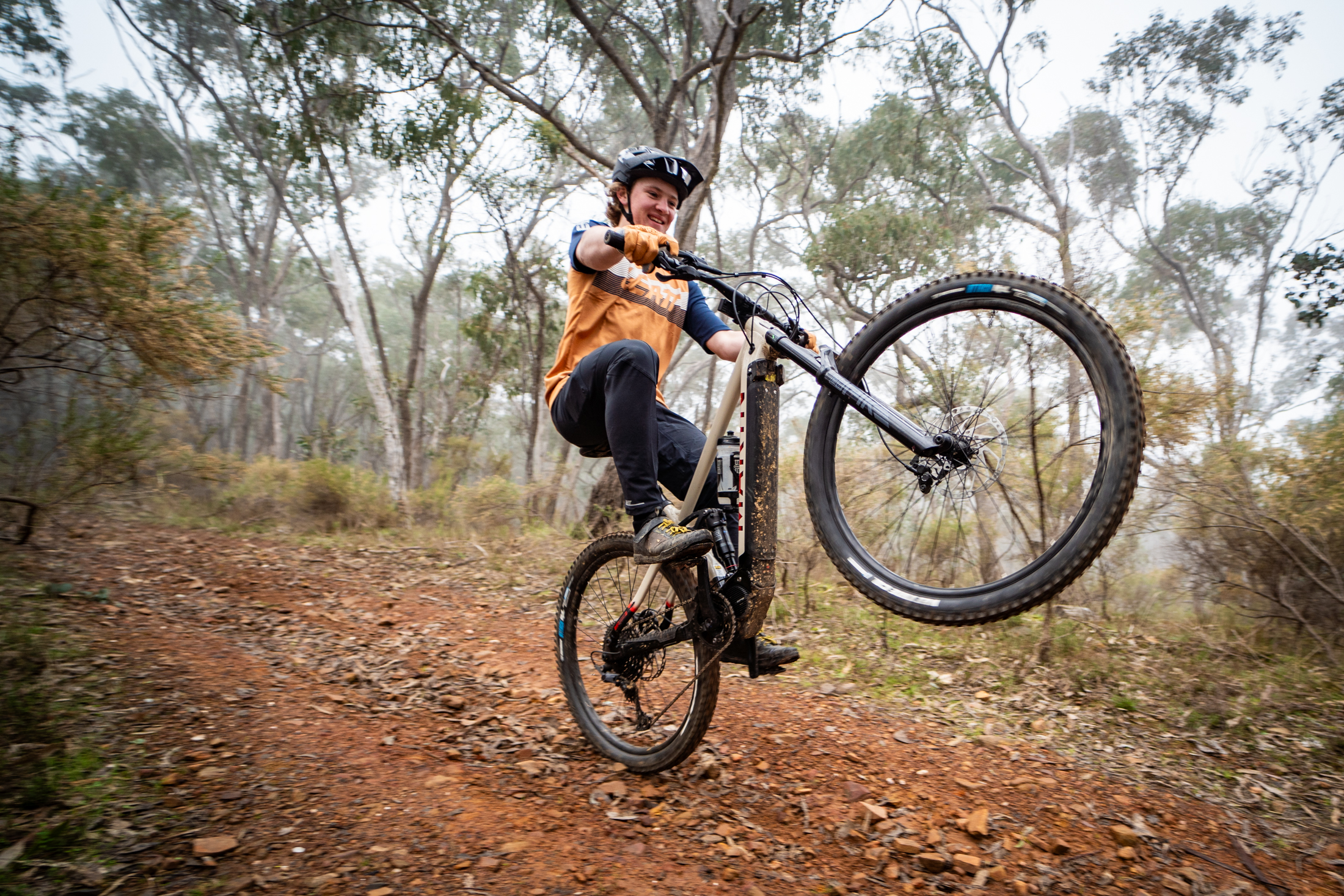 Marin Rift Zone E Weight
Our Marin Rift Zone E1 test bike weighed in at 24.28kg without pedals.
It's worth noting that Marin is fitting these bikes with CushCore Pro inserts front and rear from the factory, and sealant is included in the box to make tubeless setup as easy as possible. This is a fantastic addition that we'd like to see from more brands, especially those that are selling direct-to-consumer. Polygon and Canyon, take note!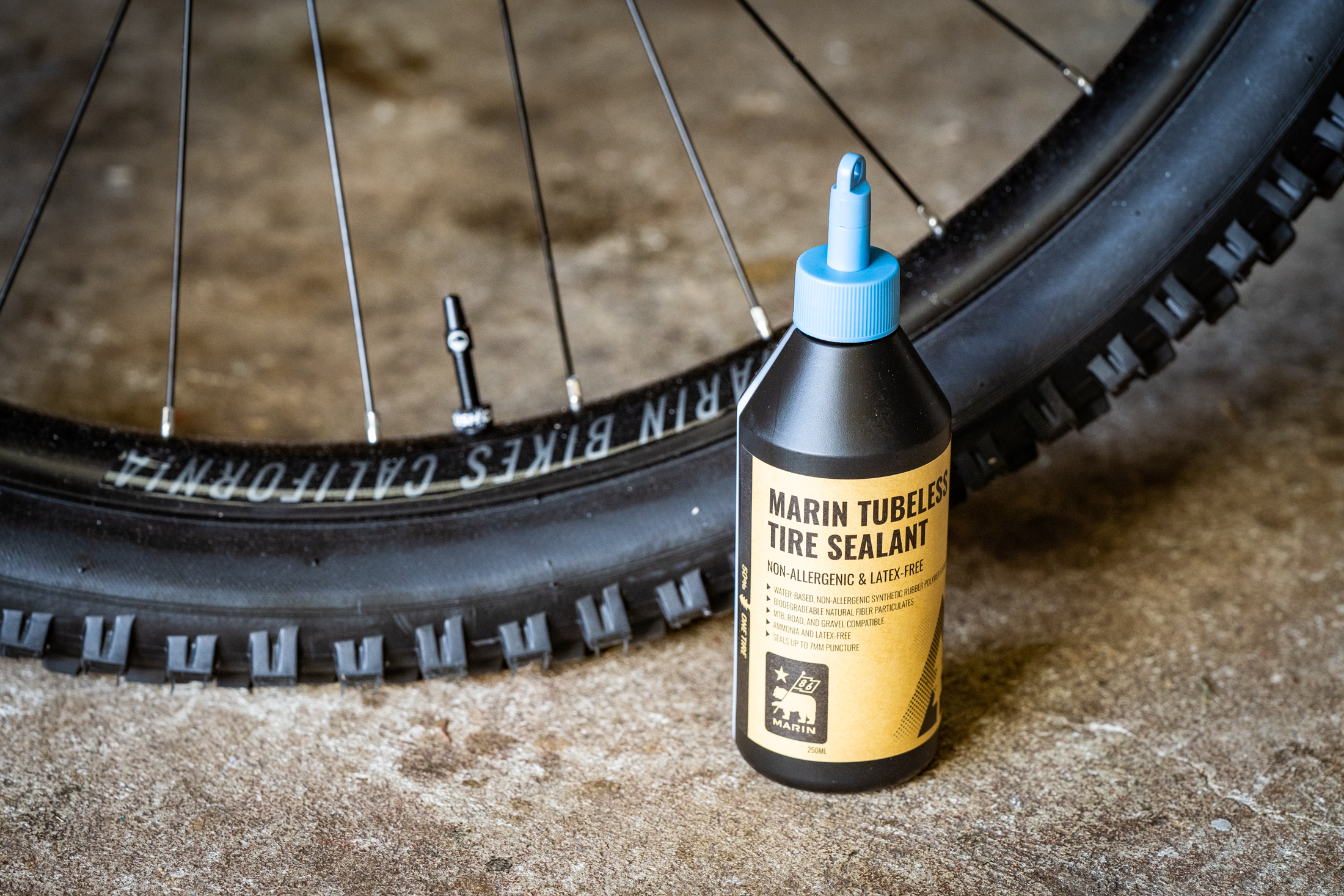 Testing the Marin Rift Zone E1
To put the Marin Rift Zone E1 to the test, we put it into the hands of our youthful enduro racer Jack.
Having spent a load of time testing the Canyon Spectral:ON, the Thok TK01-R and the Cube Stereo Hybrid 160, Jack was eager to see what the more budget-friendly Marin could offer. Here we chat to him about his experience of riding the Rift Zone E over the past few weeks.
How have you found the overall fit & sizing?
With a height of 175cm, I opted to ride a medium Marin Rift Zone E. The riding position is generally upright, which provides a comfortable and relaxed feel during long rides.
However, I did notice a tendency for the front end to wander and lift if not actively hugging the front wheel when tackling exceptionally steep terrain. The upright riding position also requires a conscious effort to maintain weight on the front end when cornering. Once this adjustment is made, the overall riding experience is quite comfortable.
How have you found the contact points? Have you had to make any adjustments to the cockpit or seating position throughout the test?
The contact points on the Marin Rift Zone E are fine though I didn't like the stock dropper lever, which felt somewhat flimsy and stiff to use. Additionally, the dropper itself is a bit cheap and required extra care when operating it. Specifically, it was necessary to ensure that all weight was off the post before pushing the lever, otherwise it was difficult to engage, leading to discomfort and strain on the thumb. To mitigate this, I had to unweight the post, push the lever, and then put weight back on the post to smoothly drop it.
Tell us about your suspension and tyre setup
To help with dialling in the shock, Marin has a handy setup guide with suggested pressures and rebound settings to get you started. For my weight of 75kg I settled on 230psi in the RockShox Deluxe Select+ shock, which worked out to be around 25% sag. I adjusted the rebound dial to seven clicks from fully open (7/10 clicks).
I ran 90psi in the RockShox Pike Base fork, set the rebound seven clicks from open (7/22 clicks), and ran the compression dial fully open.
Given the rocky and janky nature of my local trails, I was thankful to see CushCore inserts fitted front and rear. This gave me a lot of confidence and let me run the tyre pressures at 25psi on the front and 27psi for the rear.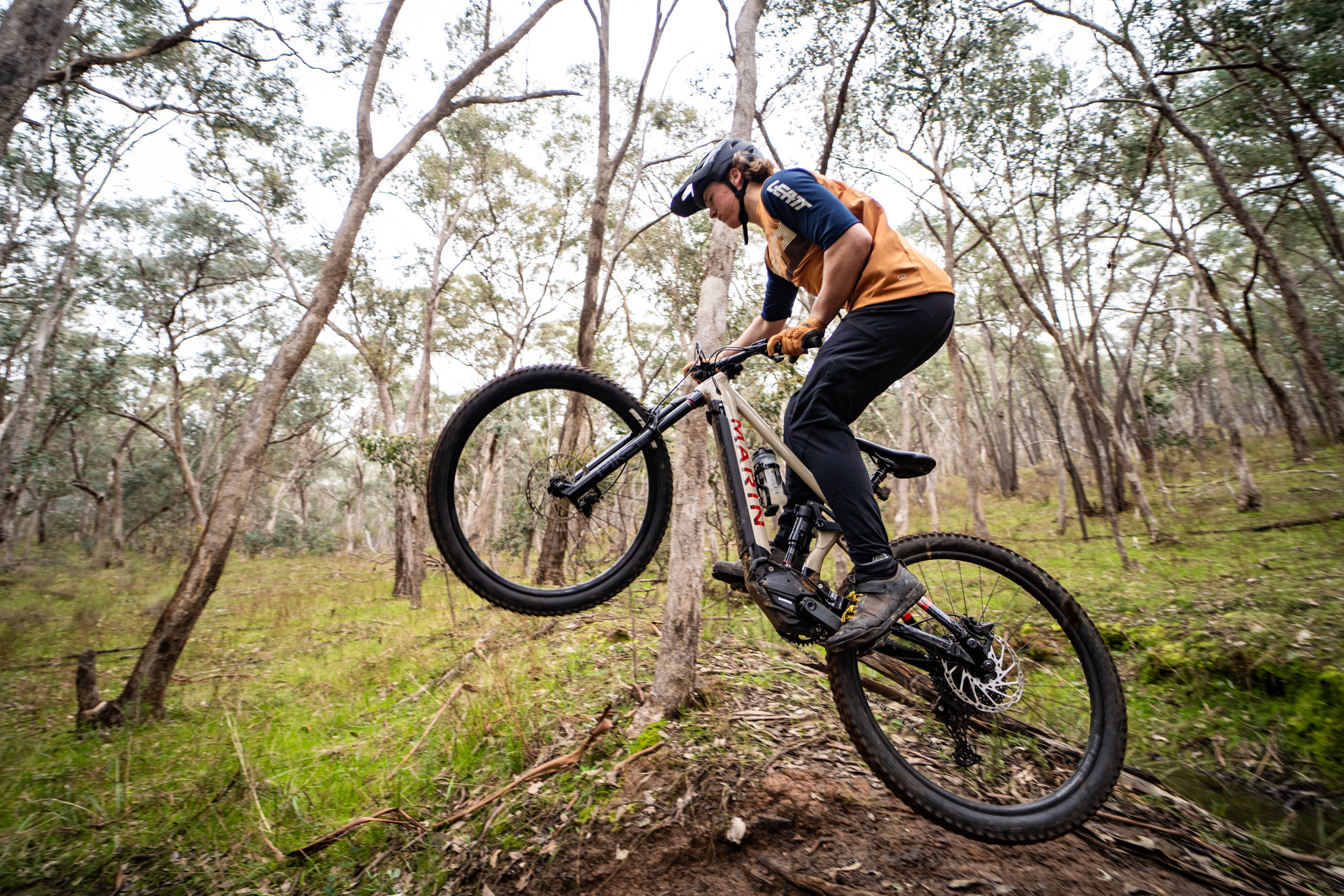 What do you dig about the Marin Rift Zone E?
One of the standout features of the Marin Rift Zone E is its versatility. It excels in a wide range of riding scenarios, making it a highly adaptable and capable e-MTB.
Whether climbing for extended periods or descending at speed, this bike showcases its all-around prowess. The combination of its comfortable geometry, solid construction, and the reliable motor system makes for a very well-rounded bike.
I found the Marin Rift Zone E to perform exceptionally well on flowy trails that involve higher riding speeds. Once the bike gains momentum, the additional weight becomes less noticeable, contributing to improved stability, particularly when airborne. Newer and less-skilled riders will find this to be a very confidence-inspiring ride characteristic.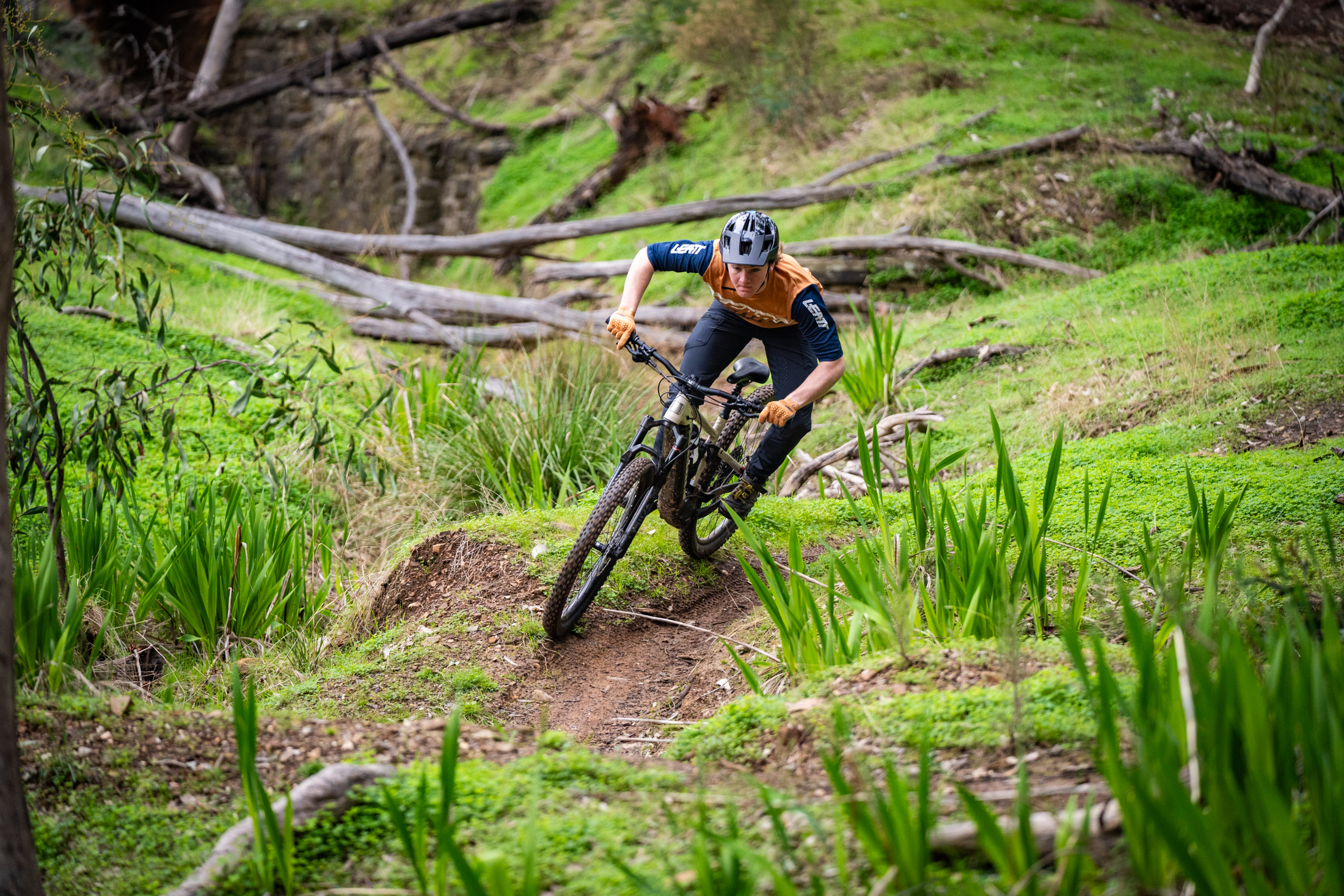 I've been impressed with the Shimano motor system on the Marin Rift Zone E, which has proven itself in terms of performance and ease of use. Despite being the slightly heavier EP6 system, the motor delivers ample power and the same maximum torque rating of 85Nm as the more expensive EP8 drive unit.
Combined with the 630Wh battery I was able to rack up a decent amount of range. In the highest assistance mode, primarily while riding up fire roads to reach the top of my favourite descending trails, I could do approximately 1,850m of climbing. This equated to a substantial 3.5-hour ride.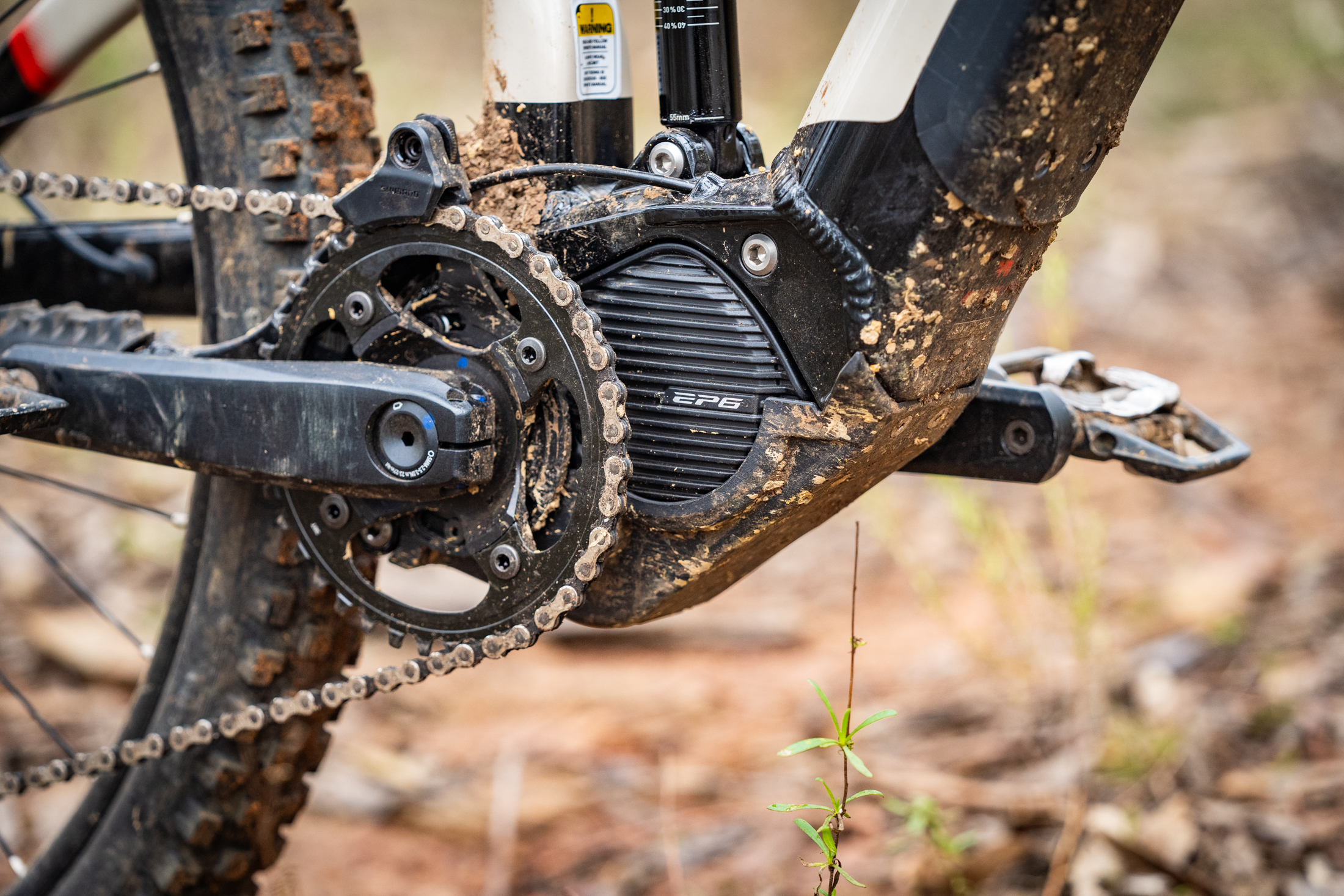 What has the Marin Rift Zone E struggled with?
While the Marin Rift Zone E offers great stability when bombing downhill, it starts to show some limitations when the descents get longer and rougher.
Due to the added weight of the motor and battery, the small air shock tended to heat up significantly towards the end of a run. The higher temperatures led to a feeling of inconsistency in the rear end's performance, with the rebound damping in particular becoming quite fast and springy.
I also found the Marin Rift Zone E to feel a bit heavy and less nimble on tight, janky trails. The short rear end means it is pretty easy to corner with, but the additional weight makes it challenging to quickly manoeuvre and change lines when faced with unexpected obstacles. This means that you need to be more careful with your line choice on off-piste terrain.
To be fair, that's not really what the Marin Rift Zone E is designed for. In my experience, this is a bike that's best suited to riders who enjoy long days in the saddle and are looking for a balance of comfort, climbing efficiency and downhill performance. And in that sense it does well to hit the mark.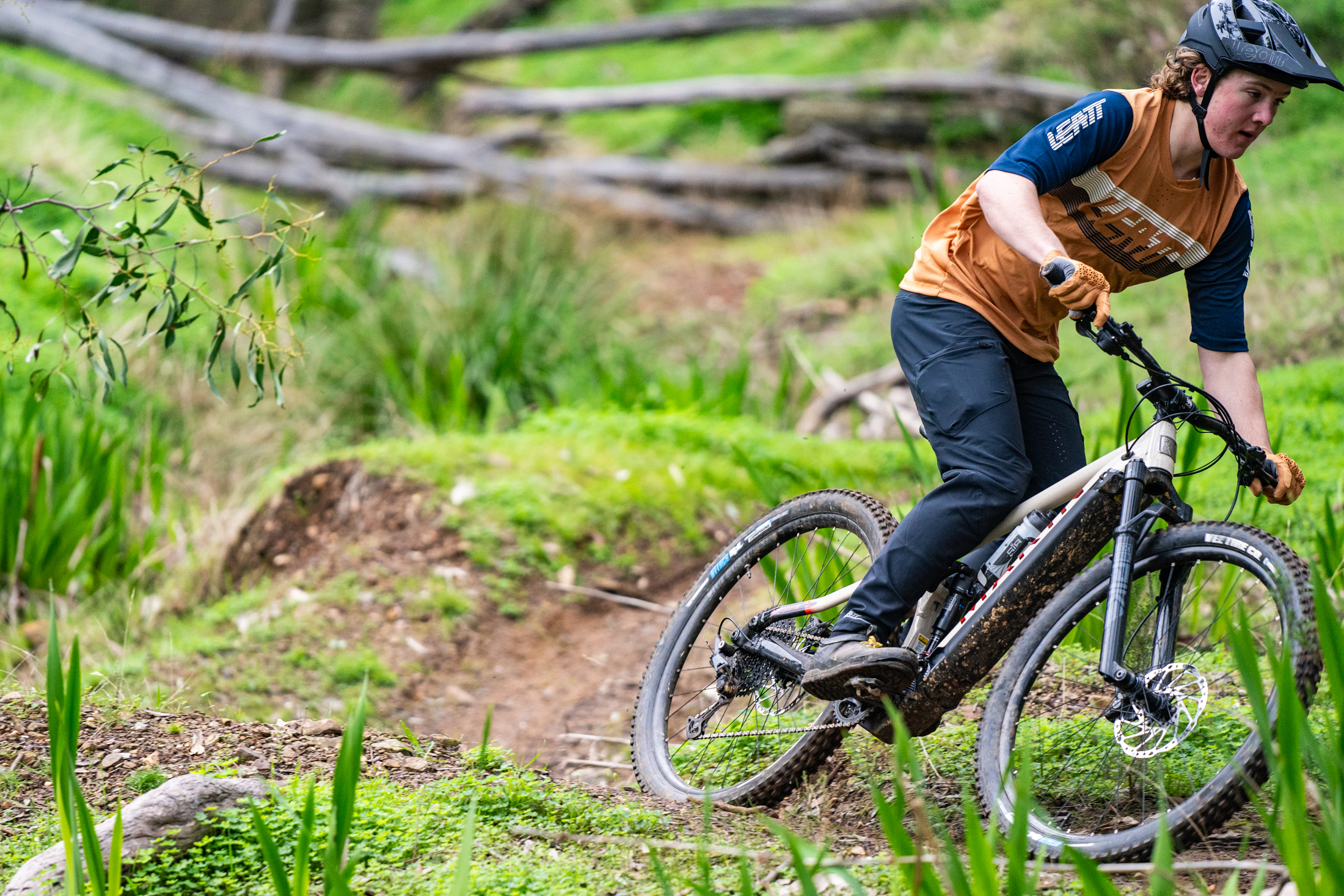 Component Highs & Lows
In terms of value for money, the Marin Rift Zone E1 offers a compelling package. It provides a solid frame and reliable components that perform well on the trails, and at a cheaper price point than an equivalent Trek, Specialized or Giant. The fact that it comes fitted with CushCore inserts and sticky tyres as standard is the cherry on top.
Another standout component is the Shimano MT400 brakes. The long levers mean you need to position them quite far inboard for one-finger braking, but once setup they provide ample stopping power and excellent modulation, which is particularly important on a heavier e-MTB.
While nothing on the bike failed throughout testing, I was less impressed by the dropper post. As mentioned earlier, the handlebar lever is quite stiff to operate and the dropper feels a bit cheap and required specific handling to engage smoothly.
If this were my bike I would upgrade the dropper post and remote, and I'd also consider fitting a piggyback shock. This would help to alleviate the heating issue on long descents while improving the bike's overall descending performance.
However, if you're a heavier rider and frequent steep terrain, you might want to look at the higher-end Rift Zone E2 to begin with. It costs an extra $2K, but it comes with a Fox 36 fork and Float X shock that will be better suited to harder riding.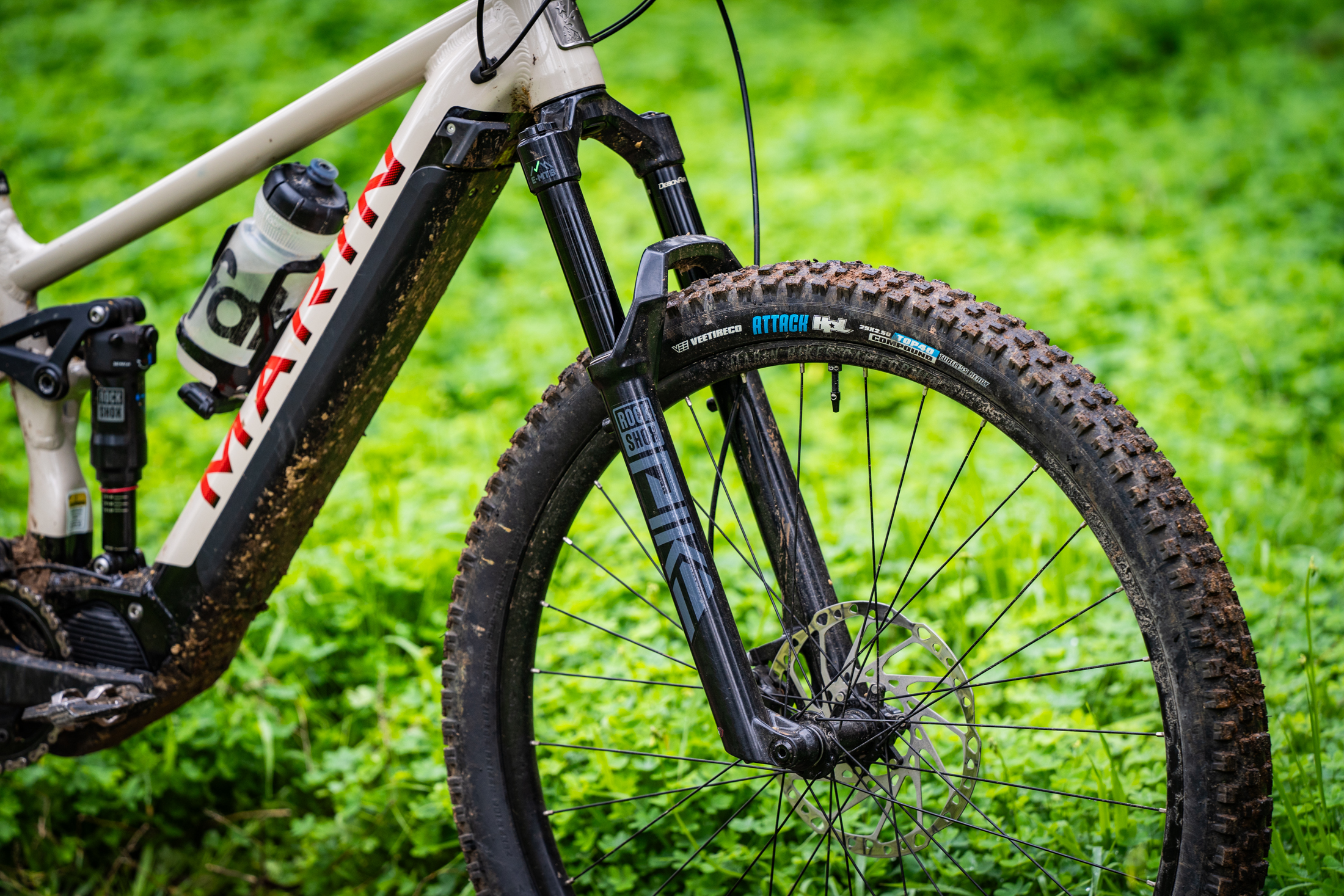 What's the competition like?
Although the Marin Rift Zone E1 is one of the better value e-MTBs out there, it isn't without any competitors.
The Merida eOne-Forty 500 offers a similar package with an alloy frame, 630Wh battery and Shimano EP6 motor, though it's built around a mullet wheel setup. It also has a little less travel with 140mm up front and 130mm at the rear, provided by a Marzocchi Bomber Z2 fork and a Suntour shock. The drivetrain and brakes are very similar, though the eOne-Forty 500 comes in slightly cheaper at $6,999 AUD.
Another option is the Polygon Siskiu T7E that we recently reviewed. That bike retails at a tantalising $6,599 AUD, despite coming with a higher-end Shimano EP801 motor, an SLX 12-speed drivetrain and SRAM Code R brakes. It has 10mm more travel up front, though we were disappointed with the performance of the Suntour Aion fork and TriAir2 shock. In comparison, the RockShox suspension on the Rift Zone E2 offers better sensitivity and comfort, and the backup service and support through SRAM is also appealing.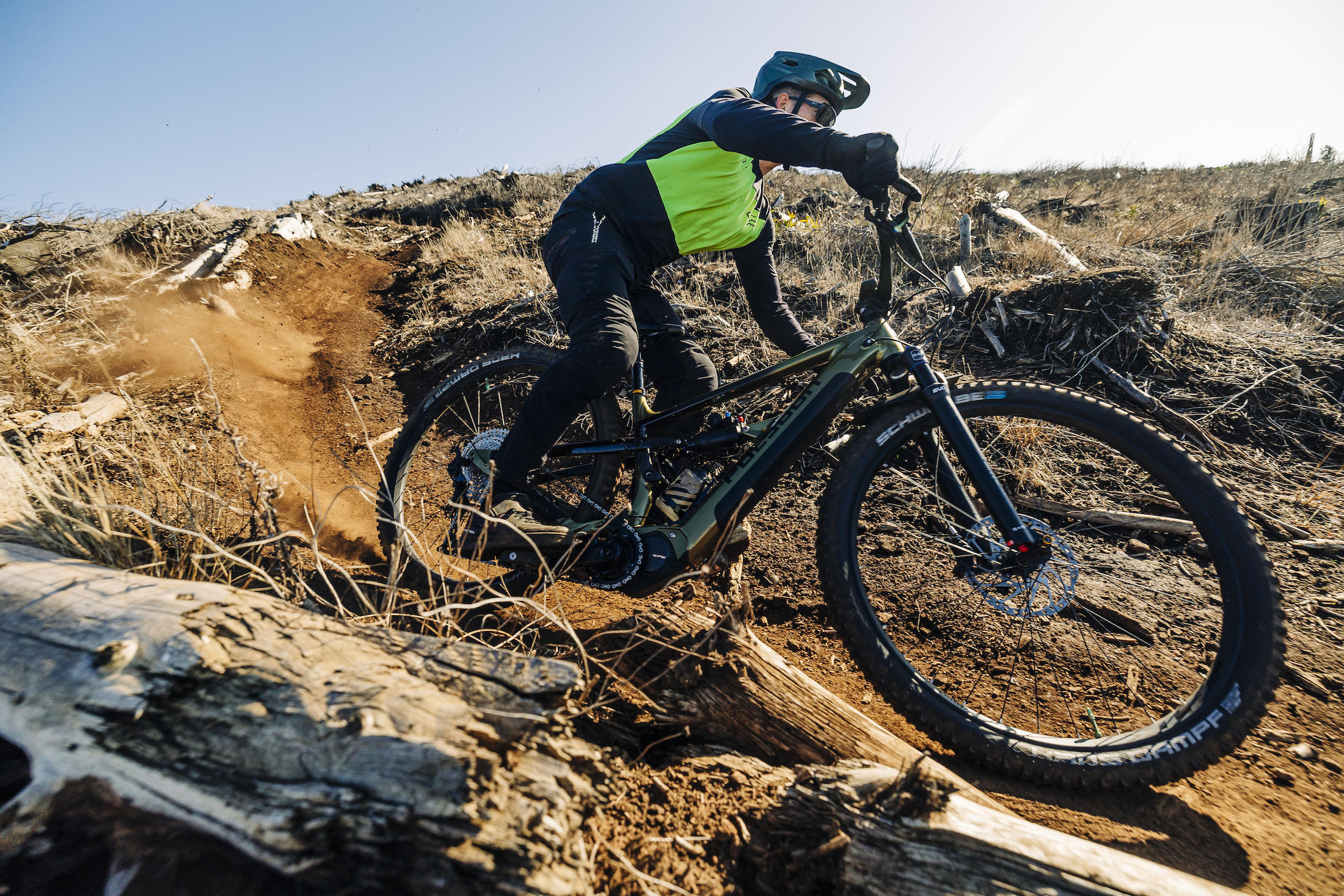 Marin Rift Zone E vs Alpine Trail E
On top of those competitors from Merida and Polygon, we expect that a lot of people who are looking at the Marin Rift Zone E1 are likely to be considering the Marin Alpine Trail E1 as well.
This bike sells for the same price of $7,499 AUD, and it features an alloy frame along with the same 630Wh battery and EP6 motor. The brakes and drivetrain are also very similar, though it comes with a X-Fusion Trace fork and a RockShox Super Deluxe coil shock.
On top of that the Alpine Trail E1 features a mullet wheel setup and more travel, with 160mm up front and 150mm at the rear. Combined with its slacker head angle, the Alpine Trail E1 is better suited for riders who prioritise descending performance on more demanding terrain. If you're after a heavy-duty rig for self-shuttling duties, the Alpine Trail E is the obvious choice.
In comparison, the Marin Rift Zone E1 aims to provide a more balanced and versatile riding experience. Its slightly shorter travel and lighter weight build kit make it a comfortable climber that still offers plenty of confidence on the descents. As well as being more approachable for newer riders, this makes it a great option for those who enjoy a bit of everything and are after an all-around trail bike.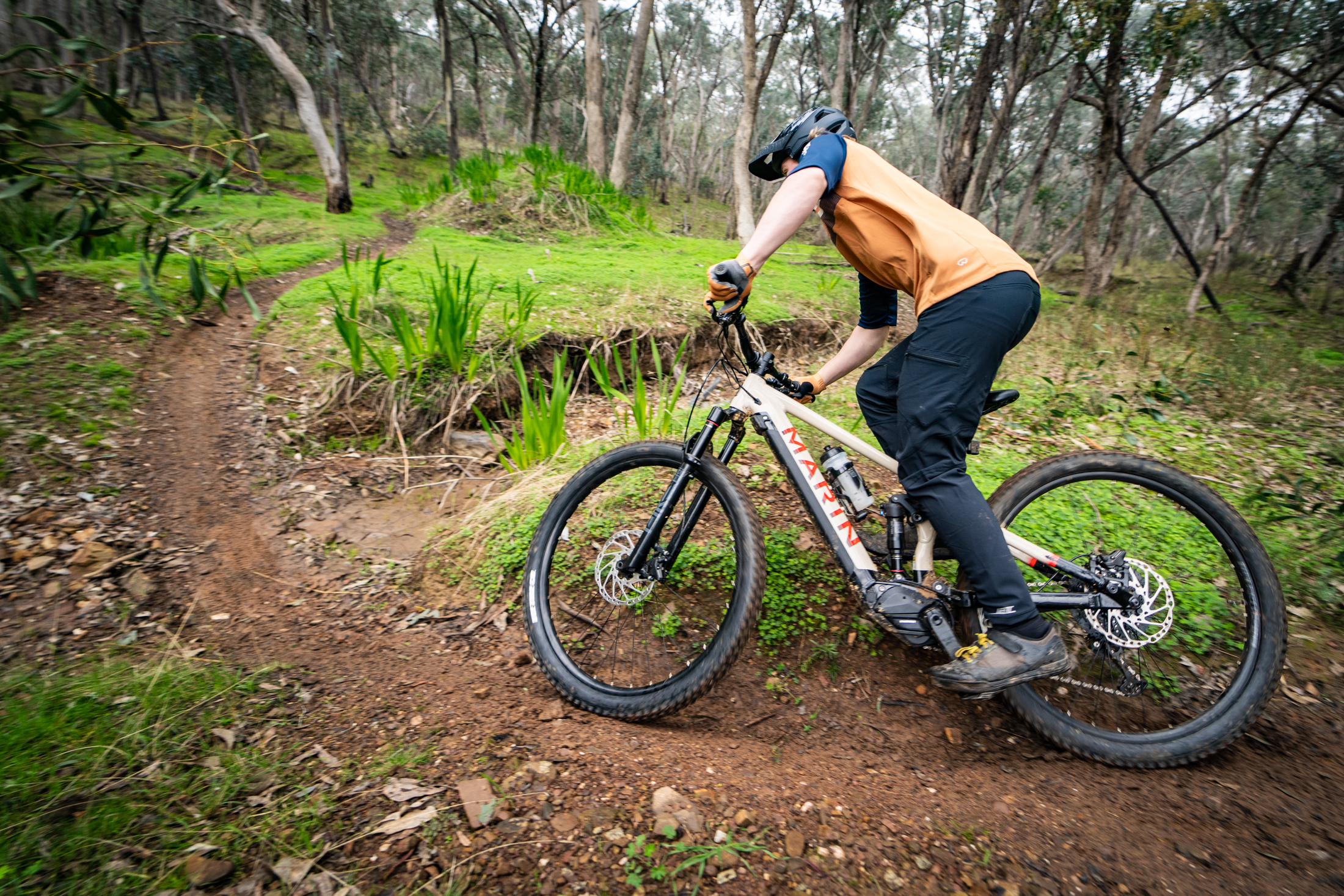 Flow's Verdict
If you're looking to invest in your first proper full suspension e-MTB, there's a good chance you'll have been eyeing off one of the Marin Rift Zone E models. And having now spent a good few weeks putting it to the test, we're happy to report that the Rift Zone E1 delivers a solid and capable package for the money.
The geometry is great, the Shimano EP6 motor performs well, and the 630Wh battery will deliver sufficient range for most riders. We're stoked to see Marin including CushCore inserts as standard, and along with the sticky tyres, powerful brakes and smooth RockShox suspension, the Rift Zone E1 ticks close to all the boxes for a modern e-MTB.
We would like to see some sort of flip chip to allow you to fit a 27.5in rear wheel, as there were moments on tighter and techier trails where we found the full 29in setup to be a little too planted. With that in mind, if you're likely to be riding gnarlier singletrack on more rugged terrain, you might want to consider the bigger travel Alpine Trail E.
But for the newer and less aggressive riders who value versatility and want a bike that can handle a wide range of trails, the Marin Rift Zone E1 is a comfortable, competent and well-priced option.