Wil reviews the Cube Stereo Hybrid 160
It was back in 2020 when we last reviewed the Cube Stereo Hybrid 160. Its powerful Bosch motor, easy handling and cushy ride made it an appealing package, with the kind of value for money that we typically associate with bikes that are sold direct-to-consumer.
It wasn't perfect though. We were underwhelmed by the narrow bars and tyre spec, which was compounded by the twitchy steering and wallowy suspension. It seems that Cube has been listening however, because this new bike answers every previous criticism we had, while bringing about some key improvements. Is it enough to take on the best electric mountain bikes on the market? We've been testing the latest Cube Stereo Hybrid 160 to find out!
---
Watch our video review of the Cube Stereo Hybrid 160:
---
That's a damn impressive price, and it makes this bike pretty much unrivalled in terms of spec.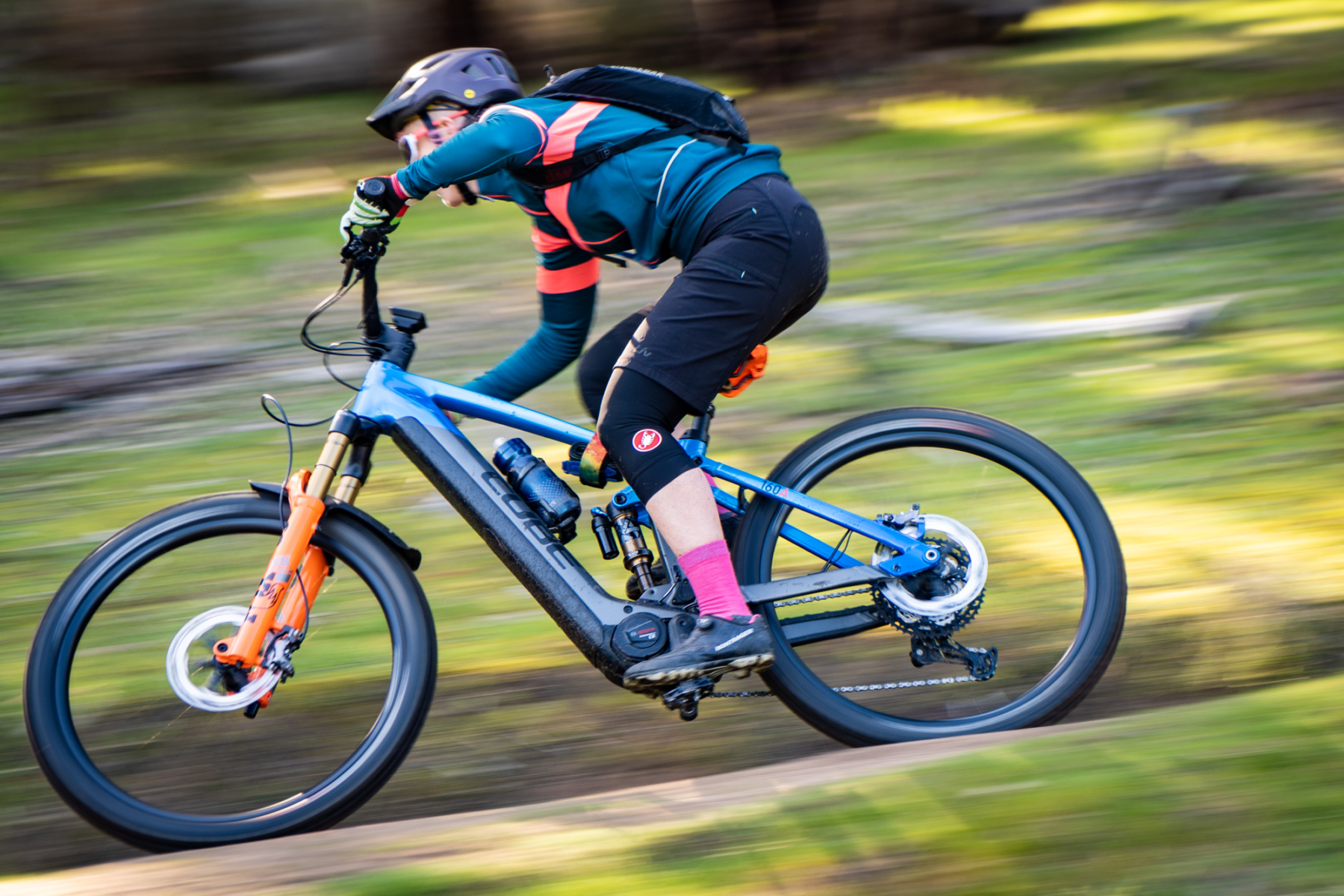 An overview of the Cube Stereo Hybrid 160
Designed for big mountain riding, the Cube Stereo Hybrid 160 is the German brand's e-Enduro race bike. It's equipped with 160mm of rear wheel travel, a 170mm fork and dual 27.5in wheels.
The wheelsize makes it stand out amongst its competitors, which have mostly moved to a full 29in setup (Trek Rail, Norco Sight VLT) or a mullet setup (Specialized Levo, Merida eOne-Sixty, Canyon Spectral:ON). Of course there are still folks out there who prefer the ride quality of 27.5in wheels. Typically, they also offer greater strength and overall stiffness compared to 29in wheels, which is an important consideration for a big travel e-MTB.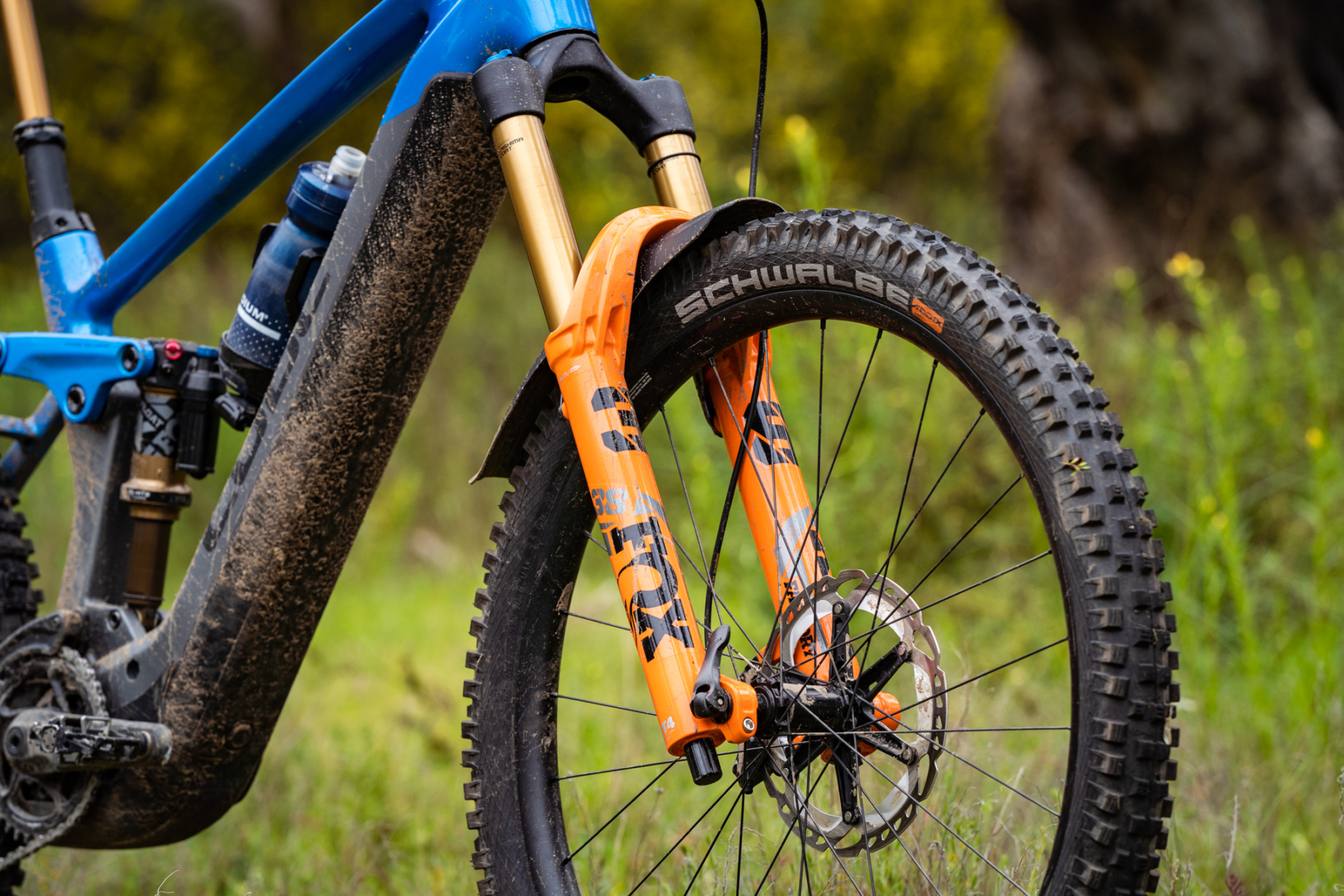 Cube is clearly committed to the platform, with the Stereo Hybrid 160 receiving an all-new chassis for this year. The carbon front end features updated geometry, and it's been redesigned to accommodate the larger 750Wh Bosch PowerTube battery. There's a matching Bosch Performance CX motor, along with the latest Kiox 300 display and LED controller up at the cockpit.
Keeping the costs down, the frame's rear end is made from hydroformed and heat-treated alloy. The dropouts now feature a SRAM UDH, which allows the derailleur to rotate backwards in the event of an impact.
Cube Stereo Hybrid 160 price & specs
There are numerous models available in the Cube Stereo Hybrid 160 lineup for 2022. Prices kick off at $7,699 AUD for the entry-level bike, and go up to $14,999 AUD for the top-end model. For a closer look at all of the specs and pricing, check out our Cube Stereo Hybrid 160 range overview.
The bike we've been testing sits one step down from the top. It's the Cube Stereo Hybrid 160 HPC Actionteam, and it retails for $11,499 AUD. You won't necessarily pay that amount, as Cube's Australian importer and retailer, 99 Bikes, offers a $5 club membership that instantly drops the price down to $10,350 AUD.
That's damn impressive, and it makes this bike pretty much unrivalled in terms of spec. To put it in perspective, the Scott Patron we recently reviewed features a similar level of spec, but sells for five grand more. We know that bikes are far greater than their spec sheet however. So more importantly, how does it ride?
2022 Cube Stereo Hybrid 160 HPC Actionteam
Frame | C:62 Carbon Mainframe w/6061 T6 Alloy Rear, FSP 4-Link Suspension Design, 160mm Travel
Fork | Fox 38, Factory Series, FIT4 Damper, 170mm Travel
Shock | Fox Float X, Factory Series, 205X65mm
Drive Unit | Bosch Performance CX Gen 4, 85Nm
Battery | Bosch PowerTube 750Wh
Wheelset | Newmen Evolution SL E.G Alloy, 30mm Internal Rim Width
Tyres | Schwalbe Magic Mary Super Trail Addix Soft 2.4in Front & Big Betty Super Trail Addix Soft 2.4in Rear
Drivetrain | Shimano XT 1×12 w/e*13 Plus 36T Crankset & 10-51T Cassette
Brakes | Shimano XT w/203mm Rotors
Handlebar | Newmen Advanced, Carbon, 31.8mm Diameter, 25mm Rise, 780mm Width
Stem | Cube Performance Stem, Alloy
Seatpost | Fox Transfer, Factory Series, 31.6mm Diameter, Travel: 150mm (M-L), 175mm (XL)
Available Sizes | Medium, Large & Extra-Large
Confirmed Weight | 24.78kg
RRP | $11,499 AUD
You're treated to oodles of grip and rock-devouring sensitivity, allowing the whole bike to remain calm and comfortable across rocky trails.
Cube Stereo Hybrid 160 size & fit
No doubt a contributing factor to the impressive price, the new Cube Stereo Hybrid 160 is only available in three sizes from Medium to Extra-Large. I suspect this wasn't necessarily a cost-saving decision though, but rather due to the difficulties of fitting a 750Wh battery into a Small frame. Either way, it's worth noting that Cube does offer the base-level Stereo Hybrid 160 model in a Small, albeit with the older frame and 625Wh battery.
To suit our 172-176cm tall testers, we've been riding a Medium. Compared to the old version, reach has increased from 440mm to 453mm. The seat angle has steepened to 76°, while the head angle remains unchanged at 65°.
The 150mm dropper post is an improvement over the old bike, though personally I'd prefer a little more than that on a big travel e-MTB like this. Taller riders aboard the Large frame (which gets the same 150mm dropper), will feel more strongly about the saddle getting in the way on the descents.
We've otherwise gotten along fine with the cockpit, which now comes with 780mm wide bars as standard. The highly textured grips also deserve mention for their squishy comfort and tactile tread pattern.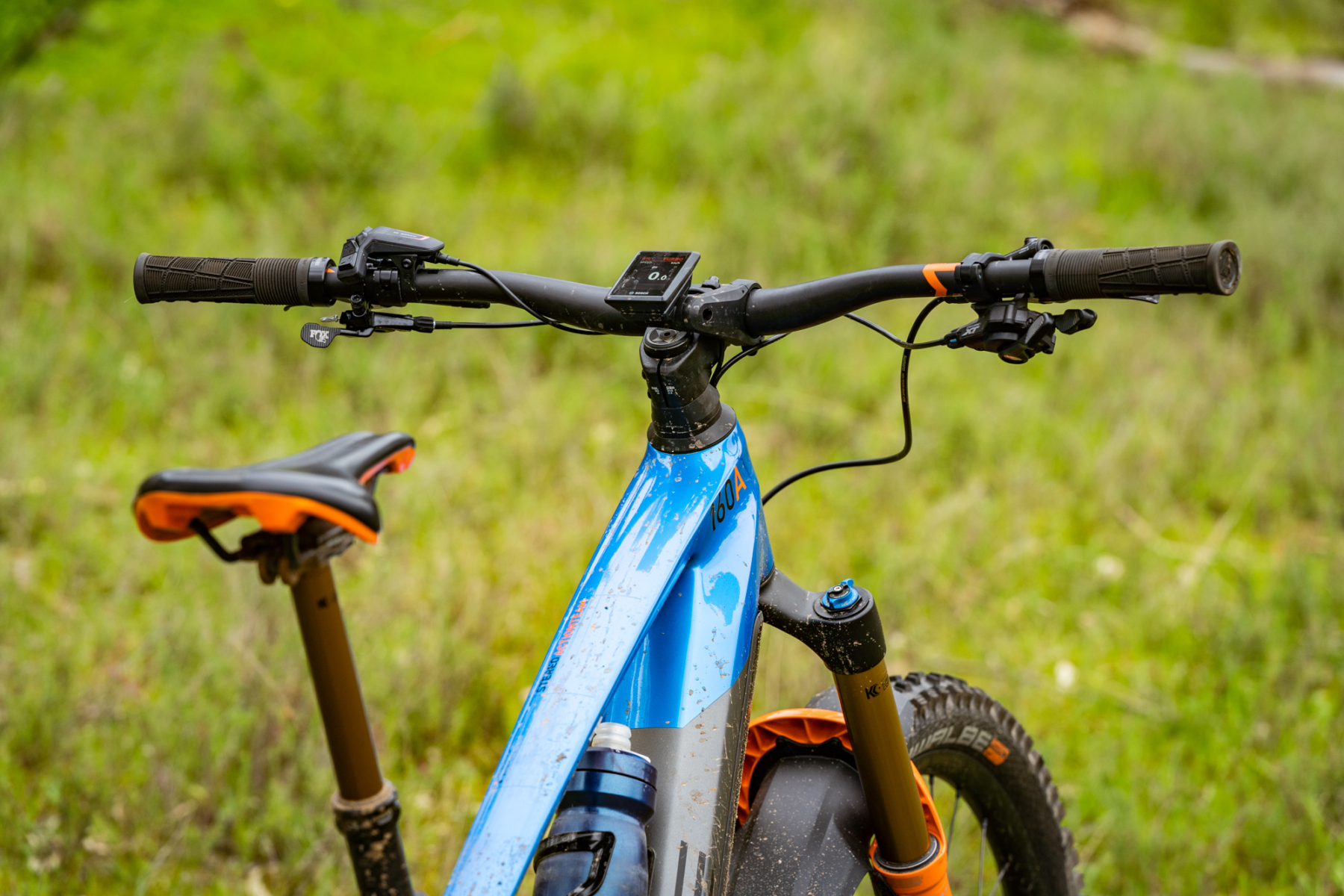 Suspension setup
When it comes to first setting up the suspension on the Cube Stereo Hybrid 160, there's a notable lack of information on the website. Other brands are doing a great job in this regard, so we'd love to see better support from Cube to help its customers get the most out of their new bike.
There is at least a setup chart on the back of the fork lowers, which will get you started with pressures and rebound settings up front.
As for the shock, I aimed for 30% sag to begin with. I found the bike to ride a little low during the first few rides, which led to a number of pedal strikes on rocky tech climbs. I experimented with increasing pressure, eventually settling on 27% sag. This offered a slightly taller ride height and better support too.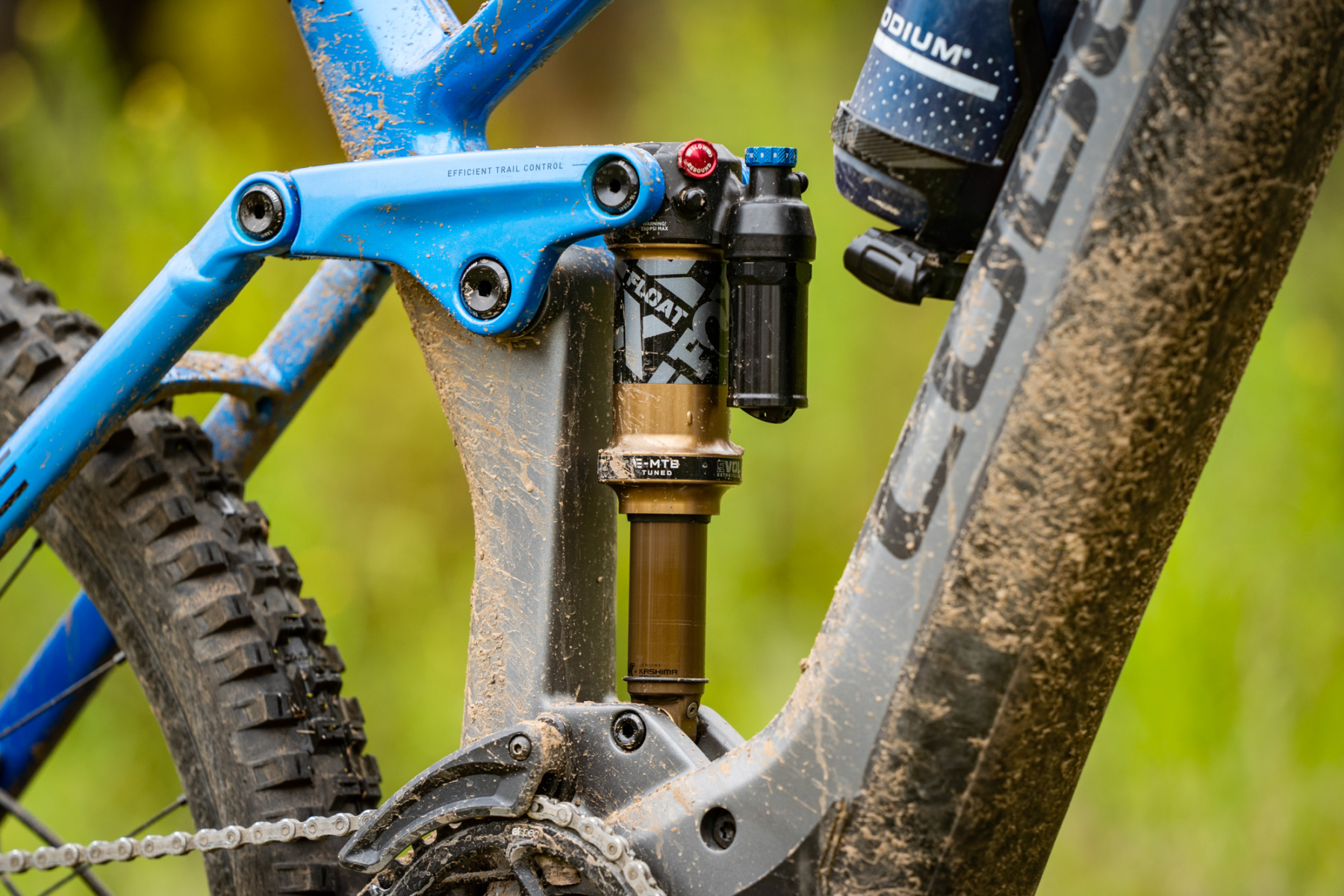 Cube Stereo Hybrid 160 weight
Our Cube Stereo Hybrid 160 HPC Actionteam test bike weighed in at 24.78kg, without pedals.
Unlike most of the weights we publish in our bike reviews, this was measured with the stock inner tubes fitted. While the wheels are tubeless ready, for some reason the rims come fitted with non-tubeless tape. Annoyingly, this means you'll have to buy tubeless tape, valves and sealant in order to ditch the tubes, which is unusual for a high-end bike in 2022.
With no time for faffing, we simply tested the bike as it came out of the box, tubes and all. Pressures were cautiously set at 21-23psi up front and 23-25psi for the rear.
What do we dig about the Cube Stereo Hybrid 160?
Within the first few hundred metres on the trail, it's clear that the new Cube Stereo Hybrid 160 is a significant improvement over its predecessor.
The fit is much better thanks to the wider bars, longer reach and steeper seat tube angle, which places you more centrally between the hub axles. This is particularly noticeable on the climbs, where your hips sit further over the pedals. On steeper gradients however, the relatively short wheelbase means you'll still need to get your weight forward over the front wheel to prevent it from lifting.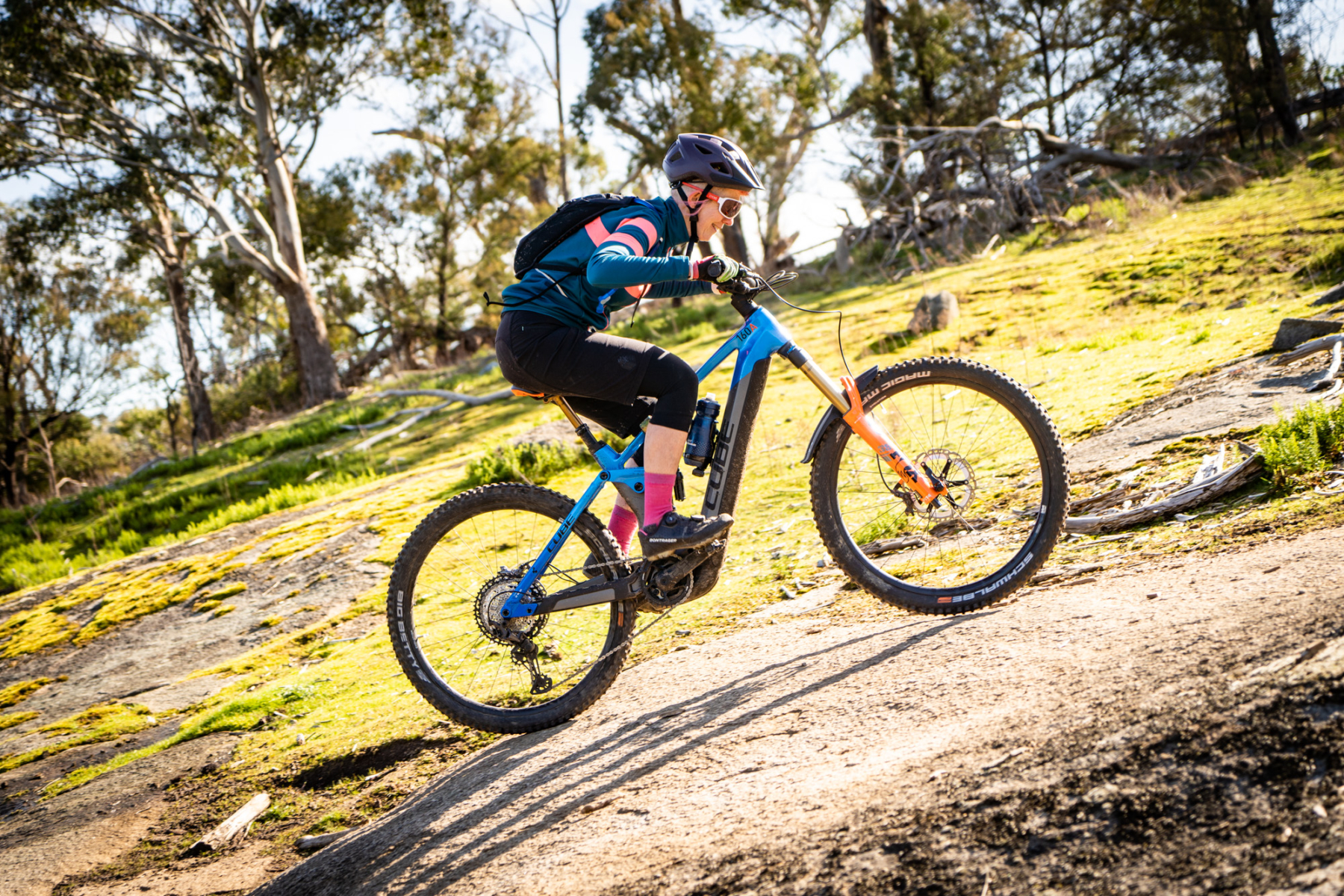 As the terrain gets rougher, the Stereo Hybrid 160's suspension impresses with its plush demeanour, which is well-controlled by the excellent Fox Float X shock. You're treated to oodles of grip and rock-devouring sensitivity, allowing the whole bike to remain calm and comfortable across rocky trails.
Compared to the previous generation frame, Cube has made the rear suspension more progressive so that the travel ramps up as it nears the end of the shock stroke. The result is better big-hit control, and along with the Float X's generous bottom-out bumper, hitting full travel is basically a non-event. You can also feel the increased support through the middle portion of the travel, which gives your feet a little more platform to push on. Overall it's quite poppy and enthusiastic for a big travel e-MTB.
Cube seems to have gotten the balance right, as the suspension is still nice and active despite the increased support. It floats beautifully through high-speed rock gardens, with minimal feedback through the pedals. It doesn't kick you during seated pedalling on chunky tech climbs either, with the rear end tracking the ground smoothly, generating gobs of traction.
Grip is no doubt bolstered by the impeccable tyre spec. The Schwalbe Magic Mary and Big Betty is a great combo, especially when paired to the Addix Soft rubber compound. We also love that Cube has spec'd an extra-tough Super Gravity casing for the rear, which obviously cops an absolute hiding on an e-MTB. The result is a fantastic level of damping, and despite running low pressures with inner tubes, we encountered zero punctures throughout testing. Impressive stuff!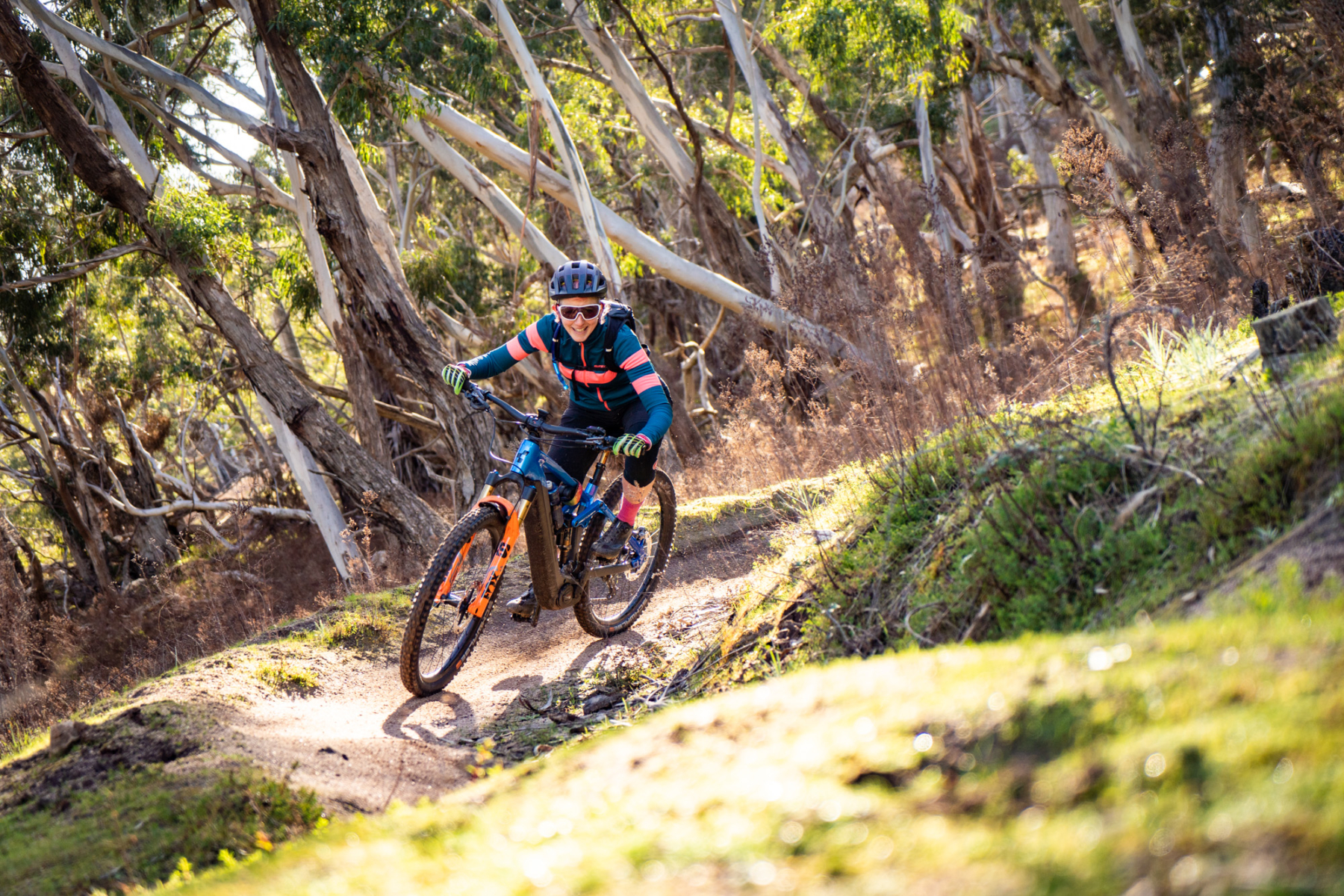 Nice 'n' nimble
For a big travel e-MTB that weighs close to 25kg, the Cube Stereo Hybrid 160 is actually pretty easy to throw around. This was particularly obvious coming off the Scott Patron, which features 29in wheels and a much longer wheelbase. As a result, that bike delivers a very grounded ride quality.
In comparison, the Stereo Hybrid 160 feels smaller, more agile and easier to place on the trail. Of course the 27.5in wheels contribute to this sensation, and so too does the short 441mm rear centre length. Less effort is required to lift up the front wheel, and the balance point comes much sooner, making it an absolute manual machine. It also loves to take to the air, with the progressive suspension and sturdy tyres soaking up heavy landings.
All of this makes the Stereo Hybrid 160 a load of fun to ride on gravity-fulled flow trails, where you can make the most of its agile handling. On the flip side, it also makes it an easy bike to ride at slower speeds on less hectic terrain. Less experienced riders will find confidence in the unobtrusive steering, plush suspension and comfortable riding position.
What didn't we like?
While the Fox 38 is a great fork, the FIT4 damper seems like an odd choice for a bike that's as capable as the Cube Stereo Hybrid 160. The same fork is featured on the Scott Patron, though we're still yet to see the benefit of having access to a lockout on an e-MTB.
As we've discussed previously, the FIT4 damper doesn't offer the same level of control or sensitivity as the superior GRIP2 damper. I noticed this specifically on the Stereo Hybrid 160, where there was more feedback coming up through my hands compared to my feet. With that in mind, we'd much prefer to see Cube spec this bike with the GRIP2 damper to improve its balance.
Along with the 27.5in wheels and conservative geometry, the fork contributed to the Stereo Hybrid 160 not feeling as ploughable as some other bikes in this category. It certainly requires more concentration on the descents, especially compared to a full 29er like the Norco Sight VLT.
This is also the case when comparing it to mullet bikes like the Merida eOne-Sixty and Canyon Spectral:ON. While the Stereo Hybrid 160 does have a slacker head angle than those two, the use of a smaller 27.5in front wheel produces less trail overall. This means it's easier for the front wheel to get yanked off-line, and the steering feels lighter in most circumstances.
I wouldn't call it twitchy though. Indeed the high-traction rubber, plush suspension and overall weight give the Stereo Hybrid 160 a great deal of inherent stability in spite of the smaller 27.5in wheels.
Still, I can't help but wonder how it would perform if Cube had made it a dedicated mullet bike with a 29in front wheel and fork. No doubt it would sacrifice some of its nimbleness, but it would also boost control and confidence over rough terrain, which seems like an important attribute for a 160mm travel 'e-Enduro race bike'.
Range testing
When it comes to mileage, the latest Bosch SmartSystem and 750Wh battery is a potent combination. The motor offers loads of power, but it's intuitive and well controlled in the adaptive eMTB mode. It's also quite efficient, allowing me to get over three hours of ride time and up to 2,000m of elevation gain on most rides.
To see how the Cube Stereo Hybrid 160 compares to some of the other e-MTBs we've been testing lately, I also subjected it to our standardised range test. Utilising the highest assist mode, here's how much riding I got in before it went totally flat;
Norco Sight VLT (Shimano EP8, 900Wh Battery) – 2,478m climbing (12.8 runs)
Canyon Spectral:ON (Shimano EP8, 900Wh Battery) – 2,451m climbing (12.7 runs)
Cube Stereo Hybrid 160 (Bosch Gen 4, 750Wh Battery) – 2,320m climbing (12 runs)
Rocky Mountain Altitude Powerplay (Dyname 4.0, 720Wh Battery) – 2,108m climbing (10.9 runs)
Scott Patron (Bosch Gen 4, 750Wh Battery) – 2,079m climbing (10.7 runs)
Orbea Rise (Shimano EP8-RS, 360Wh Battery) – 1,388m climbing (7.2 runs)
Specialized Levo SL (SL 1.1, 320Wh Battery) – 1,377m climbing (7.1 runs)
Trek Fuel EXe (TQ-HPR50, 360Wh Battery) – 1,312m climbing (6.8 runs)
Specialized Kenevo SL (SL 1.1, 320Wh Battery) – 1,053m climbing (5.5 runs)
Pretty impressive hey! With over 2,300m of elevation gain, the Stereo Hybrid 160 wasn't that far off the Canyon Spectral:ON, despite having a considerably smaller battery. It also climbs faster, with the Bosch motor allowing me to cruise uphill around 2-3km/h quicker compared to Shimano EP8 bike.
Before we get too excited though, it's worth acknowledging that unlike almost every other bike in that list, the Stereo Hybrid 160 wasn't setup tubeless, and so it didn't have a CushCore insert fitted to the rear wheel. This may explain why it got significantly more range than the Scott Patron, despite the two bikes being equipped with the same motor and battery. With that in mind, I'd be very curious to try this range test again to see how a tyre insert would affect the outcome. Maybe there's an idea there for a future article?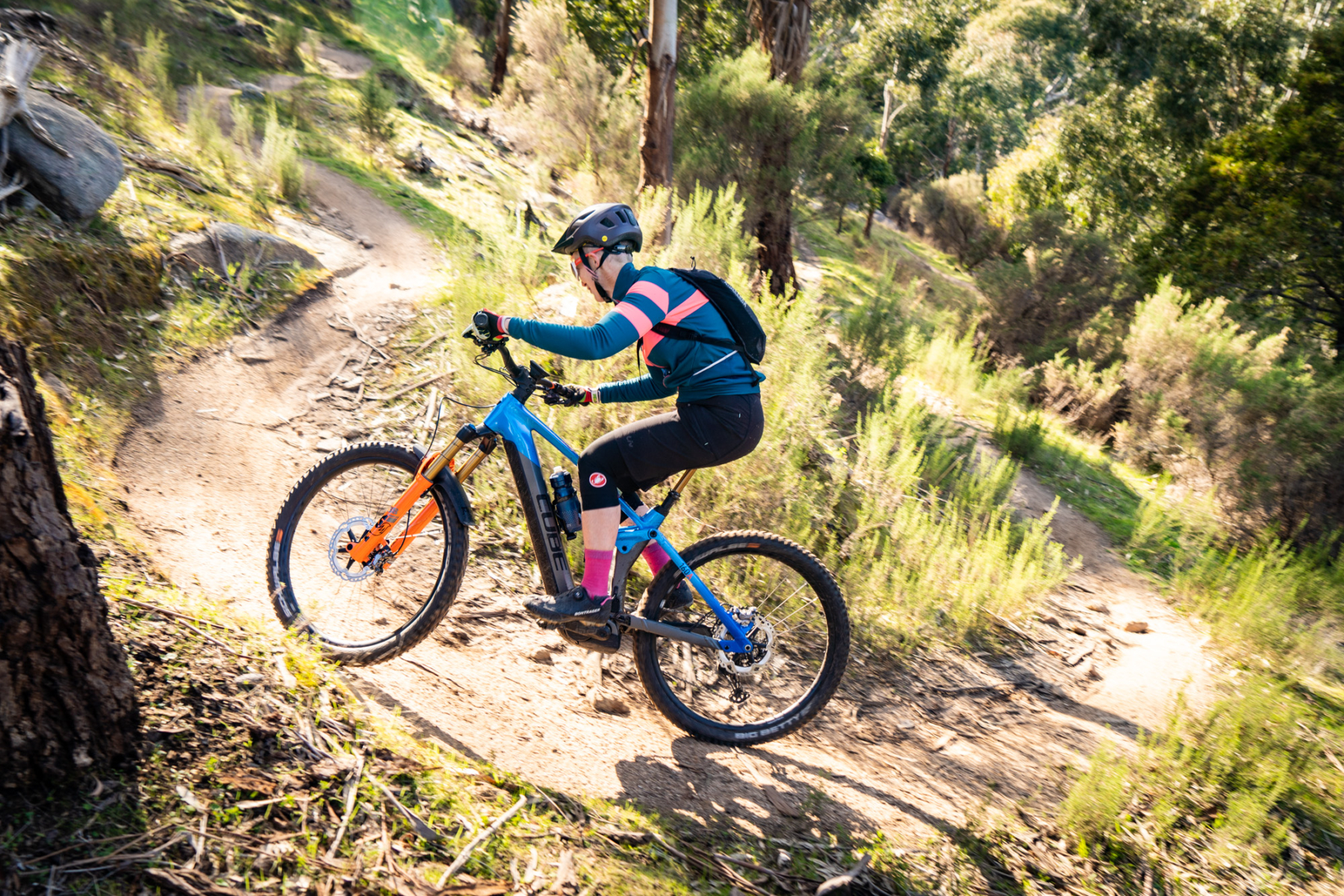 Component highs & lows
Despite its high-end spec, our Cube Stereo Hybrid 160 has not been without issues.
While first setting up the bike in the workshop, I discovered that the fork steerer tube had been cut too short from the factory. The result was inadequate purchase between the stem and steerer, which is potentially dangerous to ride. Given our test bike was a pre-production model, we passed this feedback onto Cube, and assume it'll be rectified on production bikes.
I removed a headset spacer to drop the stem down, giving it more steerer to clamp onto. During the first ride however, I encountered a loud knocking noise while I was bouncing down a descent. It turned out that the headset's plastic top cap had a small split around the bolt hole, which meant it wasn't preloading the bearings properly. I replaced it with an alloy top cap, snugged up the bearings, and it's been tight and smooth since.
Unfortunately there is still some creaking coming from where the cables pass through the headset. It's not the end of the world, but it reinforces my opinion on this routing method, which I don't think belongs on a mountain bike that's going to be ridden in all sorts of mucky conditions.
General finishing details on the Stereo Hybrid 160 could certainly do with improvement. The cheap plastic chainguide has come loose, despite my best efforts to tighten it back in position. And although the level of armouring is pretty extensive, the fit is sloppy between the motor casing and the downtube armour.
The wiring for the rear speed sensor is messy, and I'm slightly concerned by the vulnerability of the Kiox display and LED controller in the event of a crash. The way they sit above the handlebar also means you can't flip the bike upside down for any trailside repairs, which is annoying. The user interface is functional, but it's not as refined as the flush top tube displays we've seen on the Specialized Levo, Trek Fuel EXe and Rocky Mountain Altitude Powerplay.
As mentioned earlier, we'd much rather see this bike come with a GRIP2 fork damper. It's also disappointing that a high-end bike in 2022 isn't properly tubeless ready.
It's a shame because there's a lot to like about the Stereo Hybrid 160, and the spec is mostly on-point. The shift performance has been flawless, the Fox Transfer dropper is slick and the remote is one of the nicest out there. The tyres are brilliant and the high quality alloy wheels are strong, responsive and durable. Along with the alloy crank arms and back end, it's clear that the folks at Cube know a thing or two about riding an e-MTB in the real world.
Cube Stereo Hybrid 160 vs Canyon Spectral:ON
Out of the bikes we've tested recently, it's the Canyon Spectral:ON that matches up closest on the trail to the Cube Stereo Hybrid 160.
In terms of price, the Spectral:ON CF 9 comes pretty close at $11,599 AUD. However, you'll need to add on a $200 shipping fee as Canyon mountain bikes are sold direct to consumer. This makes its spec less impressive, though it does come with a GRIP2 fork and a wireless GX AXS drivetrain. You're also getting a lighter full carbon frame, and Canyon gives you the option of a 720Wh or 900Wh battery.
There are some further differences between the two bikes. The Spectral:ON has slightly less travel with a 150mm fork and 155mm at the rear. Geometry isn't hugely different, though of course it does use a mullet setup with a 29in front wheel.
Along with its more progressive suspension, I've actually found that the Spectral:ON can be pushed harder, the bigger front wheel offering more grip and momentum on the descents. It's still very poppy and playful, with the stiff carbon chainstays coming in slightly shorter than the Stereo Hybrid 160. That makes it a very fun bike to ride with a terrific balance of attributes. Check out our Canyon Spectral:ON review for the full story.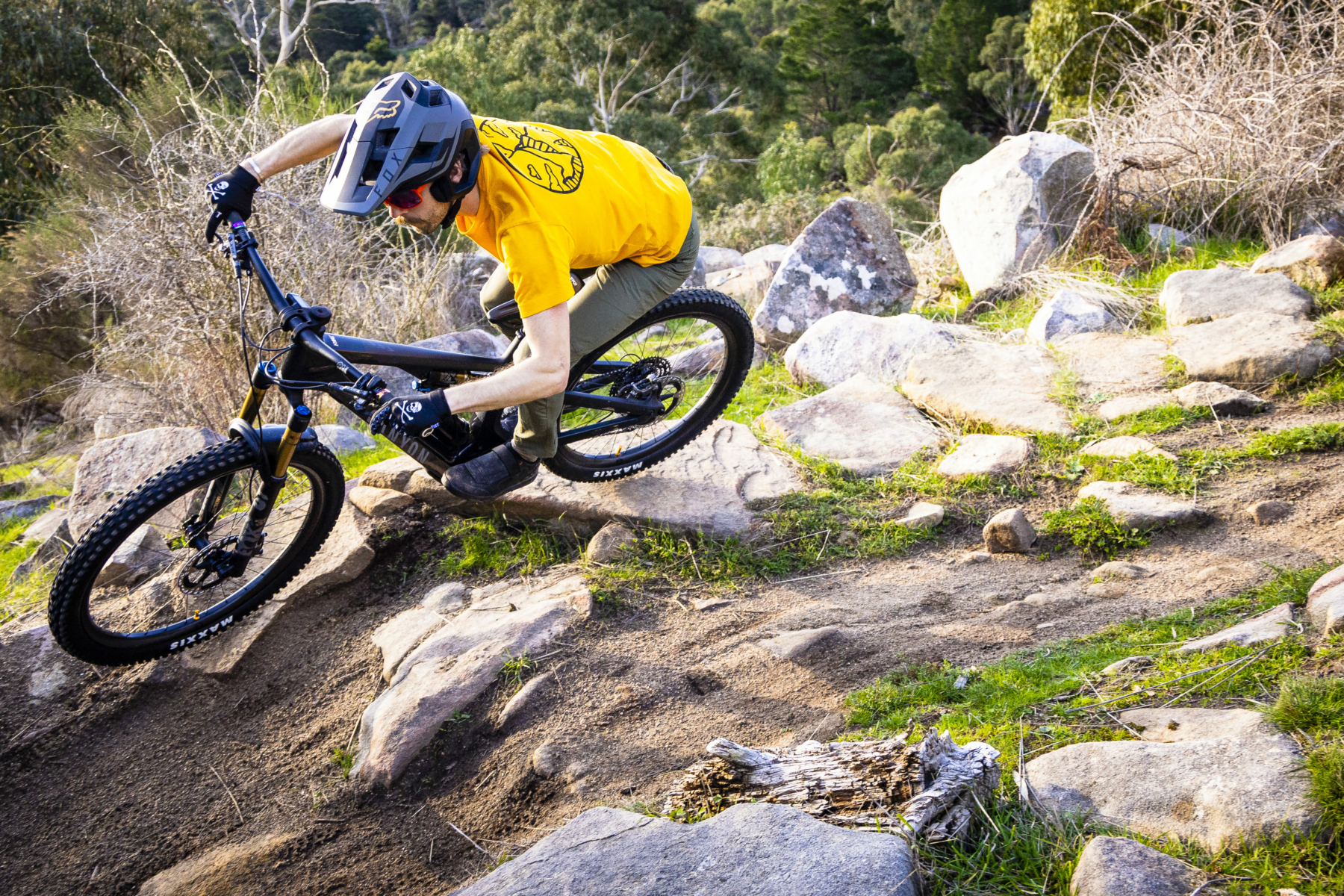 I do prefer the Bosch motor on the Cube however, which offers more power compared to the EP8 drive unit on the Canyon. Climbing speeds are faster, and the torque delivery is smoother and more consistent. And whether it's a result of better damping inside the frame, the Bosch motor on this particular test bike didn't seem to exhibit as much of a clacking noise on the descents as some other e-MTBs we've tested lately.
Sure, the Spectral:ON offers a more contemporary option with its mullet setup and big battery potential, but for some riders, the Bosch motor and the ability to buy the Stereo Hybrid 160 through a bricks 'n' mortar bike shop may simply make it the more appealing option out of the two.
Flow's Verdict
The Cube Stereo Hybrid 160 is certainly an eye-catching bike thanks to its bright paint job and impressive spec. In terms of outright value for money, we can't think of any other bike that matches it on paper.
The new frame brings about some welcome improvements, with the bigger 750Wh battery giving it some serious range potential. The updated geometry means it's a more comfortable bike on the climbs, while being more planted on the descents. It doesn't push things too far though, retaining a nimble ride quality thanks to its short rear end and dual 27.5in wheels. The suspension is stupendously plush, and along with the excellent tyre spec, it offers a smooth ride over chunky terrain while generating terrific traction.
We would like to see Cube spec this bike with a GRIP2 fork, and the finishing details on the frame could do with some refining. We're also curious to see how this bike would ride with a mullet setup, which of course is the hot ticket in the e-MTB world at the moment. Indeed for some riders, the dual 27.5in wheels may be a turnoff.
The smaller wheels and conservative geometry do make this a very agile bike though. That'll suit advanced riders who are after a full-powered e-MTB that they can manual, jump and schralp through high-speed bikepark terrain. It'll equally suit beginner riders who are after a comfortable bike that's easy to ride on less hectic trails. If either of those sound like you, and you're eager to stand firm with the 27.5 resistance, the Cube Stereo Hybrid 160 is a great option.
ABOUT THE REVIEWER - Wil Barrett
Hometown
Bendigo, Victoria