Hardtails for kids live a hard life. They get ridden to and from school, at the pump track in the afternoon and taken for big adventures on the weekend.
The Yama Jama is Spawn's response to this category of bike, and we have had Flow's Junior Test Team shredding trails and skills parks around Sydney on this beast from B.C.
Hailing from the storied North Shore of British Columbia, Spawn is a brand focused solely on kids bikes, and is aiming to elevate the category from weighty behemoths shod with cheap components to a platform where little shredders develop and grow their skills.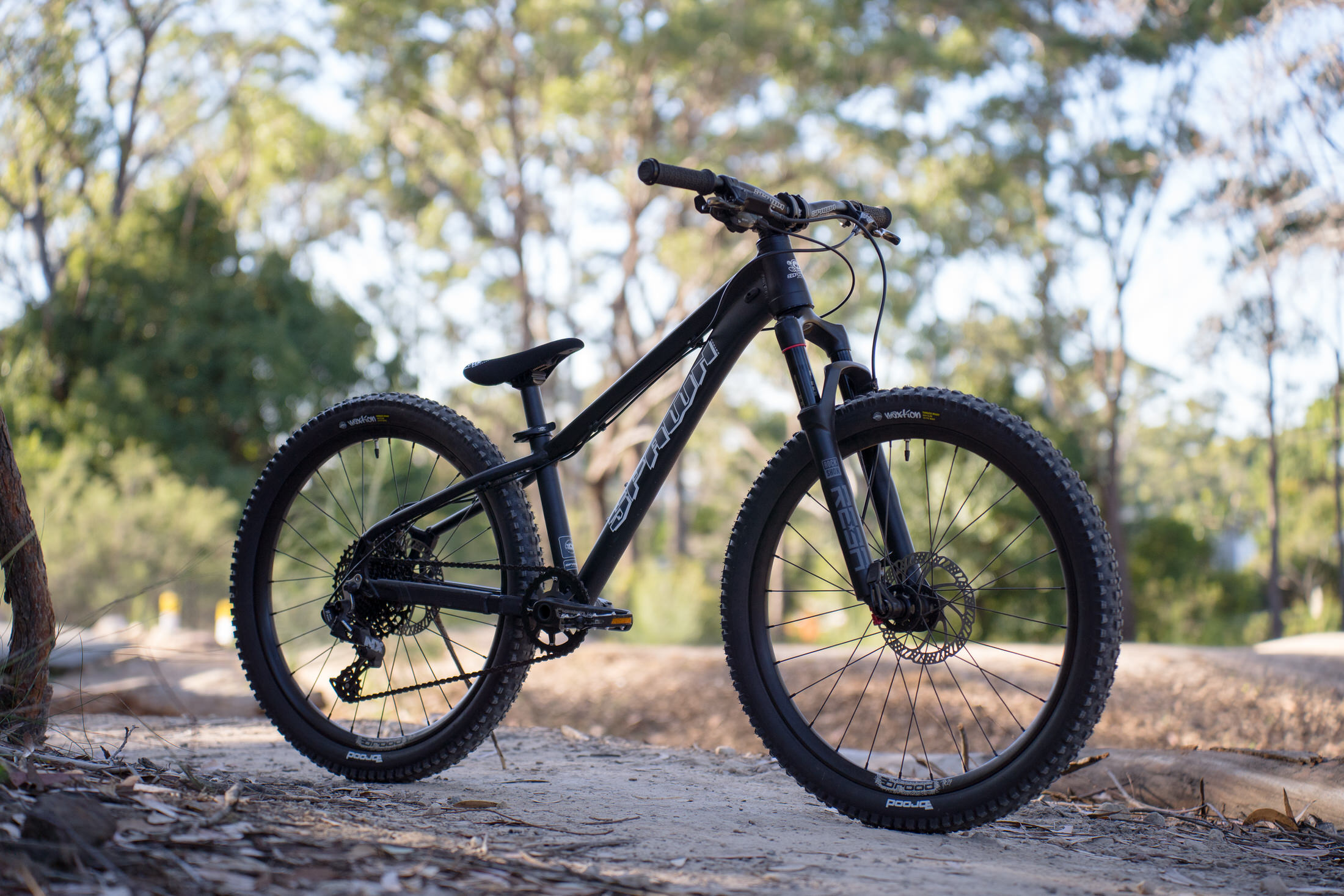 An overview of the Spawn Yama Jama kids bike
Available with 20-24in wheels, the Yama Jama is Spawn's platform for aspiring XC whippets, and it's where the brand first pioneered its in-betweeny 22in wheels.
The frame is made from 6061-T6 alloy, it sees a semi-integrated headtube and a forged BB-shell yoke at the rear. There's also ISCG-05 tabs and even routing for a stealth dropper post.
On the 20in and 22in sizes, a Brood Bike Co Eldorado fork provides the squish — with 80mm and 100mm of travel, respectively — while the larger bikes swap over to a RockShox Reba with a 100mm fork on the 24in and a 120mm of travel on the 26in.
At the cranks, we're happy to report the bike sees a GXP bottom bracket and two-piece cranks, rather than the square taper units often found on bikes of this size.
2023 Spawn Yama Jama price and spec
With the Yama Jama coming in four-wheel sizes, each has a slightly different spec and travel. For a full rundown of the models coming into Australia, check out our first look article.
Prices start at $1,999 AUD for the 20in model and jump to 2,399 AUD for the 26in size.
As we noted with the Spawn Rokk, there may be some sticker shock compared to other kids' bikes. However, when you look closer, these aren't plastic toys with no-name components sourced because they are cheap. Each of these bikes has a SRAM drivetrain, hydraulic brakes, real tyres and air-sprung suspension. In short, you get what you pay for.
Frame | Spawn Yama Jama 6061 T6 Alloy, Hydroformed and double butted tubing
Fork | RockShox Reba 26in, 100mm
Wheels | Brood TR27 Tubeless Ready 24in
Tyres | Brood Maxon 24 x 2.30in, Tubeless ready
Drivetrain | SRAM NX Eagle 1×11 w/32T Brood Styx 2-piece crank, 130mm arms & 11-42T Cassette
Brakes | Tektro Hydraulic disc brakes, 160mm
Bar | Spawn Cycles, Alloy, 680mm wide, 31.8mm clamp
Stem | Spawn Cycles, Alloy 40mm
Pedals | Wellgo Platform
RRP | $1,999 AUD
Spawn Yama Jama fit
Designed for kids between seven and 10 years old, some of the lines on the geometry chart aren't too far removed from what you'd expect on an adult-sized XC bike with a 68° head angle and a 72° seat angle — albeit with a 380mm rear centre, this bike is for kids ~122cm+ tall after all.
At the front, the 110mm headtube, combined with a fork designed for 26in wheels and tyres come together to create a high front end. The stem requires at least 15 mm of spacers underneath to clear the frame, however the drop design and low-rise bar prevent the overall stack from rivalling the Empire State Building.
With a super short 290 mm seat tube, there is great standover clearance, and the frame doesn't run into the same seat post insertion issues as its full suspension sibling, the Rokk. The saddle can be slammed as low as 370mm, which is ideal for an afternoon at the dirt jumps or pump track, but can also be raised as high as 540mm with the swing of a quick-release collar. This may not be quite high enough for taller or older riders, however, with dropper routing and a 30.9mm seat post diameter, the world is your oyster should you choose to go down that route.
While the spec sheet lists 680mm bars, our test bike came with a set of 640mm handlebars. They didn't appear to have been cut, however they matched up with the proportions of our mini-testers nicely.
We're stoked to see a bottom bracket with external bearings, but ideally we'd like to see shorter cranks than the 145mm Brood unit that comes on this bike. They're miles better for riders this size than the 152mm cranks you'll still find on many 24in kids bikes, but some brands are going shorter for additional pedal clearance.
Component highs and lows
Considering the tight spaces inside kids bikes, we're happy that there is room for a 600ml bottle inside the front triangle.
While the flat black paint job isn't quite as eye-catching as the pearlescent bluey/purple on the Rokk we've just tested as well, we're pleased to see a good quality stick-on frame protector to keep things in good nick.
We mentioned the length of the crank arms earlier, but small complaints aside, the two-piece design and SRAM direct mount chainring compatibility are refreshing. Spawn sends these bikes out with 32t chainrings from its in-house component brand Brood, but when this eventually wears out, there's probably already one in your shed that will fit.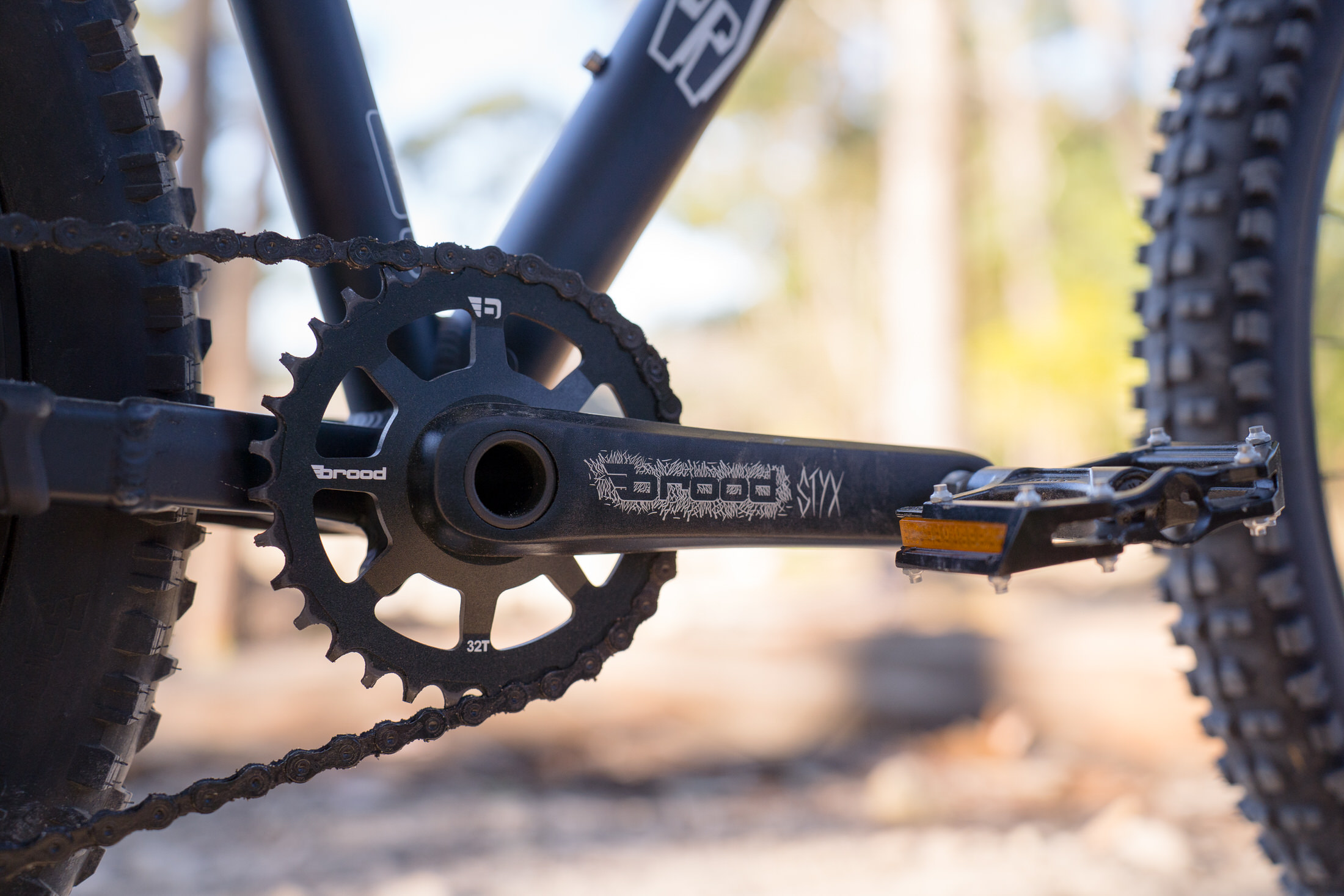 The cranks spin a Taya chain that connects an SRAM NX 11-speed group at the back. We hadn't heard of or seen a Taya chain before, but apparently, they sponsor Lapierre Mavic Unity, the very team which current Aussie XCO/XCC champ Sam Fox has recently signed a pro contract with. Despite it not being a SRAM version, the shift quality is fine, and we're yet to experience a dropped chain.
The NX 11-42T cassette provides ample gear range when paired with the 32t chainring, and the NX shifter at the front has a nice light action — ideal for little thumbs.
Keeping our mini-testers speed in check is a set of Tektro hydraulic brakes with a 160mm rotor at both ends. Frankly, these are brilliant. There's miles of reach to adjust, and the levers are a good shape for two-finger 'rabbit ears' braking. After a bed in with Dad's full body weight, they have tonnes of power and modulation when it's time to drop the anchors.
However, when you pair the NX shifter and the Tektro brakes together, the mounting solution creates a bit of an ergonomic issue for small hands. With the shifter mounted inboard of the brakes, it's a long reach to hit the paddles. Mounted outboard, they get in the way of two-finger braking.
Rolling stock comes courtesy of Brood for both the wheels and tyres. With 28 J-bend spokes at either end, they stayed true despite our mini-tester's best efforts. Spinning on sealed cartridge bearings, the rims are tubeless ready with a 27mm internal width and a good secure tubeless hook. They don't come taped or with valves or sealant, but that's an easy fix for when you get tired of replacing tubes.
Brood's 24 x 2.3in tubeless-ready tires have a tread pattern that looks eerily familiar to a Maxxis Highroller II. They're fast rolling, offer good braking traction, and the lightweight sidewalls are supple. We didn't experience any flats but are a bit wary of cuts on rocky trails. Fortunately, 24in actual MTB tyres are readily available, so if you do have a blowout, finding something to keep your mini-shredder rolling won't be an issue.
At the back, there's a neat chainstay yoke, which allows for heaps of tyre clearance, and you could go bigger than 2.3in if need be.
It is interesting to see a front 100 x 15mm thru-axle and 135mm QR at the rear, and this was likely a decision made around pricing as much as performance. We'd definitely have strong words to say about this choice on a modern adult-sized mountain bike, but considering what seven to ten-year-old kids weigh, we doubt they will be able to push either end hard enough to experience unwanted flex.
Spawn Yama Jama Suspension
The 100mm Rockshox Reba was also a hit. On paper, it's based around a 26in wheel, so as kiddo gets bigger, there is potential to run a larger wheel and make the Yama Jama a mullet bike. Spawn doesn't explicitly recommend this, and it would chopper out the head angle a bit, potentially adding some stability but also wheel flop. But if you're looking to eke out a bit longer on the bike without having to upgrade, it's an option to explore.
With a tapered steerer, it means you're not locked into a 1 1/8in headtube, and if the fork is damaged, you'll have no trouble finding a suitable replacement. It also means this is something that could be upgraded, though we're not sure why you would want to.
The fork appears to have a kids-specific tune, with the pressure guide for riders from 27kg (25psi) up to 54 kg+(75psi), with a max pressure of 190psi.
The Reba has externally adjustable rebound, and the tune offers a good range for these light pressures. There is no lockout or externally adjustable compression, but for the level of riding this bike is designed for, those extras would likely just complicate things.
The fork also utilises a QR Maxle. On one of our own bikes, we'd probably swap it out for the stealth version before it left the shop, however when you need to load up the kids and wang the bike in the car, not having to fiddle around with tools is a win-win situation.
What we dig about the Spawn Yama Jama?
All of this comes together to make a bike that is agile and confidence-inspiring on jumps, the pump track, and moderate singletrack.
With that said, a 100mm hardtail has its limits when an adult is at the helm, so it should not come as a surprise that the 24in version does too. The 68° head angle provides stability to a point, but if your kiddo is bored on green and blue trails and is constantly on your case about taking them to that janky enduro trail out the back or can't get enough of steep, challenging terrain, there is a better tool for that job.
On the trails this bike is designed for, it's playful and poppy and encourages your little one to explore different lines and learn to read the trail.
With the compact rear end, the Yama Jama also provides an excellent platform for learning manuals and getting the front wheel off the ground.
Flow's Take
Overall the Spawn Yama Jama 24in kids bike is a well-put-together shredder. If your mini is aspiring to be the next Richie Rude, or on the verge of making an appearance at Red Bull Rampage they'll probably find the limit of the 24in hardtail — whether it's this one or anything else. However, for the typical seven to 10-year-old who's getting the hang of riding and is either heading out with you on the weekend or a school program, it's plenty capable and uncomplicated.
The tune on the 100mm RockShox Reba is well suited to the lightweight riders trying to squish it, and the SRAM NX derailleur has a clutch and effectively prevents the chain from diving over the edge of the narrow-wide chainring. In the past, we may not have always had nice things to say about the NX shifter, however in this case, the light action was much appreciated by our testers with small thumbs. That means less time on the side of the trail and more time pedalling.
With oodles of power and control on offer from the Tektro brakes, this is a wise price-to-performance decision from the product manager, but we'd like to see a more ergonomic solution as to how the mounting collars interface on the bars.
It may not be the shreddiest bike at the pump track, but the Yama Jama offers a stable platform for your kiddos to build the fundamentals which they can then take onto a 26in bike.