Coming out of BC's storied North Shore, Spawn Cycles is a new name in Australia, aiming to elevate kids bikes from clunky, heavy behemoths to well-thought-out platforms to build confidence and skill. With a range of hardtails and full suspension kids bikes, they're not the only players in this field, but Spawn has done things a little differently to the rest.
The Spawn Rokk falls into a unique place in that it offers front and rear suspension on a very small frame, and it's one of, if not the only kids bikes available with 22in wheels.
An overview of the Spawn Rokk kids bike
Spawn's bikes come in frame sizes to suit wheels from 20-27.5in, the Rokk is designed to accept multiple wheel sizes so it can grow with your child and extend the amount of time before it becomes a hand-me-down.
The Rokk achieves this through a flip chip in the chainstay that extends the rear centre length to accommodate the larger wheel and tyre.
The frames are all made from aluminium, and our 20/22in review bike sees 100mm of travel front and rear — this number increases for the larger wheelsizes. You'll also find thru-axles at both ends, a SRAM UDH and a GXP BB — no disposable square taper garbage here.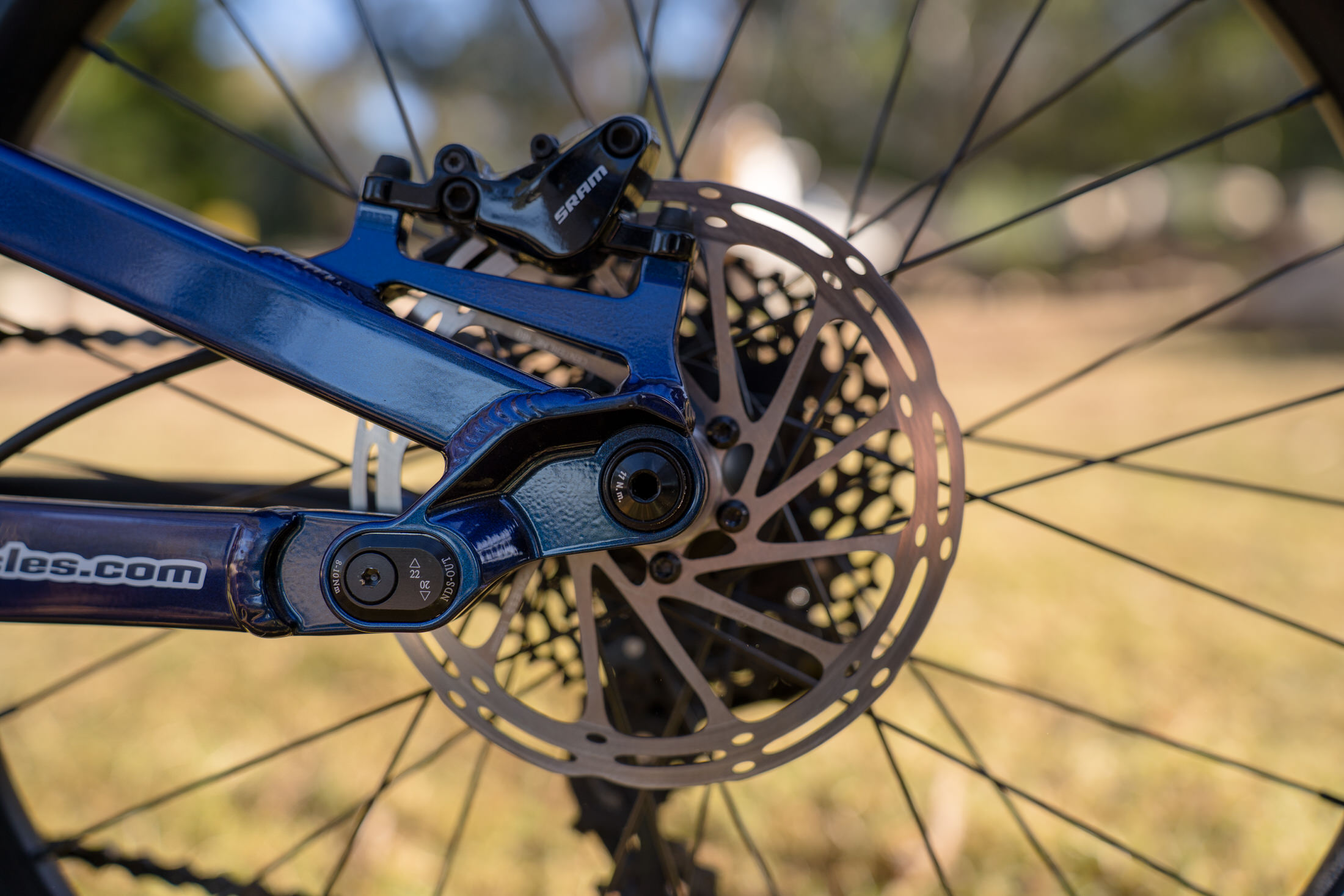 2023 Spawn Rokk price and spec
There are three versions of the Spawn Rokk, each corresponding to a different wheel size. For a full rundown, check out our first-look article.
Prices start at $3,600 AUD and top out at $4,999 AUD. This is not cheap for a kid's bike, but at the same time, they aren't toys you buy from K-Mart. They all have SRAM drivetrains, air-sprung suspension at both ends, hydraulic brakes and real tires.
These are real mountain bikes, ready to take on singletrack. To suit our main 6-year-old tester, we opted for the 20-22 in build.
Spawn Rokk 20/22in
Frame | Spawn Rokk 6061 T6 Alloy, Hydroformed and double-butted tubing
Fork | Brood Eldorado 15×100 Axle, 100mm travel
Shock | RockShox Deluxe Select R, 100mm
Wheels | Brood TR27 20/22, tubeless ready
Tyres | Brood Maxtion 20 x 2.0in DH, Tubeless ready or Brood Maxtion 22 x 2.3in DH, Tubeless ready
Drivetrain | SRAM GX Eagle 1×10 w/30T Brood Crankset 130mm arms & 11-36T Cassette
Brakes | SRAM Level TL Hydraulic disc brakes
Bar | Alloy, 585mm wide, 31.8mm clamp
Stem | Forged alloy, 40mm
Pedals | Wellgo Platform
RRP | $3,600 AUD 20in / $3,800 AUD 22in
2023 Spawn Rokk Sizing and fit
This was our 6-year-old tester's first time on a full-suspension MTB and a 22in bike. So, the review isn't a critical appraisal comparing suspension kinematics or analysing effective seat tube angles to half a degree; it's an appreciation of a whole new experience. While there are several 20in full suspension bikes on the market, if this bike is on your radar, your little shredder is most likely upgrading from a hardtail, bridging the previously colossal step up from 20in to the now broad offering of performance 24in full suspension bikes.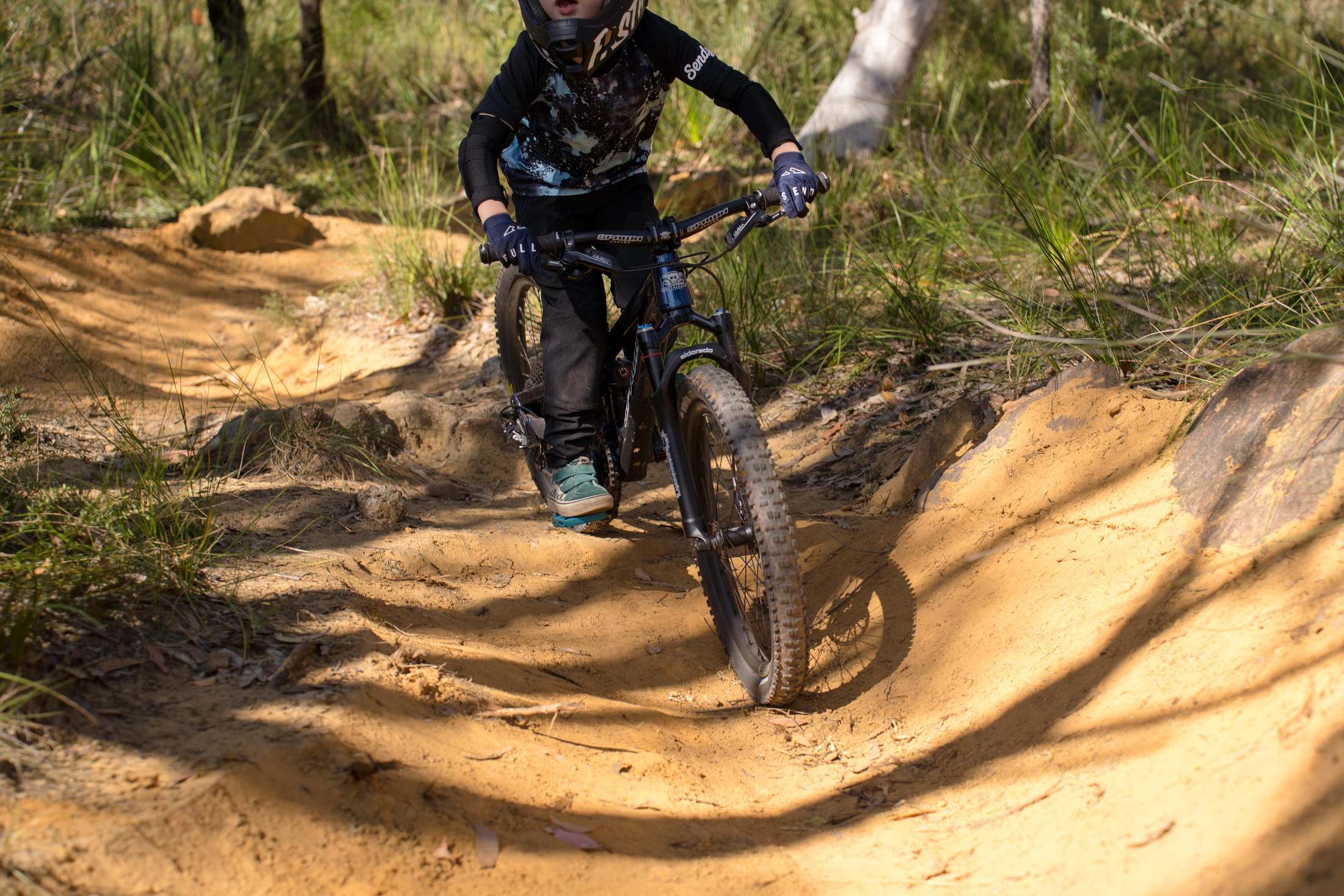 In the 20/22in size, the 316mm reach felts about right for riders in the target five to eight-year-old age range. Combined with the 90mm head tube, low-rise bar and drop stem, the bars are held at a reasonable height for smaller kids — even with the larger wheels and 100mm of travel.
That said, the drop stem design means you can't remove the 15mm of spacers underneath because it will hit the frame. When going in the other direction, the stem can be inverted, and spacers can be moved from above to create extra stack.
The 20in wheel option would be suitable for shorter riders, and they can probably get on the bike a year or so sooner before upgrading to the 22in wheels.
With the suspension, the BB height ends up about 5cm higher than the average 20in hardtail, and some little ones may find their saddle feels like it's towering above the ground. Kids who are used to having the security of defaulting back to balance bike mode, with both feet on the ground, may miss that connection to terra-firma at first.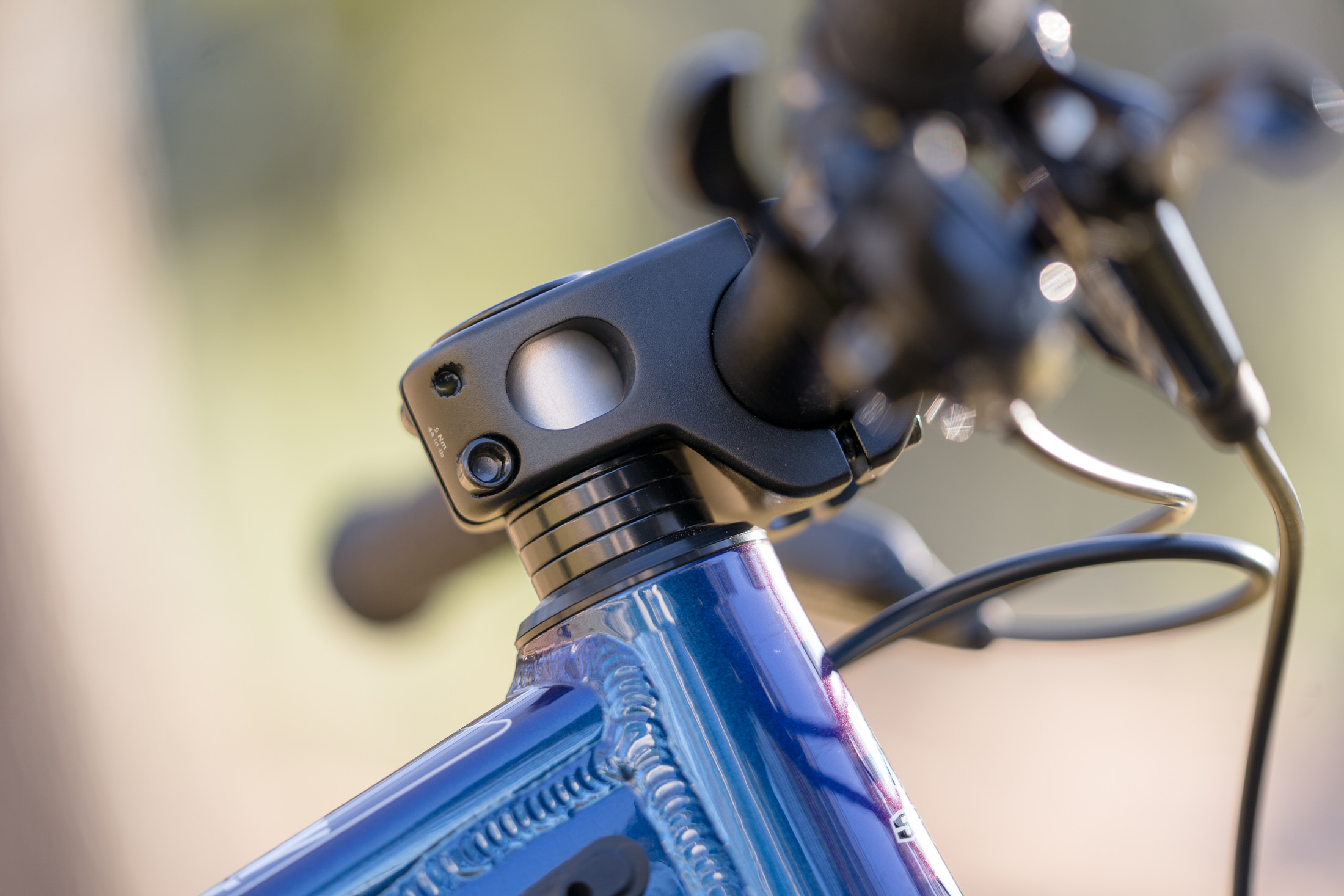 Spawn Rokk component highs and lows
The 580mm bars were also just about right for kids this age, though there's not much extra real estate for the controls, so you won't be able to cut them down — though we're not sure you'd want to anyway.
Spawn has opted to fit 130mm cranks, a great middle ground to accommodate both wheel sizes and prevent too many pedal strikes. Better still, they interface with a GXP bottom bracket.
The frame is well-outfitted with stick-on armour, and the paint is quite frankly beautiful. It really pops in the sun, and transitions from navy to purple depending on the angle — the kids loved the graphics and #borntoride decals.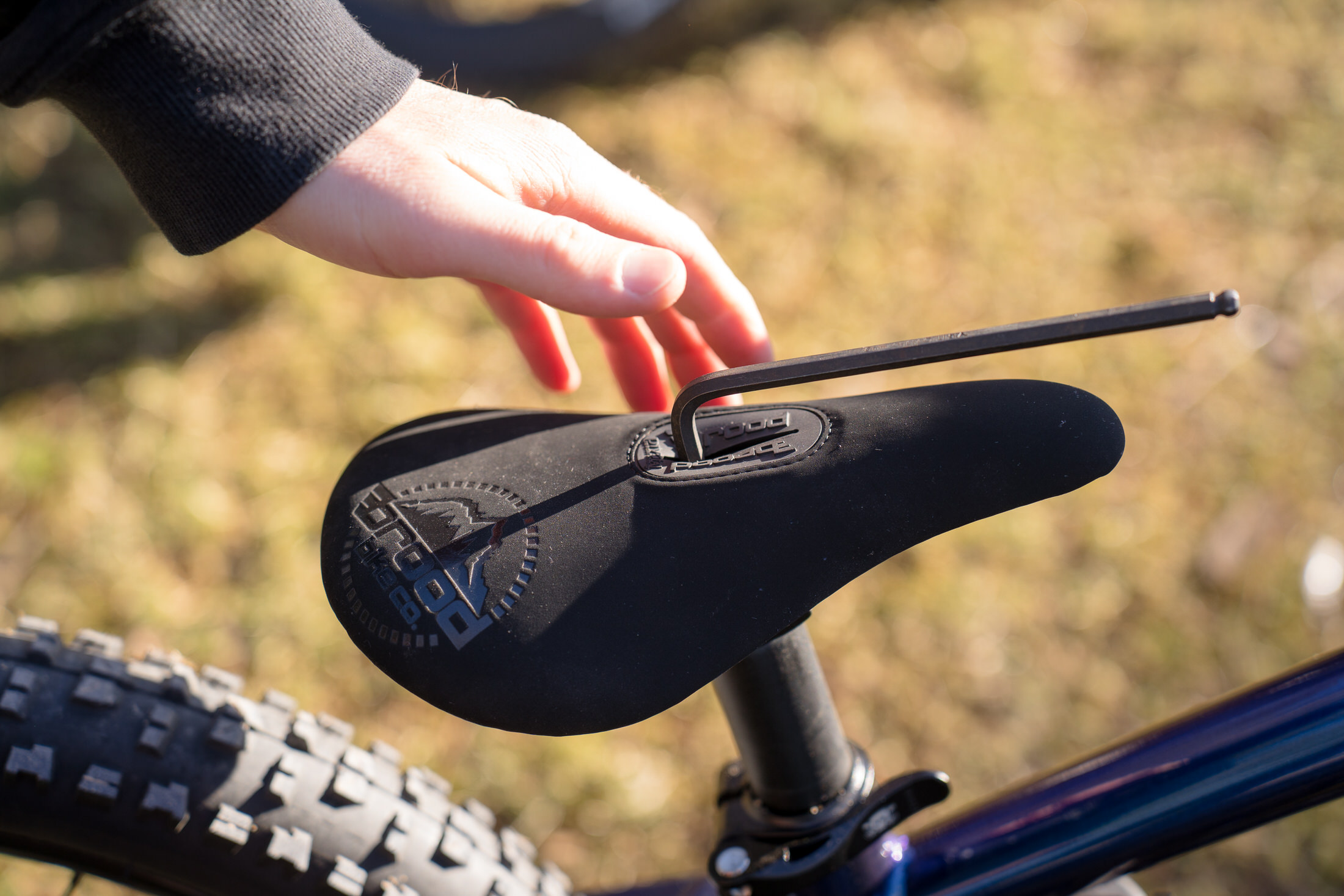 The SRAM GX 10-speed with a short cage derailleur and 11-36T cassette offer plenty of range for little legs when combined with the 30T narrow wide Brood chainring. It's a direct mount ring that utilises SRAM's three-bolt pattern, so replacements are readily available.
Even with the KMC chain, we had no issues with dropped chains or poor shift quality, and this is an excellent place to save a few bucks. However, the stiff GX clutch and the also stiff GX shifter proved difficult for little thumbs, specially moving the chain up into the larger cogs.
Speed is kept in check with the SRAM Level TL brakes, which offer plenty of power — especially after a proper bed-in by Dad. There is plenty of reach adjustment, and the shape of the lever blade works well with two finger "rabbit ears" braking.
The 32-spoke wheels are probably overkill for little kids, but they feature J-bend spokes, and the hubs spin on sealed cartridge bearings. They don't come taped for tubeless or with valves, but that can be easily rectified. Along with a splash of sealant, the Brood 22×2.3in tyres seated without too much fuss and hold pressure well. The tread pattern is visually similar to a Maxxis High Roller 2 and offers good traction with limited rolling resistance. Initially, we thought the sidewalls were on the light side, the more trail time our mini-testers have racked up, we think they're spot on and make for a supple ride at ~14-17psi. Compared to the Vee TR kids tyres, the Brood rubber is significantly lighter, making for a notable improvement in ride control, pop and acceleration.
That said, these are the only 22in tyres we know of. So buy a few spares before the bike leaves the shop so when a sidewall gets slashed, or little Johnny skids it balder than your head might end up with the stress of finding a replacement, there is already a set in the shed.
Spawn Rokk suspension
This particular model of the Rokk features Spawn's own Brood Eldorado 22in fork. With 100mm of travel, it's based around 30mm stanchions and sees carbon fibre lowers — heck, we don't even get that on normal-sized forks!
On paper, the 1 1/8in straight steerer tube may look a bit out of place, however, kids this age don't weigh enough to make the smaller lower bearings explode. And compatibility to swap in something else won't be an issue either, as there aren't any other 22in wheel-friendly forks anyways.
That said keep track of the 15mm axle nut when you pull the front wheel out, as it's not actually attached to the fork.
The air spring provides for a good range of adjustments, and there is also externally adjustable rebound, though it's a sweep dial with no indexed clicks, while the compression adjuster has six clicks from open to fully locked out.
At the back, there is a cute little trunnion mount Rockshox Deluxe Select with a 35mm stroke. Again the air shock allows for a wide range of adjustments, and there's an indexed rebound dial. You won't find a lockout or compression adjuster, but under our lightweight little riders, pedal bob was no issue.
What do we dig about the Spawn Rokk?
The Rokk has been a hit with every grom that's swung a leg over it. Our six-year-old tester found the handling agile and confidence-inspiring across jumps, on the pump track, flow trails and the jankeiest singletrack they're brave enough to try — this week. With a playful and poppy character and balanced suspension, this bike is a fantastic platform for six to seven-year-olds who have outgrown, or are pushing well past the capabilities of the 20in — most likely rigid, or basic hardtail — they've been on since five, but aren't quite ready for a 24in bike.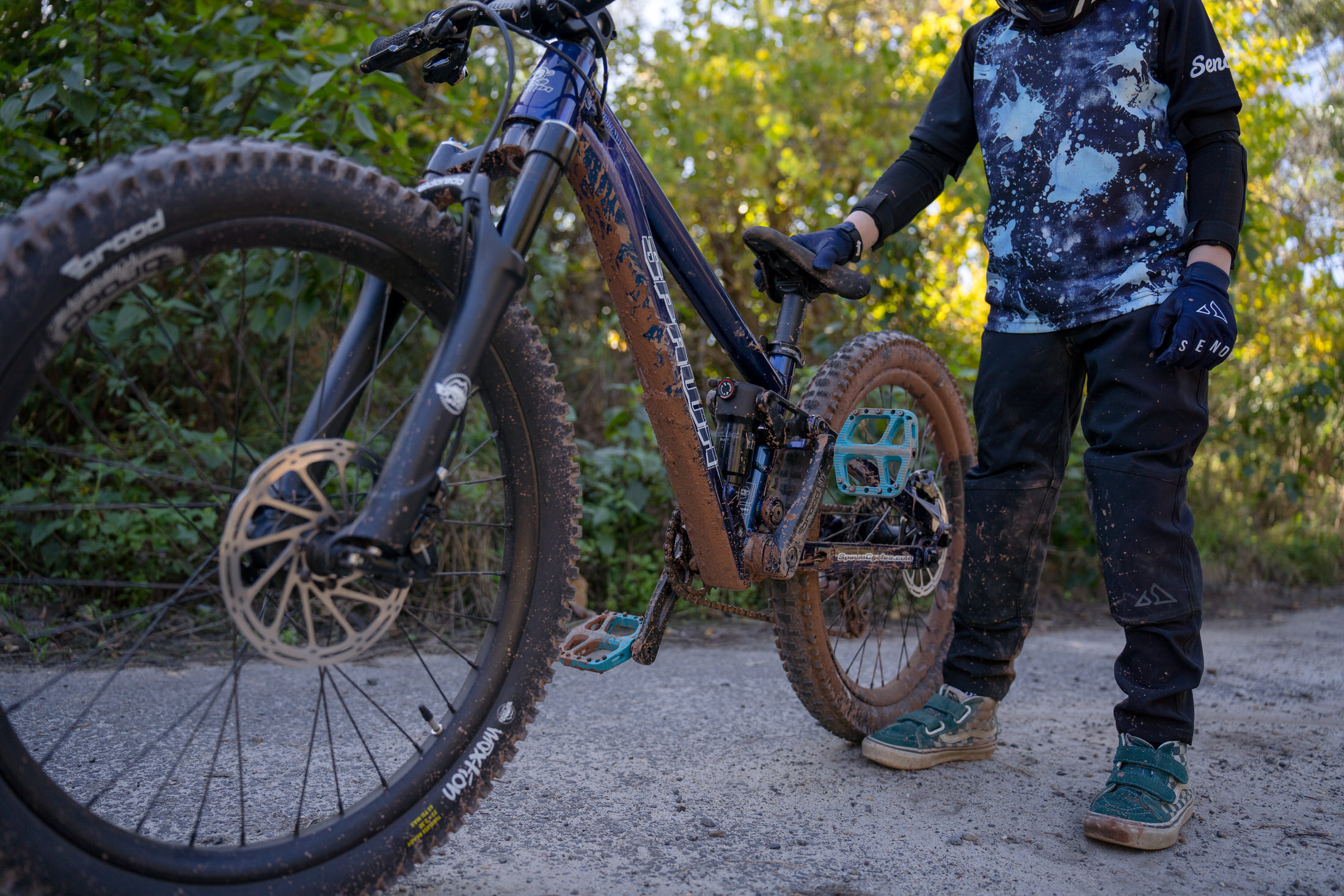 We lent the bike out to an eight-year-old and a shorter nine-year-old who typically ride 24in full suspension bikes, and they absolutely frothed the Rokk. It looked like they were whipping around a slopestyle bike having a blast.
Even for kids as old as eight who are on the smaller end of the bell curve, it can be a stretch for them to handle a 24in bike confidently. The 22in wheels effectively bridge the gap and allow the small pilot to stay in control rather than just being a passenger.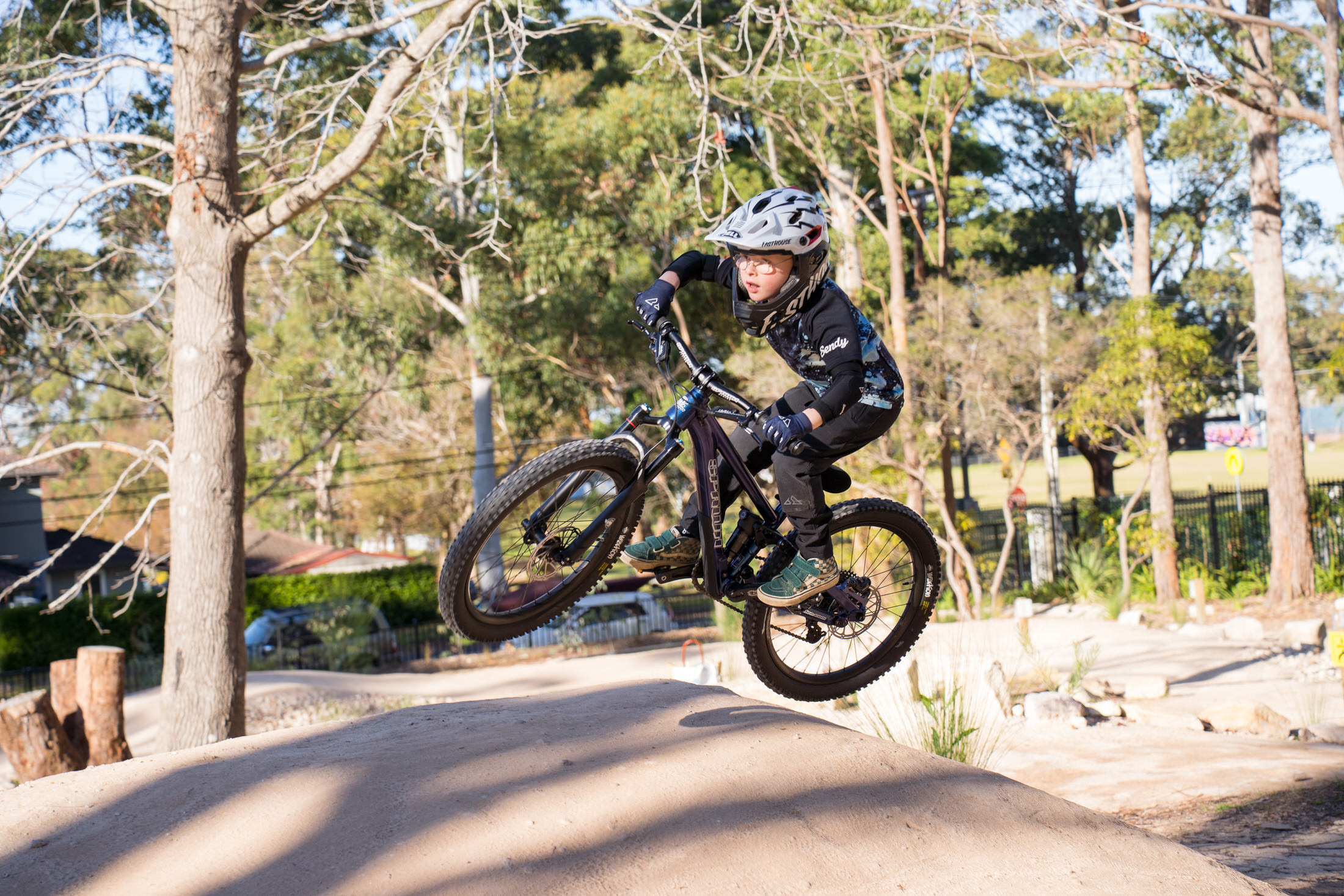 Any downsides?
Keeping with the trends we look for in a modern mountain bike, Spawn has kept the seat tube nice and short to allow for plenty of stand-over height and a low saddle. However, on such a small frame, this creates a bit of a seatpost insertion issue, and you're met with a decision. You only get about 30mm of adjustment with any kids seatpost, and in the 20in configuration, you'll likely need to cut the post down to fit the younger rider.
Kids don't grow shorter, and after you chop the post to get them started, you will probably need to purchase a longer one as they grow and want their saddle raised to achieve the proper pedalling position.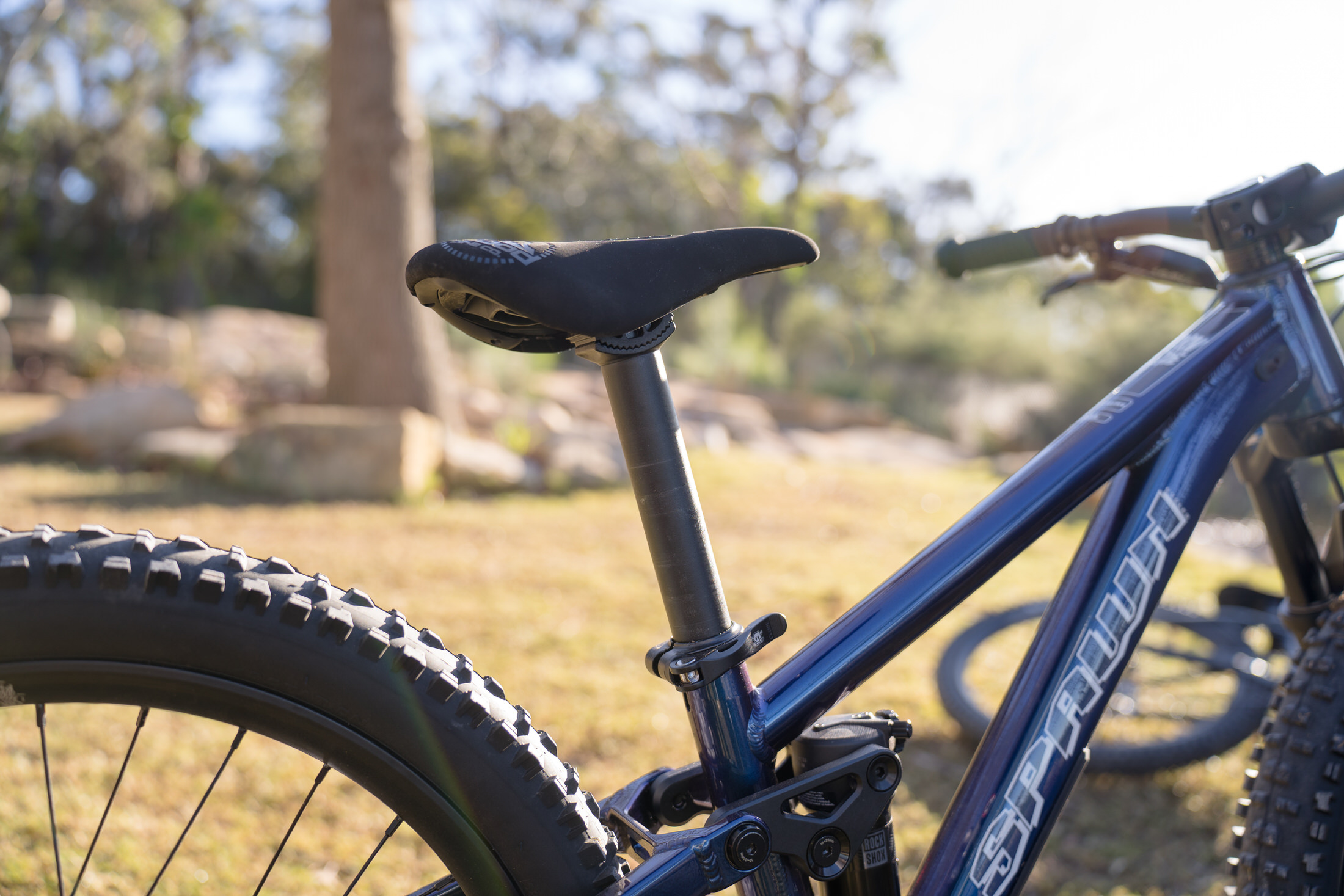 At the same time, there are kids all around the world shredding lap, after lap, after lap and cranking their way back to the top, smiling the entire way despite not having the optimal pedalling position. That same kid will do twice as many laps on the pump track as dropper-post-dad can handle before his quads burst into flames.
The point being that your kids probably don't care that their saddle is too low. That said, there is also routing for a dropper post and with the 30.9mm seat tube diameter, there are options aplenty should you choose to go that direction.
Flow's Take
The Spawn Rokk is a fantastic execution of a kids bike that won't hold back the hard-charging six or seven-year-old shredder. While it's not cheap, the ability to upsize the wheels will help you and your mini to extract more value and good times out of the bike before they outgrow it. We also appreciate the sealed cartridge bearings throughout, and things like the SRAM 3-bolt direct mount chainrings that don't require hours of Googling to find spares. The same can't be said for the 22in wheels and tyres, but a bit of forward planning will negate any issues you'll come across here.
Speaking of the 22in wheels these are a revelation for kids finding their feet and building skills and confidence on the bike. The jump from a 20in to a 24in bike is massive, and it can be daunting for little ones — especially those who fall in the smaller percentiles for size and weight — to get on top of the larger hoops and take control of the bike.
In the same vein, we don't believe the 22in Rokk will allow kids to leapfrog the 24in wheelsize straight onto a 26/27.5in bike. While they will be bigger and stronger at this stage in their growth, it's still a massive jump, and probably too big for them to handle confidently.
Our mini-shredders had so much fun riding the Rokk, and while it's far from the most budget-friendly kids bike out there, the experience and skills they will gain from having a bike like this that fits them well are immeasurable. Combine that with the fact the parts hanging off the bike come from RockShox and SRAM not L-Twoo, Senshaa or some other no-name brand a product manager found it a catalogue at the Taipei Cycle show also adds to that price tag.
ABOUT THE REVIEWER - Colin Levitch
RIDING STYLE
Aggressively mediocre