Wil reviews the Fox Transfer SL dropper post
A variant of the original Transfer, the Fox Transfer SL is a lightweight dropper post that's been stripped back to the bare minimum to save as much weight as possible. Fox claims it weighs up to 25% less than the standard Transfer, which is a healthy difference. Of course, we're only talking grams here, but if you could save 25% off a few components on your mountain bike, it can potentially add up to be a significant difference.
The Transfer SL was originally designed for XC and gravel use, having first launched with a maximum of 100mm of travel. More recently Fox has added 125 and 150mm travel versions, and that means it's now a viable option for trail riding and taller riders too.
I've tested two Transfer SL dropper posts over the past 18 months, and here I'll be detailing my collective experience so far.
Fox Transfer SL price & specs
The Fox Transfer SL is available in two different trim levels. There's the Factory Series post that features a Kashima Coat for the upper tube and titanium hardware. That's the post that I've been using and it sells for $675 AUD.
Then there's the all-black Performance Elite version that's functionally identical but uses regular anodising for its upper tube and steel hardware. If you're not bothered by Kashima you'll save $90 AUD going for the Performance Elite model.
Of interest to hardtail and gravel riders is that the Fox Transfer SL is available in a skinny 27.2mm diameter in both 50 and 75mm travel options. Step up to the 30.9 and 31.6mm diameter, and you can have the Transfer SL with 70, 100, 125 or 150mm travel. Each post is optimised for its given travel, meaning it isn't possible to increase or reduce the stroke.
The Transfer SL utilises internal cable routing with a minimalist clamp at the base of the post that allows you to route the inner cable in either direction. Fox offers two different remotes, and each one will cost you an additional $129 AUD. There's an under-the-bar 1x remote and an over-the-bar remote that's designed to play neatly with existing lockout systems.
Fox Transfer SL weight
Thanks to its stripped-back construction, the Fox Transfer SL is an incredibly lightweight dropper post. Our 30.9x100mm test post came in at just 357g, making it one of the lightest on the market.
Only the Yep Podio and Vertical Helium are claimed to be lighter, though not by much. They're also incredibly expensive (€620 for the Podio, yikes!) and not readily available in Australia.
For those who are curious, here's how the Transfer SL compares to the claimed weights of some of the lightest dropper posts out there;
Yep Podio (80mm) – 331g
Vertical Helium (90mm) – 334g
Fox Transfer SL (100mm) – 357g
DT Swiss D 232 One Carbon (60mm) – 369g
Vecnum Nivo (122mm) – 395g
BikeYoke Divine SL (100mm) – 415g
KS LEV Ci Carbon (100mm) – 432g
Wolf Tooth Resolve (125mm) – 440g
Fox Transfer (100mm) – 468g
Crank Brothers Highline 7 (100mm) – 474g
RockShox Reverb AXS (100mm) – 592g
As you can see, the Transfer SL is right up there. In fact, it's quite possibly the lightest 100mm travel dropper post on the market. It's also worth noting the hefty weight advantage over the regular Transfer and the Reverb AXS.
Fox Transfer SL construction
Fox has achieved this low weight by scrutinising the construction of the Transfer SL. It features a hollowed outer tube, a one-piece upper tube and a heavily machined saddle clamp.
Inside you won't find the traditional air spring and hydraulic cartridge for controlling the post's travel, but rather a much simpler coil spring and mechanical locking design. The system isn't dissimilar to the classic DOSS dropper, with retractable ball bearings that lock into corresponding grooves in the upper tube.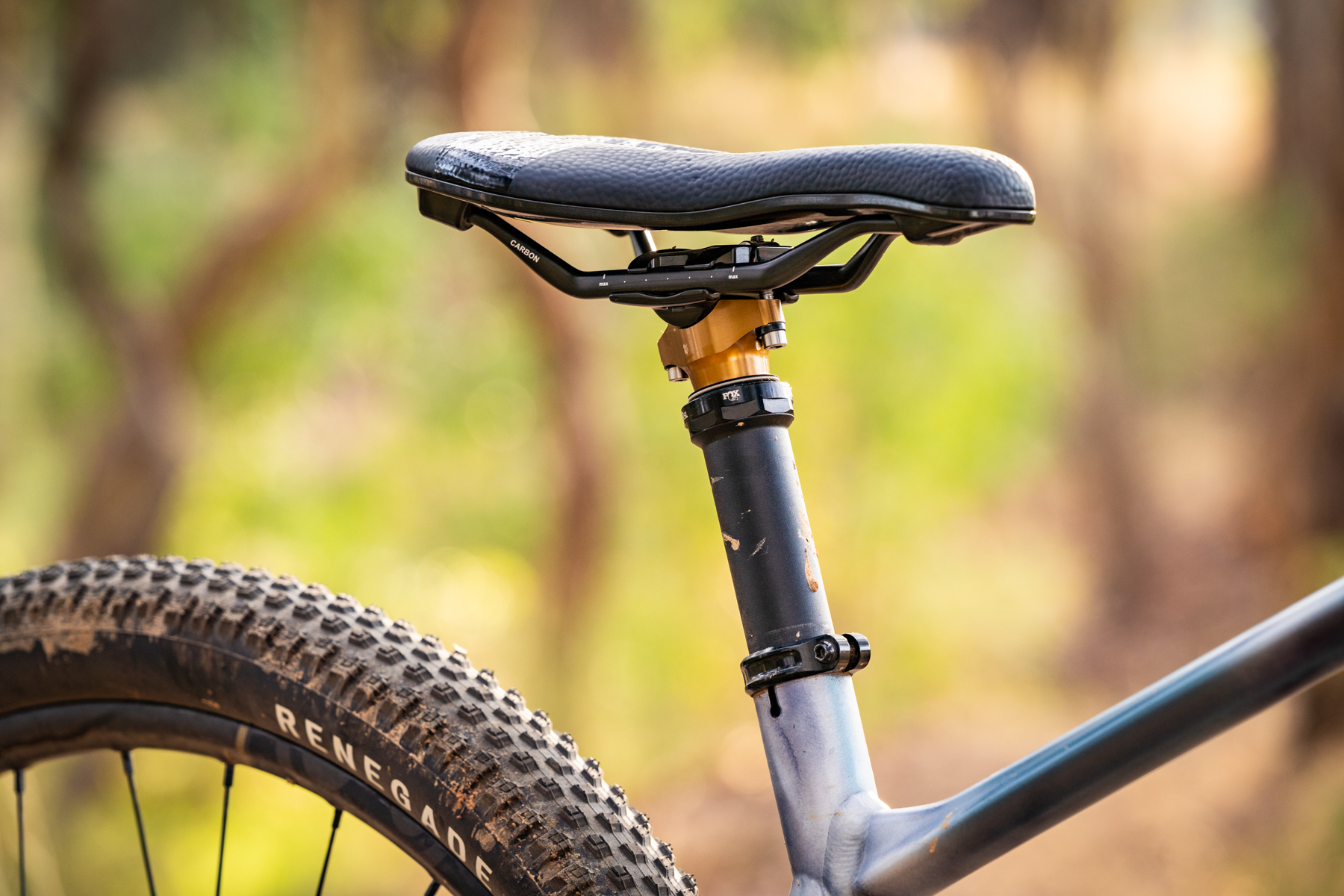 Unlike the regular Transfer, the Transfer SL uses a two-position travel system. So it's either fully extended or fully compressed. This is why Fox doesn't need to use a traditional hydraulic cartridge to support the rider's weight in the middle of the travel. Instead, those ball bearings lock in place at either end of the stroke, with the coil spring only being used to extend the post.
On the trail
Thanks to the lack of air spring seals and a hydraulic cartridge, the action of the Fox Transfer SL is incredibly light. The post cycles through its stroke smoothly, with a near-effortless amount of force required to compress it. This is particularly good news for smaller riders who may find it more difficult to overcome the necessary force to compress a conventional dropper post.
At full height or full compression, there's a positive clunk as the ball bearings lock into place. It's very clear when the post returns to full height, which it does quite quickly. The return speed takes some getting used to, but I like how fast it is.
The lever action is similarly light, and it has to be said that Fox's 1x remote is one of the best going. I love the feel of the textured grooves on the perfectly thumb-sized paddle, and the use of a large cartridge bearing keeps things smooth and wiggle-free. The lever sits in a great spot, and there are options to adjust its position either via the standalone bar clamp or an integrated mount that syncs up with SRAM and Shimano brake levers.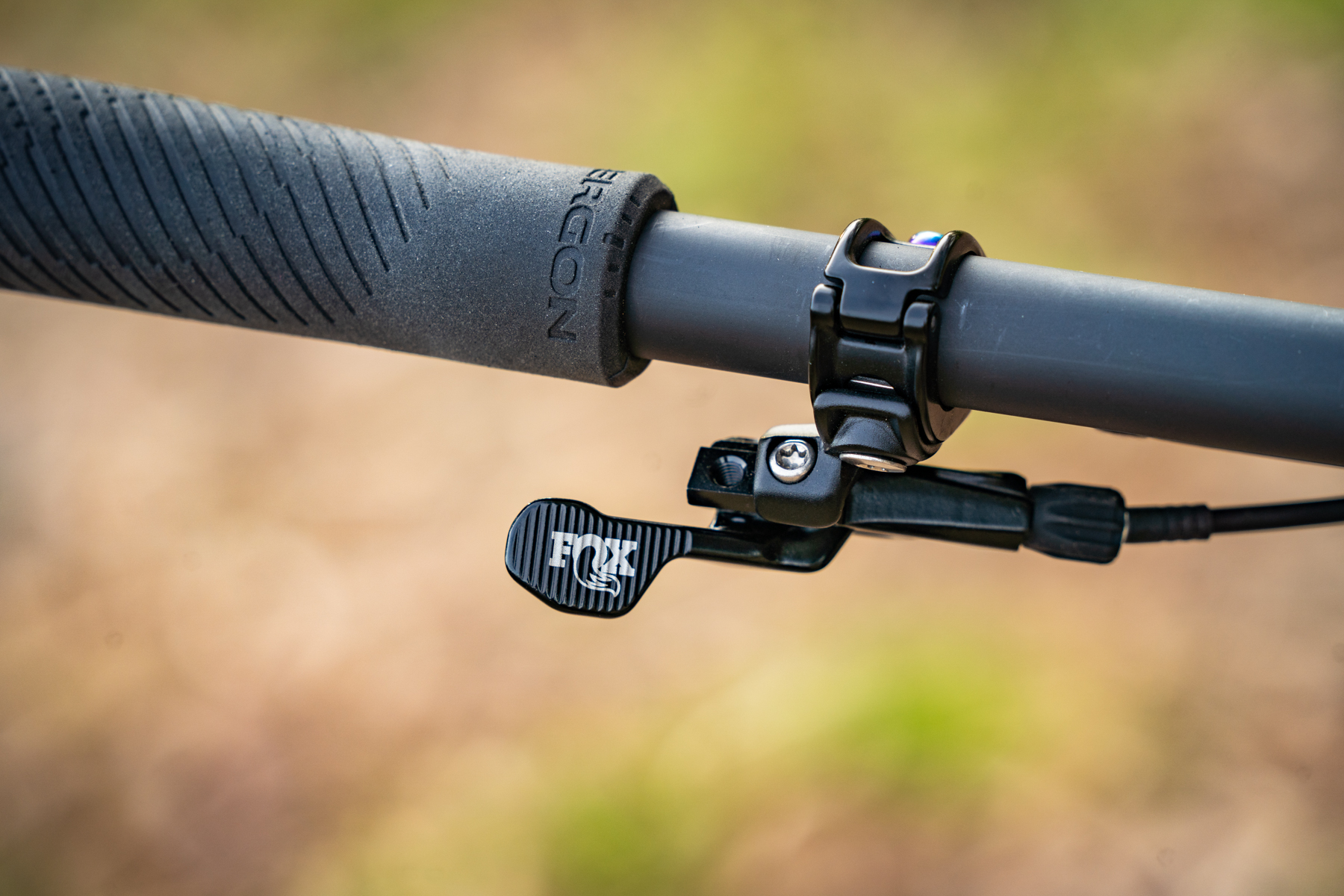 Any issues with the Fox Transfer SL dropper post?
It did take me a few rides to get used to the lack of any intermediate setting on the Fox Transfer SL. While I'd normally have my dropper fully compressed or fully extended, there are occasions where I like to drop my saddle by just 20mm or so, usually on a steep and technical climb. That's not possible with the Transfer SL, which may bother some riders more than others.
As for durability, the first Transfer SL I tested on the Canyon Lux Trail only lasted about 100km of riding before it developed an excessive amount of rotational play. If I bumped the nose of the saddle with my thigh while descending, it would actually twist the post's upper tube out of line by around 30-degrees. You can see a demonstration of this in the video review of the Lux Trail.
Furthermore, the post also exhibited some stickiness that would sometimes prevent it from returning to full travel. And since there's no intermediate position, if you went to sit back on the saddle the post would slam all the way down, which was a little unsettling. This problem wasn't related to seat clamp torque either, though it's worth mentioning that the thin alloy walls of the Transfer SL are sensitive to over-tightening. Carbon grip paste and a torque wrench are crucial for proper installation.
I sent that post off to Fox Factory Australia to have it repaired, which was covered under warranty. It's worth noting that since launching the Transfer SL, Fox has updated the design for the lower bushings to reduce play.
I've since received a second Transfer SL to review separately, and thankfully it hasn't exhibited any signs of the same degree of rotational play. There is still some movement that's present from new, though this appears to be normal and isn't detectable while riding. However, the fact that the Transfer SL isn't as solid-feeling as the regular Transfer may bother some riders.
Routine maintenance is otherwise straightforward. It's worth giving the upper tube and main seal a wipe-down every now and then to remove any built-up grime, just as you do with your fork and shock. And it takes no time at all to unthread the main seal head and treat the upper tube to some fresh suspension grease to keep the internals properly lubricated. More in-depth servicing does require some specialist tools, though the procedure itself isn't difficult thanks to the lack of any hydraulic internals. Fox recommends a rebuild every 125 hours of ride time to avoid causing any premature wear.
Is 100mm of travel enough?
For XC riding and racing, the 100mm drop of the Fox Transfer SL is spot-on for me and my 175cm height. I've ridden longer posts on XC bikes before, and while it is nice to have the extra clearance on the descents, I think there is such a thing as too much. That's because every time you compress the saddle, you're effectively performing a squat while supporting your entire bodyweight. Over the course of a 90-minute race, that's a lot of extra effort for your quads, especially since the Transfer SL requires you to push the saddle down all the way to the bottom before it locks in place.
Of course this will differ from rider to rider. Taller folks can certainly benefit from a longer travel dropper, as will those who are riding significantly steeper terrain. It is something you'll need to put more consideration into with the Transfer SL, since the travel can't be modified.
Fox Transfer SL vs BikeYoke Divine SL
As for lightweight dropper posts that are comparable to the Fox Transfer SL, I also own a BikeYoke Divine SL that's been in service for around three years now.
The Divine SL originally launched with just 80mm of travel, but BikeYoke has since added 100 and 125mm options. It's only available in 30.9 and 31.6mm diameters.
The Divine SL is heavier than the Transfer SL, coming in at 390g on my workshop scales for the 80mm travel version. The gap widens to 58g when you compare it with the 100mm travel option.
Part of this weight increase is due to the use of a more conventional air spring and hydraulic cartridge, which gives the Divine SL an infinitely adjustable stroke. Furthermore, if you drop the post slightly, it offers a small amount of suspension that can be quite useful on tech climbs.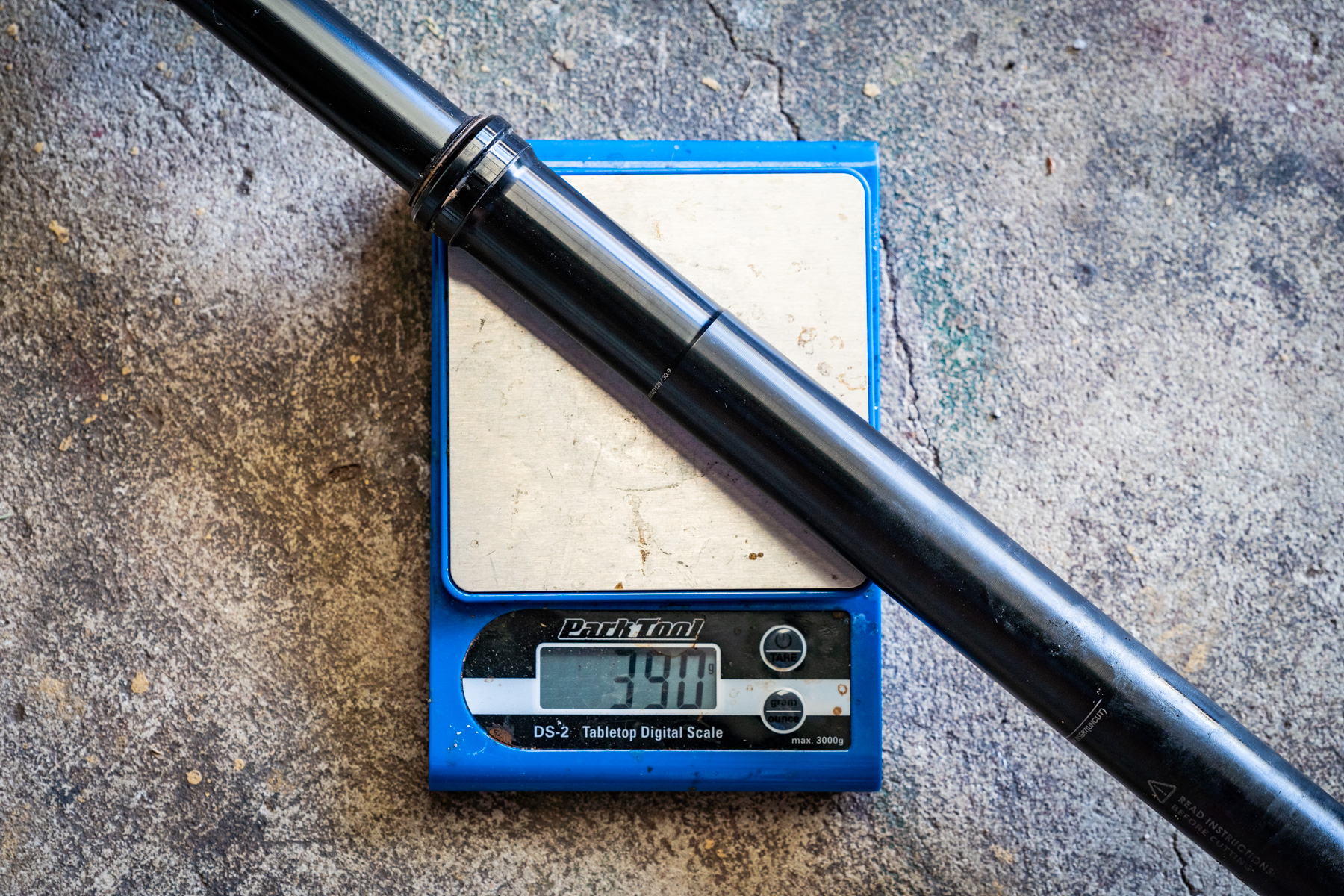 Overall action isn't as effortless as the Transfer SL, but it is still very quick, and you can modulate the return speed by gradually releasing the lever on the remote. It also feels considerably more solid, and despite only having a single service over the past three years, it's not developed any detectable play in that time. I was even able to swap the outer tube from 31.6 to 30.9mm, since spares are available through BikeYoke. The procedure was reassuringly simple and didn't require any specialist tools.
As far as pricing goes, the BikeYoke Divine SL is comparable to the Performance Elite version of the Transfer SL. Which one would I go for? The quality and reliability of the Divine SL gets a big tick from me. However, if weight is your primary concern, it'd be hard to go past the Transfer SL with its beautifully simple and light action.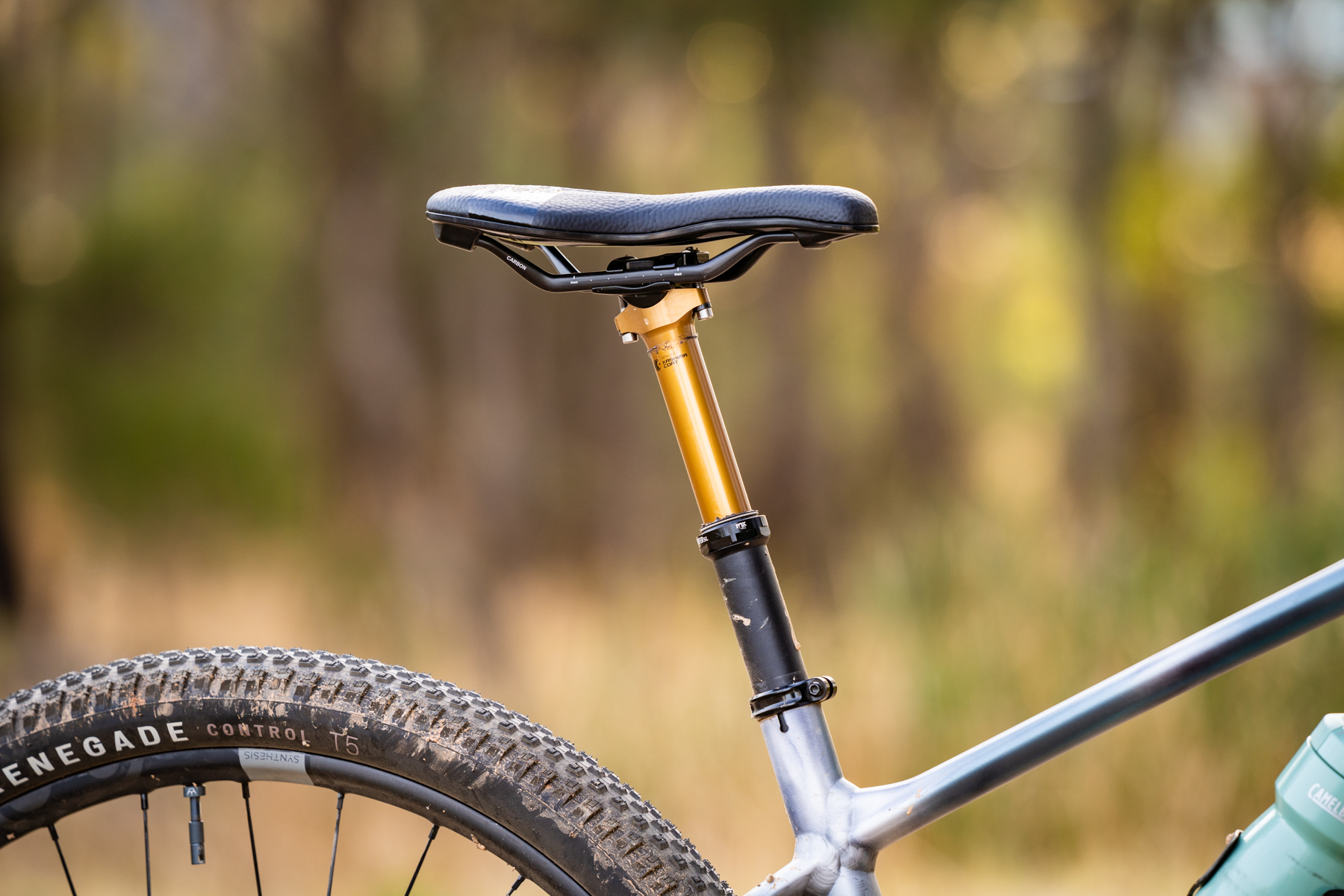 Flow's Verdict
Thanks to its mechanical locking design and stripped-back construction, the Fox Transfer SL is easily one of the lightest and slickest dropper posts on the market.
Not everyone will get along with its two-position system, which does take some getting used to. We have to acknowledge that our experience with the Transfer SL hasn't been flawless, with the first post we tested having developed significant rotational play.
That issue aside, there's no denying the beautifully light and positive action. The ergonomics are particularly good when you pair it with Fox's excellent 1x remote.
If you're not fussed by aesthetics, the Performance Elite version is definitely the one to go for, though it's still a significant investment, given there are plenty of good dropper posts out there that sell for a couple of hundred bucks less. But if you're weight conscious and you're looking to shave as many grams from as many components on your bike as possible, the Transfer SL is an excellent place to start.