Wil reviews the Orbea Rise
Launched at the tail-end of 2020, the Orbea Rise is part of an emerging trend for lightweight, low-powered electric mountain bikes. Arguably kicked off by the Focus JAM² back in 2016, this fledgling niche has since been joined by the Lapierre eZesty, Specialized Levo SL, Trek E-Caliber, and Specialized Kenevo SL. The arrival of the Orbea Rise adds further legitimacy to the category, with its smaller battery and de-tuned Shimano EP8 motor delivering a full suspension e-MTB that manages to come in under 19kg.
But why would you choose less power? Do you simply end up with a limp e-MTB that's held back by its restrained motor tune? Or does Orbea's concept bring something genuinely new to the e-Table? To answer those questions, and to see how it stacks up alongside the popular Specialized Levo SL, we've been testing the Orbea Rise M10 to find out.
---
Watch our video review of the Orbea Rise here:
---
Some e-MTBs can feel like a wrestling match through twisty singletrack, but there is no such battle here.
Orbea Rise overview
The new Orbea Rise joins the brand's full suspension e-MTB lineup alongside the existing Orbea Wild FS. But whereas the full-powered Wild FS is an e-Enduro bruiser, the Orbea Rise is a svelte, long-travel trail bike. Think of it as a motorised version of the Occam. Indeed the geometry is very similar, while the suspension design and travel are identical.
Most Rise models come fitted with a 150mm travel fork, though it's also available with a 140mm fork to reduce weight further and tighten up the geometry. Out back you'll find 140mm of rear wheel travel, delivered by the four-bar UFO suspension design.
The Orbea Rise frame is exclusively crafted from OMR carbon fibre. There are no alloy frame options, and you won't find any in-built geometry adjustment or flip chips either. It's 29er specific, with room for up to a 2.5in rear tyre.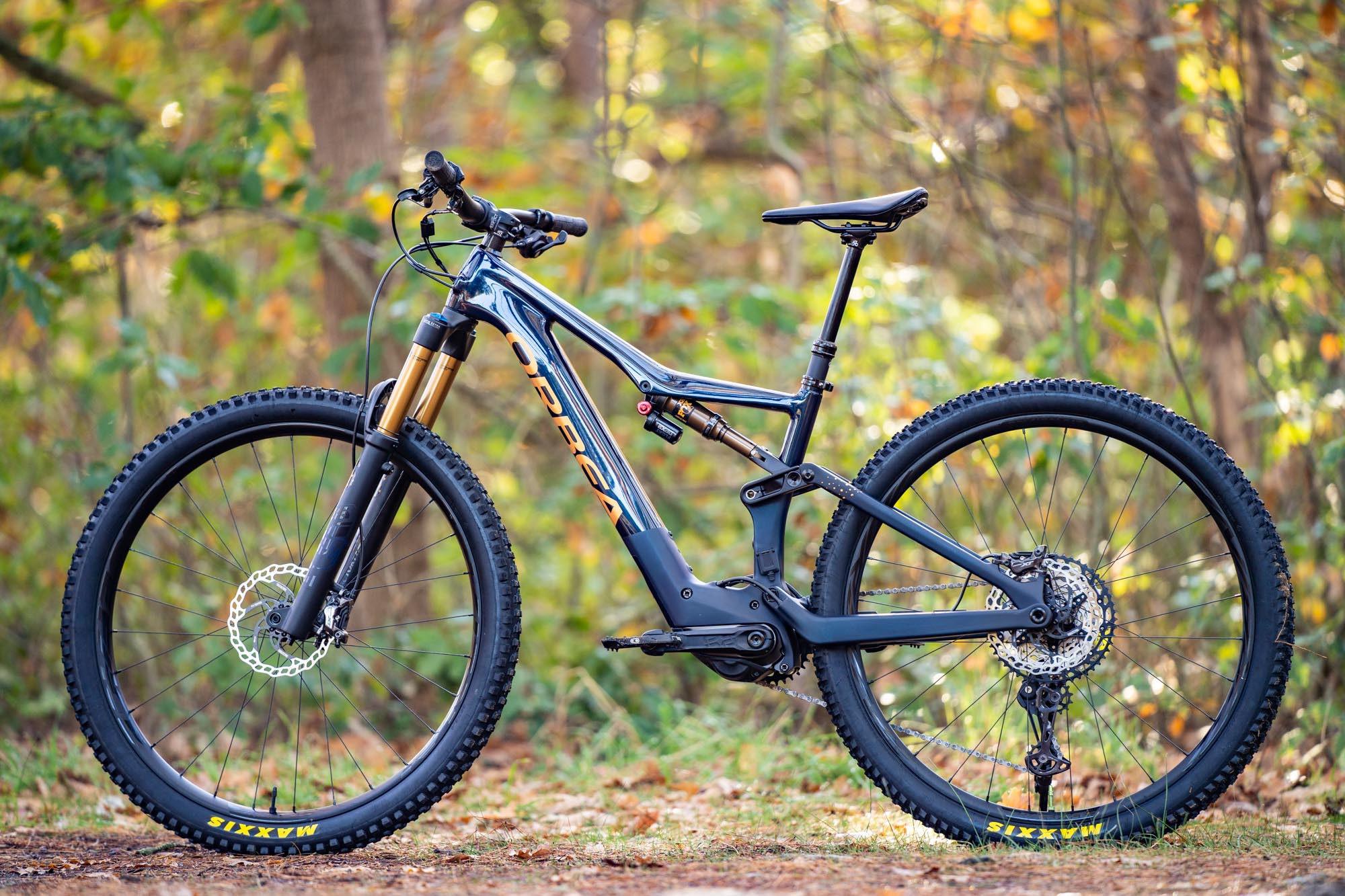 The RS concept
The heart of the Orbea Rise is its Rider Synergy (RS) concept, which isn't just about producing a lightweight e-MTB. It's also about delivering a riding experience that is – in Orbea's words – "more bike, less E".
To do this, the Orbea Rise is powered by a Shimano EP8-RS motor. It's structurally identical to a regular Shimano EP8 motor, though Orbea has restricted the peak torque output from 85Nm to 60Nm. The firmware is different too, changing the way the power is delivered to feel more seamless and less obvious than a traditional e-MTB. As well as improving efficiency, Orbea wanted to create a more natural riding experience that relies less on the motor and more on your legs.
We're fascinated that Orbea managed to convince Shimano to modify its EP8 drive unit
It's a similar ideology to other other lightweight and low-powered e-MTBs on the market such as the Lapierre eZesty and Specialized Levo SL. Orbea's approach is unique however, in the fact that it takes a full-powered motor and reconfigures it to achieve its vision. We're fascinated that Orbea managed to convince Shimano to modify its EP8 drive unit, though it surely says a lot about the confidence that both parties have in the RS concept.
Less power, less weight
Because the EP8-RS motor draws less power to begin with, the Orbea Rise can be built with a smaller 360Wh battery. Utilising new generation 21700 cells, the slim battery is claimed to weigh just 2.2kg. That's about 60% of the weight of a Shimano 630Wh battery. Or in other words, a hefty 1.5kg saving. The frame can then also be made lighter, since the downtube is considerably smaller.
Along with the weight-optimised build kit, our Orbea Rise M10 test bike comes in at just 18.38kg. Compare that to the full-powered Canyon Spectral:ON we tested recently, which weighed 22.4kg. It's a significant difference, noticeable when loading the bike into the workstand or into the back of a car. It also makes a big difference on the trail too.
Orbea Rise price & specs
There are currently four models on offer in the Orbea Rise lineup, covering a price range of $11,099 – $17,999 AUD. You can check out the full specs and pricing in our range overview.
All models are built upon the same carbon frame, Shimano EP8-RS motor and 360Wh battery. Each bike also comes with the option to change the tyres, brakes, wheels, fork and shock. You can choose a different handlebar and saddle, and you can even opt for a longer stroke dropper post. While the upgrades are limited, it's fantastic to see options in the first place. The Specializeds, Giants and Canyons of the world could do well to take note.
For our test we went totally off-the-shelf with a stock Orbea Rise M10, which arguably strikes the best balance between price and performance out of the whole range.
2021 Orbea Rise M10
Frame | OMR Carbon Fibre, UFO Suspension Design, 140mm Travel
Fork | Fox 36 Float, Factory Series, GRIP2 Damper, 44mm Offset, 150mm Travel
Shock | Fox Float DPX2, Factory Series, 210x55mm
Drive Unit | Shimano EP8-RS, 60Nm
Battery | Orbea RS Internal, 360Wh
Wheels | Race Face Turbine R30, Alloy Rims, 30mm Inner Width
Tyres | Maxxis Dissector EXO 3C Maxx Terra 2.4in Front & Rekon EXO+ 3C Maxx Terra 2.4in Rear
Drivetrain | Shimano Deore XT 1×12 w/e*thirteen 32T Alloy Crankset & SLX 10-51T Cassette
Brakes | Shimano Deore XT M8120 4-Piston w/Galfer 180mm Rotors
Bar | Race Face Next R, Carbon, 35mm Diameter, 20mm Rise, 780mm Wide
Stem | Race Face Aeffect R, Alloy, Length: 40mm (S-M), 50mm (L-XL)
Seatpost | Orbea OC2 Dropper, 31.6mm Diameter, Travel: 125mm (S), 150mm (M-L), 170mm (XL)
Saddle | Fizik Taiga, S-Alloy Rails
Available Sizes | Small, Medium, Large, Extra-Large
Confirmed Weight | 18.38kg (Medium)
RRP | $13,999 AUD
No doubt about it, the Orbea Rise is a superb handling bike.
Orbea Rise size & fit
At 175cm tall I've been testing a Medium size in the Orbea Rise. It's a well-proportioned bike with a generous 450mm reach, though thanks to the middling 445mm chainstays and steep 76.5° seat tube angle, your bodyweight is nicely centralised between the two wheels.
Taller folks and those riding on flatter terrain may wish for a higher rise handlebar, as the riding position does have a more aggressive forwards weight bias. Once on undulating terrain though, I found the Rise to be plenty comfortable with the saddle set in the middle of the rails and the stem at the top of the fork steerer.
You'll see that Orbea hasn't gone obscenely short with seat tube lengths, though there's still room for me to go longer than the stock 150mm dropper post – not always a given for my stubby legs.
Suspension & tyre setup
Orbea recommends setting up the rear shock with 30% sag, and that's where I found it to perform best. The rebound tune is quite slow, so I ended up setting the red dial just four clicks off the fastest setting (10/14 clicks). I left the low-speed compression fully open for maximum grip and comfort.
From the factory there's a 0.2³ volume spacer fitted inside the DPX2's large volume air can. However, Orbea also includes a bigger 0.4³ volume spacer in the box – a simple but very welcome addition that we'd love to see from more manufacturers. While the suspension is active and comfortable with the 0.2³ spacer, I ended up preferring the increased bottom-out support and poppier ride quality that the larger 0.4³ spacer provided.
Coming in under a kilo each, the stock tyres on our Orbea Rise M10 are quite light. Even with the EXO+ casing on the rear, the Rekon is 879g (confirmed), which is very light for an e-MTB. To reduce the chance of on-trail tragedies, I added a CushCore insert to the rear wheel and set tyre pressures at 22psi up front and 25psi out back.
What does the Orbea Rise do well?
No doubt about it, the Orbea Rise is a superb handling bike. The geometry is spot-on for fast and aggressive trail riding, with a nicely-balanced wheelbase and the not-too-slack 65.5° head angle.
The low overall weight also makes it surprisingly easy to move around, with greater agility over your typical e-MTB. Thanks to the lightweight wheels and the majority of this bike's mass being low and central within the frame, the Rise is adept at pivoting and changing direction quickly. Some e-MTBs can feel like a wrestling match through twisty singletrack, but there is no such battle here.
However, with an active pilot the Rise is capable of backing up alternating turns faster.
For a weakling like me, I've also found it vastly easier to lift up the front wheel. Of course the lighter battery helps, though Orbea has also spec'd a regular Fox 36 rather than the e-MTB specific version. This purportedly saves a further 200g. The result is a notably lighter front end that's less arduous to pickup and place on the trail.
Indeed the Orbea Rise delivers a sprightly and involving ride quality, particularly with the bigger 0.4³ volume spacer installed inside the rear shock. Traction is superb, small and mid-bump sensitivity are excellent, and the back end patters beautifully over rock gardens. On bigger hits the suspension doesn't feel as deep as the Merida eOne-Sixty or Canyon Spectral:ON, which do pack an extra 10mm more rear travel. And at warp speeds, the Orbea Rise also doesn't have quite the same stuck-to-the-ground feel or plough-ability as its heavier counterparts.
On the flip-side, the Orbea Rise's handling is more responsive and dynamic. This is evident in the energetic cornering performance, making it loads of fun to lay over into sharp berms and tight chicanes. I wouldn't say it initiates turns quite as effortlessly as the Spectral:ON with its mullet wheel setup and super-short chainstays. However, with an active pilot the Rise is capable of backing up alternating turns faster. It also traces a more stable and predictable arc at speed, and in general it feels totally comfortable at higher velocities.
Those low-profile tyres certainly help to boost acceleration and maintain rolling speed too. There's minimal deceleration when the motor cuts out – a result of the fast tyres and low overall bike weight. That makes it feel less like you've put the brakes on when you pause pedalling on a climb, useful when ratcheting the pedals and thrutching the whole bike over bigger ledges. Along with the excellent climbing position, which helps to drive your weight into the front wheel to keep it tracking where you need it, the Orbea Rise is an exceptional technical climber.
I was never surprised by what the motor was doing, and that gives the Orbea Rise a very predictable feel on the trail.
What's the Shimano EP8-RS motor like?
It's absolutely brilliant, and a big contributor to the overall ride experience of the Rise. It isn't just about the reduced power and improved efficiency either – the EP8-RS motor offers a considerably different feel on the trail.
While engagement is just as quick as a regular EP8 motor, the acceleration is tuned to be much softer, with a subtler feel to initial power delivery. The power curve is also a lot more progressive, with a very clear link between what your legs are putting in, and what the motor is putting out. You soon learn to pedal harder to access more power from the motor, and that encourages you to put in more effort throughout each ride. A bike for lazy pedallers, this ain't.
On my regular test rides, I consistently achieved around 1,400-1,500m of climbing across 40-50km rides while using Trail mode.
What I really dig about the EP8-RS motor though is how easy the power is to modulate. This was especially apparent on technical climbs, where it's possible to pedal full-tilt and out of the saddle, without fear of the motor erupting a sudden burst of uncontrolled torque. The steadier output means that climbing speeds are more consistent, with less of the on/off sensation that many e-MTBs suffer from.
In fact, there were some really awkward rocky switchback climbs that I was able to clean every time without fail on the Rise, which I've often struggled with on the Merida eOne-Sixty and Canyon Spectral:ON. On the Rise I was never surprised by what the motor was doing, and that gives it a very predictable feel. Sure it may have less power, but in some cases it's actually a faster and more competent climber than its full-powered peers.
You do need to pay closer attention to cadence, with 75-90RPM being the optimal range for the EP8-RS motor. To keep it in that zone I found myself making use of the gears a lot more, as I would with a regular mountain bike. This is particularly the case when anticipating technical features and steep switchback climbs – you can't just mash your way up in any gear, expecting the motor to carry all the load. Here I was thankful for the smaller 32T chainring and the 51T cassette sprocket.
It's an amazing climber on typical MTB terrain, but if you prefer ascending at super-speeds and muscling your way up weird moto-style challenges, there are better tools for that job.
As with a regular EP8 system the Orbea Rise offers Eco, Trail and Boost assist modes, though each is tuned specifically for the EP8-RS motor. The usual parameters can be tweaked within the E-TUBE app, and the process is exactly the same (check out our Shimano EP8 review for more info on tuning).
You also get two Profiles to choose from. Profile 1 offers softer and more economical assist settings, while Profile 2 beefs up the power levels for a sportier ride feel. Unfortunately switching between profiles isn't something you can do on the fly – you'll need to connect the app to do that.
After experimenting with both, my preference was for Trail mode in Profile 2. This actually dials the maximum torque down even further to just 38Nm. I found Eco (24Nm) to be underpowered and too slow for my liking, and Boost (60Nm) felt like it handed over too much bias to the motor. In Trail there's still a usably wide range of support with plenty of punch when needed on steep tech climbs, while maintaining that progressive power delivery and excellent fuel economy.
How much range does the Orbea Rise get?
On my regular test rides, I consistently achieved around 1,400-1,500m of climbing across 40-50km rides while using Trail mode. That's impressive given the small 360Wh battery, and it goes to show how big of a role the EP8-RS motor plays in the equation.
To help benchmark the Orbea Rise against some of the other e-MTBs we've tested, I also conducted a shuttle test. This involved riding up a smooth tarmac road climb with a 10% average grade, then bombing back down on a variety of technical singletrack descents, in order to see how many runs I could pack in before the battery went flat. I rode the whole time in Boost mode with all the parameters set to the most powerful settings. With this setup, the power output from the EP8-RS motor feels more like a traditional e-MTB, with more punch and less pedalling effort required to access the full 60Nm of torque.
Here's how the Orbea Rise stacked up against the rest;
It really wasn't that far off the full-powered e-MTBs, and it achieved significantly more than the Kenevo SL despite the Rise having a more powerful motor. However, the Kenevo SL is fitted with heavier and stickier rubber, and this can affect range by as much as 10%. Tyre choice and pressure has a significant impact on rolling efficiency, and here the Orbea Rise, with its light-duty rubber, has a distinct advantage.
For those going for maximum mileage, Orbea reckons you can expect up to 2,500m of elevation gain when riding in the Eco mode, though you will be working much harder at the pedals. If that's not enough, you can also purchase a separate RS Range Extender battery for $975 AUD. Designed to fit into a specific cage where the water bottle would normally go, the RS Range Extender weighs 1.4kg and adds on a further 252Wh to bring total capacity to 612Wh.
What does it struggle with?
Compared to a full-powered e-MTB, the Orbea Rise doesn't have the same earth-rotating pull on more abrupt climbs. It's an amazing climber on typical MTB terrain, but if you prefer ascending at super-speeds and muscling your way up weird moto-style challenges, there are better tools for the job.
Also, if everyone in your riding crew is already on a full-powered e-MTB, then you're going to be working a bit harder to keep up on the Rise. Even in full Boost mode, I found that on steady non-technical climbs I was around 3-4km/h slower on average. Generally speaking, this is a bike that will suit a more active and fit rider.
However, my biggest gripe with the Orbea Rise is with the stock tyres. The Rekon EXO+ is too lightweight, and the tread is too shallow to deliver proper bite on loose, technical climbs. I had the rear wheel slip out on me numerous times, and that was in the dry. The lack of grip and confidence really holds the Rise back given how capable the rest of the bike is. Sure it may be a lightweight e-MTB, but it's still an 18kg bike that loves to ride hard and fast, and it deserves burlier rubber to keep up.
While the cockpit is certainly clean, the interface may be too minimalistic for some riders. Haptics are subtle – the older style E7000 controller feels vague compared to the new EM800 button profile, and there's no beeping noise when you change between modes. Furthermore, the tiny LEDs on the E-Tube junction box are too faint, making it impossible to tell the difference between Trail and Boost modes while riding on a sunny day. I also found it annoying that the battery level indicator only changed colour when it reached 20%, which is too late.
It's worth mentioning that if you're a Garmin user, it is possible to pair it your GPS head unit or watch to the Rise. That will allow you to display key metrics including cadence, mode, battery life (as a percentage – brilliant!), and estimated range. Unfortunately no such option exists for my Wahoo GPS head unit, so I had to rely on the tiny LEDs and guessing my cadence instead.
This will be less of an issue for bigger riders, though I'd still love to see the option of a 31.8mm diameter bar, perhaps even alloy.
Component highs & lows
I've mostly been impressed by the Shimano EP8-RS motor's performance, but unfortunately it still suffers from the same clacking noise when freewheeling down rough descents. It is totally normal, we're told it's a necessary evil to get the low-drag performance, and you soon get used to it, but I still live in hope that one day Shimano and Bosch e-MTB motors won't make such a racket.
The solid-forged e*13 cranks look cheap when compared to the genuine Shimano article, though Orbea states that the off-brand approach was necessary in order to get that smaller 32T chainring (Shimano only offers steel chainrings down to a 34T). According to Orbea the alloy chainring is also lighter and supposedly quieter, though of course it will wear out faster.
I'm not a fan of the overly stiff carbon handlebars, which resulted in excessive arm pump and hand fatigue on long descents. This will be less of an issue for bigger riders, though I'd still love to see the option of a 31.8mm diameter bar, perhaps even alloy. The Race Face grips are fantastic though, with a lovely soft and tacky rubber compound.
The only other problem I encountered was with the house brand dropper post. It's already starting to feel gritty and sluggish, so it's likely due for a teardown and service. For an extra $356 AUD, a Fox Transfer upgrade could be worthwhile.
Otherwise the Orbea Rise M10 has delivered a top-notch riding experience, especially when it comes to the suspension. Once setup with lower pressures and faster rebound settings than recommended, the 36 GRIP2 is a brilliant performer. Along with the DPX2 shock the suspension eats up small and medium-sized hits efficiently, with oodles of traction and high-speed damping control.
For $70 AUD, Orbea gives you the option to upgrade to a Minion DHF/DHR tyre combo, which would unlock this bike's high-speed potential.
The 4-piston Shimano brakes are powerful with a positive bite point, and the callipers mount up clean without need for separate adapters. Unfortunately the Galfer rotors weren't straight out of the box, but once trued they've not caused me any grief.
The Race Face wheels are reasonably light (1,843g confirmed) and haven't flinched at all during testing. The Vault hubs are absolutely enormous, with the rear housing a sweet 4-pawl mechanism with fast, but not obnoxiously loud 120pt engagement.
What could be improved?
Definitely the tyres. On hardpack trails in optimal conditions the Dissector/Rekon tyre combo is fine, and the low weight contributes positively to the bike's overall rolling speed and efficiency. As soon as things are loose or wet however, they leave a lot to be desired.
For $70 AUD, Orbea gives you the option to upgrade to a Minion DHF/DHR tyre combo, which would help unlock this bike's high-speed potential. However, they're only offered in the standard EXO casing (there's no EXO+ or DoubleDown option), so you'll want to consider adding a tubeless insert to better protect the rim and tyre on rocky terrain.
I'd also elect for the EM800 display upgrade for $170 AUD. That would put useful information in front of you, and you'd also get the newer EM800 controller to go with it. Either that, or I'd factor in some extra cash to buy a Garmin GPS or watch.
Orbea Rise vs Specialized Levo SL
Out of the lightweight, low-powered e-MTBs on the market, the Specialized Levo SL is the most prominent and obvious competitor to the Orbea Rise.
Sharing the same wheelsize and similar travel, the Levo SL's e-MTB system has a 1kg weight advantage thanks to its smaller 320Wh battery and compact SL 1.1 motor. However, maximum torque is much lower at 35Nm.
When cruising along the flats, the Levo SL offers a slightly more relaxed riding position due to its shorter reach (435mm) and slacker seat tube angle (75°). The suspension is also very smooth and active, with a linear and comfortable feel out of the box.
The Orbea Rise has more progressive geometry though, and it's the better handling bike as a result. The longer front centre and 0.5° slacker head angle helps you to attack the descents with greater speed and confidence, and it's more planted on the climbs as well thanks to the longer chainstays and steeper seat angle. It may not be quite as nippy on tight trails at slower speeds, but the more technical the terrain and the faster the pace, the better it gets.
While I found both systems to be intuitive, the Shimano EP8-RS has noticeably more power and climbing speed. It's still very efficient though, and the slightly larger 360Wh battery means you'll get more range out of it too.
Motor performance is excellent on both bikes, with no perceptible drag when pedalling beyond the 25km/h cutoff. The Levo SL affords a similarly natural riding experience, and it's easier to hold onto that zen as it doesn't exhibit the loud clacking that the Shimano EP8 motor does.
While I found both systems to be intuitive, the Shimano EP8-RS gives you access to more power and faster climbing speeds. It's still very efficient though, and the slightly larger 360Wh battery means you'll get more range out of it too.
Specialized gets the nod for its simple and effective TCU interface, with the 10-bar battery display proving to be more useful than the little junction box on the Rise. That said, we expect Specialized is already working on implementing the new Levo's brilliant MasterMind TCU display into the next generation Levo SL, which will likely come with updated geometry too.
Until that hypothetical bike arrives however, the Orbea Rise is currently the faster, better handling and more capable bike out of the two. And depending on the model you're looking at, it also offers a more desirable spec for the money.
Flow's Verdict
Orbea isn't the first brand to embrace the lightweight, low-powered concept. With the Rise however, it has delivered the most compelling option yet.
The stripped-back approach has resulted in a beautiful bike with an impressively low weight. The suspension and handling are brilliant, and the custom EP8-RS motor offers progressive and predictable power delivery that ensures you never feel like a passenger. Along with the option to tune the motor's performance, the Orbea Rise has effectively bridged the gap between the Levo SL and full-powered e-MTBs.
It's not necessarily the bike for existing e-MTB addicts who are hungry for maximum power and the biggest battery possible. Then again, if you're not riding in Boost mode all the time, and you're regularly finishing rides with a couple of bars left on the battery, then why lump around all that extra weight?
Indeed the Orbea Rise presents a very attractive counter argument for those mountain bikers who are looking to maximise their riding capacity, without turning the whole experience into something totally different. Yes it's electric, but it's still very much a mountain bike, and a bloody good one at that.