Over the past few years Schwalbe has been steadily overhauling its performance mountain bike tyre range. The arrival of updated tread patterns, new rubber formulations and redesigned casings has seen it evolve into one of the most comprehensive tyre lineups on the market. The only problem? When it comes time to choosing the best mountain bike tyre for your needs, deciphering all of the various combinations can be a little overwhelming. If you've ever found yourself wondering what the hell a Rapid Rob or a Billy Bonkers is, or what kind of trail conditions the Super Ground casing is built for, you're not alone!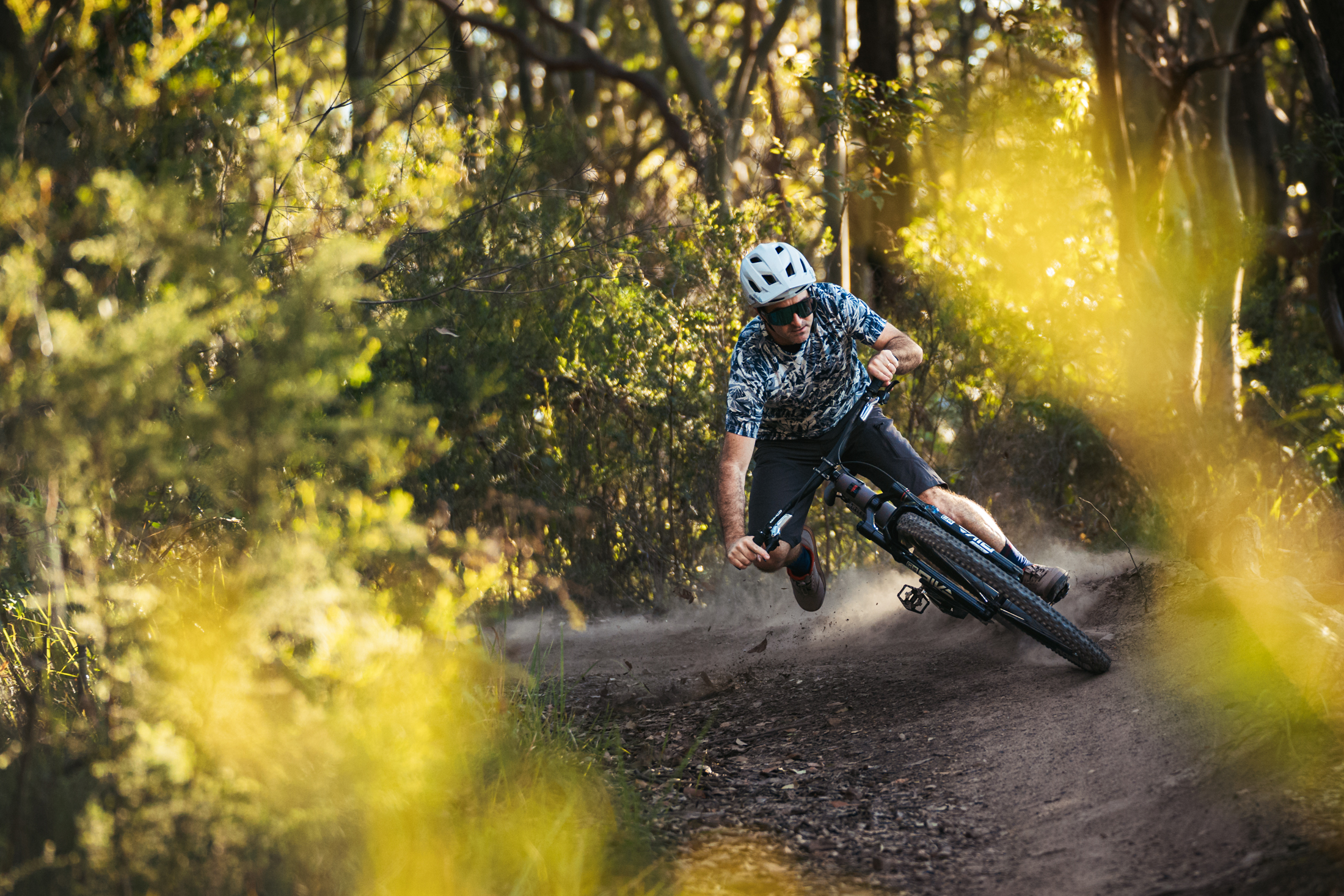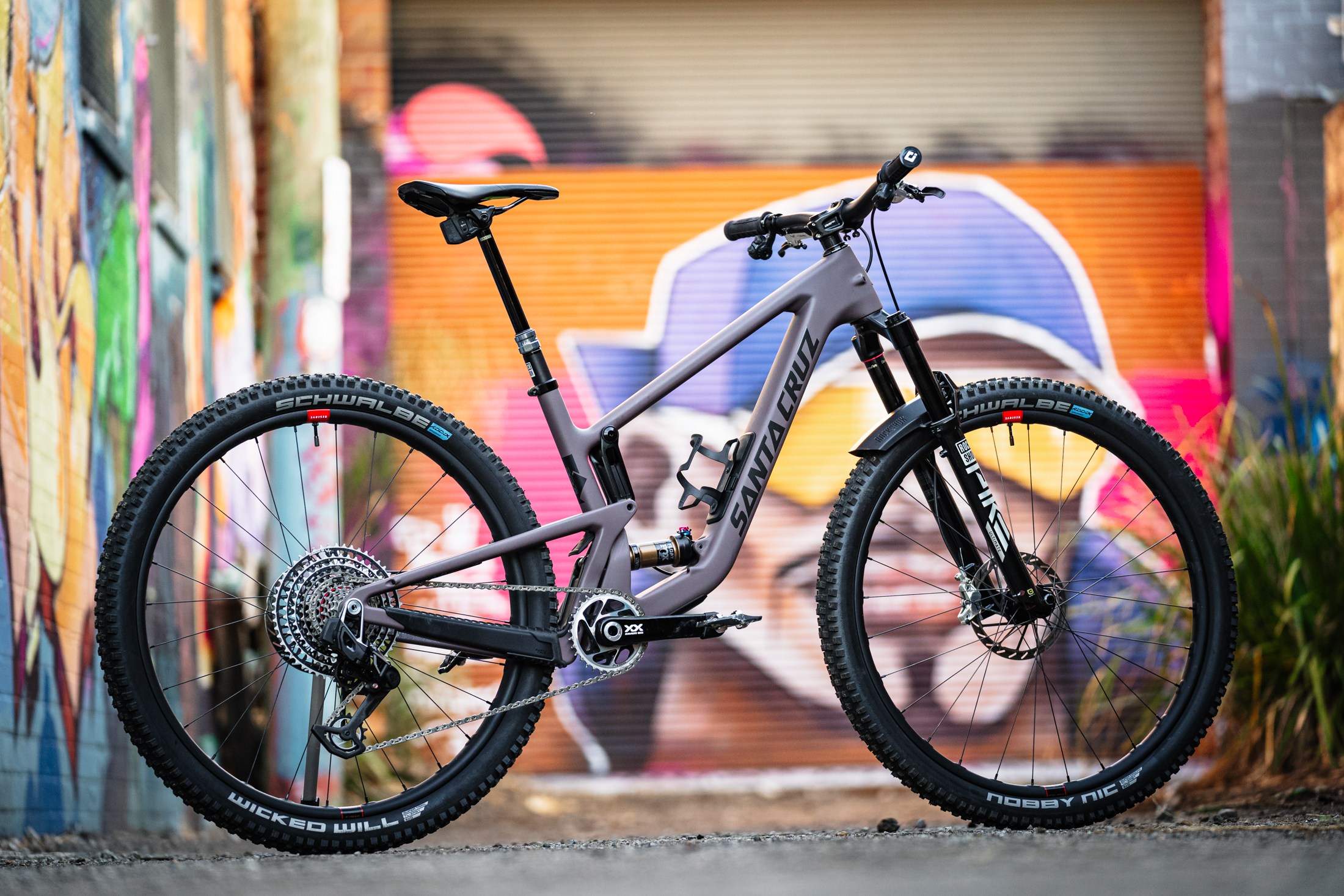 To help us wrap our heads around the latest mountain bike tyre range, Schwalbe's Aussie distributor, BikeBox, sent us a smattering of options that we've been testing out over the past couple of months.
Tread patterns
Take a look at the Schwalbe MTB lineup, and you'll find no less than 26 different tread patterns. Yes, 26! There are tyres designed for World Cup DH racing, enduro, fat biking, trail riding, off-road touring, XC and even dirt jumping.
Note that this isn't an exhaustive test of the entire range – that would require years to undertake! Instead, we've selected a bunch of Schwalbe's most popular options. These include more gravity-oriented tyres like the new Tacky Chan, some that are designed for all-round riding like the Hans Dampf, as well as faster-rolling XC tyres like the Racing Ralph.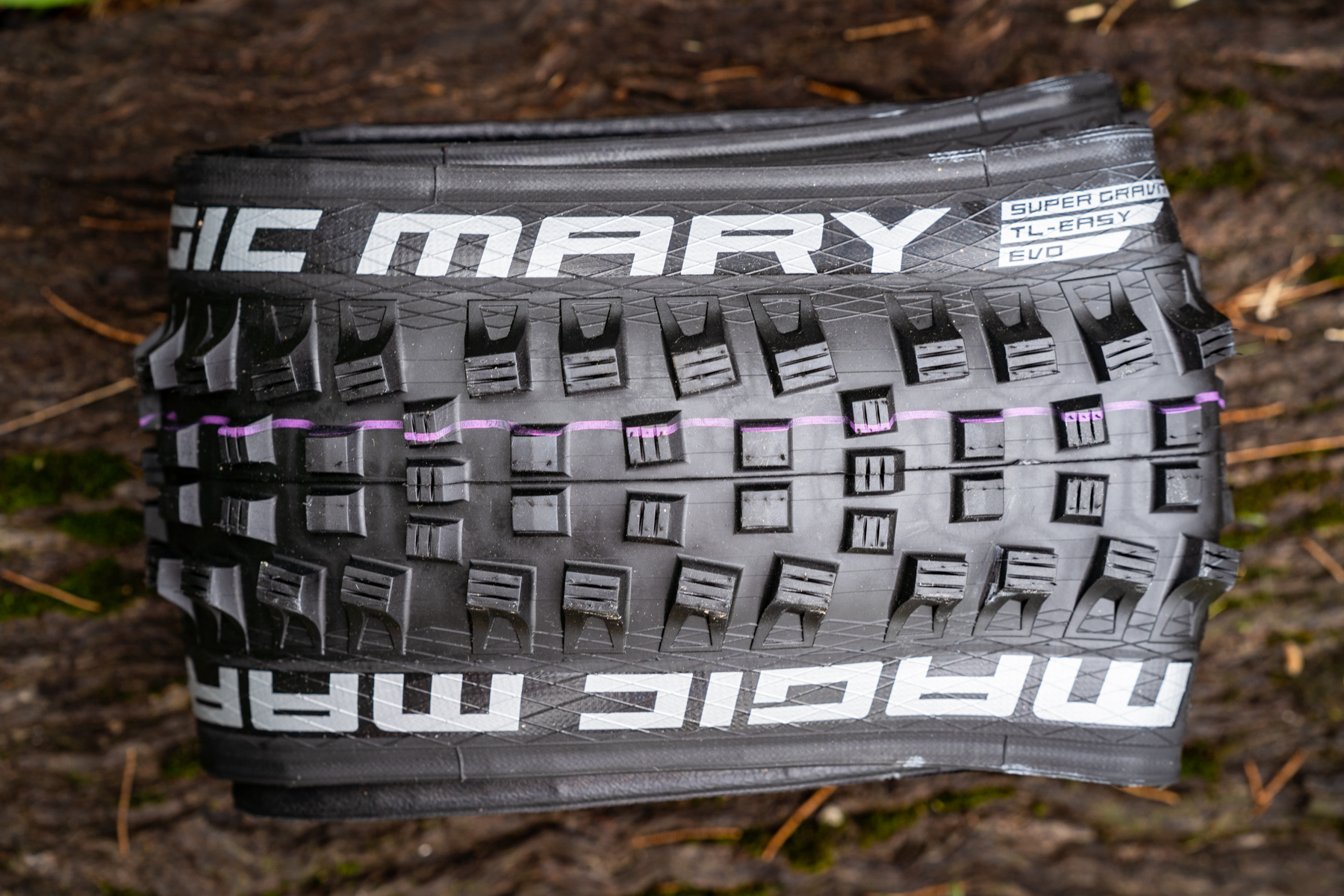 Schwalbe Magic Mary
The Schwalbe Magic Mary is the most aggressive tyre on our list. It's an incredibly popular gravity tyre for DH and enduro riders, and is ideally suited to loose and challenging conditions.
The Magic Mary features a blocky tread pattern with an open design that helps it to shed mud and debris. Heavily reinforced shoulder blocks provide stability under hard cornering loads, and there's plenty of siping to help the tyre pinch the ground.
It's typically run on the front, but you can fit it on the rear as well if you're less concerned about rolling resistance and are after maximum grip.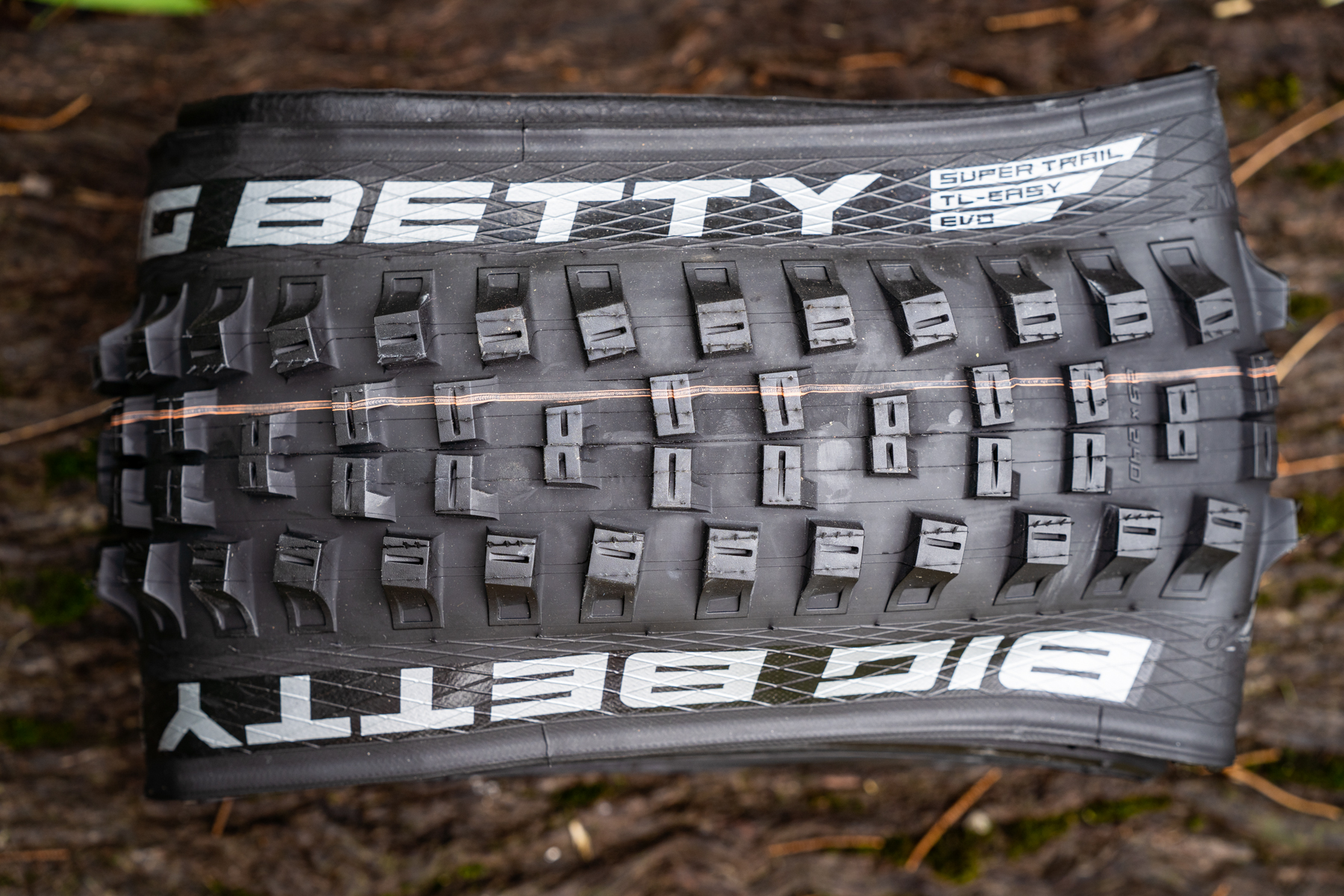 Schwalbe Big Betty
The Schwalbe Big Betty is a similarly aggressive gravity tyre that's designed to be run specifically on the rear with a Magic Mary up front.
Wider central blocks help to increase braking traction by providing longer edges for the tyre to grab onto the ground when you're hard on the anchors. The shoulder tread is also a little shallower and wider to increase stability when pushing hard into banked turns.
There's still a decent amount of negative space to help the Big Betty clear mud, and Schwalbe reckons it's ideally suited to mixed and soft conditions.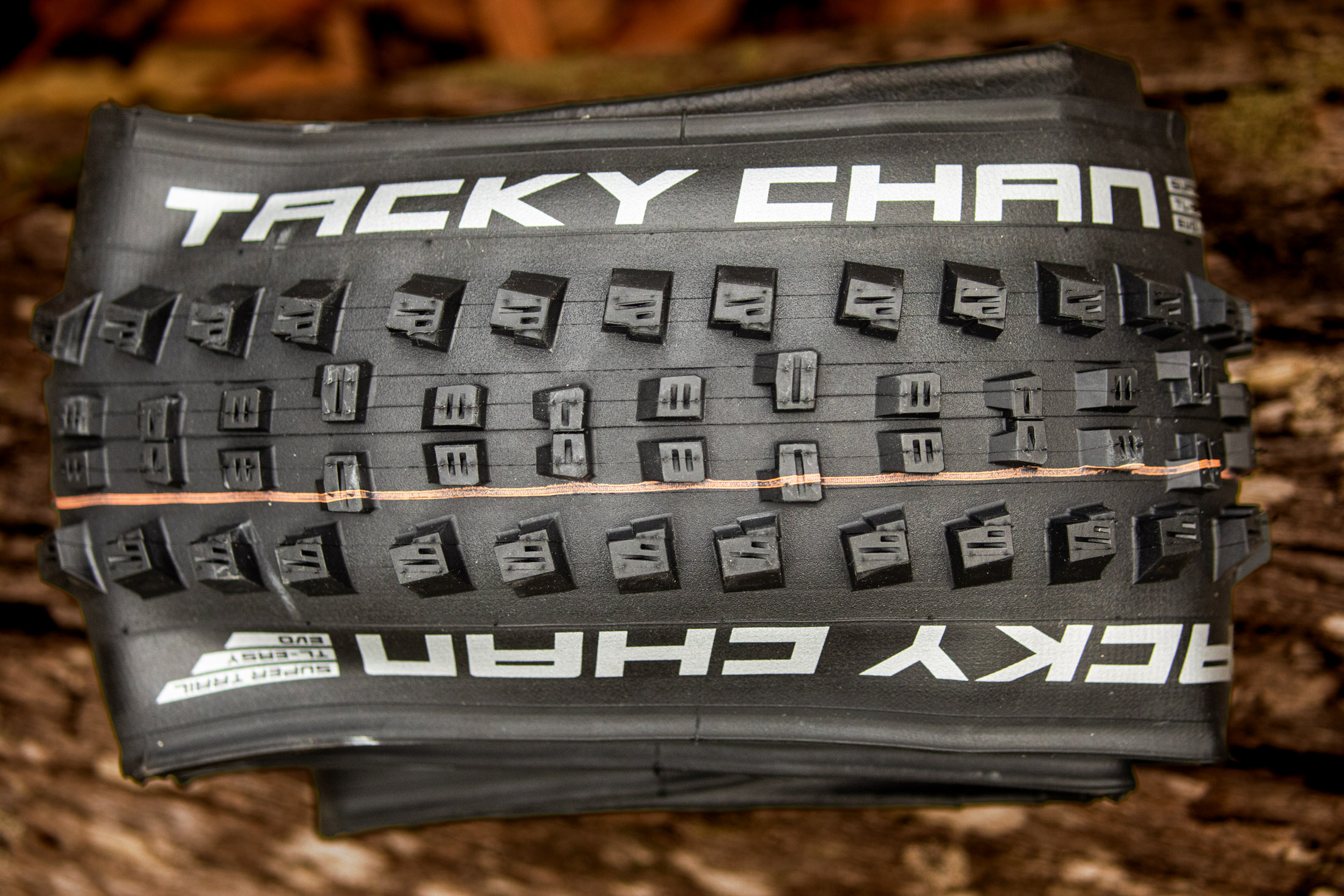 Schwalbe Tacky Chan
Billed as the fastest downhill tyre on earth by Schwalbe, the Tacky Chan is the newest release from the German brand. Developed with input from World Cup racers including Amaury Pierron and Myriam Nicole, the Tacky Chan is said to be lighter and faster rolling than the Magic Mary and Big Betty, while offering more precision overall.
A shallower tread profile and considerable ramping through the centre blocks helps to decrease rolling resistance, while sturdy shoulder lugs are claimed to be more stable than those found on the Magic Mary, allowing for more aggressive cornering performance on dusty bikepark-style terrain. You can run the Tacky Chan front and rear, though it can also work as a rear tyre with a Magic Mary up front if you're riding in looser conditions.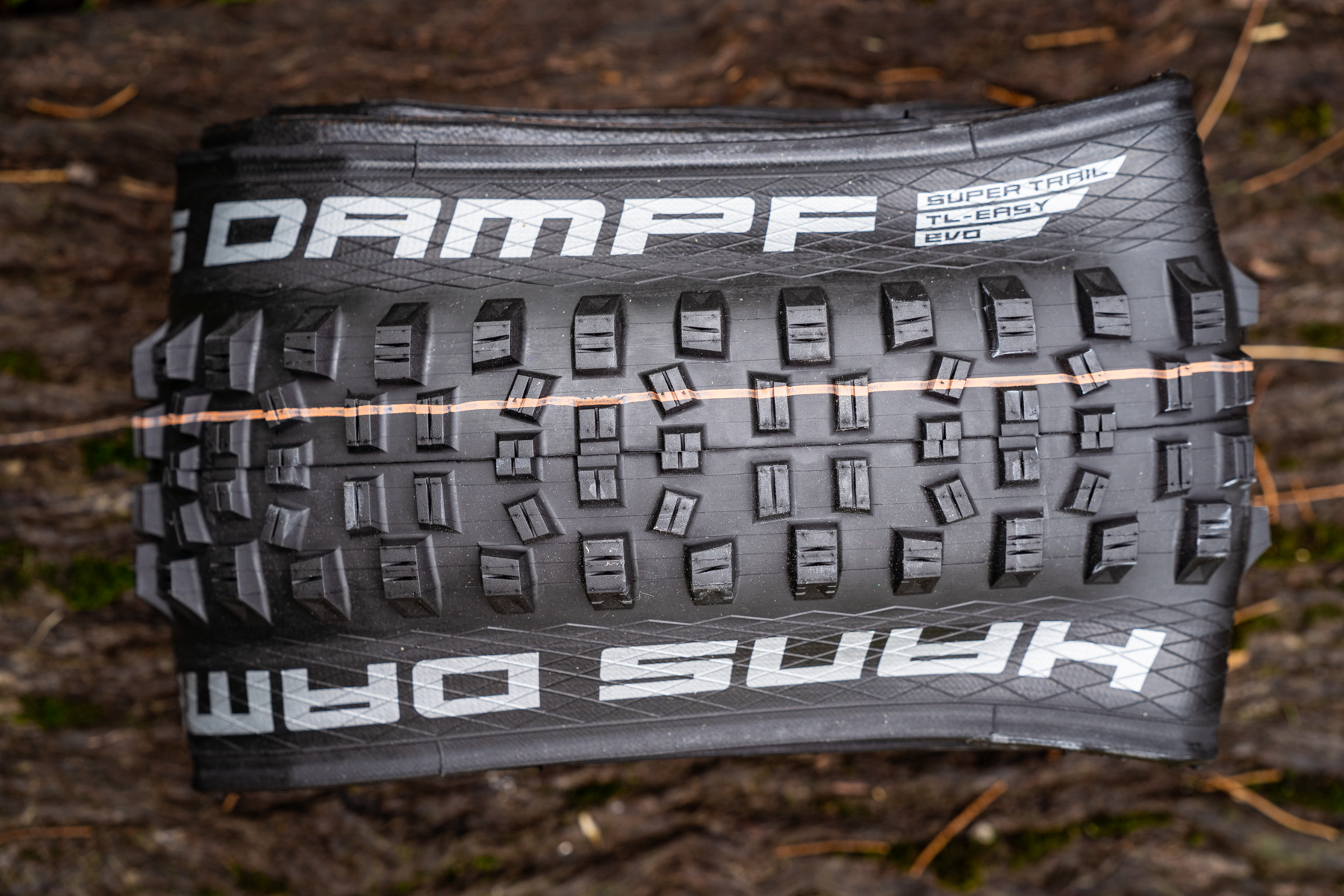 Schwalbe Hans Dampf
If you're looking for a faster rolling option for trail and All Mountain riding, the Schwalbe Hans Dampf is the all-rounder of the lineup.
It features a slightly rounder profile that makes it feel more natural to corner with, and closely-stacked centre tread reduces rolling resistance further over the Tacky Chan. Alternating blocks on the shoulders are said to provide grip in changeable conditions, though it is more suited to softer soil and dusty trails.
You can run the Hans Dampf front and rear, though it pairs nicely with a Nobby Nic on the rear for a speedy, though still aggressive trail setup.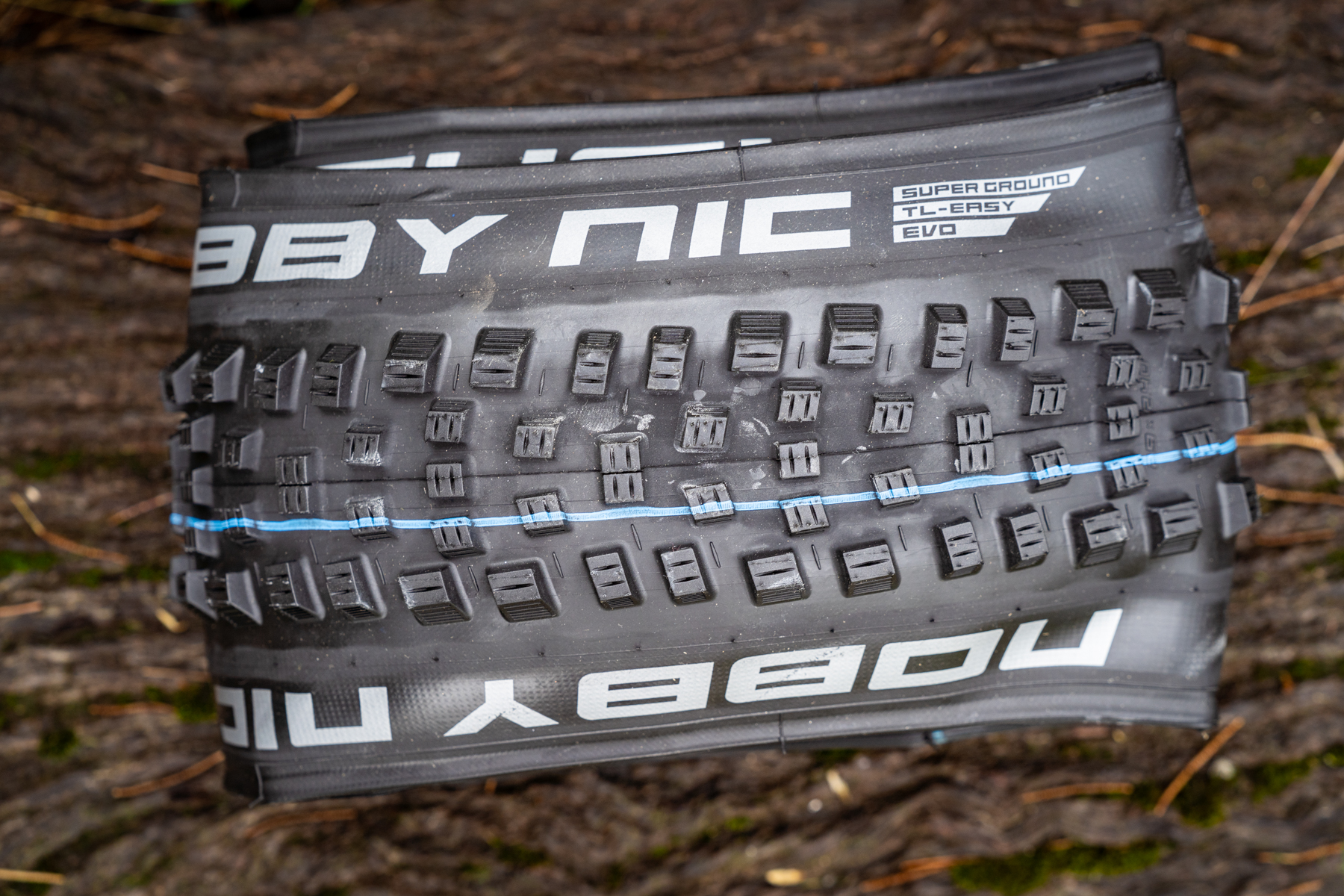 Schwalbe Nobby Nic
The Nobby Nic has been in the Schwalbe lineup for what feels like forever. This versatile trail tyre has evolved a lot over that time, and the latest version is easily the best and most predictable yet.
Chunkier edging blocks provide much better stability under cornering, and slightly bigger gaps between the tread help the Nobby Nic to dig through loose surfaces. It's still a faster rolling tyre than the Hans Dampf though thanks to the smaller tread blocks, and the staggered array means it remains stable on hardpack trails.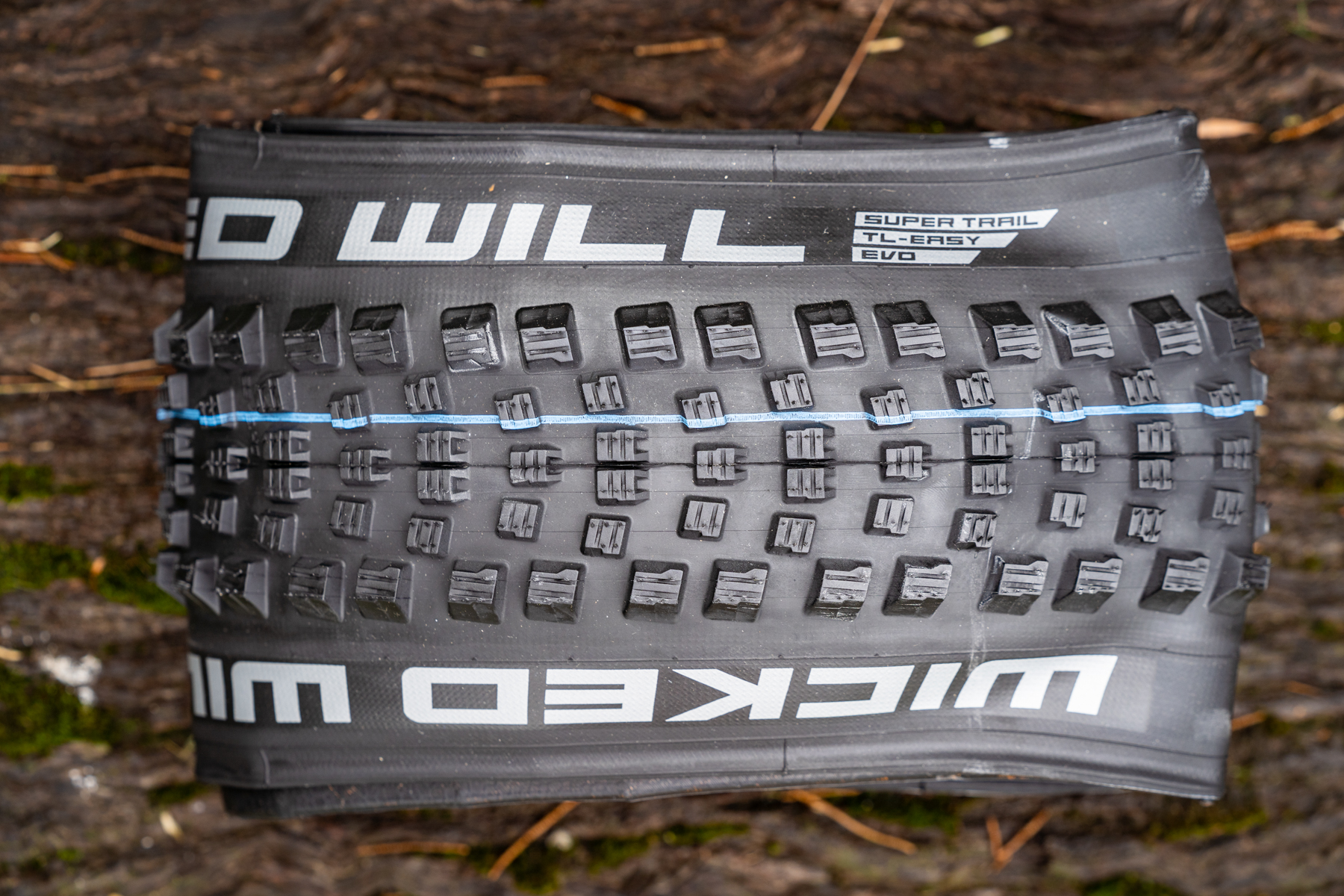 Schwalbe Wicked Will
The Schwalbe Wicked Will arrived at a similar time to the Big Betty, though this tyre is very much focussed on speed. Designed as a lightweight and versatile XC tyre, the Wicked Will aims to provide confidence-inspiring grip in loose and hardpack conditions.
It features small, closely-stacked tread blocks that provide more consistent contact with the ground for a smoother and less rumbly feel. The ramped centre tread also helps to decrease rolling resistance compared to the blockier Nobby Nic.
You can run the Wicked Will front and rear, though it's also used on speedy trail bikes with a Nobby Nic up front, or as a front tyre on XC rippers with a Racing Ralph on the rear.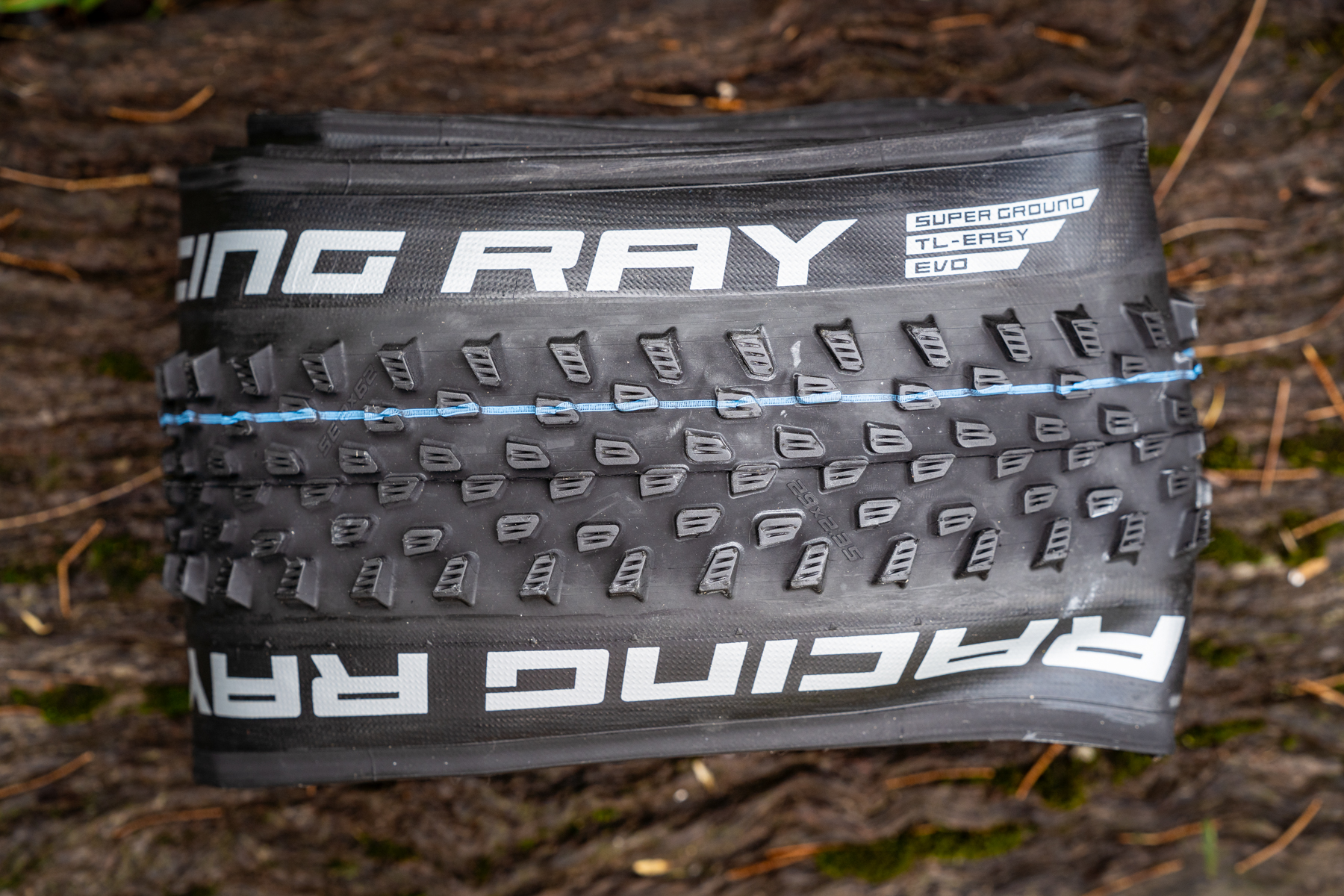 Schwalbe Racing Ray
Another relatively new tyre, the Schwalbe Racing Ray is designed as a front tyre for XC riding and racing. It's optimised for speed, but it aims to deliver predictable grip to inspire confidence up front.
The Racing Ray features a micro-knobby tread pattern with a staggered centre tread for smooth contact with the ground. This tread is triangular-shaped and slightly ramped to further decrease rolling resistance.
There's a good amount of siping to increase tread flex over hardpack trails, though wider shoulder blocks are employed to minimise squirm under cornering.
While it's recommended to pair it with a Racing Ralph on the rear, if the conditions are particularly challenging or wet, you could benefit from running the Racing Ray both front and rear.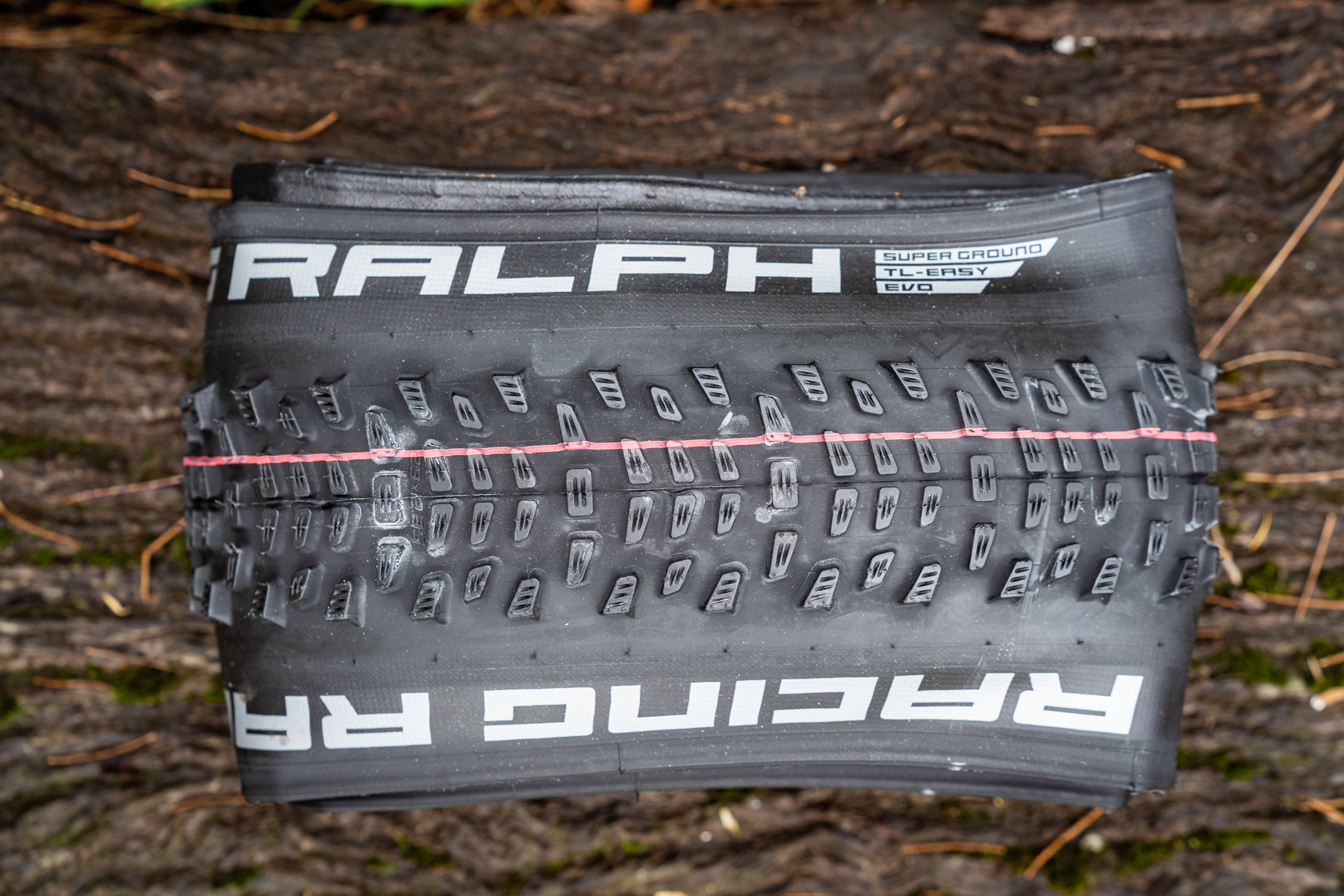 Schwalbe Racing Ralph
An absolute classic of the Schwalbe MTB tyre range, the Racing Ralph is a high-performance XC race tyre that's seen plenty of success at the highest level of the sport. The latest version is the quickest one yet, and it's been designed to be run on the rear with the Racing Ray up front.
Featuring an almost semi-slick tread pattern, the Racing Ralph utilises lots of wide and closely-spaced tread blocks to boost acceleration when sprinting off the start line or climbing up a technical ascent.
The tight tread array means it's really designed for dry and hardpack conditions. If the trails are particularly buff and you're a skilled rider, you can even run the Racing Ralph front and rear for a seriously quick setup.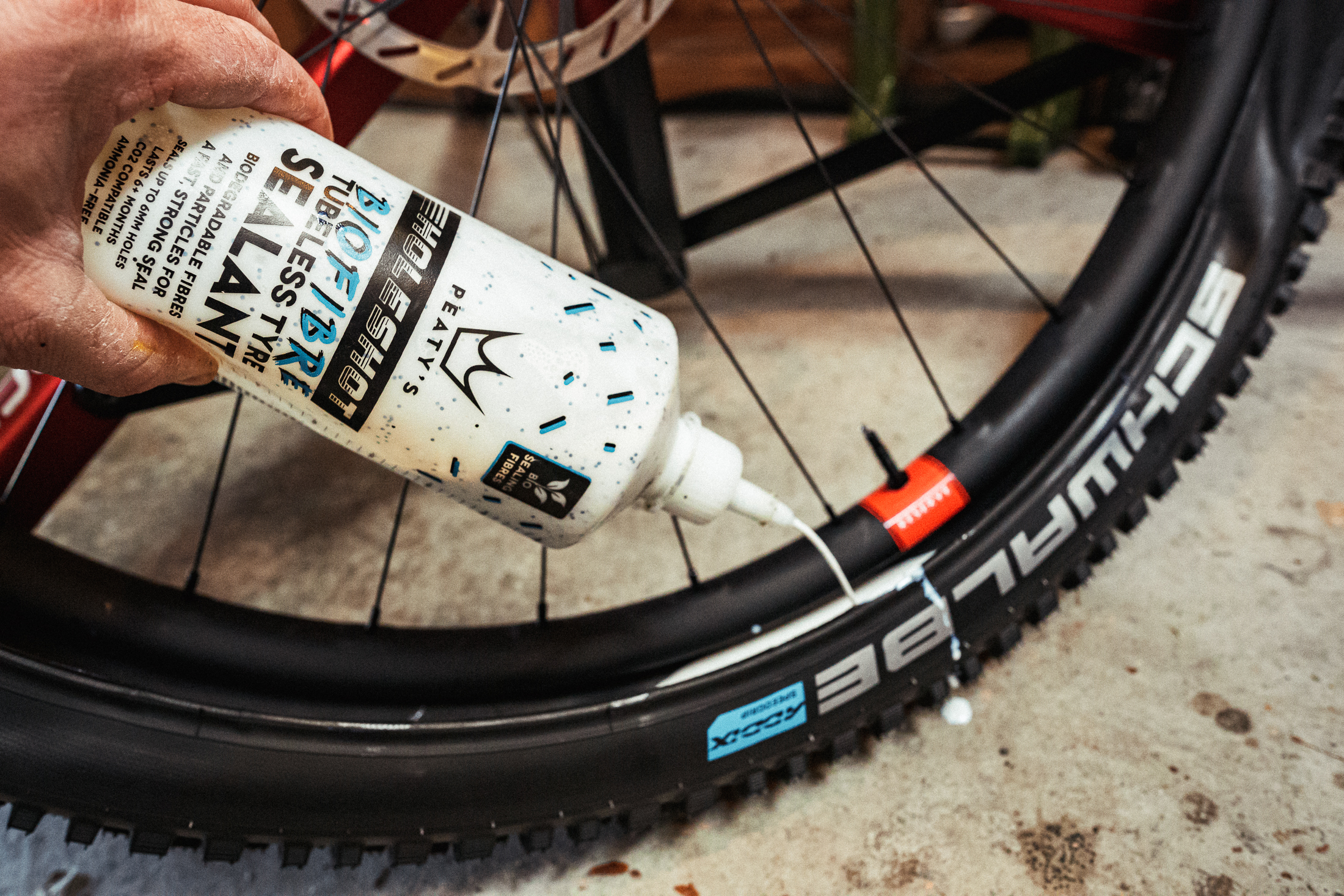 Super tyre casings
Once you've chosen your tread pattern, it's time to work out which casing is going to work best for your riding style and trail conditions.
There are five different casing options in the Schwalbe MTB tyre lineup, and all come under the Super label.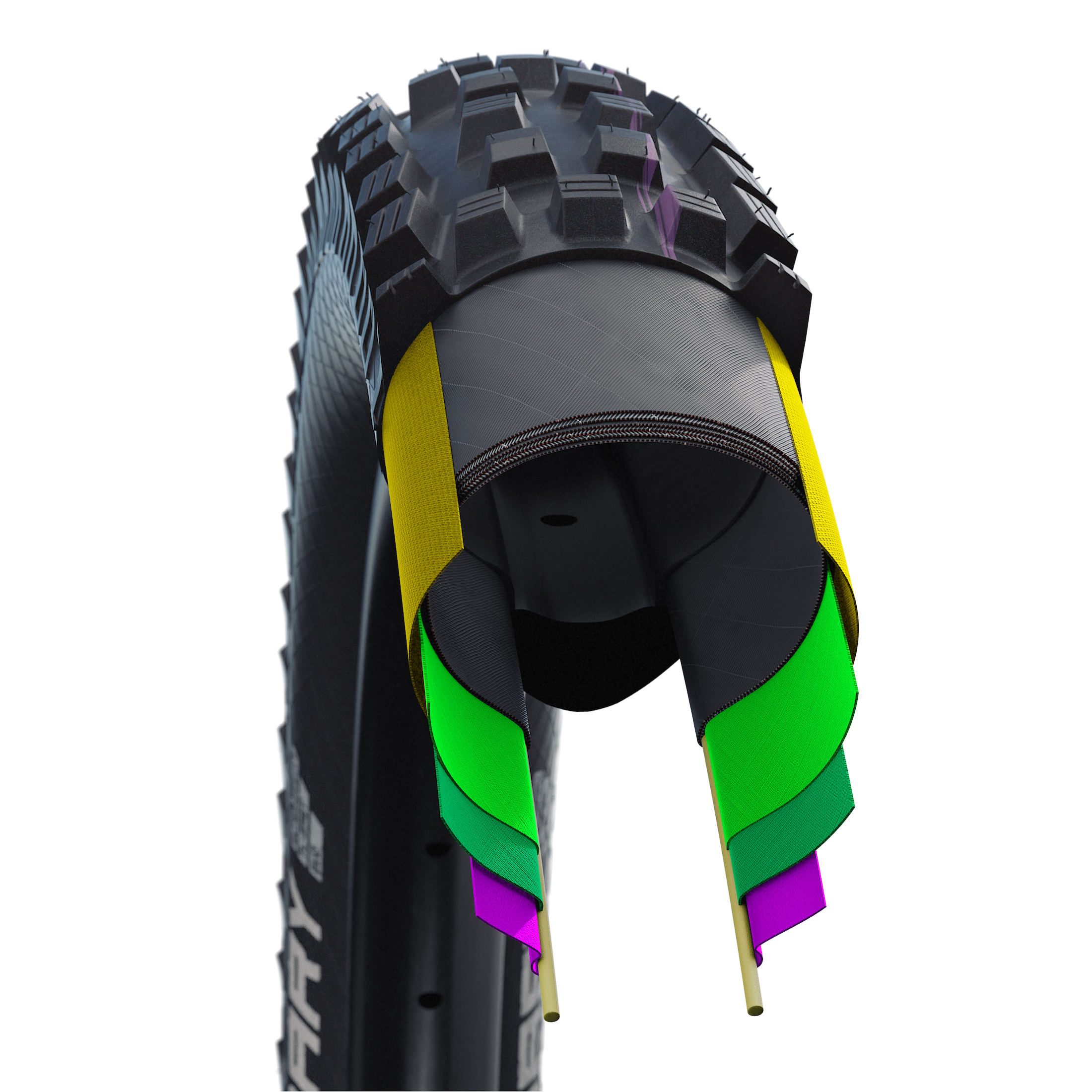 Super DH
The Super DH casing is the toughest, heaviest and stiffest option of the entire Schwalbe MTB lineup. As the name implies, this is the casing you want for DH riding and racing. It's also a suitable option for long travel e-MTBs, where weight and rolling resistance are less of a concern.
It's still a folding tyre with a Kevlar bead, but it features no fewer than six layers of polyamide underneath the tread. Schwalbe then adds a layer of Snake Skin fabric through the sidewall and a dual-layer Apex for maximum stability and puncture resistance.
Super Gravity
The Super Gravity casing isn't quite as heavy-duty, but for many enduro racers and even e-MTB riders, this tyre will be more than sturdy enough.
The construction is quite similar to the DH tyre, but there are only four layers of polyamide underneath the tread. The Super Gravity casing also utilises a single Apex layer around the bead to reduce weight and provide a little more damping. It still produces a very robust tyre though.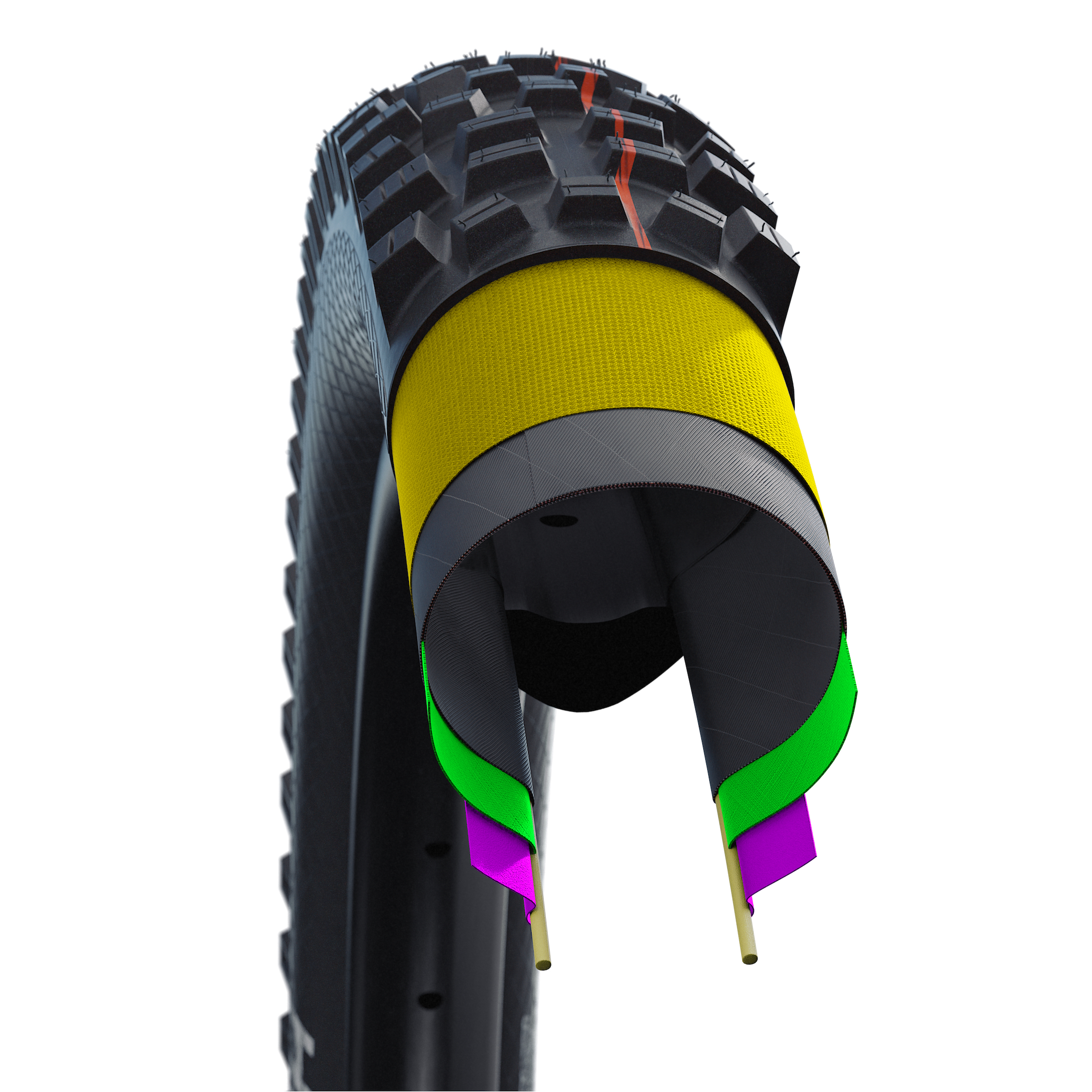 Super Trail
The Schwalbe Super Trail casing is the next step down. It's actually quite a bit beefier than its name implies – think 140-160mm travel All Mountain bikes, though lighter enduro racers could even consider this casing if the terrain isn't super rocky.
Schwalbe employs three layers of polyamide under the tread and two through the sidewall. You'll still find Apex protection around the bead, which provides excellent pinch-flat protection and stability at lower pressures.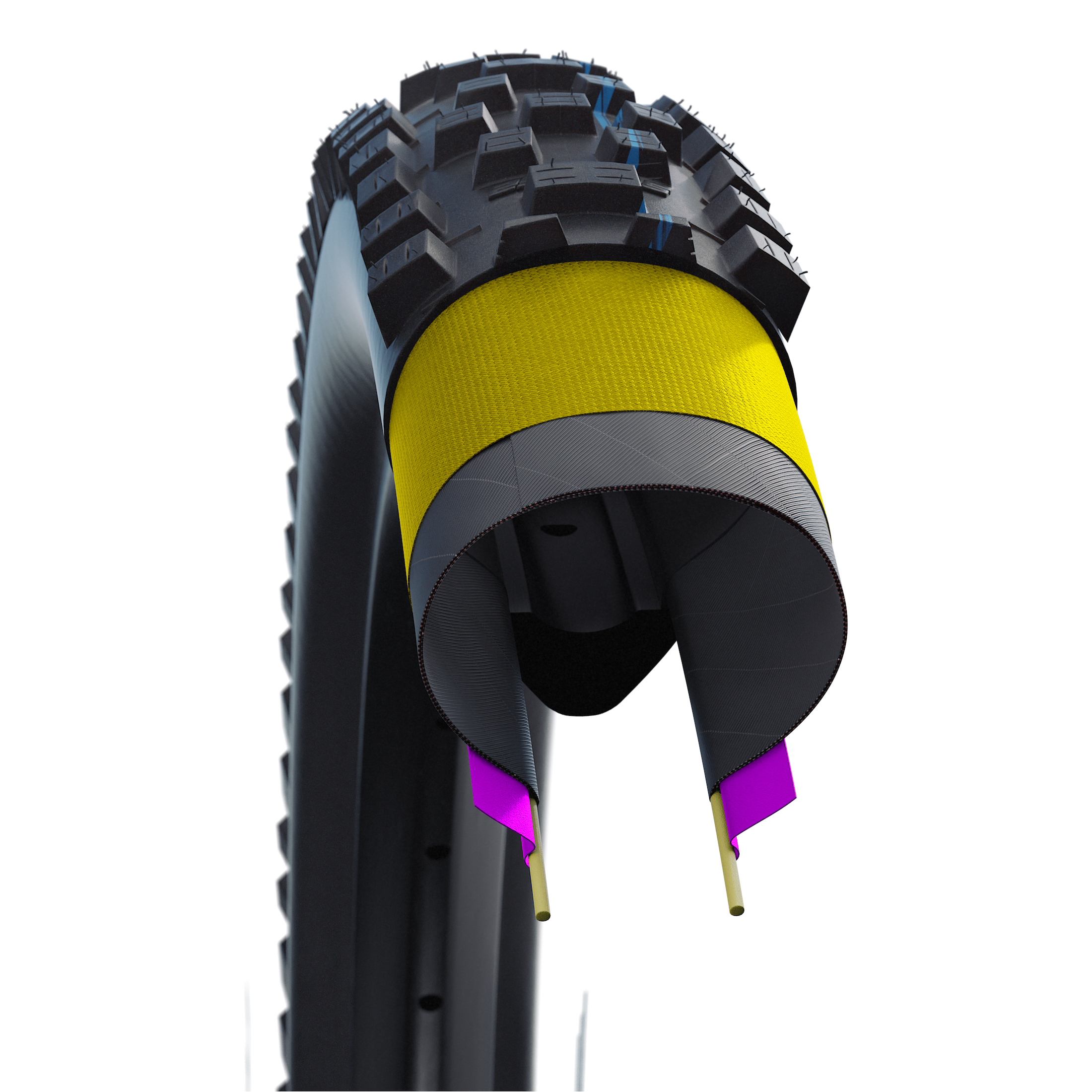 Super Ground
Ideally suited to aggressive XC and trail bikes with 110-140mm of travel, the Schwalbe Super Ground casing is built to handle everyday trail riding.
It's considerably lighter than the Super Trail casing partly due to the omission of the Apex reinforcement, which also increases flexibility to create a smoother-riding tyre. You'll find three layers of polyamide fabric under the tread, along with a bead-to-bead layer of Snake Skin to provide puncture protection.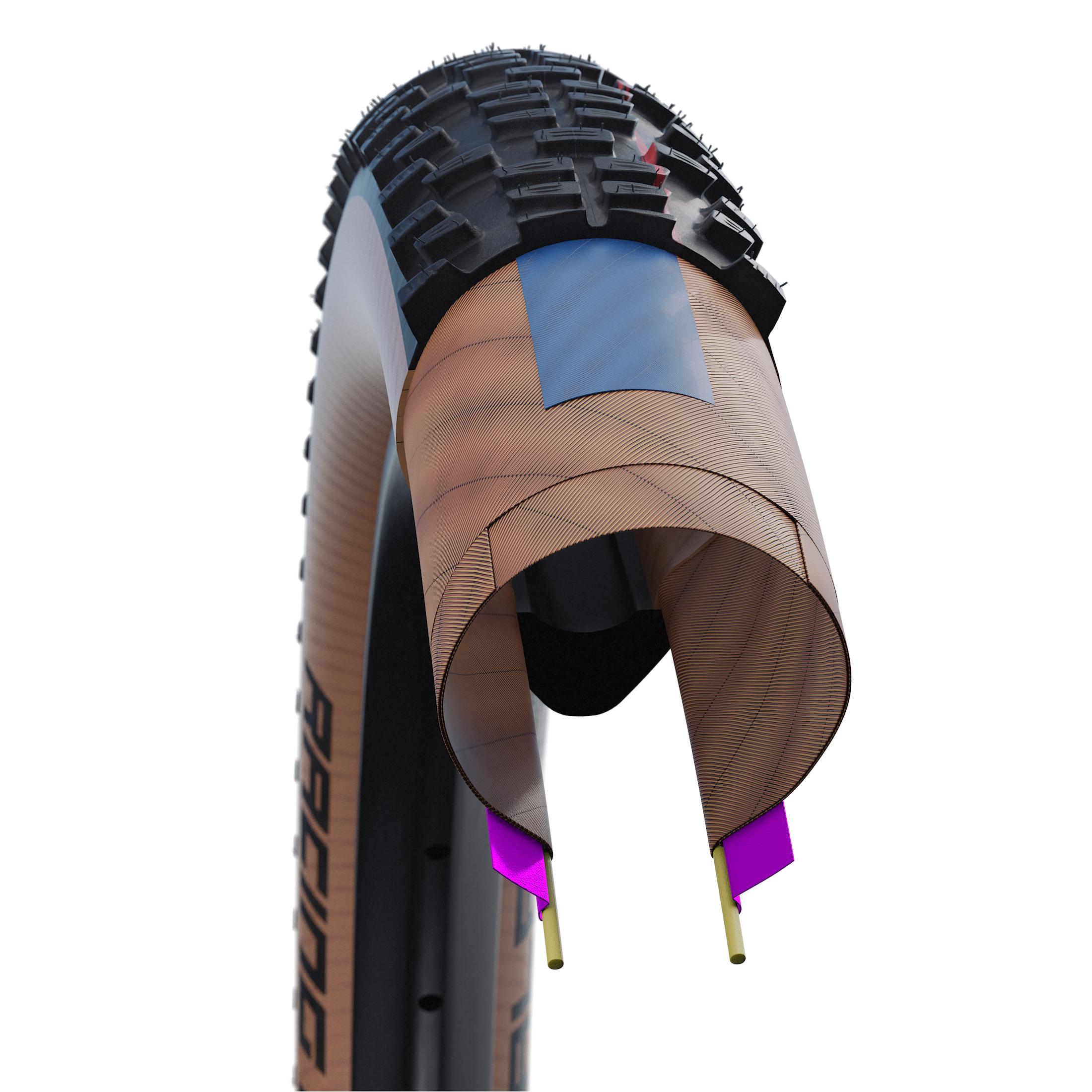 Super Race
The lightest and most supple option of the lot, the Schwalbe Super Race casing is designed for hardtails and short-travel XC race bikes.
Putting a greater focus on minimising weight and rolling resistance at the expense of puncture protection, the Super Race casing removes the Snake Skin layer entirely, helping to increase flexibility and create a really supple tyre.
The Super Race casing is made with three polyamide layers through the sidewalls and two layers under the tread. That's then complemented by the Raceguard, which is a narrow strip of reinforcing material that sits underneath the centre tread.
If you're chasing durability, go for the Super Ground casing. But for minimum weight, low rolling resistance and the smoothest feel, the Super Race casing is the one to go for.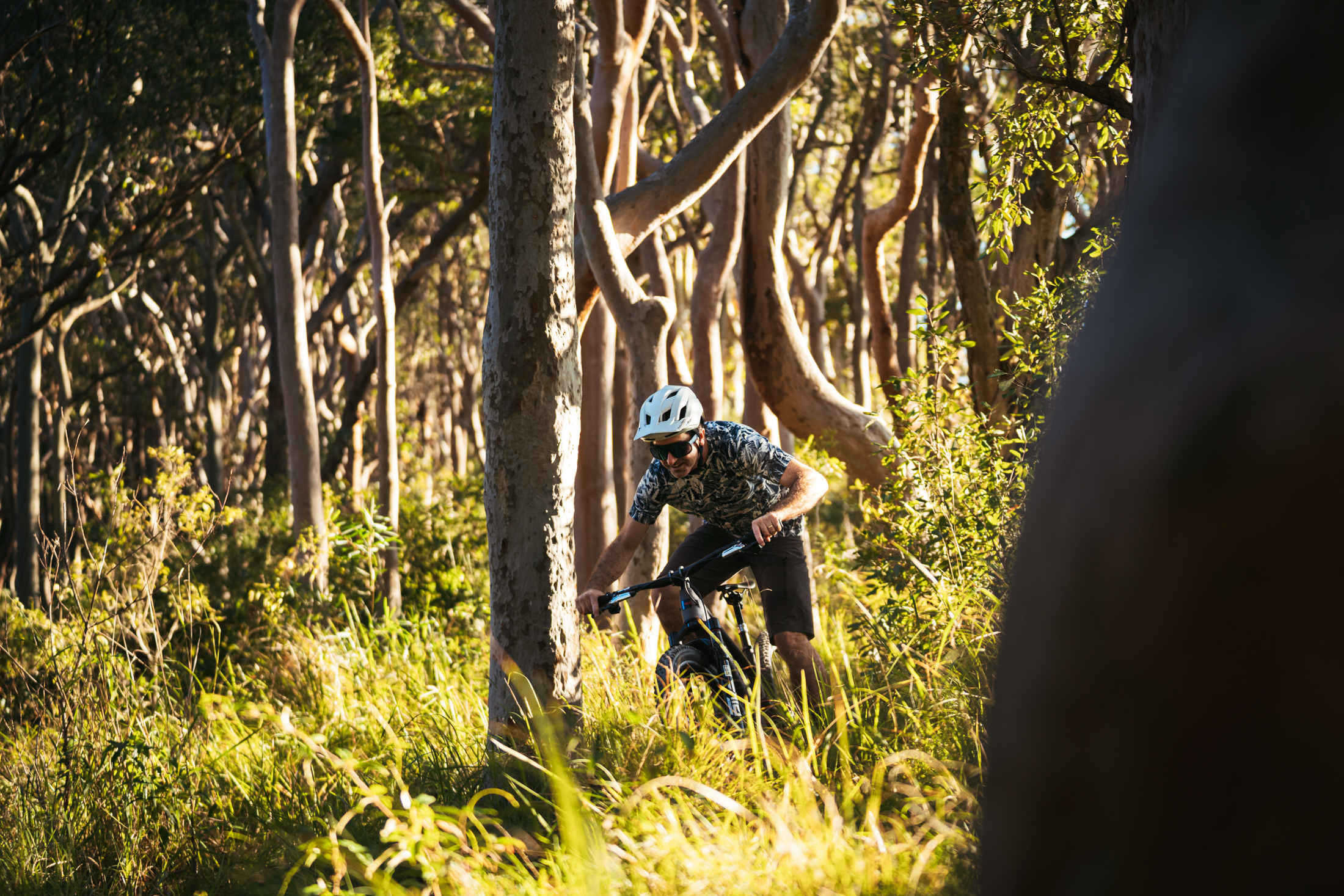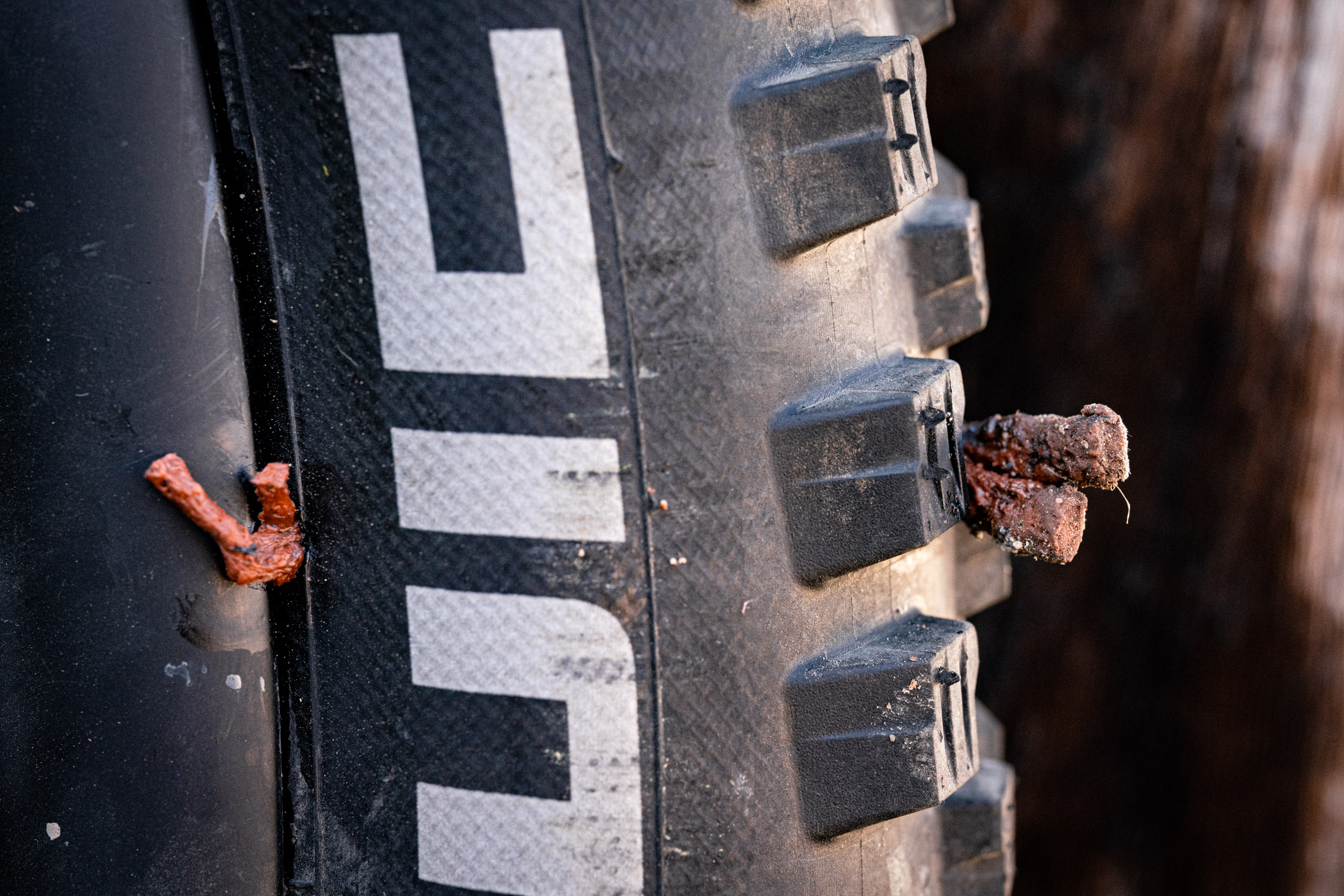 ADDIX rubber compounds
Ah, but we're not done yet! That's because there are four different rubber compounds available across the Schwalbe MTB range, and choosing the right rubber can make a big difference to the performance of your tyres.
Thankfully like the casings, the rubber compound options are pretty easy to differentiate and understand. They all fall under the ADDIX label, and each compound is distinguished by a colour-coded stripe along its tread.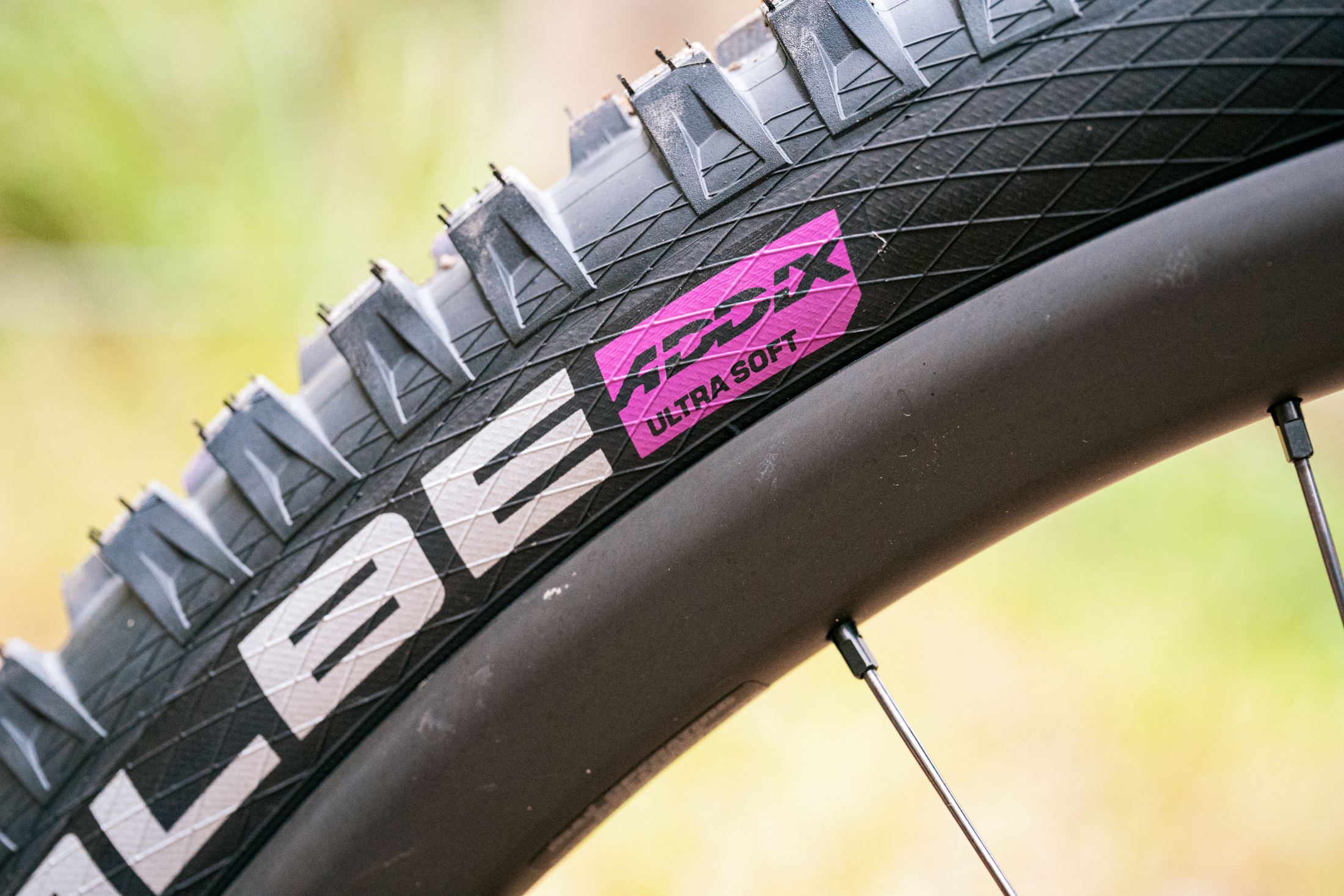 ADDIX Ultra Soft
The purple ADDIX Ultra Soft compound is the stickiest rubber of the lot. It's found on the more aggressive gravity tyres and casing options, so you'll typically see it being used for DH racing and e-MTB riding.
Featuring an extremely low-rebound characteristic to help the tyre cling to the ground, the ADDIX Ultra Soft rubber compound is designed to provide maximum traction in the most challenging conditions. The downside is that the soft rubber will wear faster, so you may only want this compound up front, with a slightly firmer ADDIX Soft compound on the rear. That will especially be the case for e-MTB riders.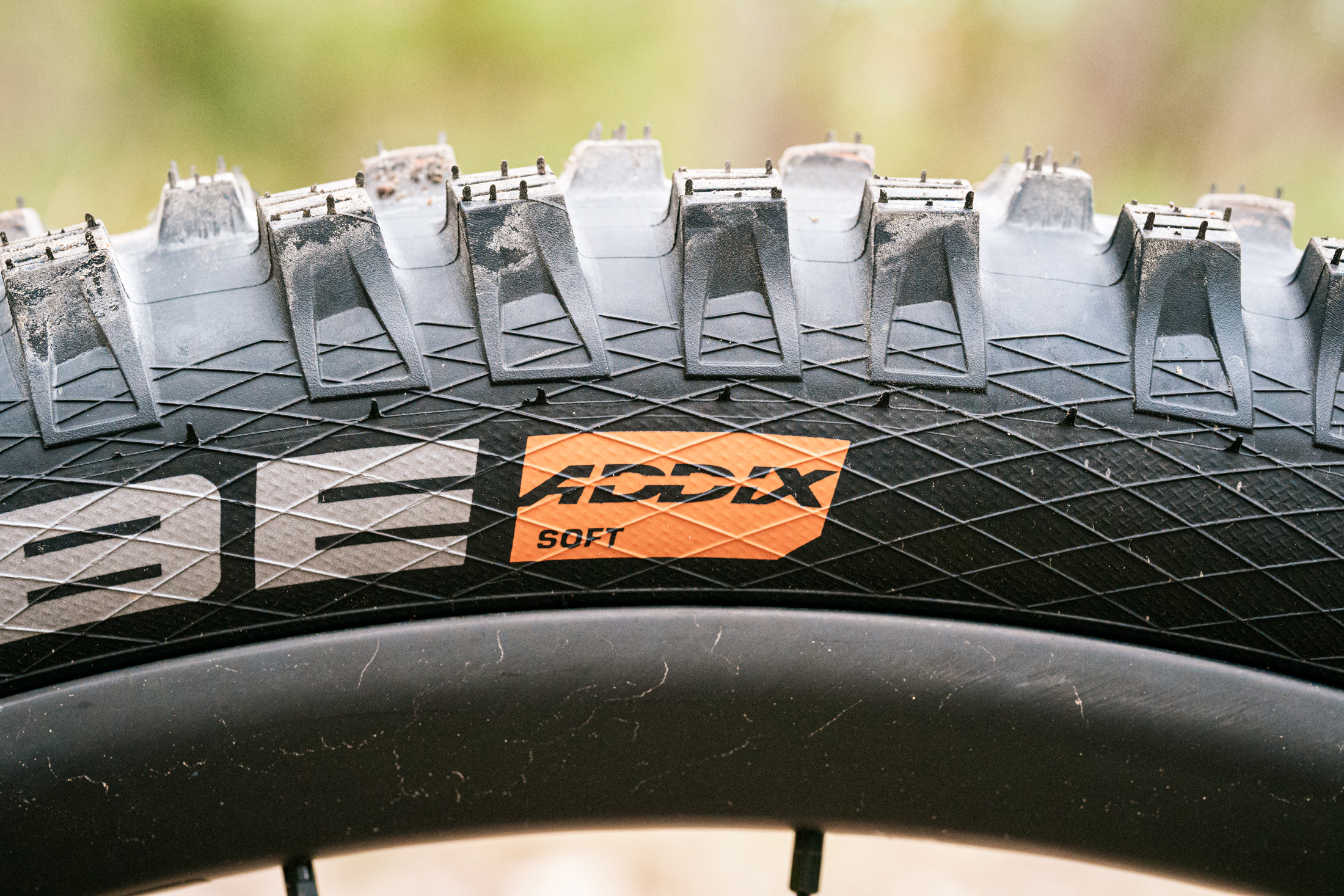 ADDIX Soft
While not quite as tacky as the ADDIX Ultra Soft compound, the ADDIX Soft rubber still aims to deliver good damping and grip in intermediate conditions. Though because it is harder wearing and faster rolling, it's arguably a better option for enduro and trail riders that are after decent durability when racking up plenty of miles.
Featuring an orange stripe, the ADDIX Soft rubber is found on a wider variety of tyres, including the Nobby Nic and Hans Dampf.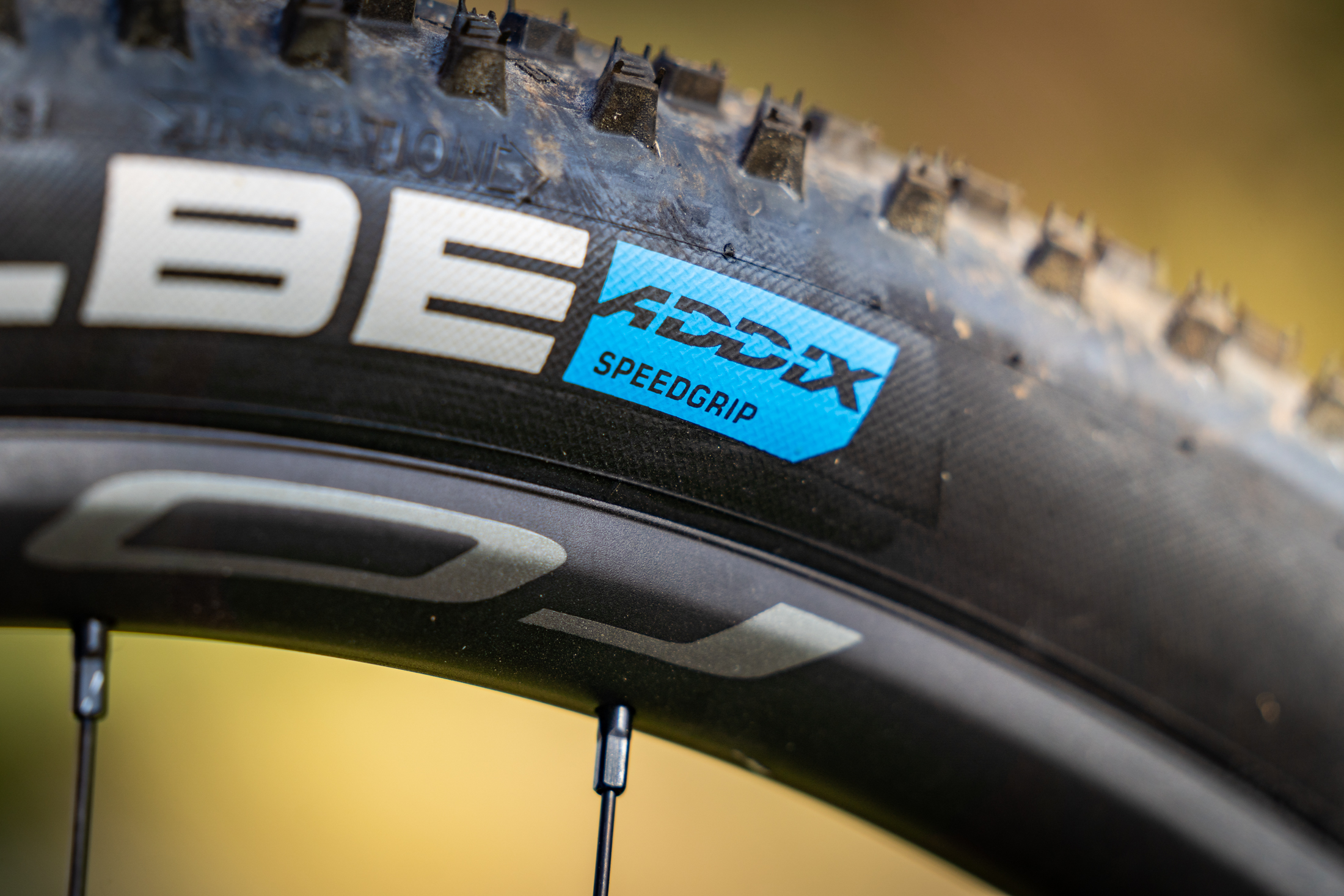 ADDIX SpeedGrip
Identified by its blue stripe, the Schwalbe ADDIX SpeedGrip rubber is an intermediate compound that offers a balance of rolling speed and traction. It features a faster rebound characteristic that gives the tyres a livelier feel on the trail, especially when accelerating out of a corner.
It's regularly found front and rear on XC and lightweight trail bikes. However, those who are riding in mixed conditions could benefit from pairing a SpeedGrip tyre on the rear with a Soft compound tyre on the front to improve all-round traction.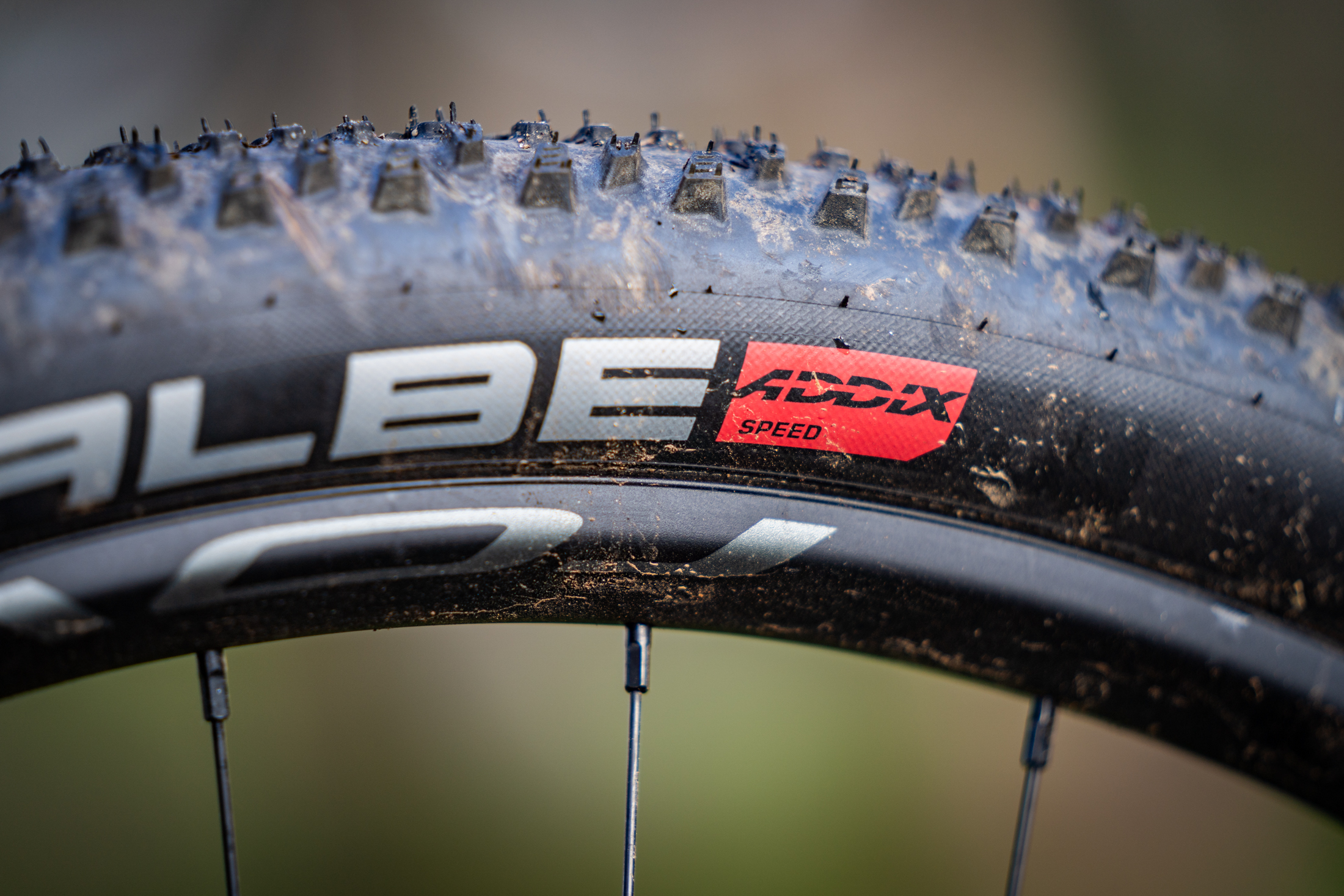 ADDIX Speed
The Schwalbe ADDIX Speed compound is the firmest and fastest-rolling of the lot. Featuring a red stripe through the tread, the ADDIX Speed compound is the ideal choice for high-mileage riders who need a quick tyre that will last a long time.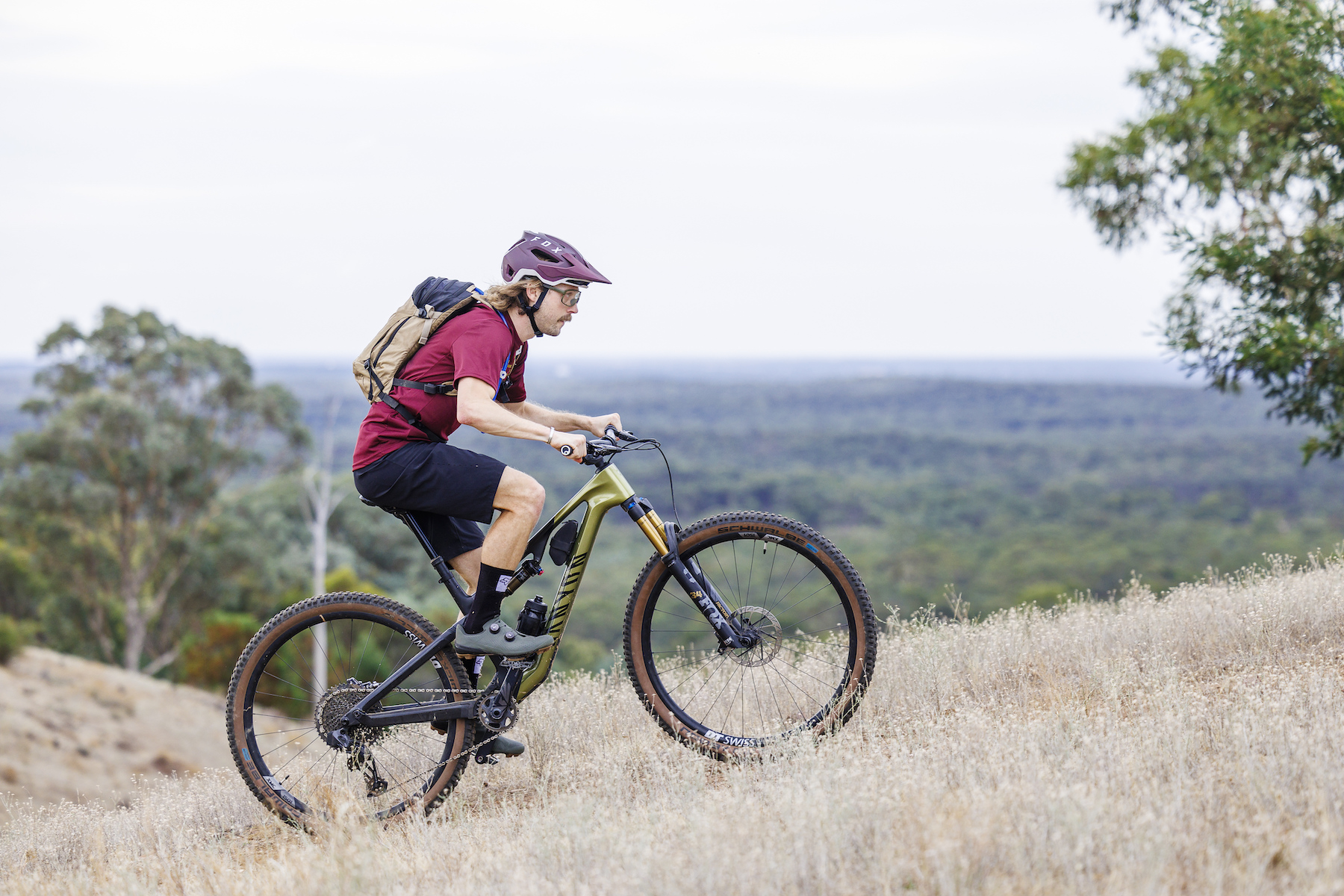 With minimal rolling resistance, the ADDIX Speed compound is used on XC race tyres like the Racing Ralph and Racing Ray. It's best suited to dry and hardpack conditions. For mixed conditions, you'll want to fit a tyre with the SpeedGrip compound up front.
---
Testing the Schwalbe MTB tyre range
With eight tread patterns, five casings and four rubber compounds on offer, there was no shortage of choice when it came to working out which tyres we were going to test out.
Between our team of five at Flow, we decided on six different tyre combinations that would suit everything from burly e-MTBs through to lightweight XC race bikes. Here's a look at the six combinations we chose for our personal bikes and how we've found them so far.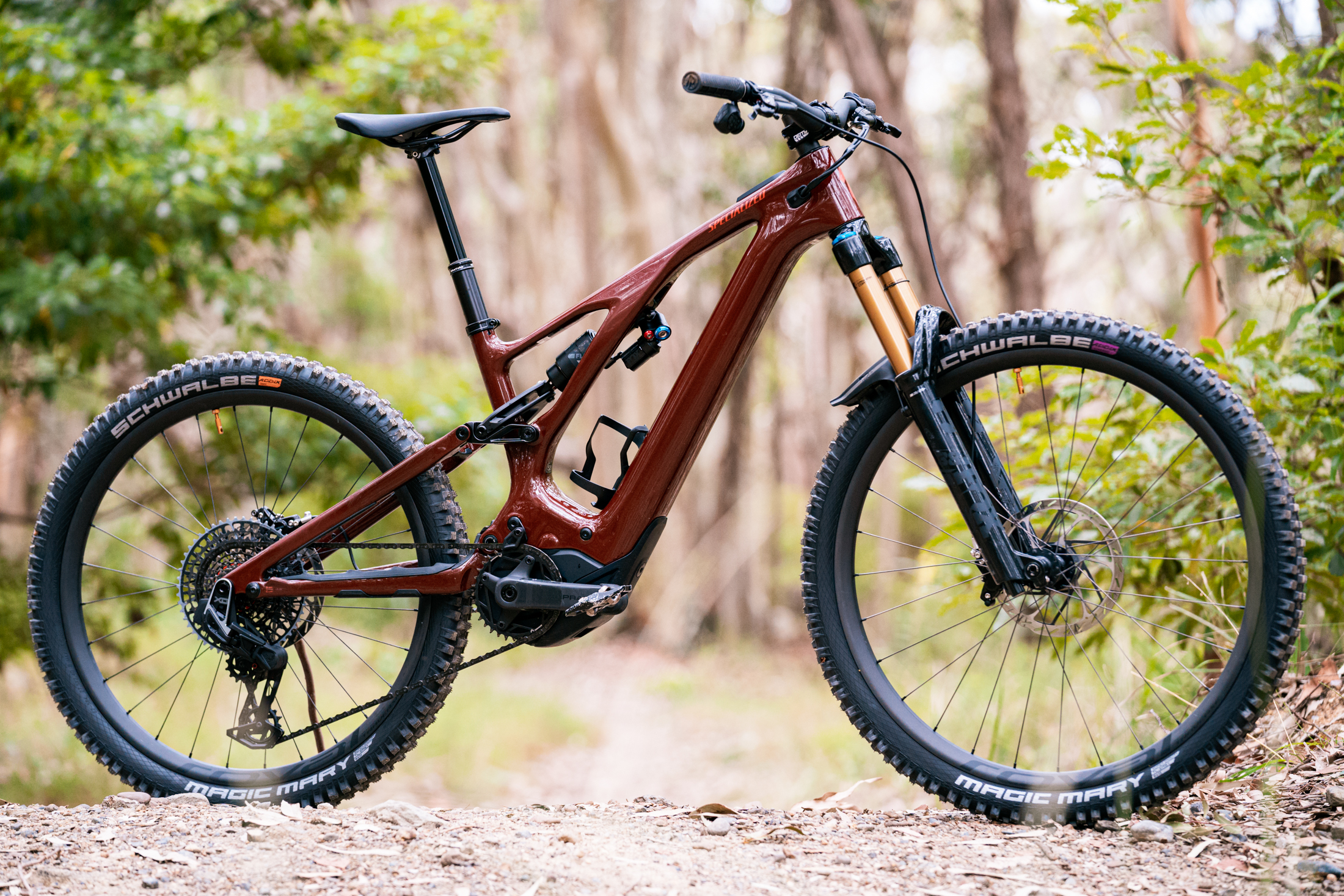 Mysterious Mick's Specialized Levo
Front tyre: Schwalbe Magic Mary, Super Gravity, ADDIX Ultra Soft, 29×2.4in (1,346g confirmed)
Rear tyre: Schwalbe Magic Mary, Super Gravity, ADDIX Soft, 27.5×2.4in (1,282g confirmed)
As a trusted favourite with its blocky tread and robust casings, Magic Mary has made a name for itself (herself), rivalling even the Minion in popularity. It is particularly favoured in Europe, where the descents are long, the air is thin, rocks bite, and the warm raclette cheese at the chairlift station invite.
The Magic Mary looks grippy at a standstill, often found gracing the front wheel of many team riders' bikes in both enduro and DH. Resembling a dirt bike tyre, 'she' exudes an air of ruggedness and toughness.
Mounting these tyres onto 30mm wide Roval Traverse rims proved to be a bit of a challenge. The robust sidewalls, true to their name, were decidedly stiff, requiring a fair bit of wrestling. However, this stiffness promises a dependable ride on rocky terrain and steep descents and softens up nicely on the first ride, allowing lower pressures without flats or unwanted squirming. I opted for the Addix Ultra Soft up front and the Addix Soft out back on my mixed-wheel Levo.
The introduction of the latest Addix Ultra Soft compound has made Magic Mary more adaptable and useful across varied terrain types. While the large blocky tread used to ping off roots and rocks, the slow-rebounding rubber now offers a more damped ride and better friction on hard surfaces.
When riding on loose dirt or soft soil, the open, blocky tread of the Magic Mary really comes into its own. It bites into the terrain, providing excellent traction, and the mighty side knobs resist squirming or folding over even when leaning hard into turns. This reliable behaviour promotes more aggressive riding and boosts confidence on the trails.
While I've not tested the Magic Mary's performance in really muddy conditions, this tyre is really at its best on softer or looser surfaces. For harder terrain, the new Tacky Chan is potentially a more suitable option.
Interestingly, while the Magic Mary is typically fitted as a front tyre, when mounted out back on a full-powered e-MTB like the Levo, the bike's motor power eclipses the usual considerations of rolling speed. This makes the Levo a veritable climbing beast, clawing its way up mega-steep trails with the Magic Mary's help.
With robust sidewalls, deep and supportive tread, and the Ultra Soft compound option, the Magic Mary is a great match for powerful e-MTBs like the Levo, especially when exploring unpredictable off-piste singletrack.
---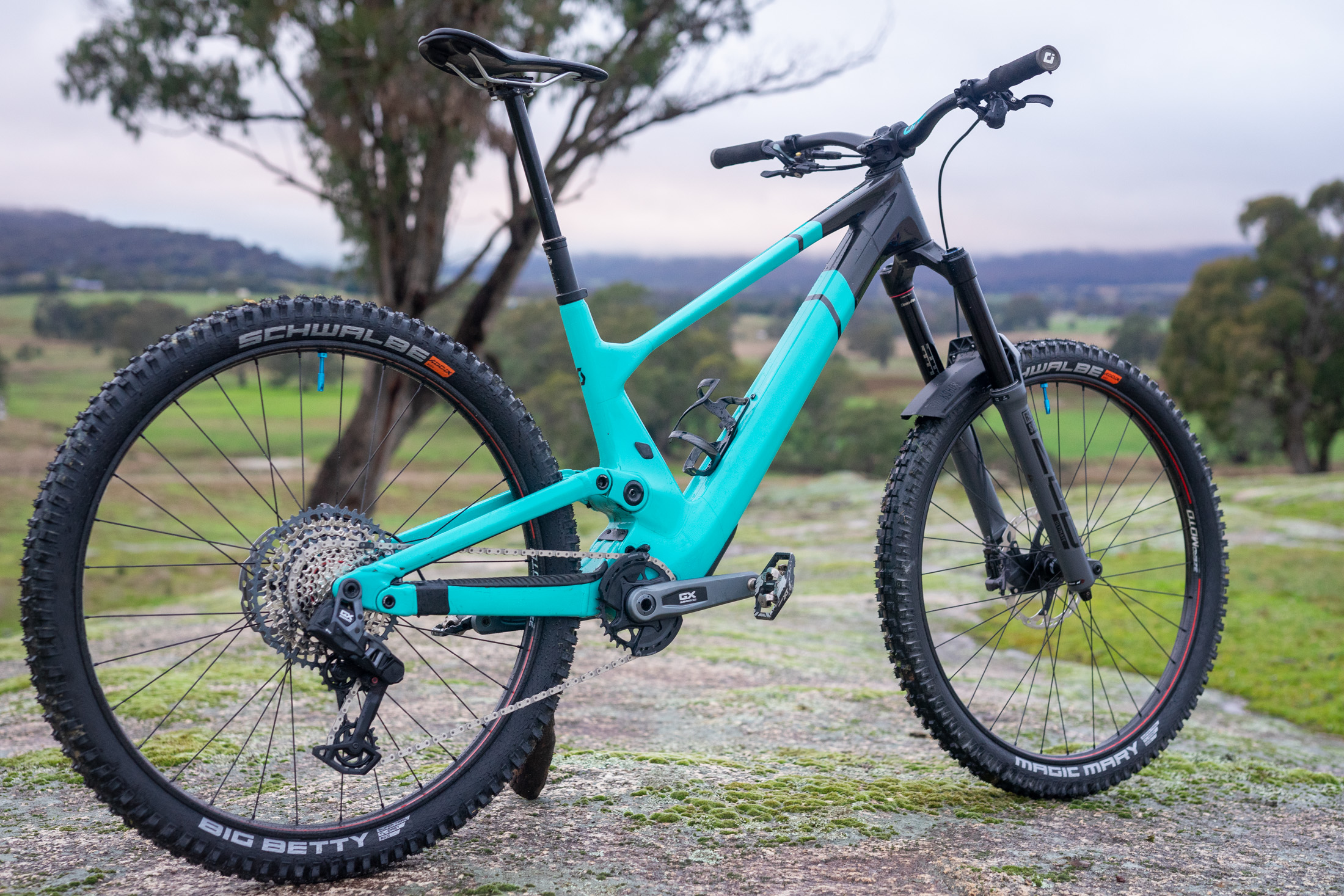 Jetpack Jono's Scott Genius ST
Front tyre: Schwalbe Magic Mary, Super Trail, ADDIX Soft, 29×2.4in (1,121g confirmed)
Rear tyre: Schwalbe Big Betty, Super Trail, ADDIX Soft, 29×2.4in (1,173g confirmed)
I'd previously been running a Continental Kryptotal Fr and Xynotal combo on my Genius ST, both with the Enduro casing and in a 2.4in width. Looking for similar levels of grip, I chose the Schwalbe Magic Mary for the front and the Big Betty for the rear with the ADDIX Soft compound and Super Trail casings.
Despite the Continental's using an 'Enduro' casing and the Schwalbe's using a 'Trail' casing, the construction is quite similar and the weight is almost identical between them. However, the ADDIX Soft rubber doesn't feel quite as tacky in the hand compared to Continental's Soft compound.
I installed the Schwalbe tyres on a set of Zipp 3Zero Moto wheels, and the fitment was quite easy. Pressures were set at 23psi in the front and 25psi in the rear to suit my 80kg riding weight. Despite not using inserts, I've not had any flat tyres throughout testing.
I've tested the Schwalbe tyres in wet and sloppy conditions around Mount Beauty and Red Hill, and they've seen some much drier hardpack trails in Smithfield, Cairns. Despite the wide range of environments, they've provided an impressive and dependable level of grip.
With a more rounded rather than square profile, both the Magic Mary and Big Betty feel natural when tipping over into a corner. The chunky shoulder lugs dig in well through loose turns, and the wide edges on the rear tyre provide heaps of braking bite even on steep fall-lines in the woods.
The ADDIX Soft compound does roll noticeably quicker than the Super Soft rubber, and it offers better wear characteristics too. You don't get the same clinginess on big rock slabs though, and combined with the blocky tread patterns, they're not the most planted on buffed-out berms. For those sorts of conditions that are common in many Australian trail centres, the Tacky Chan will be worth a shout. But if you're after all-condition predictability on loose and rowdy trails, it's hard to go past the Magic Mary and Big Betty combo. The only thing I'd consider changing would be an ADDIX Ultra Soft compound for the front.
---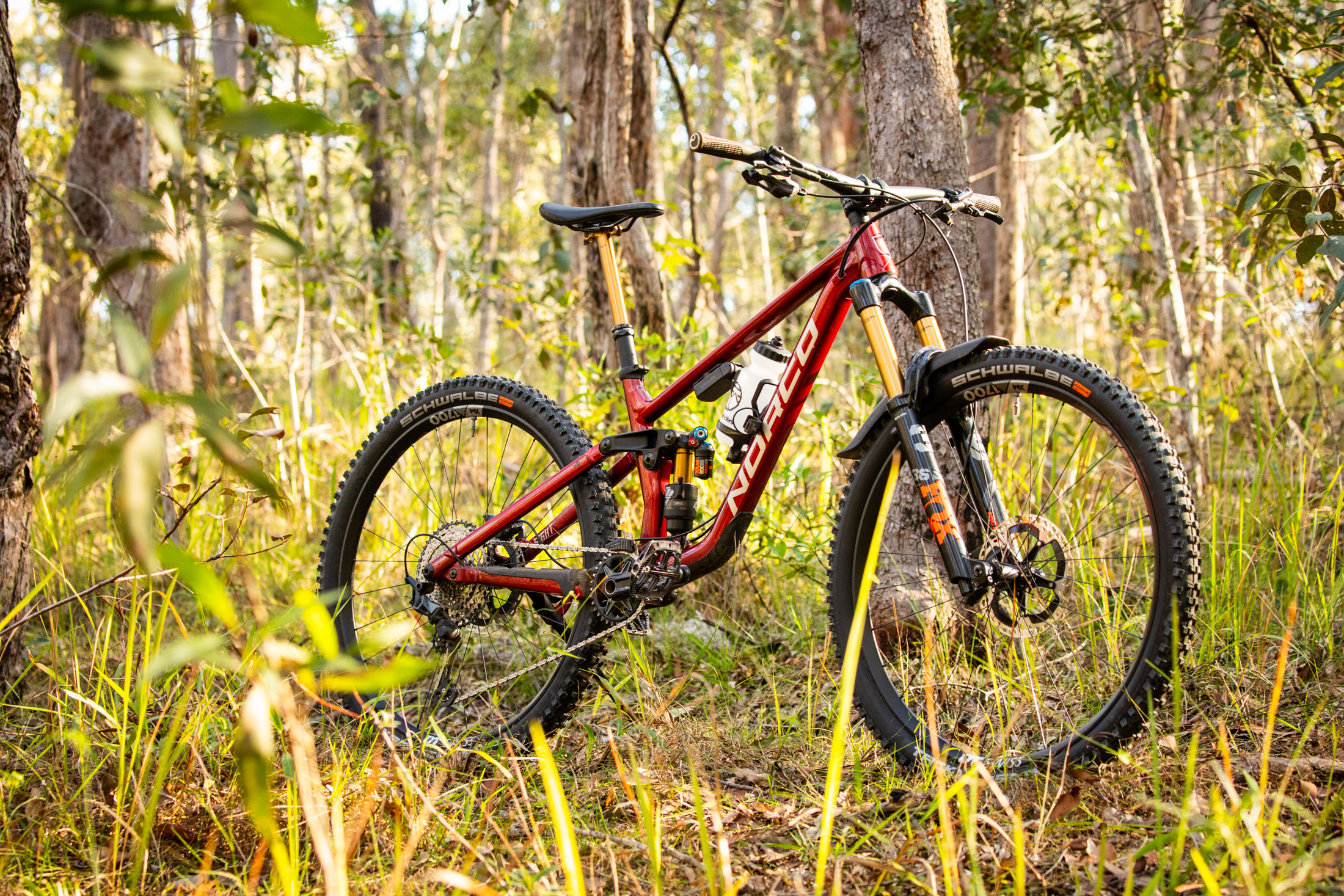 Meteoric Michael's Norco Sight
Front tyre: Schwalbe Tacky Chan, Super Trail, ADDIX Soft, 29×2.4in (1,141g confirmed)
Rear tyre: Schwalbe Tacky Chan, Super Trail, ADDIX Soft, 29×2.4in (1,158g confirmed)
The Tacky Chan is an aggressive-looking tyre with tall side knobs, ramped centre tread, and an open intermediate section between them. This gap helps the tyre shed mud, but the downside is that you need to commit to your turns to engage those big side knobs. Hovering in between the two can result in vague traction and cornering.
The Tacky Chan is currently only available in a 2.4in width, I've been testing the Super Trail version with the ADDIX Soft compound mounted on a set of DT Swiss XM1700 rims. The tyres were tight to fit, but they inflated easily with just a floor pump. After some initial testing, I dropped 1-2 psi from my usual pressures — 21-22psi front, 23-24psi rear for my 65kg riding weight — which seemed to help smooth the transition from the ramped centre knobs to the aggressive side knobs.
Across a range of conditions in South East Queensland the Tacky Chan stacks up well, but is most at home in loose and loamy terrain and performs better than most on rocky, loose tracks. The only time the tyre came unstuck was on wet, slippery hard-pack trails, where the tall knobs and larger spacing between them struggled to lock into the trail for traction.
It's worth noting that my test tyres are the ADDIX Soft compound, you can also get the tyre in an Ultra Soft compound which should provide more grip but will also wear out quicker. They roll fast and effortlessly hold speed, and despite the open knob arrangement, have surprisingly good braking performance when it's time to drop the anchors. I have been impressed so far with their ability to hold a line on the dry and dusty trails around home.
---
Cunning Colin's Norco Optic
Front tyre: Schwalbe Hans Dampf, Super Trail, ADDIX Soft, 29×2.35in (1,079g confirmed)
Rear tyre: Schwalbe Nobby Nic, Super Trail, ADDIX Soft, 29×2.35in (950g confirmed)
For a time I was running a Magic Mary on the front of my Optic with a Hans Dampf at the back. It was a solid combo, however, when putting the Magic Mary on edge, I always felt like I was falling off a cliff before the shoulder tread would hook up with the strength of a thousand brawny Icelanders. The Stans Flow rims I was using at the time made the casing pretty square, which seemed to accentuate the gap between the centre tread and the grippy shoulder knobs.
Still, quite an aggressive tyre, the Hans Dampf isn't a direction tread pattern, and with knobs up the wazoo, it always felt rock solid and reliable on the back. So, I was interested to try it out on the front end and see how it performed. Ol' Hans was paired to a rear Nobby Nic, which Schwalbe recently beefed up while claiming to have maintained its fast-rolling character.
This combo oozes confidence and grip, on the dry and dusty trails I've been testing them on, and there is no dead spot in the traction as you put the bike on edge. Roots, rocks, and pebble-strewn corners are no match for Hans and Nic, providing predictable purchase. However, there is an ever-so-slight drift when you're pushing really hard, on hard-packed corners.
Both tyres are Schwalbe's ADDIX Soft compound which is not as gooey as similarly placed rubber from other brands and has a slightly more pingy rebound characteristic. Even still, it manages to claw onto angled rocks and slippy roots when it matters.
All of this grip doesn't seem to come at the cost of too much rolling resistance. Considering the height of the tread, and the soft compound, they spin along without too much convincing, and both Hans and Nic have proved to be valuable companions on long pedally adventures on my Optic trail bike.
---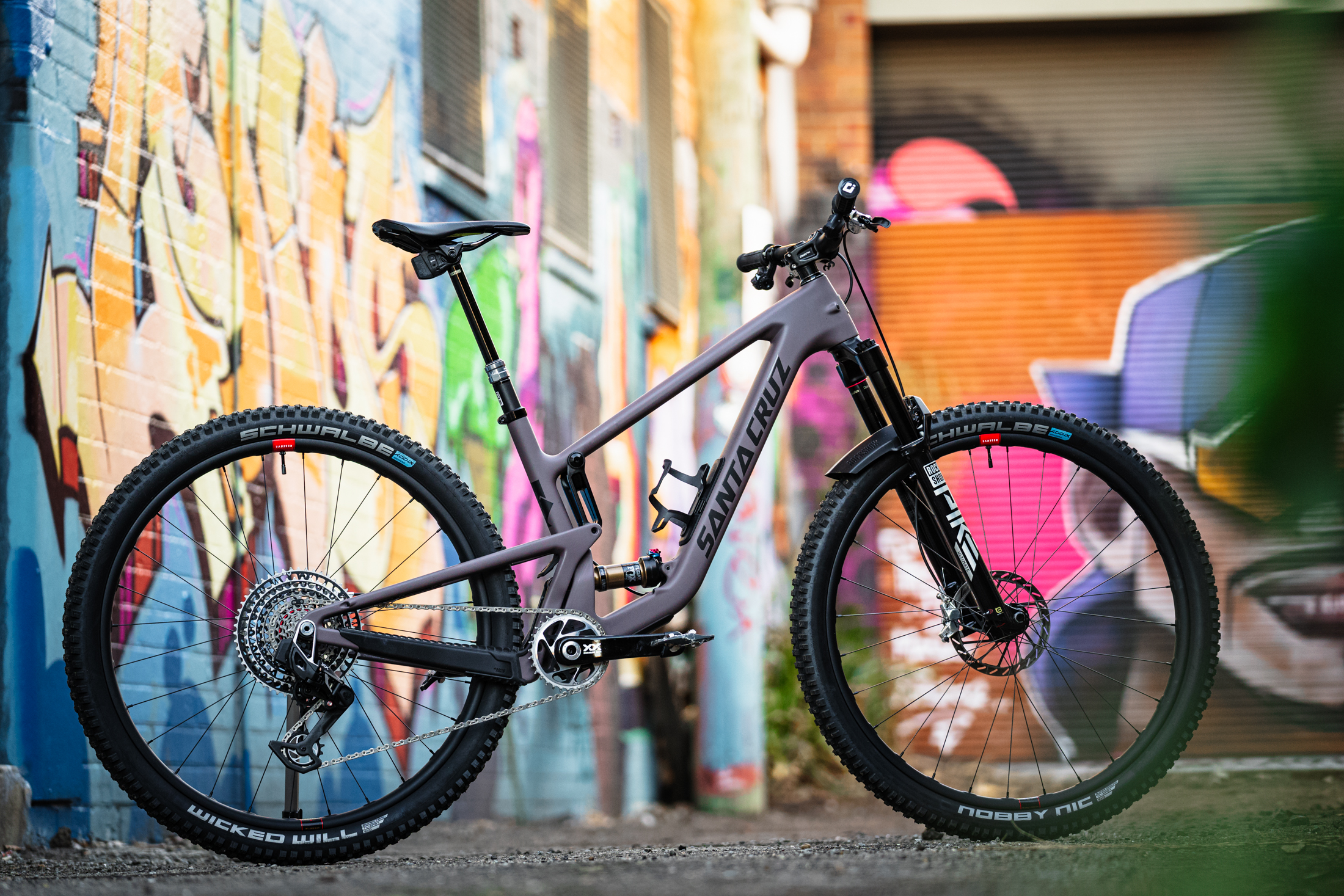 Mysterious Mick's Santa Cruz Tallboy
Front tyre: Schwalbe Nobby Nic, Super Ground, ADDIX SpeedGrip, 29×2.4in (894g confirmed)
Rear tyre: Schwalbe Wicked Will, Super Trail, ADDIX SpeedGrip, 29×2.4in (939g confirmed)
There's something about the sound of the Nobby Nic and Wicked Will combo as they schralp (onomatopoeia for mountain bikers, look it up) through the dry turns on my local trails that bring out the spirit of my Santa Cruz Tallboy, making it feel alive, fast, and thrilling. I've often found myself over-tyring my trail bikes, opting for softer, meatier tyres, which does wonders on steep trails or loose turns. However, when fitted to short-travel bikes, they tend to diminish or even numb the riding experience. With these tyres featuring the ADDIX SpeedGrip compound, it's a whole different story.
Their lighter rotation, combined with their firmer compound, evokes a vibrant sense of speed and liveliness. The rounded profile and stout knobs tip into turns with little convincing and hold on just fine, and wind up back to speed quickly.
Yet, no ride is without its bumps. I did experience a pinch flat on the Wicked Will rear tyre, suffering two holes – one through the top of the tread, the other right above the bead. It was a classic scenario, no surprise to me, nor my mate following as I got wayyyy off-line and out-of-control, during a YIKES! moment, straight into a knife block of rocks. While this incident was somewhat unwelcome (I was able to brag to my mate it'd been years since my last flat), it served as a reminder of the balance we strive to achieve between seeking speed and ensuring protection. A Peaty's Holeshot tubeless plug got us going again, and I'll repair the tyre with a patch for a permanent fix and continue on undeterred.
Given my experiences, and considering these tyres are still fitted on my bike, I wholeheartedly recommend this setup for bikes like the Tallboy. This 120mm trail bike has less racey intentions (like its owner), and its excellent geometry, confident fit (not like its owner) and supple suspension system offer so much control that you can afford to go lighter on the rubber for speed. The Nobby Nic and Wicked Will combo not only complements this bike but adds a unique zing to the ride.
---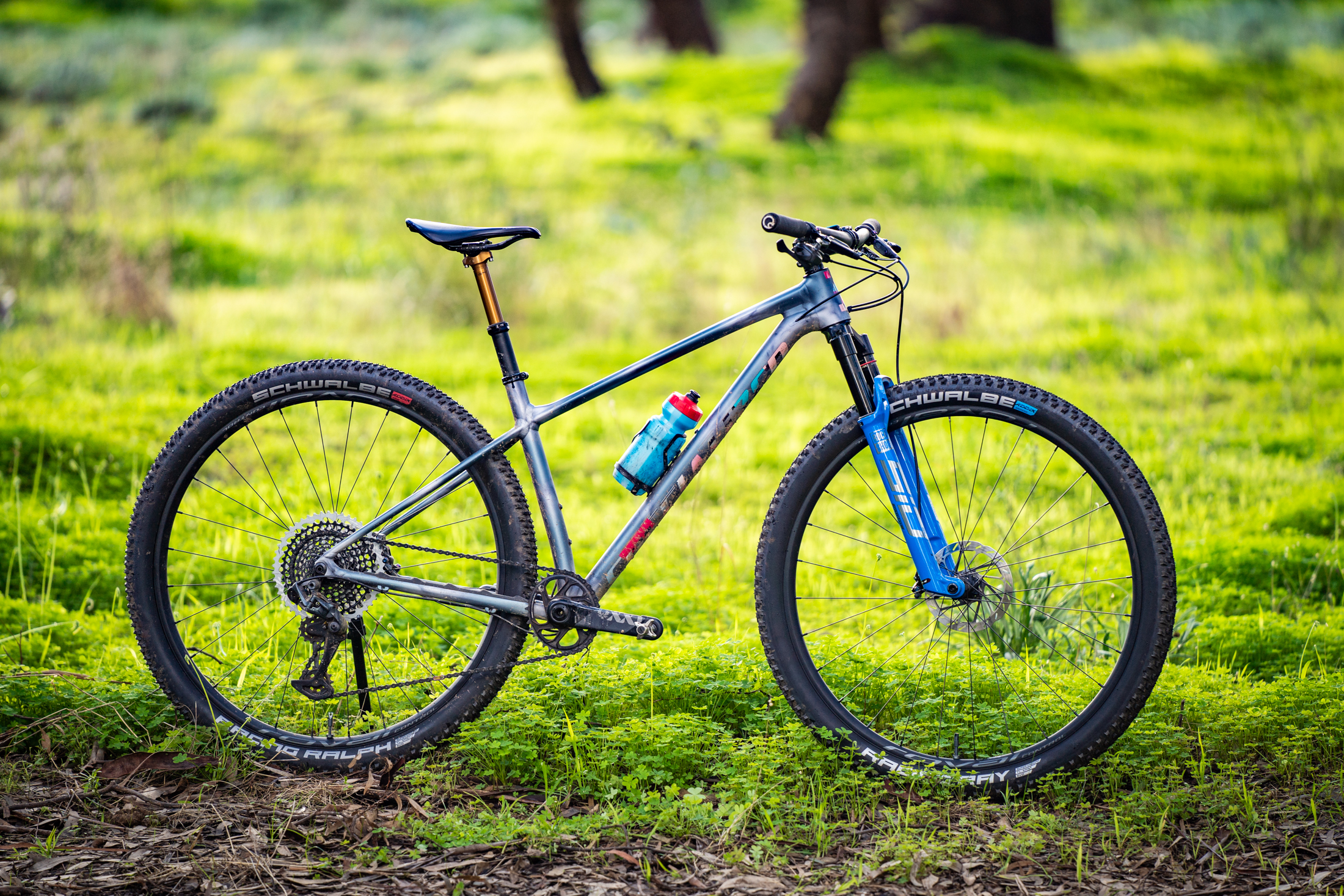 Wise Wil's Specialized Chisel
Front tyre: Schwalbe Racing Ray, Super Ground, ADDIX SpeedGrip, 29×2.35in (759g confirmed)
Rear tyre: Schwalbe Racing Ralph, Super Ground, ADDIX Speed, 29×2.35in (784g confirmed)
I've already had a load of experience with the latest Schwalbe Racing Ralph and Ray combo, having tested them on the full suspension Cannondale Scalpel, the Scalpel HT, and my old Santa Cruz Blur.
Being familiar with the various options, I knew I wanted the 2.35in wide option to fit my Specialized Chisel. To suit the harsh and rocky nature of my local trails, I elected for the tougher Super Ground casing with its bead-to-bead Snake Skin layer. The sub-800g weight is still very competitive, and not that much heavier than the thinner Super Race casing option.
The sturdier construction means you can get away with slightly lower pressures. Depending on the conditions I'm running 20-22psi on the front and 23-25psi on the rear, and both wheels are fitted with CushCore XC tubeless inserts.
I chose the firmer ADDIX Speed compound for the Racing Ralph on the rear, and paired that to a Racing Ray with the softer ADDIX SpeedGrip compound on the front. I like this combo as it provides more grip and stability up front, which helps with confidence levels when bouncing down rockier trails on the hardtail.
Durability has been excellent so far, though I do miss the supple feel of the Super Race casing, which is unrivalled in my experience. For lighter folks who are mostly riding smooth trails in drier conditions, I'd recommend going for the Super Race casings with the ADDIX Speed rubber. If you value puncture protection and are after a versatile XC combo however, this setup here is one of the best options out there.
---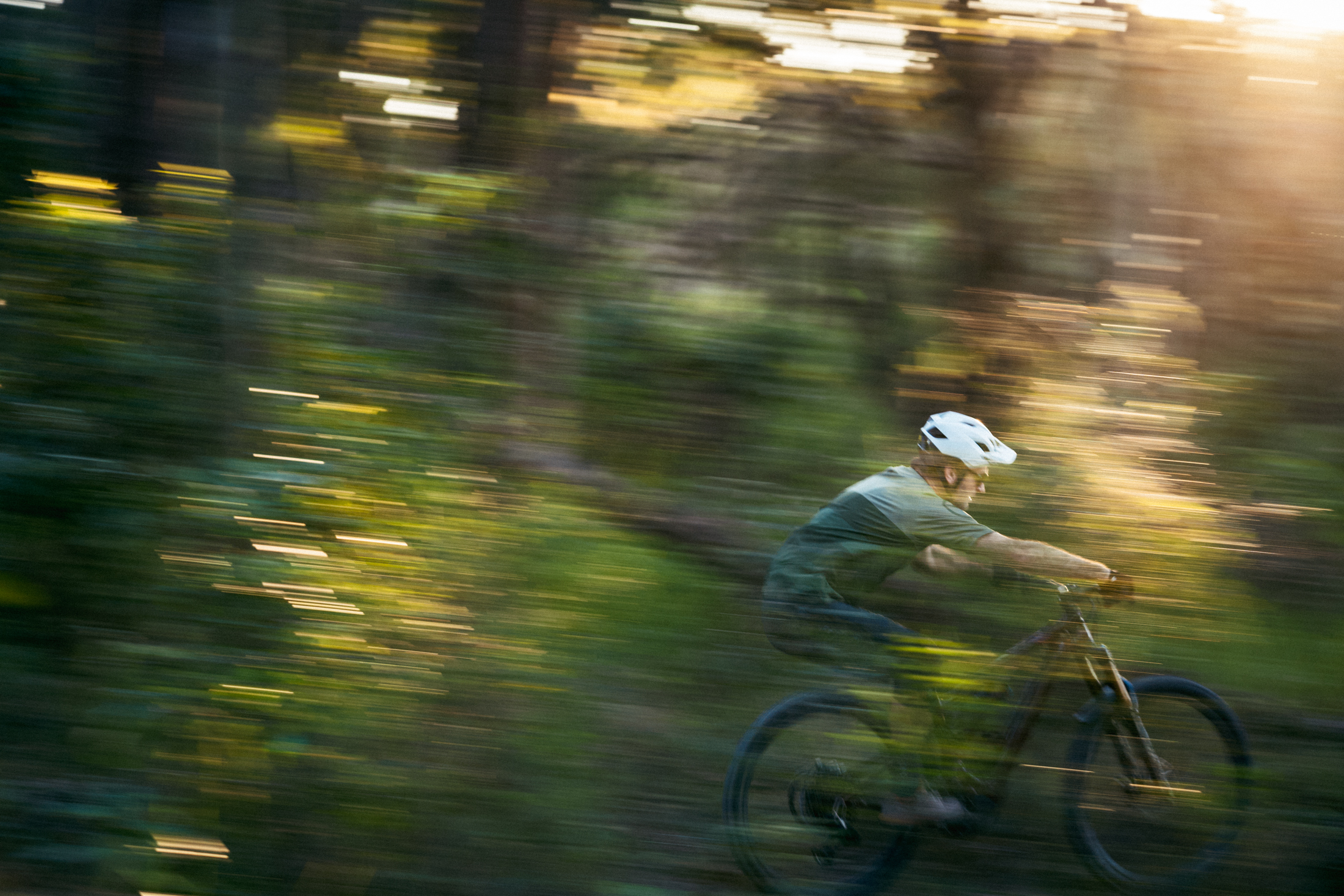 So there you go, dear Flow reader. We hope this article helped demystify the complex and whacky naming system of Schwalbe's mountain bike tyres, and pairing tyres to bikes helps paint a clearer picture.
Navigating a tyre lineup from an established brand like Schwalbe is like exploring a diverse menu in a funky language, but armed with the knowledge of ideal treads, compounds, casings, and sizes, it's an enjoyable process to match a sweet combo for your bike, trails and riding style. Guten Appetit!