The answer is … yes, but not every flat.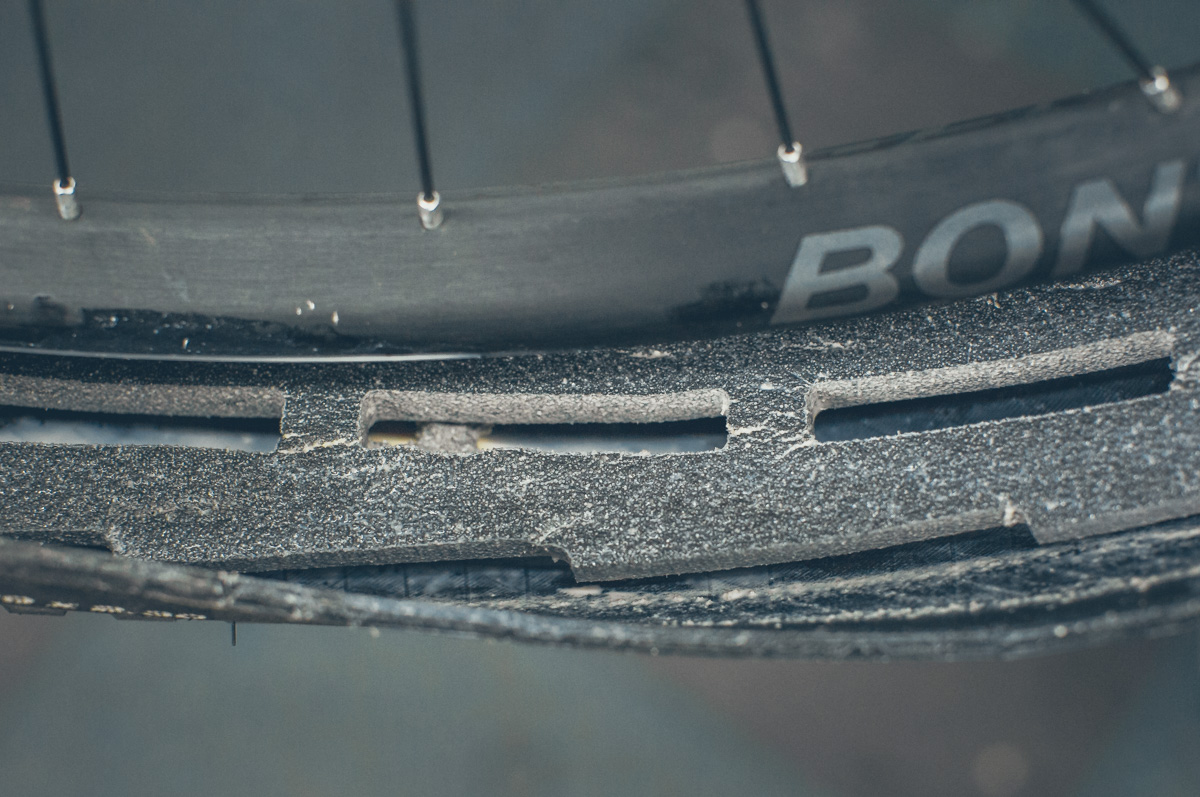 ---
What the hell? How can it 'sort of' stop punctures?
Whilst testing the Huck Norris, we did get one puncture, but we would've had a whole heap more had we not been running the system.
We did get one puncture, but we would've had a whole heap more had we not been running the system.
How do we know we would've had more punctures? Well, when we swapped the Huck Norris between wheelsets after one month of use, there were numerous dents, tears and punctures in the strip that indicated the tyre had bottomed out onto the rim, and that the Huck Norris took the blow as opposed the tyre's bead or sidewall.
The second indicator for us was line choice. With Huck Norris on board, we could just be more reckless. Running our regular pressures with a set of trail tyres, we could take lines that would've have almost certainly been rim bending tyre deflators without the system.
---
So, where did we get a puncture?
The puncture we had was on a rocky downhill track, where we went full whack into some pretty nasty rocks. Keep in mind too, that we were using trail-weight tyres, not downhill tyres.
The one and only puncture occurred with a hole punched through the tread are of the tyre. When we removed the tyre we saw that the puncture had occurred directly above one of the holes in the Huck Norris strip (the strip isn't solid, there are cutaways). Talk about bad luck!
As we mentioned before, the numerous dents and tears in the Huck Norris when we removed it proved it was doing its job most the time. But it's not bullet proof flat protection if you hit something hard and it happens to line up with one of the strip's holes, where there's not a layer between the tyre and rim.
---
Did Huck Norris save our rims?
Much like preventing punctures, the Huck Norris does an admirable job of protecting your rims most the time. Running a set of Bontrager Line Elite 29" wheels, there were marks on the Huck Norris that did not correspond with a ding in the rim, indicating that the system has indeed protected the rim from a nasty impact from the trail.
One of the touted benefits of Huck Norris is that you can run lower pressures. This is true, but the lower you go, the more you tempt fate.  Our test trails are very, very rocky, and so we ultimately decided to keep our pressures the same as normal but then relish in the fact that we could ride harder and faster with more confidence.
During the course of testing, we did get a couple of dents in our rim, but the impacts that caused them were very harsh, and we hate to think what would have happened without Huck Norris installed. At the minimum, we'd be looking at a flat tyre, at worst, a properly dinged up rim.
---
Does Huck Norris make inflating tubeless tyres easier?
It sure does! We inflated tyres with Huck Norris on five different occasions, and each time they went up with no fuss, including when we used a regular track pump. The pressure the Huck Norris places on the tyre does seem to force the tyre into the bead, and as we take lots of tyres on and off here at Flow, that attribute was greatly appreciated.
---
Is it easy to swap a Huck Norris between wheels?
Yep! Swapping the Huck Norris between wheels was very simple indeed. We covered the installation process in our First Bite, and the only difference when swapping a used Huck Norris into a new rim is to check for damage to the strip, and making sure you wipe down the strip to remove excess tubeless sealant, especially if you'll be using a different brand of sealant than you used in the previous wheelset.
---
If my Huck Norris is damaged, will I need a new one?
Potentially. As you can see from our photos, after a month of regular riding our Huck Norris is already showing signs of wear, and some solid tears are emerging, so it's a good idea to keep an eye out to make sure it hasn't torn completely, as if it does the system you'll need a new strip.
We'll be running the Huck Norris in our Praxis Works C32 Mountain Wheels – so we'll keep you updated on their lifespan.
---
Do you need more sealant than you would with a regular tubeless tyre?
Yes. The strip does absorb some sealant, so it's probably wise to use about 1.5 times as much sealant as you regularly would.
This also means that you're adding more weight to the system, so for us, the added system weight (with 1.5 times as much sealant and the Huck Norris) was about 280 grams. Not an insignificant amount, but if you're riding hard, or racing enduro, then it's an acceptable penalty for some much-needed added security.
---
So, is Huck Norris worth it?
Huck Norris is sold per wheel or in kits for both wheels. Prices start from around $49 per wheel or $89 for a kit, in both 27.5″ and 29″ size in size small, medium and large depending on rim width.
We think so, it's not too much to fork out for about $89 for a whole lot of insurance. Despite the product not completely eradicating punctures, it does a pretty good job of stopping more than its fair share of them. Similarly, whilst the Huck Norris doesn't keep your rims in showroom condition, we'd far prefer the added protection when your expensive rim is about to meet something immovable on the trail, usually at high speed.
Our only complaint about the Huck Norris would be the wear ours is showing already after only a month of use, but we've got plenty more riding in store aboard our Praxis Works wheels, so stay tuned for further updates!
Mountain Bikes Direct have Huck Norris in stock right now, have a look here.
---
.