This bike was never intended to be a review item for us here at Flow, but after a three-day love-in with the Camber Evo whilst filming for our next Flow Nation video in Mt Buller, we had to let you in on this bike's dirty little secrets. A gentleman always tells.
When planning our trip to Mt Buller, the conversation soon turned to selecting the best tool for the job. A bike worthy of tackling Buller's rocky, steep and fast trails, something that wouldn't flinch at three back-to-back eight-hour days in the saddle. Given that Specialized have close ties to Mt Buller, a bike from the big S made sense. But which one?
If you'd asked us the same question three months ago, we probably would have opted for a Stumpjumper FSR 29er. But having recently spent some time on the Camber series, we weren't so sure. The Camber truly exceeded our expectations as an all-rounder. In the end, we decided on a middle ground and chose to ride the 2014 Camber Expert Carbon Evo 29.
Build:
We won't dwell on the build too much, as this bike shares many of the same construction features we noted in our review of the S-Works Camber here. It's a truly awesome piece of work. What makes this bike different from the regular Camber line up is the Evo tag.
Essentially the Evo label means that Specialized have given the bike some muscle, some grunt. The geometry is a degree slacker than the regular Camber, with 10mm more travel (120mm front and rear), there's a beefier fork, and the bars are and tyres are wider too. In other words, it reflects the kind of tweaks that an advanced rider might make to the bike in order to boost its performance in technical terrain. And with Buller's mix of tough climbs and ludicrously fast descents (think the Delatite River Trail… 60km/h easy), this bike really ticks the boxes.
Spec:
When a bike leads with the Rockshox Pike, it's starting on the right foot. Chopped down to stocky 120mm, this is a seriously stout fork and we can't think of a better option up front at the moment. It's even relatively light in spite of its 35mm legs. Rear bounce in handled by a lustrous FOX Float CTD Factory shock that is further enhanced with the foolproof Auto Sag system.
The SRAM theme continues with a XO1 drivetrain, the 11-speed 10-42 tooth cassette paired with a 32 tooth ring. This gear range was enough to get us up the steepest Buller climbs while carrying heavy packs and gave enough top-end speed for the fastest fire road descents too. We didn't drop the chain once or miss a single shift.
The Camber Expert Carbon Evo rolls on a set of hoops that even Serena Williams would be envious of. Wide Roval Traverse rims are fat enough to keep the whopping 2.3 Butcher and Ground Control tyres stable in the corners and the bike comes ready for tubeless conversion – just add sealant and atmosphere.
Formula's T1S brakes wouldn't be our first choice, but they wouldn't be our last either. Their feel takes a bit of getting used to, as the engagement is more vague than a Shimano or Avid brake, and they do seem to heat up a bit. That said, they look fantastic and are very light, and the effortless lever action is really nice.
Ride:
The Camber Expert Carbon Evo hunts out grip like a boozer searches for a kebab. In the dust of Buller it was pretty inspiring really; just lean it on in and the Camber would worry about all that pesky traction stuff. A combination of excellent big-volume tubeless tyres and near frictionless suspension gives the Camber the kind of stickiness that you expected from bikes with more travel.
After a few hours on the trail we noticed that we hadn't yet used full travel on either the fork or shock. This came as surprise as the bike certainly didn't feel too stiff. We dropped the fork pressure 15psi and reset the rear shock's Auto Sag a couple of times and the transformation was immediate. Suddenly the Camber went from 'very smooth' to 'buttered Teflon'. Both the fork and shock have a progressive spring rate that lets you really use every millimetre of the bike's travel without smacking the bottom-out bumpers. Charge hard and the Camber won't make excuses.
We've mentioned the bike's great cornering abilities above, but we do think a small setup change could make it even better. With its large amount of back-sweep, we found the Camber's handlebar a bit too lethargic for such a confident bike. We'd have preferred a bar that pulled us over the front a bit more to really drive that Butcher tyre into the ground even harder.
When compared to the non-Evo Camber, the climbing position is a smidge more relaxed and upright. You tend to go at the climbs one gear lower, with confidence that the huge amounts of traction, as opposed to sheer momentum, will get you up the steepest and loosest pinches. On tight switch backs, the slacker head angle and rather long chain stays (451mm) ask that you take a wide entry or you risk the front wheel pushing or lifting. Of course the upside of the overall bike length is stability when you're bombing the descents.
Overall:
The Camber Expert Carbon Evo was a perfect choice for Mt Buller's trails. This bike makes line selection and cornering technique an afterthought, without punishing your legs the way a longer-travel bike would. For long days or rides into the unknown, the Camber Evo's ability to fill in that gap where the unexpected happens or the talent evaporates makes it a fine steed indeed. Grippingly good stuff.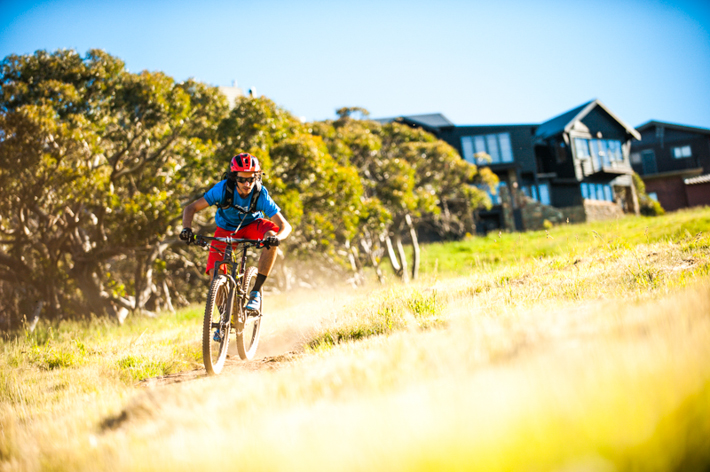 Test rider: Chris Southwood
Height: 172cm
Weight: 63kg
Tested at: Mt Buller, Victoria
Setup changes made: None, completely stock bike.