Tom reviews the Specialized Status 160
The Specialized Status. A spanner in the status quo of Specialized's DNA. When we think of Specialized, a few things initially come to mind: Carbon S-Works frames, high prices and race-focused bike engineering that mirrors Formula 1. Their endeavour to create the fastest bikes is ingrained in their brand ethos (seriously, you should see the S-Works balance bike they designed for toddlers!).
The Status, however, fits none of these stereotypes. Here, we find an anomaly in the Specialized mould. This bike's focus is on an overall fun factor, above the 'out and out' performance. Showcased by its well-priced alloy frame, spec'd carefully to suit the riding this bike craves. i.e. very much downhill-focused but not in a risk-your-life-as-fast-as-you-can manner. No, the Status is that mate with their 'let's have the best time possible' mindset. However, just like a handful of party people we know, the Status does have some room-dividing personality traits (caveats and compromises) in order to deliver its niche package.
The aggressive geometry and mixed wheels lead you towards a great time on the way down, but not so much when it's time to point uphill again. Even the decals on the bike come with a relaxed attitude. You won't find the famous Specialized name plastered on the downtube like their other bikes. This time, just a subtle 'S' on the headtube. It's understated, but we really like this approach.
Related:
Specialized Status Setup | Sag, tyres & geometry adjustments
To suit our 180 & 179cm height, we opted for the S3 size and found the recommended sizing spot on. With a reach of 462mm, you'd find most other brands slapping a medium sticker on this frame. For the between-sizes folk, we'd recommend sizing down as one of the major benefits of this bike is its agility on the trail. If you were to stretch yourself out too much, we believe you might lose some of this bike's fun factor.
When setting up the bike, we experimented with 25% sag and eventually settled on 30% with the Fox Float X Performance rear shock. but set. The shock has a custom Rx Trail Tune from Specialized, which we've had a great experience with on the Stumpjumper and Stumpjumper EVO, so even with the plusher sag setup, we didn't experience any harsh bottom outs, and the shock ramped up nicely as it progressed through its travel. As for the fork, we started with the recommended pressures, but added a volume spacer for little more support. This made a significant difference, particularly as this bike is drawn towards rowdier trails with its appetite for good times.
We appreciate the tyre choice Specialized has gone for on the Status, especially given its price point. Out of the box, you'll find Specialized's Butcher tyres in the stickiest rubber compound (T9, both front and rear), which makes sense for such a gravity oriented bike. With these, we were running no inserts, 22psi in the front and 27psi in the rear.
The Status comes with some geometry adjustment in the form of a high and low setting via a flip-chip in the lower shock mount. Making the head angle 0.5° slacker and dropping the bottom bracket height by around 10mm. For the marginal gains in descending performance, you're also hit with some climbing negatives when in the low setting. The high setting already offers aggressive downhill geometry as well as a slightly better climbing position. We'd recommend this setting for everyday riding. The low setting would be best utilised for shuttles or bike park laps.
Specialized Status Riding Experience | It is the life of the party, not the librarian
Climbing
By just looking at the Status, you'll quickly realise it is biased towards descending. This bike has a relatively slack seat angle compared to similar bikes in this genre at 76°. We've started to see enduro bikes coming with seat angles pushing beyond 78°, and a steeper seat angle would provide a more comfortable and upright pedalling position on the Status. Those couple of degrees don't sound like much, but in this case, it can make a significant difference.
For shorter climbs, you can negate this issue slightly by moving the saddle forward on the seatpost rails. Although, if you are planning to go out on big pedals regularly, this may not be the bike for you. The Status is also not the lightest bike, which, again, may be a literal drag when heading out for longer rides. In saying this, the Status is not aimed at someone who'd necessarily care about climbing performance, so we don't see this as a major issue. Even though you might not be in the most efficient or comfortable climbing position, you'll get to the top in your own time. The wide-range NX Eagle 12-speed drivetrain provides plenty of gears to help get you up even some of the steeper hills around.
Descending
There is no hiding that descending is what this bike was designed for. Engineered with a slack head angle (63.7 °, high setting) and short chainstays (426mm), the bike is pent up with a desire to shred. These two factors are definitely the stand-out features of this bike. The slack head angle brings welcomed confidence when the trail gets steep and rowdy, but on flatter terrain it can feel as if the front end is slightly un-weighted. This takes some time to adjust to and requires you to load the front wheel to keep traction, which in turn, un-weights that short rear end, allowing you to throw it around. Once you find this sweet spot, no corner is safe.
The short chainstays offer a snappy feel, particularly when throwing the bike into back-to-back turns — probably one of its most enjoyable character traits. However, the compact rear end also means that when you start to push in high-speed rough sections, there is a loss of stability. Slower doesn't have to mean less fun, just be aware that it hasn't been designed to hug the ground like some more race-driven bikes.
The mixed wheels exaggerate all these aspects — a benefit in the steeps and corners when agility and maneuverability are your M.O. The downside is when the trail straightens up and gets rough and in flatter terrain. The bike doesn't hold speed particularly well in these circumstances. The Status' strength is on dedicated gravity trails, and the comfort and fun factor more than make up for these shortcomings.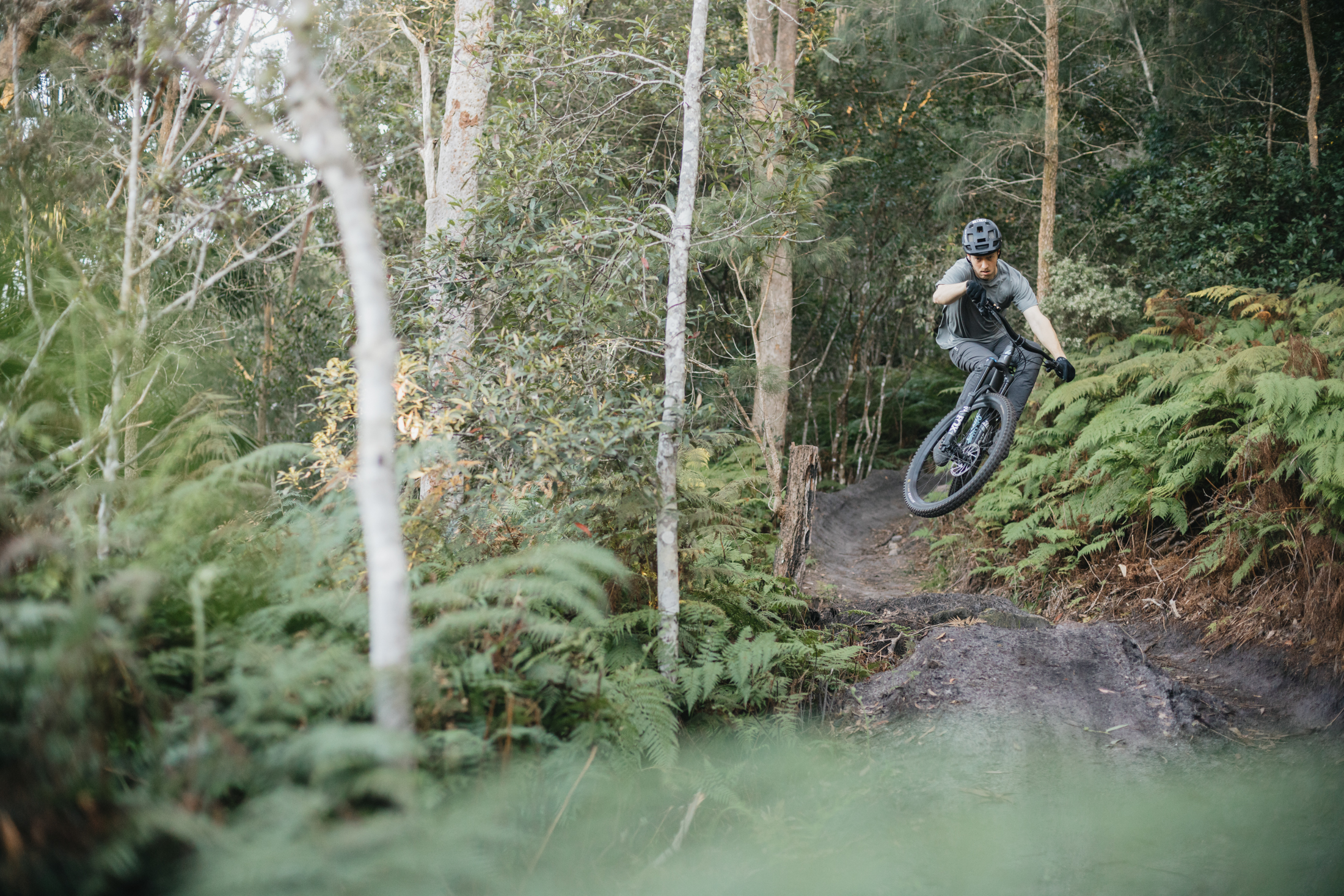 We often hear enduro bikes being described as a 'Downhiller's trail bike.' In a similar light, this could be referred to as a 'BMXer's trail bike.' The Status loves to get airborne. The short chainstays give it a similar feel to when you crack a big bunny hop on a BMX, and provide a fast and responsive pop, which also helps when boosting off jumps. When hitting jumps with steeper lips, more traditional enduro bikes can feel unbalanced, sluggish and even a bit too long. This is where that compact rear end shines and pitted against a steep lip, it makes the take-off predictable and responsive.
Ride this bike, and the burning desire to book a trip to Whistler will become further exaggerated! Dirt Merchant laps, please and thank you.
Specialized Status Spec | Bang for buck as a priority
For $4,750 AUD, the Status represents solid value for money, but there are inevitably some compromises. The hefty SRAM Code R brakes provide plenty of stopping power. There's aggressive and grippy tyres that won't be spraying sealant after the first sharp rock. A Fox Float X with a custom tune for burlier riding. A Fox 36 fitted with the well-respected Grip damper. All great options for the intended rider and the terrain they'll most likely ride.
The fork and shock are both easy to set up and unlikely to bamboozle anybody with complexity. Both sit in the middle of Fox's line up and you'll find less adjustability on this suspension compared to the higher-end options. This can be a blessing in disguise, as more adjustability usually means more time dialling it in. Both the fork and the shock on this bike have just one rebound and compression adjustment dial. This is ideal for the target rider of the Status as it means less time tinkering and more time shredding.
Related:
It would be nice to see the bike come with a burlier, more gravity-orientated fork, like a Fox 38 or a RockShox Zeb. The Fox 36 is more than capable, but knowing the crowd this bike has been designed for, it'd be great to see a fork that can really sustain heftier abuse.
The compromises begin to show themselves when you look to the drivetrain. We've had hit-and-miss experiences with SRAM's NX level parts. It's not the most robust, especially the derailleur. It's a good starting point, but we'd recommend riding it until it wears or breaks and then upgrading to even just one step above. There, you'll be stepping into the GX range of components, which we've found to perform more consistently. On the Status, Speicalized has prioritized big burly brakes over precision shifting, which on this bike is a compromise we can get behind.
Another component we'd potentially look to swap out is the dropper post. The X-Fusion Manic has a nice feel to it but could do with a little more drop. The bike comes with a 170mm post, which is right on the limit for a bike of this nature. Having the extra drop would be nice on a bike like this as it enthusiastically encourages you to 'swing off the back' and you don't want anything getting in the way of the good time the smaller rear wheel promotes.
Flow's Verdict | Engage hooligan mode, and let it fly
The Status initially entered the Specialized lineup in 2012 as an alternative to their race-focused Demo downhill bike. Its current iteration has kept the alternative approach but moved into the enduro genre of the lineup.
There are a lot of things we like about the Status: the price is reasonable, and the spec biased towards descending is logical and sensible for this type of bike. The Status provides a great base to build upon, with a build that shouldn't cause too many headaches straight out of the box. We also love that it is a dedicated mixed-wheeled bike, and there is no option to run a 29er wheel front and rear. This means the mullet wasn't an afterthought, and they have fully committed the geometry to this configuration.
The somewhat quirky geometry favours someone who likes to hit jumps and slap turns. I'm thinking BMX'er/ Dirt Jumper, who is full squish curious. Someone who is looking to session the best sections of a trail and not necessarily take it out on long epic rides. It is definitely a point of difference as Specialized already has two bikes with similar amounts of travel that would be considered as more 'all-rounders'. That being the Enduro and the Stumpjumper. If you're looking for a more traditional modern-day, these will probably be a better option.
Some other mixed-wheeled bikes we've recently ridden are the Transition Patrol and the Commencal Meta SX. If you include the Status in this group, it'd be the most lively of the three. The Meta SX is the most planted and race-orientated, where the Patrol would squeeze somewhere in the middle in terms of ride characteristics.
The Status has somewhat slipped under the radar over the last few years, but after spending some time on it, we feel it promotes an awesome attitude to riding. A 'fun-duro' bike, if you will, just cause the industry needs another nicknamed bike category!
ABOUT THE REVIEWER - Tom Wilson