Brendan races Unbound
Garmin Unbound Gravel is undeniably the biggest gravel event in the world. With several distance options ranging from 25-350 miles, all touring the Flint Hills of Emporia, Kansas. The 200-mile event is considered the flagship race for amateurs and professionals alike. This is why it's also the choice for round two of the 2023 Life Time Grand Prix.
Being extraordinarily long at 322km, the 200mi event (actually 204mi) is still 'relatively' achievable for those who are willing and prepared. The route involves long flat gravel roads, rolling farmland and a few sections where the rocks get a little more chunky — where the Flint Hills get their name. Most of the time, there is not too much to REALLY bring riders unstuck, which is the appeal of Unbound. It's definitely epic, but it's not stupid, and the route is manageable. That is, until the weather decides to intervene.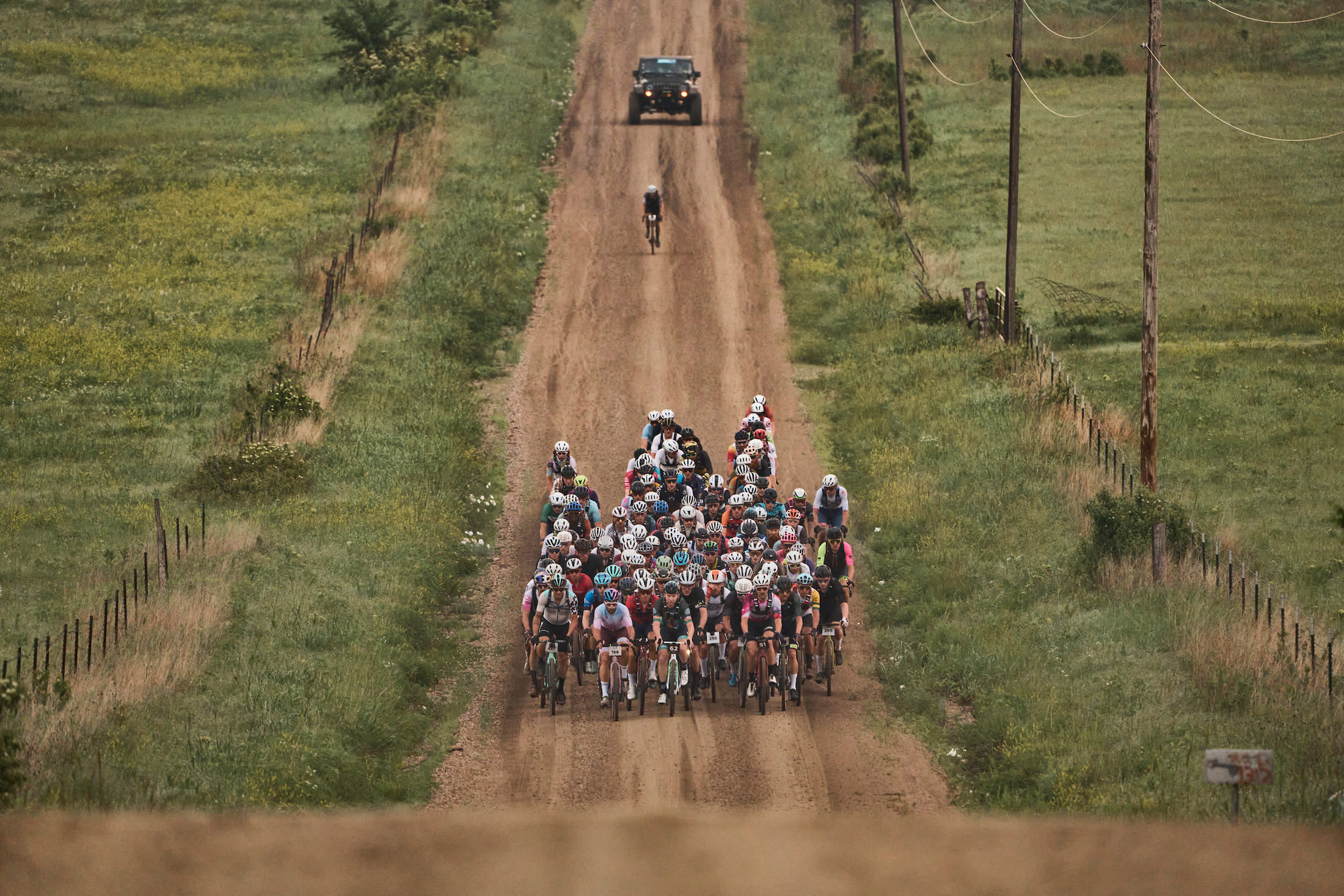 Bring on the rain, this is gravel racing
The threat of rain is always present in Emporia at this time of the year. It has been seen in past editions and had a significant impact on the race. Depending on the route and if thunderstorms hit on portions of the course that do not cope well with the moisture — they call these 'low maintenance roads' — mayhem can ensue.
Friday afternoon, the heavens opened, dumping rain for a couple of hours. I had seen some pretty epic images from previous editions where the rain had made an absolute slog out of some sections. As it happens in 2015, this was the case on the exact piece of course that we would cover early in the 2023 route.
Hearing the rain fall in the afternoon before the race, the big question was, "How bad could it be?"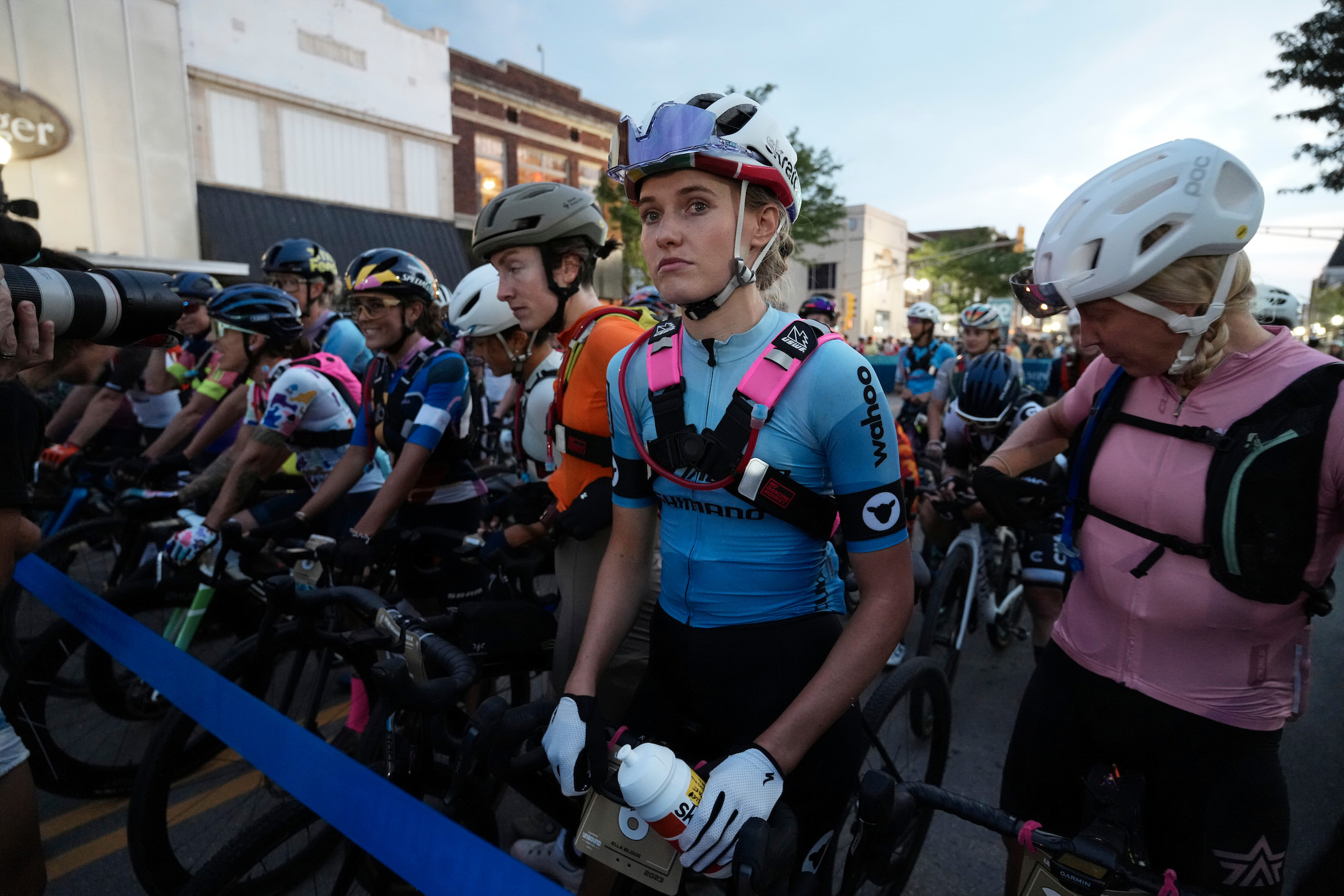 The sections of the course I had ridden were really well-maintained roads, and I couldn't really see it being much of an issue. Most of the gravel roads around Emporia are well constructed and have no real degrading effect when wet. Saturday's route did include some of these 'low maintenance' roads, particularly early, around mile 10 (16km) of 200 (322km). The race organisers had spoken about re-routing this section if the conditions had made a significant impact on the road, and riders wouldn't be able to progress through safely.
We spoke about someone heading out in a vehicle to inspect the low maintenance sector, yet wrote it off as unnecessary. Hindsight is 20/20.
We all decided it was going to be muddy but not a disaster, and setups in the Giant Global Team household remained the same. Even if we had made an inspection, I am not sure we would have been able to pick what a gravel bike would look like trying to navigate it. With nearly 200 miles of fast, dry gravel to follow, would we really have made changes to suit some 6km of the route? I don't think so.
On the start line, the riders were briefed that the questionable section at mile 10 would remain on the route. A decision justified with, "This is gravel racing."
It's an early start for Unbound 200, 5:50 am for the Pro Men, a couple of minutes later for the Pro Women and 6am for the masses. The vibe at the start is ELECTRIC, like nothing I have ever experienced in cycling. To have thousands of people anticipating one of the most challenging experiences on a bike was exhilarating.
---
Point Of View From The Pit Crew | Meet Shaun
I'm Shaun Lewis, a longtime friend of Trekky, and I currently live in America with my family. When Trekky told me he was applying for the Life Time series, I got super excited. My days of racing are long gone, but I get a buzz from seeing the passion Trekky has for racing. Getting the best out of himself and challenging himself in a new arena.
My role for the day was simple: just to help wherever possible. The obvious area is in the feed zones, but any logistics or odd jobs I can help with, I'm in!
The two aid stations or, as I prefer, 'pit stops' are critical. If you come into the pits with a group, you have to leave with that group. You want to be the fastest, to save any watts you can. We practised these pit stops the night before, and we trialled a few different options.
At a minimum, we are lubing the chain, restocking three fresh bottles, plus a hydration pack and pockets full of food. That's the simple option. We would escalate from there, depending on the condition of Trekky and his machine. In addition to myself, Giant supplied two mechanics, a manager and another helper for the team of four Giant riders in the race.
Every rider at Unbound must have a support person, and most of the pros will have two or three, and would be impossible to do this mega event without some level of support.
These aid stations are big; they need to accommodate the support crew for the thousands of riders — maybe a kilometre long, maybe more. They snake around corners in tiny towns, and you can only see a fraction of it. This makes it impossible to keep an eye on the riders you come in with.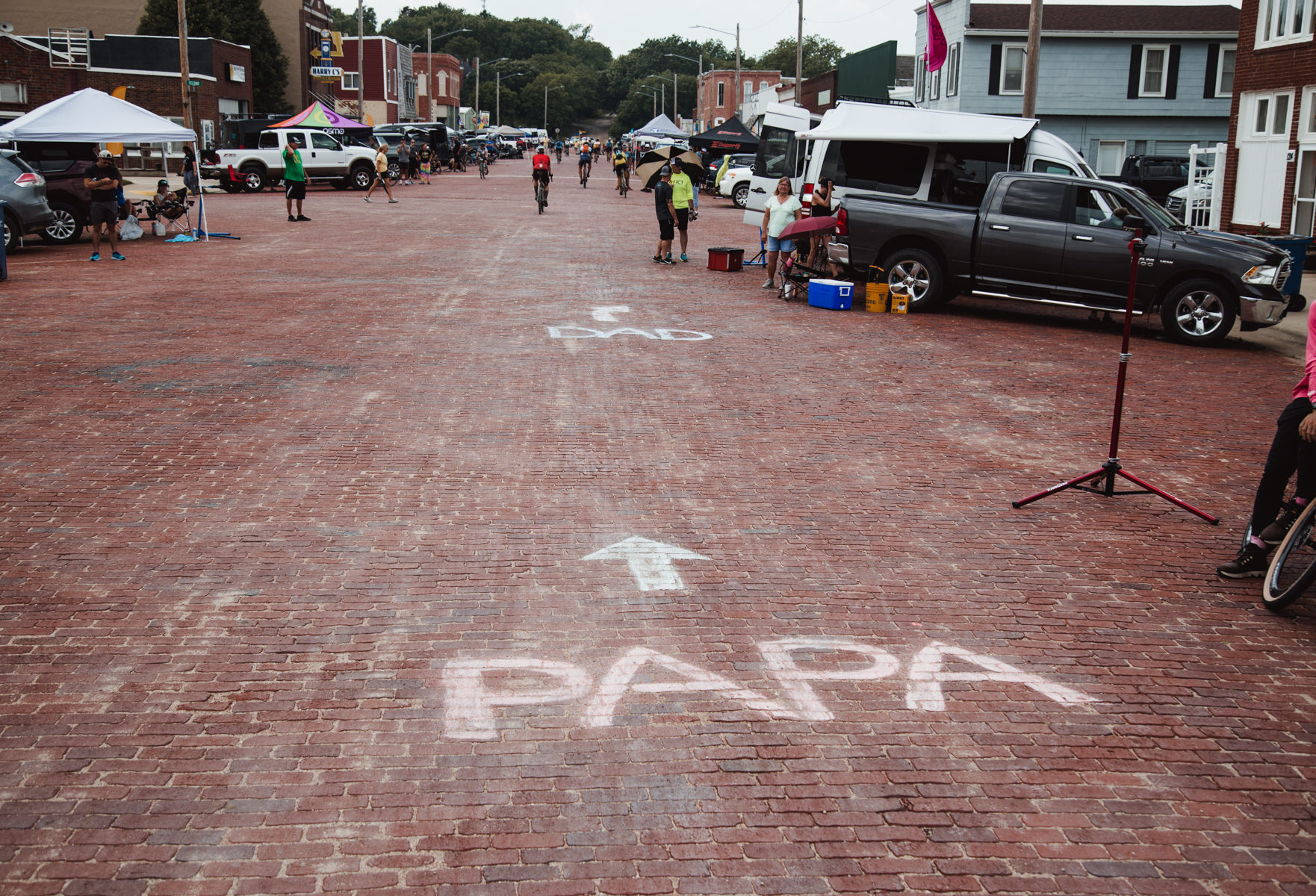 The vibe at the start was insane. Everyone was in high spirits in anticipation of what the day could hold for them. But all the talk amongst the pit crew was about the mud section. "How bad can it be," was a common sentiment from everyone.
Keeping four riders going, we had an enormous amount of equipment, food and water. Once we got set up, there was nothing to do but wait.
---
Trekky TV | S1E25 The Mud Bog
I hit the first mud section some 30 minutes into what was expected to be a 10-hour race.
I had no idea it would be that bad or that long.
I was in a good position, in the front 10-wheels, slipping and sliding all over the place. There were crashes all around me.
Lots of riders headed for the grass on the side, which wasn't all that inviting either. There's no track, the grass is long, and it's hard to see the big holes and rocks. I soon found out the grass was worth the risk when my bike came to a complete halt while riding down the road. Both wheels stopped turning.
Along with hundreds of others, I was losing time here. I proceeded to walk, run and ride the grass, scraping the mud where I could.
This 6km quagmire took an hour to clear. My rear mech was struggling to shift up the cassette. At that point, my bike weighed probably 20kg, and I was stuck in a gear that was way too big.
Getting back to the better roads I was riding with Larry Warbasse (of AG2R, he had just finished racing the Giro d'Italia), I knew he was a good wheel to be with. But I couldn't keep pushing this gear. I had to pull over to see if I could get the derailleur working again. Or at least try something to get some better gearing. It was packed full of thick mud, and I couldn't get it to move. Shit.
I mounted back up and had my two front chainrings. Intermittently.
I made it back to a BIG group that contained some strong guys who had obviously had issues too. Larry was here. I was not sure how long I could hang on.
The climbs here were relatively sedate, but grinding in that big gear started to take a toll on my lower back. I let that group go at the base of the biggest climb, called The Beyotch, and stopped to see if I could do anything more for the gears; otherwise, it was a walk.
I walked The Beyotch.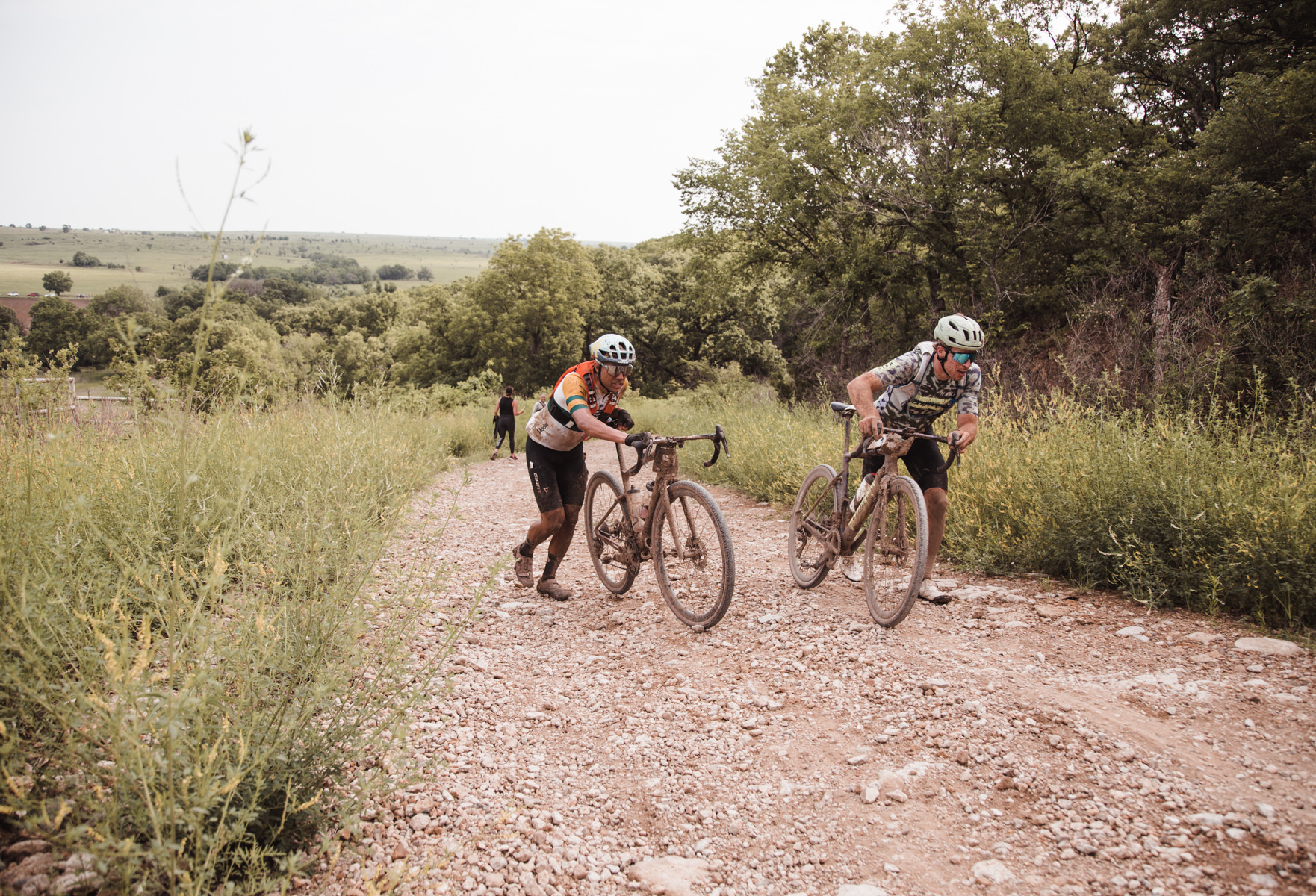 I was suffering mentally and physically. In my mind, I was recounting the hundreds of hours I had put into this event. I trained longer and harder than ever before. I sacrificed time with my family to not only be here, but here in top shape. To be here to fight for a result.
Lower back screaming, I made it through to the first checkpoint, I wanted to get there and make an assessment of my body and bike. It wasn't until I reached Shaun that I learned how much time I had conceded to the front of the race. The Grand Prix points I was chasing were dwindling, and my bike would need at least 10 minutes of work.
---
Broken Bike, Broken Man | Trekky arrives in the pits
From the pits, the race was providing a video feed early on and the occasional timing mat update. There were also snippets coming through on social media. We watched the race enter the mile 10 mud section on the live stream. I happily spotted Trekky near the front as they entered. Then it was radio silence for about an hour.
Nothing for ages. Then we got a trickle. The front group of around ten riders popped up at the 21.4-mile timing mat — no Trekky.
It's ok, it's a long day still to go. Tasman Nankervis and a few riders I know ping through. Then rider after rider rolled across the mat. Still no Trekky.
Maybe his timing chip isn't working, and he's about to roll into the pit. Then, in 79th position, his name is on the board. Definitely not where he wanted to be, close to 20 minutes behind the leaders. It seems likely he had a problem but is still moving. Twenty miles later, he is up to 55th position, that's good news, and I have hope he has fixed his issue. Then we hear reports he has lost his shifting. Oh no. The mechanics bring the likely parts to the front of the table, and we wait.
Finally, I see Trekky as he rounds the corner into the aid station. He doesn't look great. Hunched over the bike and in a really big gear, he looks uncomfortable. I knew this was not going to be a 15-second stop.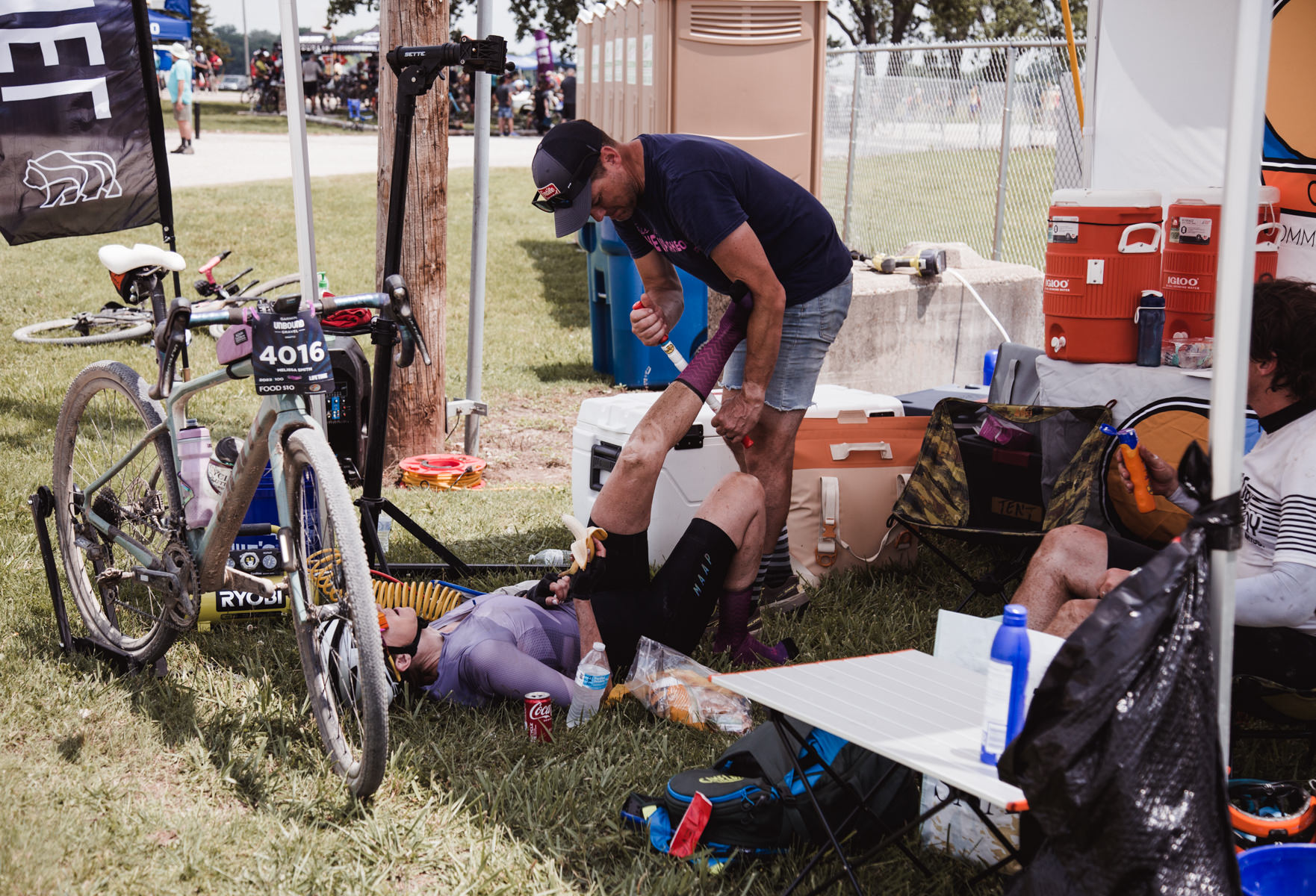 Trekky and I had a quick chat about his position in the race, how he was feeling and the bike issues. It was all bad.
Running in 61st place, his back is in agony, and his bike issue wasn't a quick fix. He sat down for a minute or two to think, was this it?
After some time, his bike still wasn't working, and many more riders had passed, Trekky decided to call it a day. My heart sank. I've only seen a fraction of what he put into this day, and it was difficult to watch him accept his decision. This is bike racing, and it happens. But right now, it's a bitter pill to swallow.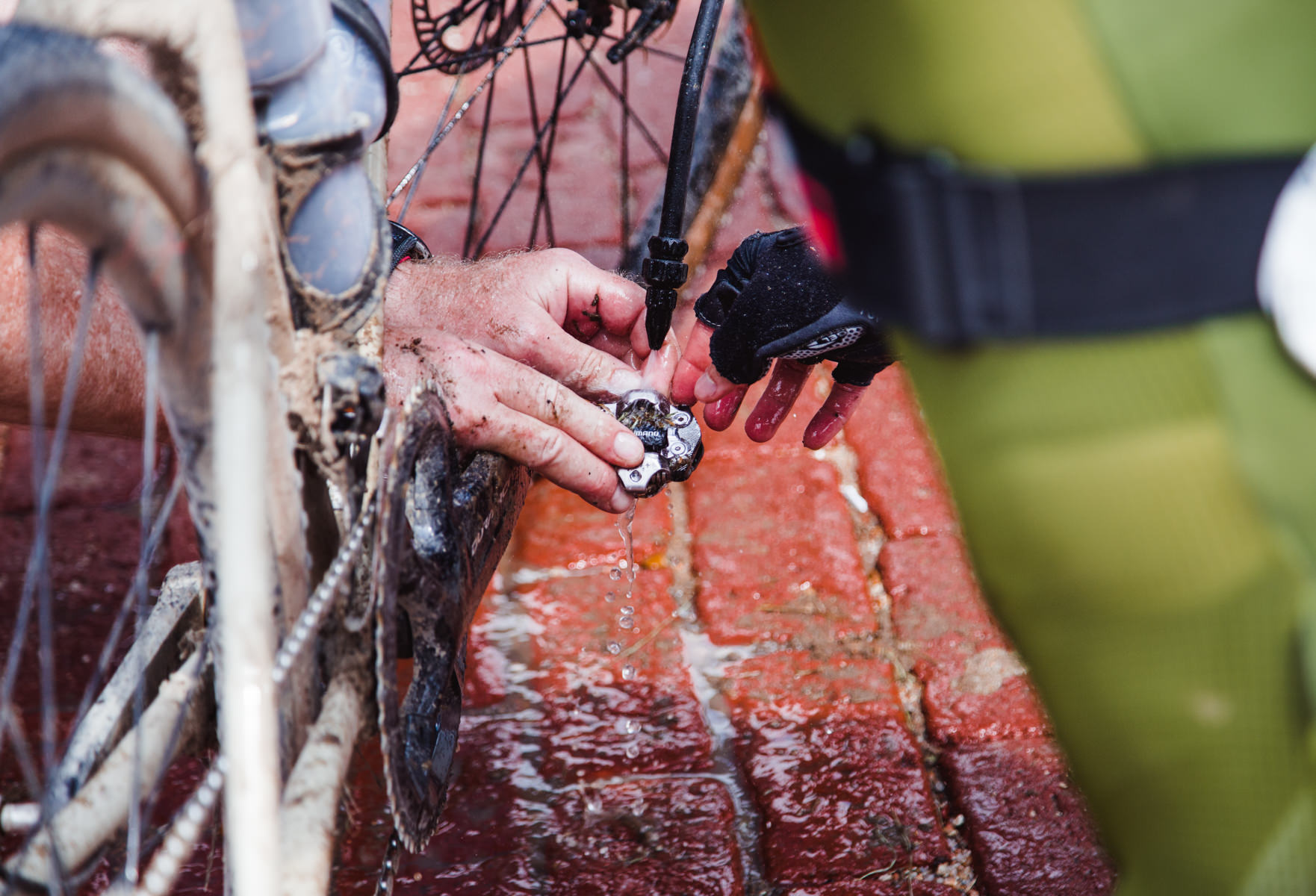 ---
Never Meet Your Heroes | Trekky makes a hard call
The damage that pushing this huge gear for three hours had done to a lingering lower back injury was substantial. In the run-up, I'd made some significant improvements, but I'd just undone all of that. We decided to call it there and withdraw.
My feelings in this moment were a little out of body. I lived and breathed Unbound for months in advance. Laying there in the grass, it had all come to an end.
Unbound was my hero of gravel racing, and in this moment, I wish we had never met. My hopes and dreams of riding to a top result at this event had completely disappeared.
There is a technique for getting through the 6km of mud, which some people did well. Luck is also involved, and today luck was not on my side. To become unlucky so early into such a long day is devastating. No doubt, whatever your goal may have been at Unbound, you'd invested significantly to be there.
I struggled in the mud, and ultimately, it caused my drivetrain to fail. I had to fight to the first checkpoint in the 11-tooth at the rear — walking some of the hills because I wasn't able to summit turning the big gear.
It looked like the guys and girls who made it through had some epic battles in the Flint Hills, that's for certain. I was surprised to see the men's race come down to the same riders from the early selections all the way to the finish. A finish contested as an eight-man sprint, mixed among the finishers from the 100-mile event. It looked like utter chaos!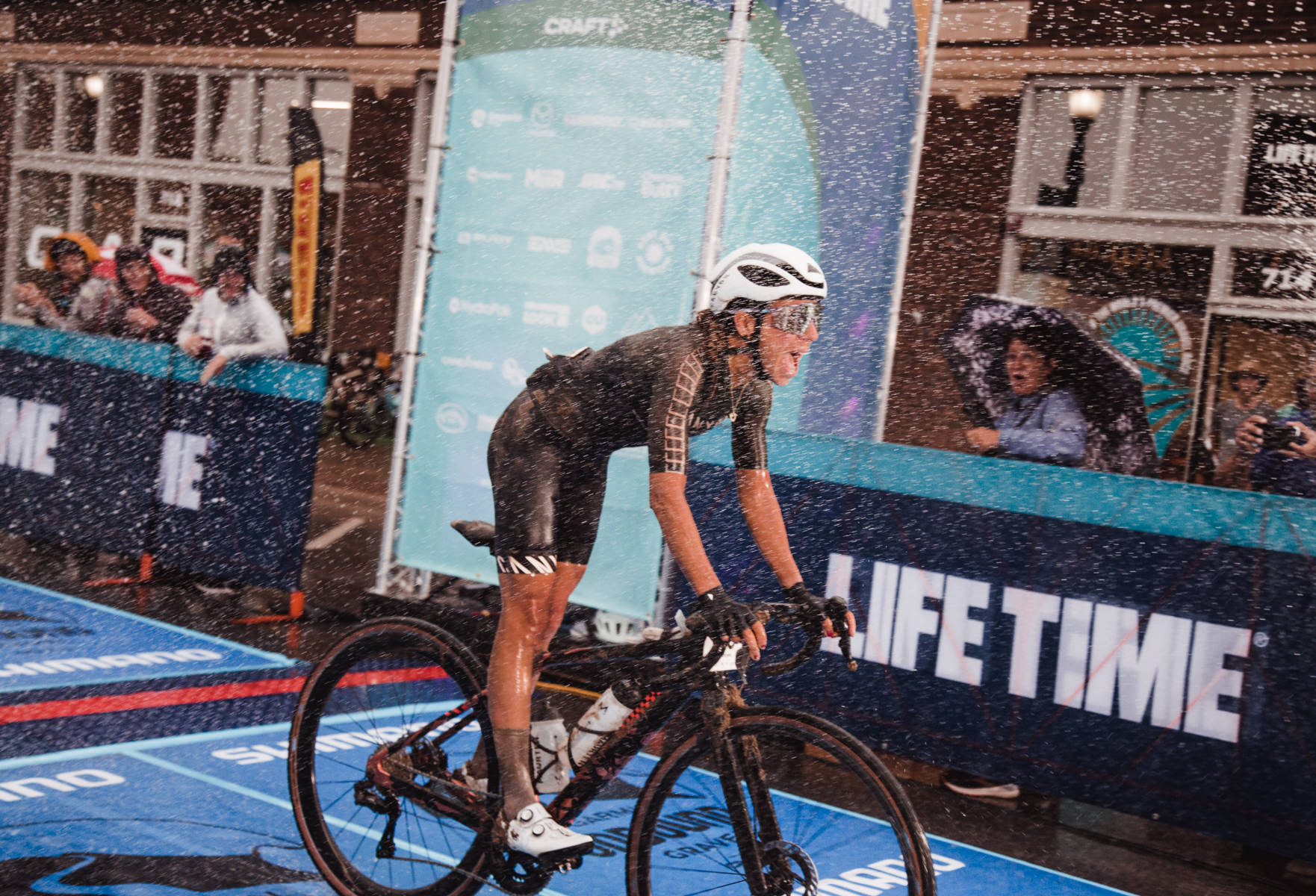 I want to go back to Unbound. The race offers a unique challenge and it draws incredible riders from all around the globe, and a top result here is something I still desire. My take on the organiser's choice to leave that muddy section in, I hope they learn from the mistake and set a course that is more in tune with the challenge.
Sure, a short section of mud a hundred meters long can add to an event, but a bike-destroying, kilometres-long sector that ended so many rider's days, doesn't really fit. Every rider I spoke to had some sort of damage to their bike from that sector.
Now I have a firmer grasp on what to expect from the Unbound. I want to be part of the story that finished in that eight-man sprint — well, it may have been nine. I'm not done. I want to be part of the race and capitalise on the sacrifices and investments made by myself, my family and my support crew for such a challenge. I'll be back.
---
Photos: Linda Guerrette / Lifetime Grandprix (@lindaguerrettephoto), Wil Matthews / Life Time Grand Prix (@photowil), Shaun Lewis