Every year, droves of folks stream through the Coolangatta Airport, searching for some sunshine, surf and roller coaster thrills at the theme parks. But the Goldie is shaping up to be quite a riding destination, with a few historic riding spots, a burgeoning slate of gravity parks, and a buzzing local riding scene. So, Flow grabbed our bib shorts and some boardies to see what riding on the Gold Coast is all about.
In a normal year, even in the depths of winter, you're just about guaranteed sunshine and shorts weather, but 2022 has been anything but ordinary. By May of this year, much of South East Queensland had already exceeded its average yearly rainfall. This unprecedented precipitation has pushed a number of trail networks past their breaking point, and we've seen more accounts of destruction and storm damage than we care to remember.
There has been one trail network whose name has been notably absent from the tales of trails destroyed by rain bombs and supercells. Where the green meets the gold and a stone's throw from the white sand beach at Surfers Paradise, is Nerang. It's not necessarily a wet weather riding spot, but the singletrack traversing Nerang National Park always seems to come up well after damaging rains hamstring other networks around South East Queensland.
---
Watch the video here
---
Nerang was catapulted onto the world stage in 2018 when the Gold Coast hosted the Commonwealth Games. Dirt Art was commissioned to build a World Cup-level XC track to test the world's best, and it has since been a regular stop on the National XC circuit, also hosting the 2022 Oceania Champs — the place Bec McConnell kicked off her 2022 winning streak.
But the Comm Games race track is only a tiny sliver of Nerang, and just beyond the first rise, there are 60km of trails meandering through dry rainforest, open eucalypt and vibrant green subtropical rainforest.
The home of cycling on the Gold Coast
With the crit track, a velodrome and mountain bike trails, the Gold Coast Cycle Centre is the beating heart of bikes on the Goldie. Depending on the day, you might have an XC race or an enduro out in the forest, you may come off the trails to see roadies going full pelt on the criterium track or fixed gear bikes chasing a moped around the velodrome.
Across the road is Just Ride Nerang, which has spares galore, bike rentals, a full-service mechanic, and a bangin' cafe called Cadence — the milkshakes are to die for but are best enjoyed post-ride.
To the uninitiated, Nerang can seem a little bit impenetrable from the car park, but that harkens back to the roots of this network. You see, the trails in Nerang weren't originally commissioned by the council or Queensland Parks and Wildlife. They began as wild trails constructed by singletrack fairies under the cover of darkness. And to ensure their hard work wasn't immediately shut down by rangers in khaki pants, the entrance was only obvious to those in the know.
Thanks to the hard work of the Gold Coast Mountain Bike Club, the trails in Nerang have been progressively sanctioned, and the cover of darkness is no longer needed. To get to the trails, you cross the criterium track and make your way through the gate. Once you're in, the fun begins.
The not so obvious trailhead
From this three-way intersection, a right turn will take you across a creek and over to the Comm Games 3 loop, a rad little warmup to get your legs ticking over. Kicking off with a short climb, it's mostly smooth with a few pinches, and you're rewarded with a fast flowy descent — berms, jumps and speed, not a bad way to kick off a ride.
Going straight, followed by a quick left puts you on the freshly rebuilt Casuarina Grove Circuit. This 3k green loop never strays far from the trailhead and offers an accessible taste of what lays over yonder.
But a left inside the gate, and a quick spin up the fire road takes you to the tiled entryway to Nerang, aptly named Exit trail.
The loam at Nerang is a little different
In a typical year when Southeast Queensland isn't on track to double its annual precipitation, Nerang is a dry, dusty trail network, pretty much all year round, and there is a running joke among locals about Nerang loam.
This isn't the deep, dark, rich chocolate cake you find in North East Tassie or the Victorian Alpine. Oh, dear reader, Nerang loam is rocks, and there are lots of 'em. Embedded deep in the soil, rolling loose in the middle of trails, big slabby ones, small gravely ones, Nerang has no shortage of geology in all of its forms — which is probably why there is a rock quarry out the back, but I digress.
With such a sprawling trail network, and the maintenance program run mainly on a volunteer basis, through a collaboration between GCMTB Club and QPWS, the trails in Nerang forest are raw and rough. There are only a few machine-built sections throughout the network, and these are the more recent additions; Nerang is a hand-built trail fiend's paradise.
A testament to those original trail fairies, the singletrack along the outer edges of the network may go years without a touch-up, yet they never seem to get worn out. At the same time, these very trails out in the bush see enough riders that they're never inundated with leaf litter or debris.
Working their way into the network, most riders will take Happy Valley or Goanna to Elevator to access the further reaches of Nerang.
The 1km climb up Elevator gains nearly 100m in elevation before it connects with Baileys, hoisting you into the back of the network. This is where the adventure begins.
Navigating the backside of Nerang
Most of Nerang is open eucalypt and dry rainforest, but out the back, things change. Here there is a warren of skinny hand-built trails twisting and turning their way up and down the hills. One minute you're flying through wide-spaced trees, and the next, a sea of lush green ferns lines the edges of the ribbon of dirt in front of you.
Whether you're in for a complete Lost Worlds loop around the outer reaches of the network, or a shorter jaunt on Super Loop or Never Ending Story is more your speed, bring plenty of water and make sure you have Trailforks on your phone. This area of the Nerang National Park can be a little disorienting, and you are a long way out.
It's a hike to get out there, but these trails are well worth visiting for the scenery alone.
GCMTB Club and Parks co-design project
While there are some rip-roaring descents full of rocks and root balls at Nerang, for the most part, you'll find XC trails here. There are a few black lines on the map, but by today's standards, that rating might be due for an update.
The network was missing a true black trail, and thanks to a co-design project between the GCMTB Club and QPWS, Nerang has its missing link — Taipan.
Constructed by Trailworx, Taipan is fast-moving, with a severe bite. Kicking off with a sandstone squirrel catcher, confidence and speed are required just to enter the trail, and it doesn't get any easier from there.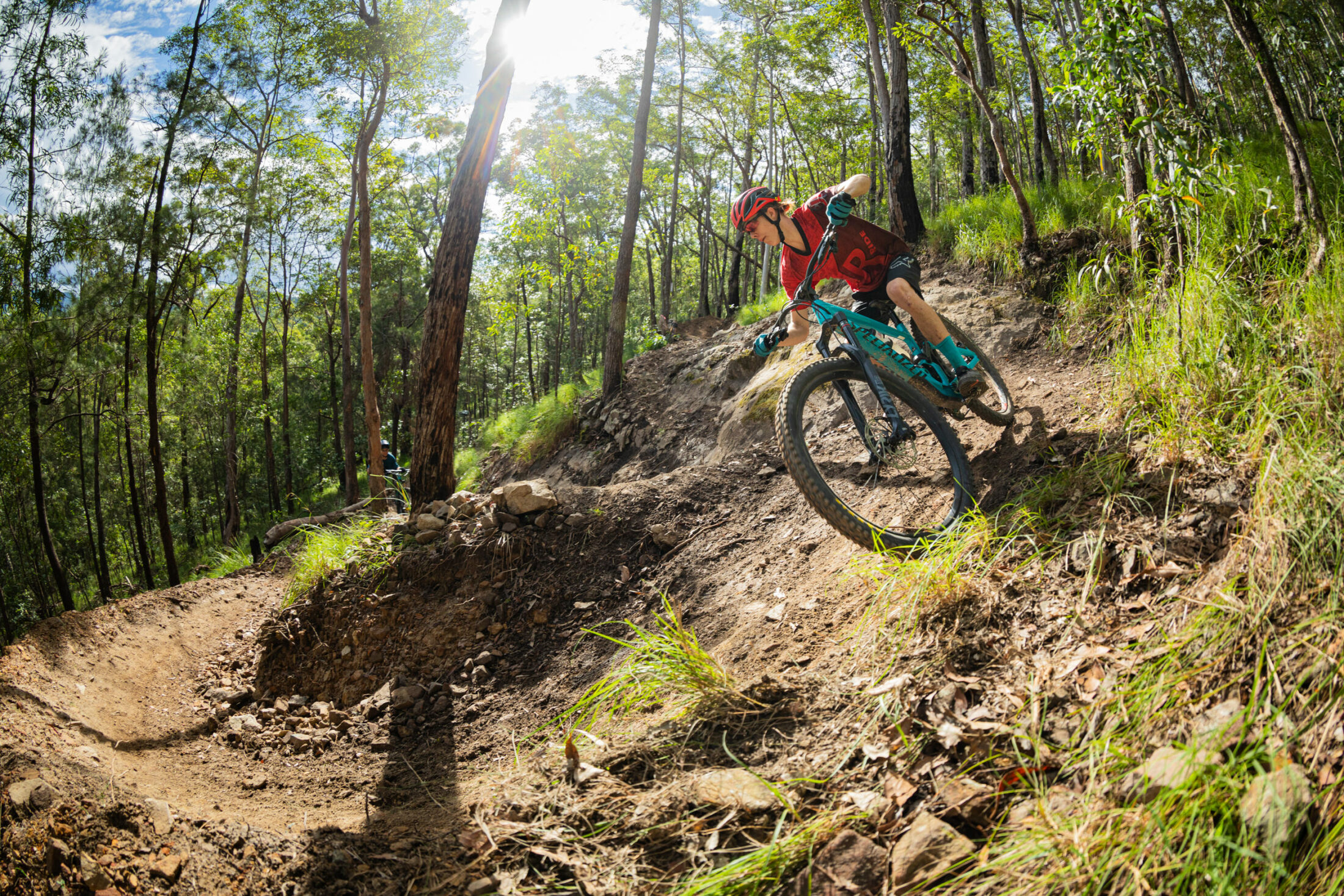 With nasty rock gardens, drops, and a seriously tricky rock slab, Taipan will hit you with its fangs if you're complacent. The trail is still relatively fresh, and as it wears in, more Nerang loam and roots will find their way to the surface, gradually becoming rawer and more technical.
This co-design project also included massive restoration efforts on Casuarina, Baileys and B+Bs and a complete redesign of Comm Games 1.
Apres at Black Hops
The Gold Coast is already a well-established tourist destination with more restaurants and watering holes than you can shake a surfboard at. Between the waves, the beach, and the theme parks, there is no shortage of things to see and do.
We had a couple of big days out at Nerang, and after being dragged all over the forest, our motley crew had worked up quite a thirst. So we loaded the bikes and set sail for a favourite watering hole, the Black Hops Brewery — well, Black Hops II, to be exact. Started by three Gold Coast locals, the original brewing facility is in Burleigh Heads. What began as a little hole in the wall with a few taps, has expanded into a massive operation with three tap rooms in South East Queensland, and their liquid deliciousness in stores across the country.
Located in Biggera Waters just north of Nerang, we set sail for BHII, where the lion's share of production now takes place. After we'd thoroughly rehydrated, the BH crew invited us to check out how the beers are made and took us for a walk around the facility.
Nerang is only one very small part of what the Gold Coast has to offer for mountain bikers. Stay tuned for the best gravity park on the coast, a hidden gem and a history lesson in mountain biking on the Goldie
How to ride Nerang?
While the signage at Nerang has improved tenfold in the past couple of years, it's not the easiest trail network to navigate and even locals who have been riding here for years get turned around occasionally — make sure you've got Trailforks on your phone. There is so much singletrack to explore, but since holiday time is limited, and nobody wants to spend it lost in the woods, here are a couple of local's loops to keep you entertained.
Nerang Quick Loop
If you're out for a quick hit and have about 90min of ride time this loop offers a small tasting paddle of what the forest has to offer. At the end of this ride, we've sent the route down Taipan, the new black trail. Taipan starts at the same place as Three Hills which is a rough and rocky blue descent and ends at the top of the Comm Games course. For a flowy finish, head left down the fire trail and take your first left to get to Petes.
Nerang Medium Loop
With a slightly different approach, this loop takes in a number of the trails that Rocky Trail Entertainment uses for its Super Flow events, with an extension out into the back of the network. The return hits the newly revamped B+B's and Comm Games 1.
Lost Worlds
Lost Worlds is an epic adventure through Nerang National Park, and explores the outer reaches of the network. Bring your pedalling legs because you're going to need them. This is the true Nerang experience, skinny hand-cut trails, rooty technical climbs, ferns, epic scenery and plenty of Nerang's unique loam.
---
This is the first in a four-part series exploring the Gold Coast. Be sure to check out our adventures at Boomerang Farm, Glossy Black Reserve, and Old Tambo.