Nestled at the foot of Springbrook National Park is the Boomerang Farm Bike Park. Behind a golf course of the same name, Boomers offers a riding experience that's a rarity in Australia.
With a dozen purpose-built gravity trails, shuttles running four days a week and a full-time trail crew constantly reworking berms, adding elements to techy chutes, and manicuring jumps, it's a bit like a mini-Maydena or Thredbo, that's open year round.
In our exploration of the riding here on the Gold Coast, we traded our half shell helmets for a full face, and packed into the back of a Troopy to see what Boomers is all about.
---
Watch the video here
---
Related: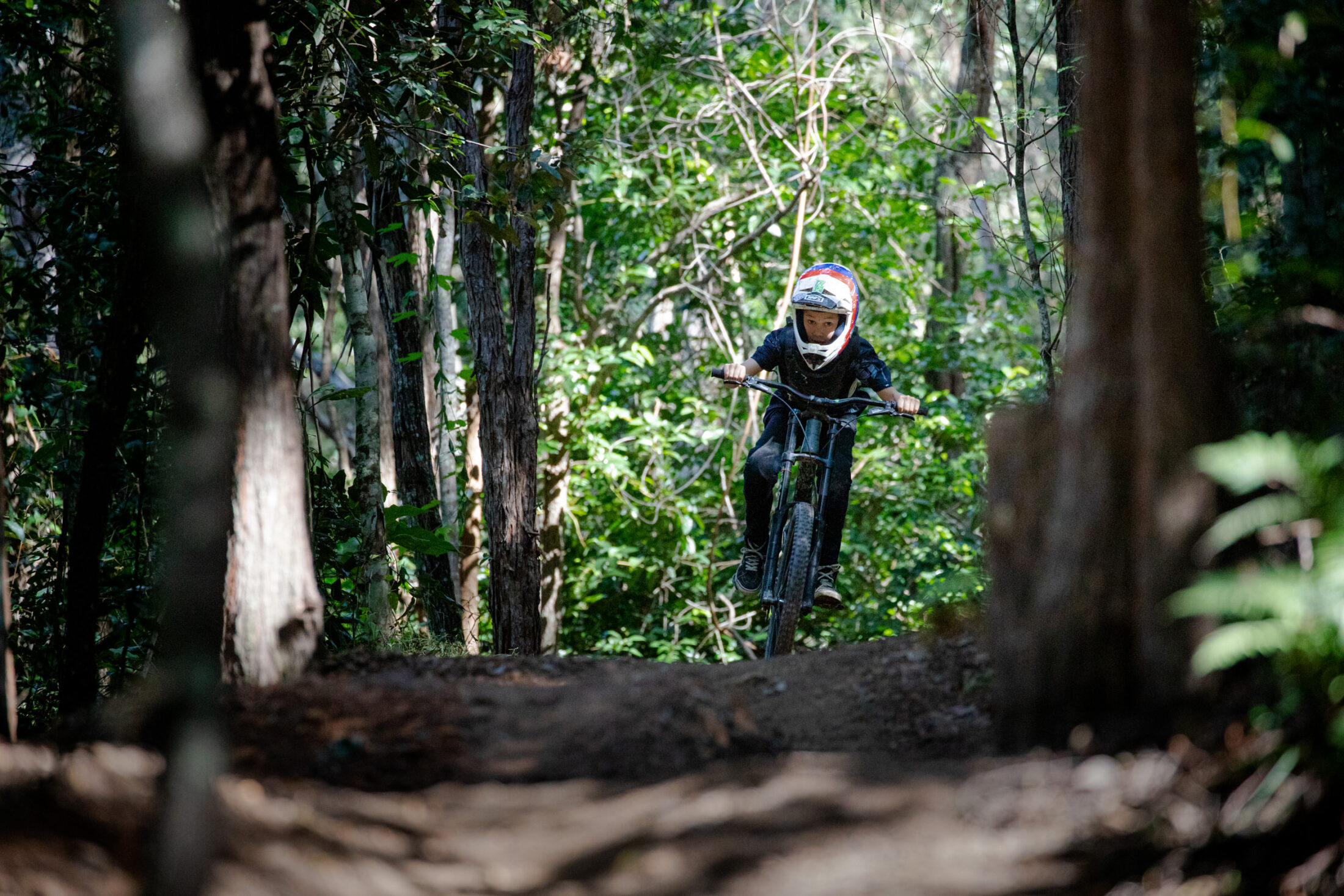 The Remy effect
In a similar fashion to Nerang, Boomerang Farm hit the world stage when Red Bull gave Remy Moreton $7k to build his dream line in 7 days. This, along with the photos of big wooden features, gigantic jumps and folks on double crown bikes flying through the air; Boomers has a reputation as a free ride park for advanced riders only — this could not be further from the truth.
Yes, the park does have true double black features, and a jump line they won't let riders hit until they've proven themselves — this isn't gatekeeping, it's ensuring that folks don't die on a 60ft gap. But there are just as many blue and green descents that are approachable for new and less confident riders, all built with progression in mind.
With 150m of elevation to play with, Boomers clocks in at a similar drop to George Town in Northeast Tassie, with each descent averaging 1.5km in length. This may sound short, but you'll be well out of breath by the time you get to the bottom, and the shuttle turnarounds are lightning fast.
There is also a meticulously shaped dirt jump area with three lines that get progressively bigger, and a dirt pump track.
Saddle up, the troop is headed up the hill
Once you've signed in at the Boomers base area, the shuttles leave from just below the office. Squeeze into the back of the Troopy and head up the hill. It's a bumpy, windy ride up to the top; you're likely to see riders zipping past on both sides of the shuttle road, and even over the top as there is more than one trail with a road gap.
With high-consequence features on the more challenging trails at Boomerang Farm, it's a destination you'll want to ease your way into. On the green and blue trails, there are b-lines around everything, but as you work into the black and double blacks, you're committed to the jumps, gaps and drops.
From the top, you're met with five options, a green, two blues and two blacks. As you work your way down, many of the trails like Super Stag, Rodney's and Ricccos will stem off another trail. Everything is well signposted with the name and difficulty, so you know what you're getting into, and everything filters back to the shuttle dropoff at the bottom, so there is no need to worry about getting lost.
The aptly named Green Machine is a good place to start at Boomers to get a feel for the park and the blood pumping into those braking fingers.
The blue rated Enduropeadia and Medicare both start at the same place and head for the southern edge of the park, while Sidewinder heads straight up the guts.
Boomers DNA resides in the air, with just about every trail offering ample opportunity to put some air under your tyres, but there is still plenty of rocky, rooty, high speed problem solving on offer with DH 3, Ricco's and Rocky's Run.
The ever stylish Tobi scrubbing some speed.
Mark sends one of the many wooden features at Boomers. Everything is designed with safety and progression in mind so riders can build the skills and confidence to hit the bigger stuff.
Not everything is jumps, and there are some good ol' fashioned cannonball runs.
Mark carries speed through a wide flat corner at the bottom of Sidewinder.
There is a lot of flow, but nobody can accuse Boomers of being light on tech. The chute on DH3 is a tangled mess of rocks, roots and wheel traps.
With the full gas descending on offer, the scenery can get a bit lost in a lush green blur as you barrel past, letting gravity do its thing. But you're on the doorstep of Springbrook National Park, which is part of the Gondwana Rainforests of Australia World Heritage Area. There are 3000-year-old trees in Springbrook National Park, and some of the last remaining sections of antarctic beech just up the range. Of course, the bike park itself is not in the national park, but there are some lovely sections of rainforest here.
Get your jump on
For a small park, Boomerang Farm has some HUGE jumps. From the 60-footer at the end of the Big Line to the meticulously sculpted hips on Funked Out, and even the big wooden features found throughout the park.
Some of these feature a high consequence, but the park has been designed to help riders build up their skills in the air. So starting with the rollers on Green Machine that can be expanded into doubles, to the wooden bomb drop on Sidewinder, the Toilet bowl drop on Mini-Mega and Rodney's Road Gap, everything is built to take the guesswork out of making the landing — so no mid-transition sprints or heavy braking is needed during the in the run.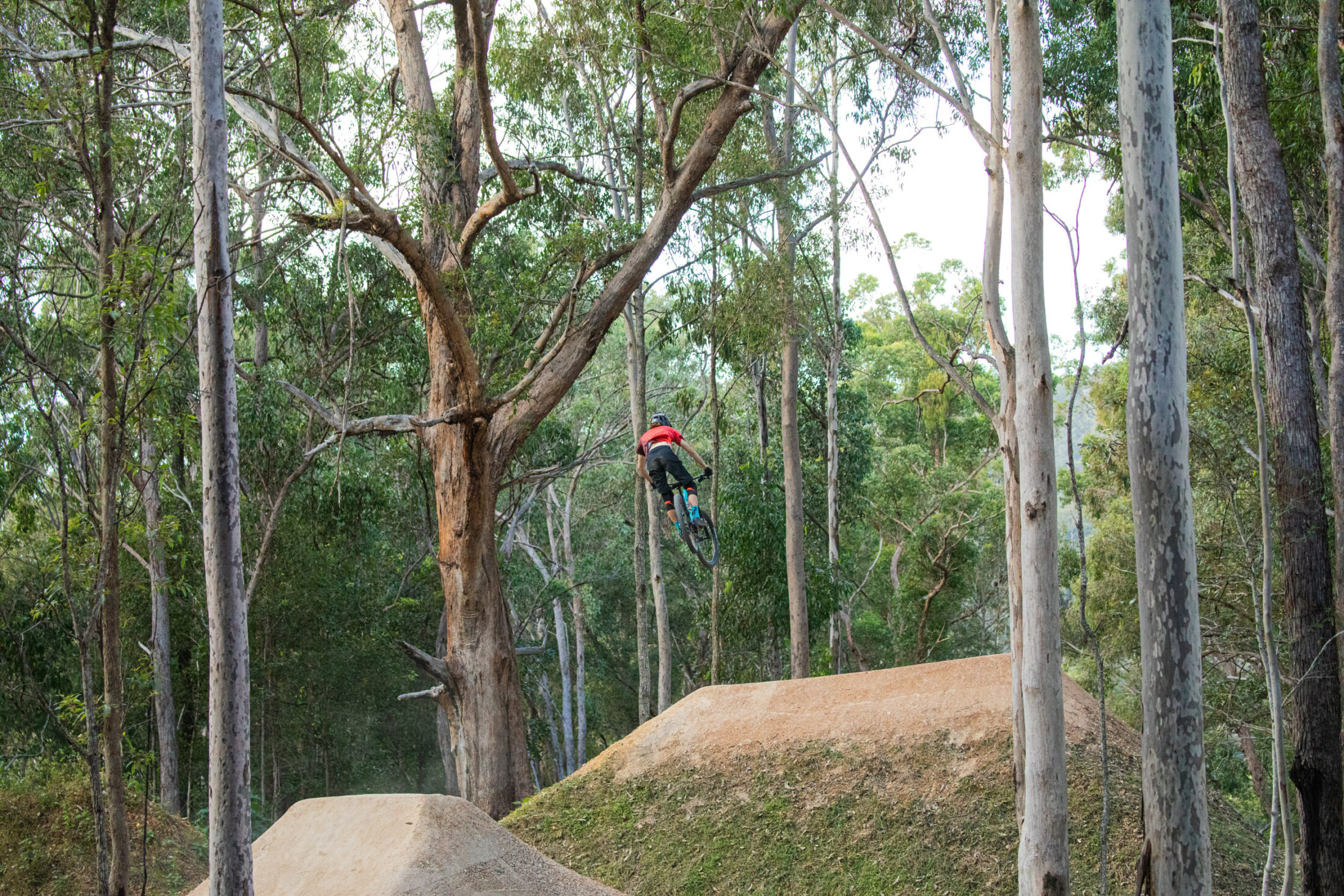 In addition to the jump trails, and the big jump line that is centre stage in the park, Boomers also has a separate set of dirt jumps and a clay pump track. Out near where Super Stag crosses Enduropedia, the Boomers Dirt Jumps are accessed via the main shuttle road, it's literally the only offshoot, you can't miss it.
As you roll out that direction, it's a bit like an oasis in the jungle. There's a little shack where you hang out and a perfectly sculpted playground that lay in front of you.
Volunteer run operation
Boomerang Farm is a private park, but it's actually run by the Outlook Riders Alliance, the local downhill and freeride club. With that, it's not free to ride here, and there is a fee for park entry and shuttles — if you want to self-shuttle or have an e-MTB you just pay park entry. Outlook is a not-for-profit, and all the money goes back into the park to fund man hours, materials and machines.
Just Ride Nerang also has a small satellite shop here with spares like brake pads and rotors, a mechanic and rental bikes too.
The park is open Friday to Monday from 8:30am to 2:30pm, with additional days over school holidays and Christmas/New Years. With the shuttle road being steep, and the geology of dirt, it gets pretty slippery after a bit of rain and the park does close down when it gets too wet. The latest park statues and updates are posted in the Boomerang Farm Facebook group at 7:30am each day.
---
This is the second instalment in our exploration of the Gold Coast. Be sure to check out our adventures at Nerang, Glossy Black Reserve, and the Old Tambo DH