The Giant Trance has been a hugely popular bike in Australia ever since it first arrived back in 2005. The Trance's commercial success has seen it spawn a number of offshoots over the years including the short-travel Trance 29, and more recently the Trance X 29, and its electrified cousin the Trance X E+ Pro 29. With all of those models being built around 29in wheels, you could be forgiven for assuming that Giant had forgotten about fans of the smaller wheelsize. We can assure you that Giant hasn't forgotten, because it's about to launch a brand new platform that's specifically built around 27.5in wheels. Introducing the Giant Trance X.
Giant Trance X 27.5 overview
Brand new for 2022, the Giant Trance X is based on the existing 29er version that launched last year. It shares a similar frame shape and it also utilises the Maestro dual-link suspension design, but it gets more squish with a 160mm travel fork and 145mm at the rear.
While the Trance X is designed to be enduro-capable, it's less focussed on outright speed. If racing between the tape is your jam, you'll still want to look towards the Reign 29. Instead, the 27.5in-wheeled Trance X is more of a rowdy long-travel trail bike that's up for a bit of everything, whether that's riding in the woods, hitting big jump lines, or ripping laps at the bikepark.
While there are fewer dedicated 27.5in bikes on the market these days, there are still plenty of big-name competitors for the Giant Trance X. That includes the Norco Sight, the Trek Remedy, YT Jeffsy, and the newly-updated Canyon Spectral.
Geometry to make the Reign blush
As we saw with the 29in version, the Giant Trance X 27.5 features a geometry flip chip and is equipped with some seriously progressive numbers.
In the Low position you've got an uber-slack 63.8° head angle, a steep 76.3° seat tube angle, and a substantial BB drop of 30mm. Flip that geometry chip into the High position and you'll lift the BB by 10mm and steepen the angles by 0.7°, which provides a much bigger change compared to the flip chips used on other bikes on the market.
Curiously, reach measurements are actually a little shorter than the 29er version. Our Medium test bike has a 447mm reach in the Low position, which is nearly 10mm shorter than the Trance X 29.
Also shorter is the rear centre length, which measures at 430-433mm depending on the flip chip position.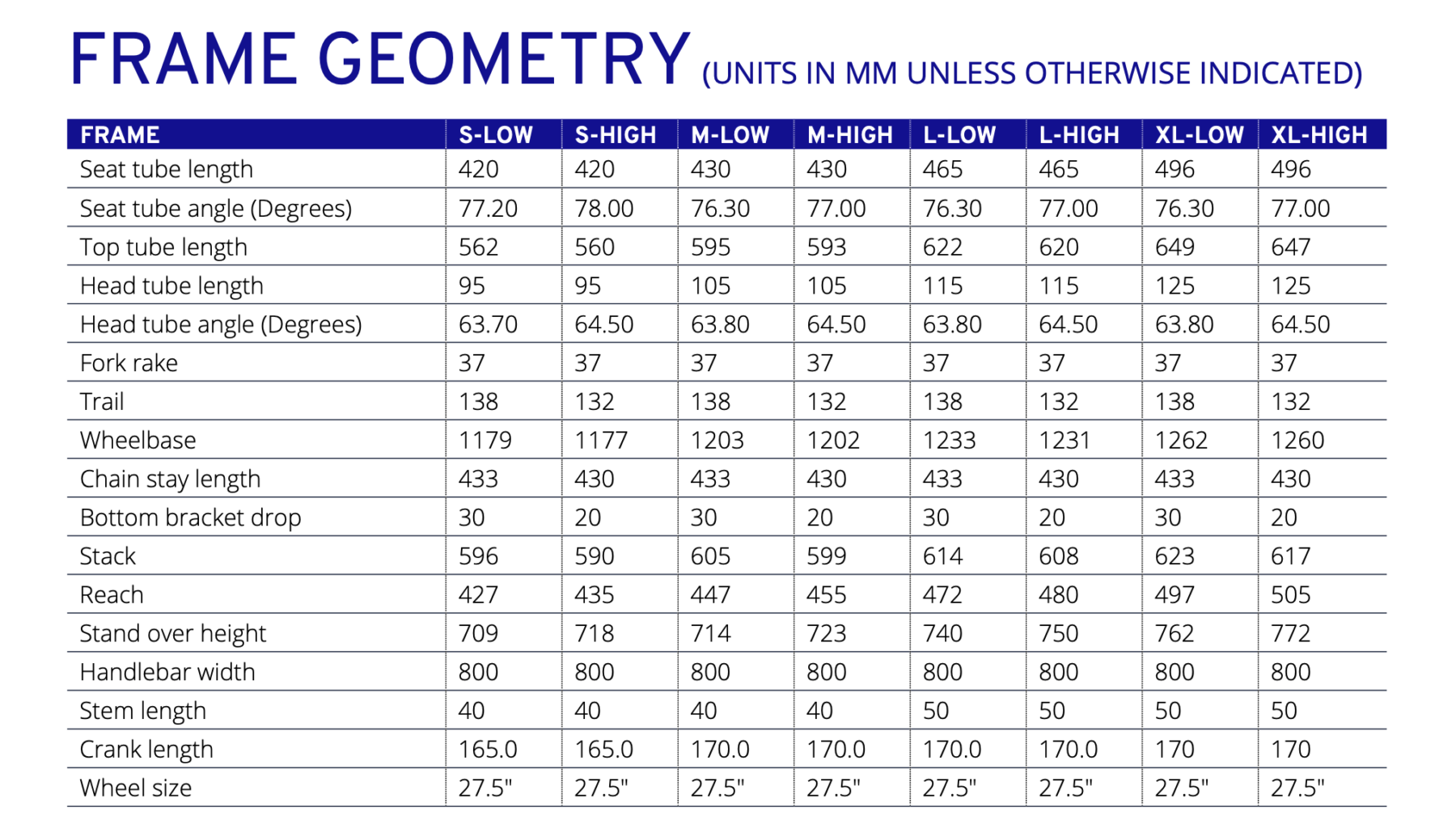 Ready to rip
Whereas the 29er version is offered in both alloy and carbon, the Giant Trance X 27.5 will only be launching with an alloy frame, which seems like a sensible choice. It employs Giant's ALUXX-SL hydroformed alloy tubing for the mainframe and one-piece swingarm, with a composite rocker link driving the trunnion-mounted shock via two cartridge bearings.
To ward off the abuse this bike is likely to encounter, there's thick rubber armour underneath the downtube, along with a ribbed chainstay protector to dampen chain slap. You also get ISCG 05 tabs, which the top model makes use of with a bash guard and upper chainguide.
Components are all very on-trend too. You get 2.6in wide Maxxis tyres, with an Assegai up front and a Minion DHR II on the rear. There are 4-piston brakes with big rotors, a short stem and 800mm wide handlebars on every size.
Giant Trance X price & specs
There will be two Giant Trance X 27.5 models coming into Australia for 2022, both built around the same alloy frame.
There's the Trance X 3, which sells for $4,399 AUD and comes with a RockShox Yari RC fork, a Fox Float DPS shock and a Shimano Deore groupset.
Then there's our test bike – the Trance X 1, which sells for $6,499 AUD and upgrades to a Fox 36 GRIP2 fork, a Float X shock and a SRAM GX Eagle drivetrain with Code R brakes.
We'll be putting the new Giant Trance X 1 to the test over the coming weeks to see exactly what this bike is all about and how it compares to the 29in version. In the meantime, you can check the specs and prices of the range below.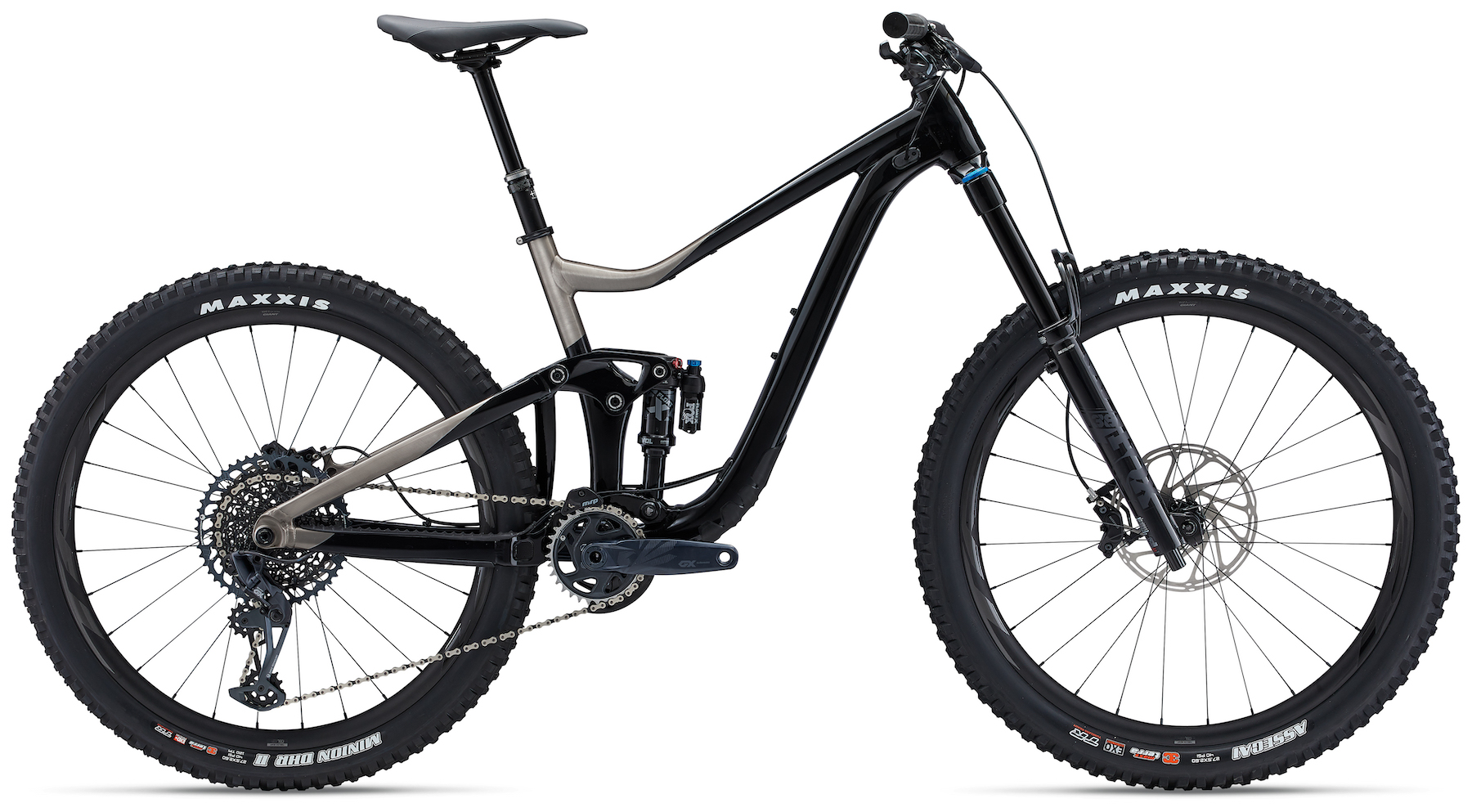 2022 Giant Trance X 1
Frame | ALUXX-SL Alloy, Maestro Suspension Design, 145mm Travel
Fork | Fox 36, Performance Elite, GRIP2 Damper, 37mm Offset, 160mm Travel
Shock | Fox Float X, Performance Elite, 185x55mm
Wheels | Giant TR-1 WheelSystem, Alloy Rims, 30mm Inner Width
Tyres | Maxxis Assegai EXO 3C Maxx Terra 2.6in Front & Minion DHR II EXO+ 3C Maxx Terra 2.6in Rear
Drivetrain | SRAM GX Eagle 1×12 w/GX Eagle 32T Crankset & 10-52T Cassette
Brakes | SRAM Code R 4-Piston w/200mm Front & 180mm Rear Rotors
Bar | Giant Contact TR35 Alloy, 20mm Rise, 80mm Width
Stem | Giant Contact SL, Length: 40mm (S-M), 50mm (L-XL)
Seatpost | TranzX, 30.9mm Diameter, Travel: 150mm (S), 170mm (M), 200mm (L-XL)
Saddle | Giant Romero
RRP | $6,499 AUD
2022 Giant Trance X 3
Frame | ALUXX-SL Alloy, Maestro Suspension Design, 145mm Travel
Fork | RockShox Yari RC, Motion Control Damper, 37mm Offset, 160mm Travel
Shock | Fox Float DPS, Performance Series, 185x55mm
Wheels | Giant AM 27.5, Alloy Rims, 30mm Inner Width
Tyres | Maxxis Assegai EXO 3C Maxx Terra 2.6in Front & Minion DHR II EXO+ 3C Maxx Terra 2.6in Rear
Drivetrain | Shimano Deore 1×12 w/Praxis Cadet 32T Crankset & 10-51T Cassette
Brakes | Shimano Deore 4-Piston w/203mm Front & 180mm Rear Rotors
Bar | Giant Contact TR35 Alloy, 20mm Rise, 80mm Width
Stem | Giant Contact SL, Length: 40mm (S-M), 50mm (L-XL)
Seatpost | Giant Contact Switch, 30.9mm Diameter, Travel: 125mm (S), 150mm (M), 170mm (L-XL)
Saddle | Giant Romero
RRP | $4,399 AUD