One of the benefits of living in Australia, besides riding to school in the pouch of a kangaroo, is that each year we get to see the new range from Scott and Avanti bikes a little ahead of the rest of the world. On a sunny Melbourne winter's day (an anomaly) we took a look at much of the 2016 lineup from Scott and Avanti, and here are our highlights.
---
Please note, many of these bikes are super-early samples, so parts spec isn't always 100% correct and they've been assembled hastily, so things might be a little screwy. If in doubt, consult your bike shop, and if pain persists, please see a doctor.
---
Scott
[divider]Genius[/divider]
On the whole, Scott's super adaptable, long-travel trail bike is largely unchanged for 2016. It continues to employ Scott's super effective (if slightly tangled-looking) Twin Loc on-the-fly suspension control, which is at the heart of this bike's do-it-all abilities.
There are, however, two extremely notable additions to the Genius platform; the Genius Plus (27.5+ wheels), and a new Contessa Genius (women's specific).
The Genius Plus is, for want of a better word, a 'sick' looking piece of kit. With its 2.8" Schwalbe tyres on 40mm rims and stoutly proportioned FOX fork, it looks pumped up to laugh at all the trail abuse you can dish out. Only the Genius 720 Plus ($4499.95) was on hand at this showing, but the higher specced 710 ($5999.95) will also be coming to Australia.
The frame uses the same basic architecture as the rest of the Genius line, but the rear hub spacing is 148mm wide (the new Boost standard) to accommodate the huge rubber. Compared to the Genius 29, the chain stays are 3mm shorter, and the head angle is half a degree slacker, at 67.5 degrees. Travel is 130mm out back and 140mm up front, though with the Twin Loc system you can shorten the rear travel to 90mm with the press of a button, or lock it out entirely.
Theoretically, you could run a set of standard 29" wheels in this bike, if you wanted to have lightweight set of hoops as well for cross-country use. It's an interesting idea, but not one that we'd bother pursuing.
What's really intriguing is how small the weight penalty is for all this extra traction. The tyres are sub 900g, which is only a smidgen heavier than a 27.5" trail tyre in 2.35", yet the volume difference is tremendous. The rims themselves have a small weight penalty too, when compared to a narrower rim, but having had the pleasure of running 40mm rims already for the past six months (we've been using the Ibis 741 rims non-stop – read our review here) we know the extra weight is a small price to pay for the extra support.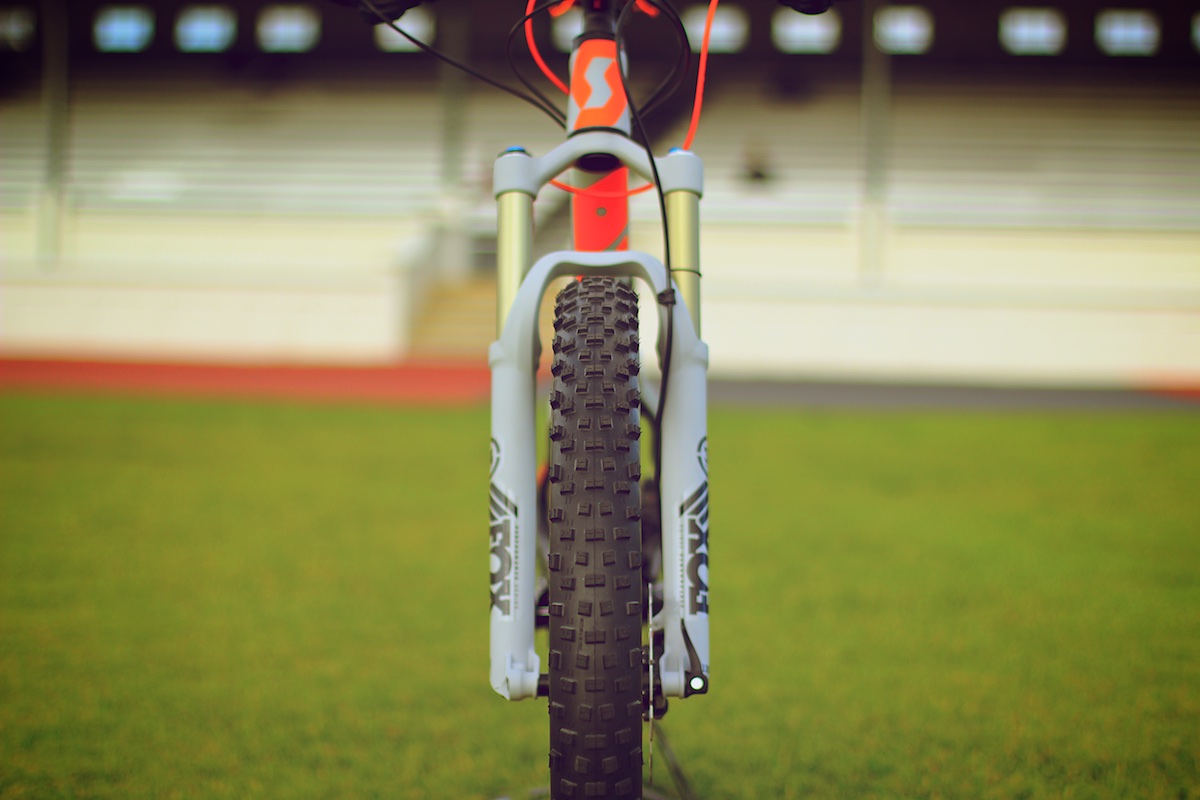 All up, the complete Genius 720 Plus weighs in at 13.8kg, and the higher specced Genius 710 Plus is only 13.2kg (lighter once you go tubeless). That's pretty respectable.
We have to say, we've really changed our thinking about this new wheel/tyre size. When we first heard of it, we wanted to scream, but now that we're learning more, all we can think about is riding faster and faster and faster with more control.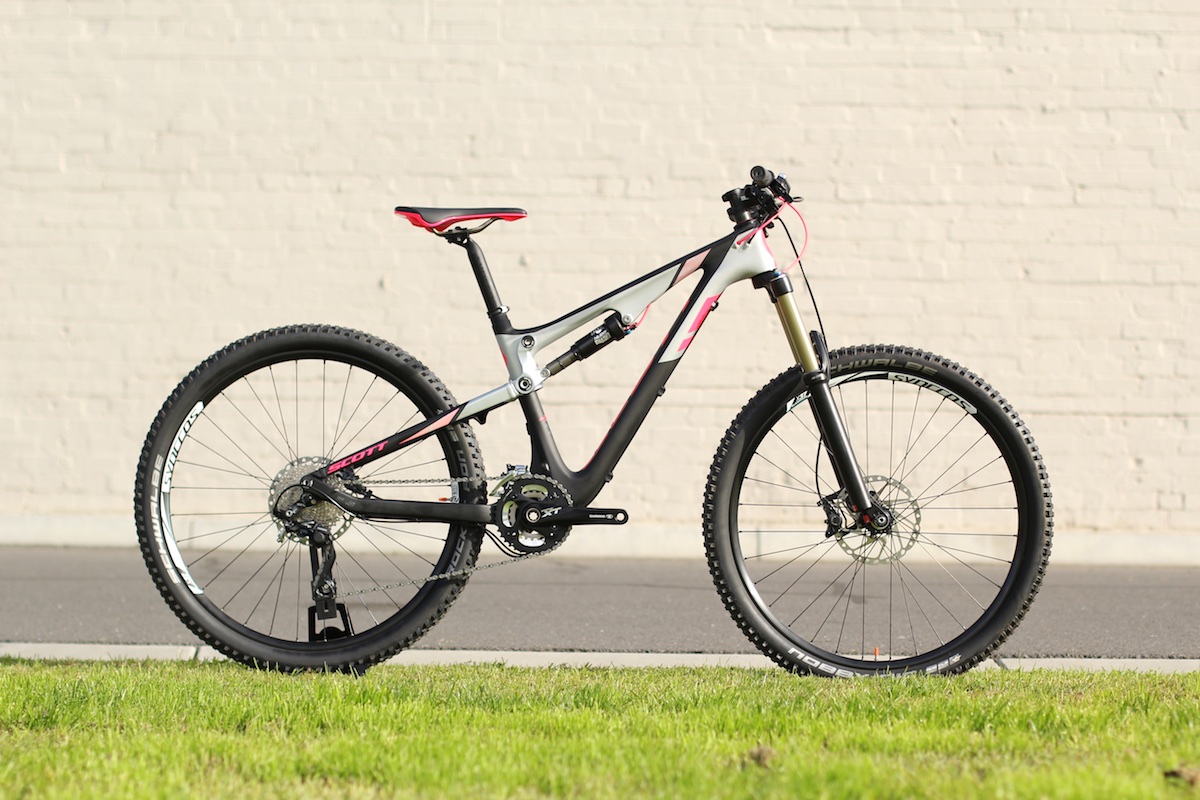 The women's trail bike market in Australia has been neglected for a long time, but Scott are doing their bit to rectify things with two models of the Contessa Genius coming to Australia in 2016.
To be fair, the Contessa Genius is a far cry from the all-out women's specific efforts we've seen from the likes of Specialized recently. Rather than being an entirely new bike, differences between the Contessa and the regular Genius are limited to component choices (shorter stem, narrower bar, different grips and saddle) and aesthetics.
What is cool about the Contessa Genius is that has the same 150mm-travel as the regular Genius – it doesn't skimp on travel, because plenty of women like to shred too.
[divider]Scale and Spark[/divider]
Scott's World Champ and World Cup winning rocketships don't receive any overhauls this year, but they do gain a grippier counterpart, with a new 27.5+ Scale Plus joining the ranks. Unfortunately the Scale Plus wasn't on display, but the catalogue tells us it's a more trail-oriented bike with a 120mm fork, shorter stem and generally radical attitude. It's also keenly priced, at $2299.
[divider]Voltage FR[/divider]
When Scott launched the Voltage a few years ago, it was met with mixed reviews. On the plus side, it was versatile bike that could be adapted for everything from all-mountain, to slopestyle to downhill use. Unfortunately it was pretty free and loose in the rear end and its chameleon-esque nature left people unsure of what to actually do with it.
For 2016 the Voltage makes a return to Oz. There are a few similarities with the Voltage of yesteryear; you can still adjust the travel (170-190mm) and the bike is suitable for either single-crown or double-crown forks. Like the Gambler, it's also designed for either 27.5″ or 26″ wheels, the smaller wheels giving you the option of dropping the chain stay length to a sneeze-and-you'll-wheelie 410mm.
There are two Voltage models coming to Australia. The 710, pictured here, is $5499 and weighs in 16.7kg with a FOX 36 RC1 with 180mm travel up front. For $3599 you can pick up the 720, which has a cheaper FOX/Marzocchi suspension package.
---
Avanti
Hailing from across the lake in NZ, Avanti have been producing some outstanding, no-nonsense workhorse bikes lately. We recently reviewed Torrent Carbon, and earlier in the piece we tested their Ridgeline cross-country 29er duallie. For 2016 Avanti have added a whole new model to their dual suspension range, and made a well-considered change in the Torrent line-up.
[divider]Competitor Full Suspension[/divider]
The new Competitor S (is it just us, or has Avanti had a Competitor since Adam was a boy?) is a 120mm-travel, 27.5″ wheeled platform that represents extremely good value. With two models, priced at $1999 and $2499, it's a simple range to get your head around, which is ideal given it's aimed at the consumer buying their first serious mountain bike.
Both Competitors share many of the construction elements found on the bomb-proof Torrent frame, but get a quick-release rear end to keep costs down. It's small costs savings like that which have allowed Avanti to put more money into the areas which are more likely to be appreciated by a newer rider, things like a reliable drivetrain, good brakes and decent, tough wheels.
$2500 will get you the Competitor S7.2 with Shimano XT/Deore 2×10 drivetrain and RockShox throughout, while the cheaper S7.1 gets X-Fusion suspension and full Deore with down-specced brakes. Either way, these are a really dialled looking pair of bikes and we're going to aim to review one in the coming months.
[divider]Torrent S7.2[/divider]
We really like the look of this one. The S7.2 is the premium alloy offering in the Torrent line, and it's got the kind of no-stuffing-about component spec that we like. It's good to see a 1×11 XT drivetrain, along with SLX brakes, and a Pike is a unbeatable choice up front. The new Kenda Nevegal X tyres look pretty aggro too!