Jack reviews the 2023 Merida One-Forty
Last year saw the arrival of the new generation Merida One-Forty and One-Sixty. Built around a new frame and suspension platform, the latest One-Forty and One-Sixty have incorporated a whole suite of clever features that come together to make these some of the most progressive full suspension bikes on the market. That's a big deal for Merida, which has historically been quite a conservative brand.
We've already had the opportunity to review the One-Sixty, and aside from a few niggling issues, we were blown away by its suspension performance, intuitive handling and nifty wheelsize adaptability. We've since received its shorter travel counterpart, and have been riding the heck out of it to see if the same magic can be found in a smaller, lighter and perhaps even more approachable package.
---
Watch our Merida One-Forty video review here:
---
The new Merida One-Forty is a fantastic example of a modern, do-it-all trail bike.
An overview of the Merida One-Forty
The Merida One-Forty is designed to be a versatile all-round trail bike. It rolls on 29in wheels, and it's equipped with a 150mm travel fork and 143mm of rear travel. That puts it into a similar space as the latest Trek Fuel EX, Scott Genius and Specialized Stumpjumper EVO.
Offered in both carbon and alloy variants, the One-Forty frame is actually identical to the One-Sixty. The use of a shorter fork and shock stroke reduces the travel, and Merida distinguishes the two bikes further by fitting faster-rolling tyres and lighter duty suspension on the One-Forty.
One of the big changes over the previous frame is the move to the Flexstay suspension design. This single-pivot platform relies on a small amount of flex through its seatstays as the shock cycles through its travel, while a compact linkage controls the leverage rate.
Tucked away in the linkage is a two-position flip chip that allows the One-Forty to be run as a mullet with a 27.5in rear wheel. The geometry is said to be maintained between the two wheelsize setups, though rear travel does increase to 151mm.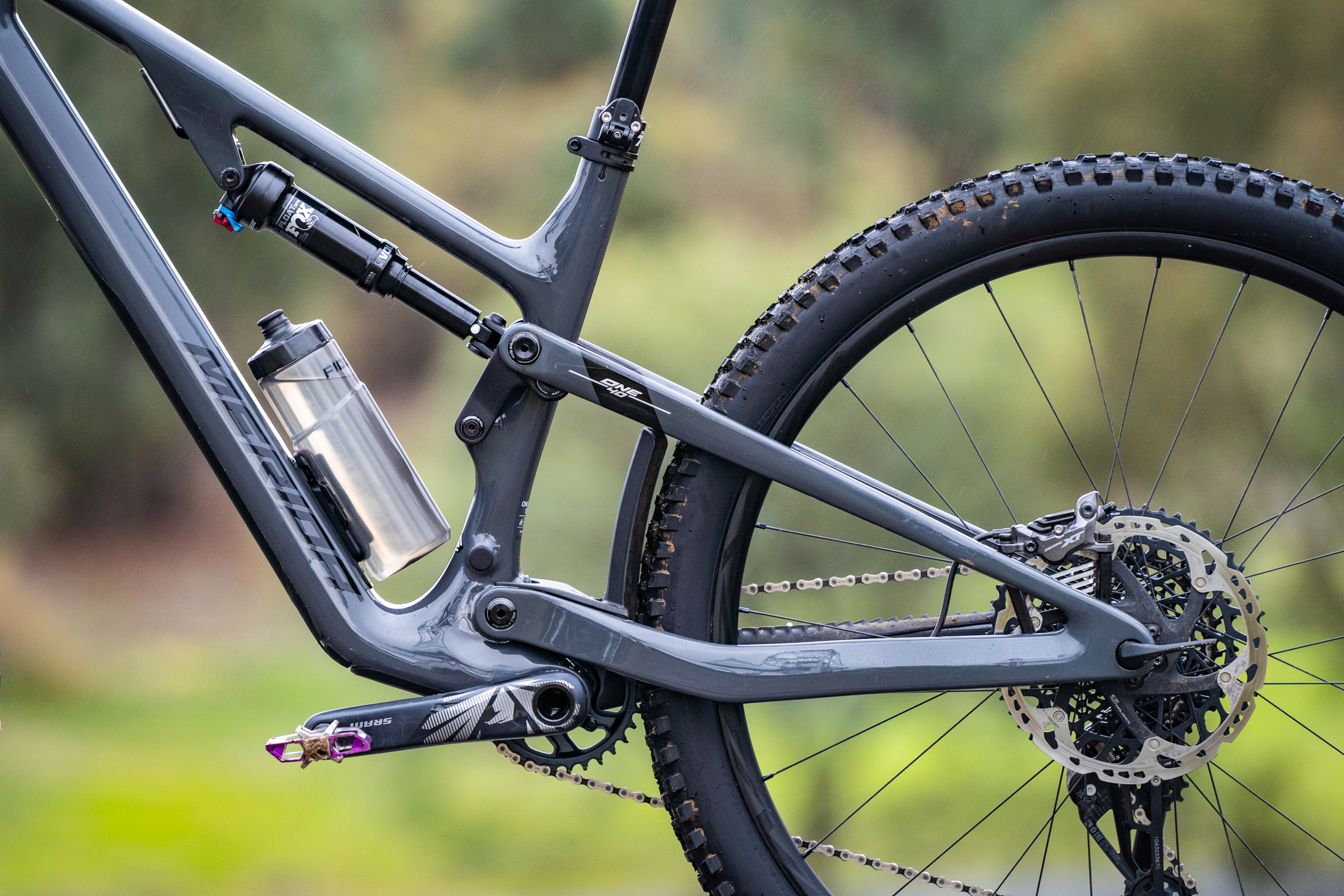 Merida One-Forty geometry & size chart
As with its bigger sibling, geometry on the Merida One-Forty is very progressive. Because of the 20mm shorter fork travel, the angles are a degree steeper on the One-Forty, with the head angle coming in at 65° and the seat angle clocking in at an incredibly steep 80°.
There are five sizes available in the One-Forty lineup, and all have been designed with short seat tubes and low stack heights that encourage you to choose your frame size based on reach. The bigger sizes then come with higher-rise handlebars and plenty of headset spacers for bringing the bars up to suit a taller riding position.
The One-Forty also features the same 230mm travel Team TR dropper post, which can be adjusted down to just 30mm of travel. The idea is that you insert the post fully into the frame, then adjust the post's travel until you have your preferred saddle height. It's a clever concept, and the idea is to allow everyone to get the most amount of drop possible.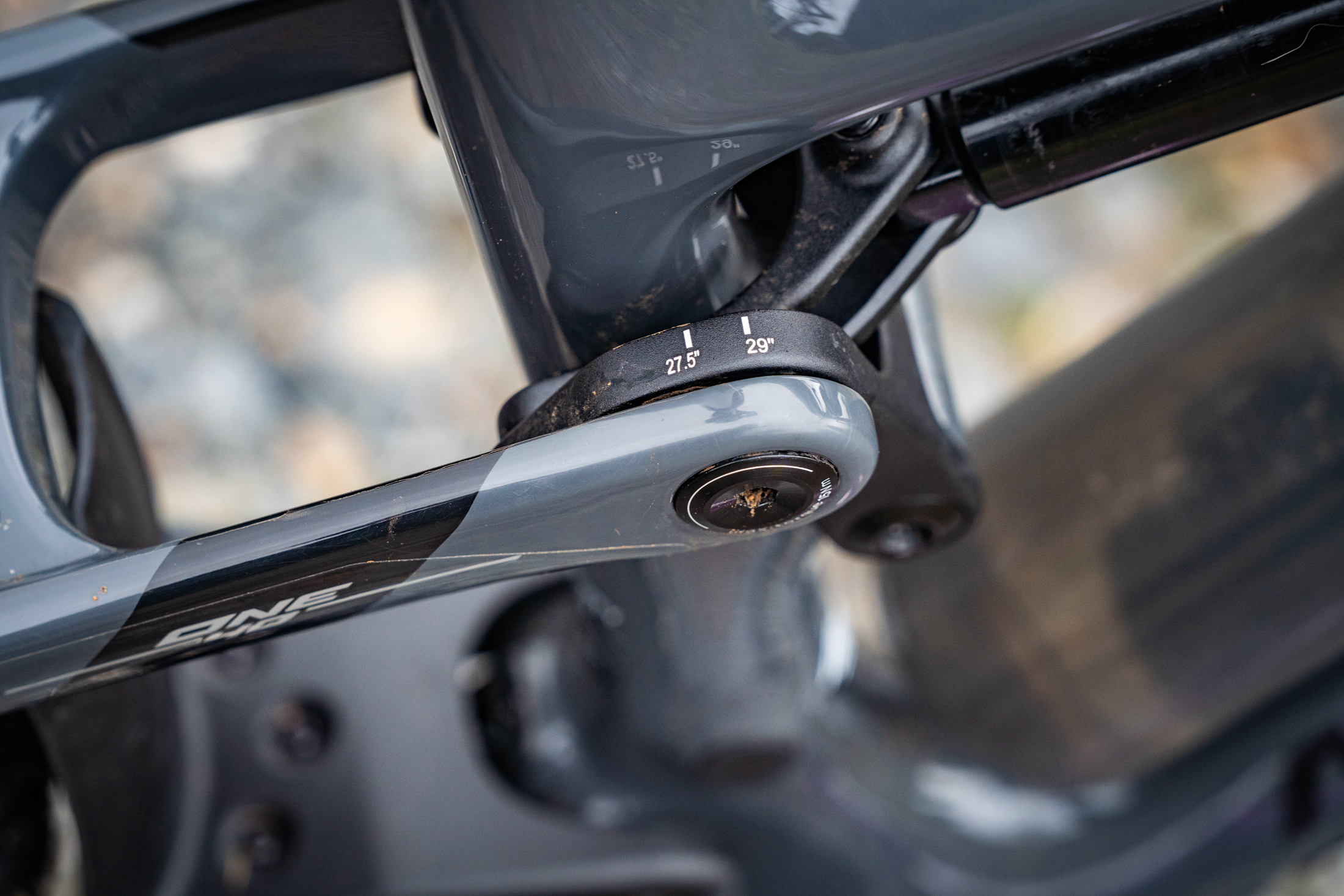 Merida One-Forty price & specs
There are six models in the 2023 Merida One-Forty lineup; three with alloy frames and three with carbon frames.
Prices start at $3,299 AUD for the One-Forty 400 and go up to $11,499 AUD for the One-Forty 10K. For further details on the full lineup, and how they compare to the One-Sixty, see our range overview for more.
The bike we've been testing sits one step down from the top. It's the Merida One-Forty 8000, and the current sticker price is $8,999 AUD.
2023 Merida One-Forty 8000
Frame | CF4 Carbon Fibre, Flexstay Suspension Design, 143mm Travel
Fork | Fox 36, Performance Elite, GRIP2 Damper, 44mm Offset, 150mm Travel
Shock | Fox Float DPS, Performance Elite, 230×57.5mm
Wheels | Race Face Turbine R30, Alloy Rims, 28mm Inner Width
Tyres | Maxxis Minion DHF EXO 3C MaxxTerra 2.5in Front & Dissector EXO+ 3C MaxxTerra 2.4in Rear
Drivetrain | SRAM GX Eagle AXS 1×12 w/30T Crankset & 10-52T Cassette
Brakes | Shimano XT 4-Piston w/203mm Rotors
Bar | Merida Team TR, Alloy, 780mm Width, Rise: 18mm (XS-S), 30mm (M-XL)
Stem | Merida Expert eTR11, 50mm Length
Seatpost | Merida Team TR, 34.9mm Diameter, 30-230mm Travel
Saddle | Merida Expert SL, V-Mount w/Merida Minitool
Claimed Weight | 14.65kg
RRP | $8,999 AUD
The result is a versatile trail bike that's a whole lot of fun to ride whether you're a new or experienced rider.
Merida One-Forty weight
Confirmed weight for our Merida One-Forty 8000 test bike is 14.43kg without pedals and with the tyres set up tubeless. That's a bit lighter than claimed, which is always nice.
It's also half a kilo lighter than the One-Sixty 10K we tested recently, which partly comes down to the lighter Fox 36 fork and Float DPS shock. Merida has also spec'd lighter casing tyres on the One-Forty, with a Dissector EXO+ on the rear and a Minion DHF EXO on the front.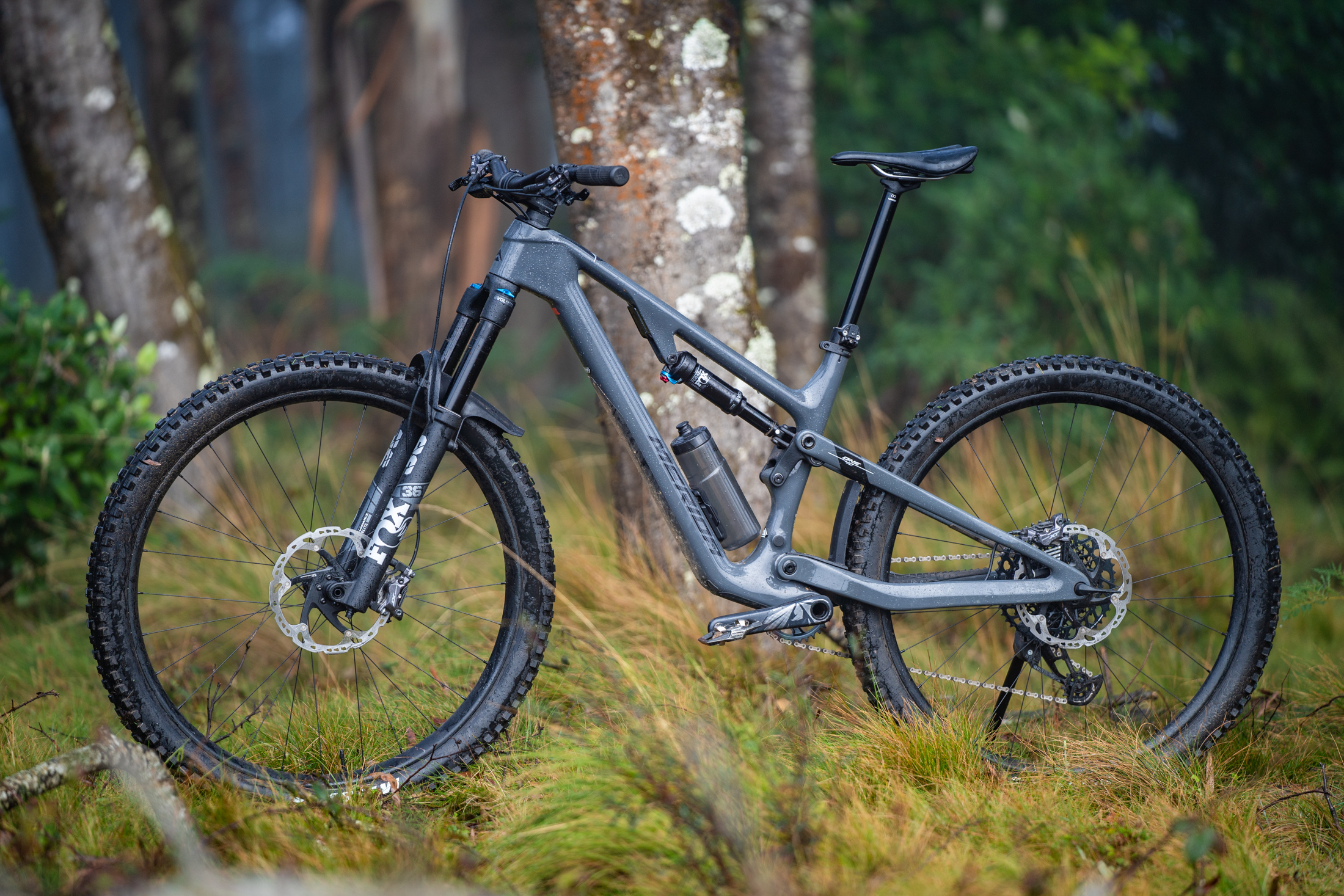 Testing the Merida One-Forty
To put the new Merida One-Forty to the test, we put it in the hands of our stylish enduro racer Jack. Having spent most of the summer testing the One-Sixty in both its mullet and full 29er configurations, he was eager to see how the shorter travel platform would compare. Here we chat with Jack about his experience of testing the Merida One-Forty over the past few weeks.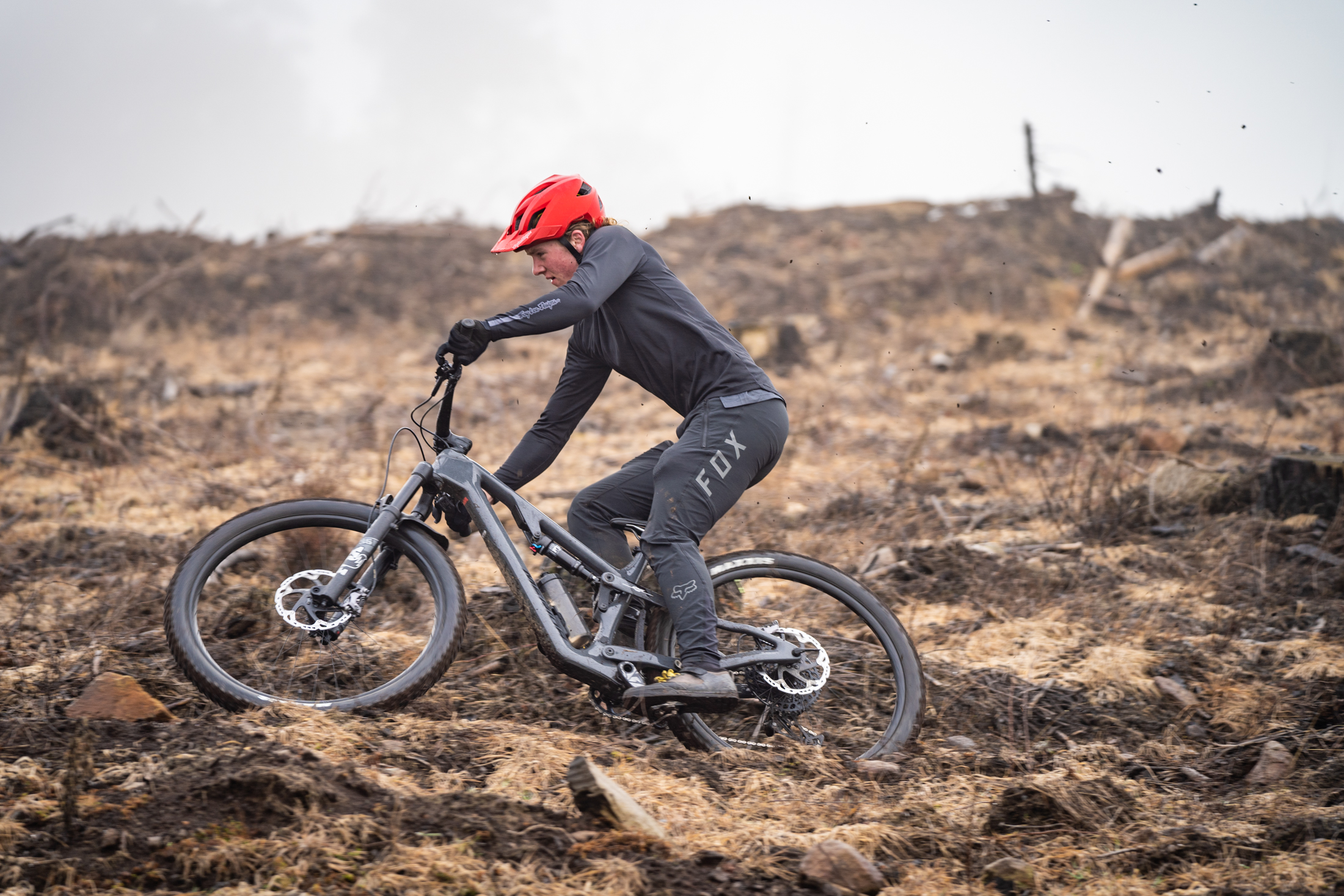 How have you found the fit of the bike?
At my height of 175cm, Merida's online size calculator recommends the Mid size. It suggests I could size down to a Short size for more agility, or upsize to a Long for more stability, as the adjustable dropper and low stack height makes it possible to shift between frame sizes depending on your personal preference.
I ended up going for the Mid size, and the riding position is generally comfortable. However, despite the 480mm reach, I did notice that the extra steep 80° seat angle made the climbing position feel a little cramped during longer climbs. I ended up sliding the saddle backwards to get a little bit more room to move. Once the dropper is lowered however, the riding position becomes more open and feels comfortable for all-day descending.
Merida has designed the One-Forty to make it easy to up or down-size as needed. Do you think you'd be able to ride a different frame size?
While I enjoyed the nimble feeling of the Mid size, going up to a Long would provide better stability, especially at higher speeds. However, Merida has incorporated a clever flip-chip that allows you to run a smaller 27.5in rear wheel while maintaining consistent geometry between wheel sizes. This would allow you to retain the nimble feel of a smaller bike even when upsizing. If the One-Forty were my only bike, I would consider buying the next size up to enhance stability while still benefiting from the mullet option.
How have you found the contact points?
The contact points are pretty comfortable, although I found the grips to be a bit hard and slippery when wet. The dropper post has been interesting, as I've been able to set my saddle height with the maximum 230mm travel even with the post fully inserted into the seat tube. This has allowed me to slam the saddle and get it right out of the way on the descents.
Suspension and tyre setup
To help with suspension setup on the Merida One-Forty, there's a handy online guide that provides you with all the technical details of the bike.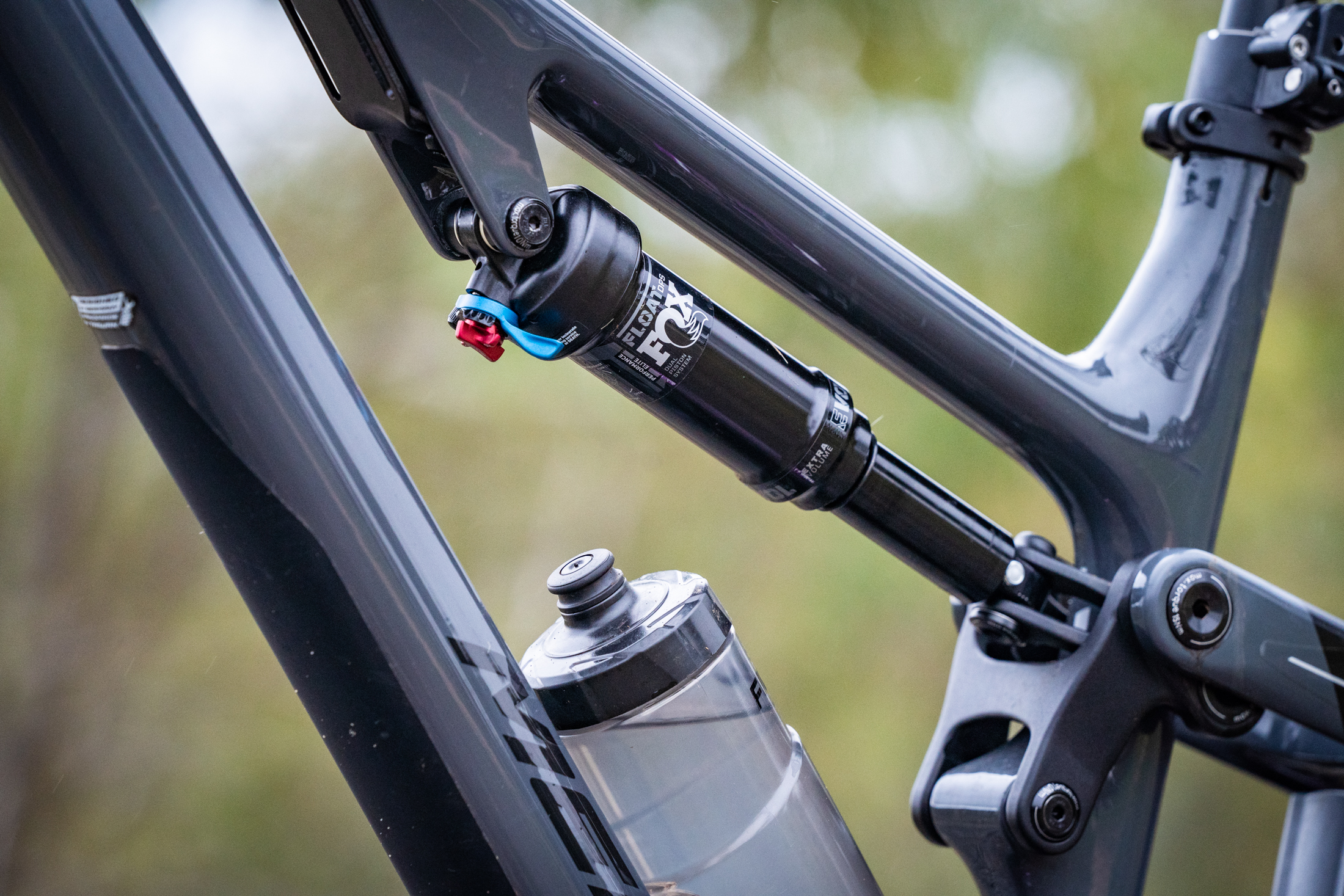 Merida recommends 30% sag for the rear shock, and I needed 175psi in the Fox Float DPS shock to suit my 75kg riding weight. I ran the recommended air pressure in the Fox 36 and set the compression adjusters 5-6 clicks in from the most open position.
I've been experimenting with running rebound damping on the quicker side lately, and I settled on just 2-3 clicks off the fastest setting for both the fork and shock.
For my local trails, which are quite rocky and janky, I've set tyre pressures at 23psi on the front and 25psi out back. I also have a CushCore Pro insert installed in the rear wheel.
What do you dig about the Merida One-Forty?
In my opinion, the standout feature of the Merida One-Forty is its versatility. With similar geometry to the One-Sixty, it instils confidence on tight, steep and technical trails. However, the shorter travel platform gives it a stouter and more responsive feel, and that makes it great fun on more open flow trails where you can really throw it around.
There's excellent support from the suspension, and it pedals really well even with the shock's compression lever in the Open position. The geometry strikes a great balance, and I've found it to be comfortable for longer days in the saddle while still being playful when jibbing around on shorter rides.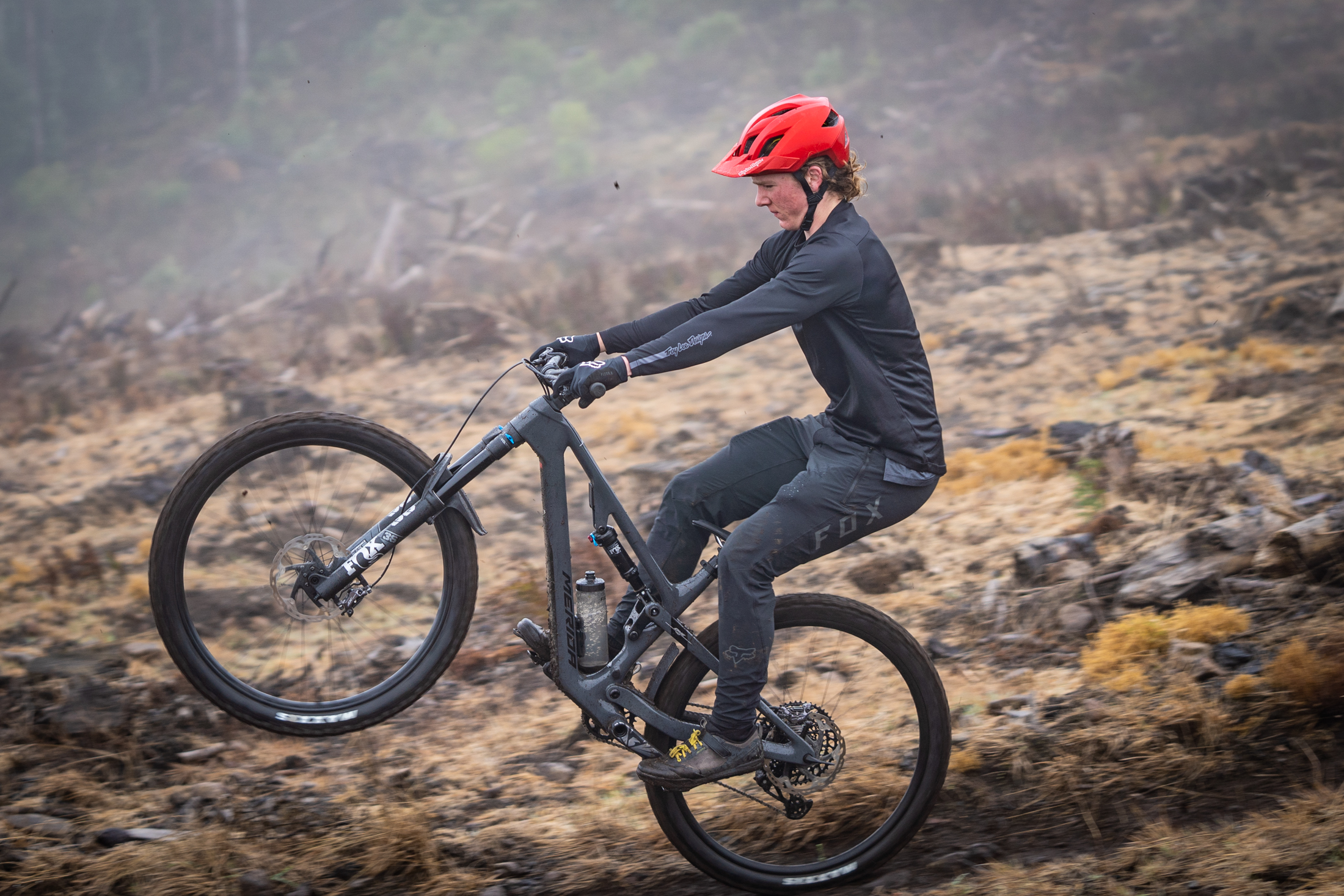 What kind of terrain does it perform best on?
The Merida One-Forty performs exceptionally well on flowy trails and terrain with a bit more pedalling involved. The supportive suspension and efficient pedalling performance gives it plenty of enthusiasm when you need to hustle, and it doesn't suffer from excessive bobbing during out-of-the-saddle efforts.
Despite this sporty feel, there's still good traction and bump absorption to allow the rear wheel to track smoothly on rocky and rooty trails. It's not as plush as the Specialized Stumpjumper EVO, but it's much smoother and more compliant than the Trek Fuel EX. I think that Merida has found the sweet spot in designing a bike that's plush enough to push hard but not at the expense of pedalling efficiency.
Any comments on the Flexstay suspension design?
Overall I've found the suspension performance of the Merida One-Forty to be quite impressive. The Flexstay design helps to reduce weight and it makes the back end simpler as there's less pivots and bearings to worry about.
Even though it doesn't have a pivot at the dropout, the Flexstay design is hardly noticeable compared to a standard rear end. It's very smooth and active, which makes sense as Merida claims there is minimal flex needed through the seatstays due to the way it has designed the suspension layout.
The only time I thought I noticed the Flexstay design was when you get a bit deeper into the travel. It feels as though it adds a little bit of extra progression, though this may simply be down to the leverage ratio. Either way, it helps to keep the bike riding a bit higher in the travel during sustained hits, which is a good thing.
What about the geometry and handling package?
The geometry of the Merida One-Forty makes it feel quite nimble and, combined with the low weight, contributes to the overall agility and fun factor.
I will say that the front end is a bit low compared to many bikes of similar size, so I think taller riders and anyone that's riding steeper terrain will want to fit a higher-rise handlebar.
Personally I didn't find it compromised too much on stability or comfort though, and it certainly encourages you to push harder on the climbs. The longer reach and steep seat angle puts you in a great pedalling position when you're going uphill.
What has it struggled with?
As you'd expect, the Merida One-Forty isn't as planted as a full-on enduro bike when bombing down fast and chattery trails. This can be put down to the 65° head angle and the lower stack height, which means it isn't as stable or predictable a higher speeds. It doesn't significantly hinder the performance or ride quality, but it's an area that may have been slightly compromised to create a more nimble bike rather than one that prioritises outright stability.
Any specific terrain or trails that it falls short on?
For the most part I found the Merida One-Forty to excel on the majority of trails I took it on. However, it may not be the ideal choice for fast and really rocky trails where stability is paramount. I expect this would change if I decided to upsize to the Long frame size, which would increase the reach and the overall wheelbase length. However, this would impact on the nimble and playful nature of the bike, and I think if you were thinking along those lines then you'd be better off looking at the One-Sixty instead.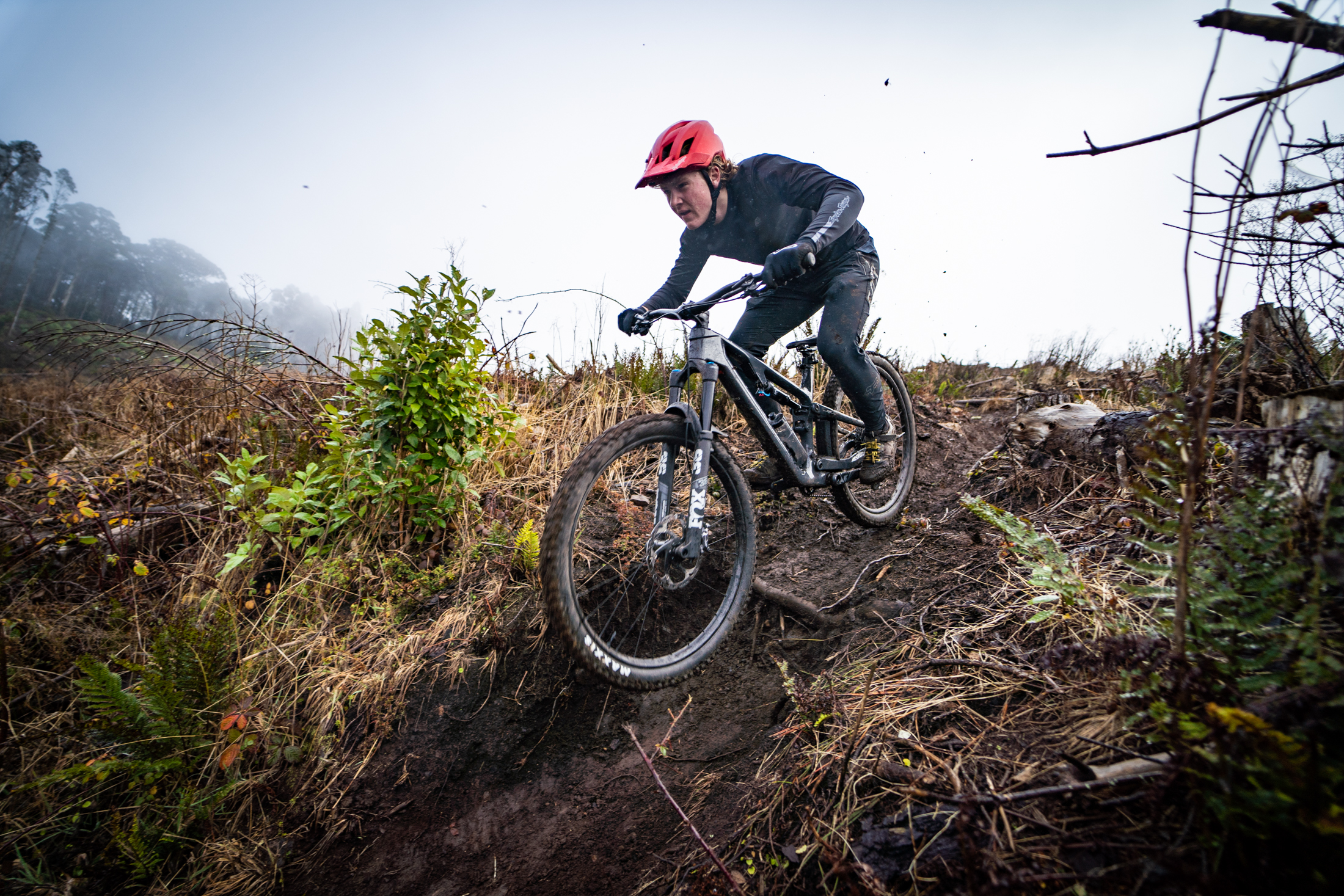 What kind of rider do you think this bike would suit best?
The Merida One-Forty is a really versatile trail bike that will suit a broad range of riders and terrain.
It's a great choice for those who prioritise fun and manoeuvrability, and who want a playful bike for jibbing and messing around on. Additionally, the efficient pedalling performance and centralised riding position work well on the climbs, and that makes it suitable for riders who value versatility and comfort during all-day rides.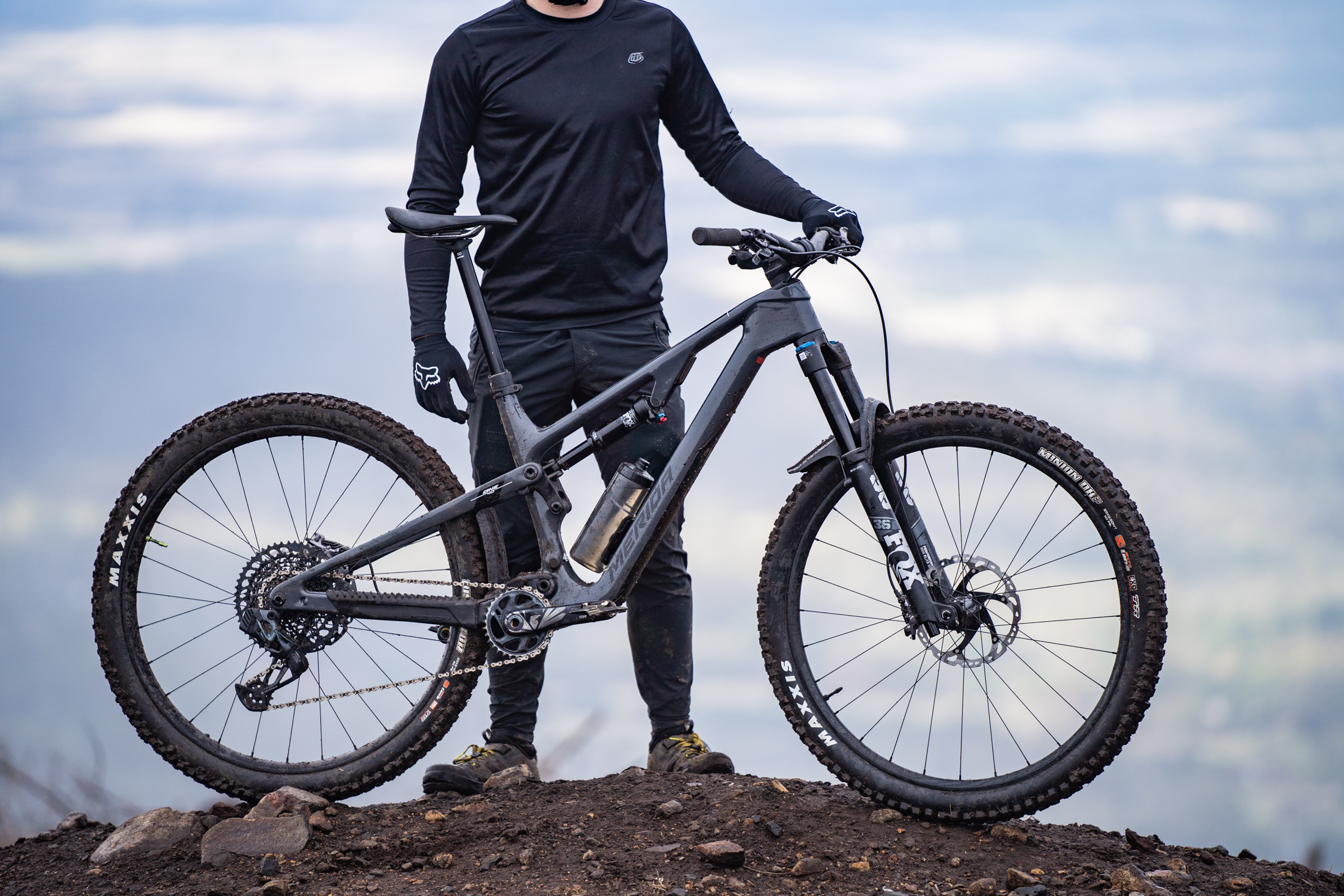 Component Highs & Lows
In terms of value for money, the Merida One-Forty 8000 offers a compelling package. With a full carbon frame, Fox Performance Elite suspension, high-end Race Face alloy wheels and the excellent Maxxis tyres, Merida has provided a solid lineup of quality components at a reasonable price point. This would be the spec level I would choose personally.
I've been particularly impressed by the GX AXS drivetrain, which offers precise and crisp shifting with the convenience of a wireless setup. Another standout component is the Shimano XT 4-piston brakes. I like that Merida has spec'd 203mm rotors front and rear, which is bigger than what you'll find on most trail bikes, and they help to deliver an amazing amount of power.
Have you encountered any issues?
While the components on the Merida One-Forty are generally pretty solid, the dropper post has been a slight disappointment. It works fine, but it isn't as smooth as a Fox Transfer or RockShox Reverb.
Also, when I first built up the bike out of the box, I needed to extend the travel to bring it to the full 230mm. Since then we've tried to reduce the travel so another tester could ride the bike, but unfortunately the adjuster mechanism is no longer working. It's been suggested to us by Merida that we might not have performed the initial travel increase correctly (as per the instructional video), which would have damaged the mechanism and therefore rendered it useless.
Those who follow our reviews here at Flow will know that we encountered the same issue with the Merida One-Sixty. So while we love the concept of the adjustable dropper, we're less convinced by the execution. I will point out here that any customer that experienced the same issue as us would have the dropper replaced under warranty, which is reassuring.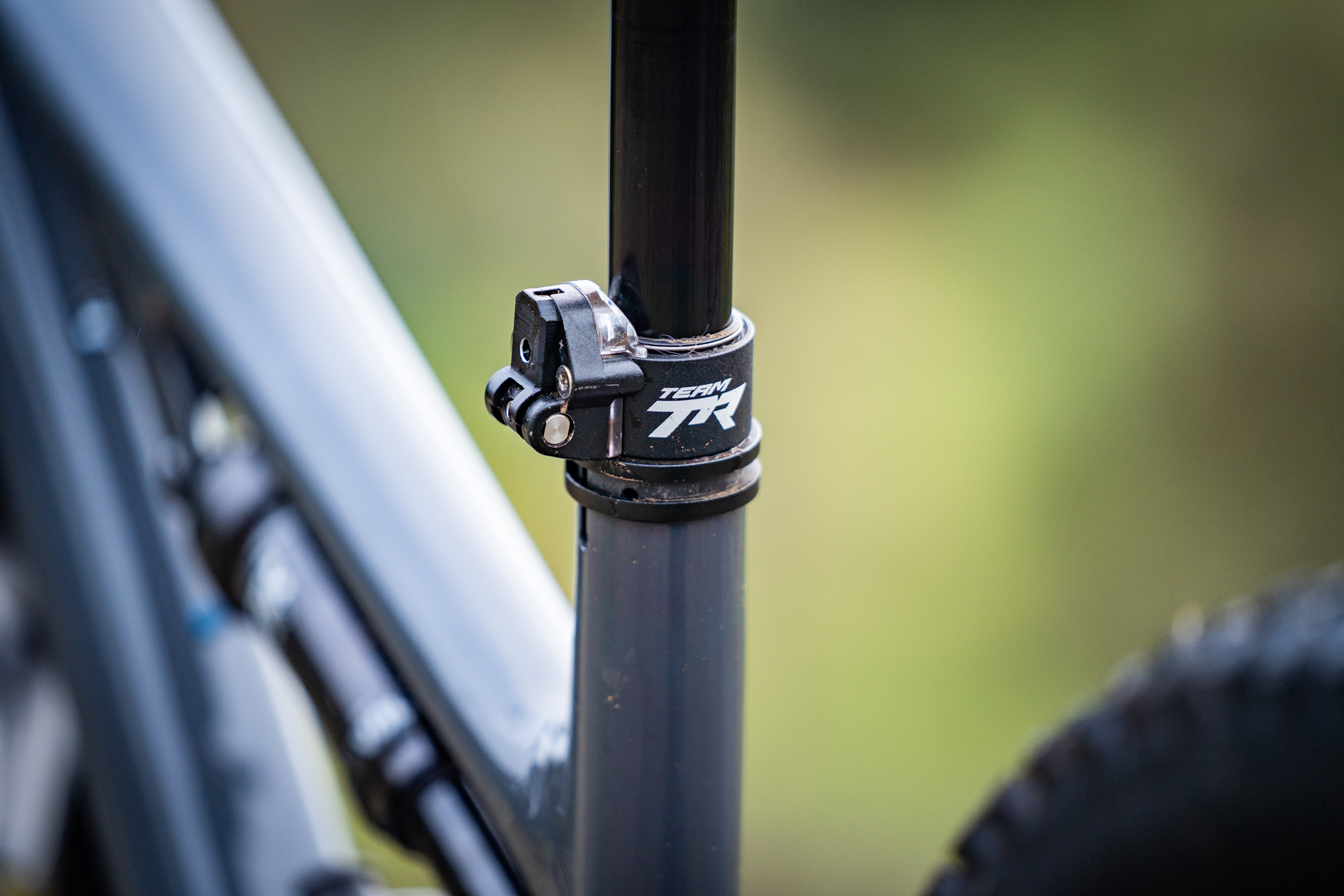 Also like the One-Sixty, the headset on the One-Forty started creaking from the first ride, albeit not quite as bad. After speaking with Merida, we confirmed that our test bike is a production model that features an updated headset design with tighter tolerances. Even still, there is some movement between the alloy split ring and the upper headset bearing, which in our case has resulted in creaking.
To solve this issue Merida is changing to a new split headset design made by Acros. This headset features a plastic guide that will also be more gentle on the cables and brake hose that pass through it. The new Acros headset will make its way into production models, and will also be available through Merida as a replacement part for any existing One-Forty and One-Sixty owners experiencing the same issues that we have.
Lastly I also encountered a minor problem with the Fox 36, which started leaking oil from one of the main wiper seals early on during testing. The fork has been okay to ride, but it's obviously not a great experience on a bike that costs $8,999 AUD. Like the headset and dropper post, this is an issue that would be covered under warranty if it occurred during the first 12 months of ownership.
What upgrades would you make if this were your bike?
If the Merida One-Forty were my bike, there are a few changes I would make. I would change the grips to my personal preference, and I would consider upgrading the dropper post. Also, if I intended to ride more gnarly and technical trails, I would invest in a 27.5in rear wheel. I found that I tend to buzz my arse on the rear tyre on steeper trails, so a bit more clearance would be great and a smaller rear wheel would also make the bike even more nimble.
Merida One-Forty vs One-Sixty
Having spent a significant amount of time on the Merida One-Sixty, I have found that the One-Forty shares many of its ride characteristics.
The One-Forty builds upon its bigger sibling's playful nature and confidence-inspiring geometry, but with the short travel design, it's even livelier and more responsive. It doesn't handle the chunky terrain quite as well, but the One-Forty offers more balanced performance across a wider range of trails. It's more efficient, and the steeper seat angle puts you in a better position on the climbs without compromising too much when the trail starts to point down. The lighter and faster-rolling tyres certainly contribute to its speedier quality on undulating terrain. If you're looking for an all-round trail bike to take on long pedally rides in the hills, the One-Forty is the obvious choice.
On the other hand, if your riding preferences lean more towards aggressive enduro-style riding and shuttle-assisted descending, the One-Sixty will be the better option. It delivers more confidence and stability on chunky terrain, allowing you to push that bit harder and take more aggressive lines while enjoying a bigger safety net when things go wrong.
Of course one of the neat features of the One-Forty and the One-Sixty is the fact that they share an identical frame. By changing the shock stroke and fork travel, you could essentially switch between the two platforms. The frame is also compatible with coil shocks and forks with up to 180mm of travel, so there's a lot of scope for adapting the setup to your preference.
You could even create something that sits in the middle. You could run the One-Forty as a mullet to increase rear travel to 151mm, and fit a 160mm air spring in the Fox 36. That would lift up the front end a touch and give you a bit more suspension without having to shell out for a whole new fork and shock.
Flow's Verdict
The new Merida One-Forty is a fantastic example of a modern, do-it-all trail bike. It's a calm and comfortable climber thanks to its efficient pedalling performance, uber-steep seat angle and respectable weight. It manages to balance this with plenty of grip and control on the descents, while being more agile and responsive than its bigger sibling. The result is a versatile trail bike that's a whole lot of fun to ride whether you're a new or experienced rider.
While we were mighty impressed with the chassis and contemporary build kit, our test bike wasn't flawless. Quality control issues with the headset and dropper post left us with a sense of déjà vu from our time with the One-Sixty. Merida is confident these issues will be resolved for consumers, and we certainly hope so, as there's plenty to like about the bike and we love the concept of the adjustable dropper.
We've otherwise enjoyed our time with the Merida One-Forty, which has grown to become one of the best trail bikes on the market.