Wil reviews the Scott Lumen eRIDE
The Scott Lumen eRIDE caused quite the stir when it debuted at the tail end of last year. Featuring a striking carbon chassis based on the excellent Scott Spark, the Lumen doesn't just hide its shock inside the frame, but a compact TQ motor and a slim 360Wh battery as well. It still manages to boast an incredible claimed weight of just 15.5kg in its top-end trim, making it easily the stealthiest and lightest electric mountain bike we have ever seen.
As impressive as it is, the Lumen still left us scratching our heads. It's not exactly big on travel, and it also comes fitted with dainty XC tyres. Along with the TwinLoc remote-controlled suspension, the Lumen takes quite a different approach to other lightweight e-MTBs like the Trek Fuel EXe, Orbea Rise and Specialized Levo SL. Does different equal better? We've been riding the Scott Lumen for the past couple of months to see if this unique e-MTB could enlighten us.
---
Watch our video review of the Scott Lumen eRIDE:
---
As it turns out, the Lumen isn't your average e-MTB. Indeed this is a seriously rapid trail bike that is defined by its sporty handling and terrific agility.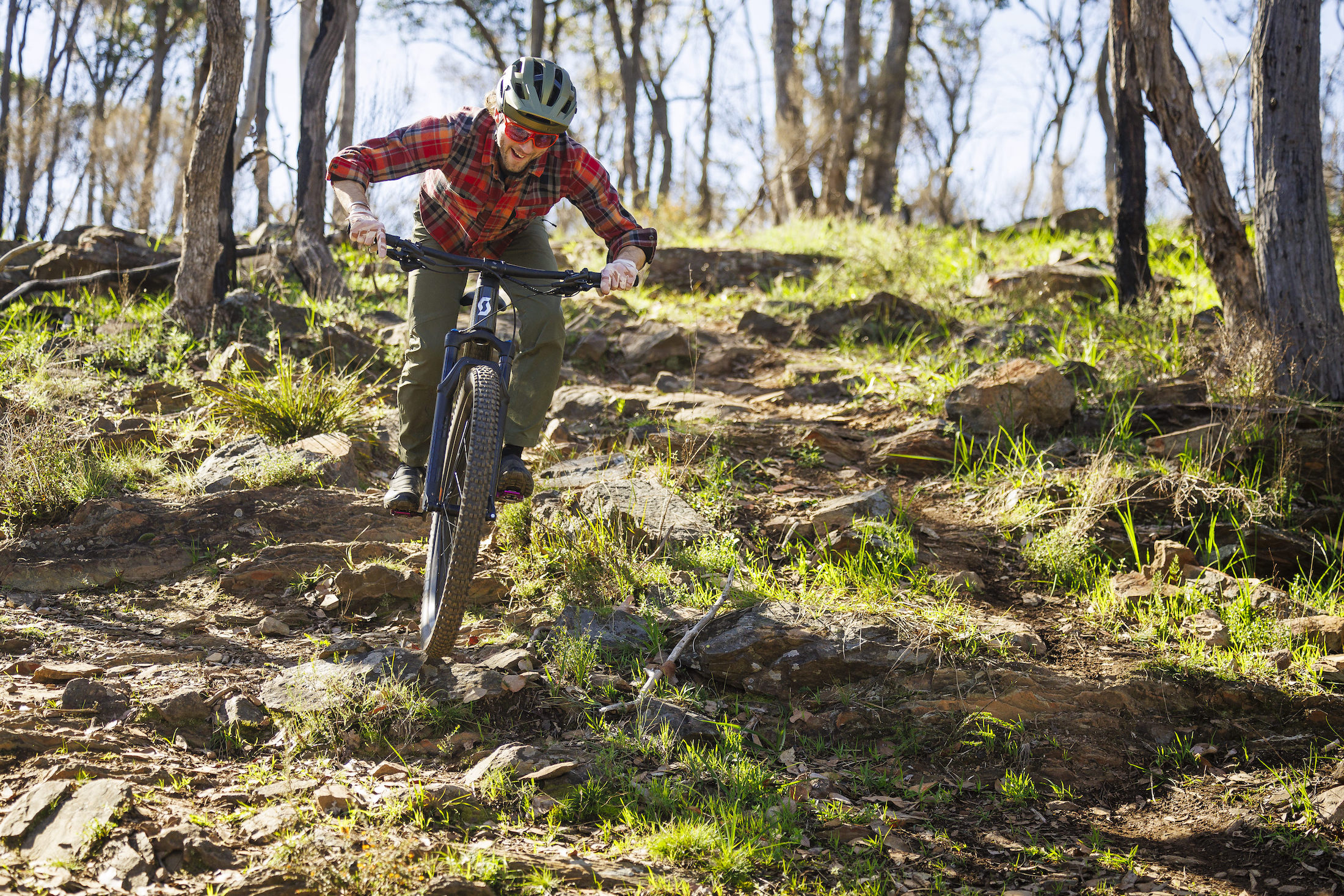 An overview of the 2023 Scott Lumen
Put simply, the Scott Lumen is an electrified Spark. Designed for XC and trail riding, the Lumen is equipped with 29in wheels and 130mm of travel front and rear.
The frame is made from HMX carbon fibre, with a one-piece swingarm that relies on a small degree of flex through the seatstays as the rear suspension cycles through its travel. The Fox Nude 5T shock is positioned vertically inside the seat tube where it's driven by a bell crank that connects to the external rocker link via a splined axle.
Both the shock and fork are cabled up to the TwinLoc remote at the handlebar, which offers three distinct suspension modes;
Descend – Both fork and shock are wide open
Traction Control – Rear suspension limited to 90mm travel, compression damping increased in both fork and shock
Lockout – Both fork and shock are locked out
In the middle Traction Control mode, part of the shock's air volume is closed off. This radically increases progression, to the point where it limits the rear travel from 130mm to 90mm. It's worth noting that the Fox-manufactured Nude 5T shock is identical to that used in the Spark.
Tiny TQ motor
Powering the Lumen is a TQ-HPR50 motor that delivers up to 50Nm of peak torque. There's a 360Wh battery bolted inside the downtube, though it's possible to purchase a 160Wh range extender to boost total capacity to 520Wh.
Thanks to the space-efficient frame design the Lumen can accommodate two bottle cages. This is an extremely rare feat in the full suspension e-MTB world, and it means you can utilise the range extender while still having room to carry a water bottle. Nice!
Scott has integrated the TQ screen neatly into the Lumen's top tube, which displays battery status, riding speed, cadence, rider power input, motor power output and estimated range. There's a small controller next to the left-hand grip for cycling through the assist modes, and you can pair the system with the TQ app for tuning the motor's support levels.
Geometry
As with the Spark and Genius, the Scott Lumen incorporates modular headset cups that allow you to adjust the head angle independently of the rest of the frame's geometry.
It already comes from the factory set up in the slack position, which delivers a 65.5° head angle. That's matched with a 446mm reach on our size Medium test bike, and a steep 77° effective seat angle.
The 450mm rear centre length is on the longer side. This is partly due to there being clearance for a 2.6in wide tyre, but it's also down to the beefy chainstay yoke and main pivot. Scott says this chunky section was necessary in order to hit the desired strength and stiffness level through the back end.
There are no geometry flip chips to be found on the Lumen, and that means it's not recommended to be set up as a mullet. However, the frame is capable of running a 140mm travel fork.
Scott Lumen price & specs
There are three models in the Scott Lumen lineup. All of them feature exactly the same HMX carbon frame, TQ-HPR50 motor and 360Wh battery. You can see detailed specs and prices of the full range in our first look article.
Of course the bike that got all of the attention at the launch was the top-end 900 SL model, which boasts the incredible 15.5kg claimed weight. It also comes with an insane price tag of $25,599 AUD, putting it waaay out of reach of most consumers.
Instead of the fancy Gucci model, we got our hands on the entry-level bike; the Scott Lumen eRIDE 910. It's not exactly 'cheap' at $12,799 AUD, but it'll no doubt be the most popular bike from the range, and therefore the most relevant to review.
2023 Scott Lumen eRIDE 910
Frame | HMX Carbon Fibre, IST Flex Pivot Suspension Design, 130mm Travel
Fork | Fox 34 Rhythm, GRIP Damper, 44mm Offset, 130mm Travel
Shock | Fox Nude 5T, 165x45mm
Remote | TwinLoc 3-Position: Descend, Traction Control & Lockout
Motor | TQ HPR50, 50Nm Peak Torque
Battery | TQ 360Wh
Wheels | Formula Hubs & Syncros X-30SE Alloy Rims, 30mm Inner Width
Tyres | Schwalbe Wicked Will, Super Race Casing, ADDIX Soft Front & ADDIX Speed Rear, 2.4in Wide
Drivetrain | Shimano Deore 1×12 w/34T FSA Alloy Crankset & 10-52T Cassette
Brakes | Shimano Deore 4-Piston w/180mm Rotors
Bar | Syncros Fraser 2.0 DC Alloy, Mini Rise, 760mm Width
Stem | Syncros DC Alloy, Length: 50mm (S), 60mm (M), 70mm (L-XL)
Seatpost | Syncros Duncan 2.0, 31.6mm Diameter, Travel: 125mm (S-M), 150mm (L), 170mm (XL)
Saddle | Syncros Tofino 1.5, Titanium Rails
RRP | $12,799 AUD
Along with its quick-rolling tyres and seamless power delivery from the near-silent TQ motor, the Lumen is endowed with a sprightly and energetic character that encourages you to ride hard and fast across undulating terrain.
Scott Lumen sizing & fit
At 175cm tall I've been riding a Medium size in the Scott Lumen. It's a great-fitting bike too, with comfortable contact points and purposeful geometry.
Compared to the Spark, the Lumen features a steeper seat angle (77° vs 75.9°) and a taller stack (615mm vs 607mm). This combination produces a more upright riding position that suits its intentions well. It still feels very XC though, especially compared to the more relaxed Levo SL and Fuel EXe. The steep seat angle puts you in an excellent pedalling position, while passively driving your bodyweight into the front tyre's contact patch.
Unfortunately there isn't a lot of steerer tube available for adjusting the stem position, and the proprietary headset spacers and internal cable routing make it a finicky job to perform. As such, taller riders and those who are less flexible may wish to consider fitting a higher-rise handlebar.
While I've gotten along with the Syncros grips and saddle, I was a little underwhelmed by the 125mm travel dropper post. There isn't much room to go longer however, as the hidden shock limits seatpost insertion.
Suspension setup
Like the Spark, Genius and Patron we've tested previously, it was actually quite simple setting up the suspension on the Scott Lumen thanks to the neat Sag-O-Meter printed on the rocker link.
I initially tried 30% sag but found the rear suspension was a bit too mushy in the fully open Descend mode. 26% sag ended up being the sweet spot, with 185psi required to support my 67kg riding weight.
There's a removable hatch on the downtube that provides you access to the shock's controls. I found I was just able to thread my shock pump onto the air valve, though an adapter is included in the box should you require it. You'll need good finger dexterity to access and adjust the rebound lever, which doesn't offer particularly well defined clicks.
Experimenting with volume spacers isn't exactly a quick process however. That's because you'll need to drop out the TQ motor before you can remove the shock.
In addition to air pressure and rebound, it's possible to adjust spring progression with volume spacers. The plastic clip-in spacers are specially designed for the Nude 5T shock, which comes with two fitted from the factory. You can remove these for a more linear feel, or fit up to four of them to provide a stronger ramp-up in the Descend mode.
Experimenting with volume spacers isn't exactly a quick process however. That's because you'll need to drop out the TQ motor before you can remove the shock. Such is the price of all that beautiful integration eh?
Dialling in the Fox 34 Rhythm fork is considerably easier, with the recommendations on the setup chart offering a good starting point. I did find it was too easy to bottom out however, so I added a second volume spacer to increase support and provide a better balance with the rear end. Riders heavier than me may need to fit a third or even fourth volume spacer.
Scott Lumen weight
Confirmed weight for our Scott Lumen test bike is 17.78kg without pedals and with the tyres set up tubeless.
That figure is slightly heavier than claimed, though it's still pretty decent given the budget spec. The Deore cassette is heavy (593g confirmed), and so too is the Syncros alloy wheelset (2,177g confirmed).
The Schwalbe Wicked Will tyres are very much on the lighter side, coming in at 824-869g each due to their thin Super Race casings. Of note is that this tyre spec is exactly the same as what you'll find on the Spark.
Given the dainty rubber, I fitted a CushCore Pro insert into the rear wheel and set pressures on the higher side with 23psi up front and 27psi out back.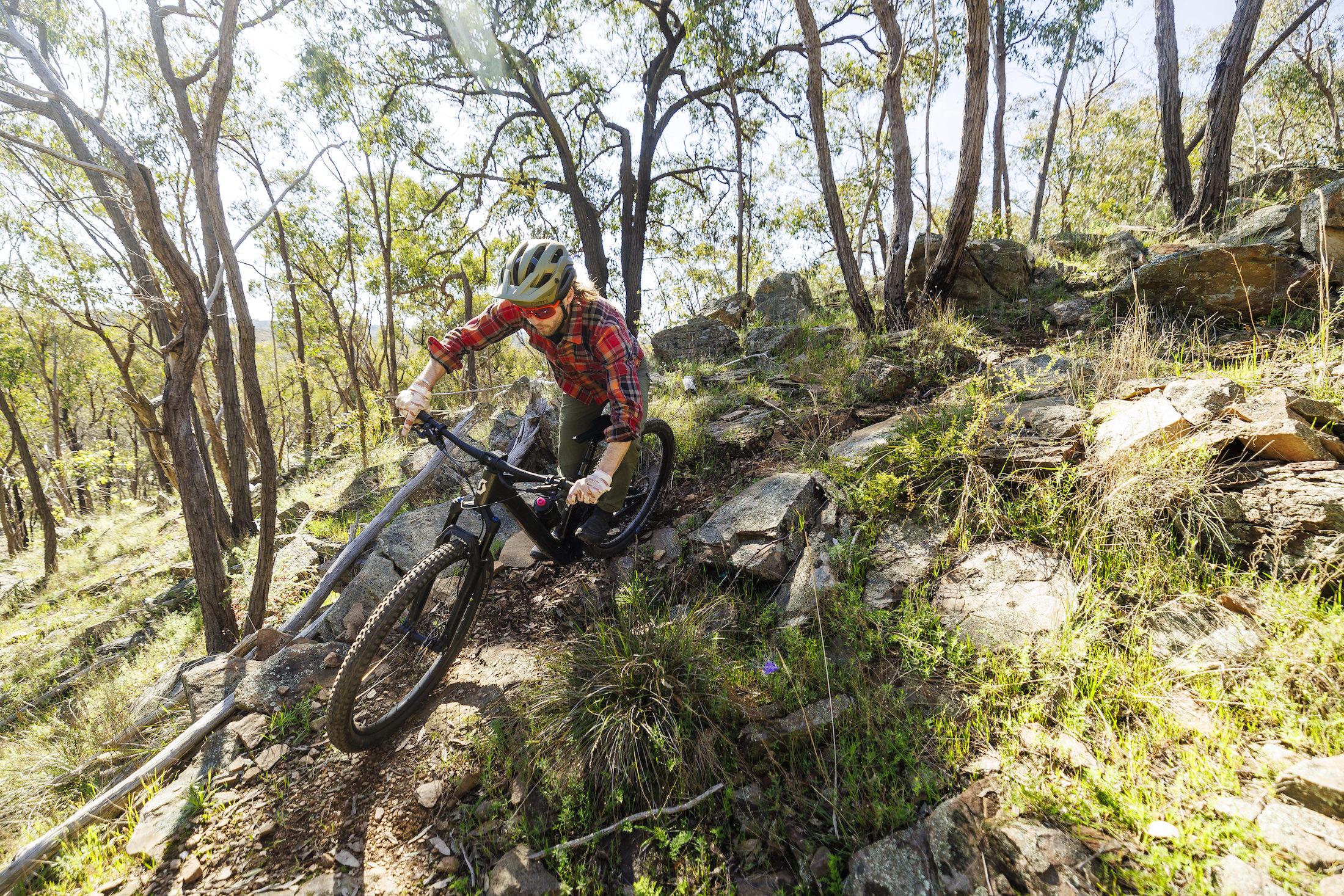 What do we dig about the Scott Lumen?
While I try not to make any assumptions about new test bikes, I must admit that I initially struggled to see the point of the Scott Lumen. The anaemic tyres didn't fill me with confidence, and 130mm of travel just doesn't seem like enough for a bike that weighs close to 18kg. Within the very first ride however, I found myself having to chow down on a big ol' serve of humble pie.
As it turns out, the Lumen isn't your average e-MTB. Indeed this is a seriously rapid trail bike that is defined by its sporty handling and terrific agility.
My skepticism of the lightweight tyres soon evaporated, with the minimal rolling resistance providing an impressive turn of speed. Not only does the swift tread pattern boost initial acceleration, it also reduces deceleration when the motor taps out. This allows the Lumen to carry better momentum, and it also results in a beautifully seamless feel to the way the power rolls on and off, making the 25km/h cutoff basically imperceptible on the trail.
Of course we were impressed by the quiet performance of the TQ motor when we first tested it on the Trek Fuel EXe last year, but I'd argue the Lumen is an even better match for this compact drive unit. It's incredibly natural to ride, giving the Lumen the closest feeling to a regular mountain bike out of any e-MTB we've tested.
Along with its speedy tyres and responsive handling, this bike absolutely froths at going flat-out on XC singletrack. This was a new experience for me, as most e-MTBs tend to be quite cumbersome and lethargic when riding flowier and tighter trails. Not so with the Lumen, which feels light, efficient and easy to place.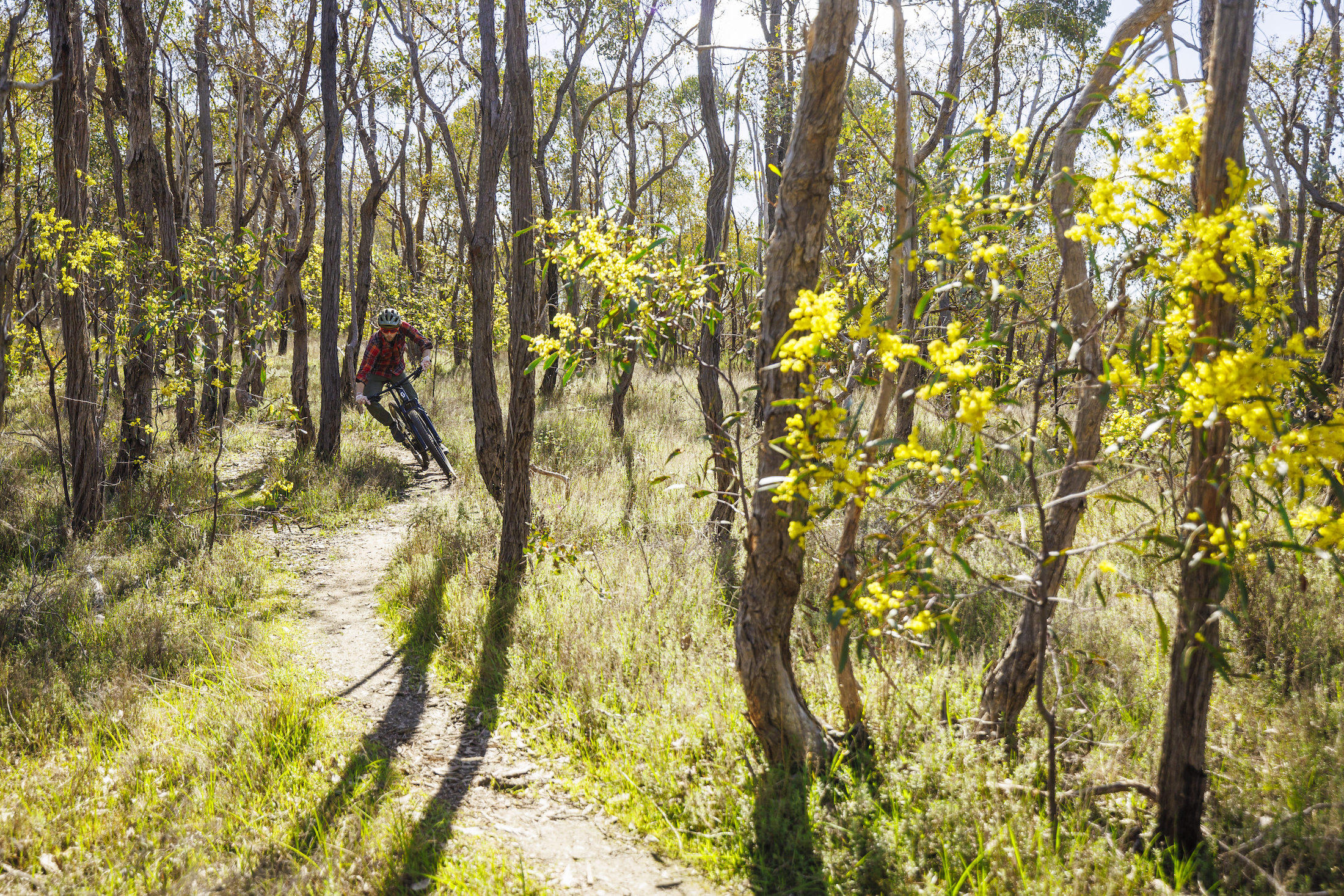 TwinLoc works a treat
While the TwinLoc remote might seem unnecessary on a bike with a motor, the system does bring significant benefits to the Scott Lumen.
Admittedly I didn't use the lockout very often, but I sure did use the middle Traction Control mode a lot. With rear travel limited to 90mm, this mode improves pedalling efficiency while lifting the bike's dynamic ride height. The taller BB provides additional ground clearance, and the steeper seat angle puts you into a comfortable and powerful pedalling position when heading uphill. Combined with the longish chainstays and low overall weight, the Lumen is supremely adept at negotiating features on technical climbs.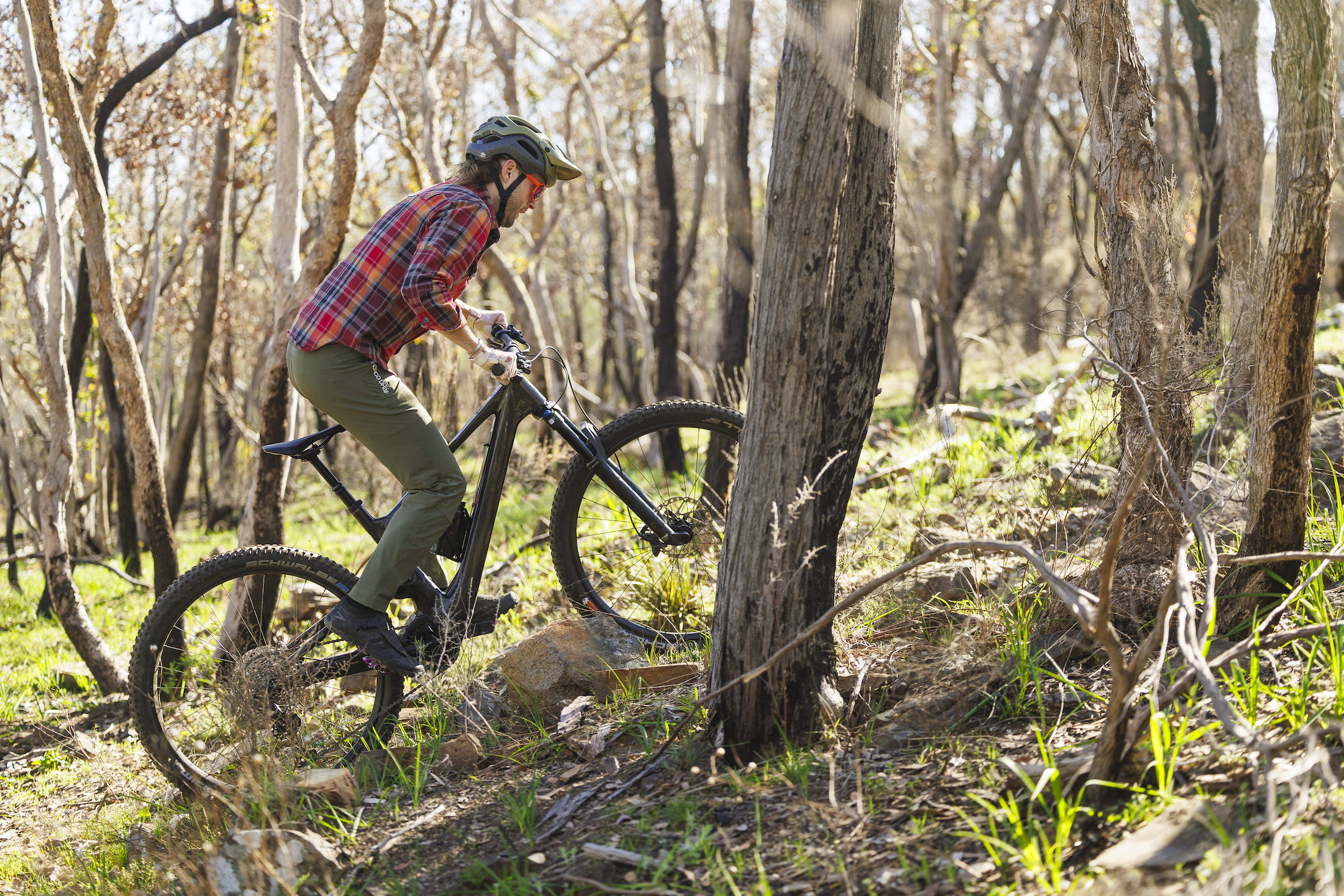 I also found the Traction Control mode to be useful when riding flatter terrain. The stiffer shock puts more of your weight on the front wheel, sharpening the steering response through tight chicanes. With the fast-rolling tyres helping to maintain a higher exit speed out of each corner, the Lumen encourages you to get on the gas and attack the trail at every opportunity.
Plush performer
Flick the TwinLoc remote into the fully open Descend position, and you can feel the whole bike sink closer to the ground. The suspension is quite plush in this mode, offering good sensitivity over rocks and roots.
While the Lumen features the same 45mm stroke shock as the Spark, the longer chainstays and a higher leverage rate delivers the extra 10mm of rear travel. The result is a smoother and deeper ride quality that, when combined with the added weight of the motor and battery, makes the Lumen feel like a souped-up Spark.
Indeed the Lumen has great descending stability for a bike that 'only' has 130mm of travel. There's good weight distribution between the axles, and the Wicked Will tyres proved to be surprisingly grippy, particularly the front with its ADDIX Soft rubber compound.
You can actually push it quite hard, with the poppy suspension encouraging you to seek out transitions and take to the air to clear rougher sections of trail. Take advantage of the Lumen's sprightly character, and it'll get down some pretty wild descents.
What didn't we like?
Since it's able to generate momentum so easily, it didn't take me too long to find the limitations of the stock tyres on the Scott Lumen.
They're fine for lighter and smoother riders who typically frequent machine-built flow trails, but anyone tackling rocky off-piste terrain will struggle with sidewall stability and punctures. Despite the CushCore insert, I still managed to put a hole through the thin casing of the rear tyre during testing. And as much as the Wicked Will exceeded my expectations, it does struggle for bite when the ground gets loose and drifty.
In those sorts of conditions I found there was some stiffening of the rear suspension under hard braking. The single-pivot rear end isn't quite as seamless as the four-bar configurations found on the Fuel EXe and Levo SL, and that can see the rear tyre occasionally scrabbling for grip. Stay off the brakes however, and you'll be surprised at how much you can get away with given there's only 130mm of travel back there.
Remote reservations
Our existing complaints with the TwinLoc system carry over to the Scott Lumen. The remote ergonomics aren't perfect, with the paddles being a little thin and edgy for my thumb's preferences. I'd also like to see more lateral and angular adjustability. I ride with my hands on the outside of the grips, and that makes for a bit of a stretch to reach the suspension levers.
The remote contributes to a busy cockpit, requiring considerable effort on Scott's behalf to route all of the control lines past the stem and down through the headset. It is pretty well managed, though we have noticed some cable noise and vibration from deeper within the frame.
Needless to say, if you're a staunch opponent of suspension remotes and headset cable routing, then this bike definitely isn't for you.
Subtle assistance
For those who are after an e-MTB for self-shuttling DH laps, I'd also suggest the Lumen won't be for you.
As mentioned earlier, the TQ motor certainly impresses with its quiet and seamless performance. The internal sprag clutch provides near-instantaneous pickup without any of the annoying clacking noises that plague Shimano and Bosch drive units. There's no noticeable drag when the motor disengages, making the Lumen entirely tolerable to ride without assistance.
But while it is excellent on undulating terrain, the TQ motor doesn't offer masses of support when pedalling up steep, sustained climbs. It requires a decent amount of input from the rider to unlock its power, and even then it never seeks to dominate the experience.
You don't get a lot of overrun, which isn't necessarily a bad thing. However, there can occasionally be some lag when ratcheting over technical features with the motor taking a moment to wind up when you get back on the pedals. Not helping things, the rear hub has a very slow 21pt engagement that can result in a lot of dead stroke at the cranks before you get drive to the rear tyre.
You can use the app to increase the motor's pedal response, which helps, but it's important to understand that the assistance is still more subtle than other motors out there. You can't rely on it to winch you up every climb, and that means this ain't a bike for lazy pedallers. Rather it encourages you to put in the effort to get the most out of it, and as a result I finished every ride absolutely knackered from trying to ride it as hard and fast as I possibly could.
How much range can you get out of the Scott Lumen?
While the Scott Lumen only has a 360Wh battery inside its downtube, the moderate assistance from the TQ-HPR50 motor means you can milk a good bit of range out of it.
I typically rode in the Medium assist setting, which would allow me to ride for 2.5-3 hours before the battery would go flat. Those test rides varied from 45-55km in length and featured 1,050-1,120m of elevation gain.
I also embarked on our standardised shuttle test in order to see how many laps I could eke out with the motor set to the highest assist setting. Here's how the Lumen compared to the e-MTBs I've reviewed lately;
Norco Sight VLT (Shimano EP8, 900Wh Battery) – 2,478m climbing
Canyon Spectral:ON (Shimano EP8, 900Wh Battery) – 2,451m climbing
Cube Stereo Hybrid 160 (Bosch Gen 4, 750Wh Battery) – 2,320m climbing
Rocky Mountain Altitude Powerplay (Dyname 4.0, 720Wh Battery) – 2,108m climbing
Scott Patron (Bosch Gen 4, 750Wh Battery) – 2,079m climbing
Scott Lumen (TQ-HPR50, 360Wh Battery) – 1,567m climbing
Orbea Rise (Shimano EP8-RS, 360Wh Battery) – 1,388m climbing
Trek Fuel EXe (TQ-HPR50, 360Wh Battery) – 1,312m climbing
Specialized Levo SL (SL 1.2, 320Wh Battery) – 1,307m climbing
Giant Trance X Advanced E+ Elite (SyncDrive Pro 2, 400Wh Battery) – 1,057m climbing
Specialized Kenevo SL (SL 1.1, 320Wh Battery) – 1,053m climbing
Over 1,500m of elevation gain is an impressive figure for a lightweight e-MTB, but that only tells part of the story.
Since the TQ motor requires you to put in a decent amount of leg effort in order to get full power out of the motor, I couldn't just cruise up the climb and smell the flowering wattle along the way. I had to push relatively hard, and even then I was only climbing at an average speed of around 12-13km/h. To put it into perspective, that's slower than the Levo SL (14-15km/h), the Trance X E+ Elite (19-20km/h) and the Patron (21-22km/h).
Another comparison worth drawing out is with the Fuel EXe, which uses the same TQ motor and battery as the Lumen. However, thanks to the lighter build and fast-rolling tyres, the Lumen achieved a lot more elevation gain. That shows just how big of an impact tyres can have on rolling resistance, and therefore battery range.
Component highs & lows
For $12,799 AUD, the Scott Lumen eRIDE 910 isn't exactly bestowed with the most desirable spec.
Scott will no doubt point towards the high-end HMX carbon frame, adaptable suspension and TQ drive system as justification for the high asking price. However, there's no denying that the budget Shimano brakes, Deore drivetrain components, low-end alloy wheels and Fox Rhythm fork are cheap items to see on a bike that costs well over five figures.
That being said, the whole package has performed really well. The brakes offer consistent power, the drivetrain shifts reliably, and the wheels have been solid. Even the fork has been smooth and sensitive, with none of the bushing knock that we've encountered in previous years with other Rhythm forks. I would like to see a faster-engaging freehub, but in terms of real-world performance there's nothing here that's going to hold you back on the trail.
In terms of living with the Lumen long-term, it's worth noting that replacing cables for the derailleur, shock and dropper post will be more time intensive due to the headset routing and tight clearances inside the frame. Perhaps that makes for a good excuse to upgrade to an AXS derailleur and dropper post?
Some folks have been eager to point out the added complexity of replacing the upper headset bearing, but I don't think it's as big of an issue as it's been made out to be. After all, lower headset bearings tend to wear out much quicker due to their proximity to spray from the front tyre. Also, the Lumen's Acros headset employs additional tight-fitting external bearing shields, which proved themselves during our long-term test of the Spark.
I'd argue that shock servicing (which Fox recommends doing every 125 hours of ride time) will be more of a pain than the headset due to the fact you have to drop the motor out first.
What upgrades would you make?
Since the Wicked Wills aren't always able to keep up with the descending abilities of the Scott Lumen, fitting tyres with heavier casings and more aggressive rubber would be a great way of improving grip.
I ended up trying out a set of Pirelli Scorpion Enduro tyres, which made a big difference to the overall ride quality. The extra weight and drag was noticeable on smooth climbs, but the added cornering traction and descending stability unlocked a whole new level of confidence and technical proficiency that made it more than worthwhile.
Adding to that, I also tried the Lumen with a 140mm travel Fox 34 GRIP2 fork. This slackened out the angles and lifted the BB a touch, requiring me to tilt the saddle down slightly to compensate. Otherwise the bike felt really well balanced, with the taller fork improving the bike's stance on steep descents. The GRIP2 damper also delivers better sensitivity and high-speed control when you're really smashing into things, which can happen with considerable frequency on an 18kg bike with a 65° head angle.
If we're talking upgrades, why not consider going up to the Lumen eRide 900? While that bike does get some nice parts, I'd personally find it hard to justify spending the extra five grand. In fact, I think I'd stick with the 910 model. Even if you did upgrade it with a lighter set of wheels, different tyres and a high-end fork, you'd still be ahead by some margin.
Scott Lumen vs Specialized Levo SL
While the Scott Lumen has a unique story to tell, how does it compare to one of the most popular lightweight e-MTBs on the market; the Specialized Levo SL?
For 2023 the Levo SL has been updated with a new frame, a mullet setup and the more powerful SL 1.2 motor. It also gets the sleek MasterMind TCU display that sits within the top tube. There's heaps of adjustability, including a high/low flip chip in the lower shock mount, modular headset cups for tweaking the head angle, and a chainstay flip chip that allows you to run it as a full 29er. On top of that the frame is offered in six frame sizes compared to just four in the Lumen.
Despite all this, the Levo SL Comp Carbon actually costs less at $11,900 AUD. It still comes with a full carbon frame, Fox 36 Rhythm fork, Float X shock, SRAM GX Eagle drivetrain and Code R brakes, making it arguably the better value proposition on paper.
On the trail however, it's clear these two bikes offer a very different approach to the lightweight e-MTB concept.
With a more upright riding position, slacker geometry and 160/150mm of travel, the latest Levo SL pushes further towards the enduro category. The suspension is plusher and deeper, and it comes equipped with much more aggressive tyres. As a result it floats over rocky terrain and offers a boatload of grip and confidence when blasting down descents. It's still loads of fun to ride thanks to the mullet setup and short chainstays, and there's decent pop and support from the suspension for boosting jumps.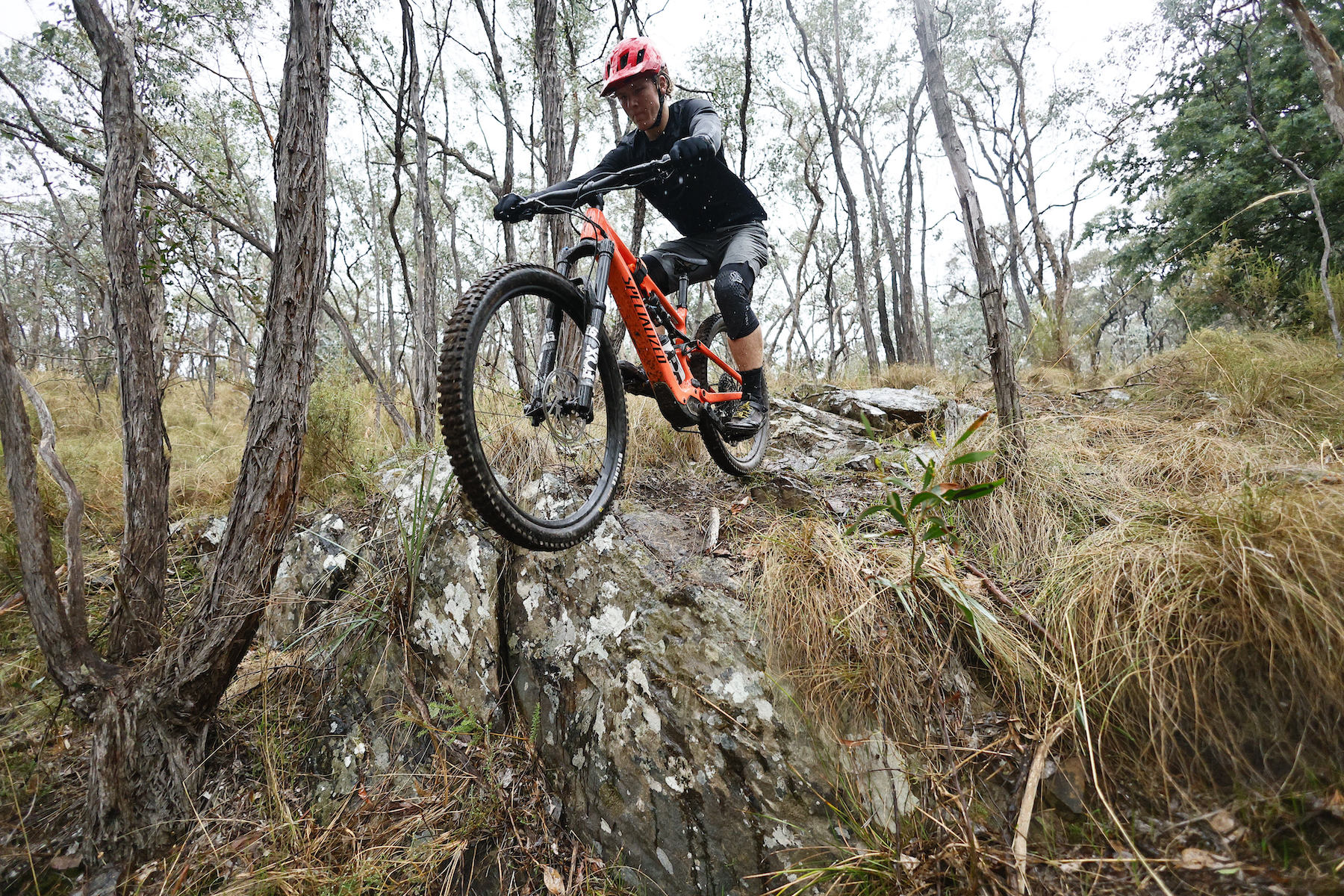 All of those attributes do make the Levo SL more sluggish than the Lumen on smoother and flatter trails. The short chainstays and 27.5in rear wheel also mean it's less planted on steep and technical climbs.
There are plenty of riders who won't care about that however, especially those who mostly climb up fireroads and smooth machine-built singletrack. And it's worth noting that the Levo SL's motor offers noticeably greater support over the Lumen's TQ-HPR50 motor, despite the two having supposedly the same 50Nm of peak torque. The downside is that the Levo SL will run its small 320Wh battery down quicker in the high assist modes. Also, while the new SL 1.2 drive unit is quieter, it's not as stealthy or as compact as the TQ.
Indeed the subtle and seamless assistance of the TQ motor is a real drawcard for the Lumen, which offers a more natural ride experience that feels incredibly close to a non-motorised mountain bike. It's efficient, fast and agile, and that makes it an absolute blast for hammering along flowy XC singletrack. If you don't necessarily need 150-160mm of travel, it's for sure the sprightlier bike of the two.
Flow's Verdict
The Scott Lumen is no doubt a distinctive looking bike, and it delivers an equally distinctive riding experience out on the trail.
There will be folks who will struggle to see the point of a short travel e-MTB with a TwinLoc remote and lightweight tyres, and indeed we shared a similar degree of skepticism when we first got our hands the Lumen.
The thing is though, this bike rides really, really well.
It has great geometry with excellent weight distribution, the suspension is smooth and effective, and the Traction Control mode offers potent performance for scaling technical climbs. Along with its quick-rolling tyres and seamless power delivery from the TQ motor, the Lumen is endowed with a sprightly and energetic character that encourages you to ride hard and fast across undulating terrain.
It surprised us with its poppy suspension and overall capability on the descents, though a change to some burlier rubber will be a good idea for those who are keen to push their limits on rockier and more technical trails. We can also thoroughly recommend running a 140mm travel fork to level up its descending chops.
In its stock form however, the Lumen is an awesome electrified XC bike. It's lightweight and responsive, and combined with the near-silent TQ motor it offers the most natural ride feel out of any e-MTB we've tested. For those who don't want a motor dominating their riding experience, the Lumen will no doubt be an appealing option.
For those who don't want a motor dominating their riding experience, the Lumen will no doubt be an appealing option.