On review we have the Strive CF 9.0 Race, an all-out beast of an enduro race bike with Canyon's own clever Shapeshifter System designed with the help of mountain bike legend, Fabien Barel.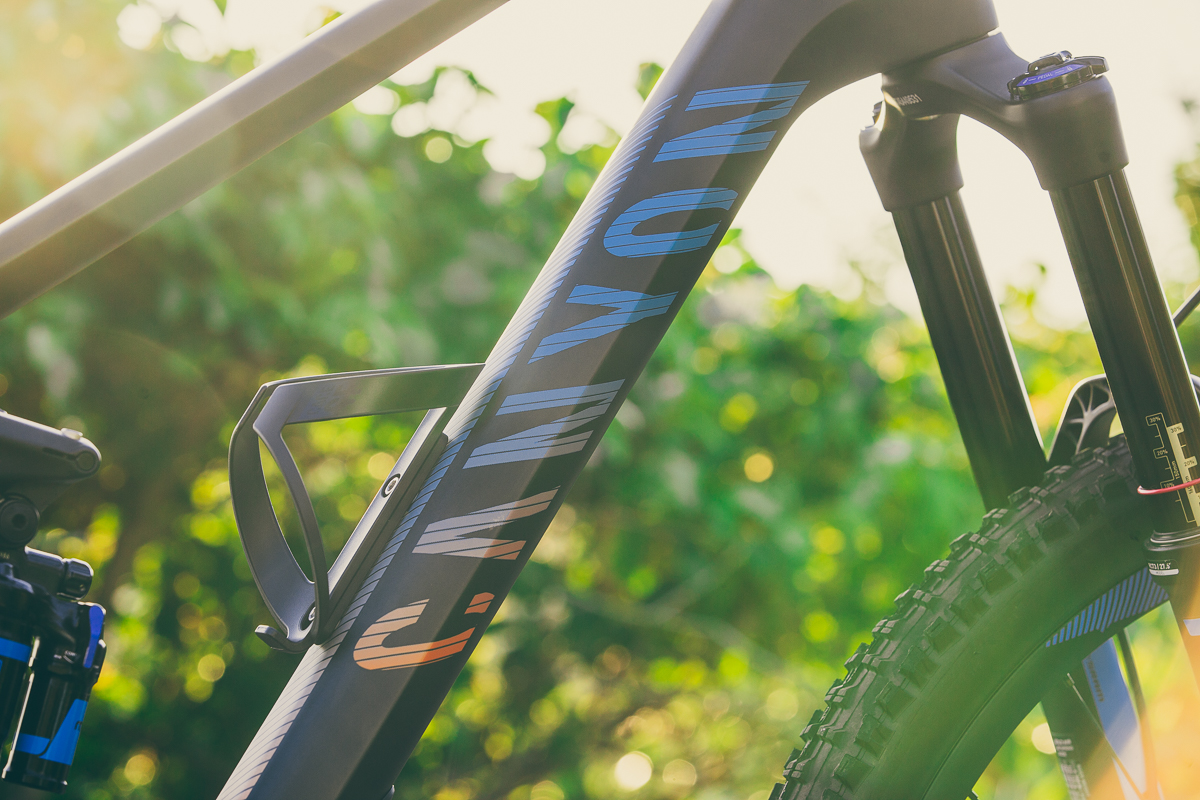 Canyon sell their bikes online, they ship Down Under to your door all the way from their headquarters in Germany, that is until an Australian warehousing system is put in place. Their direct-to-consumer model is a slick operation that's been meticulously tested in Europe for many years before opening the floodgates to eager consumers in Australia and New Zealand.
Late last year we looked into how it's all going to work, we unpacked this bike from the box, and explored what it will be like buying a Canyon from their website.
Here is our in-depth Canyon piece – Canyon Down Under.
---
What is it and who is it for?
Make no mistake the Strive ain't no casual all-rounder, this is a dedicated enduro race bike. It's super long, very slack and as we were to quickly find out it needs to be ridden hard or its capabilities will go to waste.
From the aggressive frame geometry to the generous travel to the beefy components the Strive is a whole lot of bike. Sitting in between the 140 or 130m travel Canyon Spectral (27.5″ or 29″) and the Canyon Torque DHX downhill bike, this big 160mm rig is the choice for the Canyon Factory Enduro Team who won the Enduro World Series overall as a team last year.
---
The Frame.
Being our first review of a Canyon everything is fresh and exciting, and we've stared at it with loving eyes almost as long as we've actually spent riding it.
It's always nice to review a bike from a brand which is new to us, and we agree with the countless people that stopped us on the trails for a look, it is quite a striking shape and a very smartly finished rig indeed.
Our test bike comes from the 'Race Geometry' range of Strives, which have a slightly longer front centre than the 'Regular' models, a requirement from the race team to meet the demands of top-level enduro racing. A longer bike coupled with a short stem will result in quick handling but with room for stability at speed.
It's a full carbon affair front and back and wowzers it's stiffer than an Eskimo's nipples, there's a serious lack of twisting or bending when you grab the rear wheel and flex it side-to-side. All the cables travel internally via nice little rubberised ports, and while we did hear some rattling at times from the rear brake line inside the frame we found it all pretty easy to work with when we had to shorten and re-route anthing through the frame.
The Strive uses a four-bar suspension with a pivot on the chain stay, similar to a Horst Link bike like a Norco or a Specialized FSR. The main pivot is right down low just above the bottom bracket, and all the fastening hardware is super tough and solid feeling, never did we need to pay any attention to the linkages or pivots during our review. There is also plenty of water bottle space like a true race bike should have, thanks to the upward kink in the top tube.
But what really makes this thing tick is the Shapeshifter.
---
Shapeshifter System.
Canyon Enduro Factory Team rider Fabien Barel was seen testing and racing a secret prototype Strive for quite some time with what looked like an old wetsuit bootie covering the rear shock area from view, but we could still see a remote lever at the bars. What on earth were they working on, a hidden motor?
The Shapeshifter is a Canyon developed system that switches the rear shock between two positions via a button at the bars – climb and descend mode. The two distinctly different positions toggle the rear suspension travel between a super plush 163mm and a firmer 139mm while simultaneously having huge impact on the bike's geometry. It's very slack and low when descending and in climb mode the head angle sharpens 1.5 degrees and the bottom bracket sits 20mm higher.
The Shapeshifter sets the Strive apart from all the other brands in this hotly contested area of the market.
Canyon are going after the holy grail of 'two bikes in one'. We've had great experiences from a couple notable brands that do a good job of this task, like Scott with their Genius and Cannondale with the Jekyll. These two very different bikes use multiple air chamber rear shocks from FOX that can be toggled on the fly to change suspension travel and also the bike's position to suit climbing or descending.
Not taking anything away from these two excellent bikes, the Strive succeeds in this task using a standard shock. The Shapeshifter system is independent of the shock – you can run whatever you like, thought depending on the Strive model you purchase, a RockShox Monarch Plus or FOX Float X is standard spec.
See the little air chamber behind the upper shock mount? It's extended for climb mode, and compressed for descend mode. It's just a tiny little air chamber – not a spring – that will compress if you put the right amount of weight on it whilst pressing the button at the same time. It's simple, subtle and the concept seems so obvious!
How does it work? The Shapeshifter is essentially just a volume of air with a lockout button, lean your bodyweight back into the rear of the bike with the lever pressed and it'll compress into descend mode with a faint clunking sound, increasing the leverage on the shock and dropping the bottom bracket height. To pop back to climb mode shift your bodyweight forward with the button pressed and it'll extend open again.
It does take some time to get used to knowing what mode you are in. It wasn't until we'd spent a few solid days on it that we intuitively knew without doubting and double checking by looking down at the green indicator whilst riding.
There's a little green indicator on top of the linkage that lets you know when you're in climb mode that disappears when it is fully engaged in descend mode, and can get quite hard to see when you're riding in the wet. We can't help but wish the indicator was more prominent, it wouldn't take much for at least a larger indicator to clearly put your mind at ease when riding that you're 100% in the right mode. But with a bit of practice it should become second nature.
We found that we generally would hit the RockShox Reverb lever and the Shapeshifter lever simultaneously, instantly turning the bike into a descending beast. Time to let the brakes off!
Descend Mode: 163mm travel, 66 degree head angle, 73.5 degree seat angle.
Climb Mode: 139mm travel, 67.5 degree head angle, 75 degree seat angle.
---
Setup.
Despite the additional elements that the Shapeshifter adds to the bike, we found setup to be a simple process and haven't had the need to touch it since. Zip-tied to the bike in the box is a nifty quick setup guide to help find a base setting for air pressures and shock adjustments according to rider weight.
Inflating the Shapeshifter is made a little easier with a little L-bend adaptor supplied with the bike, we'd dare not lose it as getting a shock pump on there is a tight fit and may not work with all shock pump styles.
The air pressure needs to be right for your body weight, too much pressure and it'll be too hard to compress into descend mode, and not enough and it won't return open when you need it to. We followed their guide and found it to be spot on.
Out of the box the Shapeshifter remote lever wasn't in the ideal position for us, mainly due to the way we run our brakes the opposite way around to those in Germany, so a little fiddling and re-arranging of the lever and re-routing the cables accordingly made things a lot tidier up the front with the lever within reach of our right thumb.
---
The Parts.
Canyon went shopping in the enduro section to deck out this one in the best bits, all the parts are a top match for the bike's intended use. The RockShox Pike RCT3 is ideal, and the SRAM Rail 50 wheels are a worthy set with 23mm internal width rims and a near silent freehub. A Maxxis High Roller front and Minion rear combo offers remarkable traction anywhere and are a Flow favourite, we especially like the way they bite in deep with the brakes on.
The SRAM X01 drivetrain and SRAM Guide RSC brakes with big 180mm rotors are also winners, but the RockShox Reverb post wasn't 100% for us with about 10mm of play that you can feel when seated, so it's back to SRAM for warranty with that one.
The 34T chainring is on the larger side of things, perhaps a spare 30T might be handy to travel with to the races if the mountains get steep and the legs aren't ready.
We trimmed down the super-sweet 780mm Renthal FatBar Carbon handlebars to 760mm to suit our liking and tight trails, the matching 40mm Renthal stem (50mm on size large) adds a touch of new school class. And the Ergon Ge1 Slim grips are also a new fave at Flow, keeping in both the German national and blue colour themes nicely.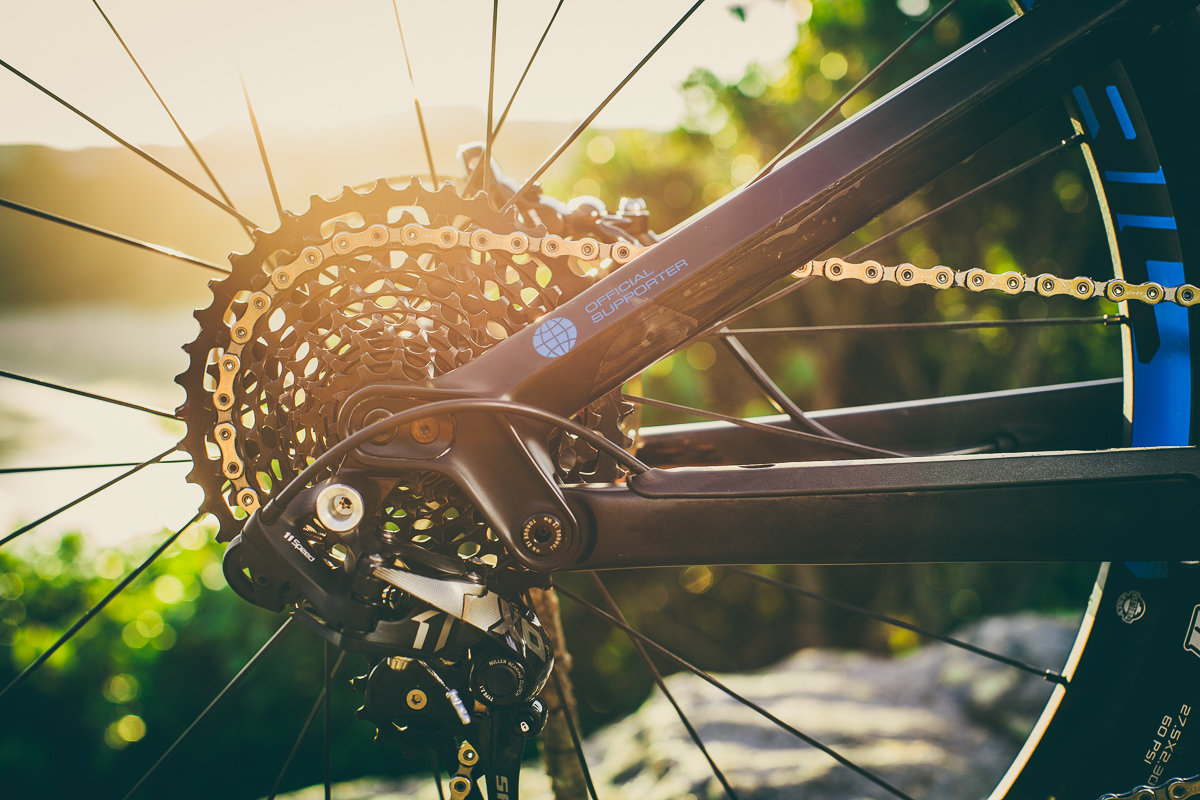 Looking back it's not just the individual parts that make the Strive a seriously good bike, it's also that you get so much for your money. $6K is very appealing for this level of components as standard.
What would we change? Nothing, it's ready to rock.
---
How it Rides.
Now for the good bit, shred time!
Our love affair with the Strive began at the media launch hosted by the new Canyon Australia crew on the Mornington Peninsula, VIC. The trails of Red Hill proved to be an excellent testing ground, their fast and raw nature made up for the lack of elevation the Strive strives for (ha, we said strive twice then) and we punched out as many runs as possible. Following Fabien Barel was a wild and somewhat dangerous experience, certainly fun but was a bit of a distraction from testing the bike on hand, so naturally we begged to put the Strive on long term review on our local trails of Sydney's Northern Beaches. Cheers, Canyon we'll give it back one day, maybe.
Descending: The Strive is a beast of a bike that descends more like a downhill bike than any 160mm travel bike we've ever ridden. Our medium test bike with its mammoth 629mm horizontal top tube length makes the Strive's 'race' geometry the longest medium sized bike we've reviewed. The Giant Reign is close at 619mm, the Santa Cruz Nomad and Yeti SB6C are around 609mm, and we thought the YT Capra was long but still that's only 581mm!
The length of the frame promotes you to really push harder and faster, and the stability from such a long top tube gives us major courage to let the brakes off and really punch it harder. And with 160mm of such good travel front and back you'll be hard pressed to find its limits. Through the turns you mustn't forget you're riding a true enduro race bike, it requires real body language to tip it down and whip it about but after a few runs of our local downhill track we changed tactic and came into the corners drifting sideways instead, foot out and totally pinned.
Under brakes the suspension remained nicely active, and the level of anti-squat was right on the money – not too firm – just right.
The front end might be long, but the chainstays are quite short at 423mm, much shorter than the bikes previously mentioned above but only 1mm longer than the chainstay length category leading Specialized Enduro 650b.
Like we said earlier this is one very stiff frame, and the SRAM Rail 50 wheels also feel quite rigid when pushed around, so if we were ever a little off line or ragged through a fast section of trail we had the confidence to grip on tight and ride it out.
We like to think of the frame's length and rigidity as life insurance for those reckless moments on the trail.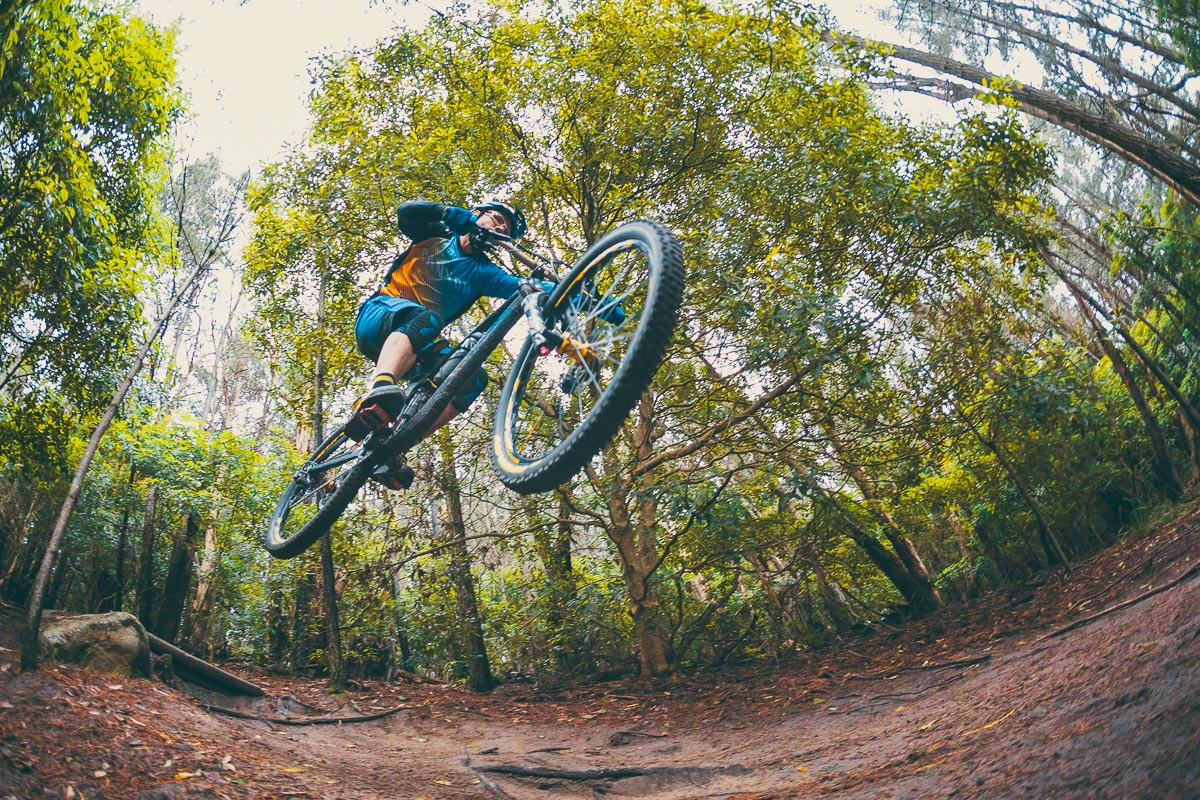 The tradeoff for the length is when the descents got slower and tighter, maybe that's why Barel does such magnificent nose wheelies around tight switchbacks, because this thing can feel like a mini bus going through a drive through at times. But that is how you pay for the mega stability, fair is fair.
The RockShox Monarch rear shock with its Debonair extra volume air can feels incredible, the suspension's sensitivity contributes to the Strive's near silent ride as it rumbles through the chop. We'd love to try fitting air volume spacers to the rear shock to help it ride a little higher in the stroke. And we rode the bike 80% of the time in the middle compression setting, rarely did we feel the need for the extra plush open mode.
Climbing: Lucky the Strive has the Shapeshifter, because if you try and climb in descend mode you'll be hating life, it's a pig uphill raked out so slack. So when the climbs come it's time to shift your weight forward and press the button, you'll have a completely different bike beneath you! Climbing uphill, this bike makes you want to sell two bikes, and just buy this one.
It's the combination of less travel, a firmer spring rate, higher bottom bracket and sharper head and seating angles that ties in together to really transform the Strive into a great climber.
The grippy tyres contribute to the Strive's climbing ability, it'll grind up anything if you have the legs. A 12.6kg weight is pretty impressive too, well and truly in the ballpark for a bike much smaller than this.
---
Alternative options.
We've been loving the latest batch of 160mm bikes recently, here's a few comparible bikes to the Strive that we've tested.
YT Capra CF 1 – Review here.
Pivot Mach 6 – Review here.
Specialized Enduro S-Works 650b – Review here.
Giant Reign 27.5 1 – Review here.
Trek Slash 9.8 – Review here.
Norco Range C 7.2 – Review here.
Polygon Collosus N9 – Review here.
---
Verdict.
Canyon are onto a good thing with the Shapeshifter, in descend mode it hammers like a downhill bike and the position that the climb mode puts you in makes light work of the uphills. The Strive successfully achieves the 'two bikes in one' thing, but still it's a big rig that needs gravity on its side and is wasted on buff trails. It might be worth looking at the shorter travel Spectral if you like the look of this thing but don't have the rough trails to warrant it. Or if you're not that fussed on racing your mates or the clock look the other way.
And who can look past the price, it's a seriously good bike for the dollars, a testament to the modern sales method from this huge German bicycle company. Out of the box it is ready to shred, it's a true modern enduro race bike.
But the tradeoff is like any online purchase unseen, it's now up to Canyon to prove themselves in this country going forward, but we can at least vouch for the quality of this bike. It's a serious winner.