Choosing the right bike is a seriously tough decision. Ideally you would need at least six bikes to have it covered, right?
But we also know that often reality has other plans, so it's back to the drawing board, and deciding on the perfect steed that will do all the things you wish. In the case of the Giant Trance, it's a pretty safe bet that it'll have most bases covered. Bikes like these are constantly blowing our minds with their versatility, and with such a wide range of ability you're able to have more fun, go fast, ride efficiently and travel to more new trails.
We don't casually throw around the phrase 'quiver killer' very often, but here we go.
[divider]What is it and who's it for?[/divider]
The immensely popular Giant Trance has been around for years, it hasn't changed too much over recent times. It still sits proudly in the category of the real 'mountain' bike with its good dose of suspension travel and handling characteristics that will let you ride anything in your path, without lugging too much bike around.
Sitting in between the Anthem, Giant's 100mm travel cross country dual suspension bike and the burly enduro rig, the 160mm Giant Reign, the Trance uses 140mm of travel front and back.
The meaty tyres with moderate width, a dropper seatpost and 740mm wide bars lets you know that even though it's super-light at 11.5kg, there is no hiding its intentions as a go-anywhere all-mountain bike.
Read our first impressions piece here: Flow's First Bite: Trance Advanced 27.5 1 And the 2016 range highlights from Giant here: 2016 range preview.
[divider]The frame.[/divider]
'Advanced' denotes a carbon frame (Giant like to use the term 'composite' which is probably more accurate, but we'll just call it carbon for simplicity's sake) for a lighter bike and a more lively ride. The carbon front end joins an aluminium rear end via their tried and tested Maestro suspension design. A thick rubber bumper protects the underside of the frame from debris impacts and the rear brake line, dropper post and gear cable are internally routed through the front end.
Take a close look at the frame and you'll see the carbon material shimmering and winking back at you in the sunlight under a very glossy paint job. The finish is super sharp, with nice touches of details like the matching colours on the fork and shock, plus the new Giant logo gives the Trance and fresh look for 2016, we like staring at this bike a lot.
[divider]The parts.[/divider]
Giant are well known for offering great bang for your buck, often cited as the benchmark in competitive pricing in Australia. In recent times where the of state Australian dollar has seen the prices of bikes steadily creep up, it's the big guys like Giant Australia who have the power to keep their bikes affordable, and it shows with this bike.
The Trance is a very well-specced bike, and while we give utmost kudos to Giant for tying it all together, it's the improvement of the new Shimano XT and FOX suspension that really adds serious value to this particular Trance.
Shimano XT: Shimano released their completely overhauled component group earlier this year to a very positive reception, they nailed it. Click here to read our Shimano XT M8000 review.
The single ring thing is right on trend at the moment, this 11-speed drivetrain operates like it is sent from a dream. The clean, quite and smooth operation of one derailleur and one shifter is a real pleasure to ride and now with the Shimano cassette ranging from 11-42t the wide range of gears on offer is excellent. While not quite as wide as a SRAM 1×11 drivetrain (SRAM cassettes go from 10-42t) the 11-42t XT cassette paired with a 32t chainring is still fair.
The tidy new XT brakes have taken what we already loved about them and provided a lighter lever feel in smaller overall unit. During our testing all the Shimano parts performed perfectly.
There is a black KMC chain fitted to the Trance, the hollow link and hollow pin chain must be light, but strong riders with a propensity for being hard on chains may want to seek a classic Shimano one for peace of mind, just in case.
FOX Suspension: After a few fairly rough years of inconsistent performance and strong opposition from RockShox, FOX rebounded (boom!) back with some seriously good bouncy stuff for 2016. The new rear DPS EVOL rear shock is an especially good product, FOX have been able to achieve a more supple and sensitive shock action via careful tweaking of a larger air spring volume, every bike we have ridden with the new generation shocks feels 100% better than before.
The fork also uses the new FIT 4 damper unit, delivering a very supportive ride and category leading sensitivity.
The suspension on the Trance are top of the line, FOX's best.
With all the adjustments under the sun, you can really make what you want out of the bike. Open up all the compression settings and you'll have a magic carpet ride of smoothness, or dial them in for a firmer ride that will still remain somewhat sensitive, reacting to impacts to keep your momentum un-interrupted and your wheels firmly tracking where you want them.
The impressive fork is from the 34 range, with beefy 34mm diameter legs for a really stiff and direct front end. Take our word for it, the robust fork lets you do the craziest things on the trail and get away with it.
Read our review of this exact FOX fork and shock here: FOX 2016 Suspension review.
Giant Carbon Wheels: Yep, carbon wheels. Probably something you'd find standard spec on a bike upwards of $7000, carbon hoops are a seriously good addition to any bike. It's not just the weight saving but the ride quality you get when compared to your typical aluminium rim is excellent. While not all carbon rims are equal in performance, feel and strength, our experiences with the PTRX-1C wheels has always been quite good.
The wheels feel very light to wind up and stiff on the trail but when we look at how much potential this bike has on the descents – especially with the big 34mm leg forks leading the way – we found the rims just too narrow for our liking. We've been spending so much time on bikes with wider rims these last couple years, the way that a wider rim boosts ride quality by letting you run lower tyre pressures with more tyre stability is a sure bet. It's not a deal breaker in this instance, but we will bet that over time wider rims will be trickling down to all mountain bikes for good reason. As it stands, the rims (21mm internal, 27mm external width) didn't offer as much support for the tyres as we'd like, to allow us to run lower tyre pressures.
Giant have been pretty clever with the tyre choice, selecting a softer compound tyre for the front. The Schwalbe Nobby Nic's are a great tyre with real bite just about anywhere, and remarkably low weight (mounted to wider rims they'd be even more awesome). Our rear tyre was showing signs of wear from our test, perhaps not ideal when they aren't cheap to replace, but that's the price you pay for excellent grip.
Giant Component Bits: Giant's in-house components have been expanding into the high end bikes in the last couple years with serious quality, and new for 2016 we see a new range of saddles. The Contact SL saddle fitted to the Trance might be slim and quite firm but we really found good comfort during long and short rides.
The Contact SL Switch dropper post is also a real winner, we'd happily run it on any brand of bike. It requires very little force to drop, the remote thumb lever is light to push and could also be swapped over to the left side to tidy things up a little too.
[divider]On the trail.[/divider]
The Trance feels so light to ride, it takes very little effort to get up to speed and keep it there.
It's not a long, slack ground-hugger type of bike, nor is it a rapid and twitchy bike. The Trance is all about striking a good balance, slotting in between the Reign and the Anthem to deliver a serious quiver killer, do-it-all bike. There, we said it ok!
The Trance is very sure about its role, the 140mm of travel is a perfect match for its geometry. The 67 degree head angle errs on the sharper side of things, but those moments on the trail where you might be wishing for a slacker head angle the excellent fork and great cockpit position will save your ass.
Climbing: Going uphill on the Trance is what you'd expect from a 11.5kg trail bike with great lockout adjustments, you can really plan ahead and settle in for a long climb with a quick flick of the dials to firm up the FOX suspension, and up you'll go with literally no unwanted suspension bobbing robbing your of energy.
The seating position is more 'XC than enduro' and once we dropped the stem down a couple spaces on the steer tube, the bars were in a great position for managing the steep and tight singletrack climbs. The Trance climbs excellently and efficiently.
Descending: In good hands, the Trance will not flinch when you really turn it up a notch, you can really trust us on that one. We handed the Trance to a visiting Flow friend, an ex-downhiller, certified manic descender and once an owner of the original Giant Trance. Watching him punish the Trance on the rockiest descents in Sydney's Northern Beaches was like watching Man From Snowy River on fast forward. He had no idea where he was going, but he pushed the Trance so hard with only a 'wow, this bike is so good!'
The stiff front end and remarkably controlled fork action will take big hits on the chin like a James Bond film villain, without a flinch. Thankfully though because it's not too slack, the slower and tighter turns are able to be negotiated without feeling that floppy front end at low speeds. It's a really good balance indeed.
The Trance achieves what many attempt in vain, it descends as well as it climbs.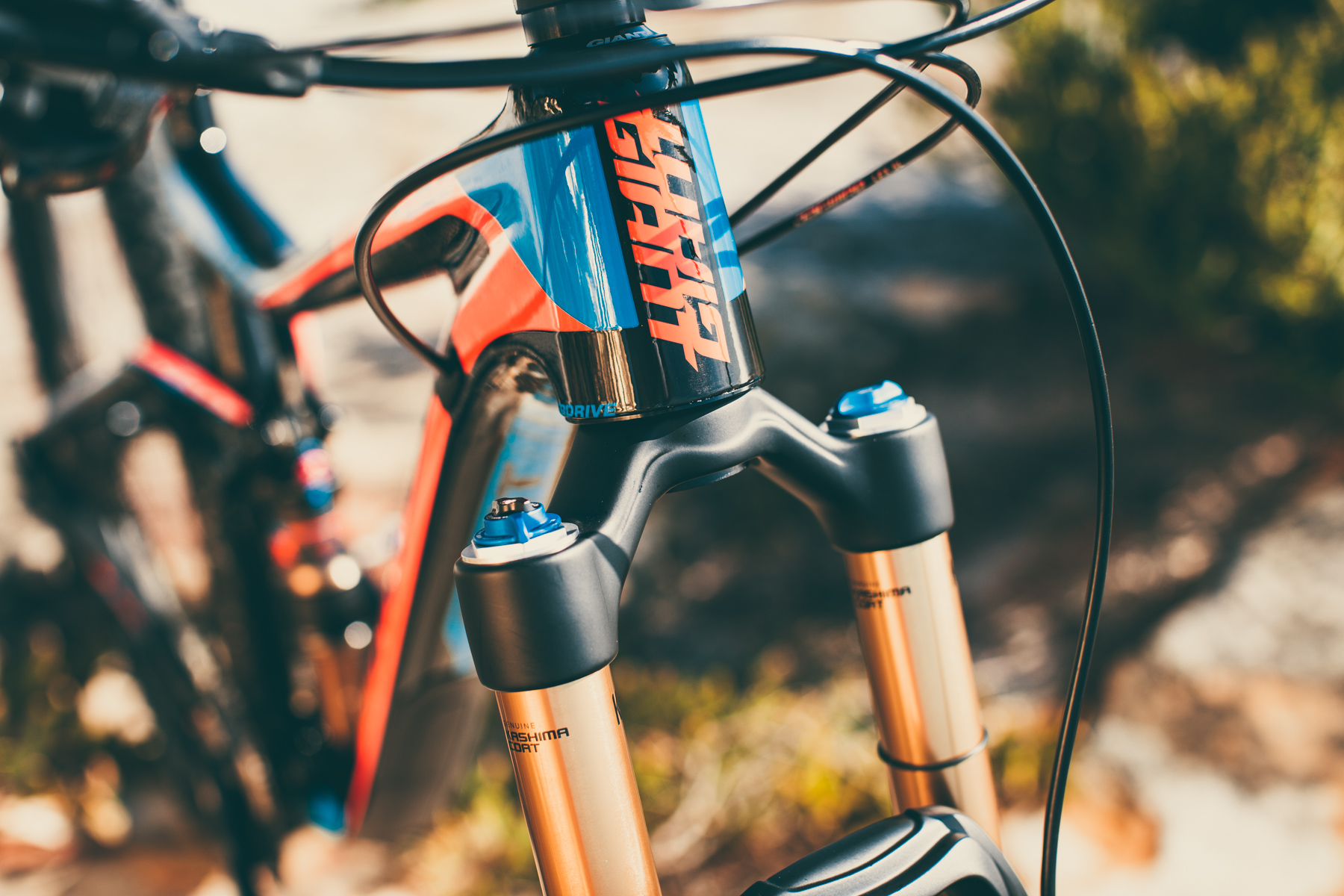 Our time on this Trance re-affirmed that notion of buying a bike for what you ride 90% of the time. Anyone considering a cross country bike like the Anthem for a couple events during the year should seriously consider trying a bike like this. The efficiency is there, the weight is amazing and the huge range of suspension adjustment will let you dial in the right feel for the moment.
[divider]What we would change[/divider]
If it were ours the first thing we'd change would have to be the rims. Get some wide (at least 27mm internal width) rims on there pronto, it'll really let the Trance hug the ground and ride smoother.
The seatpost lever can be mounted anywhere, so we'd try and get it under the left hand side of the bar, that'd require routing it out of the opposing internal routing port.
[divider]Verdict[/divider]
If you're in the market for an upgrade to your 3-year-old dually but think 140mm of travel is too much, don't rule a modern whiz bang bikes like this out of the equation. Suspension technology has come a long way, and with the best on offer on a $5499 carbon frame bike like this, you'll be sure to appreciate how supportive yet forgiving they can be.
It's been a very positive experience for us testing this bike. When we first saw the 2016 Giant range we predicted this one would be a real winner, with the trademark handling we expect from the Trance coupled with the great new kit from Shimano and FOX it was sure to be on point, and it is.