After a month on the Scott Contessa, the bike really lives up to its name. It's a beauty that inspires fun. It may be an aluminium bike but it doesn't feel like a second-tier bike, it delivers maximum fun for minimum bank roll. If you're in the market for a new trail / Enduro bike, this should definitely be on the shortlist.
---
Watch National Enduro Champ Izzy Flint razz her Scott Contessa Genius on the trails of Blue Derby.

---

How did the Contessa Genius feel on the trail?
The Scott Contessa gave us the feeling of an old reliable friend. One of those people you've known for a long time; they're dependable, don't let you down and require little effort to maintain the friendship. Riding the Contessa Genius felt like this. It just did what it was supposed to do. We didn't feel the need to make a lot of modifications to the bike and it was perfectly balanced for a really predictable ride. It just felt simple, easy and fun.
---
Scott Contessa Genius 720 Frame Details
[envira-gallery id="108196″]
Interestingly, while the men's Genius is available in 29er or 27.5 formats, the Contessa is 27.5″ only.
What is the Contessa Genius built for?
With 150mm suspension front and rear it is a real all rounder in the trail / Enduro category. In Scott's words it's made for "Any trail, Any time". Our bike was running 27.5″ wheels with big 2.8″ rubber for huge amounts of traction, but you can also fit 29″ wheels if you prefer the feel of a larger wheel. That adaptability is pretty cool, though we can't imagine many people will have a second set of wheels to take advantage of this ability. Interestingly, while the men's Genius is available in 29er or 27.5 formats, the Contessa is 27.5″ only.
For 2018 Scott have given the Genius a total makeover. You can read all the details here, or in our Contessa Genius 720 First Impressions piece. For women riders though, one of the benefits is a super low standover height now, with the new frame shape.
It's not super light, being an aluminium model – it comes in at 13.4kg – and while we could feel the weight a bit on the ups, it's not a slug.
---
---
Scott Contessa Genius 720 Spec Details
[envira-gallery id="108197″]
So what makes it a women's specific model?
This bike has exactly the same frame and geometry as the men's Scott Genius. The contact points that are different (740mm bar, 40mm stem and a women's saddle), the rear shock has a lighter tune, and the chain ring is two teeth smaller than the men's bike, with a 30-tooth.
---
Any pre-ride mods?
It was literally a set the sag and go have fun kind of set up. Sweet hey. The FOX Nude EVOL Trunnion rear shock comes with a Contessa custom tune. We're not sure exactly what they did, but it felt perfect to us, and was easy to get dialled in.
We spent a bit of time try to get the position of the Twin Loc and dropper post lever right for our hands too, which we'll get into more below.
We even hit up some new jump trails that we'd never ridden previously and it didn't disappoint, soaking up everything we chucked at it.
---
Where did we ride it?
Over a four week period we took it to our local trails – Enduro style trails with rocky sections, fast corners, drops and jumps – to get a good feel of the bike on familiar and technical terrain. We even hit up some new jump trails that we'd never ridden previously and it didn't disappoint, soaking up everything we chucked at it.
---
Standout ride qualities
The best thing about this bike is the playful and fun feel. It's easy to throw around, has great traction and feels super balanced to ride. It felt great cornering and in particular was enjoyable on drops and jumps – the sizing had that right balance of stability and manoeuvrability. The bike felt amazing in the air; it pops nicely and is predictable. If you're an experienced rider, or just keen to start jumping we recommend this bike for air time.
---
Climbing on the Contessa Genius
The Contessa Genius comes with a pretty unique lock out system, Twin Loc, which places the lockout lever for both rear shock and the fork on the bars within reach of your thumb. The rear shock has three modes: 150mm-travel, 100mm-travel and full lock out, with the fork's compression also adjusted at the same time.
One of the first things we noticed about the Scott Genius was the excellent pedal clearance when climbing. With the Twin Loc engaged to 100mm-travel mode, the bottom bracket is lifted. Riding up technical terrain and being able to pedal through steep rock features enhanced the ride compared to other bikes in this category.
We did struggle a little bit with the ergonomics of the Twin Loc system. The dropper lever and Twin Loc lever are all integrated into one clamp and you can't adjust the position of the levers separately. For our test rider, who has small hands, it was tough to get at both dropper and Twin Loc levers, we had to favour access to the dropper as it was used more often, and the TwinLoc system we rotated to a position where it was quite hard to access
---
Features we dig
The Syncros Trail Fender is fully integrated and super cool. It is designed to work specifically with Fox 34 and clips directly onto the fork with a 2-bolt direct mount. No more cable ties nor mud in your eyes.
The Maxxis Rekon+ tires are a nice addition to the bike to inspire confidence and stability, and that white wall retro look is a winner. Often the first thing we swap out on a new bike are the tires, however we we're super keen to try the Rekon+ and they worked really well on the Genius. They are a plus tire and have a tread pattern with angled centre tread for braking, coupled with a raised shoulder area for cornering – meaning they both roll and grip well. They didn't feel slow or sluggish in the least.
The bike also has SRAM's new GX Eagle. Not only a thing of beauty, it came in very handy on a few steep climbs on our local trails, with super low climbing gears. While we understand why Scott went for a small 30-tooth ring, we'd still prefer a 32-tooth.We had the feeling on climbs of being either in too easy or too heavy a gear, and couldn't quite find the sweet spot with the 30-tooth.
With the new suspension layout, there is lots of water bottle space, something often missing on small-framed bikes, which is a nice luxury for days without a pack.
---
Sizing
The size small was perfect for our tester's height at 163cm, although we felt on the cusp of moving to a bigger size. The small was easy to throw around, but a medium could also have worked for our tester.
The size chart shows the small fame going up to around 173cm and medium starting for someone of 168cm. Sizing is really personal preference, but we think that if you are much taller than 165cm the small would feel a bit cramped in the cockpit.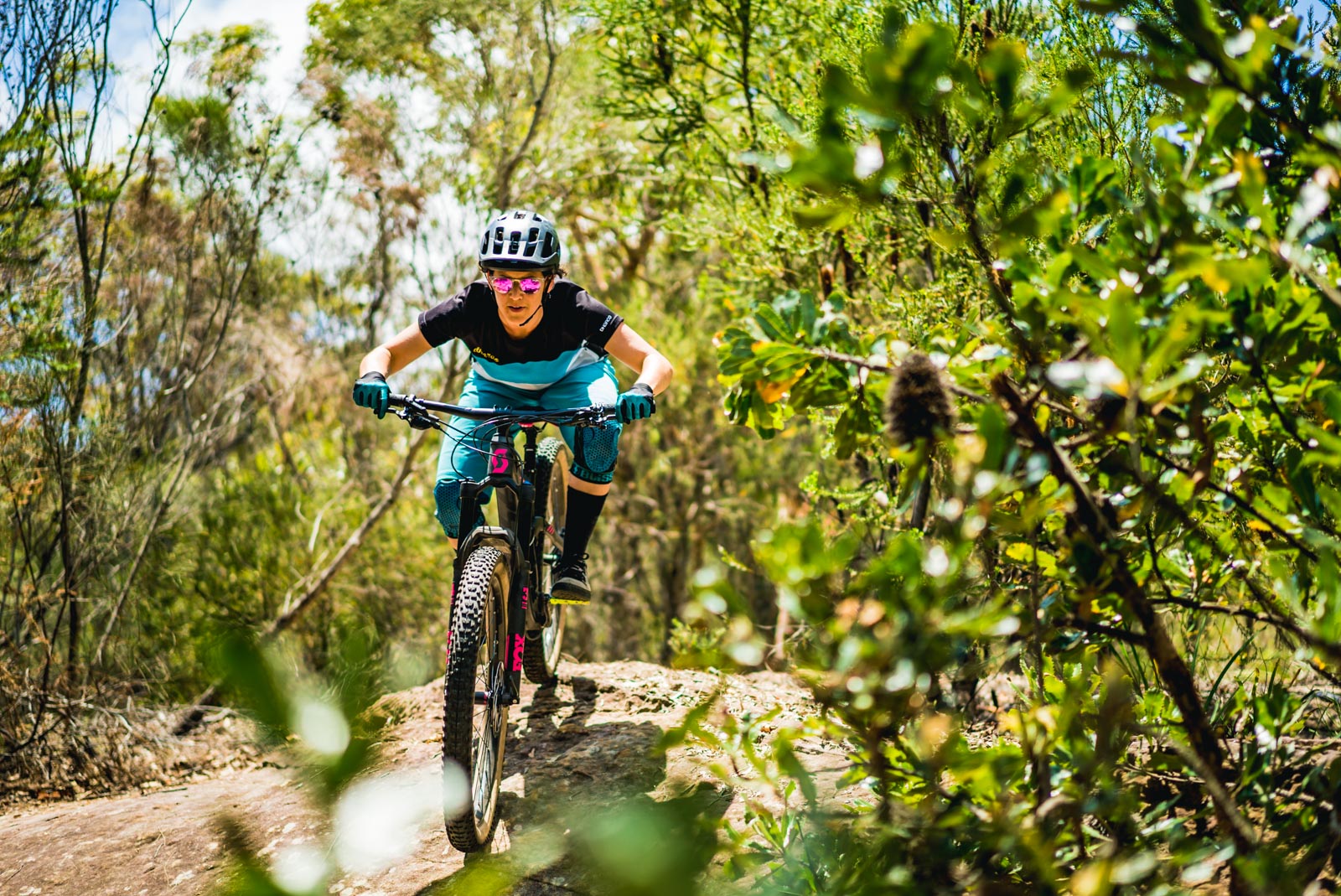 ---
Final thoughts on the Contessa Genius?
Who doesn't want a beautiful Italian Contessa? This bike is a real winner. It looks awesome and rides awesome, with excellent balance and all-rounder handling. We'd ideally like to see some tweaks to the Twin Loc system for riders with smaller hands like our tester, but that's a minor gripe. Overall, this is a top trail bike that really does come close to that ideal do-it-all steed and is pretty decent value too.