Like any gate crasher, some just wanted it to go away. But then others were happy to have this rowdy new character join the crowd, with its unconventional approach. A year on from its arrival, the mountain bike party is still divided about the intrusion of Plus (or 6Fattie, Mid Fat, or 27+, or whatever the hell you'd like to call it), with ongoing murmuring about whether it can stay, or if everyone should chuck it back out into the cold night.
As far as we're concerned, we'd like it to stay. And our time on board the new Scott Genius 710 Plus just reinforced that feeling for us once again.
The Plus format is an option. No one is forcing you to ride it.
Before we get into the guts of the review, let's touch quickly on what should be an obvious point. The Plus format is an option. No one is forcing you to ride it. It's clearly not going to be ideal for every rider, or every trail. That said, in the world of hardtails, we do think it has the potential to really take over. It makes perfect sense: Unless you're looking for a full-blown cross-country racing machine, you're better off on a hardtail with 27.5+ wheels/tyres. You'll crash less, get fewer flats, have more fun. When it comes to dual suspension bikes, then the matter is a bit murkier and it becomes more of a horses for courses kind of issue.
The success (or failure) of the Plus sized format is going to depend entirely on two things: working out which markets (right down to a regional level) are best suited to this format, and then getting people to try the damn things. Test fleets are going to be essential, because there are a lot of incorrect assumptions about this format that can only be corrected with a test ride. But let's leave that all to one side for now, and take a look at this bike.
---
Frame and Build
As a fellow rider said to us when we had this bike out for a test ride, "Scott do know how to make them look good." This carbon stealth blade is so sharp, we felt compelled to have a haircut and shave before we took it out. Given the extra cabling faff associated with Twinloc, Scott have managed to make this whole bike look surprisingly clean, and the fluro and black finish is like lightning for your eyeballs.
The Genius platform is now available in three wheel sizes – 27.5, 29 and 27.5+.
The Genius platform is now available in three wheel sizes – 27.5, 29 and 27.5+. If you can't find a version to suit you, you're a very unique individual indeed. Visually, the three frames are similar, but there are travel and geometry differences obviously. The 710 Plus shares the same travel as the 29er version, with 140mm up front and an adjustable 130/90mm out back, but the geometry is quite different. The 710 Plus is significantly slacker, a 67.5 degree head angle versus 68.9 degrees on the 29er, and the stays are a tad shorter. That said, the rear-centre is still a bit of a handful, at 445mm, which is close to 10mm longer than most of the competition.
The dramatic curving of the seat stays opens up huge amounts of tyre clearance, so there's masses of space to spare, even with 2.8″ rubber. Heel clearance wasn't an issue for us either.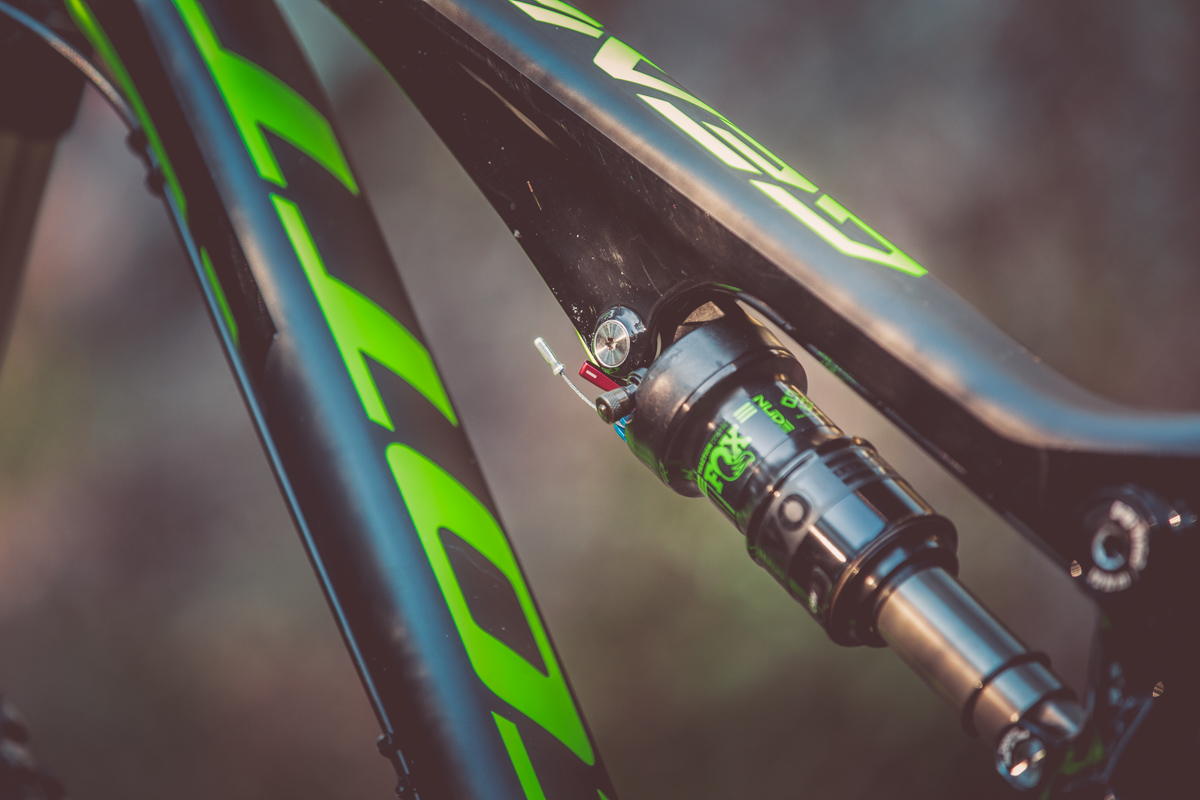 The extra compliance of the big volume rubber makes the shorter travel mode more usable in rough terrain
As with all Scott duallies, the suspension system is built around Twinloc, Scott's unique on-the-fly travel adjustment system. The bar-mounted lever lets you select either 140mm or 90mm travel modes, or you can lock the rear end out completely. The fork's compression is activated in tandem – open, firm or locked – completely changing the character of the bike at the push of a button. Really the Twinloc system and Plus tyres are a perfect match – the extra compliance of the big volume rubber makes the shorter travel mode more usable in rough terrain.
There's loads of room for a water bottle, thanks in part to the slick integration of the Twinloc cable routing, and we welcome the mechanic friendly external gear and brake lines. Both gear and brake lines do hang low beneath the bottom bracket though, which could be a clearance/damage issue on scrappy trails. The placement of the rear brake calliper tucked in close between the stays is fiddly to adjust, but looks neat.
Believe us, stiffness is important on this bike, as you can put plenty of force through the rear end with so much grip on hand!
Scott give you the option to tweak the geometry, with a flip chip style adjustment at the rear shock mount. We left it in the slacker position, as we're sure most people will. The rest of the suspension construction is neatly done, with large pivot axles that keep the rear end nice and rigid. And believe us, stiffness is important on this bike, as you can put plenty of force through the rear end with so much grip on hand!
The Suspension
The single pivot with a linkage driven shock is the Toyota Camry of suspension layouts, but it's given an new layer of interest by the Twinloc system. In Open mode, the suspension feel is super buttery, with a really lively feel, that ramps up nicely. There's no pedalling platform, and with very little anti-squat in the suspension configuration, it's very responsive.
Hit the lever and engage Climb mode, and the feeling is very different – the bike sits up higher in its travel, raising the bottom bracket, and the suspension becomes much firmer. As we've noted above, the Plus tyres still take the edge off, so the ride is surpisingly smooth even with only 90mm of travel. The full lock-out is really only useful on the road, so we rarely utilised it.

---
Setup
Tyre pressure is critical with this much air volume at play. Too high, and you're not going to get any advantages from the big tyres, just a bouncy, jumping castle kind of ride. Too low and you risk a vague, slow feel. For us, the sweet spot was about 14/15psi, or even a smidgen lower. A digital pressure gauge is essential, don't trust your track pump. Of course, you'll want to go tubeless too, and this process is no different to with a regular tyre.
We're still getting our heads around how Plus sized tyres affect suspension setup, or whether it really does at all. There's definitely a bit more bounciness to the bike, with all that extra undamped suspension from the bigger tyres, so we added an extra click more of rebound damping than usual.
---
The Bits and Pieces
It's still early days for Plus tyres, so there's no real consensus yet on what is the optimum rim/tyre width ratio. The Specialized Stumpjumper 6Fattie we tested not long ago had 29mm rims, with 3″ tyres. In comparison, the Genius Plus has 40mm rims and 2.8″ tyres. As a result, both have quite different tyre profiles, the Specialized being more rounded, with the Genius's tyres having a more square shape. The super wide Syncros X-40 rims give the tyre a huge amount of support, which is reassuring when you start dropping the pressures to the low teens.
The tyre combo of a Rocket Ron and Nobby Nic works amazingly well. The beauty of such a big contact patch is that you can run a firmer compound without losing much in the way of grip, so both tyres are the quick-rolling Pace Star compound.
SRAM's GX drivetrain is a giant slayer. Honestly, there's so little performance difference between GX and the more expensive SRAM 1×11 groupsets, we're sure SRAM are kicking themselves! The 30-tooth chain ring is a good idea; the grip on this bike is like a trials moto, so it makes sense to give it the gearing to climb up a wall.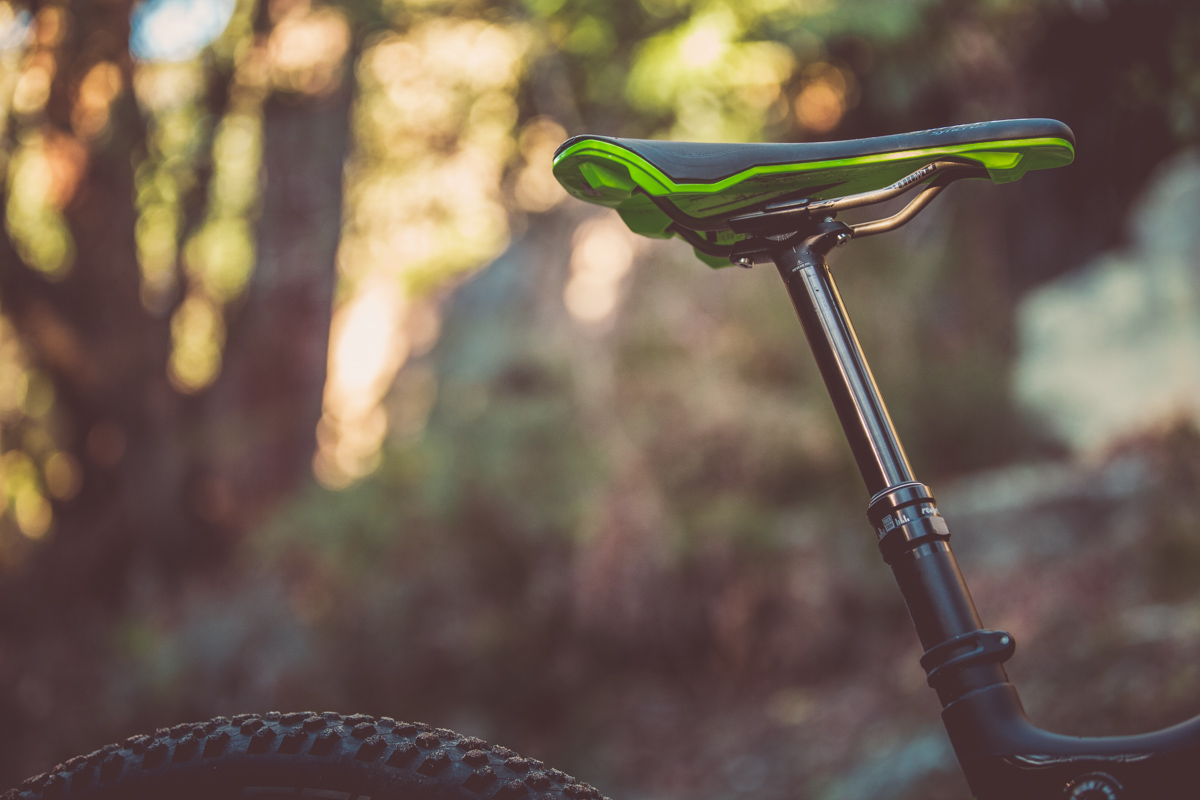 Shimano's SLX brakes aren't glamorous, but they never miss a beat and work brilliantly. Less awesome was the Rockshox Reverb, which seemed like it was damped with golden syrup and returned back to full extension with all the enthusiasm of a teenager on a Saturday morning.
---
The Ride
Surely we're grappling with a boat here, a real pig of a bike, right? Incorrect. The Genius Plus is fun, fast and will change the way you look at the trail. Confidence is the key attribute, the feeling is akin to the first time we rode a dual suspension bike, there's an air of invincibility. Less regard needs to be given, to anything.
We're lucky in that many of our regular test trails are ideally suited to the Genius Plus, littered with rubble and loose sandy surfaces. It's here that the Genius shines, it floats over sand, it refuses to get skittish when the trails turn to loose rock.
We struggled to get our head around the cornering abilities of this bike. Even with its long rear end, the way it flings into a corner is ridiculous. On trails that we've ridden a hundred times, we needed to unlearn our usual braking points, and on corners where we'd usually unclip our inside foot, we could ride with both feet up. You just carry more speed through turns, and that makes for a faster ride overall.
We did clip a lot of pedals on the Genius, but that's because we were pedalling more – the extra compliance and grip means you can continue to lay down the power where it just wouldn't have been viable before.
Climbing on the Genius is not about how fast you get up, but what you can get up. If you enjoy a technical climbing challenge, then the Genius is almost cheating. With the Climb mode engaged, it doesn't get bogged down, and there's unreal amounts of traction, so you can just keep churning away at the pedals.
So what about downsides? Certainly, there are some. On smooth, flatter trails, there's a small increase in rolling resistance, but it's hardly perceptible. There's also a little more weight to cart about, but again not a lot. When you compare the Genius 710 Plus to its 29er equivalent, there's about 600-700g in it. But it's not weight for weight's sake, it comes with huge benefits in terms of traction. We know what we'd choose when it comes to trade off between weight or grip.
Perhaps the most noticeable drawback is the occasional feeling of increased 'bounciness'. At high speeds, or upon a really heavy landing or compression, or a fork bottom out, you can feel the tyres 'ping' back, with an extra fast rebound that can be hard to tame. It caught us unawares more than once. We're also not sure how this format would perform in the mud, but we so rarely get to experience those conditions on our trails, that we're not willing to really comment on this.
---
Overall
We've talked a lot about this bike's performance in terms of how the tyres impact it, rather than the bike as a whole, so we apologise. But the reality is, the Plus wheels/tyres just dominate this bike's behaviour on the trail – if it had regular rubber, it would be a completely different experience. The Genius 710 Plus is supremely good fun, it'll make you laugh out loud as you blast through corners that once felt awkward or sketchy, and as you hammer into rocky chutes with all the confidence of being on a downhill bike.
This isn't a bike for every trail surface or every rider, but if you'd dismissed this bike out of hand because of its wheel size, then pull your head out of the sand and line up a test ride. It might suit you, it might not, but you'd be silly not to give it a try.