You know where this is going, don't you? Call off the search party, close the Wikipedia entry, stop selling tickets to the debate, because this is it. We've found paradise. And it's called Finale Ligure.
---
The Shimano Australia crew had rustled together a fine mob for what would prove to be the most memorable mountain biking trip we've ever been on. Meet them below:
Left: Damian Breach – Lensman extraordinaire and very (very) proud Canberran. Right: Toby Shingleton – Shimano Australia marketing manager, with a training regime that starts tomorrow/after one more gelato/after one more beer.
Left: Will Levy – Two Wheel Tours head honcho and all-round mother hen. Right: Neil Kerr – Editor of Spoke Magazine and our crew's dirt abrasion tester.
Left: James Klousia – Token Tasmanian, bends a mean sheet of ply. Bottom left: Chris Panozzo – Australian National Enduro Champion, makes berms quiver in fear. Bottom right: Jon Odams – Pearl Izumi athlete/man model/insurance expert.
---
This flawless little Italian Riveria town is obviously no secret, it's been the final stop on the Enduro World Series for the past three years, and the destination of choice for thousands of European mountain bikers. But, like the first time you make love, nothing we'd read or seen quite prepared us for the overwhelming reality. We didn't wipe the grin off our face for a week. Even when our favourite gelateria run out of pistachio, the buzz didn't die – we couldn't believe the perfection we'd stumbled into.
Let us paint the picture. On your left, you have the Mediterranean, sapphire blue, languid and inviting, dotted with white sailing boats. On the coast you'll find the town of Finale Ligure and its medieval sister, Finale Borgo, both charming spots full of seafood and gelato. Inland just a smidge you hit the mountains, thrusting up to a lofty 1400m above sea level. And etched into the rocky terrain of these peaks, you'll discover more than 400km of trails, largely accessible by shuttle vehicle.
This impossible sandwich of trails, town and sea was our domain for the week, which was ostensibly all about putting the latest Shimano XT Di2 gear through its paces. But to test something properly, you need to ride it a lot. And riding a lot means you need to eat a lot. And eating a lot means you need to ride a lot. It's a terrible, vicious circle.
Finale Ligure isn't a trail centre like we're accustomed to in Australia, where the riding is often fantastic, but the other essential components of a great holiday can be lacking. Here you've got a very best of both worlds – world class trails, butted into  a fully fledged holiday town, set up to handle the huge number of coconut-oiled Germans who flock to the sea each summer. There's no 7:00pm scramble to find a counter meal after your ride ("Mate, kitchen closed at 6:30!") – waltz down to the town square and you're spoiled for choice, which just means you can spend more time riding into the late evening.
But what really sets Finale apart is the riding itself, and the level of challenge the trails present. "This one we call little Champerey," explained Peter, our guide, on our first day of riding. "So, it's steep then? Like the Champerey downhill track in Switzerland?" I asked. "Not so steep, just a little bit steep," Peter reassured us, before launching off into a trail that was a 'little' steep in the way that Trump is a 'little' bit offensive. Brakes cooked, perceptions reset, Finale was treating us to a new level of riding.
There's no graduated approach to ease you into the trails. You're all in, or you're out.
That's just the way it is – there's no graduated approach to ease you into the trails. You're all in, or you're out. The hand built single track has grown organically over the last 30 years; raw, often unpredictable, nearly always rocky, these trails demand 100% engagement all the time. You're never on cruise control. Our group suffered a few early casualties, both bike and body, victims of a dangerous mix of jet-lag and over enthusiasm But soon enough we found the rhythm and respect for the conditions, and thankfully everyone made it through the week.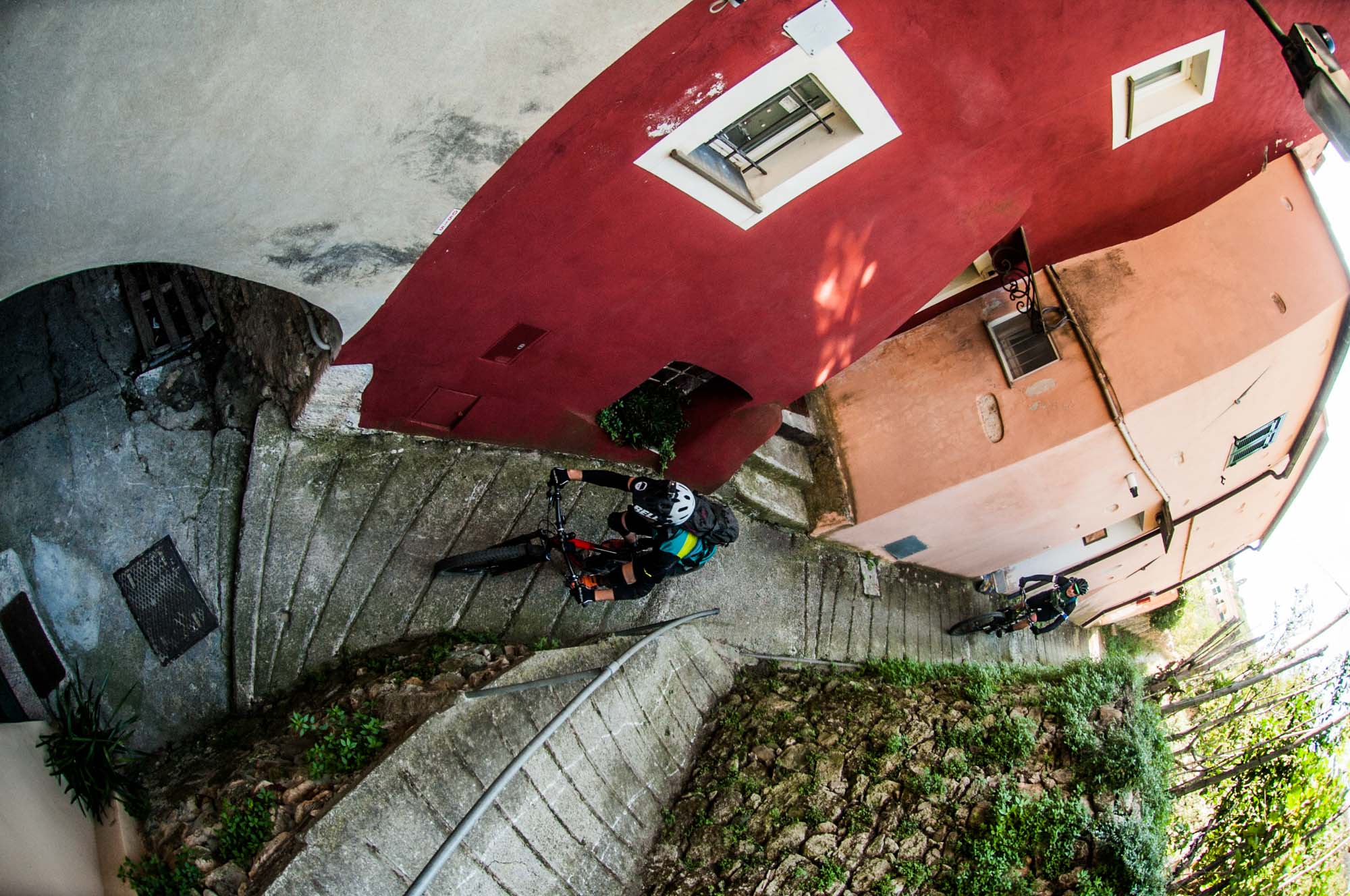 There's nothing manufactured about the riding either, the trails feel a natural part of the landscape, with many of them evolved from centuries-old walking trails or watercourses. Quite often you'll suddenly pop up out into a little village, the trail literally scooting past the front door of a church, or over someone's doormat. If you're game to pull your eyes away from where you're pointed, you'll see the ruins of farmhouses deep in the trees, or realise that you're actually riding through an abandoned olive grove or orchard, or over the foundations of a village lost in time.
It's up to you how you want to enjoy the trails of Finale Ligure, but you don't come here for the climbs. The trails pretty much universally point downhill, so using one of the eight or so local shuttle services is a good way to start. The switchbacking roads are thick with vans towing bike trailers, heading out to the various trailheads in the hills. Some of the most popular runs actually kick off from the site of an old NATO base, about 1000 metres above the sea. It's a surreal place to begin your ride, amongst the graffitied ruins with the huge turbines of a wind farm whirring overhead, and networks of secret tunnels below. If you want to stretch the legs, riding up to the top of the trails is manageable as the road never gets too steep – just be prepared for a long, steady climb of about an hour and a half.
Many, many miles off them, in all sizes, the longest rock garden on the planet.
Heading further out into the range presents another world of trails, rawer still, and even more epic. Perhaps the most memorable day of the journey was spent out here in the alpine area of Monte Carmo di Loano, the highest peak in the region. A long shuttle was followed by a tough hike-a-bike, but the pay off was truly something else. The trail down had only one predictable attribute, and that was rocks. Many, many miles off them, in all sizes, the longest rock garden on the planet. Even with 170mm of travel beneath us, it was a hysterically bouncy experience, the bike bucking about for kilometre after kilometre, line choice irrelevant, breathlessly trying to keep light and save our rims from the pounding. By the time we were deposited back on the coastline, hours later, our hands were raw and our legs throbbing from staying out of the saddle for the entire trail. It was unbelievable, one of the most memorable days riding we've ever had.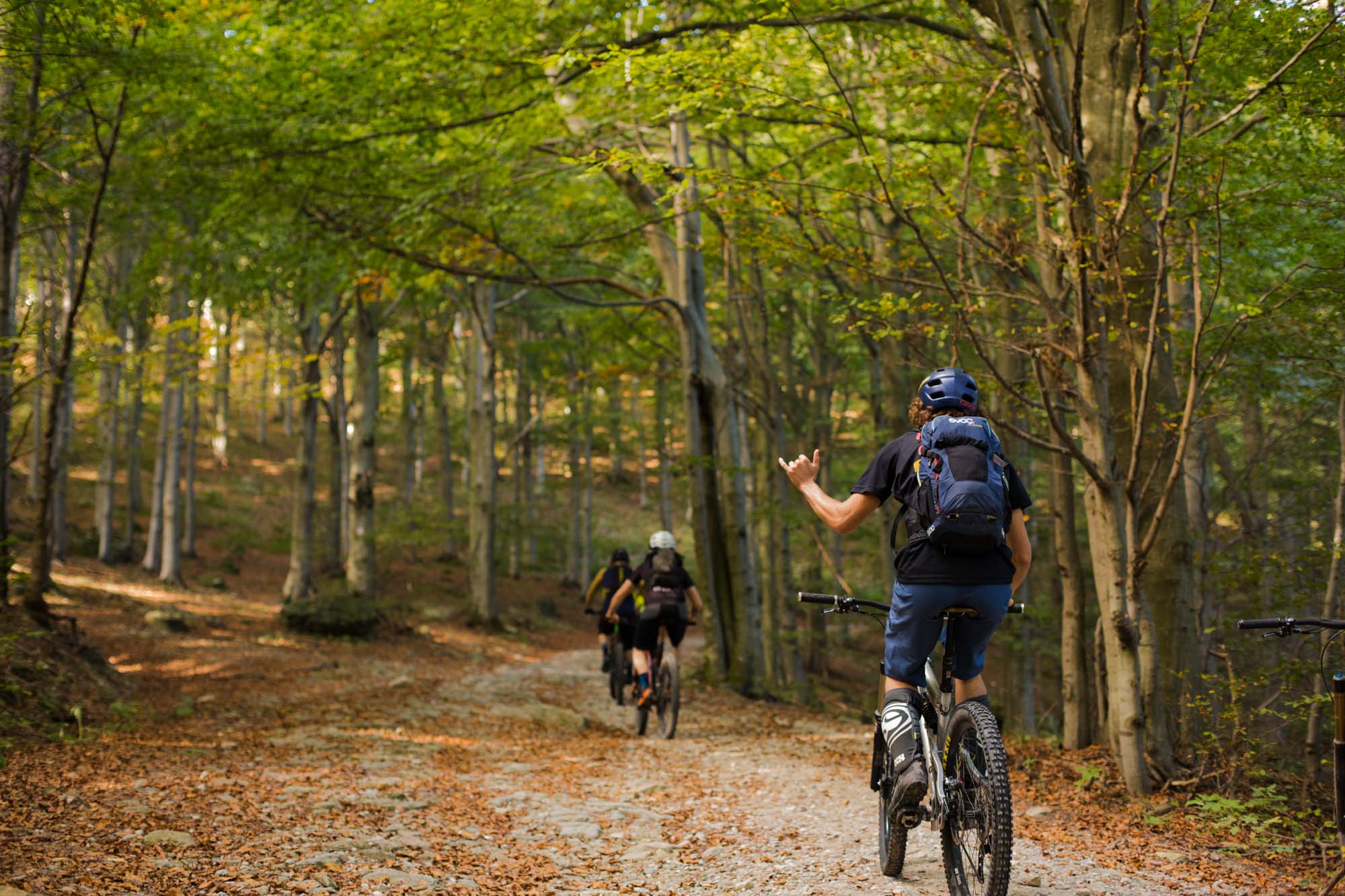 Our trip also coincided with the finale round of the Enduro World Series, and getting to see the level of riding at the peak of this discipline was humbling and thrilling. With Enduro still a relatively new part of the sport, few people have had the chance to actually experience an EWS race in the flesh, and it's hard to convey just how tough it is. The demands are simply enormous. Some of the stages in the Finale Ligure round were full-blown downhill tracks, but preceded by hour long climbs, rather than a cushy chairlift ride. Over four days of practice and racing, the fitness, focus, preparation and consistency needed to be successful is mind blowing. If you had it in your mind that Enduro was a step back from the demands of downhill racing, then think again, because this game is brutal!
We left Finale feeling permanently adjusted, and not just in the waistline, after a week of pasta, gelato and cheese, but in our outlook too. The convention for developing trail centres in Australia follows the wisdom that accessibility is key – start with more moderate trails to get a critical mass of visitors, then build in the technical stuff to enrich the experience for advanced riders. In Finale, that first step has been skipped – the trails will push even the most skilled riders, but that level of difficulty hasn't hampered the success of this place as a mountain biking destination at all. We're certainly not advocating that this should be the approach across Australia en masse, but seeing Finale Ligure certainly gives us the belief that the appetite exists for a truly challenging trail centre experience. We wonder which Aussie destination will be the first to emulate the Finale model?
A big thanks to Shimano for hosting us in Finale and giving us a chance to put Shimano XT Di2 through its paces in fine style – it was a week that will stay with us for a long, long time, as will the two kilos of cheese we ate.
---